Playa Carrizalillo is one of the most stunning beaches in Puerto Escondido. It's no surprise that this scenic stretch of sand is also one of the most popular areas along the coast of Oaxaca.
Tucked away at the end of a bay by the same name, Playa Carrizalillo boasts soft white sand, verdant foliage, and staggering cliffs that provide privacy to the beach-goers below. Keep reading to find out more about the lovely Playa Carrizalillo!
Playa Carrizalillo
---
How To Get to Playa Carrizalillo
Playa Carrizalillo is conveniently located near the center of Puerto Escondido. If you're coming from La Punta or Zicatela, you'll want to hop in a taxi as it's an hour away walking.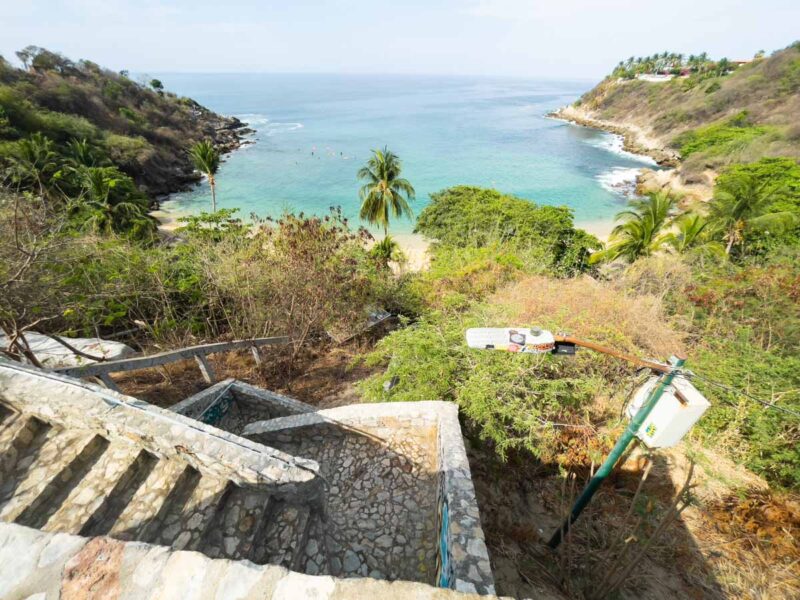 Unfortunately, the beach's main access point is located at the top of the cliff. You'll need to descend about 160 stairs to get to the sand, which may be difficult for those with mobility issues or young children. I found this to be fine and counted it as a mini workout to work off all those tacos but the stairs may deter a few people. Free parking is available at the lot above the stairs if you have a car or scooter.
While it may be challenging to get to, Playa Carrizalillo is worth the effort!
Chilling at Playa Carrizalillo
Playa Carrizalillo is one of the most idyllic beaches in the area. The shallow waters and calm surf make it ideal for classic beach day activities. Popular pastimes here include swimming, suntanning, and surfing.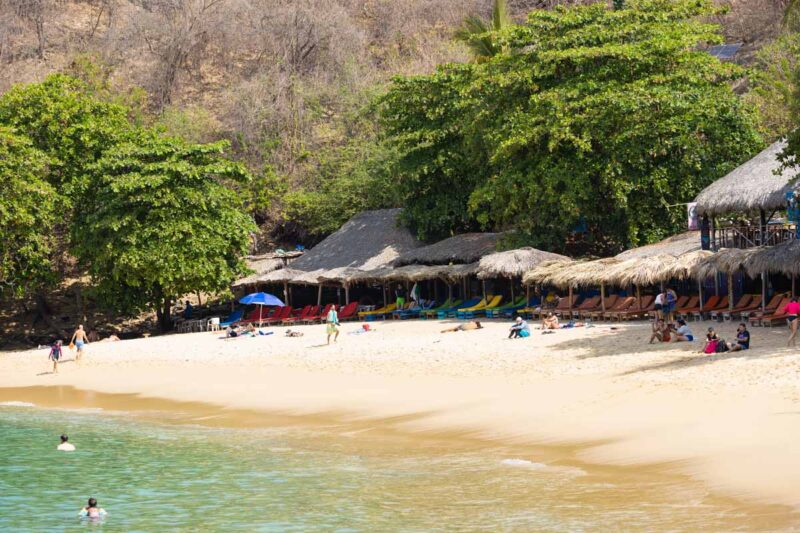 Bigger isn't always better, and although it is only about 100 yards in length, Playa Carrizalillo's amenities put some of the more extensive beaches in the area to shame.
You can rent sun loungers (around 300 pesos/US$15 per day), umbrellas, or even take a surfing lesson. Of course, you can just plop your towel down and chill on a slice of sand sunning your buns too!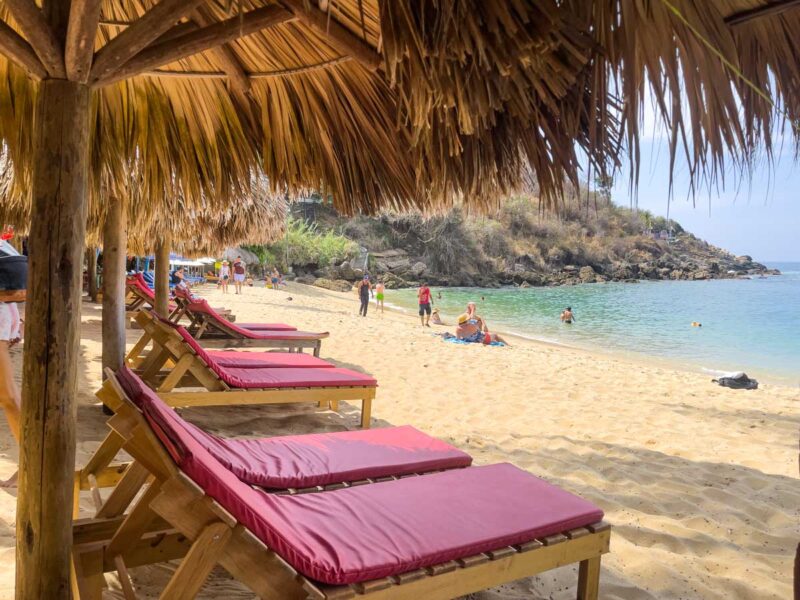 Mexican palapas (thatched-roof bars) dot the shoreline and serve up fresh catches of the day, refreshing cocktails, and ice-cold cervezas (beers!). There are also a variety of vendors that sell everything from ice cream and sweet treats to jewelry and other hand-made items.
Surfing at Playa Carrizalillo
The calm waves at Playa Carrizalillo make it the perfect place to surf, especially for beginners. Breaks start about 55 yards offshore, and surfing is best in the cove between mid to low tide.
If you didn't bring your board, don't fret – there are a ton of surf shacks located along the beach. You'll have your choice of longboards, shortboards, foamies, and bodyboards.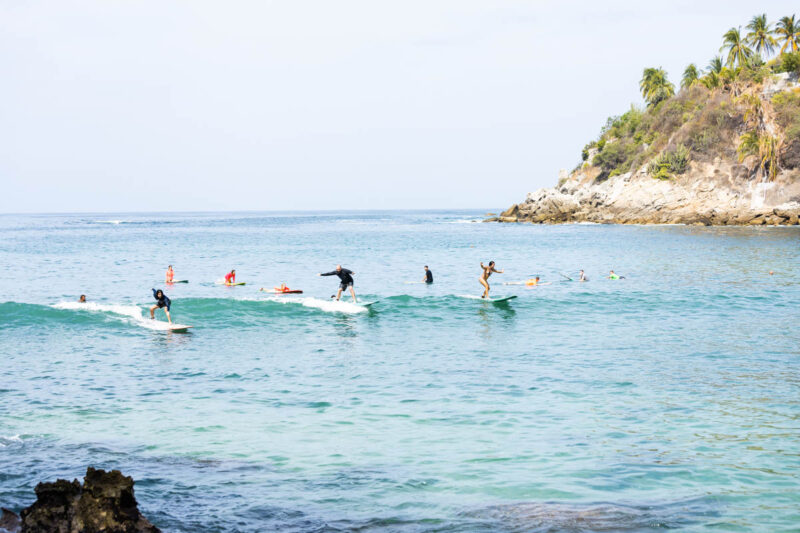 Board rentals are available and cost 200 pesos/hour or 800 pesos for a full day (US$10/US$40).
If you're starting and need some extra guidance, you can book a surfing lesson for a few hours for 800 pesos (US$40).
Do note this is only one of the two areas in Puerto Escondido for beginner surfers (the other being at La Punta), which means the surf can get a bit busy.
RELATED: Your Guide to Playa Zicatela + La Punta Zicatela in Puerto Escondido, Mexico
Snorkeling at Playa Carrizalillo
Snorkeling is also extremely popular at Playa Carrizalillo. The clear and calm water allows you to see a variety of colorful sea creatures beneath the surface. The best spots for snorkeling are around the rocks to the right of the shore.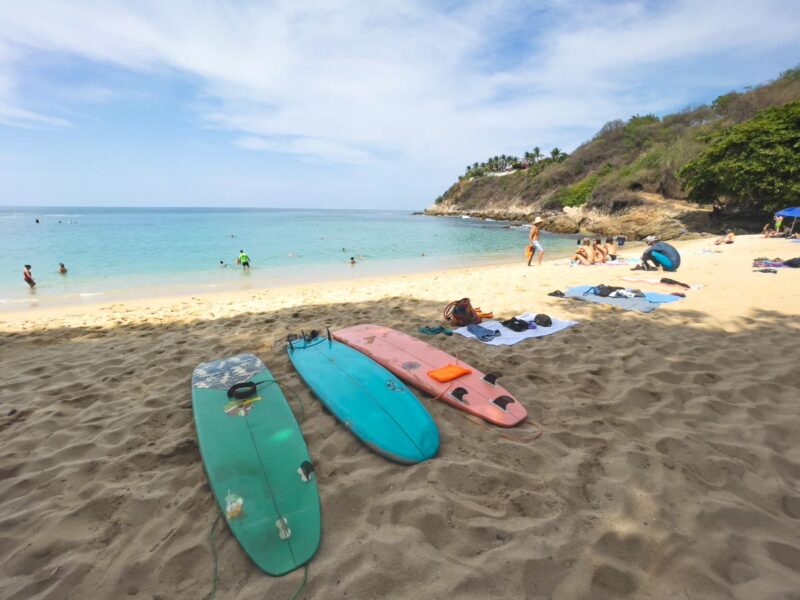 Do note that rocks and waves are not a great match! Take care while swimming near rocks, and if it's extra rough seas or if the waves are coming in strong, it's best not to snorkel. Double-check the waves and ask the friendly locals before taking a dip.
Is There a Best Time to Visit Playa Carrizalillo?
Anytime the sun is shining, my friend!
Any day is a good day, but you'll be more likely to run into rainy days from June through October. Rainy days aren't often all-day downpours though, so if you're scheduled to come during these months, you're fine!
November to March is probably the sweet spot for the best months to visit Puerto Escondido. April through May will be the hottest months to visit, and while you may find the beach with fewer people, you will know why! It's going to be HOT!
RELATED: Where to Stay in Puerto Escondido, Mexico—Best Hotel and Area For You
Where to Eat Near Playa Carrizalillo?
Restaurants on the beach – Hey, you just walked down almost 200 steps; I doubt you want to go back up to grab food and then come back, right?! The spots on the beach are decent and offer up similar dishes involving fresh seafood. Reviews are mixed, but you're hanging out here all day, so you're bound to get snacky!
El Tololote – Just a few minutes walking from the top of the steps of Playa Carrizalillo, you'll find this fantastic breakfast spot. The dishes here are priced well, delicious, fresh, and potentially one of the better breakfasts I had in Puerto Escondido!
Espadín – Overlooking Playa Carrizalillo is Espadín Restarante. Everyone knows this spot! It's perched perfectly over the beach and is an excellent spot to go to for sunset! This is a bit more upscale, so go home and change out of that bikini and bring some extra cash. The food was pretty good, but you come here for the views of Carrizalillo.
Luna Rosa – Craving pizza? This place isn't the cheapest but it was actually REALLY good pizza, and it was huge.
Rinconada Strip – This entire strip is just a three-minute walk from Carrizalillo's steps, PACKED with tons of places to eat. Luna Rosa is here, as are tons of other spots. Everyone raves about El Cafecito, but I don't get the hype. Nobody at our table enjoyed their food when we went here, but maybe they had an off day?
Places to Stay Near Playa Carrizalillo
Villas Carrazalillo – Right on Playa Carrizalillo, but still close to downtown, this hotel offers the best of both worlds.
Villa Maria B&B – Indulge in comfort with big beds, a designer swimming pool, and freshly cooked Mexican breakfast.
Tower Bridge Hostel – A great place to meet new friends, and within easy reach of three beaches including Playa Carrizalillo!
Shavanna

– Enjoy designer surrounds without the price tag at this beautiful boutique hotel.
More Around Puerto Escondido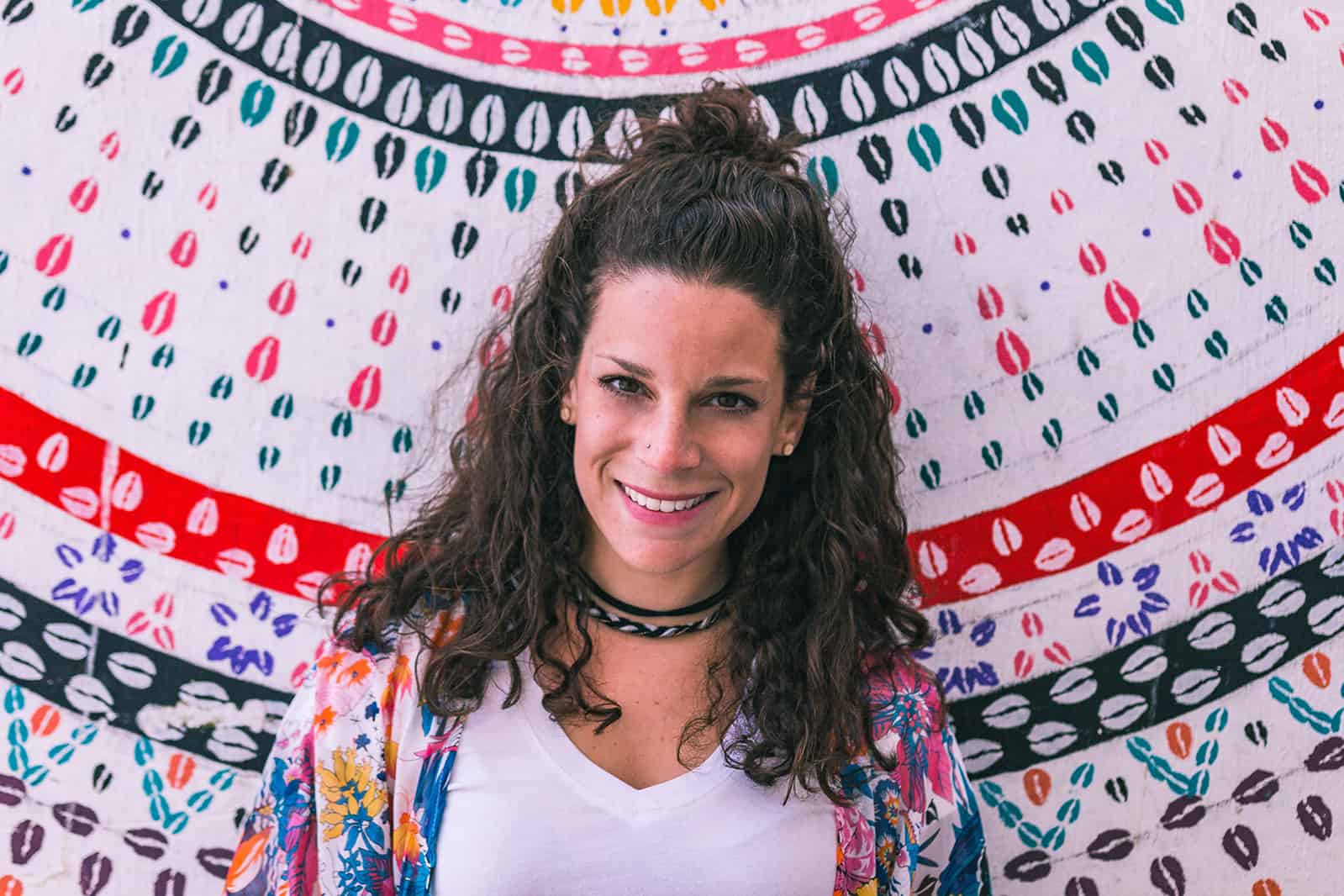 Nina Ragusa is an adventurer, messy bun master, breakfast fan, and full-time travel blogger. She's been abroad since 2011 and blogging on Where in the World is Nina? for nearly as long. Nina helps people like you move around the world while making money. She loves talking about how to work abroad and online to travel longer!