I know Puerto Escondido is a beach town surrounded by water, but I got you if you're looking for another swimming hole nearby!
Cascada La Reforma is just outside Puerto Escondido and is a gorgeous waterfall begging for you to jump in. Here's everything you need to know before visiting.
How to Explore Cascada La Reforma
---
Distance from Puerto Escondido – 1.5 hours to La Reforma Town
Distance: 7.3 miles (hiking)
Type of Trail: Out & Back
Difficulty: Moderate
Elevation Gain: 1,007 ft
Entrance Fee to the Waterfall: 10 pesos (US$0.50)
3 Ways to Visit Cascada La Reforma
There are three ways to visit Cascada La Reforma from Puerto Escondido; you can choose the best one that fits you!
1. Take a Tour to La Reforma Waterfall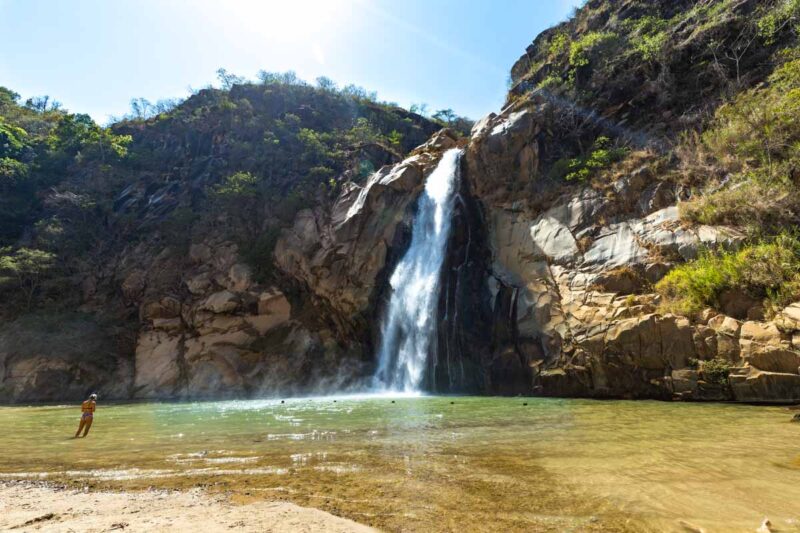 There are tours from Puerto Escondido to get to Cascada La Reforma. The good thing about doing a tour is that they will get you closer to the falls (AKA, you won't have to hike!), and everything is done for you.
Tours run around 800 pesos (US$40) and last about half a day.
2. Rent a Scooter to La Reforma Waterfall
You can rent your scooter for about half the tour price and get there yourself! Not only is this a cheaper way, but you'll be able to again skip the hike to the waterfall if you're good enough on two wheels.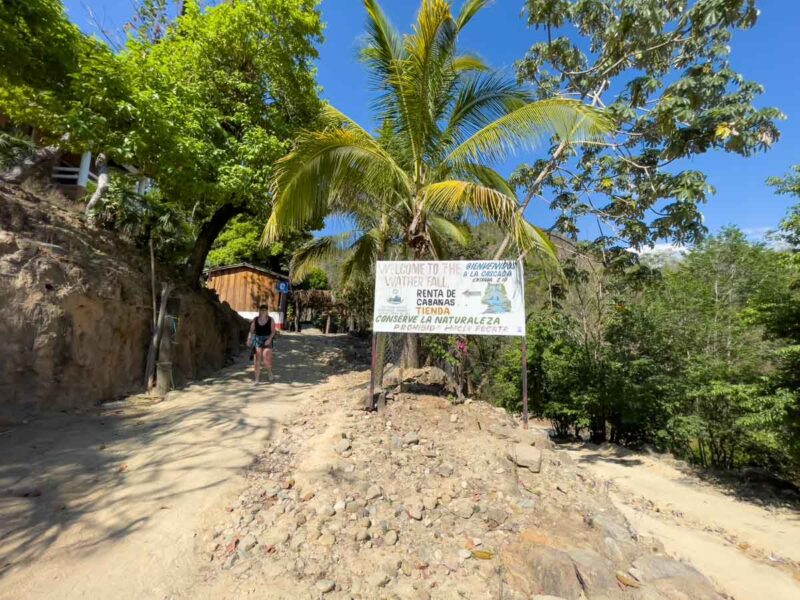 The road isn't great (more on this in a second), but this might be a good choice if you are experienced enough scooting around.
Remember that your driving time will be around two hours since you're driving beyond the town and to the waterfall itself. It's about 400 pesos or $20 a day for a scooter rental.
3. Hiking to La Reforma Waterfall
If you love hiking as I do, you can arrive at La Reforma, the town, and hike 3.5 miles to Cascada La Reforma! It's about 7 miles round trip hiking and nothing too difficult, just long.
Some short uphill parts and short downhill areas, but otherwise, it's relatively flat.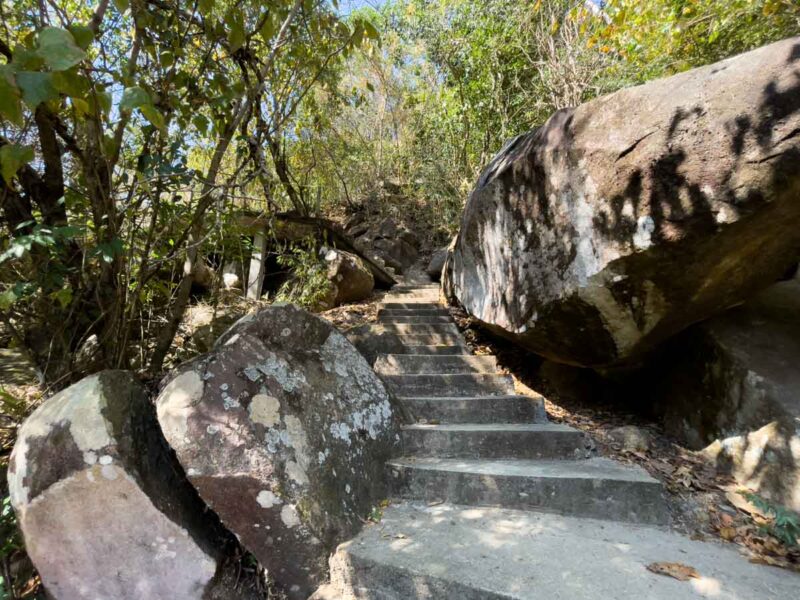 The only thing to keep in mind, particularly if you're going on a hot day, is that it's VERY HOT. I hike all the time, and I'm pretty used to the heat. However, I got really overheated the day I went! So do be careful doing this hike.
The sun reflects off the light sandy trail, and there is little shade. It was a great hike, good exercise, and has some views of the forested valley but make sure you're ready for a hot HOT hike, particularly in the warmer months. I hiked in March when it's only entering the hottest months, and I overheated.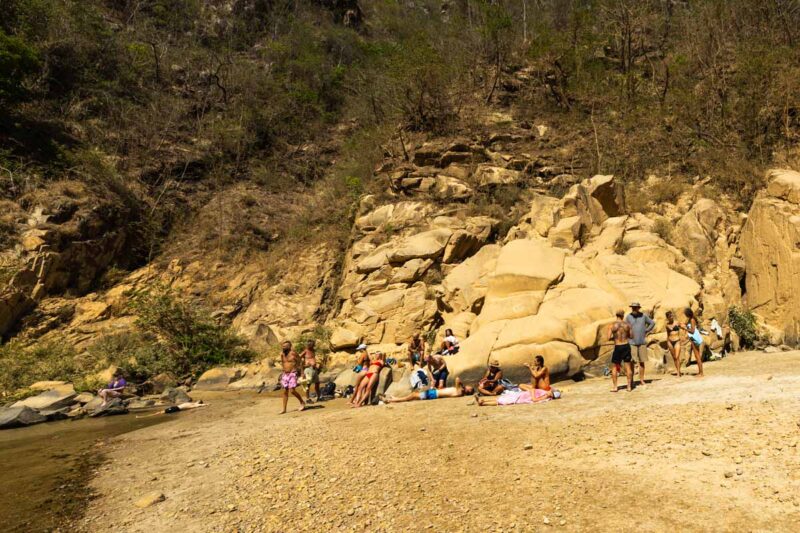 The best way to do it is with a fun group if you want to hike. I joined the Facebook group for Puerto Escondido hikers and had a great time hiking with others! They do other hikes aside from this one, so keep an eye on the group for their upcoming trips.
This is also the cheapest way to get to the waterfalls, at only 200 pesos (US$10).
RELATED: Exploring Huasteca Potosina – Mexico's Waterfall Haven
The Walk to Cascada La Reforma—No Matter Which Choice You Choose!
So no matter which of the above three options you choose, you still have to walk down to the waterfall a bit! If you're driving or hiking the whole way, you'll arrive at a small hut that may or may not have a few semi-cold drinks to purchase.
It's here that you'll pay a 10 peso entrance fee to enter. You can't drive past this point.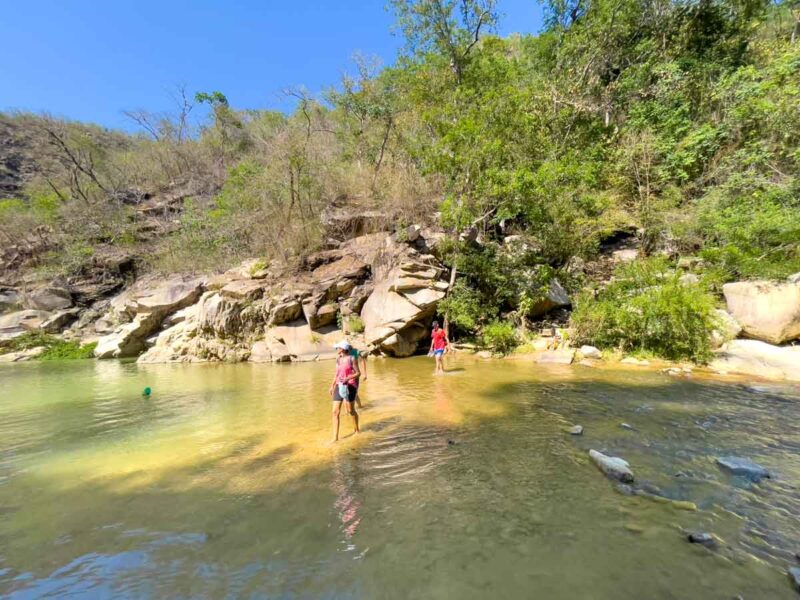 You'll have to walk down a series of stairs from this hut until you make it to the river that the waterfall plunges into. To the left, you'll get a peek of Cascada La Reforma, and you'll then traverse the river to reach the other side.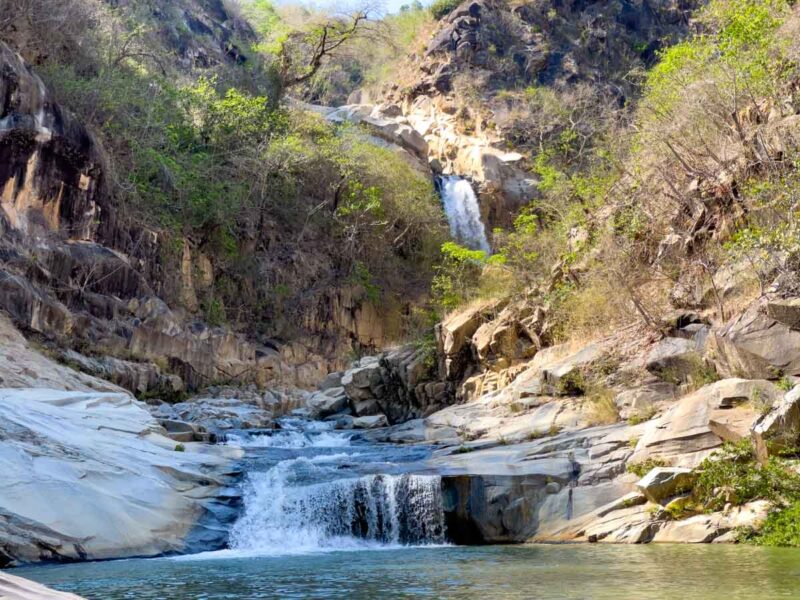 Once on the other side of the river, you'll have to walk up some stairs and scramble down some rocks to reach the base of Cascada La Reforma.
After about 10-15 minutes of walking—you can finally jump into the cool and refreshing waterfall you just worked hard to get to!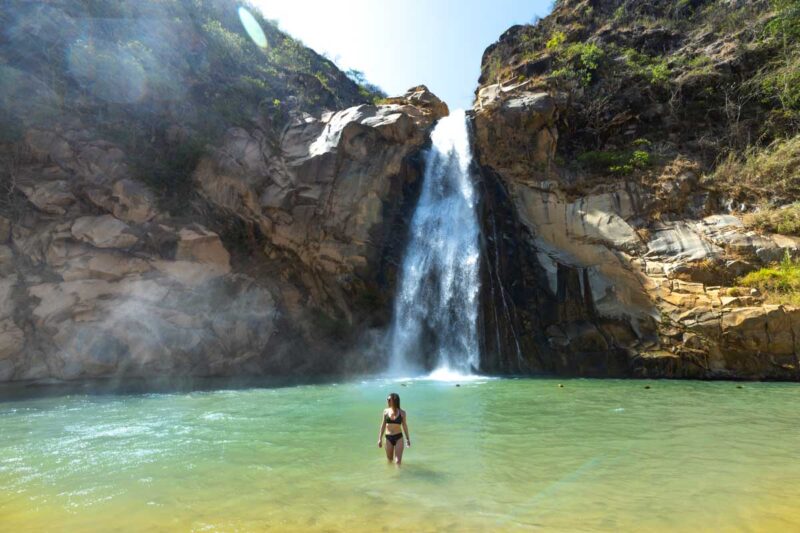 Well, if you hiked as I did, that is! I was so hot after the hike I couldn't get my clothes off quick enough to jump in! I was immediately relieved and felt better!
Tips for La Reforma Waterfall
The first 45 minutes of the drive to La Reforma is paved; however, the last 45 minutes to an hour is a windy, sandy, narrow road.
Beyond that, if you're driving to Casada La Reforma, do keep in mind it's a bumpy dirt road. You'll need to go slow, watch out for people walking, and animals on the road, and be good at navigating crappy roads—budget about 2 hours from Puerto Escondido to the entrance hut of the waterfall.
During the wet season, the non-paved part of the road is treacherous. It's a muddy mess, just to the town, not including the road to the waterfall itself (if you plan to drive to the waterfall).
During rainy seasons, aside from the hectic muddy road, the waterfall will be fuller but, unfortunately, could be a bit "dirty" looking as the rain moves all the dirt into the waterfall.
Bring tons of water—more than you need, especially if you're hiking. There's a small town with a couple of stores, but the one store we went to didn't even have water, and we had to go to another one that luckily did. It's a tiny town, so don't expect much.
Bring a swimsuit to jump in; there's a beautiful pool to swim in. And if you're hiking, trust me, you'll need a refreshing dip!
Wear biodegradable sunscreen!
Bringing a hat, sun shirt, or anything else to help you keep the sun off your skin will be helpful.
Unless you're hiking, wearing sandals would be acceptable to get to Cascada La Reforma. If you're hiking, the hot sand and rocks on the path might be annoying. Don't forget you'll have a river crossing too!
There's no service out here; download maps before heading out.
I hope this helped you explore Puerto Escondido's beautiful La Reforma Waterfall!
More Around Puerto Escondido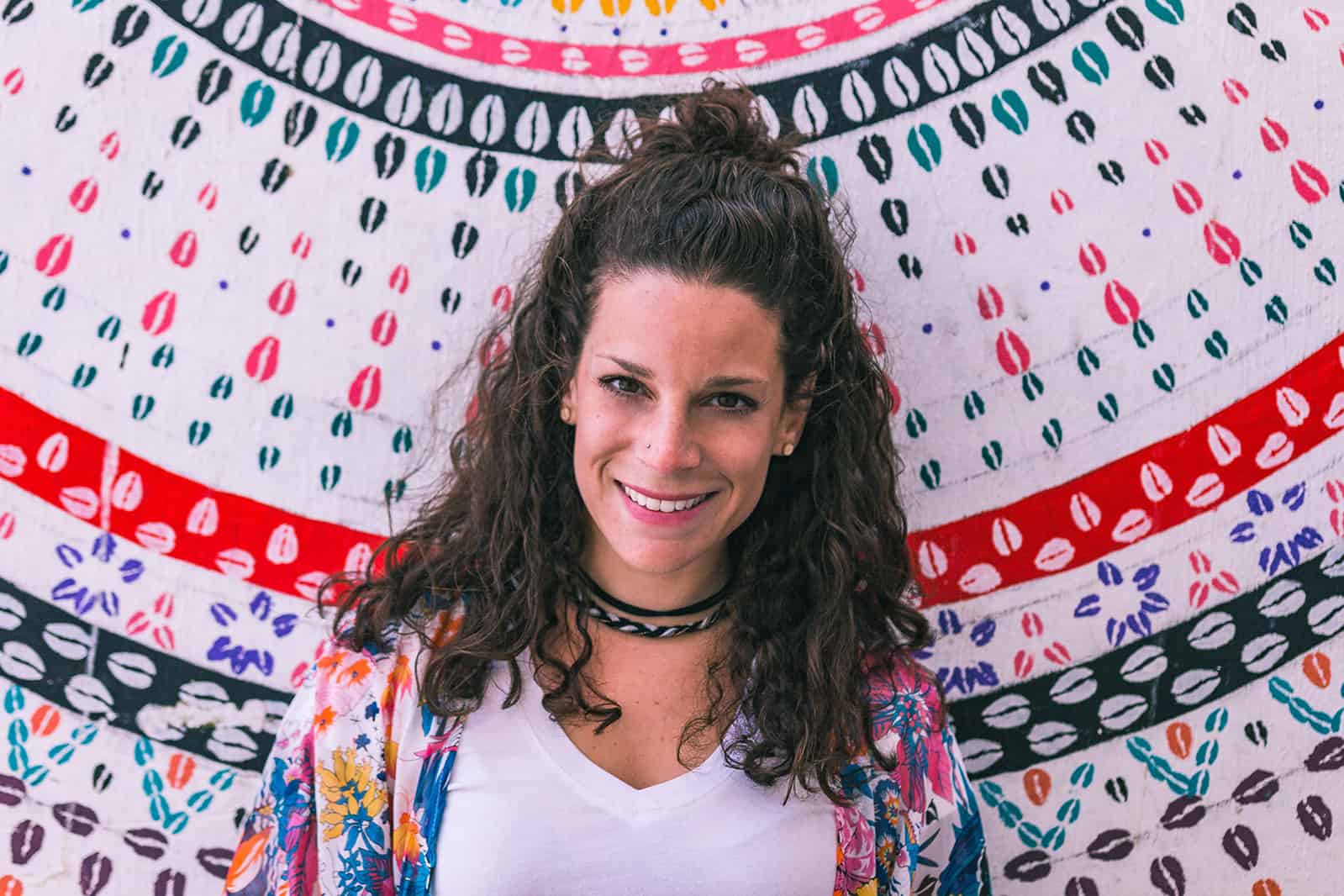 Nina Ragusa is an adventurer, messy bun master, breakfast fan, and full-time travel blogger. She's been abroad since 2011 and blogging on Where in the World is Nina? for nearly as long. Nina helps people like you move around the world while making money. She loves talking about how to work abroad and online to travel longer!