When the world got weird, I had to think about where I could make a new temporary home. I literally don't have one as I've made a home randomly around the world for the last ten years. Who would have known that would have changed within a blink of an eye!?
I surely didn't. So when Sayulita, Mexico popped up on my radar, and I needed a new spot to call home fast, I didn't need much convincing! A town I can practice my Spanish in that has a beach and surf? SOLD! I'm not that hard to please.
So, after spending nearly six months living in the area, I guess you can say I got to know it pretty well. Here's everything you need to know about living in Sayulita and what digital nomad life here is like.
Living In Sayulita—Digital Nomad Life & Cost of Living
---
What To Do In Sayulita
The main things to do in Sayulita are beach bumming, surfing, and eating. I fell in love with surfing even more here. While I admit, the surf can be a bit crowded at times, I loved the fact that the waves are really manageable (as in they aren't 10-foot tall walls of water coming at me!).
Even though I've surfed in quite a few places, I'm still very much a beginner. So I got my confidence up on these waves!
The beaches in Sayulita are really beautiful. The main beach is where the surf is happening, and there are three or four others that are within walking distance from town. Those are often pretty empty too since everyone mostly sticks to the main one.
There are actually some pretty great restaurants in Sayulita to try as well! Luckily, you won't have to guess too much as I've written detailed articles on everything here! Check these out…
Where To Eat and Drink In Sayulita
I'm honestly not usually one to talk too much about food and places to eat and hang out in, but I stayed here so long, I just had to! Here are all the places I loved to eat at and what I ordered!
Alquimista – Aguafresca and chilachiles, hands down the best in town if you ask me. Ate here all the time. I also bought my coffee from here to have at home.
Naty's Tacos – Cheap, quick, and yummy. Period. They have a good selection of vegan and meat options.
Gaby's Tacos – Easy, cheap, and DELICIOUS fish tacos from a literal hole in the wall on the main strip.
Tierra Viva – Shrimp benedict for brekkie, good ceviche, also a place to grab mimosas.
Pizza Veniza – Best pizza in town and only $5 with anything you want on it.
Anchor, Miscelanea, and Yah Yahs Cafe – All are excellent places for brekkie, coffees, and such.
YamBak – Craft beer and a late-night spot.
Chillum Bar – Live music (and surprisingly decent sushi.)
Bar Le Zouave – Chill AF Moroccan Mexican bar.
RELATED: Restaurants in Sayulita, Mexico – Where To Eat and Drink!
Groceries in Sayulita
Google map links provided since some aren't really on Google. This is where I did most of my shopping.
Random Costs To Give You an Idea:
A bag of fruit and vegetables good for 2-3 days for two people is about $4-8.
We often got tuna and dorado (mahi-mahi) from the fish store to have at home. We'd spend around $10 USD for a kilo of dorado.
A Pacifico beer at the store is about $0.75. At a restaurant, it's about $1.25+
Bolillo (Mexican bread) is $0.35, a loaf of Western wheat bread from the bakers at the Friday Market is $4.
A burger and fries at Public House, a really good one like back home, is about $9.
A fish taco at my favorite hole-in-the-wall is $1.25.
RELATED: A 3-Day Mexico City Itinerary: Boats, Pyramids, Churros, & Squirrels?
Where To Stay In Sayulita
I'll talk about the areas more than anything here so you can make the best decision for yourself.
If you stay right in town, make sure you're reading reviews about the noise! The town can get loud at night so if you're a night owl and want to party, you'll be fine.
If you're a granny at night like me, stay far away from being too central to the main square or on the main roads, make sure to "fan-out" a few blocks from the square or any nearby bars.
Either a bit right or left of the center is a good spot to stay. If you stay over the main highway, you'll definitely get a bit more for your money but you'll be about a ten-minute walk from the main square. This is where I lived and I liked it. I had views of the hills, none of the noise from the town or the street, and I got a bigger place for my money.
Sayulinda Hotel – One of the best things about this hotel is that every room comes with a balcony, an essential for enjoying the Mexican climate. Around the hotel, you'll also have access to a rooftop pool with cabanas, and a bar and restaurant with 360 views over Sayulita and the beach.
Casa Pia – Right in the middle of town you'll find this small boutique hotel. The décor combines minimalist modern furnishings with the rich timber and touches of greenery that represent the area. You'll also be perfectly placed to enjoy the Friday organic market.
Casa Sarita – For an affordable stay head to Casa Sarita, located just a couple of blocks from the beach and downtown Sayulita. It's the perfect stay for a couple, with a studio-style setup, including a full kitchen. The highlight is the large covered deck where you can enjoy the views and make friends with the birds and iguanas.
Casa Sorpresa – Groups can enjoy a truly enchanting stay in this brightly colored hacienda. Behind private gates, you'll have your own saltwater pool with a fountain, surrounded by lush greenery. There are two queen bedrooms decked out in locally made furnishings.
Villa Amor – If you want to splurge on your visit to Sayulita, you can really live a life of luxury at Villa Amor. Sitting at one end of the bay it offers sweeping views over the water and lush private gardens that lead down to the water. Relax in the two-level pool, enjoy a yoga class, or enjoy dinner right over the sand.
Resources for Your Trip:
Cost of Living in Sayulita
Of course, it's going to depend on you, but here's what we spent in March in Sayulita, Mexico. The amounts below are for two people.
Rent – $1000

Food and Drinks – $700

Internet – $100

Surf Rentals – $30

Misc – $70

= $1900 or $950 USD per person
Keep in mind our internet bill isn't something that most have to worry about, Garrett needs to pay to get the better internet in town. So the $100 was for him to use to a coworking space in town. There's internet at our house but it's too slow for him.
It was also a bit more of an expensive month because we were hanging out with friends a lot, going out to eat and drink more, etc. We were also eating at home VERY well. We ate fresh fish from the local vendor often, always with fresh veggies, and made-that-day tortillas. The groceries are quite affordable.
Accommodation isn't all that cheap here, in fact, it's pretty expensive for Mexico. Even for monthly spots! Keep this in mind when shopping around, you might not find that great of a deal.
Our place was pretty sweet though. We were 10 minutes outside of town but we have a nice two-bedroom, two-bathroom spot with a massive patio, obligatory hammock, and view of the valley.
Do note that we negotiated pretty well and our rent was actually more expensive for a month or two. He brought it down once we told him we were officially staying a few more months. So yeah, the main point is, negotiate and be flexible here!
All and all though, for $950 per person, we were still happy.
RELATED: A 2 Week Mexico Itinerary For Beach and Mountain Lovers.
Digital Nomad Info For Sayulita
The internet overall… is fucking pitiful. We had so much drama trying to work here. Sayulita CoWork has the best internet but it's a small dungeon to work out of. If your accommodation has Sayulita WiFi, you've hit the jackpot, but it's not common. (PS – most places will have Telmex and it's not great).
Tabachines Cowork is pretty cool and great for moderate internet use, it's not as fast as Sayulita CoWork but a way better place to work from as it's a nice open patio.
In town, there's a list of cafes that have a Sayulita WiFi hotspot that's pretty decent but not as fast as working at the co-working space. You do have to pay to use this hotspot, and of course, order from the cafe you're at too. It's $4 for 3 hours and then it goes up from there.
Some of the cafes also ask for a fee to use their special "co-work space" which could be convenient for some. Some of the co-work space fees can go towards food from their cafe. All and all though this option wasn't my favorite as it all adds up pretty quickly and often the coworking spaces were not very comfortable to work from.
You can also connect to the internet at your hotel or home and that would probably be OK for light usage. However, it's possible for it to go "in and out" and sometimes not be consistent during a video call. I was able to work at the house with the internet but my Zoom calls with my Spanish teacher didn't always go so great.
The worst part about the internet in Sayulita is the upload speeds. So if you're dealing with video, as Garrett does, then you'll need Sayulita WiFi. Period. And something to note about the Sayulita Co-working space, it can get full because it's so small. So don't rely on this without giving them a ring first.
This town is NOT the best place for all digital nomads, unfortunately.
With that said, we did "survive" (I know, so dramatic, but seriously this is how we make money to eat so…). I think if you're doing basic internet stuff for your work you could be fine, but video calls, video work, etc – this may not be a great place, and at the least not a consistent one. Here's some more info on being a digital nomad in Mexico.
How To Get to Sayulita
From Puerto Vallarta Airport you can easily take an Uber – it's the easiest choice. Simply walk out of PV airport, make a left, then at the end of the building, make another left and walk over the pedestrian bridge. Once you reach the other side, order your Uber from there. They can't pick you up from the Airport.
There's also a bus just outside of the Puerto Vallarta airport but it will take over an hour, and they are not known for being very comfortable. This will be the cheapest option though! Look out for a white and green bus with Sayulita in the window and pay when you hop on.
How To Get Around Sayulita
Getting around Sayulita is super easy, just use your legs. I walked the entire six months, everything is pretty damn close! You'll see lots of golf carts roaming around and it's a great way to get around but they aren't that cheap.
If you rent a car, good luck! Parking SUCKS. There's almost no space for parking and when you do find a spot, you'll probably have to pay for it. So make sure to book accommodation with a parking spot.
You don't actually need anything to get around town, your legs will be faster than driving around trying to find parking.
RELATED: 17 Things To Do in Sayulita, Mexico.
When to Visit Sayulita
From June to October, you're going to get humid and hot summers but the crowds will likely be fewer. Although many locals are saying the high and low season isn't as defined anymore as many people visit year-round!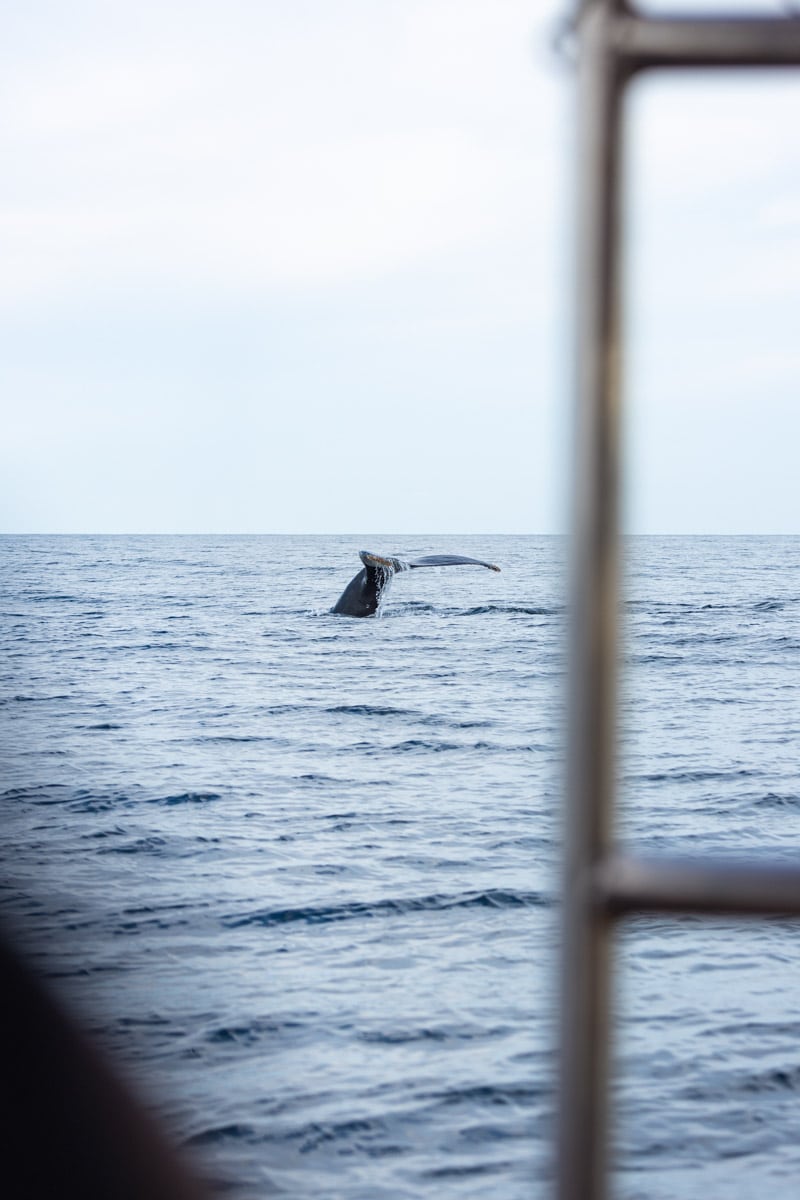 The best weather is in Saylita's "winter" which is November to May. It's rare for it to be hot to humid during these months, this is when I was visiting. I was very comfortable and my place didn't offer aircon either and it wasn't an issue.
If you come from December through March, you'll be here for whale season as well which is SPECTACULAR by the way!
Tips for Visiting Sayulita
10%-20% tips are the norm in the area so add a few pesos to your bill. Many of the workers are only paid about $10 a day.
ATMs are everywhere but I recommended using the machines inside stores. The limit is often 3,000-5,000 pesos per transaction. Make sure to go to the ATMs early if you're here for a holiday or a busy weekend, sometimes the ATMs run out of cash over the weekend.
Keep in mind Sayulita is hilly, and the main town is covered in cobblestones and semi-broken walkways. So maybe wearing some comfortable walking sandals would be smart.
Quite a few places accept cards around town but always ask if there's a fee or a minimum to be charged first.
Most of the time the exchange rate you find around town won't favor you much. Make sure to just use the ATM or be prepared for a crappy exchange rate when you pay in USD.
This place can fill up for the holidays and it gets expensive too! Try booking in advance or just avoid holidays and peak time visits.
Overall Thoughts on Sayulita?
Visiting Sayulita is great. The beaches are gorgeous, the surf is fun, and the town has a lot going on for how small it is. There are great places to eat, it's safe, and the people were always nice and welcoming!
Unfortunately, the main beach is a little busy, but even worse, the surf is crazy busy. I was constrained to surf before 11:30 if I wanted to get out there without hitting a swimmer or another surfer with my board. And being that I worked online, the internet was at times, unbearable. The accommodation was also pretty expensive for Mexico!
Overall Sayulita is great but two of the biggest reasons I came here was to come and work and surf for a few months. Both were a bit difficult here.
Otherwise, if those things aren't that big of a deal for you, Sayulita is a perfect place to visit to post up and chill for a bit! The other beaches in Sayulita are gorgeous and hardly visited as well.
Sayulita is great either way but it just depends on your needs how great it will be and for how long.