I like to think I'm a pro-beach bum and after growing up in Florida and traveling to some of the world's best beaches, I've become very picky! And I'm happy to report, Sayulita's beaches definitely passed my test!
Not only are they a nice stretch of sand to lay on but they are GORGEOUS. Some are backed by sandy rust-colored cliffsides, some offer some killer surf, and others hold hidden caves.
Sayulita Town has four beaches within walking distance of the town but I've provided some other nearby beaches around Sayulita that are worth visiting too!
Sayulita Beaches
---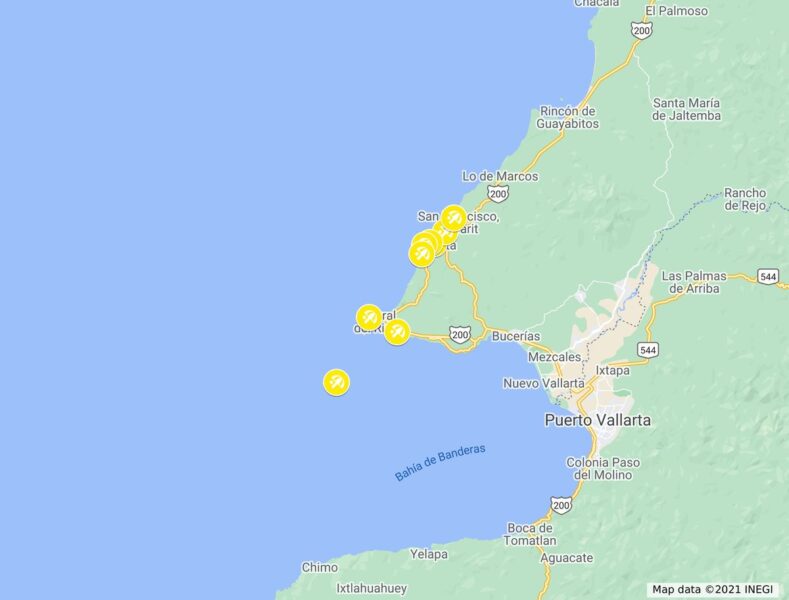 1. Sayulita Beach (Main Beach)
It's impossible to miss the vibrant, busy and colorful Sayulita Beach, which can be found on the Riviera Nayarit. It's shallow with a gentle break, making it perfect for paddling and swimming.
The surfing here is pretty incredible, with the ocean filled with surfers and bodyboarders all hoping to hit that perfect wave. Expect plenty of beginners out at sea, as surf classes and lessons are abundant. SUP surfing is also a popular watersport on Sayulita Beach.
Don't expect to escape the crowds here, as it really is one of the most popular beach in the area, meaning it is busy around the clock. There can be hoards of sun and beach loungers, which attracts A LOT of vendors asking if you need a purse, braids in your hair, or any temporary tattoos.
The beach is ideal for those that don't want to stray far from town to soak up the sun, but if you want to get away from it all, you can head north on Sayulita Beach just for few minutes, and the crowds dissipate pretty quickly.
Surfing on Sayulita Beach
The best thing to do is to head out for a surf before the afternoon to beat some of the crowds. Otherwise, the water is sometimes crowded with not only surfers but swimmers too. So even when you catch a perfect wave, people splashing in the waves may be in the way. I learned really quickly getting out earlier was the best choice.
For easy board rentals (SUP and surf), head to Sayulita Surf School. Sergio or one of the crew will go out with you for some lessons or swing by and rent a board for a few hours. They are literally on the beach, so it's perfect, and they'll keep an eye on your beach bag while you catch a few.
The great thing about Sayulita Beach is that it's a great beach to learn to surf. I'm not a total beginner and have surfed in Morocco, Indonesia, Ecuador, and Portugal, but this spot was the first time I've ever felt super confident out in the water.
Sometimes waves get scary! But not so much here. In fact, the waves are sometimes too small, and you will wish for a bigger swell!
However, the waves are perfect for beginners, and those a bit more on the intermediate side. You can surf the right break – the break coming off the river opening where you'll notice some rocks at low tide. While there are some rocks in that area, the beginner area closer to Punta Sayulita is all sand.
There is sometimes a more intermediate/advanced left break on the opposite side of the river mouth as well.
RELATED: Restaurants in Sayulita, Mexico – Where To Eat and Drink!
2. Malpaso
If you're looking for a slice of beachy paradise, Malpaso may just hit the spot. This beach can be a little bit more of a challenge to get to than others on the list, as you'll have to take a short walk throught the dense jungle to reach it, but when you get there, you'll be rewarded with a mile of stunning sand. It is usually one of the less crowded beaches as well.
Because it's a bit more difficult to get to, you should be able to find a picture-perfect slice of beach all to yourself, and you'll be hard-pressed to find that on some other gorgeous Mexican beaches!
Swimming here is generally discouraged for safety reasons, but there are plenty of shady spots to set yourself up for the day. There is no where to get anything to eat or drink on the beach, so your best bet is to take a picnic with you, or eat when you get back to your accomodation.
You'll have this long stretch of beach to yourself and if you're up for exploring, be sure to check out the huge rock that has a secret cave that leads to another cove!
The walk is pretty easy, but you need to walk ALL the way up Sayulita Beach, over the rocky cove, through a forest, and down a short but steep area to get to the beach. It's about four or so miles round trip from town. There are some detours on the trail so make sure to stick to the coast.
RELATED: 17 Things To Do in Sayulita, Mexico.
3. Los Muertos
Although small, Los Muertos is a beautiful inlet just to the north of the main beach. You can access it via a road that heads along the coast and then turns up a small hill and back down to the cove just behind Punta Sayulita. When on the beach, you'll feel like you're tucked away from the rest of the world thanks to the vegetation.
Because you're hidden away in a cove, it is very protected from the winds, meaning there are little to no waves. The beach is the perfect place for a paddle due to its quiet, protected waters.
Although less busy than the main beach, it is still quite popular, with plenty of fruit and drinks vendors out while you relax, as well as a number of other amenities and services to help make your trip to the beach that little bit more comfortable.
The name means 'Beach of the Dead,' but don't let that put you off, as it only got its name thanks to the fact that it is lcoated very close to Sayulita Cemetery. It is actually a stunning beach that is the right balance between crowded and isolated, with just enough amentities to keep you there all day.
4. Carracitos (My Favorite Sayulita Beach)
Known for its soft sands and Insta-worthy sunsets night after night, Carracitos is a lovely beach, a little away from the hustle and bustle of town. Fun fact, the resort from the Bachelor in Paradise is on this beach (the only one too!).
The Pacific Ocean is notorious for its wild nature, and that is exactly what you can expect when it comes to the sea conditions at Carricitos. Swimming can be a bit hectic here, so be careful!
You can expect to have the shores almost completely to yourself here. It's not THAT far from town, but people rarely make an effort to head this way, which is why it's probably my favorite!
From town, you can follow signs and use Google to get here; it's quite easy. It will take about 20 minutes or so to walk here from the center. There are no facilities or vendors here.
5. Patzcuarito
Patzcuarito is not the biggest beach, at just half a mile long, but what it lacks in size it certainly makes up for in natural beauty.
Huge rocks scatter the shoreline, and there is very little development in the area, making it really feel like you are in paradise. What helps to make the scene even more striking is the incredible blue hue of the water, which will take your breath away.
What really sets this beach apart from others, however, is its three distinct sand colors, one of which is surprisingly black. A stark contract to the white and golden hues found on other beaches in the area.
RELATED: A 2 Week Mexico Itinerary For Beach and Mountain Lovers.
Sayulita Beaches Nearby
6. San Pancho (San Francisco)
San Pancho is a tiny town near Salylita Beach but it is quickly gaining popularity as being a beautiful beach town. The beachfront here is bordered by small beach shacks and a few resorts, and there are some lounge chairs that you can rent, but nowhere near the number in comparison to Sayulita Beach.
If you want to escape the popular areas while remaining on San Pancho Beach, head a little north or south from the main stretch, and you will slowly notice the crowds disappearing.
The beach is clean and safe, and you won't be bothered by vendors asking you to look at their items every 10 seconds, but there are still some. Surfing is perfect for intermediate to pro surfers and not really suited to those that are just learning. Just a few steps from the beach in town, there is a shop where you can rent surfboards.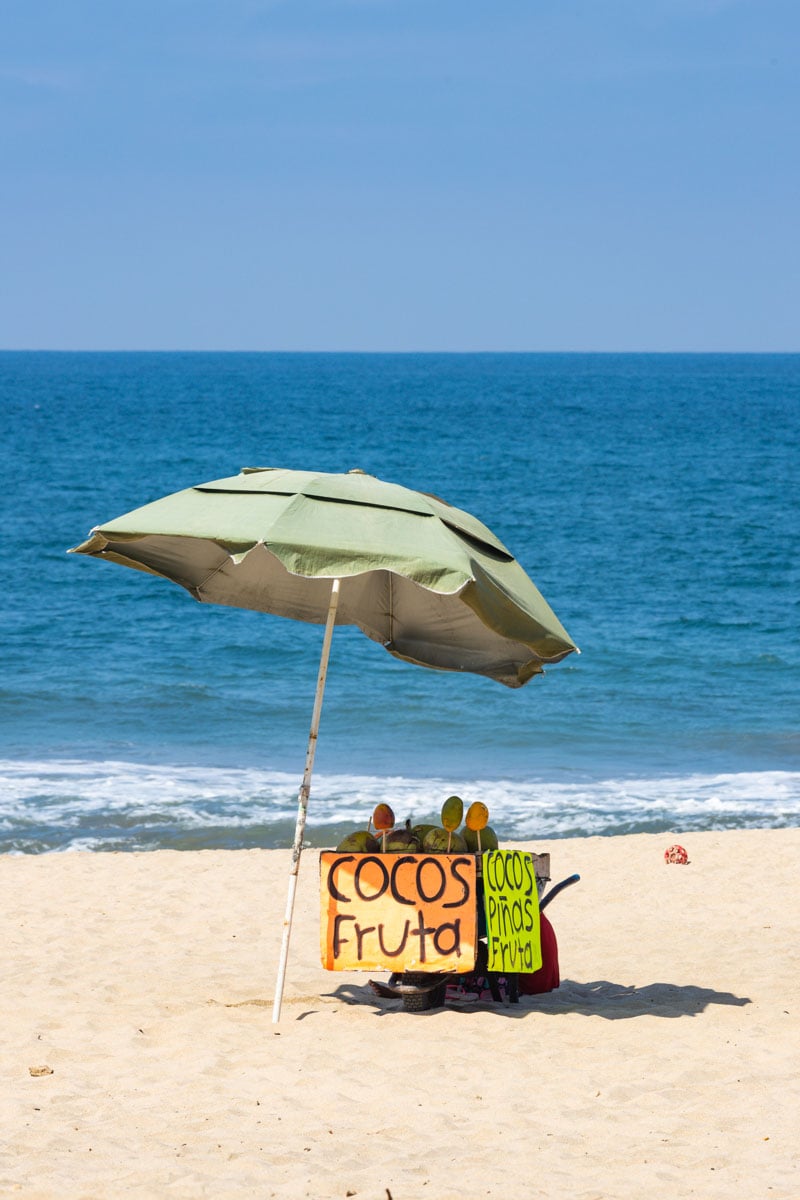 7. La Lancha (The Next Best Surfing Beach Near Sayulita)
La Lancha is a wide expanse of beach loved by surfers and those who love to watch the surf. The beach is surrounded by vegetation, which is ideal for those eager to seek out a little bit of shade. The area is famous for its easy-rolling waves and white sand beaches, ideal for spending the day in the Mexican sun.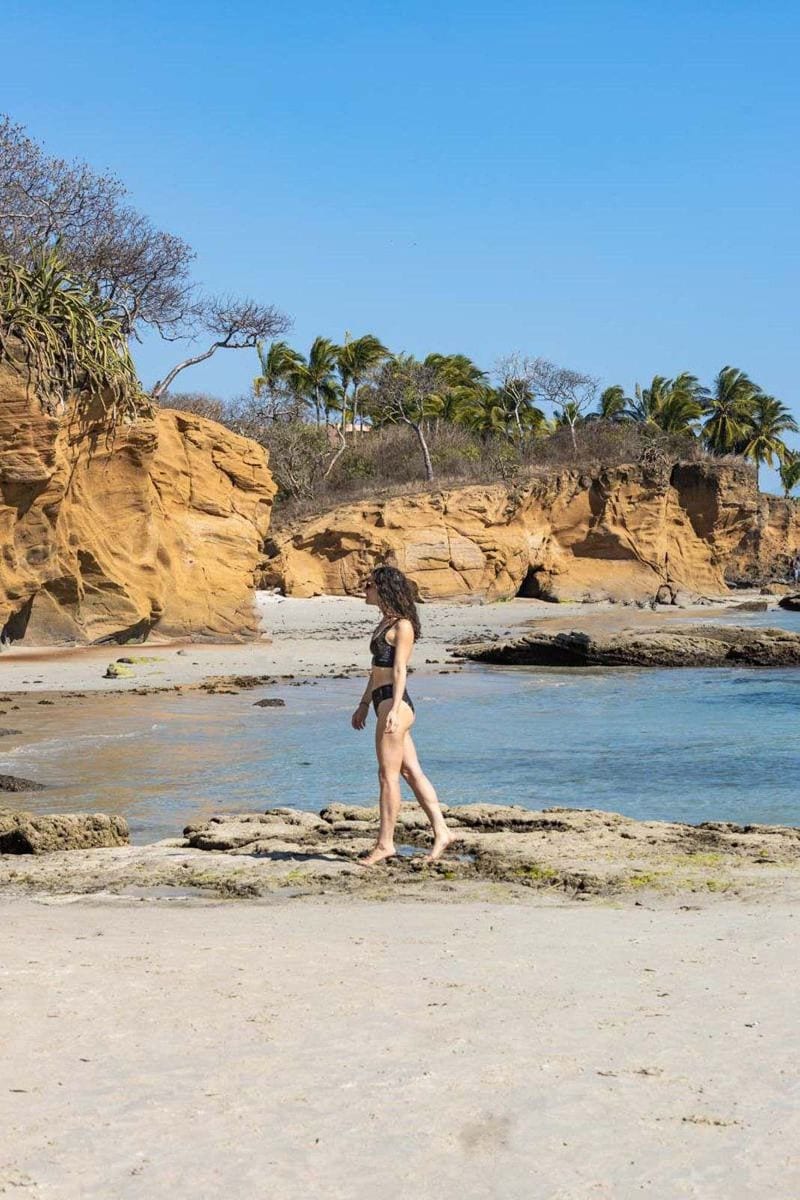 If surfing is not your thing, it is a lovely place for a walk all the way down the shore, with stunning views the whole way. You can reach the beach via a 10-15 minute walk from the highway that cuts through the jungle, and once you step out from the trees, you'll be greeted with a huge beach and orangey cliffsides.
Keep in mind that you don't want to bring too much to this beach as you're carrying it through the jungle. This also means, if you're bringing your board (the rental place is on the highway), you'll also need to walk that in and back. There's nothing at this beach either, so bring snacks, drinks, etc.
You can reach La Lancha by taking a surf trip from Sayulita, taxi, or rent a car.
RELATED: Your Guide To Living in Sayulita – Digital Nomad Life & Cost of Living
8. Punta Mita
Punta Mita was once a small fishing village. Over the years, it has developed into an exclusive resort area and contains several residential developments, with some big-name hotels located here. There's a beach in the Punta de Mita area, which is just off of the town.
This beach is OK, but the surf isn't anything too special since the waters are tucked into a bay. Paddle out on a bodyboard or standup paddleboard and ride the fun, rookie waves that can be found here sometimes, but be aware of the rocks.
There are plenty more beaches, but the hotels privately own most, and all are pristine. The peninsula stretches for 1500 acres out into the Pacific Ocean and is filled with palm tree-covered landscape.
9. Marieta Islands
You'll have to hop on a boat to reach the beaches of Marieta, but that makes the trip more of an adventure. The two islands were created thousands of years ago by volcanic eruptions, and they hide a secret at their heart, a hidden beach.
In the middle of one of the islands, only accessible through a narrow 50-foot long tunnel through the rock you have to SWIM to, and only at low tide, is a paradise you will want to explore. You can find the underground crater beach on the smaller of the two islands at its northern end.
Although it is a little bit of an effort to reach, the islands are a popular tourist attraction, so you shouldn't expect to have them to yourself. Access is controlled, however, so they will never be crowded.
There are 116 access spots a day, and on Mondays and Tuesdays, it is not open to visitors. You'll only have 30 minutes on the beach, including swimming there and back, so make the most of it!
You really have to see this beach to believe it is real, and from the sea, it is not that obvious to spot as it's from the inside that this natural marvel really stands out! You'll stop at another gorgeous island that's included on the trip with natural rock arches and powdery sand.
If you come from December through March, you'll almost be guaranteed to see whales while out on the boat as well.
The beaches around Sayulita are easy to get to and visit, but if you can, definitely venture out to some of the further out ones too!