If you're looking for where to stay in Puerto Escondido, not only do I have you covered on some of the best hotels to lay your head at night but I'll hopefully help you find the best area for you as well!
Puerto Escondido is a bit bigger and more spread than a lot of people think so it's important you know which area is your vibe. Taxis are easy and cheap enough at around $1-3 anywhere but it can be an hour's walking distance from some of these spots!
So let's break down the best places to stay in Puerto Escondido—hotel and neighborhood wise!
Where to Stay in Puerto Escondido
---
So the way I broke up Puerto Escondido is what made sense for me. By proximity and vibe!
I hope this helps you better plan your trip to Puerto Escondido.
Where to Stay in Puerto Escondido: The Town Center and Playa Principal—The Bustling Local Area
The town center and Playa Principal area are prime spots if you desire to be close to it all. You have local buses, the airport, and all the amenities you could ever need right on your doorstep.
This tends to be one of the more popular areas for where to stay in Puerto Escondido as not only do you have all the conveniences, but you are also close to the Playa Principal Beach.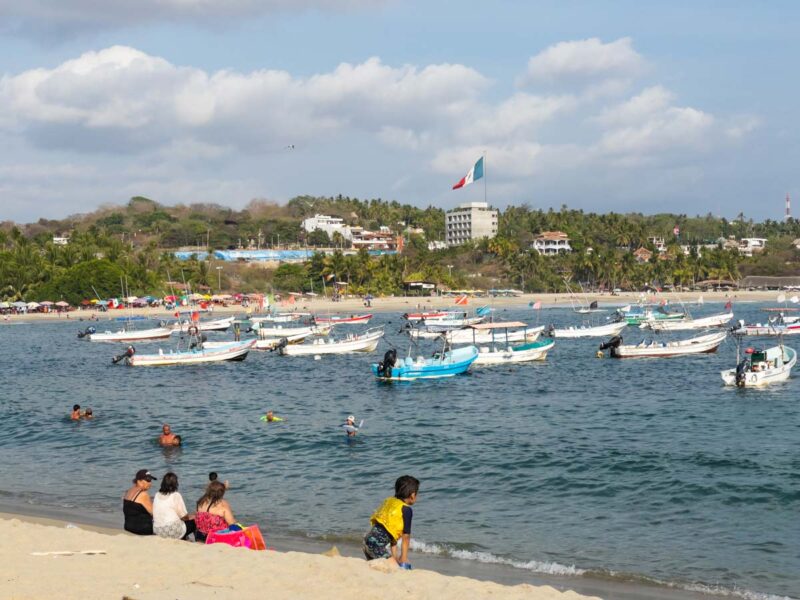 Unlike many other beaches around Puerto Escondido, this beach isn't known for its surfing, making it the perfect spot to paddle or try your hand at other water sports.
It is not the most scenic or relaxing spot, but it is undoubtedly bustling with something going on. There are endless places to eat, streets where you can shop until your heart's content, and bars to party the night away.
You're also super close to Playa Manzanillo and Puerto Angelito two more beautiful beaches right next to each other. Here you can booze at the cabanas and watch fishermen come in with their fresh catches of the day.
Tower Bridge Hostel
The ideal destination for solo travelers looking to make friends and experience Mexican life.
If an authentic Mexican neighborhood is what you are after, the location of Tower Bridge Hostel will be perfect for you, away from the tourist hustle and bustle.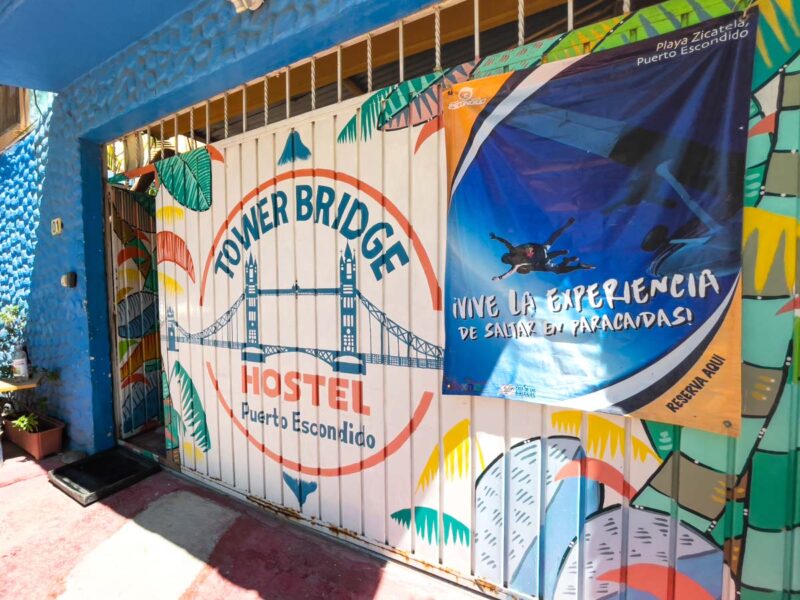 It has a pretty prime location, sitting halfway between the city center and three beautiful swimming beaches, so you have the best of both worlds. The lively Benito Juarez Market is just a 10-minute walk away from some tasty meals and a fun atmosphere.
The hostel offers so much in terms of amenities; it is almost like a small resort with a games area, barbecue area, pool with poolside bar, and a beautiful garden, all in all creating the ideal place to socialize and meet some new friends when you are not out exploring.
The dorms have everything you need for a comfortable stay, including power outlets, fans, and lockers. The team will even help you arrange trips, surf rentals and lessons, luggage storage, and a delicious breakfast.
It's also conveniently one of the meeting spots for the La Reforma Hike which is a must-do!
Puerto Dreams Hostel
Stay in downtown Puerto Escondido in the heart of it all without blowing the budget.
Puerto Dreams Hostel has a pretty nice ring to it, and to be honest, it is a pretty likable place. It offers the best of both worlds when it comes to privacy and socializing, with the option of private rooms but also extensive common areas and co-working spaces.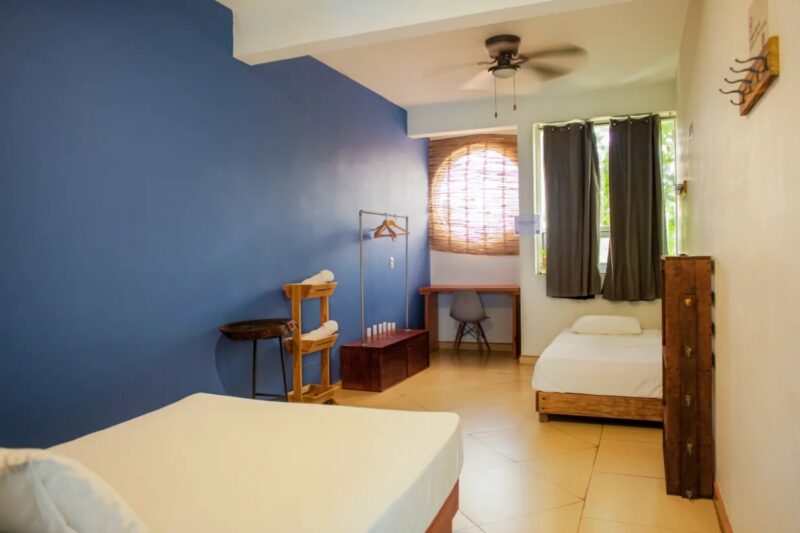 The private rooms have plenty of amenities such as A/C and fans, reading lights, and a power socket, with little touches designed to make you feel more comfortable.
One massive highlight of this hostel is the spacious roof terrace where you can relax after a day of exploring or after cooking your meal in the large kitchen.
Use the complimentary bikes to head out and explore; whether to the local beaches or further afield, there is also a market close by where you can stock up on supplies. Puerto Dreams Hostel is a good option for a chill atmosphere with room to have to yourself.
Shavanna
Be your hippest self at Shavanna, a boutique paradise with affordable rates.
Shavanna is a stylish little boutique hotel located downtown and offers a very calm, relaxed vibe. The spaces are beautifully decorated, think high-end luxury but without the price tag, with a pool and outside areas to enjoy and relax.
The rooms are large and comfortable, with both short and long-term rentals; they have done everything to make their guests feel at home. If you want to pamper yourself, there is also a deluxe suite, complete with a super king-sized bed, kitchenette, and air-con.
When you are ready to get some work done, there are coworking spaces available before stopping for a bite to eat in Molli Terrace, the hotel's restaurant. The chefs are known to take you through a range of culinary experiences, all with an Oaxacan touch.
Where to Stay in Puerto Escondido: Playa Carrizalillo / Rinconada Area—Beautiful and Chill
If you are starting your surfing journey, look no further than Playa Carrizalillo and the Rinconada area. The beaches here are out of this world; sitting in a secluded cove, you can enjoy perfect waves, swaying palm trees, and soft golden sands; it would not look out of place on the front of a holiday brochure.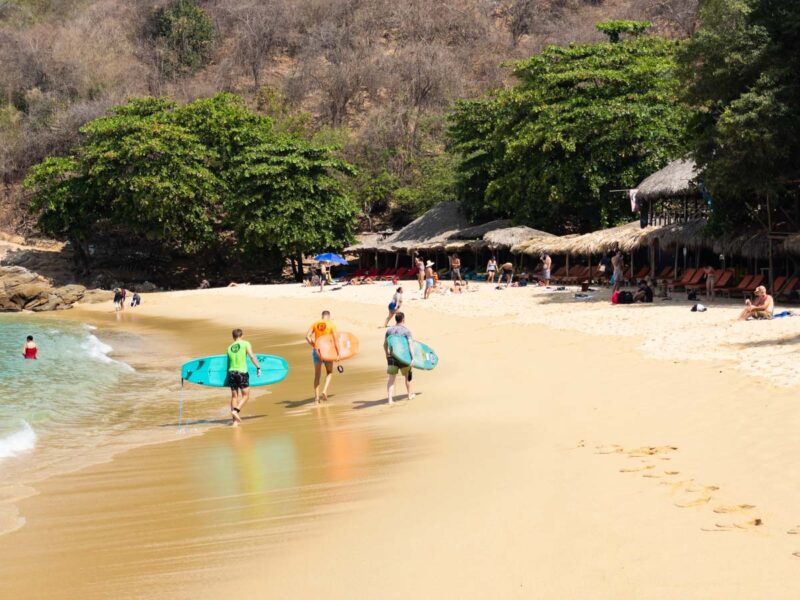 Small does not always mean better, and Playa Carrizalillo sits on the smaller end of the scale. Still, the sand is wide, and there are plenty of places to grab coconut water along the shore after spending the morning paddling, sunbathing, or learning how to surf.
There are also plenty of opportunities to learn to surf, with board rentals and lessons available from the huts that sit behind the sand. The locals provide a fantastic lesson at a price that won't break the bank.
The Rinconada area, in general, is very chill and laid back, made up of a wide boulevard that is lined with shops and restaurants.
READ MORE: Your Guide to Playa Carrizalillo in Puerto Escondido Mexico
Villa Maria B&B
Get some downtime with secluded beaches close to Villa Maria.
Villa Maria is a beautiful B&B within walking distance to Playa Bacocho, Playa Coral, and the town. The rooms are pretty big and feature ensuite bathrooms, luxury lounges, WiFi, TVs, safes, and fridges.
You won't get beds much better than those at Villa Maria, which are king-sized and made up of memory foam pillows, Egyptian sheets, and soft cotton blankets.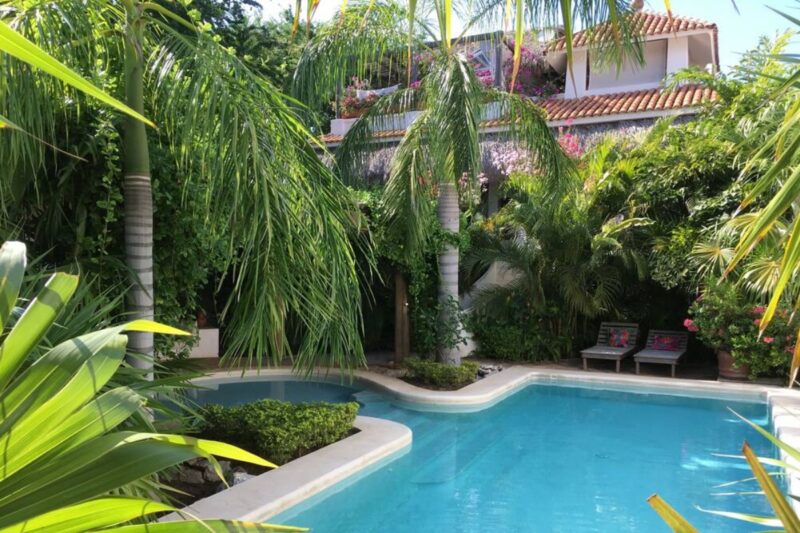 In the morning, wake up to sea views before enjoying a delicious Mexican breakfast, with delicacies cooked up with fruit and vegetables grown right in the villa's organic ranch.
You won't run out of things to do either. The other beaches of Zicatela, Carrizalillo, and Punta Colorado are all nearby, with access to scuba diving and deep-sea fishing, among numerous other activities.
Laguna de Manialtepec is an incredible bird-watching destination, and whales and dolphins can often be spotted out to sea. Souvenirs and shopping opportunities are around every corner, with crafts, jewelry, and clothing made by the locals at the Adoquin.
Villas Carrizalillo
Enjoy the best views from a beautiful hotel in the center of both beaches and downtown.
Live a life of luxury at Villas Carrizalillo, a stunning villa of several units, each with a dining area and seating area. Each unit has its bathroom and shower room, and some have a stunning terrace and kitchenette.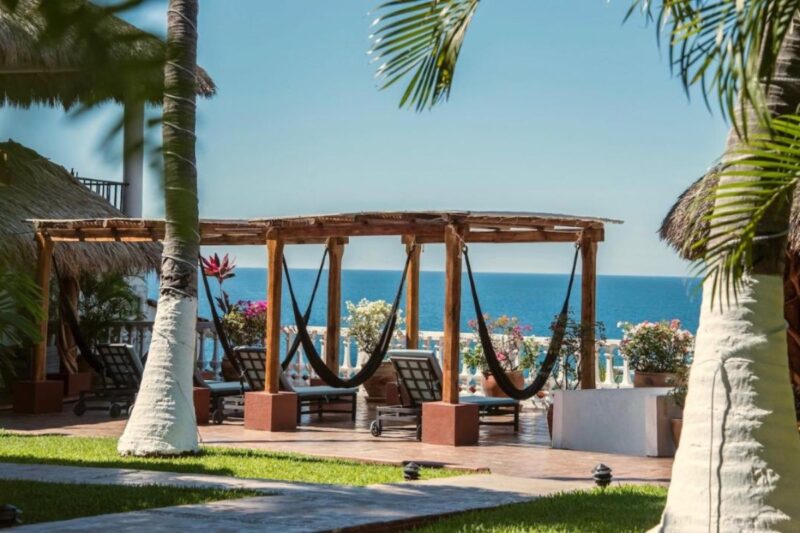 All guests have access to the large outdoor pool and enjoy the onsite restaurant if you don't fancy cooking for yourself.
Reaching the town is easy, with downtown just over 1km away. Access to the beach is also a breeze, as there is private access to Playa Carrizallilo, which has excellent surfing, beach bars, and a stunning surrounding area.
You will never get tired of the ocean views, no matter how long you stay. Everything about this villa is excellent, from the many amenities to the attentive staff; you will feel spoiled!
Where to Stay in Puerto Escondido: Zicatela Beach—Pro Surfer and Tourist Hub
Make hip and happening Zicatela Beach one of your go-to places to stay in Puerto Escondido if you are after a good wave to surf, followed by the excellent nightlife.
The 2-mile (3.5 km) long beach is one of the best-known surfing spots in the whole country, with people coming from miles around to go on the legendary Mexican Pipeline. These waves are not for the faint of heart, so only attempt them if you know what you are doing.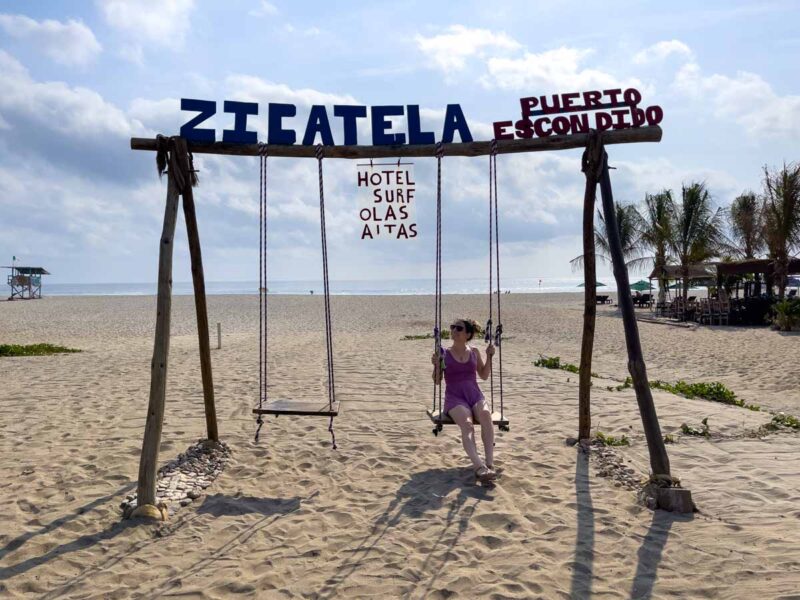 Just behind the golden expanse of sand sits Calle del Morro. The street provides the perfect place to grab a beer, make some new friends and go shopping.
This area is kind of the tourist strip with everything from backpacker to more midrange hotels, restaurants, and everything in between.
READ MORE: Your Guide to Playa Zicatela + La Punta Zicatela in Puerto Escondido, Mexico
Selina (Where to Stay in Puerto Escondido for Digital Nomads!)
Work while you travel in comfort with a stay at Selina, a digital nomad's paradise.
Selina's ample, beautiful accommodations offer the perfect place to stay for a digital nomad. Along with the lovely room, the perfectly designed coworking spaces cater to those needing to knuckle down by themselves for the day and those open for a bit of socialization.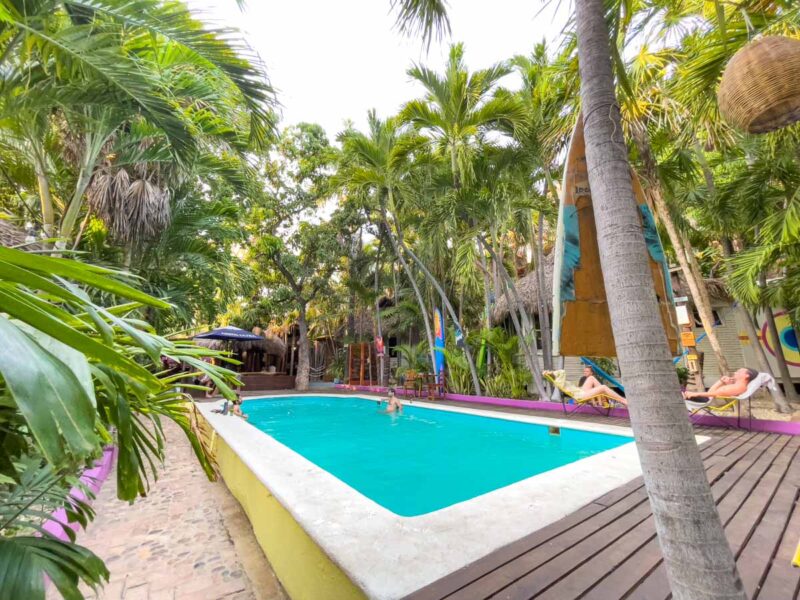 When you have done enough work, you can relax in the pool with a drink from the poolside bar, take a daily yoga class or play a game with a new friend in the common area.
Each room comes with a queen-sized bed and its private bathroom, or there are deluxe rooms for those that fancy a bit more of a luxury lifestyle. Those that love the dorm life don't have to miss out either, with plenty of bunk beds available, each with a locker and light.
Hotel Rockaway
You can't get much closer to the beach than at Hotel Rockaway, a modern hotel with beautiful decor.
As one of the newest hotels in the area, you can rest assured you'll have a comfortable stay at Hotel Rockaway. The hotel is located right in the famous center of Zicatela Beach, which is known for its huge waves and plenty of restaurants, clubs, and bars.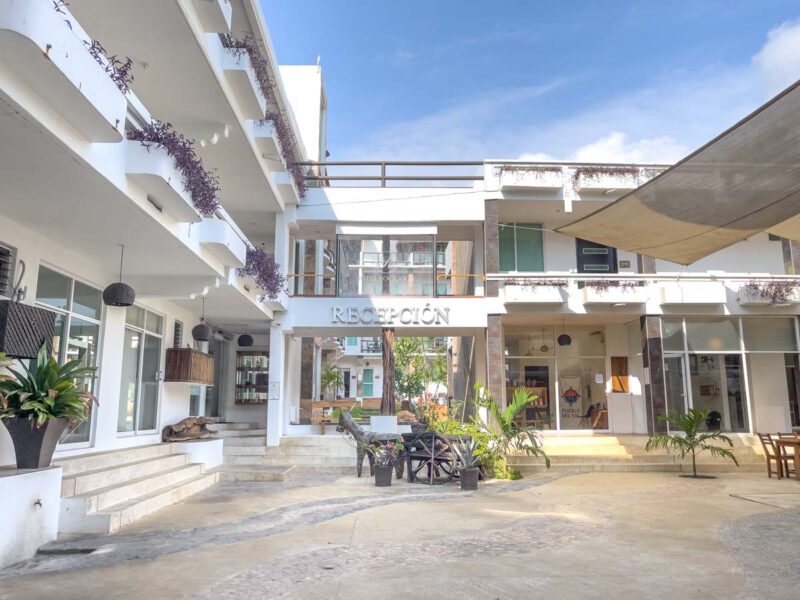 There are 32 rooms available and 13 luxury apartments, depending on what you are after and how much time you think you will be spending at the hotel.
There is a large lounge to relax in and a restaurant that serves both a la carte and a buffet. There is also a gym and two beautiful swimming pools to enjoy.
Casa Joseph
Stay at Casa Joseph for some adults-only luxury on the beach.
Sometimes you need to get away from kids for a little while, which is what Casa Joseph can offer. This adults-only establishment is located right on the beach so that you can take a few steps from the pool to the beach.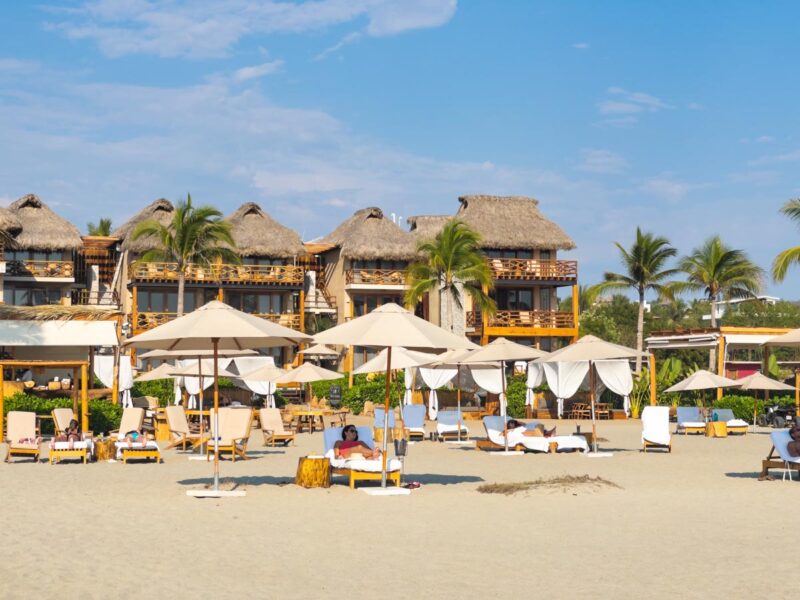 There is a stunning restaurant and bar on-site, with luxury features such as cabanas on the beachfront and a trendy beach club. The room comes in the form of an oceanfront suite (no ordinary old room here), and all have a large balcony overlooking the sea.
Added perks include free wifi and breakfast, bathroom amenities, A/C, and daily yoga classes. If you want more, you can choose the mega luxury oceanfront private villa with a fancy personal chef!
The team at the hotel can also sort out a range of activities for you, such as mezcal tasting, horseback riding, surf classes, beach yoga, and plenty of different spa treatments.
Even if you don't stay here, they have an excellent day pass option that includes the use of their amenities, food all day, yoga, and even a massage! They don't openly advertise this, but reach out on What's App and ask them! (You're welcome!)
Where to Stay in Puerto Escondido: La Punta—Hippy-ish Area
La Punta could be described as a little, tiny beach town, the place to go if you want to relax, chill and do little more than sit on the beach with an ice-cold beer. It is an entirely different world than Zicatela's busy town center; it is hard to believe it sits only 10 minutes down the road.
In fact, it's literally a straight shot from Zicatela but as you get closer to the point, the vibe changes. It's super chill; you can relax on the beach, in a hammock, or at one of the local cafes.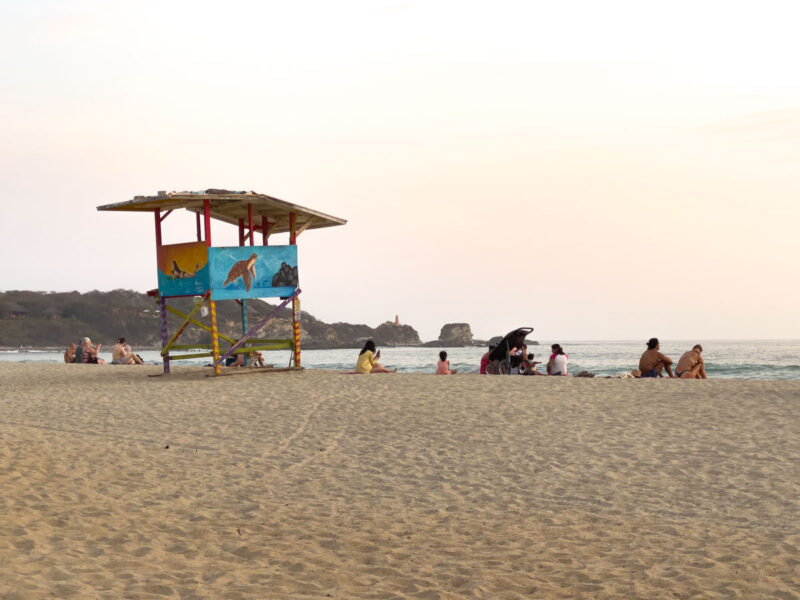 If you are craving that bit of nightlife, it is so easy to get a cab into the heart of Puerto Escondido, knowing that you have your quiet little oasis to come back to afterward.
It's a backpackers/flashpackers paradise, with a hippy vibe thrown in for good measure. The waves on the beach at this point are more for beginner and intermediate surfers which makes it a popular place to go surfing since most can't rip on Zicatela's monstrous waves!
This area isn't the cheapest but you'll find budget spots, just don't expect too much! The restaurants here are also not going to be the cheapest as it's definitely aimed at westerners.
Casa Punta
Live the hippy lifestyle for a while in trendy Casa Punta.
For those who dream of staying near the ocean, Casa Punta has you covered. It is located just a few steps from the waves, so you can roll out of bed in the morning and be on the beach in minutes.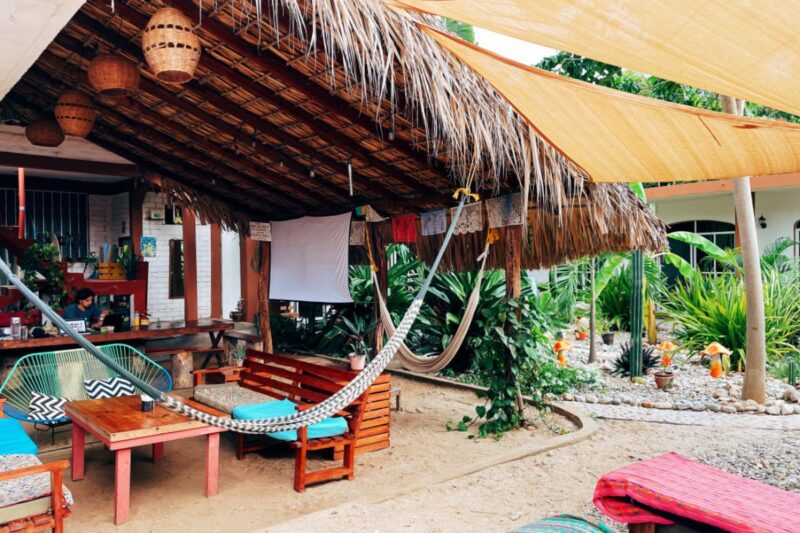 Spend your days learning to surf at La Punta, one of the best surfing beaches in the area, before grabbing a beer and enjoying the sunset; life doesn't get much better than that.
WiFi and lockers, a fully equipped kitchen, and luggage storage help make a stay at Casa Punta easy and comfortable; when it comes to social spaces, big BBQ meals in the hammock-filled garden area are the norm, and the rooftop terrace boasts some incredible views.
Villa Bonobo
Whether traveling solo or in a couple, Villa Bonobo balances comfort with affordability.
Villa Bonobo offers the best of both worlds when it comes to being social while also having a little bit of luxury. It is the perfect mix of hostel and hotel, with large rooms with private bathrooms, all of which have views out over the swimming pool or the ocean.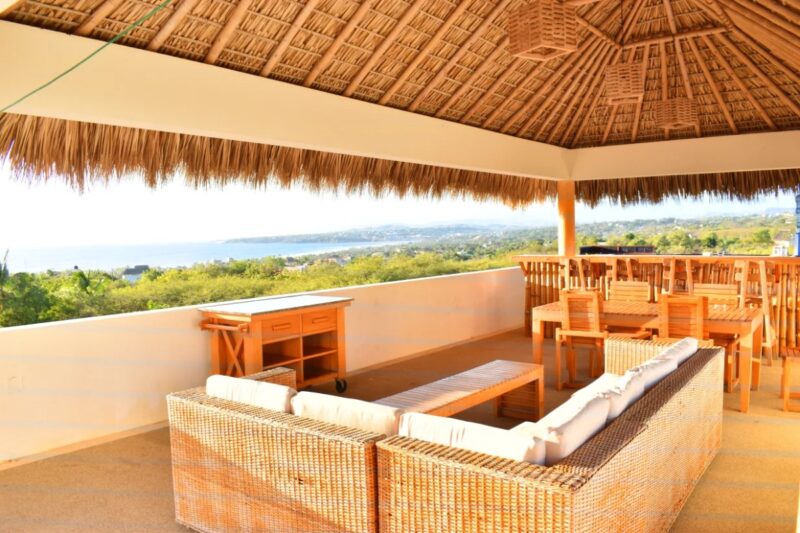 The real highlight of this hostel is its massive rooftop bar, which has excellent vibes day and night, whether you want to use it for a bit of morning yoga or a few cocktails at the end of the day.
Use the large kitchen to prepare your meals, but enjoy the complimentary breakfast before heading out for a day relaxing, surfing, or exploring. The hostel is a great place to make friends, with big BBQ meals and other activities, or a place to have some downtime and get some work done.
Punta Zicatela
Located in a chill area on the beach, Punta Zicatela offers everything you need for a luxury stay.
You can't get much closer to the beach than staying at Punta Zicatela. It is the ideal mix of modern vibes and Mexican warmth, with stunning views out to sea from the balconies.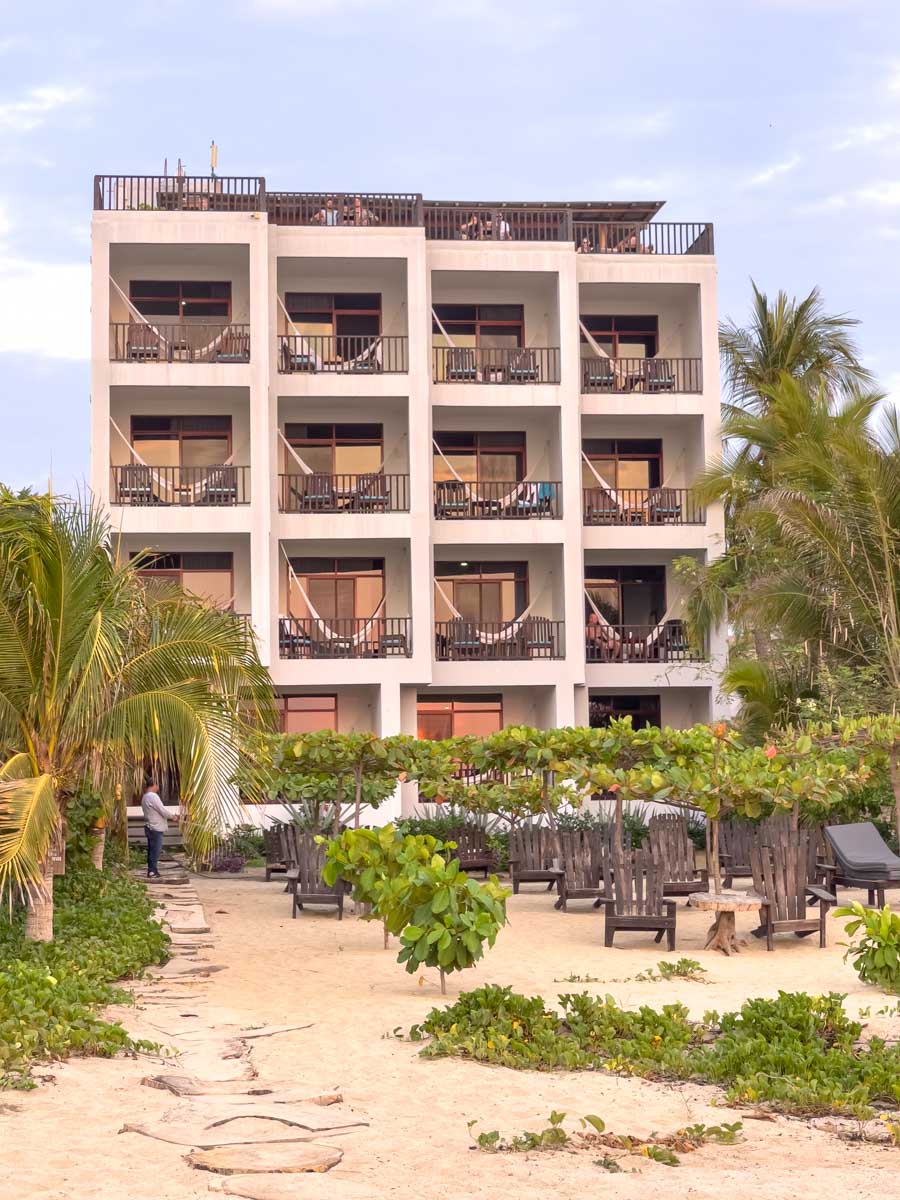 At only 28 rooms, it is a small hotel, which helps to add to its charm, with staff helping to add to that personal touch and going out of their way to make sure you have a magical stay.
Rooms are large and spacious, with each coming with a king-sized bed or two queen-sized beds, all with at least a partial sea view. The air conditioning certainly comes in handy!
Outside, seek out the swimming pool surrounded by a colorful garden. There is a bar and cafe so you can pick up a drink while you relax. Enjoy views of the ocean and beyond from the roof terrace, or relax on one of the hotel's private beds on the beach and take it all in.
If you get tired of relaxing, you can join in one of the beach activities or ask the hotel to help you plan an excursion, be it surf lessons, sport fishing, mezcal tasting, or dolphin watching.
More Around Puerto Escondido
I hope this helped you find the best place to stay in Puerto Escondido for you!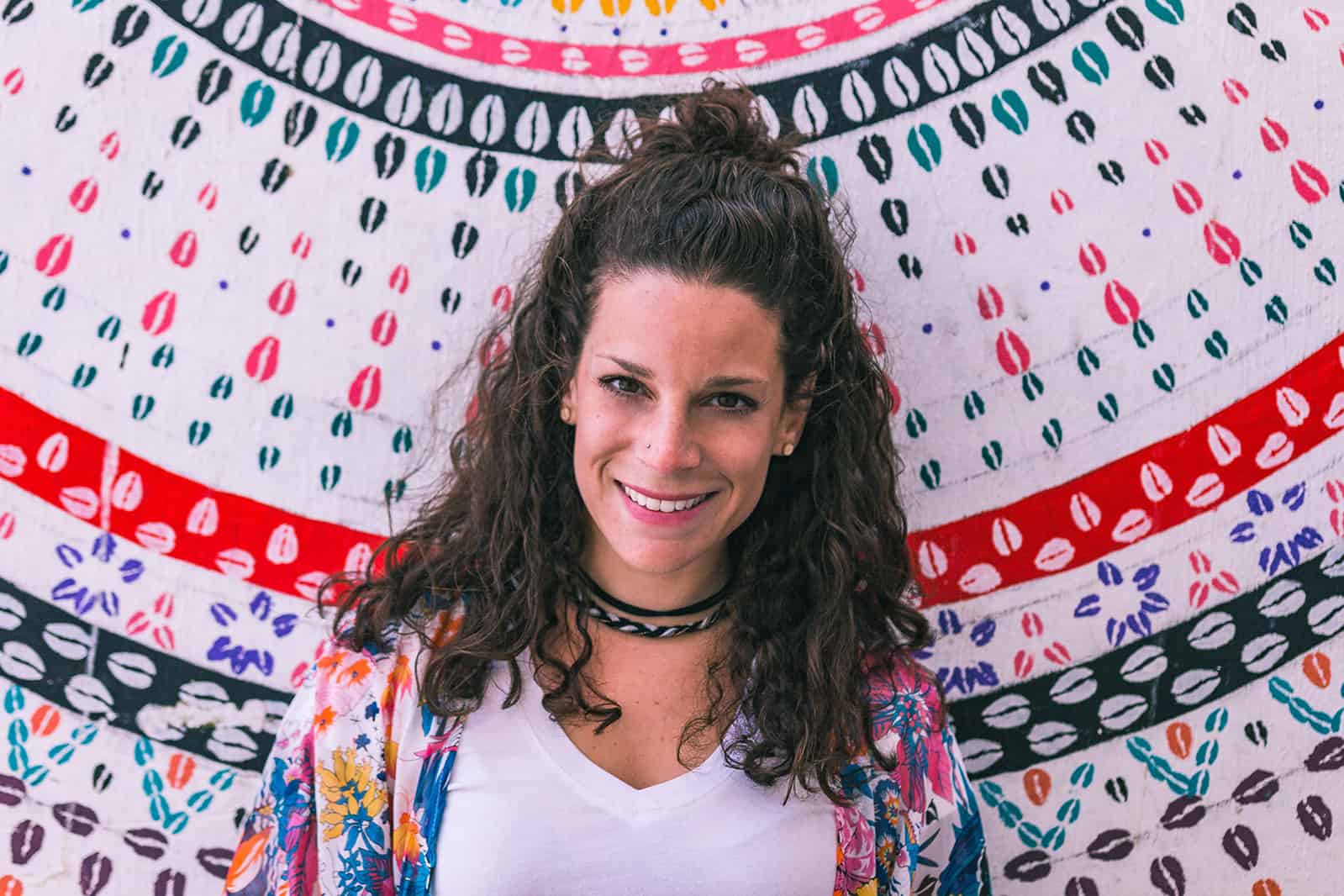 Nina Ragusa is an adventurer, messy bun master, breakfast fan, and full-time travel blogger. She's been abroad since 2011 and blogging on Where in the World is Nina? for nearly as long. Nina helps people like you move around the world while making money. She loves talking about how to work abroad and online to travel longer!