Fort De Soto Park is more than just a beach. The park actually spans 5 different islands, covering 1136 acres in Tampa Bay and the Gulf of Mexico, and offers endless entertainment and recreational activities.
There are few parks in the state that offer so much, and not even Everglades National Park draws as many visitors every year.
Whether you prefer to sit on the beach and enjoy the Florida sun or get out onto the water or onto one of the hiking trails, you'll be immersed in the abundance of natural beauty that surrounds you as far as the eye can see.
This jewel of Pinellas County has it all, from fishing, boat ramps, kayak rentals, and even a dog park, so your furry friend can enjoy the trip with you.
Fort De Soto Park & Beaches
---
The five keys located at the southern tip of St. Petersburg were all considered for fortification, utilized for the blockade of Tampa Bay during the Civil War in the mid-19th century. The keys were then abandoned at the end of the conflict until the states became involved in the Spanish American War.
The impressive fort that sits within the park dates back to 1898 when the US 'became involved in conflict with Cuba'. The citizens of Tampa Bay demanded military defenses, and that's where the fort came into being, finally being completed in April 1900.
The fort wasn't used for long, and by 1923, it was abandoned. By 1963, Fort De Soto Park was officially dedicated, and today is a hugely popular destination for those looking to enjoy the great outdoors.
Roaming the Forts at Fort De Soto
In the center of the part lies the forts themselves, the park's namesake. Even if you're not a fan of history, you can't visit the park without making a stop at Fort De Soto. The ground floor is made up of a combination of mysterious, echoey rooms which were once artillery holds and firing galleys.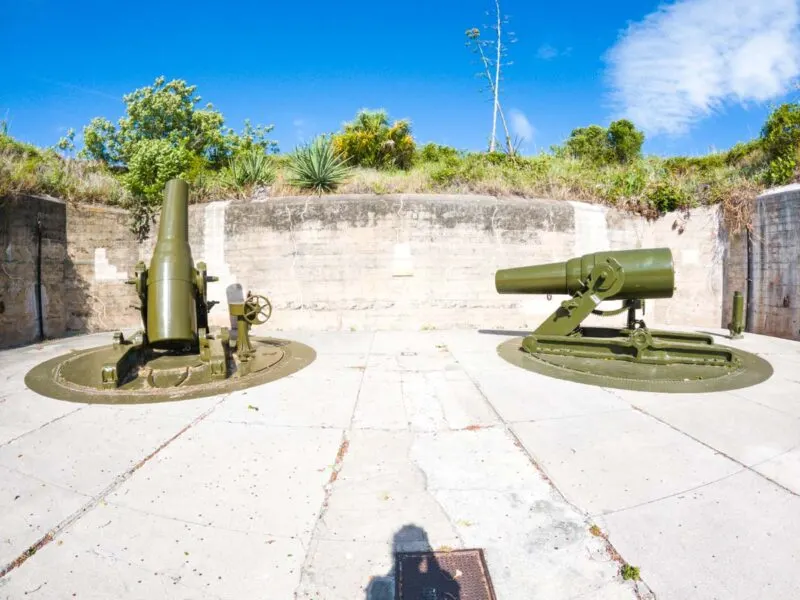 If you climb to the top of the fort, you'll be greeted with sweeping vistas of the park and beyond. If you are interested in the history of the fort and the park, there is also a small Quartermaster Museum packed full of info and artifacts. You could also take fort tours or follow the self-guided historical trail.
Fort De Soto Beaches
The real treasure at Fort De Soto Park is the beach itself. Picture stunning white sands and translucent waters, and that's exactly what awaits you at the park. There are literally miles of pristine beaches to enjoy, so there is plenty of room for everyone.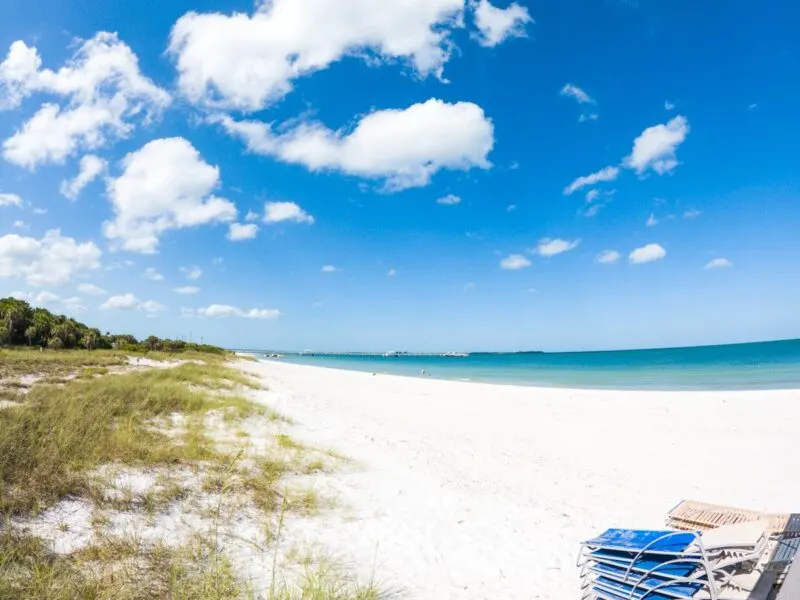 Anchored to the main island, Mullet Key is where some of the most popular beaches can be found. (Only realizing the name Mullet Key right now despite growing up here! HA!)
North Beach is likely the most popular of the beaches, and the one that most people know about. It has a massive parking lot, picnic shelters, and restrooms. The beach is so popular, you may struggle to find a secluded section of the beach on weekends.
The beaches that are south of North Beach are much less crowded, but that could be because they are a little harder to get to, such as Gulf Pier Beach. Each beach has three huge picnic pavilions, and although there are a number of other facilities, the beach itself is not the most picturesque in the park.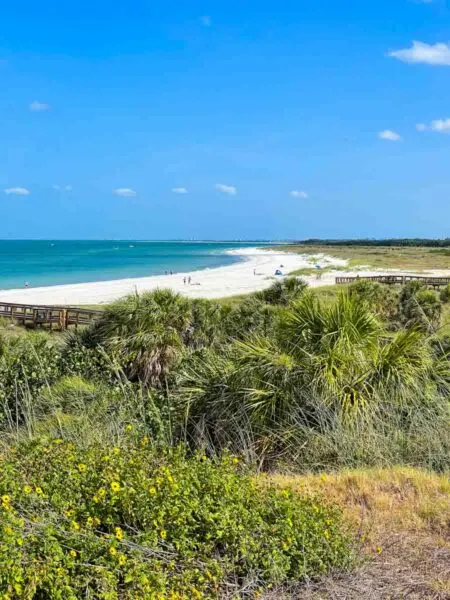 Fort De Soto Park is home to one of the only places in the area where you can let your dog off the leash and let them explore and play in the waves.
There's a dog park area with has two fenced sections, one for bigger dogs and one for smaller dogs, and the nearby beach where they can roam freely. There's also a hose so you can wash down your pooch if they get too sandy.
When I had a dog, I was here EVERY weekend. It's not super common to find off-leash beaches and this was our little haven after a busy work week.
Biking and Walking Trails Around Fort De Soto
You may think that being a park made up of beaches and islands, hiking and biking paths may be on the scarce side, but that's surprisingly not the case at all. There is a 7-mile paved trail which is ideal for an easy bike ride but also draws runners, dog walkers, and mothers with strollers.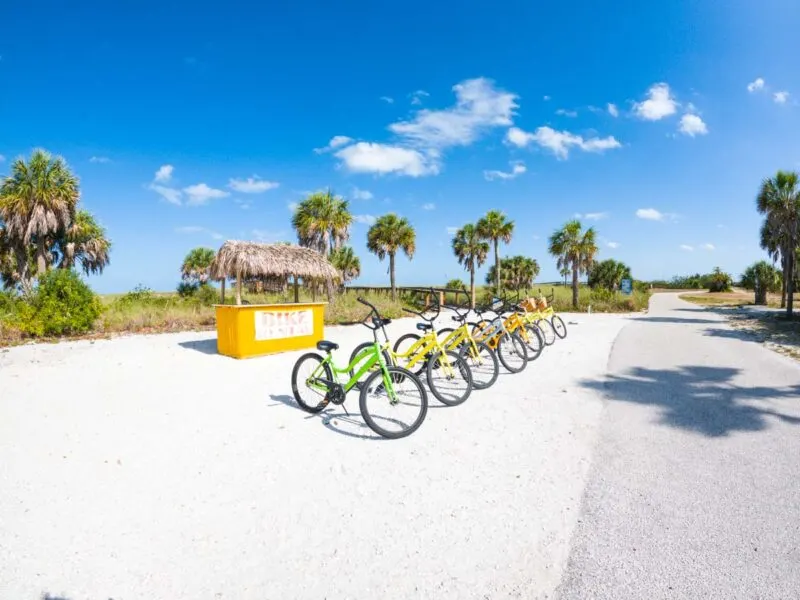 You can even grab 8 people and hop on a covered Surrey bike that you can hire from the park and see the sights a whole new way. In addition to this main path, there are also many additional smaller nature trails that wind their way through the undergrowth, so you can escape the crowds for a while.
The main path is completely paved and allows you to easily see the entire park, so you can pick out the spots that intrigue you and go back and visit them later.
A 2,000-foot nature trail is a good option for those looking for a slightly slower pace, as along the way you can learn about the many salt-dependant plants that populate the park.
RELATED: 17 Cool & Outdoorsy Things to Do Around Tampa, Florida
Fishing in Fort De Soto
Anglers love the park, and for good reason. There are plenty of fishing spots to try, where your hardest decision is likely to be where to try first.
You could fish either on the gulf side or on the bayside, and if you don't fancy heading out on a boat, there are two fishing piers that jut out into the Gulf, with a bait and tackle shop next door for easy and convenient restocking of all the essentials.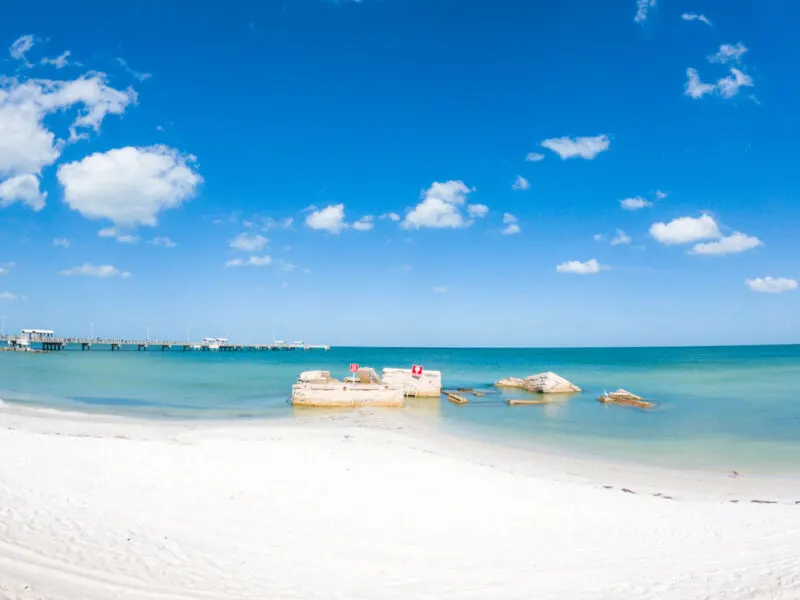 One of the fishing piers, Gulf Pier, is 1000 feet long, while the Bay Pier is 500 feet. The Gulf Pier is the one with the stronger currents to contend with, so it is quite unlikely that you will come across larger gamefish, but great if you are up for a bit of a challenge.
The calmer waters around the Bay Pier mean you have a good chance of catching a range of creatures including pompano, permit, ladyfish, Spanish mackerel, and many others.
Shore fishing is also an option in the channels between the islands and in the back bays, where spotted sea trout, snook, and redfish are all very common.
Paddling Around Fort De Soto Beach
One of the very best ways to get out and explore Fort De Soto Park is on the water itself via a canoe or a kayak. You'll be able to explore all the hidden gems, and maybe even get up close to a range of marine life including manatees, turtles, and a huge range of wading birds.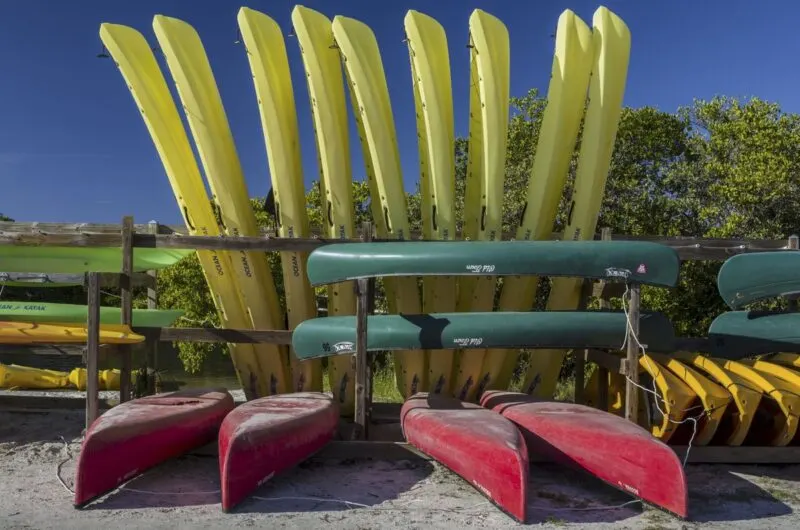 It will be an experience you won't forget in a hurry as you glide effortlessly through the tidal waters. The paddling trail through the mangroves is the best place to start, as there is no experience necessary and it is a very easy paddle, leaving you time to admire your surroundings.
On a calm day, you may be able to paddle out into Tampa Bay, or out to the stunning beaches of Shell Key. Traverse the 2.5-mile kayak trail that will take you through the 5 keys that make up the park. You can find more about kayaking in the area here.
RELATED: Kayaking Around Three Sisters Springs in Crystal River, Florida
Boating in Fort De Soto
If boating is your thing, make use of the park's 800-foot boat ramp for easy access into the water. There are 11 floating docks and a huge parking lot. It is a great place to bring any sized motorboat, as you can very quickly get out into the Gulf of Mexico or Tampa Bay.
Alternatively, if you have a smaller boat or only want to stay on the water for a short while, you can always just visit a few of the smaller islands, or stay in the backwaters and enjoy the Florida sunshine.
Wildlife Watching in Fort De Soto
Thanks to the diversity of the area, wildlife is abundant and varied! The keys are home to beach plants, mangroves, wetlands, and native plants. In all, Fort De Soto is home to 328 species of bird, with new species being added each year.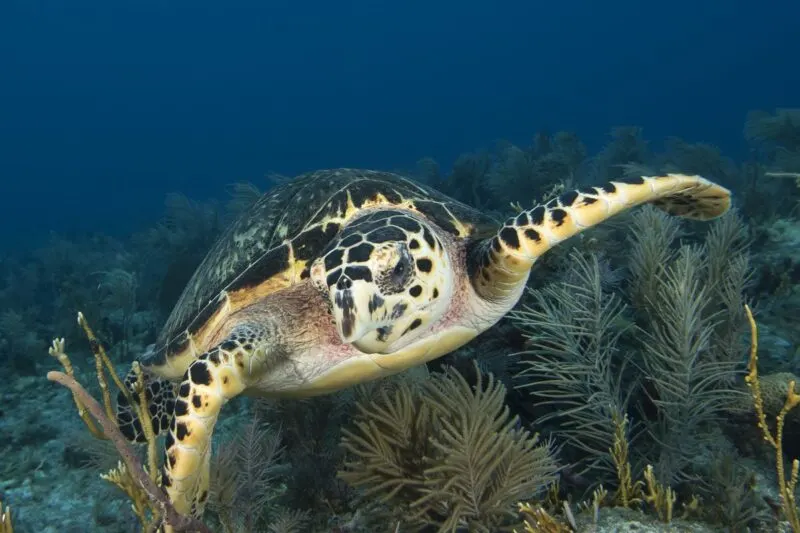 A section of North Beach is set aside as a sanctuary for shorebirds. The beach provides a vital refuge for loggerhead turtles, which nest between April and September.
If you're UBER lucky, you might even spot a manatee! These gentle giants as special to Florida, remember to respect their space and don't touch them (nor ride them!).
Camping at Fort De Soto Park
For many, there is just too much to see and enjoy that one day is just not enough. Luckily, Fort De Soto Park has an expansive beachfront campground to make use of.
It is easily one of the most beautiful camping spots in the whole state, as most campsites have incredible views out over the aquamarine water, the islands, and the bridges that span between them.
There are 238 campsites in total, although it can still be tricky to get a spot, and all come with water, electricity, charcoal grills, and picnic tables. Although there are lots of campsites, the prized waterfront campsites get snapped up very quickly, so it is worth looking up the availability before planning your trip.
Pinellas County residents tend to get the first shot at the campsites a month in advance, whereas non-county residents get booking 6 months in advance. You could always look out for cancellations if you don't manage to get a site.
Where to Stay Near Fort De Soto Park
Unless you're using the campsite listed above, you can't stay directly in the park. Luckily there are plenty of nearby options in St Pete Beach, Tierra Verde, and Gulfport.
The Blue Dog – A charming one-bedroom stay just one block from Pass-A-Grille beach, surrounded by historic cottages and quaint boutique stores.
Gallery Studio – This fun, colorful studio is located in the Gulfport art district and just a short walk from the pier.
Seastone Studio – A dog-friendly studio that's just two blocks from the beach and the restaurants of Gulfport.
Exploring Just Beyond Fort De Soto Beaches
Shell Key
Take the Shell Key Ferry over to this uninhabited barrier island for long stretches of pure white sand and beautifully warm waters.
Although there are some great shelling opportunities all over the park, if that's really what you're interested in, then you must head over to Shell Key Preserve, where there are enough sand dollars for everyone to find.
This undeveloped island is the ideal place to get away from bust life back at the park, stretching for 195 acres. The key itself makes up part of the Shell Key Preserve, which is actually around 1700 acres, and also includes smaller islands and mangroves several of which are off-limits to humans because they are a wildlife preserve.
Overnight, primitive camping is allowed on the island, for the small permit fee of $6 per day for a group of up to 6 people. You will also have to pay a small boat ramp fee if you are planning on using your own boat.
RELATED: 17 Legendary American Road Trips
Egmont Key
If you want a stunning, white sand beach away from the crowds, look no further than Egmont Key. To get to this picturesque location, simply hop on the ferry from the pier at Fort De Soto Park. The ferries run multiple times a day and should only take about 20 minutes, plus you have a good chance of spotting some dolphins in the water along the way.
Once you tire of lazing on the white sands, take to the clear waters for a spot of snorkeling and see what underwater wonders there is to see. Explore this magical island and all the while having your eyes peeled for gopher tortoises that call the island their home.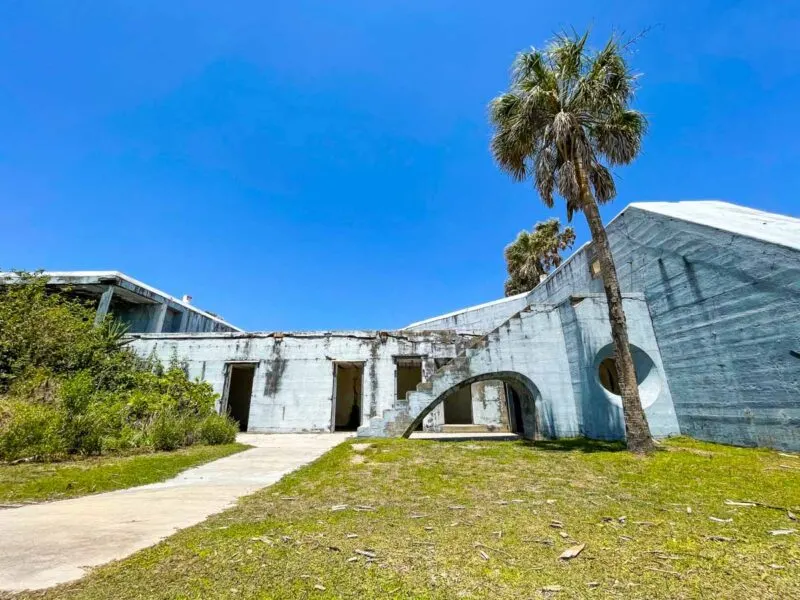 The ruins of the 18th century Fort Dade are scattered around the island, which was once the home of 300 people, and are great to explore. There are 6 miles of trails for hiking, despite the fact that nearly half the island is closed to visitors as a wildlife refuge.
READ MORE: How to Explore Egmont Key State Park
How to Get to Fort De Soto Park and Other Info
There is a snack bar and gift shop that sits between North Beach and the forts, which is very helpful if you're at the park for the whole day and need to stock up on food or drink, or a range of other essentials.
The park is open every day from 7 am until sunset, and the sunsets at North Beach really are something special.
In order to access the park, there is a $5 parking fee, plus you'll also have to pay the Pinellas Byway tolls to get out of the park.
Reaching Fort De Soto is pretty straightforward. You'll have to take Interstate 275 to junction 17 and proceed west. Turn left at the second stoplight which is State Road 679 and follow this to Fort De Soto Park. There is a toll road, so keep some spare change handy.
I hope you enjoy visiting Fort De Soto!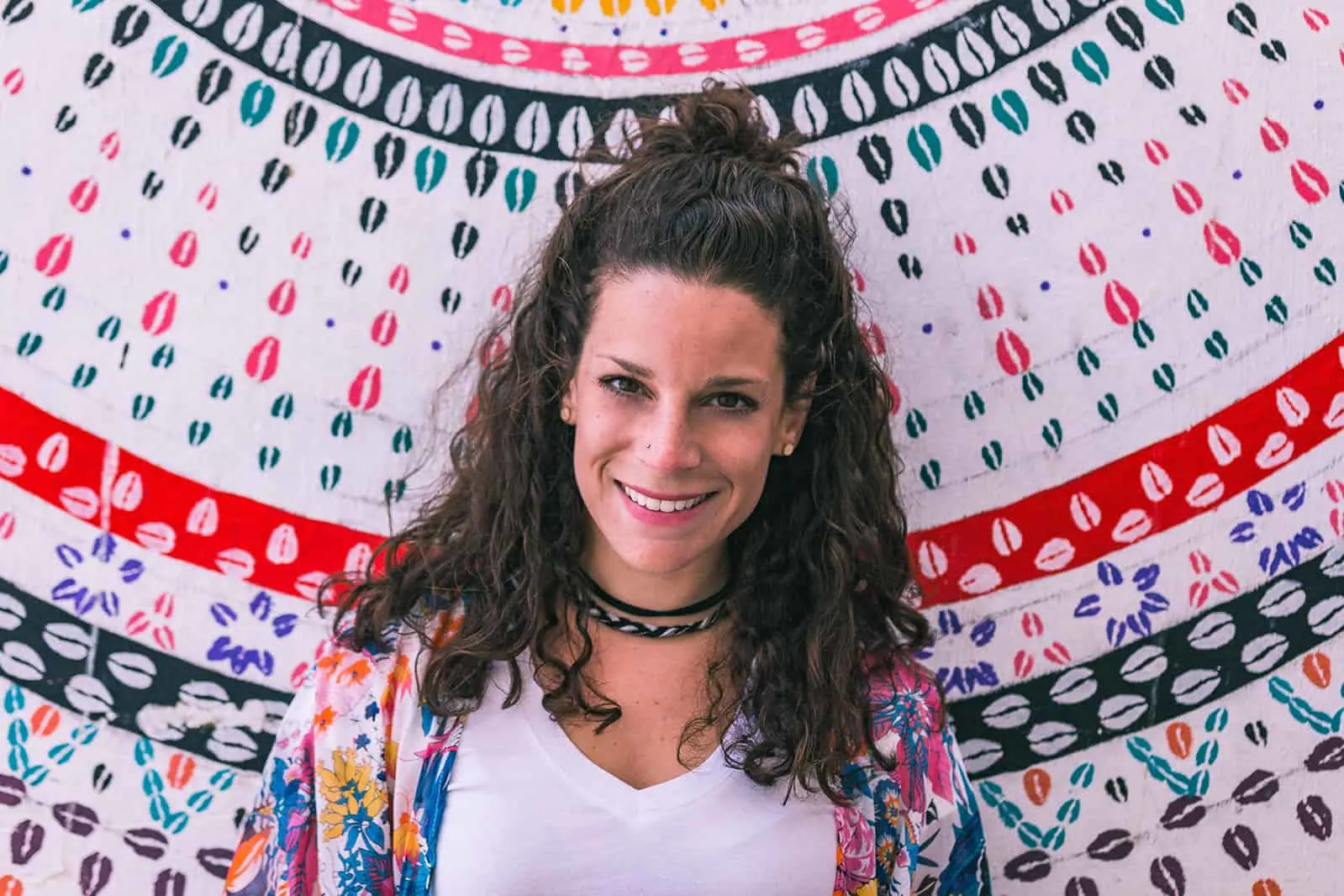 Nina Ragusa is an adventurer, messy bun master, breakfast fan, and full-time travel blogger. She's been abroad since 2011 and blogging on Where in the World is Nina? for nearly as long. Nina helps people like you move around the world while making money. She loves talking about how to work abroad and online to travel longer!