This guide on the best things to do in North Florida is authored by Wayne.
From the Panhandle on the northwest end of the state over to Daytona Beach on the Atlantic Coast, Northern Florida has a lot of fun activities and attractions.
This post covers the best things to do in North Florida, and you will see that the state is more than just theme parks and beaches!
The North Florida cities covered in this post include Jacksonville, St. Augustine, Destin, Panama City Beach, Daytona Beach, Pensacola Beach, Miramar Beach, and Gainesville.
Here are some of the best things to do in North Florida! Whether it's a week-long road trip to these destinations or just a place to spend your day, this list has you covered!
Things To Do in North Florida
---
1. Explore the State Parks
Most people think of Florida as a beach destination, but the state is full of lush forests, crystal-clear springs, and rolling hills. The state parks are a great way to experience all that Florida offers.
These state parks have something for everyone from hiking and swimming to fishing and camping. Here are just a few of the best in North Florida.
Ichetucknee Springs State Park
North of Gainesville in Fort White, Florida, Ichetucknee Springs State Park is popular for tubing, kayaking, swimming, and hiking. This park is one of Florida's most well-known state parks and is teeming with wildlife.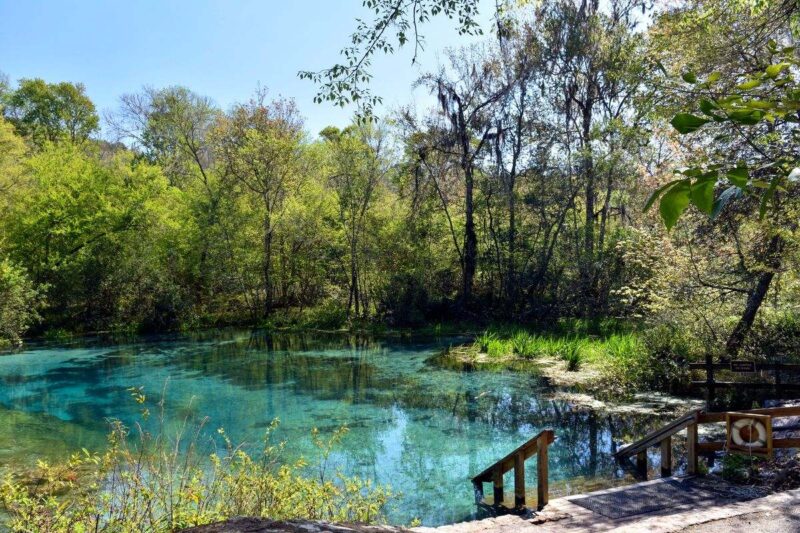 Edward Ball Wakulla Springs State Park
This park's claim to fame is having the largest freshwater springs in the world. Here, you can take a boat tour to see everything that the park offers and see wildlife such as alligators, manatees, and birds. Edward Ball is located in Wakulla Springs, just south of Tallahassee.
Apalachicola National Forest
Southwest of Tallahassee is Apalachicola National Forest. With hunting, fishing, swimming, and hiking, this park offers a lot. There's also camping and cabins here, and plenty of spots to view nature and wildlife.
Manatee Springs State Park
Manatee Springs State Park is located southwest of Gainesville and is known for its beautiful spring and hiking along the boardwalk and trails.
Topsail Hill Preserve State Park
Topsail Hill is in Santa Rosa Beach and is one of the nicest state parks in Northwest Florida. This park offers camping, biking, hiking on its trails, and lots more activities.
The main trail takes you about a mile to the sandy beach along the Gulf of Mexico. And if you don't want to walk the trail, you can take the tram to and from the parking lot with your supplies!
2. Relax at the Panhandle Beaches (Arguably The Best Thing to Do in North Florida!)
The Florida Panhandle is a 200-mile strip in Northwest Florida and has some of the best beaches on the Gulf Coast!
Quietwater Beach – Pensacola Beach has Quietwater Beach, a fun swimming area on the Santa Rosa Sound, next to the Pensacola Beach Boardwalk. The Boardwalk is filled with restaurants, shops, and water activities such as parasailing.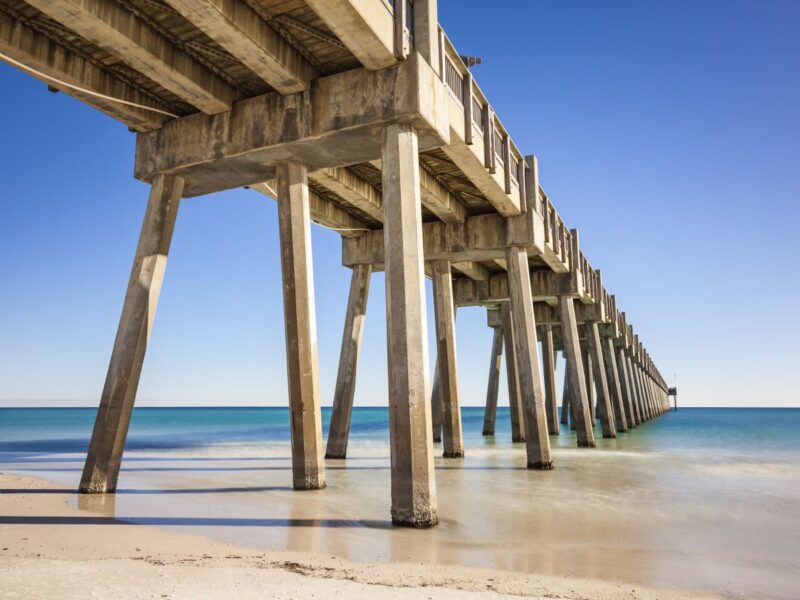 Casino Beach – Casino Beach is a nice, expansive beach along the sparkling waters of the Gulf, and lots of free parking in their large parking lot. Many come here to fish off the pier, and there are plenty of waterfront restaurants nearby to choose from. They also have concerts throughout the year.
Gulf Islands National Seashore – Gulf Islands National Seashore is east of town and has miles of stunning shoreline. Between Pensacola Beach and Navarre Beach, this is a scenic ride with giant dunes and miles of beach.
Henderson Beach State Park – Henderson Beach State Park is in Destin and is one of the area's highlights. This park has a playground, hiking trail, camping, and a fantastic beach.
Panama City Beach Area
Panama City Beach is on the west end of the Florida Panhandle. With attractions such as Pier Park and St. Andrews State Park, Panama City Beach is a great place for the entire family.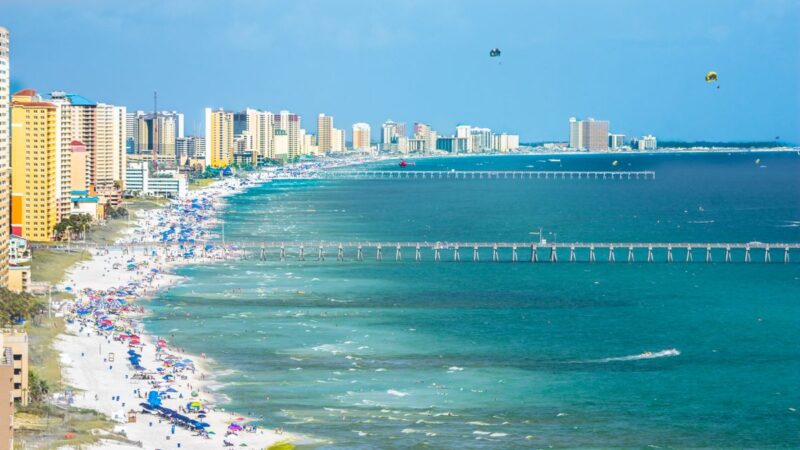 City Pier (Russell-Fields Pier) – After a fun day at the outdoor shopping center, Pier Park, walk across the street and check out the city pier and beach area. Next door to the pier is Dog Beach so you can bring your four-legged friend with you.
MB Miller County Pier – Another notable beach in Panama City Beach is the MB Miller County Pier, just a few miles away from the city pier. Here it's a little quieter, but it's just as nice of a beach. There are also some of the best restaurants in Panama City Beach and things to do along the drive from one pier to the next on Front Beach Road.
For more of the best Florida Panhandle Beaches, go here!
3. Get Up Close With the Animals at the Jacksonville Zoo
Looking for a great place to visit or take the family? The Jacksonville Zoo is a great place to start. You can get up close and personal with animals from all over the world in Jacksonville.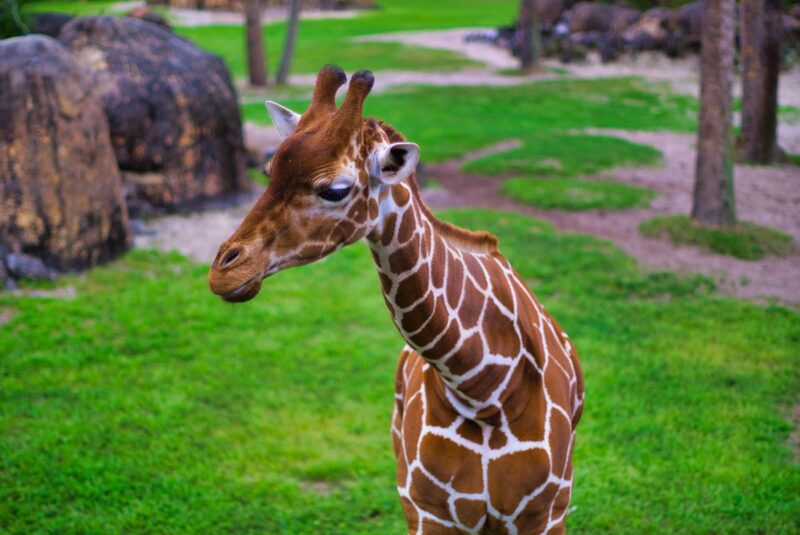 Plus, by supporting the zoo, you're also supporting conservation efforts and helping to ensure animal wellness for years to come. From elephants and gorillas to tigers and manatees, you can see them all at the Jacksonville Zoo.
4. Tee Off at the Golf Courses!
Northern Florida is home to some of the most prestigious and beautiful golf courses. These well-maintained, championship-level courses are open year-round and offer a unique challenge for all levels of golfers.
Here are just a few courses to enjoy while in North Florida.
Amelia River Golf Club
Located in Fernandina Beach, Amelia River is one of the best golf courses in the area. With plenty of extraordinary water views, this public course is well maintained and a favorite of locals and tourists alike. Grab a bite to eat at the River Bar & Grill after playing, too.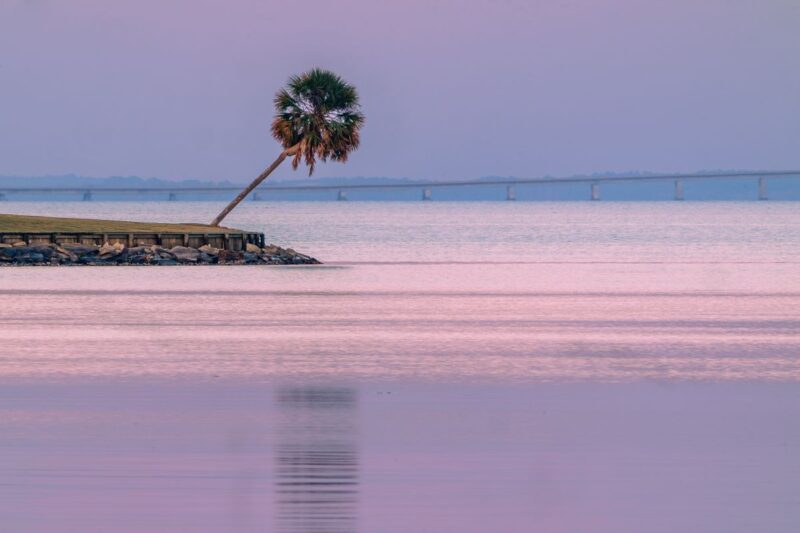 Burnt Pine Golf Club
This area in the Florida Panhandle is considered the Emerald Coast and is a great spot for golf. Burnt Pine in Miramar Beach is a 7,000-yard course that's highly rated with amazing scenery among the pine trees and Choctawhatchee Bay.
Bent Creek Golf Course
This Jacksonville course has Florida landscapes such as wetlands and pines. This par 71 course is highly recognized and even considered one of the best by Golf Digest.
5. Spend the Day at Crab Island, Destin
If you're looking for a place to bring your friends or family and spend a day out in the sun, Crab Island in Destin is a perfect choice.
Crab Island is actually an underwater sandbar on the Choctawhatchee Bay where boats meet up and anchor down for a fun day on the water.
Visitors hang out in the shallow waters (about 2-3 feet deep in most places) and play games, listen to music, and get a bite to eat from the food vendors. You can rent kayaks, paddleboards, or even inflatable toys.
While drinking alcohol here is popular at Crab Island and you can bring your own, the vendors do not sell it out here.
For how to spend the day at Crab Island and everything you need to know, check out this guide to Crab Island!
RELATED: 17 Cool & Outdoorsy Things to Do Around Tampa, Florida
6. Visit Amelia Island (A Relaxing Thing to Do in North Florida!)
If you're looking for a more laid-back and historic vacation spot, Fernandina Beach on Amelia Island is perfect. This barrier island is located north of Jacksonville and is home to close to 15 miles of beaches, along the Atlantic Coast.
Beaches here include Main Beach Park and Peters Point and offer plenty of amenities with grills and picnic areas. Main Beach Park even has a skate park and a court for games and activities.
State Parks such as Fort Clinch (on the north end of the island) and Amelia Island State Park (southern end) offer plenty of outdoor activities like fishing, hiking, and kayaking, while the Amelia Island Museum of History provides a look into the area's past.
With its relaxed vibe and fantastic natural scenery, Fernandina Beach is a must-see destination on Amelia Island.
7. Witness The Butterfly Rainforest, Gainesville
Located at the Florida Museum of Natural History, the Butterfly Rainforest is a must-see attraction.
The Butterfly Rainforest in Gainesville has more than 1,000 butterflies from over 50 different species. This is the perfect place to see some amazing and colorful butterflies up close.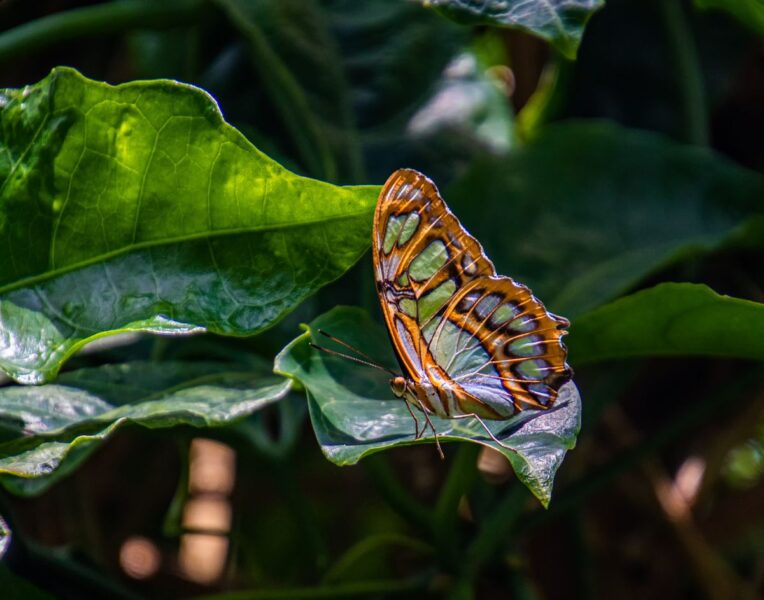 Not only will you get to see a ton of beautiful butterflies, but you'll also get to experience a tropical environment with lush vegetation and exotic animals like turtles and fish.
This setup is designed to be like their natural habitat. The staff here will also teach you about these different species!
8. Take a Stroll on Florida's Longest Fishing Pier, Navarre Beach
Navarre Beach is just a short trip from Pensacola, and claims to be "Florida's Most Relaxing Place"!
While the beaches here are spectacular and there's plenty of wildlife to see at the Marine Park, perhaps the most memorable thing here is the Navarre Beach Pier. At 1,545 feet, the pier is the longest in Florida and a can't-miss at 30-feet over the water.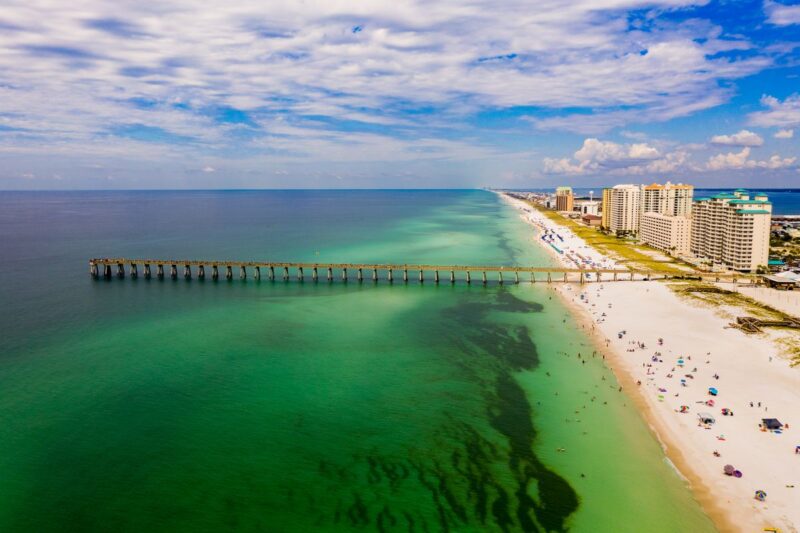 The Navarre Beach Pier is popular for spotting sea life and seeing views of the area. Fishing is also a fun activity for just a small fee.
There are a couple of restaurants in the area, including Windjammers, right at the beach and pier.
9. Discover the St. Augustine Lighthouse & Maritime Museum
The St. Augustine Lighthouse & Maritime Museum is the perfect place for families to have fun and learn. This historic lighthouse was completed in 1874 and offers visitors a unique look into the area's history.
In addition, the Shipyard Playground is perfect for kids, as it features a variety of activities that teach them about nature and maritime history. And if you get hungry or thirsty while exploring, be sure to check out the Tin Pickle, with a variety of food and drink options.
With exhibits on everything from maritime history to shipbuilding, this museum has something for everyone.
10. Experience Daytona Beach (Popular Thing to Do in North Florida!)
Daytona Beach is over 20 miles of gorgeous beaches on the Atlantic Coast. The city is known for the Daytona 500 and biker rallies, but there is a lot more to the city, including some great restaurants, hiking trails, and events throughout the year.
The pier and surrounding boardwalk/beach area is a must-visit, with rides, attractions, food, and games. The pier is a well-known place to fish and gets a lot of visitors daily; you can also get charters that will take you out for a fun experience on the water.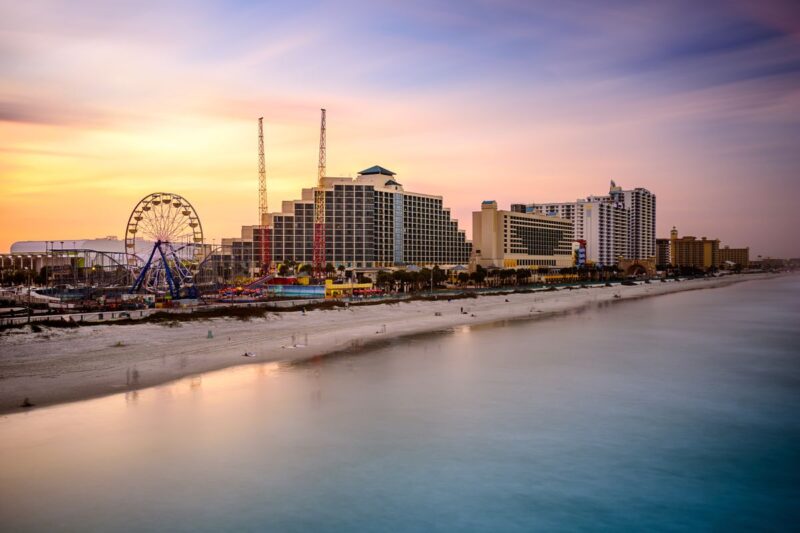 Other water activities include parasailing, jet skiing, kayaking, and of course, surfing, which is extremely popular on the Atlantic.
Daytona Beach also has attractions such as International Speedway, Ponce Inlet Lighthouse, and Daytona Lagoon Water Park.
If you're looking for seafood, I recommend The Oyster Pub, which has been around for 40 years!
This sports bar is just a couple of blocks from the ocean and has a good variety of burgers, wraps, seafood, and the best oysters around. Served raw, steamed, or chargrilled, you definitely won't leave here hungry!
11. Enjoy Oceanfront Dining At Pompano Joe's, Miramar Beach
Miramar Beach is a stunning, white-sand beach along the Gulf of Mexico, between Destin and Panama City Beach. Here, you can relax on the beach and do water activities such as parasailing, jet-skiing, and more.
After a day of fun in the water, grab dinner at Pompano Joe's, right at the beach. This popular beachfront restaurant offers seafood dishes fresh from the Gulf with Caribbean inspiration!
There's nothing better than eating your favorite foods and having a drink from the comfort of their outdoor patio with fabulous ocean views.
Try one of their po'boys or garlic-crusted grouper with lobster! Pompano Joe's was even featured on the Travel Channel.
---
---
>>>BIO
Wayne is the creator of Always on the Shore and loves to travel, take photographs, as well as write about the best attractions, beaches, restaurants, and resorts in Florida and the Atlantic Coast.