The fact that stunning Egmont Key State Park is only accessible by boat makes it all that more alluring for those that are looking for a little bit of paradise. The island has a unique natural and cultural history, which makes it a very interesting place to visit.
It is located about 1.6 miles from Fort De Soto Park, at the bottom of St. Pete Beach, and is a popular destination for both visitors and locals. At just 1.6 miles long you will be surprised how much there is to explore.
Sitting at the mouth of Tampa Bay, it was designated as a National Wildlife Refuge in 1974, calling both history and nature lovers alike. Nearly half the island is restricted from visitors as a nature preserve, allowing native seabirds and sea turtles a section of undisturbed beach.
Make sure you pack everything you'll need for your trip and take it with you, as there are very few facilities at Egmont Key State Park, so you really will be at one with nature.
While there may be plenty of people on the island, it is still very remote, which means no drinking water and no bathrooms, and you can't camp overnight.
How to Get To Egmont Key
Egmont Key State Park is only reachable by ferry or private boat, although there are a few pretty easy options for getting there.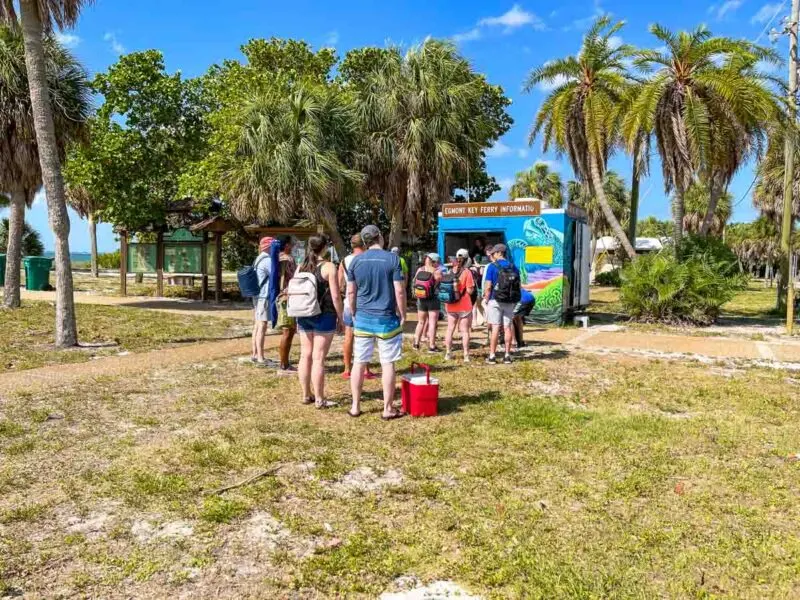 The Egmont Key Ferry departs from Fort De Soto Park regularly and has a number of departure times that will leave in the morning and then return in the afternoon, so you will have a while to explore the island before heading back.
The ferry ride from Fort De Soto will take you around 25 to 30 minutes, and offers a great opportunity to spot marine life.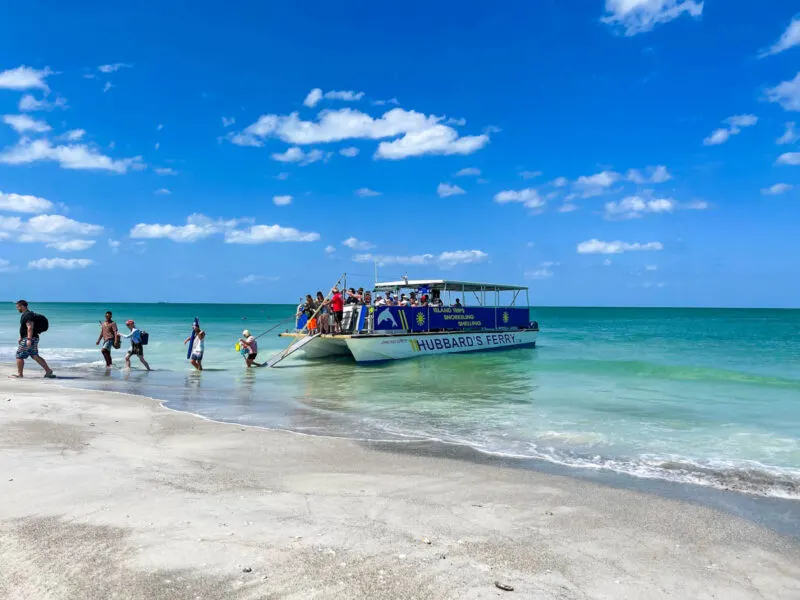 You'll get a 3-hour visit with a specific time that you need to board to return, so you'll have to get your own boat to the island if you want to stay for longer!
To make sure you're getting to and from Egmont Key at the times you want, it's best to book your ferry online first.
History of Egmont Key
The island has an intriguing history, serving as a camp for captured Seminoles in the 19th century. It was then occupied by the Union Navy during the Civil War.
Fort Dade, whose remains lie on the island, was built in 1898, when the Spanish-American War threatened, and was in use until 1923.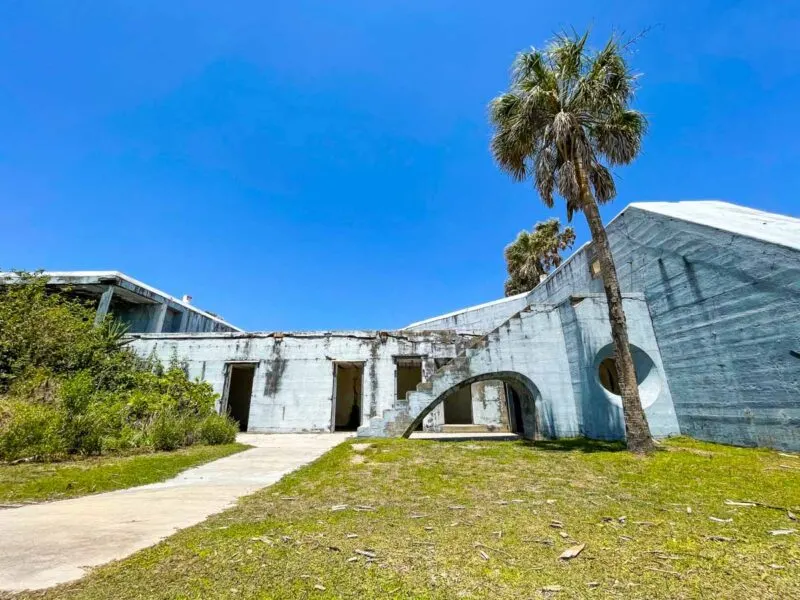 If you enjoy visiting the mystery of crumbling old forts or want to experience the thrill of walking through a ghost town in the middle of the jungle, then Egmont Key is the ideal destination.
Wildlife Viewing at Egmont Key
Like much of this part of the state, Egmont Key State Park has some wonderful opportunities for viewing some of the wildlife that calls Florida home.
Shorebirds are in abundance here, so make sure you bring a pair of binoculars, or at the least, keep your eyes sharp, at all times. Around 25,000 birds nest on the island every year, so you are bound to see something, even if it is the very common laughing gull.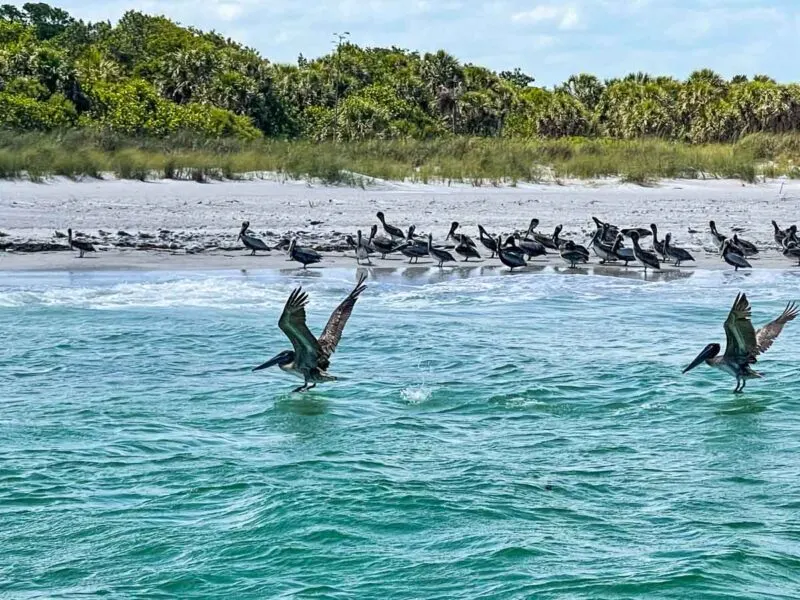 If you are lucky, you may also catch a glimpse of some of the other creatures, such as box turtles, gopher tortoises, which are all over the island, dolphins, and even the majestic manatee.
The south end of the island is closed to the public, as it is actually a designated shorebird refuge. Plenty of birds nest here, so even though you can't enter, you still have a good chance of seeing osprey, brown pelicans, black skimmers, American oystercatchers and so many other species.
Your boat will probably skirt around this part of the island too so you'll get a chance to see it even if you can't walk around. Within moments of my boat approaching Egmont Key, we saw manatees just offshore so keep those eyes peeled!
RELATED: 17 Cool & Outdoorsy Things to Do Around Tampa, Florida
Egmont Key Lighthouse
The lighthouse that you'll be able to spot on the Key has been standing proud on the island since 1858, standing 87 feet tall. It still guides boats in and out of Tampa bay to this day. There's a short trail that will lead you here. Stay on the path as the grass is often being munched on by cute turtles!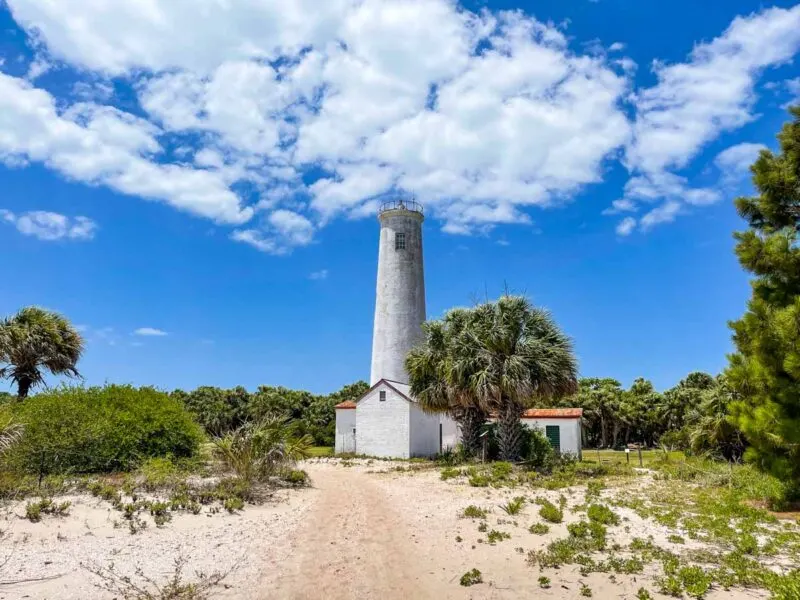 Hiking Fort Dade Paths
One of the more interesting hikes on the island is the path that takes you around the historical ruins of Fort Dade. Some of the brick paths still remain from the days that Fort Dade was an active community, so you really can walk in the footsteps of history.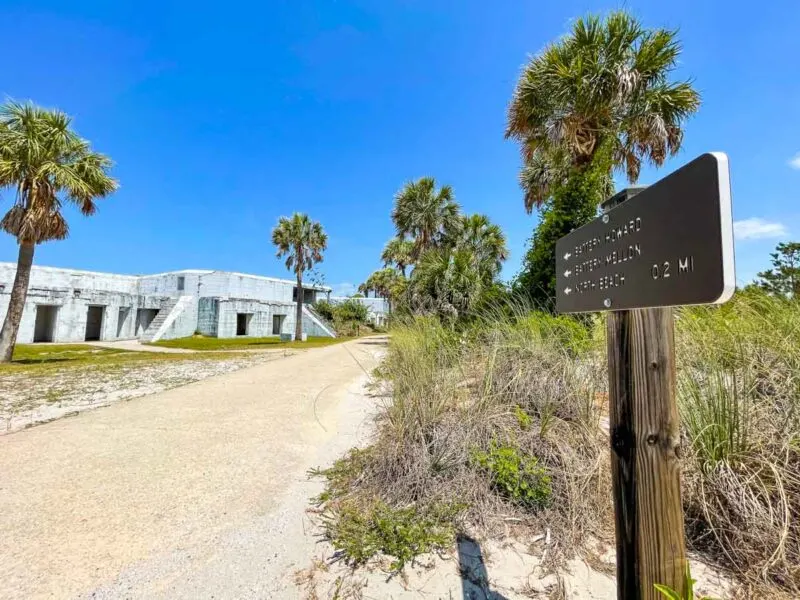 Altogether there are around 6 miles of historical pathways to explore, and with such almost untouched surroundings, the brick and concrete walkways almost look out of place.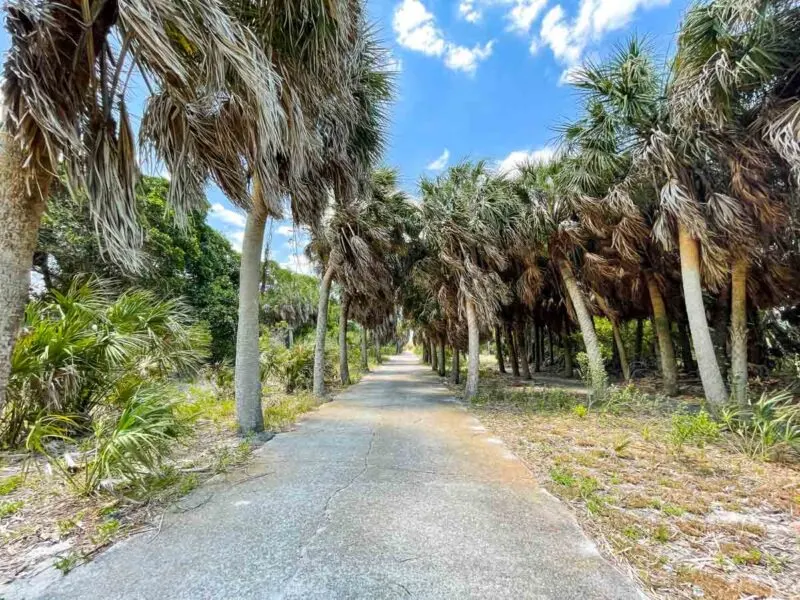 Three of the original Fort Dade batteries remain largely intact, and climbing up to the top gives you some great views over the sand dunes and Tampa Bay.
You could also head into the cool space inside the battery. There is extensive signage along the walks that explain what each structure was, so you can learn as you walk.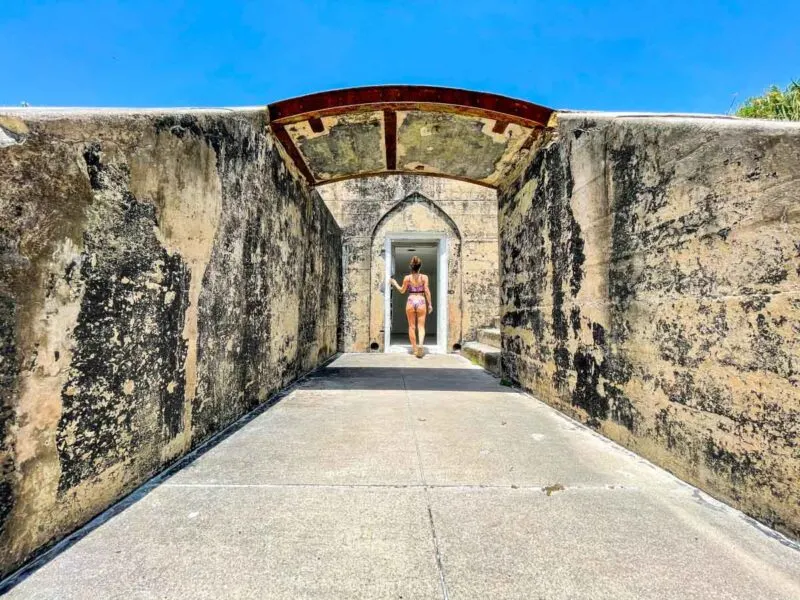 As this island is slowly eroding, you should visit sooner rather than later. One of the batteries is actually already losing the land that once protected its back. It's now exposed to the beach and the crashing waves that smash it from behind will soon to make it even more dilapidated!
Beaches and Snorkeling at Egmont Key
Sand and sun lovers often make their way to Egmont Key State Park to enjoy the stunning beaches around the island's shore.
The white sand beaches offer the perfect place to relax, with beautiful blue waters to help you cool down. Although you can swim in the waters, and it's often calm, be aware that there are no lifeguards on duty, so swimming is at your own risk.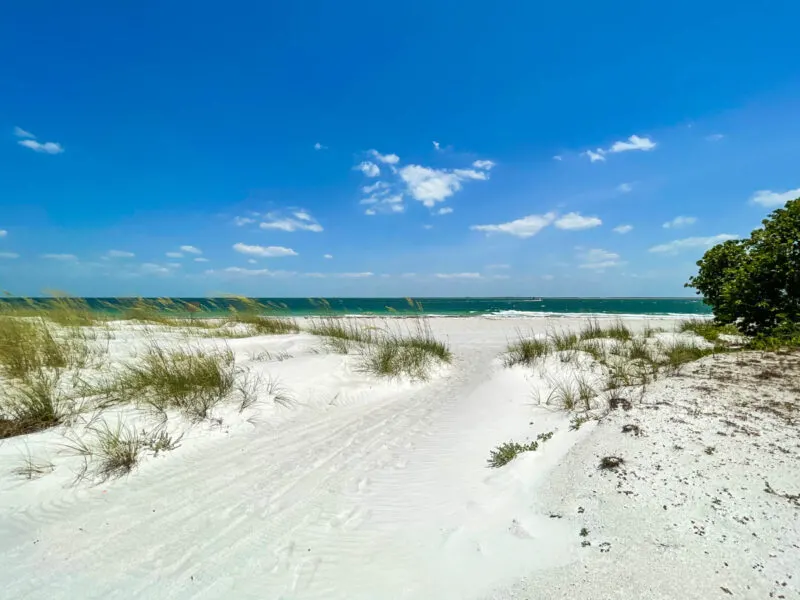 Be sure to bring your snorkeling gear with you, as the waters are an attraction for more than just swimming and cooling off. Underneath the waves, keep your eyes open for the wide array of marine life that inhabits the dilapidated structures that have sunk to the bottom of the sand.
Guided trips will take you to the sunken ruins of Fort Dade or the grass flatbeds, depending on the weather and conditions of the island. They will also provide you with the right snorkeling gear to hire. ($5 per snorkel)
Many people also take to the beaches to hunt for shells or other interesting finds in the sand. The beaches here are prime for shelling, but always check what you are picking up, as collecting live shells is prohibited.
Fishing
Cast your line and try your luck in the waters around Egmont Key State Park.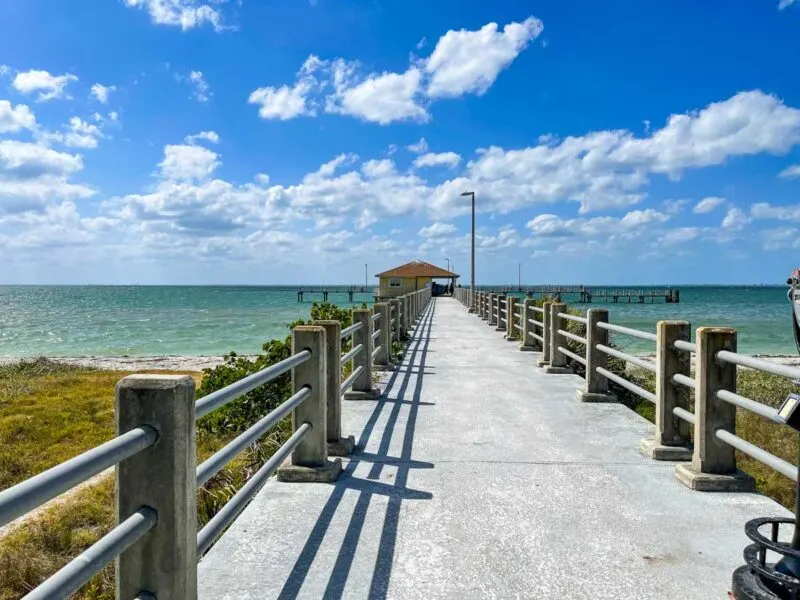 Fishing is only allowed in specified areas, but you'll have some prime fishing spots, where you could be catching sea trout, snook, snapper, tarpon, grouper, and a number of other species.
Boating Around Egmont Key
One of the best ways to fully appreciate the beauty of the island is by boat, as this gives you a unique vantage point to admire the beaches and shores that may otherwise be inaccessible on land.
You can either take your own boat out around the island for a day of fun in the sun or take one of the pre-arranged cruises, such as the snorkeling cruise arranged by Hubbard's Marina.
If you don't have your own boat to head out onto the water in, the ferry into the island from Fort De Soto is a great alternative, giving you some spectacular vantage points as you make the short journey.
RELATED: Kayaking Around Three Sisters Springs in Crystal River, Florida
Visit Fort De Soto Before or After Egmont Key!
As the Key is only accessible by boat that departs from Fort De Soto, it would be rude not to explore this natural beauty as well! Fort De Soto offers a huge range of picture-worthy scenes and recreational activities and is well worth a visit if you have the time.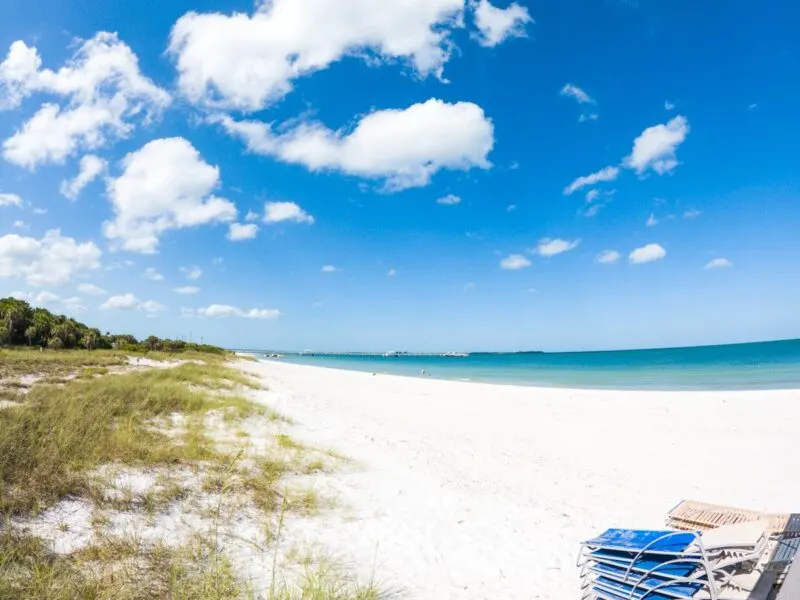 Fort De Soto has even more beaches that stretch out for miles, plenty of hiking trails leading you to picture-perfect landscapes, some great camping facilities, and another fort to explore.
READ MORE: Your Guide to Exploring Fort De Soto Park in Florida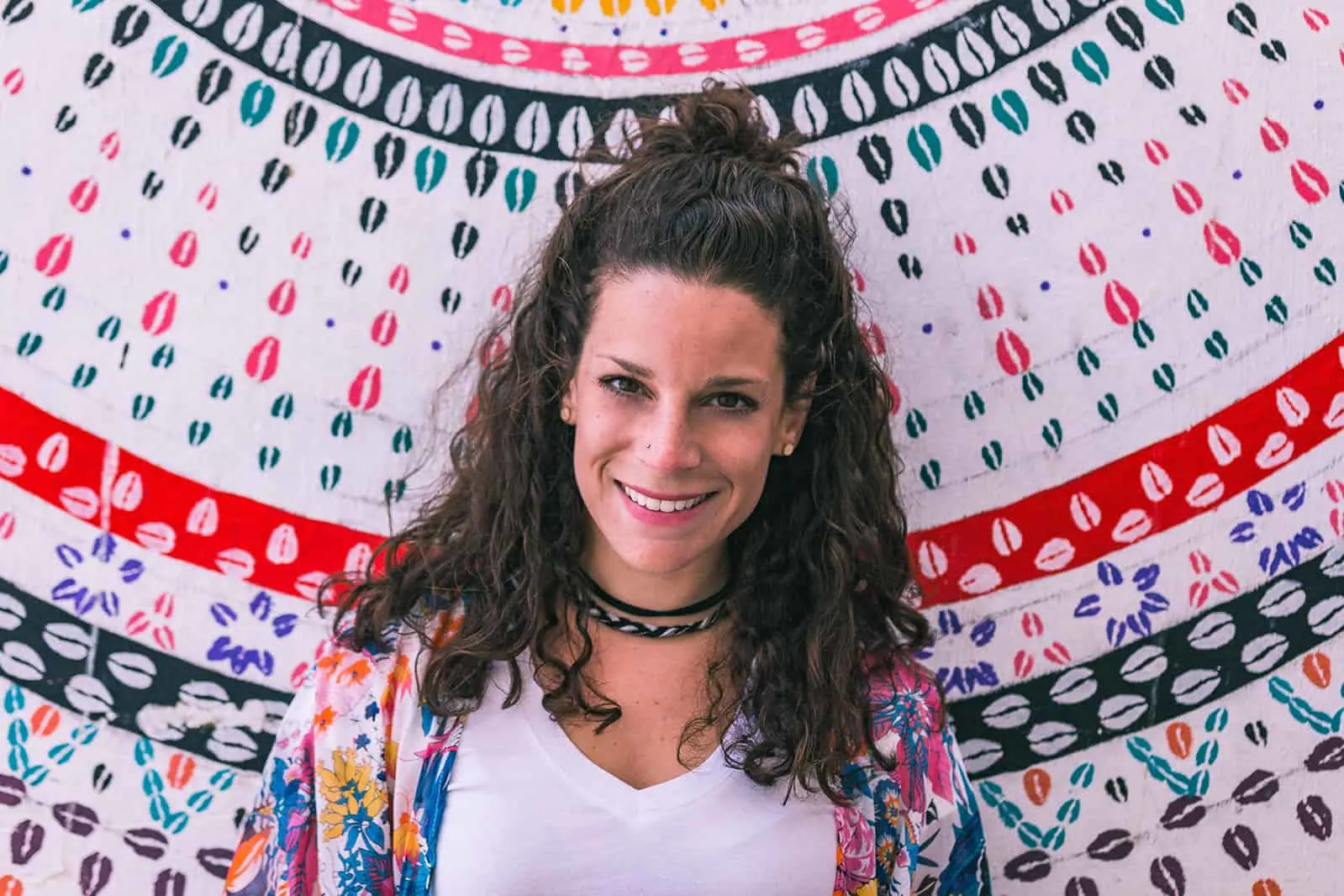 Nina Ragusa is an adventurer, messy bun master, breakfast fan, and full-time travel blogger. She's been abroad since 2011 and blogging on Where in the World is Nina? for nearly as long. Nina helps people like you move around the world while making money. She loves talking about how to work abroad and online to travel longer!