This guide to hikes in southern Utah is authored by JJ.
Southern Utah is a hiker's paradise. It can be hard to narrow down which ones belong on your bucket list with five national parks (only California and Alaska have more), multiple national monuments, several state parks, and a seemingly endless amount of public lands.
But the good news is that the five national parks are relatively close together, which makes it possible to visit them all at once over the course of a week to ten days, depending on how much hiking you want to do each day.
So, consider this top eight list your itinerary for one of the most epic road trips you'll ever take.
It will guide you to the best hike in each of the national parks, plus some nearby hikes outside of the park that are more of a local hidden gem. It's got everything from soaring red rocks cliffs to slot canyons to waterfalls… and even a volcano.
Quick tip before you embark on this journey: since you'll be visiting multiple national parks, make sure to buy the America the Beautiful National Parks Pass. It only costs $80 and will save you money over paying individual entrance fees at each park.
Without further ado, here are the eight best hikes in Southern Utah!
Best Hikes in Southern Utah
---
1. Santa Clara Volcano
Distance: 1.7 miles
Type of Trail: Out & Back
Difficulty: Moderate
Elevation Gain: 449 ft
You'll start your trip by flying into the Salt Lake City International Airport and driving four hours south to St. George in Washington County. You can guess who it was named after. Utahns are very patriotic.
You'll start here because it's the largest metropolitan area near Zion and has a ton of lodging options, from vacation rentals to hotels, along with lots of golf courses and restaurants. It's also the home of our first hidden gem hike – the Santa Clara Volcano.
It's located near Snow Canyon State Park, just a few minutes outside St. George. The Cinder Cone Trail is a moderate 1.7 miles round trip, where you ascend to the volcano's rim. You can walk around the edge and soak in the views of beautiful Snow Canyon or even descend into the cinder cone if you so desire.
The trailhead only has a few parking spots, but it sits outside the popular state park, so it is rarely busy. This is a true hidden gem but one of the best hikes in Southern Utah. Enjoy the solitude before braving the crowds at Zion National Park.
2. Zion National Park – Angel's Landing
Distance: 4.4 miles
Type of Trail: Out & Back
Difficulty: Hard
Elevation Gain: 1,604 ft
You no doubt have heard of this hike, and it may already be on your bucket list. Five million people visited Zion in 2021. Angel's Landing, in particular, has become so popular that Zion has instituted a permit system to limit crowds.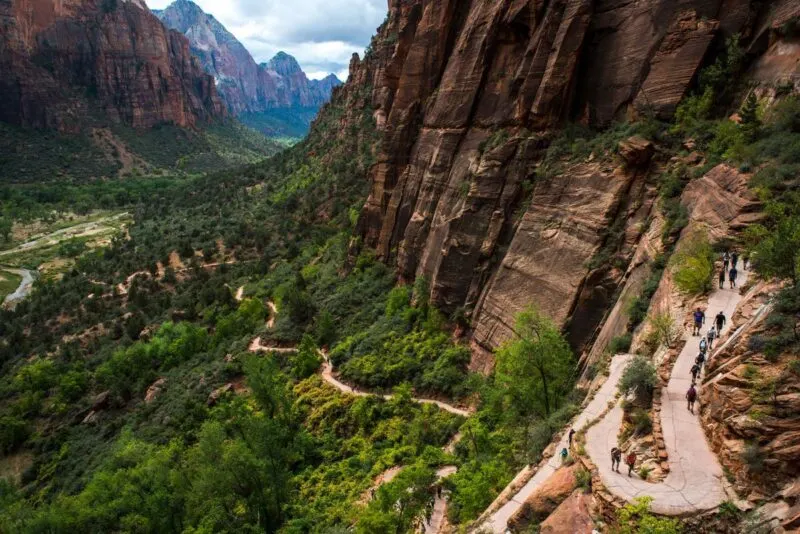 But it's one of those popular for good reason, like Half Dome at Yosemite. Almost like a hiker's rite of passage. The trail is a steep and arduous 4.4 miles round trip. At one point, there are steep (and deadly) drop-offs on either side of you. Fortunately, there's a handrail in place for the faint of heart.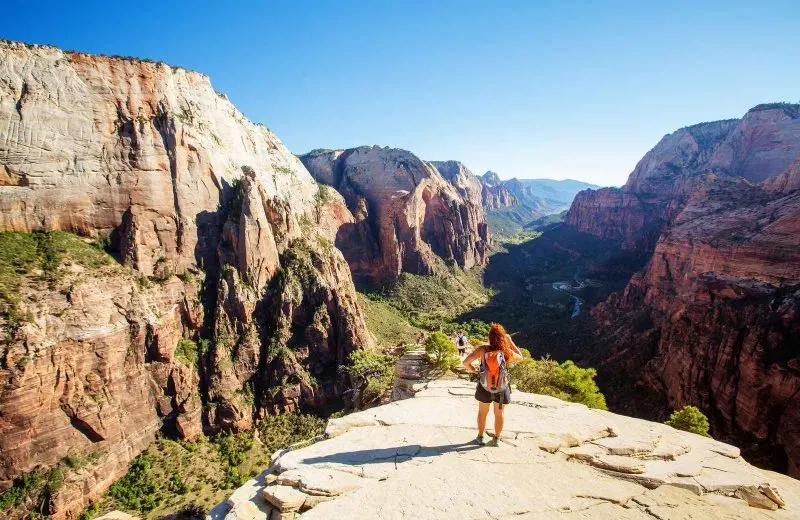 At the top, you're rewarded with incredible views of the iconic Zion cliffs and the valley below. But if you're afraid of heights but still want to visit Zion, Zion Canyon Overlook is a good alternative. It's an easy 1-mile round trip hike with similarly stunning views without the adrenaline rush.
RELATED: Your Adventurous Utah Road Trip!
3. Peekaboo Canyon
Distance: 0.7 miles
Type of Trail: Out & Back
Difficulty: Easy
Your next stop is a slot canyon called Peekaboo Canyon, located about 30 minutes outside of the East entrance of Zion near Kanab. There are two Peekaboo Canyons in Utah, so don't confuse it with the one in Grand Escalante near Spooky Gulch.
Getting to this slot canyon is half the adventure because it requires a high-clearance 4WD vehicle. You have two options – rent something like a Jeep or 4Runner once you land in SLC or hire a local guide to get you there.
The "road" there takes you through deep sand for a couple of miles, so you need to know your stuff. A UTV tour is the best option if you've never driven off-road. If you choose to venture out on your own, download the Kanab Trails app, which tracks your GPS location and guides you along the trail.
Once you arrive at the canyon entrance, it's a short and flat hike through a fantastic slot canyon that resembles the famous Antelope Canyon in Arizona.
Fun fact:
The Anasazi people used this canyon as a granary, and in one area, you can see the steps they carved into the canyon walls to climb up and store their grain.
Another reason to take the UTV tour is that you get to learn all about the history of the canyon and the Native Americans who lived here centuries ago.
Either way, make sure you go in the morning for the best lighting – it's when you get to see the rock walls glowing from the sun and those singular rays of light shining through. That's the magic that makes this one of the best hikes in Southern Utah.
→ Book a UTV tour to Peekaboo Slot Canyon
4. Bryce Canyon – Navajo Loop Hike in Southern Utah
Distance: 1.5 miles
Type of Trail: Loop
Difficulty: Moderate
Elevation Gain: 515 ft
Bryce Canyon National Park is famous for its strange and wonderful hoodoos over an hour north of Peekaboo Canyon.
If you've never heard of a hoodoo, there's no way to describe it that does it justice. They're essentially massive limestone pillars with an orange hue, like the ones you see in the photo.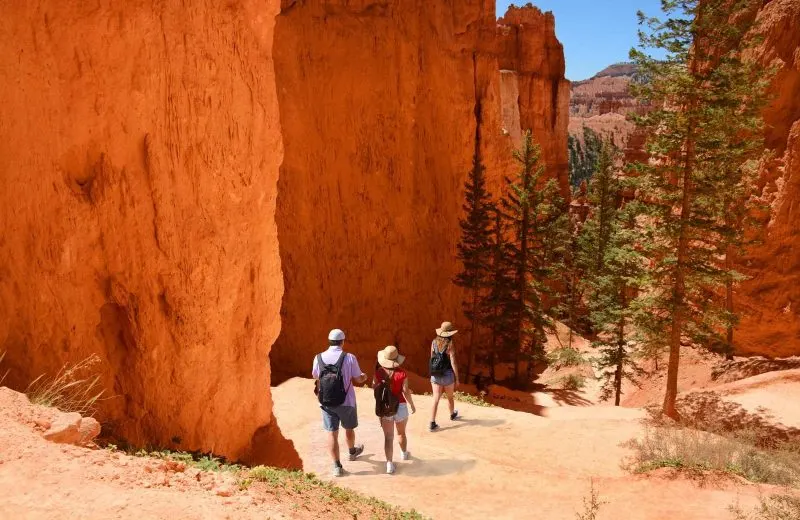 There's no place outside of Utah quite like Bryce Canyon. Despite its name, it is not a canyon but a natural amphitheater that has eroded over time to reveal thousand of hoodoos.
There are multiple amphitheaters in the park and dozens of possible hikes to explore them all. The easiest way is to take the Rim Trail, a flat 5.5-mile paved trail (each way) along the rim of the main amphitheater and offers sweeping views into the terrain below.
There are shuttle stops along the way if you want to hop from overlook to overlook without hiking the entire trail. But the best way to experience the majesty of the hoodoos is to take the Navajo Loop trail and hike down the steep hills into the amphitheater.
It's one of those places that makes you feel incredibly small, in a good way. You'll traverse switchbacks, see miraculous trees that somehow sprouted from the valley floor and somehow found a way to grow and tower over the hoodoos, and pass by prominent features like Wall Street and Thor's Hammer.
Tips:
These unique features make this one of the best hikes in Southern Utah. It's only 1.5 miles but don't underestimate it – what goes down must come back up. In other words, beware of the steep climb back up to the rim, especially on a hot day.
Make sure to stay the night, because the stargazing is out of this world. Seeing the Milky Way above and the hoodoos below is one of the most spectacular things you'll ever witness. Rangers offer nightly sky programs, and Bryce Canyon even hosts an annual astronomy festival.
Ruby's Inn is a great option for lodging and has a nice rustic feel that makes you feel like you've stepped back in time to the Old West. Best Western now owns it, but it's been around for over a hundred years.
RELATED: Your Southwest Road Trip Itinerary (1 Week – 2 Months)
5. Lower Calf Creek Falls near Escalante
Distance: 6.7 miles
Type of Trail: Out & Back
Difficulty: Moderate
Elevation Gain: 866 ft
The drive from Bryce Canyon to Capitol Reef is just two hours if you take the main highway. But in that case, you'll want to take the scenic route, which only adds about a half hour to your drive time.
If you opt for Scenic Byway 12, it is considered one of the most scenic drives in the world, but it takes you through the territory of the Grand Staircase-Escalante National Monument.
There are limitless adventures and opportunities to get off-grid in this part of Utah, but for now, you're just going to sample one: Lower Calf Creek Falls.
This trail makes the list of best hikes in Southern Utah because it's one of the few waterfalls in the region (not counting the flash flood waterfalls that show up during monsoon season). It's the longest hike on this list, clocking in at 6.7 miles round trip, but well worth taking the extra time.
You'll hike among sandstone cliffs and pass beaver ponds and ancient rock art on your way to see a towering 130-feet waterfall. And after a long hike, you can cool off by taking a dip in the deep swimming hole beneath the falls.
6. Capitol Reef – Cohab Canyon
Distance: 3.0 miles
Type of Trail: Out & Back
Difficulty: Moderate
Elevation Gain: 793 ft
Capitol Reef National Park is probably the most underrated of the so-called Mighty Five. It might not get all the attention that Zion or Arches do, but it still has a little bit of everything that the other more famous parks offer. From towering red rocks cliffs to Native American petroglyphs and even massive arches that you can walk on top of but the best hike at Capitol Reef is Cohab Canyon.
The trailhead starts near the Fruita orchards (more on that in a second), and you hike up steep switchbacks along the mountainside with stunning views along the way.
The green orchards below against the backdrop of the red cliffs with some black lava rock flows mixed in make for Mother Nature's artwork at its finest!
From there, the trail levels out, and you start to descend in between the walls of Cohab Canyon with lots of little side slot canyons to explore as you wish.
Unlike most hikes on this list, the payoff isn't about the views – it's about the pies. Fresh fruit pies are baked daily in an old pioneer cabin.
Once you finish the hike, head back down to the trailhead and cross the street to the old Gifford Homestead and reward yourself with some hard-earned baked goods. The views and the pies make this one of the best hikes in Southern Utah.
If you're up for a unique stay, try glamping near Capitol Reef in Torrey. It's the only town near the park, and you can choose from sleeping in a Native American-style teepee or a Conestoga-covered wagon.
7. Canyonlands – Mesa Arch Hike in Southern Utah
Distance: 0.7 miles
Type of Trail: Loop
Difficulty: Easy
Elevation Gain: 88 ft
You'll end your trip in Moab, where you got a twofer – two national parks near a tiny town. What's strange is that Arches National Park is so popular that it is now requiring reservations to manage crowds and traffic. Still, Canyonlands is the least visited national park in Utah.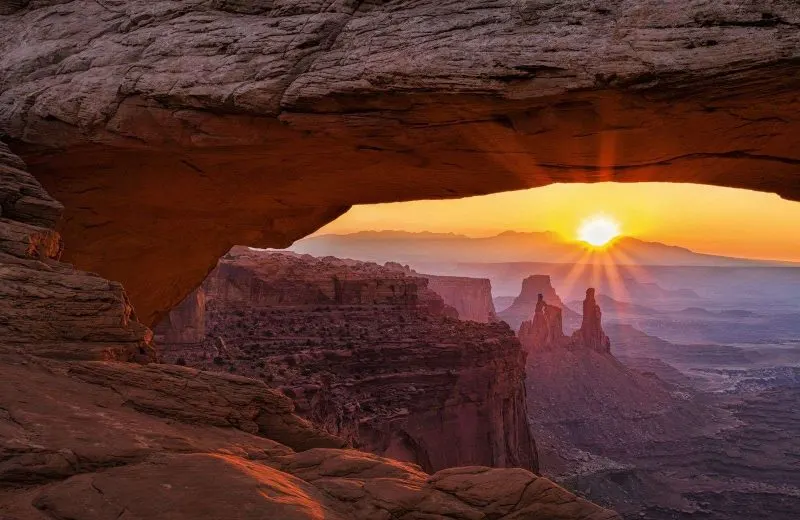 The park is massive, but most of it is inaccessible to the average person unless you're willing to do some serious backcountry adventuring. But there are still many short hikes and scenic overlooks that make it worth visiting.
The most famous hike is Mesa Arch, especially among photographers. It's an easy 0.7 miles, and the arch is smaller than you'd expect. But what makes this one of the best hikes in Southern Utah is the spectacular scenery you witness if you go at sunrise.
You may have to fight for a spot among the throngs of photographers and their tripods, but it is worth it. The arch acts as a window to the deep canyons below carved by the mighty Colorado River, and when the sun rises, it illuminates the arch with a beautiful orange glow.
8. Arches – Delicate Arch
Distance: 3.2 miles
Type of Trail: Out & Back
Difficulty: Moderate
Elevation Gain: 629 ft
Last but not least—Delicate Arch is a Utah icon. It's almost the unofficial logo of the state, and it's featured on everything from state license plates to the Utah Jazz homecourt.
It's one of those things in nature that makes you wonder how something like that even exists. The only possible explanation? Aliens. Natural erosion doesn't seem like it could do that.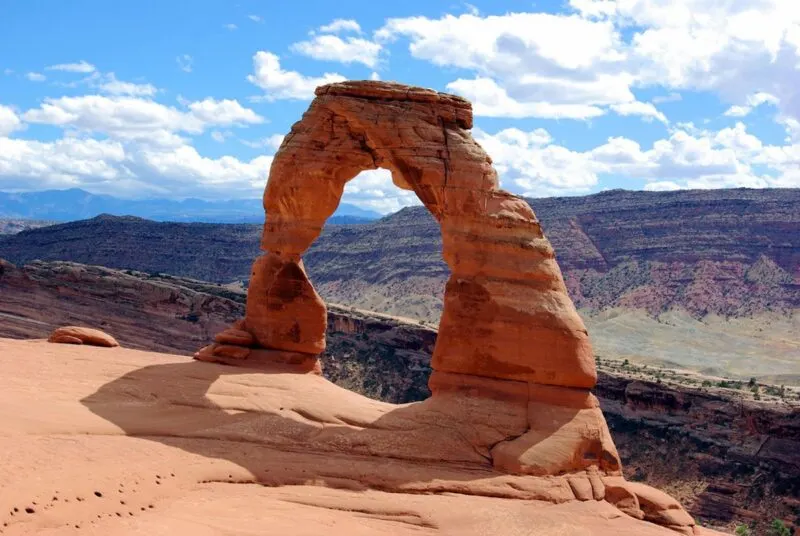 It isn't only one of the best hikes in Southern Utah, it's arguably one of the best in the world and worthy of inclusion on anyone's bucket list. It's a moderate 3.2 miles round trip with a mild elevation gain of 629 feet.
You climb over rolling hills along slickrock with no shade, so come prepared with lots of water. When you finally round the corner and see it for yourself, you'll know why it's such a Utah classic.
Pictures won't do it justice, but you'll want to take one anyway, and you can stand right under the arch to snap one for the memory books.
Arches National Park has over 2,000 natural arches, so if you want to see more of the park, make sure to check out this list of the other best hikes at Arches.
Fun fact:
Millions of years ago, Moab was a hotbed of dinosaur activity, and paleontologists have uncovered a plethora of fossils in the area. So if you're a dino-nerd, you'll want to check out Moab Giants, an outdoor dinosaur museum, or the newly created Utahraptor State Park, which opened in 2021.
---
---
>>> BIO
JJ & Brittany Haglund live in Utah with their four kids and enjoy road tripping around Utah and the West in their minivan. JJ is an avid skier, and Brittany is a Boston-qualifying marathoner. They started The Minivan Bucket List to help families find affordable yet bucket-list-worthy adventures close to home.