And just like that the sun set and we were left in the forest with the eerie sounds, glowing eyes, and pitch blackness.
Shit. This is not good. Not good at all.
There wasn't a soul around us, everyone was long gone for the day. We were alone.
I can't believe we did this, how did we lose track of time?! We know better!
We had to move, we had to get out this forest… Who knows what animals are lurking around us and we couldn't see where we were stepping.
Don't get hurt! If one of us gets hurt, we're really screwed… There's nobody around to help.
Phew! Whoa. Hiking South Sister is no joke!
Let's rewind and see what it's like tackling the tallest of the Three Sisters Mountains. This is some of the best hiking Bend, Oregon offers!
For more visuals, check Garrett's video:
Hiking South Sister Summit
We woke up early bright-eyed and bushy tailed ready to take on a hike up to South Sister.
We've been wanting to seize the challenge of summiting South Sister for a while now and we're finally doing it.
It had just rained a day or two prior to the hike and luckily too because there were some wicked forest fires happening at the time. This ensured we would still have some nice views as the ash in the air had settled a bit.
South Sister Trailhead
We parked at the South Sister Trailhead of Devil's Lake (south side route) around 8 am or so packed and ready to go. The Devil's Lake Trailhead requires a $5 parking fee. The trail starts off easy and you really begin after going over the small footbridge of Tyee Creek and then crossing the highway.
There are other trailheads and routes to follow however they are more difficult and don't provide a well-marked trail.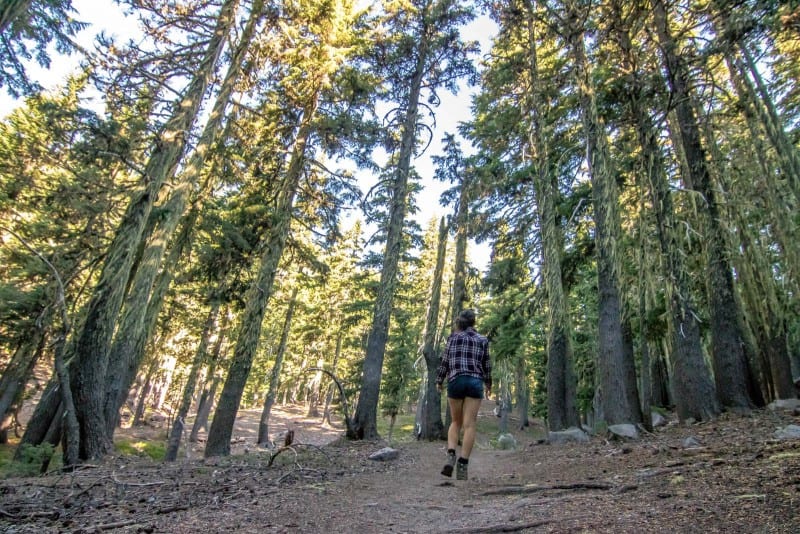 The Start of the South Sister Hike
The start of the hike is relatively easy… With the exception of mosquitos. The first 1.5 miles is uphill and through a forest which shades you from the sun but its resident mosquitos will hurry you along the path.
Eventually, your relief from the bloodsuckers will come as you emerge from the forest and into a sandy plateau with views of Moraine Lake and Brokentop Mountain to the right and South Sister's Summit directly in front of you.
Oh, how deceiving this view is… She's right there, so close, yet, so very very far.
This will be the easiest part of the path. The sandy walkway offers some great views and we enjoyed the sun warming our skin and scaring the mosquitos away.
But this is nothing. Enjoy it while it lasts…
Ascending South Sister
This is where things started getting real. That relatively flat sand pathway disappears and the terrain starts getting steep.
I'm not super fit so steep isn't my friend but what do you expect when you decide to climb a mountain? No biggy! I'm ready for the challenge.
The thing I wasn't ready for while hiking South Sister was the incredibly difficult terrain. With every step, the ground beneath me moved. A mixture of rock and sand made the pathway incredibly challenging.
Reaching Teardrop Lake
When you finally make it to Teardrop Lake you'll feel like a million bucks! Finally! The lake looks so close to South Sister's Summit, you're going to think you're almost there.
While you bask in this knowledge the most adorable chipmunks will come strolling along.
The critters are super friendly and seem to be pretty used to people around it. One nabbed a cracker we dropped and ate it right there while it stared at me.
But enough of the cuteness, I have a mountain to finish! Or so I thought…
RELATED: The Best Hikes Near Washington DC.
Struggling Up to The South Sister Summit
Holy shit.
I thought the last mile or so up to the lake was difficult. Somehow, things got even harder.
Imagine this: Loose soft sand mixed with rocks of all sizes – tennis balls to tiny tic-tacs. Then massive boulders haphazardly placed that could fall down with the slightest push or the wrong step. Meanwhile, this is all set on a very steep mountain.
With every few steps up the mountain, you slide back one. How incredibly frustrating.
On top of the rugged terrain, you're climbing a mountain at 10,363 ft (3,158.5 m) tall! Climbing up a mountain like this is not easy, to say the least. Your breaths get harder with each step.
South Sister's summit teased me the whole way.
I can't tell you how incredibly close it looks the entire time you're climbing. I thought I was almost there 10 different times.
Every time you think you have a few steps left, the summit magically gets taller.
South Sister Summit: Some of The Best Hiking in Bend, Oregon
I can't lie. I thought of giving up a few times. I felt too weak, too tired, too inadequate to reach the top.
I can't express how happy I am that I continued.
For a moment, I was incredibly disappointed with South Sister's summit. When you actually get to the top you're greeted by a glacier.
The white blanket stared back at me and blinded me with help from the glistening sun. What is this? Is the top I worked so hard to? I get a massive white pile of snow? I'm going to cry!
However continuing along the ridge, and trudging through some rocks that barely make a trail, you finally start to see the light at the end of the tunnel.
Behold, there are the other two sisters. WOW.
I had no words. I was too tired and too gobsmacked to speak much. It's absolutely gorgeous at the top.
We could actually see the forest fires on nearby mountains from here.
We gazed at the beauty for all of 10 minutes before it hit us…
FUCK. We are the only ones left up here. It's getting late. This is bad.
Finishing Our Hike Up South Sister
I'll try to keep a long story short but essentially the main point is to pay attention to your time better than we did! We hiked down in a massive rush sliding down the crazy ankle-breaking terrain at lightning speed because it was getting late. All while small rocks entered our shoes hurting our feet. We had to stop a few times to empty our shoes.
We power walked through the sandy plateau and as we reached the forest, things started getting a bit scary.
It was nearly pitch black. The sun was out ever so slightly, however, considering the forest was covering us it didn't make a difference, it was so dark.
We could have probably injured ourselves if we stepped down wrong and hiking at night when you didn't prep for it, just ain't fun!
I don't recommend it at all.
In the end, we made it out OK.
The reason we were running so behind despite starting so early? We take lots of video and photography. If you do too, take this into account when hiking.
Things to Know Before You Hike South Sister:
Check the weather – don't go unless the day is nearly perfect out. If there's even a cloud at the top of the summit the weather could be totally gnarly and there could even be a small blizzard!
The trip is almost 12 miles total, round trip.
The trip is rated as hard, This ain't a walk in the park, guys.
The only restrooms are at the South Sister trailhead – Devil's Lake.
Bring lunch and snacks! Teardrop Lake is the perfect spot to have your lunch. Bring something with sustenance.
It's said fall is the best time to go but we went in summer and were fine. It doesn't get as hot as you would think considering you're at a higher altitude.
It regularly takes people about 7-9 hours to hike South Sister depending on how quickly you can go but it took us nearly 12 hours with all the stops for photos and video.
Technical Stuff for Your South Sister Hike:
Trailhead Elevation: 5,480 feet
Elevation of South Sister: 10,358 feet
Elevation Gain: 4,878 feet
South Sister is the tallest and youngest of the sisters, Middle and North being the other two.
What To Wear and What To Bring to Hike South Sister:
You have to wear proper hiking boots, preferably ones with ankle support. You'll be roughing through the terrain I described above in addition to possible snow (even during summer).
Wear light layers, it does get cooler as you go up and the summit. You might want to wear something warmer at the summit if you spend some time up there.
Obviously, bring lots of water. You'll need every drop.
Bring all of your own food and trash bags to dispose of everything at the bottom.
Wear and bring sunscreen. There's ZERO relief from the sun after your short hike through the forest.
Feel free to bring your trekking poles! They will come in handy. If not, do what we did and find a long stick to use.
This hike is not one to be messed with, know what you're taking on! Garrett had hiked South Sister before and has plenty of experience hiking Bend, Oregon being from the area, so I was in good hands.
Prepare and definitely bring your camera!. This hike is so worth it if you're up for a good challenge with a massively incredible reward at the end. Just be sure to leave yourself enough time to enjoy the summit and come back down with time to spare.
Would you hike South Sister? Are you planning on hiking in Bend, Oregon?
---
Pin it to win it!