→ OH HI! DID YOU KNOW WE HAVE AN ENTIRE WEBSITE DEDICATED TO ADVENTURES IN OREGON?! 🙂
If you're looking for things to do in Oregon, you're in luck, there's no shortage of adventurous and gorgeous attractions around every corner.
I have to admit, I had no idea what to think of Oregon. I thought it was a boring state that was cold and rainy all the time.
I'm so glad my boyfriend took me to his home state to prove me wrong. And I was really wrong!
Oregon, I have to say, is one of my favorite places in the world now.
I'm in love with the breathtaking scenery and the brilliant beer scene!
Now I'm here to share it with you, just like Garrett shared it with me. Everything here is recommended by a true a local by the way. 🙂
Oh, and SURPRISE! I updated this post since I recently spent a whole summer in Bend, Oregon and I now have way more than 11 things to do in Bend and Portland, Oregon. You win! I spent most of my time in Bend with popovers to Portland so here's some of the best stuff to do around these two spots.
Things to do in Oregon: Bend's Highlights
Bend is a place you probably haven't heard of but you need to know about. It's blowing up as the adventure capital of the state or possibly the West Coast and it's a stunner. Surrounded by mountains, inundated with craft beer breweries, and teeming with adventurous activities, these are the best things to do in Bend, Oregon and around it…
1. Sunset at Pilot Butte
Drive up to Pilot Butte in Bend for some great views of the whole city and the surrounding mountains. I think catching a sunset up here is the best, though! If you need some good exercise, you can walk up too.
Resources for Your Trip:
2. Bend's River Trails
Bend is a nature haven. Would you guess this scene is right in town? It is! Walk the trails along the Deschutes River, it's breathtaking. You'll see people running and walking their dogs here every day, it's the place to be in the city if you want to be surrounded by greenery and the rhythmic sounds of a river.
3. The Beer Scene is Like No Other
Beer. Lots and LOTS of beer. Oregon loves beer, but more specifically, Bend, Oregon loves beer. How much do they love it? There are over 200 breweries in Oregon, 24 in Bend alone. I can honestly tell you, I've never tasted a real beer before. Now that I know what real beer can taste like, everything I've tasted before was absolutely the worst. No wonder I wasn't a fan of beer. My boyfriend is a huge lover of craft beer and I totally get it now. I'm converted.
Beer is one of the top things to do in Oregon! It's a must, even if you're not a beer drinker. The breweries are quite the experience as most have a brewery and bar in one. Good Life, Crux, Craft, and Boneyard are a few of our favorites.
4. Floating the Deschutes River
Want to be a true local? You have to float the Deschutes River. It's essentially everyone's favorite summertime thing to do. You'll see everyone on a raft ranging from the flimsiest and cheapest donut raft you've ever seen, to blow up mattresses to the king of the river – The Intex River Run raft. Grab some beer, in a discrete container if possible, (if not, nobody actually regulates) and make your way down to the rapids and beyond.
You can put your raft in at McCay Park or walk up the river a bit more to prolonge your rafting experience. If you want to avoid the rapids (PS- cheap rafts will likely flip in the rapids so secure your stuff) you'll need to pay attention for the signs warning you the rapids are coming up and get out at the overpass. The rapids are around the halfway mark.
The river is quite slow, like a lazy river, however, you do need to be careful of rocks jutting out so your raft doesn't get a hole poked in it. If you're only riding about half the river, you can easily walk back to your vehicle as you'll likely only be about a 15-20 minutes walk away. If you're riding further or are being lazy, there's a shuttle to get back to your car made to carry your raft along as well.
Things to do Oregon: Epic Things Around Bend
You can do these while basing yourself in Bend. Crater Lake is the furthest away from Bend but still totally doable in a day trip! Alvord Dessert will be a longer trip and requires an overnight stay – Trust me, you won't want to rush home!
5. Crater Lake
Crater Lake is phenomenal. It was formed over 7,000 years ago after a volcano collapsed. Since there are no rivers flowing into this lake, it's one of the cleanest and clearest lakes in the world, and it's the deepest lake in the USA. Oh, and it's gorgeous!
If you come during winter like we did, you might not be able to drive around the loop that goes around the lake because of road closures, but visiting during winter is magical! This was where I saw snow for the first time. It was phenomenal!
6. The Cove Palisades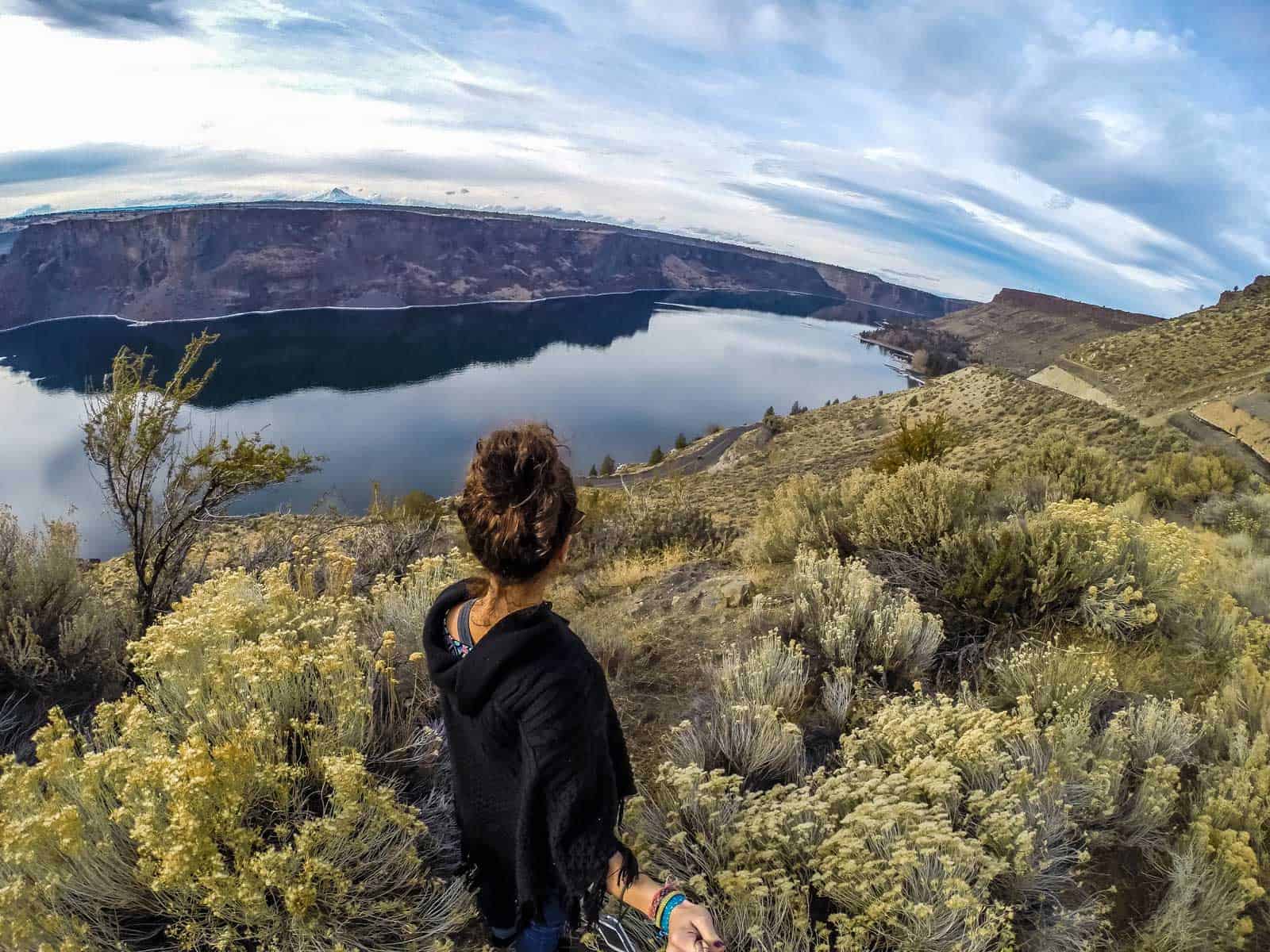 The Cove Palisades is a stunning spot to at least make a stopover. Basaltic lava flowed through these canyons a billion years ago (OK, 50,000 years ago) which filled them up, but the mighty rivers eventually eroded them down to what you see today. Come the 1940's, this beauty was bought up, and a dam was put in by an electrical company. The dam was erected right where the Crooked, Deschutes and Metolius rivers meet and right behind it is where Lake Billy Chinook sits.
RELATED: Want more about Oregon beyond Portland and Bend!? Check this post out for an epic collaboration of Oregon destinations.
7. Smith Rock State Park & Misery Ridge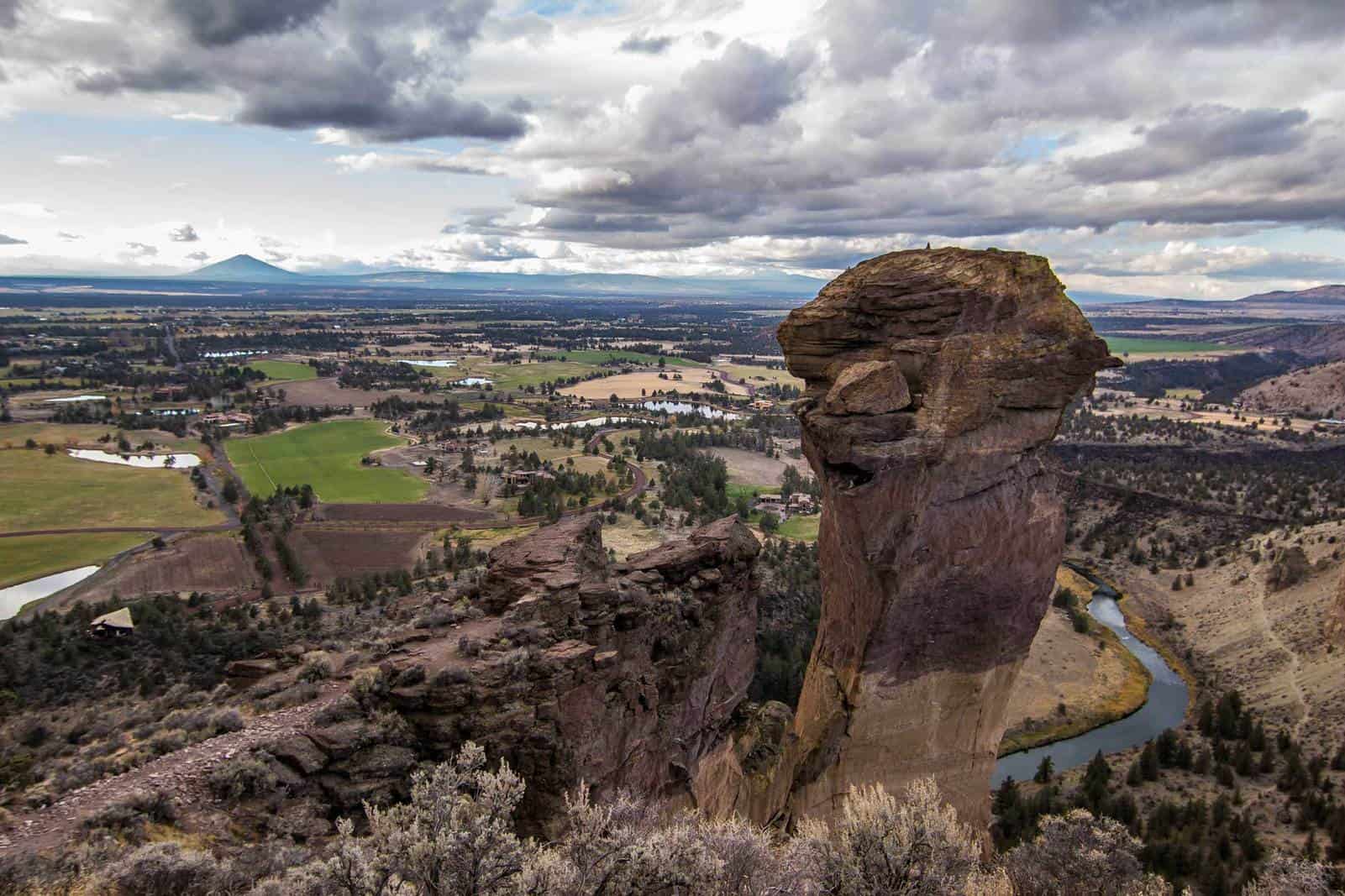 Located in Bend is a fantastic State Park named Smith Rock. It's flipping ridiculously beautiful. Like, no words beautiful. Huge rocks just jet out of the ground with a river snaking through and incredible views waiting for you up top. There were numerous hikes to explore, but we did Misery Ridge. No misery was experienced but there were plenty of jaw-dropping vistas around each corner.
If you're a rock climber, this place will totally be up your alley!
8. The Summits
Mount Bachelor, Broken Top, the Three Sisters, Mount Hood, and Mount Washington. Mountains… They can kinda be a big deal for people who didn't grow up with them. Like people from Florida (me). I love my beaches, but shoot, mountains are freakin sweet too. Speaking of summits…
9. South Sister Summit
Climbing South Sister was one of the hardest and most rewarding things I've ever done. This is the highest I've ever hiked! I'm in no way shape or form athletic and super fit. This was a rough hike but I can't tell you how worth it it was to get up there and make it to the top. Reserve the day for it because you'll want to get up early and you'll be dead when you're done.
>>> Check out my guide to hiking South Sister.
10. Paulina Peak
There are two choices for this next spot. Either you can be adventurous and hike up the mountain to the viewpoints or you can drive up the whole way. Guess which we chose? Hiking of course! It's about 4 hours altogether if you stop at Paulina Falls, the Peak and some breaks in between too.
11. The Cascade Lakes
Elk, Spark, Devils, Todd… Pick a lake, any lake! There's a bunch around the Cascade Mountain range all ranging from beautiful to drop dead gorgeous. I'd say Spark was the most photogenic of the lakes with Devils coming in a close second. Elk Lake is for anyone wanting to rent some gear to go SUPing or kayaking.
12. The Painted Hills
An enthralling alien landscape that makes you feel like you landed on Mars. That's what I feel like The Painted Hills are like! It's exactly what it sounds like, hills "painted" in a colorful layer type manner. It's a very easy to navigate the area with trails to wander.
13. Alvord Desert (Our Fav Secret Spot, Shh!)
I have to say, Alvord Desert might be one of the coolest places I've been. We came out here to camp for the night on a massive salt flat dessert and had it all to ourselves! The majestic Steen Mountains and the glimmering desert were all ours when we went probably because there were some wicked wildfires around at the time but it's regularly not the most popular place anyway, that's for sure.
Bring everything you would need to survive a night or more and make sure to fill that tank of gas in either Burns or Fields before making your way out there.
For camping on the desert, I'd suggest staying on the mountainside to avoid strong winds. We stayed on the opposite end and it was a very windy night. If you're not down to camp, you can rent a bunker type room at Alvord Desert Hot Springs, and yes, they have a hot spring. Not the prettiest looking thing but it's there!
If you don't have a four-wheel drive, getting down to the desert could be a bit tricky. There's a decent road maintained by Alvord Desert Hot Springs, you can throw them a few bucks and they will let you use it. Here's a guide to camping at Alvord Desert.
14. Drive Up The West Coast
This doesn't belong to Bend or Portland really, but should you have some extra time, definitely take a trip to the coast. Either by driving up it or at the least, just popping by whichever beach is close to you. The beaches are incredible but too bad they are so cold! Short Sands, Indian, and Pacific City Beaches are some of the most popular beaches in Oregon.
Things to do in Oregon: Portland's Iconic Must-Dos
Two famous places, a viewpoint, and a place to eat – What more do you need as an intro on your Portland itinerary? You could smash all these things out in a very busy day or spread them over two days.
15. Voodoo Donuts
I ate a voodoo donut at Voodoo Donuts. This is one of the most typical things to do in Oregon, and delicious. It's actually, in real life, worth it! Try to come during "off" hours to avoid a ridiculously stupid long line. Anytime around lunch and after work is a bad time.
16. Multnomah Falls
Multnomah Falls is a waterfall that's semi-hidden in a little alcove. When I went, in winter, it was so windy and there was no sun, so this meant everyone was turning into popsicles. There was even ice forming in the ponds and around the waterfall, but we stuck it out. It was a mighty sight to see this majestic waterfall that's loved and frequented by Portlanders and is one of the top things to do in Oregon. This is a must for your Portland itinerary.
17. Pine Street Market
Pop by Pine Street Market in the heart of Portland for a quick snack or a badass lunch. This a hawker food hall type place with everything from homemade local Oregon berry ice cream to the best burgers in town to fresh baguettes. If you're exploring the city, it's a great place to chill and fill that belly.
18. Rocky Butte Viewpoint
I always love a great viewpoint, no matter where I am in the world. Rocky Butte is a great spot because it's not in the heart of the city aka it's not super crowded, yet it still provides a brilliant vista of the city and the nearby mountains!
BONUS – Check out what's playing at Miracle (Milagro) Theater in Portland. It's the only Hispanic theater in the Pacific Northwest and they usually have something seasonal going on. I caught a Dia Los Muertos type play when I was here last, which is their main show. Don't worry, you don't need to speak Spanish fluently to understand the production.
19. Chase Waterfalls
There are a bunch of waterfalls just outside of Portland ready for you to explore. I know Portland is a cool city but if you're craving some greenery around you, just head to the gorgeous Columbia River Gorge. In less than an hour, you'll be surrounded by hills, the rushing river and plenty of waterfall hikes to enjoy. Read more about all the hikes and waterfalls near Portland.
Where to stay in Portland:
Try the city's popular hostels like Traveler's House or Friendly Bike. If hotels are more your thing – RodeWay Inn and Suites or Ramada are some of the highest rated for the cost.
Where to stay in Bend:
The Econo Lodge offers a decent deal as well as the Rainbow Motel.
Oregon's beauty was captivating and I want to visit again and again… And luckily, I will get to because Garrett is from there. Hopefully, I can update with even more excellent recommendations for your time in Oregon!
Is Oregon on your list of places to go? Have I enticed you to visit?
What are your favorite things to do in Oregon if you've been?
---
If you LOVED this, I'd LOVE you for pinning it!