This guide to hikes in Northern Michigan is authored by Rebecca.
When it comes to hiking, most people think of trails surrounded by giant sequoias in Yosemite or enjoying Zion or Sedona's iconic red rock landscape—hikes in Northern Michigan rarely enter the thought process.
But, they absolutely should! Michigan's nickname as "The Trails State" was earned for a reason!
Year-round, Northern Michigan offers a varied landscape full of unique flora and fauna with the stunning background of the vibrant blue Great Lakes.
Hikers can experience the cool, shady retreat of lush forests in the summer, the fiery colors of fall from the tops of mountains, and unique ice caves in the winter—all accessible with your own two feet!
What's even better, there is a trail for everyone. No matter your level of hiking expertise, no one has to miss out! The next time you're considering a hike, be sure not to miss one of these five hiking trails Northern Michigan has to offer.
5 Hikes in Northern Michigan Not to Miss
---
1. Chapel Loop, Pictured Rocks National Lakeshore
Distance: 10.2 miles
Type of Trail: Loop
Difficulty: Moderate
Michigan's Pictured Rocks National Lakeshore draws over a million visitors annually, and for good reason—with dramatic sandstone cliffs, gorgeous turquoise waters, and miles and miles of untouched nature. It's truly one of those places that you don't want to tell people about for fear of it losing its pristine status.
One of the best places to experience this beauty is on the Chapel Loop trail. This Northern Michigan trail is particularly perfect because it allows you access to scenic views of the lakeshore that you can't experience any other way!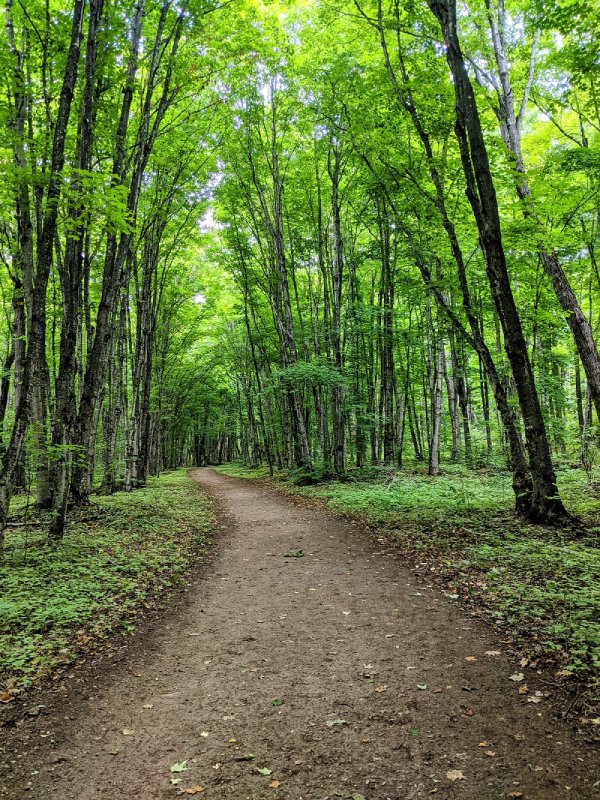 The trail is a 10-mile, mostly flat loop, but sections of the trail snake along cliffs—this provides gorgeous views, but there are no barriers.
If you're not familiar with Michigan's beauty, you would think this white sand beach with shimmering blue and green waters was actually from a tropical locale.
After the beach, the trail narrows and snakes along the beautiful mineral-stained sandstone cliffs, providing you with the most Instagram-worthy shots. If you decide to hike the entire loop, plan for about 4 hours. Camping is also available—this would be a fantastic spot to watch the sunset!
Tips for This Hike:
The trail begins at the Chapel/Mosquito trailhead. Word of warning: arrive before 9 am because the parking lot is small and gets packed quickly (if you arrive later, be prepared to park along the road).
If 10 miles is too much for you, no worries, prioritize the first 3 miles, which will take you to the secluded Chapel Beach. You know those jaw-dropping secluded beaches that you see in the movies? Chapel Beach looks just like that!
One last note, pups aren't allowed on this trail, and if you try to sneak them in and a park ranger catches you, you're looking at a fine upwards of $180.
2. Sugarloaf Mountain, Marquette (Short But Worth it North Michigan Hike)
Distance: 1.4 miles
Type of Trail: Loop
Difficulty: Moderate
Looking for a short hike in Northern Michigan with beautiful panoramic views? Then head to Sugarloaf Mountain! Just outside of downtown Marquette (about 6 miles) on County Road 550, you'll find the trailhead. It is pretty well marked, you shouldn't miss it.
The trail is just under 1.5 miles (round trip) and offers an easy and challenging route for hikers, but to be honest, I don't think the easy path is all that easy; there are still loads of stairs.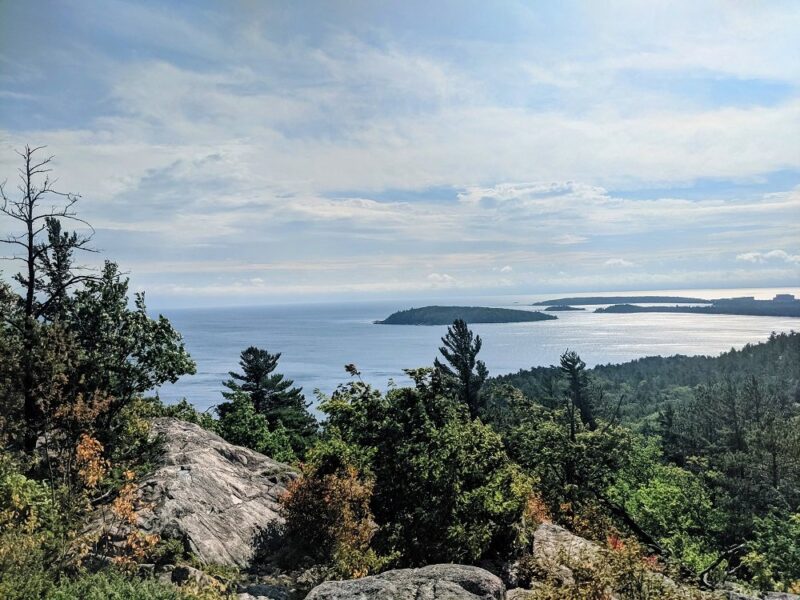 The trail starts with a tame incline, but as you progress up the mountain, it becomes steeper, and then you're greeted with a stairway to heaven (I thought the stairs would never end).
At the end of the stair climb, hikers are greeted with spectacular views 1,000 feet up in the clouds. You can see Presque Isle Park, Little Presque Isle, and Hogsback Mountain on a clear day.
After your hike, be sure to head into downtown Marquette to check out the local shops, there are a few great vegan-friendly restaurants (and even a bakery) that you shouldn't miss!
RELATED: 7 Travel Jackets for Women: Choosing The Best For Your Trip
3. Escarpment Trail, Porcupine Mountains
Distance: 8.4 miles
Type of Trail: Out & Back
Difficulty: Hard
This is one of the best hiking trails in Northern Michigan (actually, maybe the whole state)! Come here if you're looking to get away from crowds, connect with nature, and be rewarded with stellar scenery.
The trail is 8.4 miles (roundtrip) and reasonably challenging. Hikers should be prepared for rugged terrain; large areas of the trail are on an exposed bluff (don't forget sunscreen) with a few steep climbs.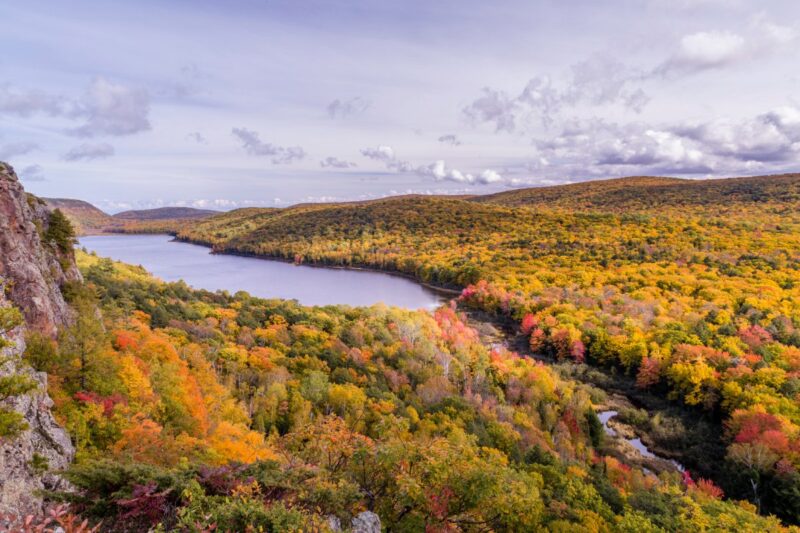 You can start the trail from either the Lake of the Clouds overlook or Government Peak trailhead (if you're not interested in hiking much, then make sure you pop into the Lake of Clouds overlook to at least enjoy the view).
The trail will take you along high rocky bluffs, through shady pine-scented forests, and will reward you with dramatic views of The Lake of Clouds and Lake Superior.
Tips for This Hike:
If you want to get great photos from the overlook, prepare to start your hike early as it is a popular spot.
While this area is perfect for a Michigan summer, it's equally as beautiful in the fall. The lush green forest turns into a fiery explosion of color—one of the best spots in the Upper Peninsula for leaf-peeping.
Your pup can come on this hike with you, but they must remain on a leash.
4. Pyramid Point Trail, Sleeping Bear Dunes National Lakeshore
Distance: 2.5 miles
Type of Trail: Loop
Difficulty: Moderate
Unless you're looking for the Pyramid Point Trail, you won't just accidentally happen upon it, making it perfect for a quieter hike. The trail starts just off of Basch Road. I was able to find it on Google Maps and navigate that way. Otherwise, it's not the most accessible spot to find unless you know the area.
This hiking trail in Northern Michigan trail is covered by The Sleeping Bear Dunes National Lakeshore, which charges a visitor fee of $20 per vehicle for seven days—supposedly rangers check cars. I didn't see any, but I wouldn't risk getting a ticket. There is an automated pay station onsite.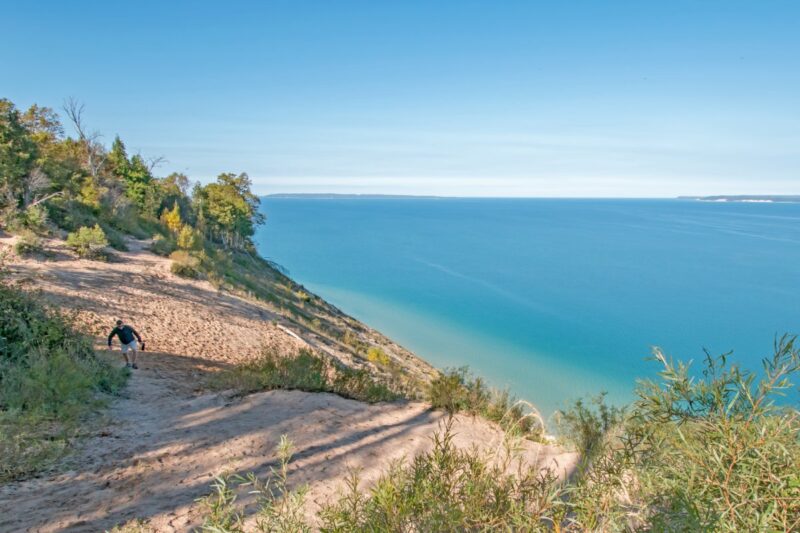 The trail isn't super strenuous, there are a couple of hills, but I think this is a good trail for just about anyone. There are a couple of ways you can hike this, and both lead to a prized view of Lake Michigan.
The first is to do an easy out and back to the Lake Michigan overlook—this is just over half a mile (one-way). The second option is to hike to the overlook, and then just off of the overlook, another trail loops through the forest and ends at Basch Road (but not at the trailhead).
If you hike the entire trail, it is 2.7 miles.
Tips for This Hike:
Pyramid Point is one of the best hikes in Northern Michigan to explore during the heat of summer because it is almost entirely covered by a lush and shady maple and beech forest, but the biggest draw for this hike is the Lake Michigan overlook.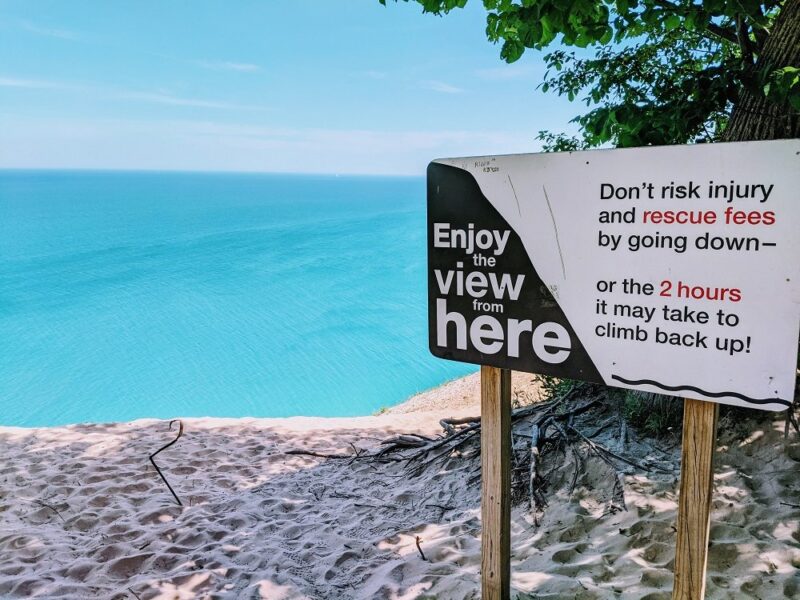 While many overlooks are wooden viewing platforms where you elbow your way to get a view, this is an entirely open bluff with no barriers (be careful). A few small trails along the bluff allow hikers different gorgeous perspectives of Lake Michigan.
If you decide to come in the winter, be sure to bring your snowshoes. Basch Road is a dirt road that isn't regularly plowed, so it's best to come in the spring-fall.
5. Sleeping Bear Dunes, Sleeping Bear Dunes National Lakeshore (One of The Tougher Hikes in Northern Michigan But a Must!)
Distance: 3.6 miles
Type of Trail: Out & Back
Difficulty: Hard
Every Michigander has a memory of taking on the challenging Sleeping Bear Dune climb—it's a rite of passage!
This Northern Michigan hike is fun for the whole family, but it is very strenuous. Often, families will bring kids to burn off excess energy with just the initial climb and then head back.
Aside from struggling to climb the sandy dunes, the entire hike is in the direct sun—there is zero shade, making it even more difficult! So be sure to consider those two things when planning and pack extra water and sunscreen.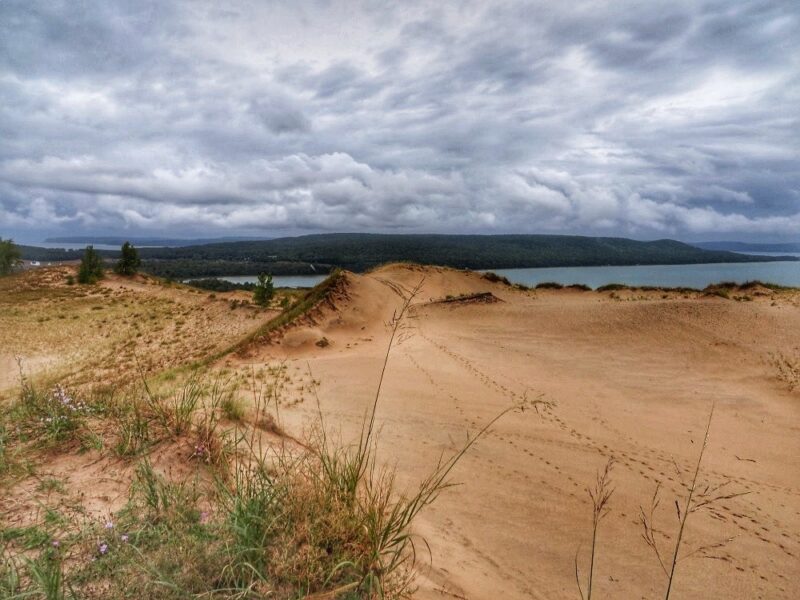 Also, the same fee that I mentioned for the Pyramid Point trail applies at The Sleeping Bear Dunes, so if you already paid it, you don't have to pay again.
Aside from taking in the sandy landscape, visitors decide to tackle this climb to enjoy the beautiful beach on Lake Michigan at the end (many beaches on Lake Michigan are really busy throughout the summer, except this one).
The entire climb is 3.6 miles (it feels much longer) and, on average, takes around 3 hours to complete. Even if you want to quit, remember it will be easier going back down!
Tips for This Hike
One helpful tip, it is hard to climb the dunes in shoes, but the sand becomes incredibly hot in the summer, so make sure you bring sandals or something you can easily slip on to protect your feet.
Once you've conquered the dunes, don't miss the scenic Stocking Pierce Drive, just a few miles south on M-22. The beautiful drive offers a few overlooks, but the one you need to get out of the car for is the Lake Michigan Overlook.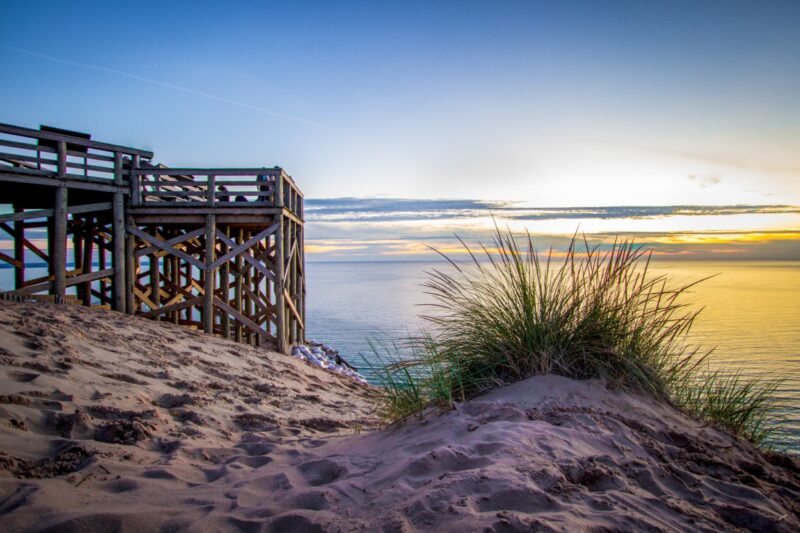 This area is jaw-dropping and looks as though it's been plucked from the Caribbean. You can wander multiple boardwalks, but you will also see a few (brave and maybe crazy) souls high-tailing it down the bluff to the lake.
If you thought the dune climb was challenging, this is harder! It is incredibly steep, making it difficult for most people to climb back up; there is even a warning about having to pay to be rescued. If you can't make it back up, it will cost you $3,000 to be rescued!
After all that hiking and exploration, head into neighboring Glen Arbor or Traverse City to enjoy a diverse dining scene that includes plenty of vegan-friendly options.
---
---
>>> BIO
Rebecca lives in Metro Detroit and is the creator of the vegan travel blog Veggies Abroad. Born of her love for travel and the curiosity of others about her plant-based lifestyle, the blog addresses the question, "What in the world did you eat?" When she isn't checking out new vegan hot spots, you can find her strategizing ways to amplify the voices of vegan businesses and nonprofits in an effort to build a kinder world.