Sandwiched between the colorful waters of the Caribbean and the lush jungles of Central America, there are endless things to do in Belize. For a small country (just under 9,000 square miles), Belize packs a big punch.
With pristine nature reserves, isolated islands, and everything in between, this diverse nation has a little something for every type of traveler.
Animal lovers are sure to love the country's flora and fauna, including abundant marine life off the barrier reef and tropical jungle dwellers like jaguars and howler monkeys. There are also ancient Mayan ruins, soaring mountain peaks, caves to conquer, and of course, plenty of gorgeous beaches to bum on.
Check out the absolute best things to do in Belize!
Planning Your Belize Trip NOW?
Here is the quick low down:
🗺️ Top Experiences and Tours in Belize
🏨 Where to Stay in Belize
🚘 Looking for a way to get around?
See current car rental deals here.
🛟 Safety
Travel insurance is a must, and it doesn't have to cost much—Here's what I use.
The BEST Things To Do in Belize
---
For me, Belize was a bit of a surprise. I try to have little to no expectations when I visit countries so that I can simply take in whatever comes my way, but I wasn't sure that Belize was going to be that exciting. How WRONG I was!
Belize was chock full of epic adventures, beautiful islands, amazing food (seriously, I didn't have a single bad meal), and truly some of the loveliest people I've met in my travels! I was, yet again, putting another country on my list of "loved it, will return!"
I hope your travels through Belize will have you feeling the same. Especially with an epic list like I have here for you. For the most part, I separated everything by area to break it up and show you where you may want to base for certain activities.
Things To Do in Placencia, Belize
Want a relaxing beach getaway? Want to have access to other beautiful cayes just offshore? Ready to let go and enjoy some of the nicest resorts in the country? Placencia is your spot!
1. Wander Placencia Town and Beach
Head down the Placencia Peninsula, about 16 miles south, and you'll hit the charming seaside town of Placencia. You can SUP and kayak just offshore, roam the shops, and explore the eateries.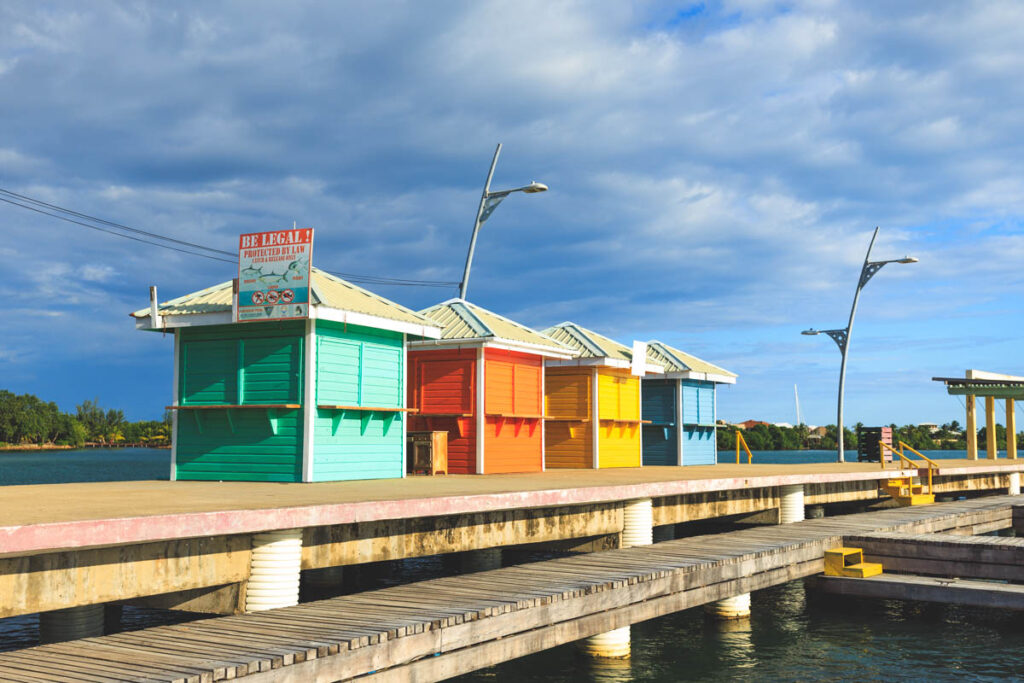 This is a chill village with some happening beach bars and a looong beach to enjoy.
While most of the beach here seems private because it's taken up by vacation homes and resorts, you can head to Placencia Beach Club or the pier at the tip of the peninsula to claim your slice of sand.
2. Become a Castaway at Silk Cayes
For a real-life castaway experience, head to the Silk Cayes. Also called the Queen Cayes, these two deserted islands sit off the coast of Placencia and feature 360-degree views of pure ocean. The only way to get here is to book a tour.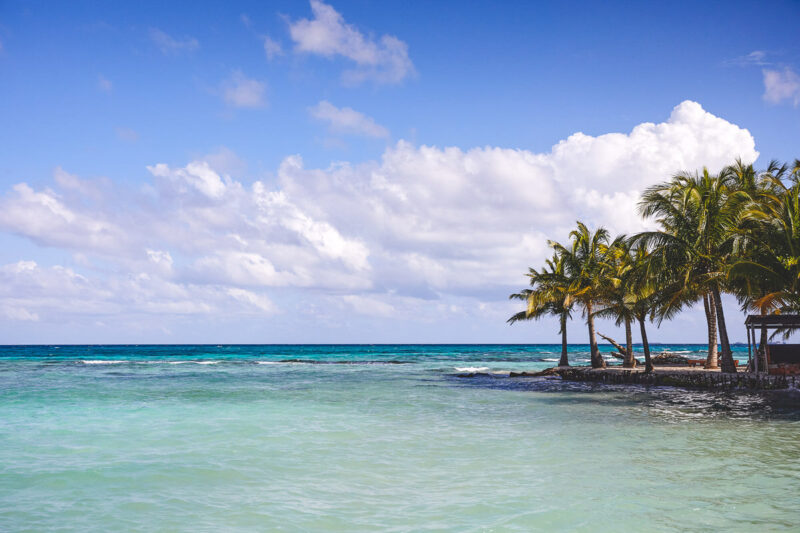 The islands are a gorgeous place to spend an afternoon. You can enjoy the silence from the sugar-soft sand as you lap up the views or dive below the surface to discover an abundance of tropical marine life.
→ Book this Silk Caye Snorkeling Tour
3. Laughing Bird Caye Trip
If you're spending any time along the Placencia peninsula, don't hesitate to make the trip out to Laughing Bird Caye. This uninhabited island sits about 45 minutes off the coast, and its undeveloped atmosphere affords visitors remarkable tranquility.
Laughing Bird Caye is a national park, so its soft white sand and gorgeous blue waters are lovingly protected and preserved.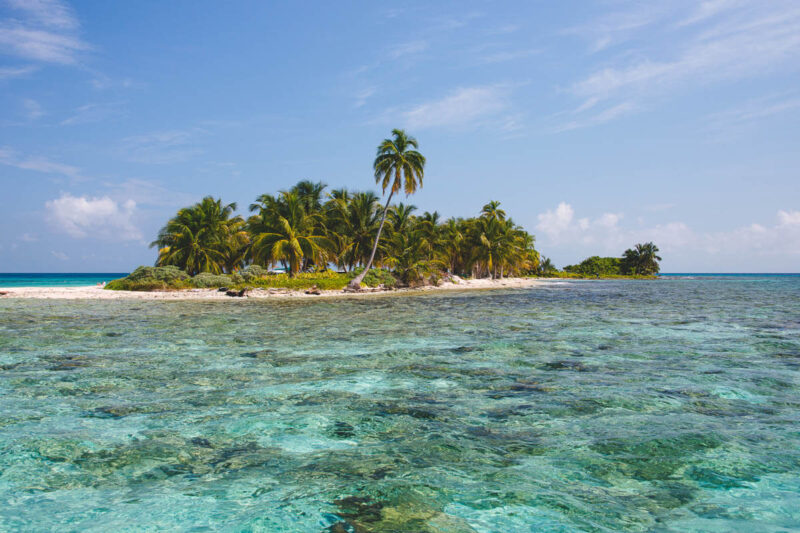 The island and park were named after the raucous laughing gulls that once nested here. While you won't find any laughing birds today, plenty of other exciting species inhabit the island, both on land and under the sea.
Many tours out to the island include snorkeling gear to get a closer look at the coral and marine life beneath the surface. Take a tour here while you're in Placencia, as it's the easiest caye to reach from here.
→ Book this Snorkeling Tour to Laughing Bird Caye
4. Explore Cockscomb Basin Forest Reserve
Those searching for unique things to do in Belize should make a beeline for the Cockscomb Basin Forest Reserve. While this spot is a bit over an hour from Placencia, this is one of the best things to do from the peninsula. You can easily book this tour here which leaves from Placencia.
Founded in the 1980s, this wildlife preserve protects some of the country's endangered species. The main draw to this area is seeing big cats in the wild.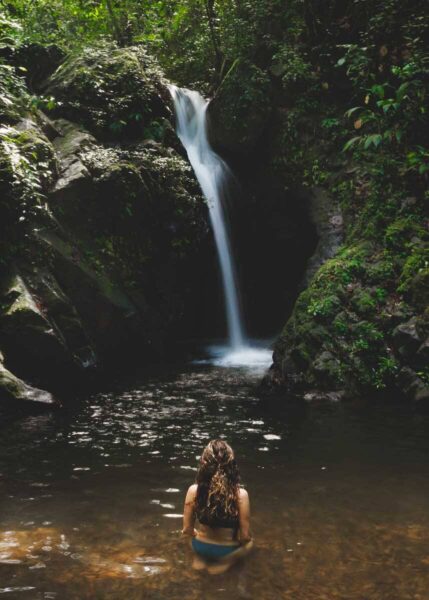 You might spot pumas, jaguars, ocelots, or the adorable jaguarundi if you're lucky. Other species that call this area home include tapirs, armadillos, otters, monkeys, and hundreds of native bird species.
Even if you don't spot any wildlife (I, unfortunately, didn't), the Cockscomb Basin Forest Reserve is a gorgeous place to spend the day.
You can hike the trails through the rainforest as you seek out scenic waterfalls or the summit of Belize's highest mountain peak. Taking a dip in Ben's Bluff waterfall was the highlight of my visit here!
→ Book this Wildlife & Waterfall Tour
Where to Stay in Placencia:
— 👉 TOP PICK —
Chabil Mar Villas – Where you stay can make or break any vacation. Don't gamble on your resort in Belize; book your stay at Chabil Mar Villas. A stay at this upmarket resort includes your private villa, access to the beachfront infinity pools, and complimentary kayaks, paddleboards, and bicycles.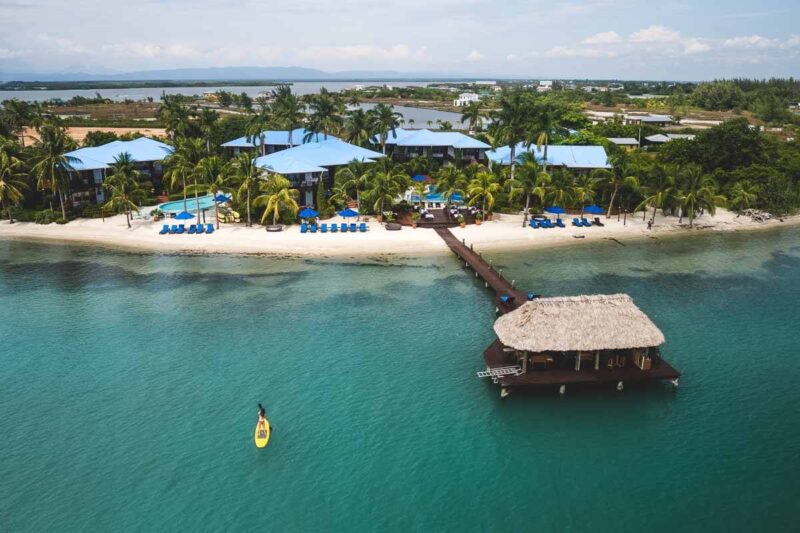 In addition, you'll stay close to all the action of Placencia thanks to the resort's proximity to the village. It seriously does not get much better than this!
Maya Beach Hotel – Enjoy views of one of the best beaches in Belize from your room or private apartment at this three-star hotel. The grounds feature a year-round swimming pool, hammocks for lounging, and guests can make use of bikes or kayaks.
Things To Do in Hopkins, Belize
I almost skipped this spot, and I'm so glad I didn't! But if Placencia isn't your style, you want a bit more of a budget backpacker-y beach town, and aren't too into resorts—Hopkins is your spot! While the town is small, there is still stuff to do, and you can use it as a base to see other cool things to do in Belize.
5. Visit Hopkins Village
What was once a tiny fishing village is now a thriving town in southern Belize. However, Hopkins has maintained its small-town charm and laid-back Caribbean vibe that is usually reserved for the outlying islands.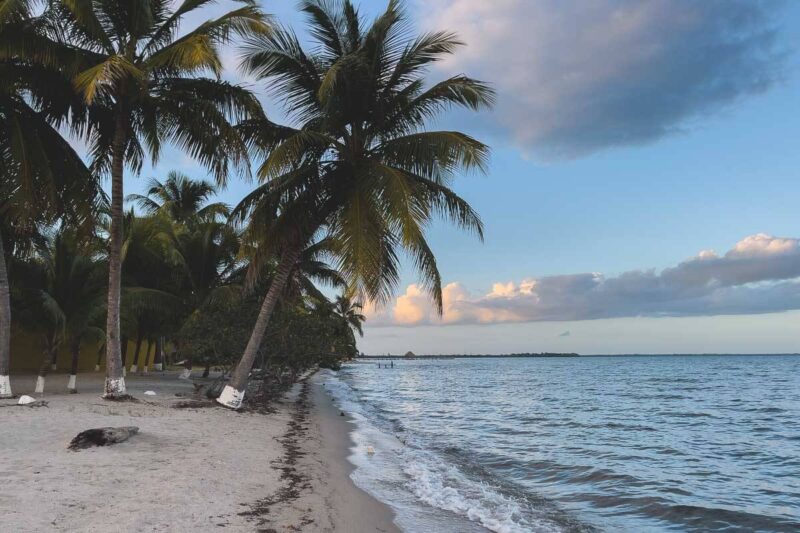 The village is known for its Garifuna culture. The culture is most apparent in its cuisine (try hudut!) and its nightlife – you'll likely hear drums and see dancing if you stick around after sunset.
Hopkins is also known for its large swath of pristine and uncrowded beaches. The incredible nature preserves the surrounding area, including the Cockscomb Basin Forest Reserve and the South Water Marine Reserve off the coast.
6. Chase Waterfalls in Mayflower Bocawina National Park
Encompassing over 7,000 acres of pure wilderness, a visit to the Mayflower Bocawina National Parks is one of the best things to do in Belize for those who want to reconnect with nature. The park is situated at the base of the Maya Mountains in the Stann Creek District.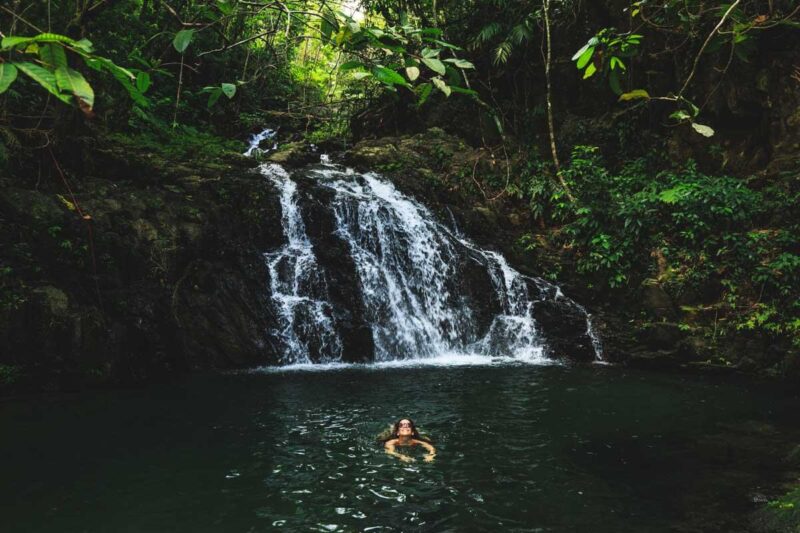 There are endless ways to enjoy the national park, from trekking the short yet rewarding Bocawina Trail through the enchanting forest to ziplining through the area's lush canopy. There are also several unexcavated Mayan Temple mounds with various structures, artifacts, and even some pyramids.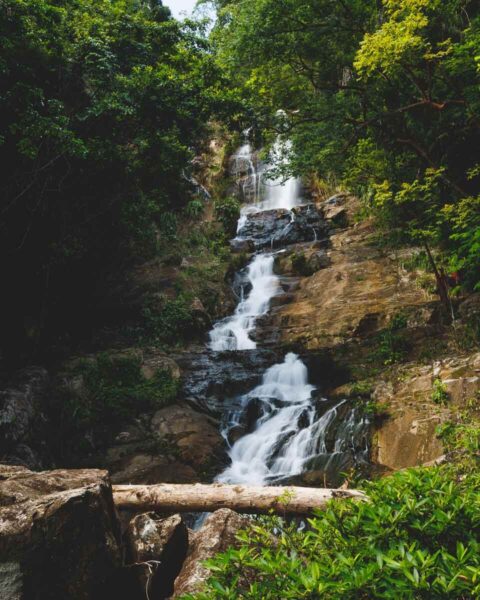 But one of the best things to do in Mayflower Bocawina National Park is chase waterfalls. In addition to the short and sweet Lower Bocawina Trail, there are several other trails—Antelope Falls was our favorite!
Along the way, you may encounter unique wildlife, including howler monkeys, big cats, tapir, and hundreds of different bird species.
→ Book this Zipline Adventure at Bocawina Rainforest
7. Hike in the Underrated Billy Barquedier National Park
Known as the gem of the Emerald Valley, Billy Barquedier National Park preserves over 1,500 acres of tropical evergreen forest in central Belize. The hilly terrain here makes it a popular spot for hiking.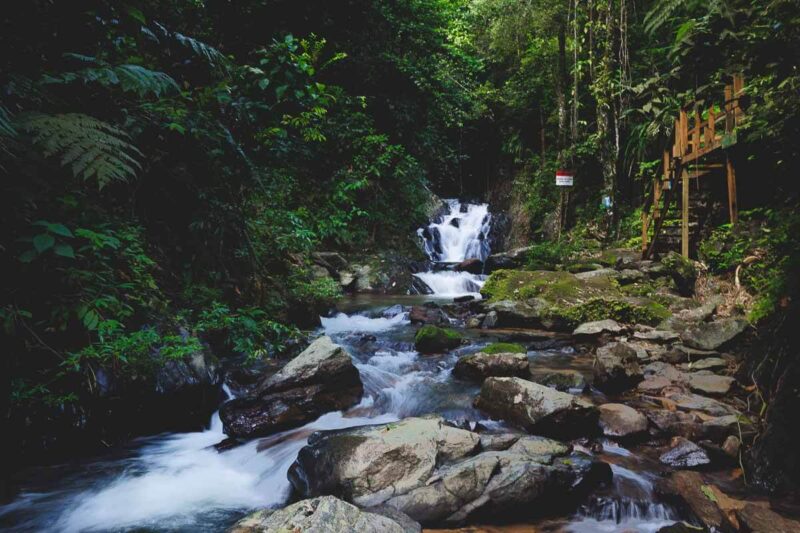 Head up to the observation tower at the highest point in the park via Jaguar Trail for a challenge. For something a little milder, you can hop on the Waterfall Trail. This easy 15-20 minute hike ends at a waterfall. Feel free to reward yourself with a dip in the pool at the end of the trail!
READ MORE: 7 Belize Waterfalls You HAVE to Visit!
Where to Stay in Hopkins:
The Funky Dodo Backpackers Hostel – Hopkins' friendly, social vibe really shines at this popular hostel. Make new friends hanging out on the terrace, in the communal kitchen, or on one of the hostel's organized tours.
Coconut Row – The name says it all! Step out of your room or bungalow and you'll be met with a stretch of sand lined with coconut palms for that classic tropical vibe. There's a really delicious restaurant and bar on-site, and some rooms have kitchens.
READ MORE: Your Guide to Hopkins, Belize: Where to Play, Eat, and Sleep!
Things To Do in San Ignacio, Belize
Ruins and epic nature—That's what you'll get in San Ignacio, Belize! There are two main easily accessible Mayan ruins to check out here, with a few others that are more far-reached. If you want to explore the jungles and caves or perhaps chase waterfalls, you'll want to spend a few days here to see it all.
8. Cave Exploring in Actun Tunichil Muknal
Consistently voted as the number one most sacred cave in the world by National Geographic, it should come as no surprise that a trip to Actun Tunichil Muknal is one of the best things to do in Belize.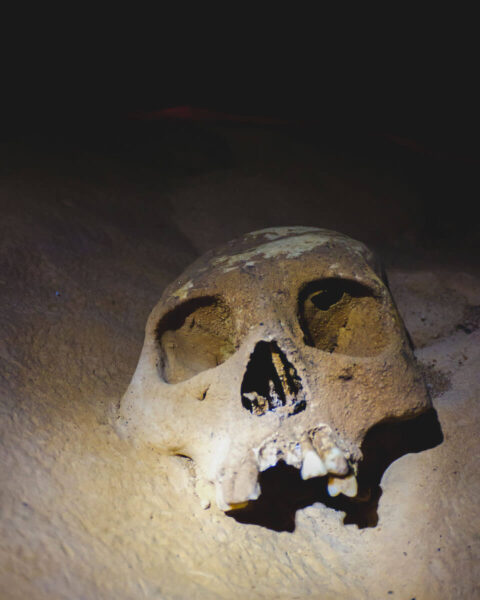 It's safe to say that ATM (as it is often called) is unlike any other cave you've ever been to. It's actually a Mayan archeological site, complete with ancient ceramics, stoneware, and even skeletons!
Because of its protected status, you must hire a licensed guide to enter ATM. Tours are not cheap (expect to fork out at least $100 per person), but rest assured, the high price point is worth it.
Depending on which guide you go with, you'll have about eight hours to explore this stunning area, and the insider knowledge makes the whole experience much more interesting.
*Do note cameras are not allowed in the cave. See it as a good thing—You get to enjoy the adventure a bit more!
— 👉 TOP PICK —
→ Book this Actun Tunichil Muknal Cave Full-Day Tour
9. Head to The Rarely-Visited Caracol Natural Monument Reservation
Get off the beaten path for a day and visit Caracol – a small swath of Mayan ruins on the border of Guatemala. The site marks the location of a long-since deserted city that was once larger than modern-day Belize City, with a population twice as large.
These ancient ruins may not be as objectively impressive as other famous sites like Tikal or Tulum, but you can bet that they are a whole lot less crowded.
The sparse number of visitors is due mainly to Caracol's remote location. The site sits inside Chiquibul National Park in the stunning Vaca Plateau, and you'll need a 4×4 to get there.
One of the most popular ways to experience the ruins is by going on a tour, and prices are comparable to renting your own vehicle. As a bonus, most tours of Caracol also include a stop at the nearby natural pools (Rio On Pools), which are stunning and a must-visit too!
→ Book this Caracol Maya Ruins & Waterfall Tour
10. Roam The Xunantunich Ruins
By now, you may have caught onto the fact that one of the best things to do in Belize is to discover the Mayan ruins. Unless you're an avid ruin explorer or lover of Mayan history, you may not have time (or the desire) to see all of them – there are a LOT.
If you have time for just one, make it Xunantunich (pronounced shoo-nan-too-nitch).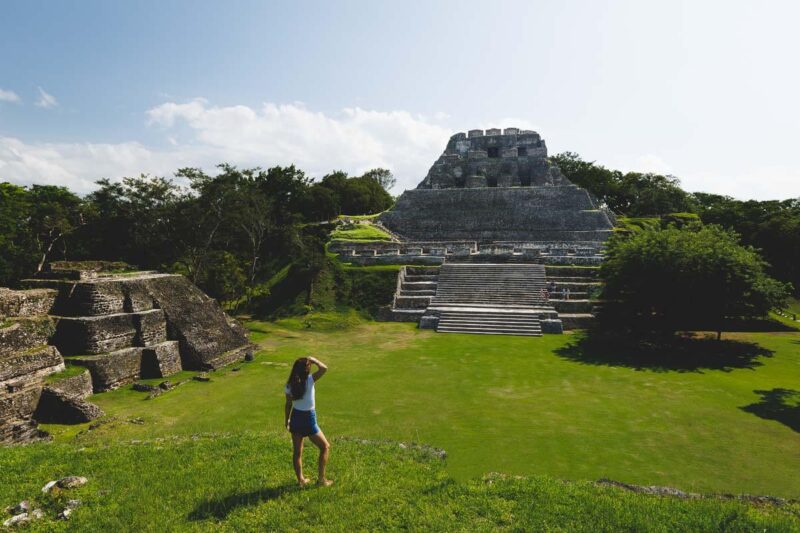 Situated in the Cayo District of western Belize, Xunantunich is an easy day trip from San Ignacio. It's also possible to reach the ruins from Belize City if you don't plan on exploring more of the Cayo District.
Xunantunich is often considered the most impressive ruin site in Belize, with the towering main temple (El Castillo) and the lush rainforest surrounding it.
→ Book this Xunantunich Mayan Tour
11. Discover Rio Frio Cave
Often considered the best cave system in the entire country, Rio Frio Cave deserves a spot on every traveler's Belizean bucket list. Situated in Mountain Pine Ridge in Belize's Cayo district, this quarter-mile cave is the stuff of legends. You'll start by entering through the cave's wide entrance – no need to worry about claustrophobia here!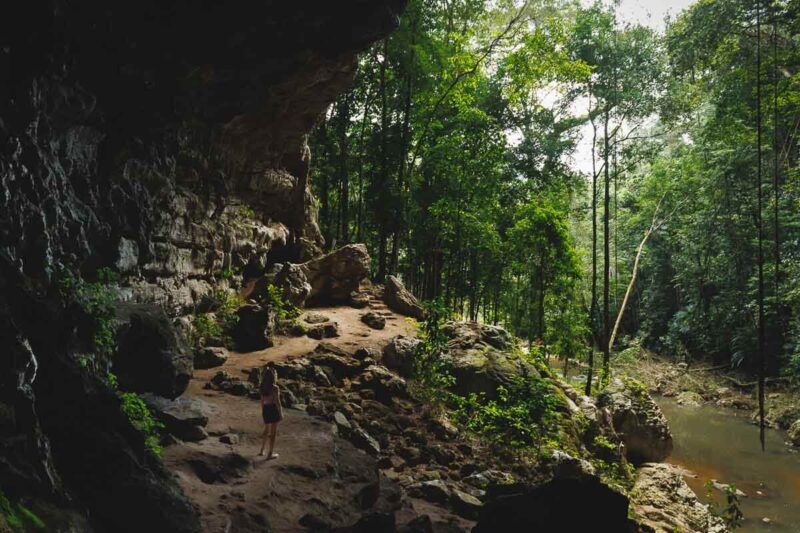 As you wander, you'll see natural pools, soaring 70-foot arches, plenty of impressive stalactites, and even a few mini-falls! If the cave feels a bit divine, there's a reason. Mayans once used this sanctified space to bury their dead.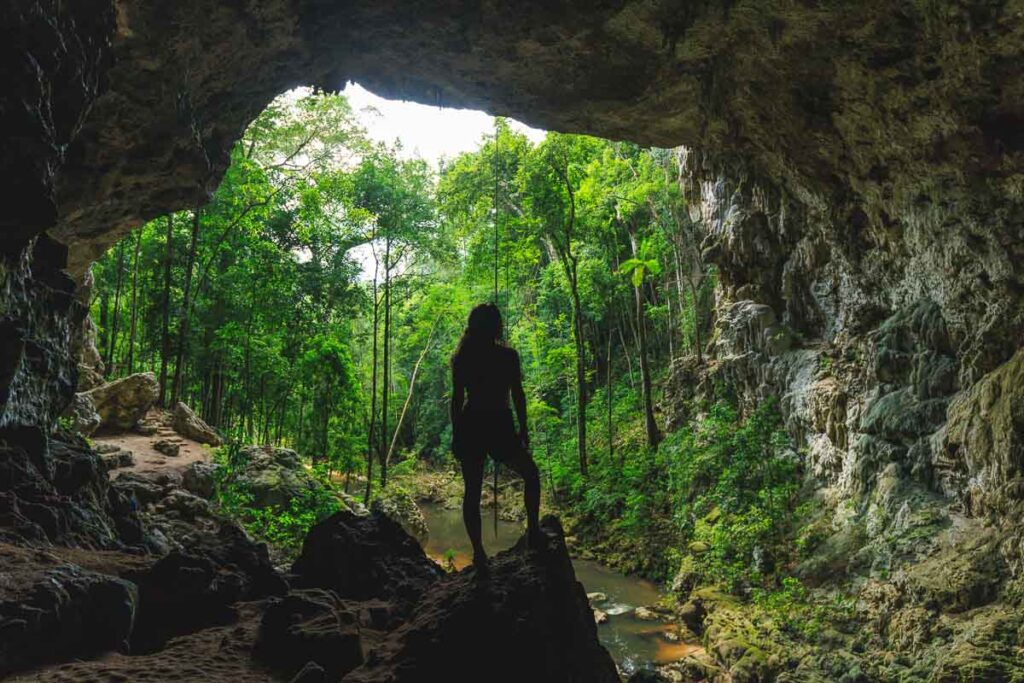 This was one of the coolest caves I've been to but be warned that the road here is rough. We actually had to park about a half mile out and walk in because it got so bad for our regular two-wheel drive vehicle. If it's been raining, either take a tour or avoid visiting.
12. Dip into The Rio On Pools
While in Mountain Pine Ridge, don't miss your chance to swim beneath the natural pools of a cascading waterfall. Rio On Pools is one of Belize's most stunning outdoor playgrounds. The area features large granite bounders and tons of flowing water to play in.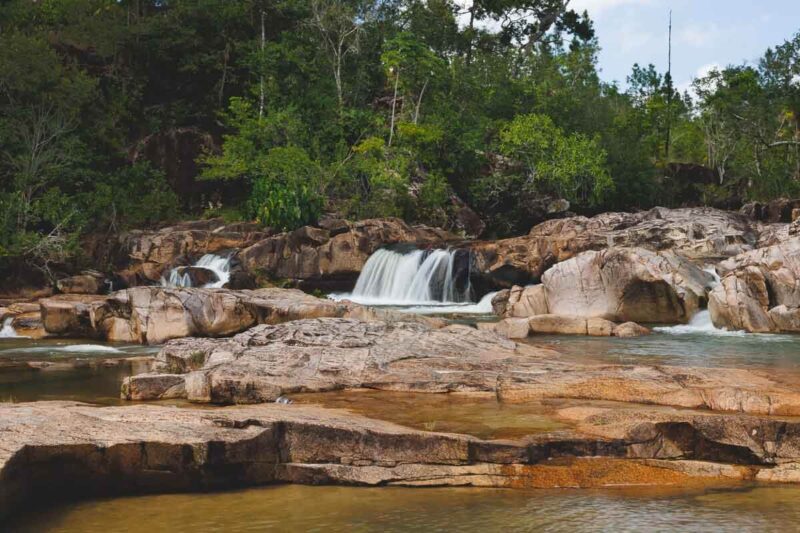 The surrounding pine forests add to the idyllic feel, and the river banks make for a great spot to relax or enjoy a picnic after your swim sesh.
13. Swim at Big Rock Falls
You may wonder how one of the country's biggest waterfalls could still be considered a hidden gem! Big Rock Falls sits inside the Mountain Pine Ridge Forest Reserve, and after ascending a series of wooden stairs, you will behold the jaw-dropping 150-foot falls.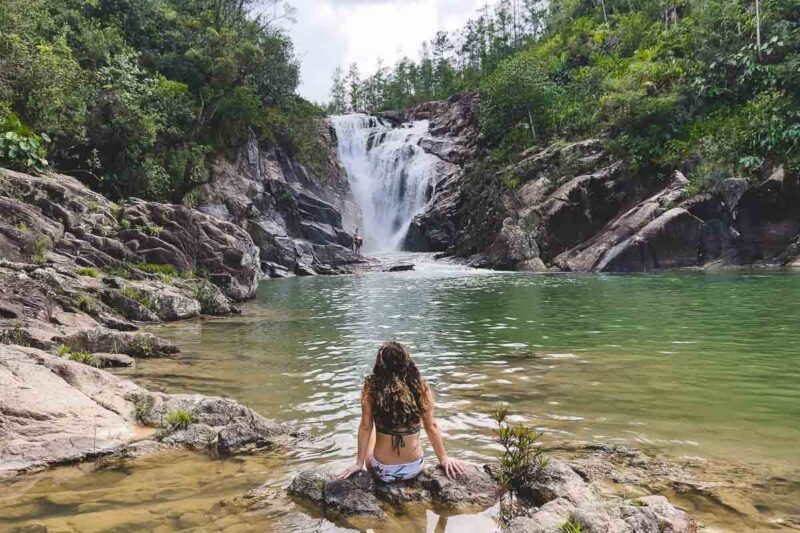 Adrenaline junkies can jump from the cliff into the pool at the bottom of the waterfall, while those looking for a more relaxing experience can simply wade in. It's a short hike in, but it's down some steep rickety wooden steps, then across slippery boulders, so just be aware.
Where to Stay in San Ignacio
Cahal Pech Village Resort – A hillside resort with comfortable and eco-friendly options like cabanas, villas, and a treehouse, providing a peaceful and secluded setting.
Maya Bella Downtown Hotel – A more central and budget-friendly choice with private balconies or patios, a restaurant, bar, rooftop pool, fitness center, and spa.
D's Hostel – Budget-friendly lodging with simple and clean private rooms, dormitory beds, shared kitchen, and bathroom facilities, run by a local family for a friendly and relaxed atmosphere.
READ MORE: 10 Things To Do in San Ignacio: Your Complete Adventure Guide
Things To Do in Caye Caulker, Belize
I KNOW this spot is on your list! Many people come with nothing else on their list of things to do in Belize except to visit Caye Caulker. If you want to feel like a castaway on a lost island but that also happens to have everything you need, then Caye Caulker is the place to go!
This is a tiny island, but it packs a lot of punch. In fact, I can see why people get "lost" here and stay for longer than they expected to.
14. Go Slow in Caye Caulker
One of the most popular things to do in Belize is to spend a day (at least) at Caye Caulker. And this area is beloved for a good reason.
The sun-soaked island dishes out tropical vibes in spades, with impossibly blue Caribbean waters, sandy shores, and epic bars slinging buckets of Belikins throughout the day and into the evening.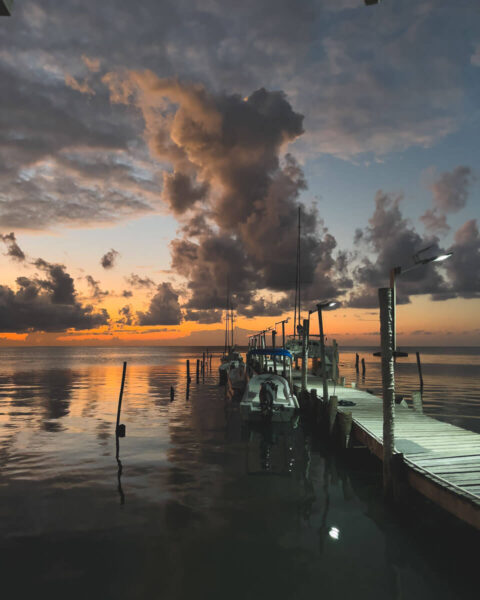 One of the best spots to get rowdy on Caye Caulker is the Split at Lazy Lizard – a popular party spot where you can swim in the warm water, listen to live music, and sip on tasty cocktails. Locals tend to steer clear of this area, but it's a great place to meet fellow travelers.
Lest you get the wrong idea, Caye Caulker is more than just a party island. You can also rent bikes or golf carts to explore the isle or get on the water and kayak, snorkel, fish, or sail. There's even a manatee preservation site off the nearby Swallow Caye!
15. Sip n Dip in The Water
When you hear about beach bars on Caye Caulker, you'll definitely hear about Sip n Dip! The cute bar is right next door to the popular Lazy Lizard. The dock comes with swings, in-water tables, and an epic beer garden. Need I say more?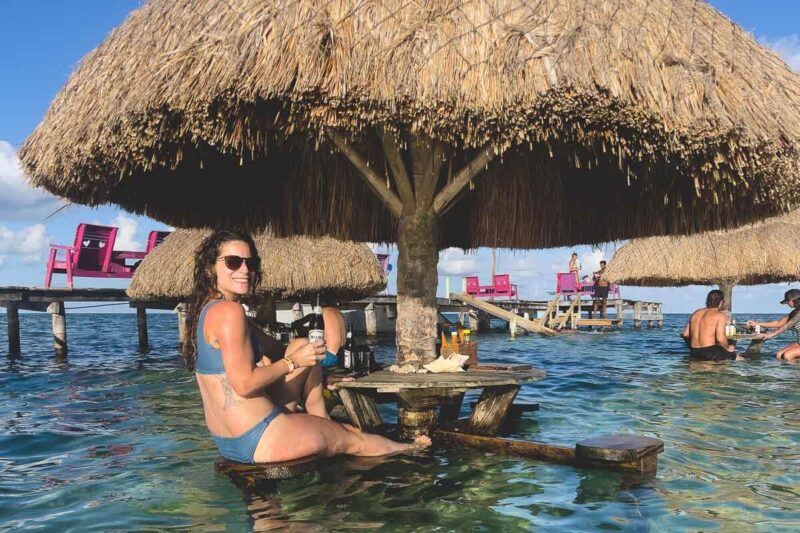 Considering there's no real beach here in Caye Caulker (I know, weird, right?!), this is probably the best place to chill!
READ MORE: 11 Things To Do in Caye Caulker, Belize: Your Guide to The Island
16. Snorkel and Dive with Turles, Sharks, Manatees, and More!
Obviously, the massive reef off the coast of Caye Caulker and Ambergris Caye draws divers in hoards, and the marine life here is truly incredible. There are many places to dive and snorkel across the island, but one of the best spots is the Hol Chan Marine Reserve and Shark Ray Alley.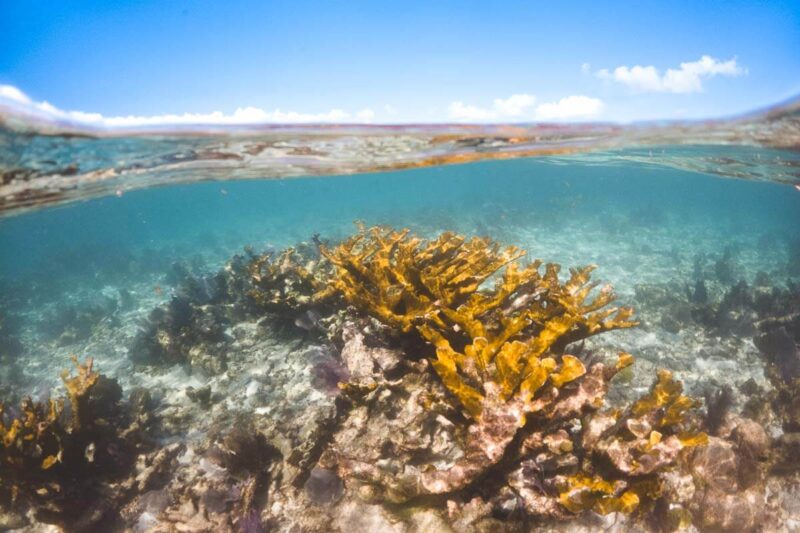 This underwater park is home to a vibrant array of critters, including rays, tons of tropical fish, colorful sponges, and moray eels. Tours of this area are available from Caye Caulker or Ambergris Caye. Other noteworthy areas for diving include Mexico Rocks and Tres Cocos, among others.
— 👉 TOP TIP —
Book the tour I did so you can beat everyone else that heads out for the day! The tour I did leaves the earliest, and it's worth it. We were always ten steps ahead of all the other tours and avoided the crowds.
→ Book this Snorkeling Tour from Caye Caulker (it's the exact one I did and it was amazing!)
Where to Stay in Caye Caulker:
CayeReef Beachfront Boutique Condo Hotel – You can really make yourself at home on Caye Caulker with one of these generous condo apartments. As well as a prime beachfront location you'll also get a fully equipped kitchen, living room, and balcony.
Sea n Sun Guest House – This cute and colorful guest house is a great pick for a more relaxed and affordable island experience. Rooms are simple but comfortable and there are free bikes and kayas for use.
READ MORE: Where To Stay In Belize: 21 of the Best Hotels and Resorts
Things to Do in Ambergris Caye/San Pedro, Belize
Belize has hundreds of islands sitting just off its coastline, but Ambergris Caye is the largest. The Mayans once inhabited this 25-mile-long islet, but today it serves as a gateway to the incredible barrier reef surrounding it.
If Caye Caulker is too chill and not exciting enough for you, San Pedro on Ambergris Caye is for you.
17. Enjoy San Pedro Town
If you prefer to stay above water, there are plenty of other great ways to experience Ambergris Caye. San Pedro is the island's main city.
It's home to gorgeous beaches, luxury hotels, and vibrant bars and restaurants. There are also tons of epic events and markets in San Pedro. No matter what time of year you visit, there's sure to be something fun going on.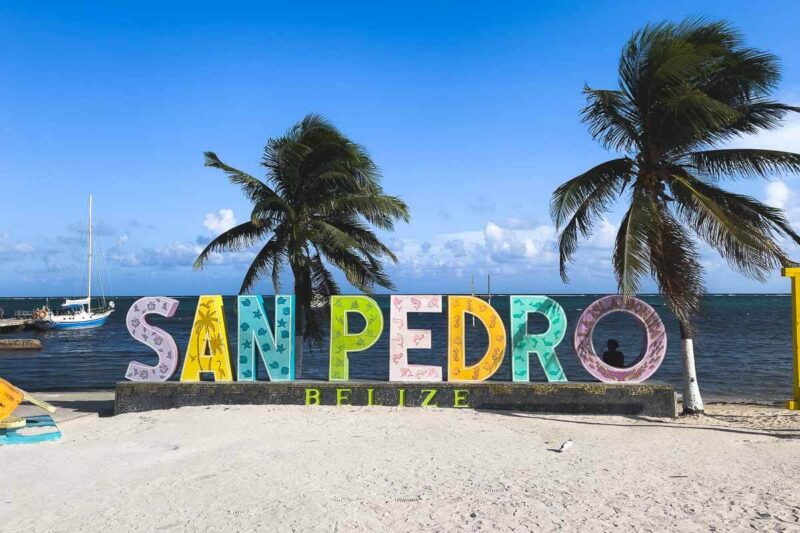 The infamous Chicken Drop, which used to be at Wahoo's Lounge, is now at Corona del Mar Hotel. And it's one of the most unique events on the island. Essentially, you are betting on chicken poop. Yes, seriously.
Every Thursday night, crowds gather to place bets (BZD$1 per ticket) on which square the designated chicken will do its business on, and if you guess right, you could win BZD$100!
Even if you couldn't hypothesize the chosen square, the DJ and the hyped-up crowd make Thursday nights an experience you won't want to miss.
For souvenirs and trinkets, check out San Pedro's Artisan Market. Tucked away on Back Street, this unassuming marketplace is so much more than just your average shopping experience. There are hand-crafted items like baskets, wood carvings, art, and conch shell work.
Food options are also nearby, from fresh tortillas to fresh fruit stands and even a cute ramen shop! Take your time perusing this area, treasures are hidden everywhere!
18. Chill at Secret Beach for the Day
Secret Beach is a not-so-clandestine swatch of sand on the lovely Ambergris Caye. Even though the cat has long since been out of the bag on this one, a visit to Secret Beach is one of the best things to do in Belize.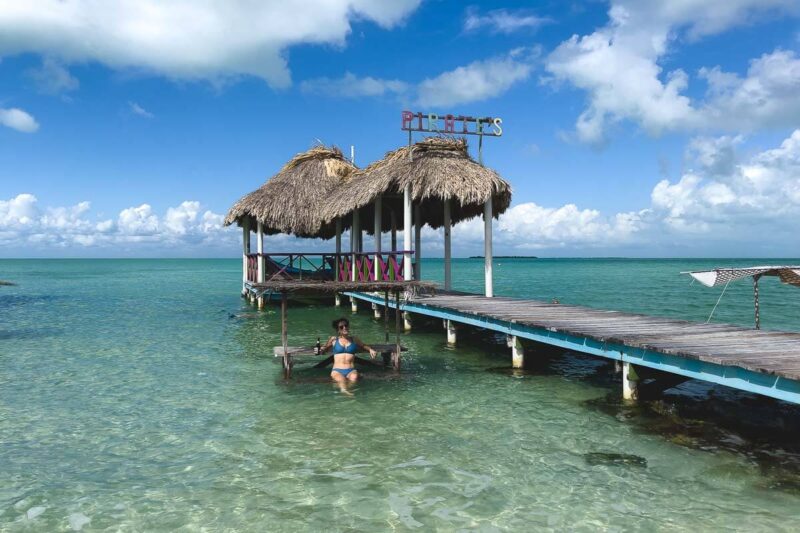 In fact, my fav spot to chill was called the Pirate's Not So Secret Beach Bar—At least they are real about it not being so secret anymore.
Situated about 7 miles north of San Pedro Town, this popular spot is a hub for water sports, drinking and dining, and good old-fashioned beach bumming.
With all this said, it's still a drive to get here, I recommend renting a golf cart and taking the 30-min bumpy ride out here. So this inevitably keeps the crowds at bay.
TIP: Want to meet locals? Pick them up on your way out here if you're driving your own golf cart! We picked up two on our way out, Nancy and Pablo. They hitchhike out to the beach every day to sell their trinkets and braid hair. Good convos for you and a ride for them—win win!
19. The Truck Stop for Snacks, Swimming, and Sipping on Drinks
After a day at Secret Beach, stop by the Truck Stop on your way back into town. This lively area is the island's first and only shipping container food park and beer garden, and it is THE place to be on evenings in San Pedro. There are also games, a pool and swim-up bar, and an 18-foot movie screen.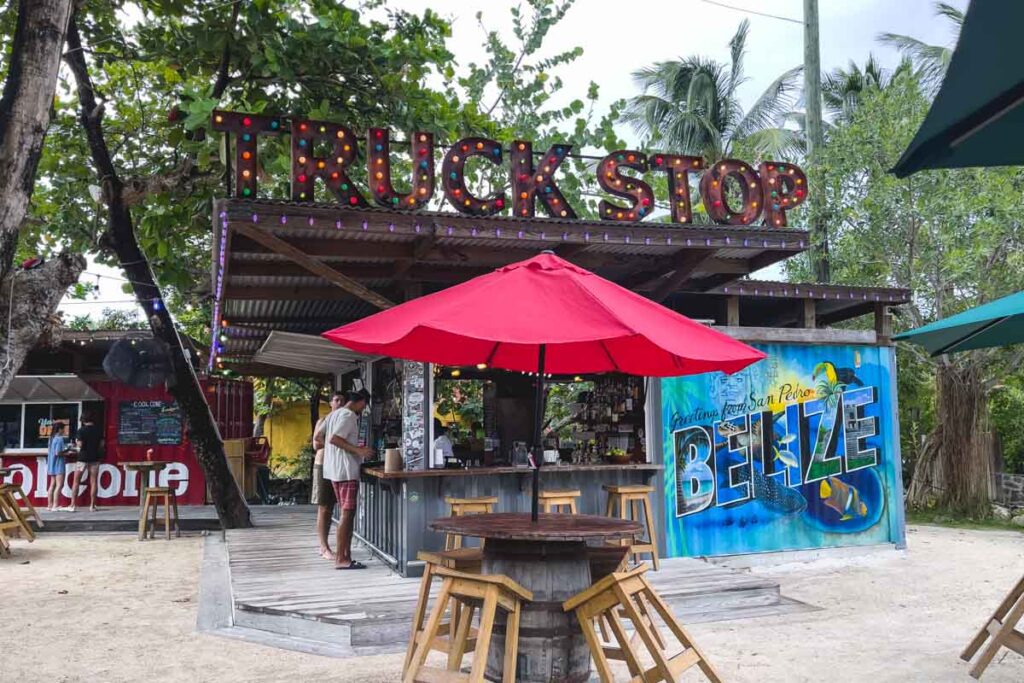 They have events like movie night and comedy night, and it is overall a very fun place to eat, drink, and chill! Check here for their current events.
20. Snorkel or Dive at The Hol Chan Marine Reserve
Divers would be hard-pressed to find a better place to explore the country's marine life than Hol Chan Marine Reserve. The reserve is a 3-mile outcrop off of Ambergris Caye with access to part of the incredible Mesoamerican Barrier Reef, the second-largest barrier reef in the whole world.
Dive below the surface to discover colorful coral gardens and an array of wildlife. This small area is densely populated, so your chances for peeping at unique marine life are good. Common sitings include sea turtles, nurse sharks, sting rays, eels, and schools of colorful fish.
In addition to the reef, snorkelers can also discover the other sections of the reserve, including the mangroves, the seagrass beds, and the most recent addition, Shark Alley. You can even dive into underwater caves if you can hold your breath long enough!
Visiting this marine reserve is often included with any snorkeling trip you book around Caye Caulker or Ambergris Caye. In fact, you can do this with the same snorkeling tour I mentioned above. It's a FULL day of exploring all of the best spots in the area!
— 👉 TOP PICK —
→ Book this Snorkeling Tour of Shark Alley
Where to Stay in Ambergis Caye:
Drift Inn San Pedro – If you're planning a lot of water-based activities, this is the hotel for you. On-site there's a large dock stretching over the ocean, plus a tour shop to help you organize everything. For the budget conscious, there are dorms as well as private rooms.
Ramon's Village Resort – This hotel is exactly what you envision when you think of an island holiday. Stay in a private thatch roof cabana with direct access to lush tropical gardens and stunning blue waters. This is also a resort that is on one of the best beaches in Belize!
READ MORE: Top 12 Things To Do in San Pedro, Belize!
Things To Do in Belize—Anywhere You Go!
Going slow, chilling on the beach, and eating amazing food can be done almost anywhere in the country. Don't miss the opportunity to have the best seafood you've ever had and leave your anxiety at home! You aren't allowed to go too fast in Belize…
21. Get a Taste of Belizian Cuisine
One of the best ways to get a feel for a new place is to taste the local grub. Belizean cuisine is an eclectic mix of fresh seafood, Caribbean flare, and native tradition. This makes for a delicious sampling, so dig in and don't be shy!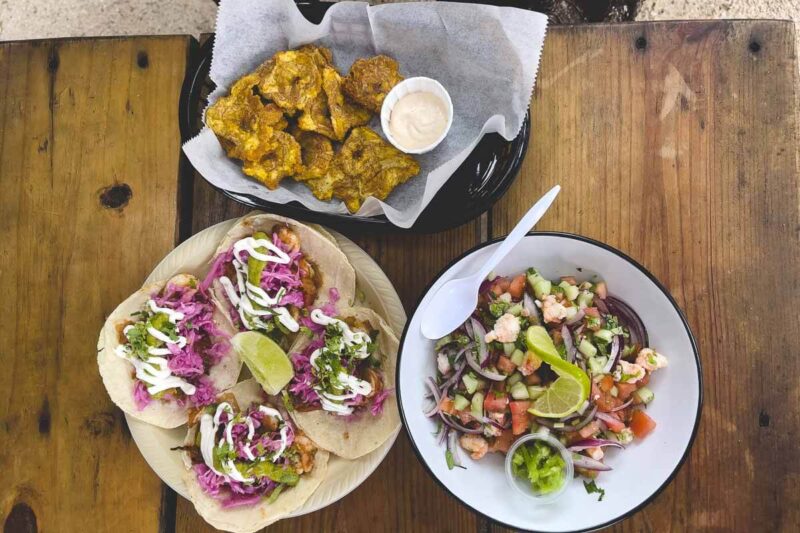 Some classic Belizean dishes you won't want to miss include pibil tacos made with pit-roasted pork, tamales, and stewed chicken. Rice and bean meals are also a classic, and you can add Marie Sharps hot sauce if you want to heat things up, you'll see her bottles of hot sauce on every table in the country!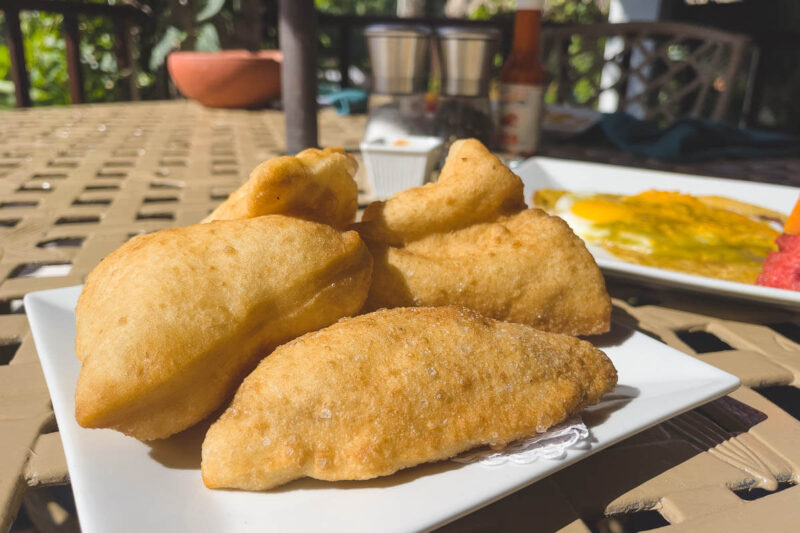 Of course, seafood is also a popular menu item when you're this close to the sea. Ceviche, made with lobster, conch, and fish is the perfect accompaniment to an ice-cold Belikin (Belize's national beer) on a hot day.
Hudut is another popular fish dish made with coconut milk and served with a mashed plantain ball. I literally didn't have a bad meal in Belize—everything was SO good!
22. Chill on the Beach and Go Slow!
One of the very best things to do in Belize is, well, absolutely nothing! Of course, this activity is best performed on one of the country's breathtaking beaches.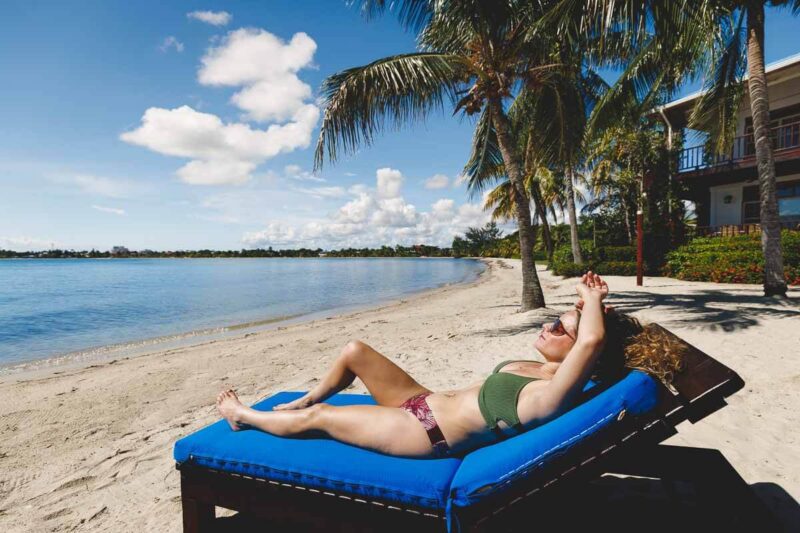 From the long sandy stretch along the Placencia Peninsula to the deserted islands, Belize has some seriously stunning beaches. No matter what type of beach day you hope to indulge in, the beaches in Belize are sure to please.
Go slow and enjoy the beautiful scenery at Secret Beach on Ambergris Caye, indulge in local cuisine on Hopkins Beach, or down some beers at The Split in Caye Caulker. Your options are endless!
READ MORE: 7 Best Beaches in Belize for Beach-Bumming
Other Things to Do in Belize
Here are a few more things to do in Belize, but they didn't fit under a certain area. The best way to do these activities is to rent a car and get here yourself (more on this soon) or just make life easy and book a tour.
23. Hike Up Altun Ha
Thanks to its convenient location just 30 miles outside of Belize City, Altun Ha is one of the most popular things to do in Belize. The Mayan site features a collection of well-preserved temples, tombs, and pyramids.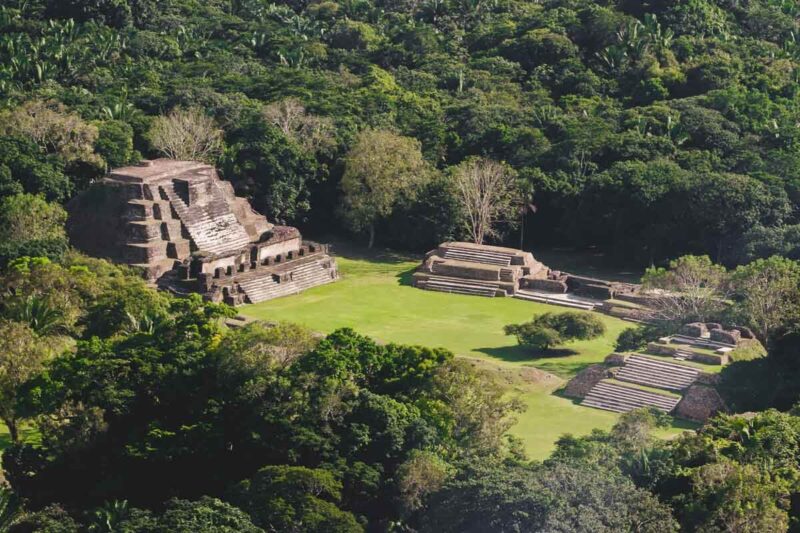 If you can handle the hike up to the top of the tallest temple, you'll be treated to stunning views of Altun Ha and its vast nature.
Altun Ha sees more visitors than the Caracol Ruins, but it's also much more accessible.
→ Book this Altun Ha and Belize Zoo Adventure
24. Visit the Howler Monkey Sanctuary
You'll likely hear the screech of howler monkeys if you spend any time at Xunantunich. But if you want to get up close and personal with these cute primates, check out the Community Baboon Sanctuary.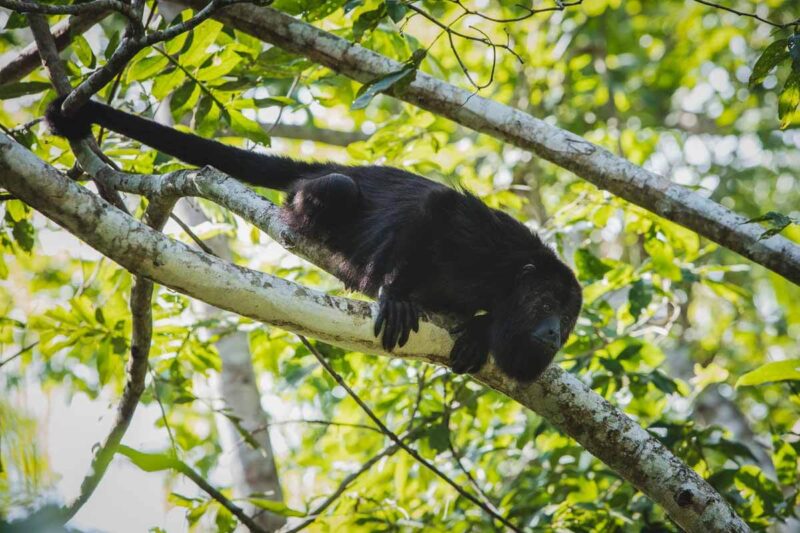 Situated just 30 minutes from Belize City, the sanctuary preserves the howler monkeys' natural habitat and allows visitors to experience them in the wild.
The beautiful rainforest that encompasses the sanctuary is gorgeous in its own right, and you'll likely see other impressive flora and fauna during your visit, in addition to the baboons. You can book a sanctuary tour or drive there yourself if you rent a car.
25. Dive, Swim, or Fly Over Belize's Blue Hole
Belize's Blue Hole is one of the country's most iconic attractions. As the name suggests, this site is literally a giant blue hole. It might not sound like much, but this massive void is so large and deep that it's visible all the way from space!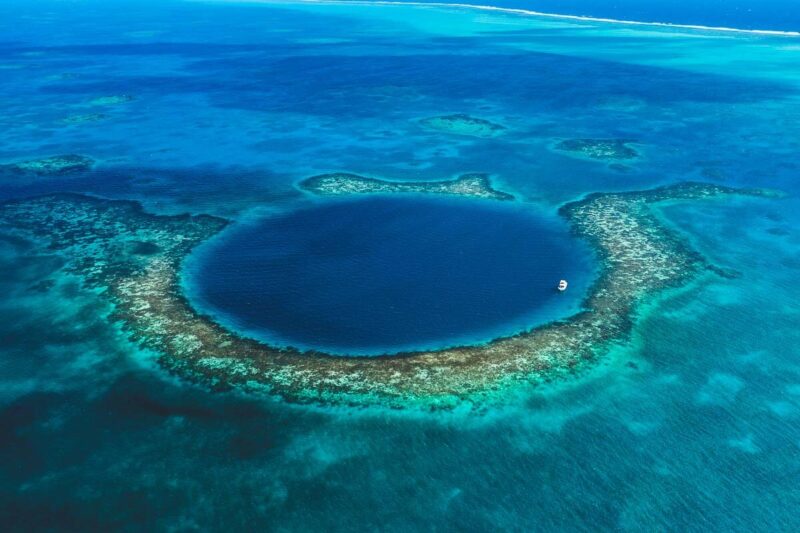 Situated off the barrier reef, the Blue Hole was created around 10,000 years ago when the roof of a limestone cave collapsed. Today, it's both a bucket-list dive site and a UNESCO World Heritage Site.
Unlike the other popular scuba diving spots around Belize, the Blue Hole offers little marine life. While you will likely see your fair share of sharks, diving here is all about the stalactites and stalagmites. This was once a cave, after all!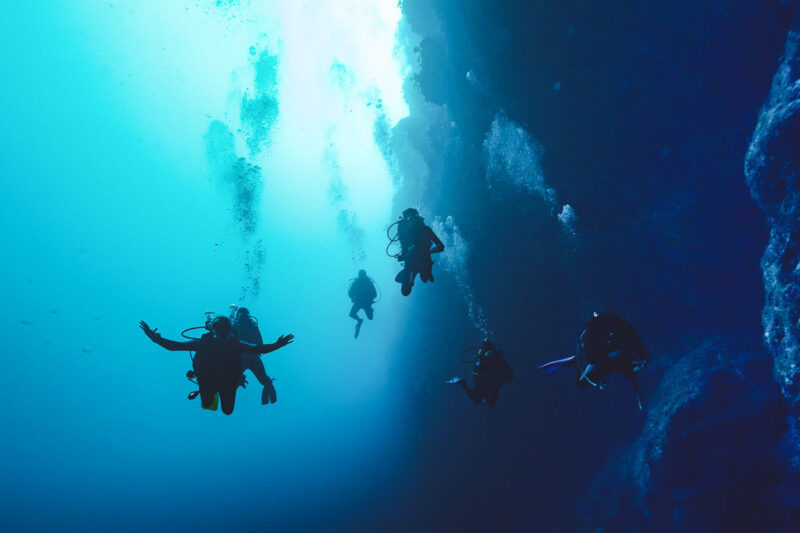 Diving here is not for novices and is extremely dangerous, even for seasoned scuba divers. To descend the depth of the hole, you'll need your PADI Advanced Open Water certification.
If you lack the proper training for scuba diving, you can always snorkel near the surface of the Blue Hole. You won't see the remnants of the cave, but you claim you swam here! For those with deep pockets and a fear of open water, helicopter tours take you above the Blue Hole for a bird's eye view.
26. St. Herman's "Inland" Blue Hole National Park
Not to be confused with the Blue Hole dive site, St. Herman's Blue Hole National Park sits just outside the capital city (Belmopan) in the center of Belize.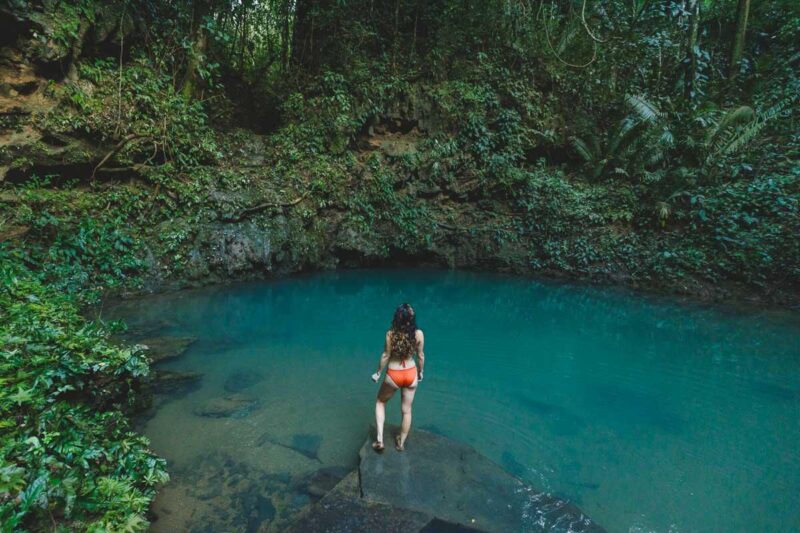 The park is a masterclass on Belizean biodiversity. The lush jungle is filled with hundreds of species of birds and other exotic creatures like tapir, jaguars, armadillos, ocelots, and more.
There are also ancient caves once used by the Mayans for ceremonies and rituals. But the biggest draw to the park is the big blue sinkhole for which the area was named. The sinkhole is connected to a river, making the park popular for tubing and swimming on warm days.
This is one of the few places in Belize's wild interior where you don't need a guide. The trails are easy to follow, and there are changing rooms next to the Blue Hole if you want to take a dip.
→ Book this Blue Hole National Park Tour
27. Visit Lamanai Archaeological Reserve
For a hefty dose of Mayan history and culture, there's no better place than Lamanai. Mayans inhabited this abandoned city for over 3,000 years, making it the longest-inhabited Mayan city worldwide.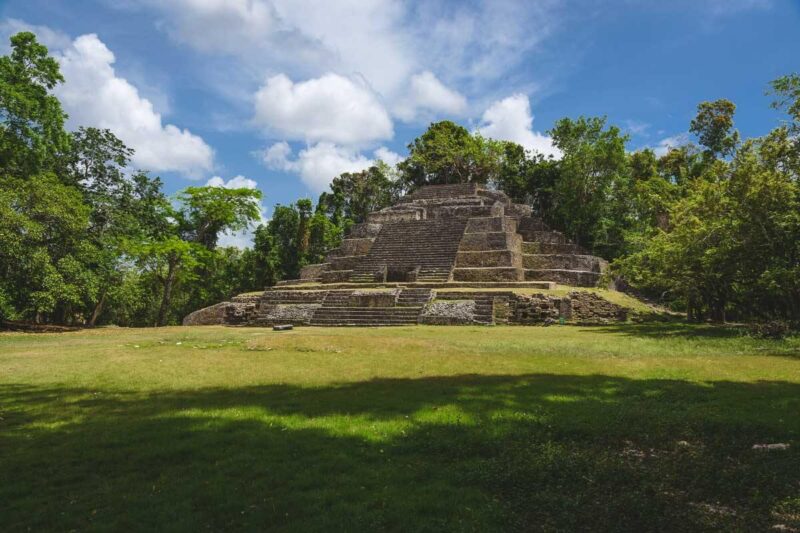 In addition to the large temples and structures, you'll also see ancient artifacts at this archaeological reserve, including petroglyphs, pottery, and ancient figurines.
If that wasn't enough to entice you to visit, then the incredible scenery surrounding it should do the trick. To access the reserve, you'll need to take an hour-long ride up the New River, where you'll likely encounter crocodiles and sun-basking iguanas.
The site is surrounded by dense jungle and a lagoon, making a beautiful backdrop for the abandoned city.
→ Book this Lamanai Maya Ruins Tour
Belize Itinerary
So, with all these things to do in Belize, you might be wondering what you can do within a certain time frame. Here are some sample itineraries I've made for you to give you a good idea of what you can fit in during your time.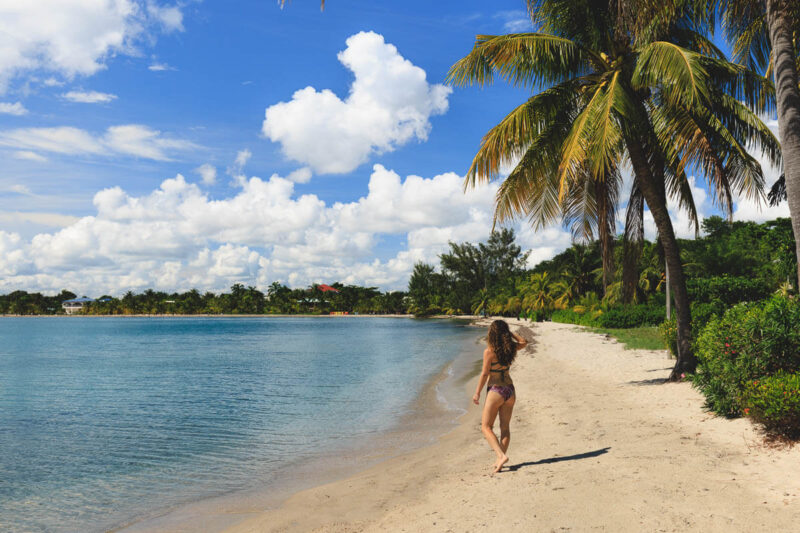 One week in Belize – I'd take a couple of days to visit the San Ignacio area, where you can explore ruins and the caves, then spend the rest of the time in either Caye Caulker or Ambergris Caye.
Two weeks in Belize – Do the above and then add on a few days basking on the beaches of a resort in Placencia, spend a day in Hopkins, and throw in some waterfalls at Bocawina and Cockscomb.
Three weeks + in Belize – It would be a bit busy, but you could get through pretty much everything on this list!
When to Visit Belize
For reference, I went in November! But here's a quick overview of the different seasons to help you plan your visit:
Dry Season (November to April): This is generally considered the best time to visit Belize. The weather is pleasant, with lower humidity and little rainfall. The temperatures are comfortable, ranging from the mid-70s to mid-80s Fahrenheit (24-29°C). But this is the peak tourist season, so accommodations and activities may be pricier. This is the best time for diving or snorkeling.
Green Season (May to October): Also known as the "rainy season." While it does see more rainfall and higher humidity, it can still be a good time to visit if you want to take advantage of lower prices and fewer tourists. The rainforest is lush and vibrant during this time. Just be prepared for occasional heavy rain showers, especially in June and July. Keep in mind diving and snorkeling won't be at their best, and boat rides could be unpleasant.
Hurricane Season (June to November): Belize falls within the hurricane-prone area of the Caribbean, with the highest risk of hurricanes occurring between August and October.
What to Pack for Belize
Here are some reminders on what to pack for your trip to Belize!
Dry Bag: Protect your belongings from unexpected rain or water activities by bringing a dry bag. It's also useful for keeping your essentials dry during boat trips or rainy hikes! I never travel without one.
Reusable Water Bottle: Reduce plastic waste and bring a water bottle you can refill or, better yet, a water bottle that can filter water! Don't drink the tap water.
Insect Repellent: Insect repellent is a must. Warning: horror story below on WHY!
Sarong: Save space in your luggage with a compact and quick-drying sarong. It's perfect for beach days, cover up, skirt etc. I never travel without a sarong.
Headlamp or Compact Flashlight: Exploring caves or taking a stroll after dinner back to your hotel, these always come in handy!
Waterproof Phone Pouch or GoPro: There are too many boat, snorkeling, and diving opportunities to not get pictures underwater.
Travel Insurance: Not a physical item, but crucial nonetheless. Ensure you have travel insurance that covers medical emergencies, trip cancellations, and unexpected incidents. Here's what I use.
Sunscreen: This one is a given but definitely don't forget, it will be more expensive in Belize plus you should get reefsafe sunscreen!
Belize Travel Tips
Before you head off on your Central American getaway, check out these Belizean travel tips to make the most out of your vacay.
1. Know the Entry and Exit Requirements
Most travelers do not need a visa to enter Belize, so long as your trip is 30 days or shorter.
Belize requires visitors to pay a departure tax when leaving the country. Fees range between US$20-50. Check your airline ticket to see if this tax is included in your trip.
2. Remember the Exchange Rate
The exchange rate is straightforward to remember if you're coming from the US. The Belizean Dollar and the USD are fixed currencies. So, no matter what, every US dollar will equal almost 2 Belizean dollars. No need to whip out the calculator or guestimate how much you're truly spending!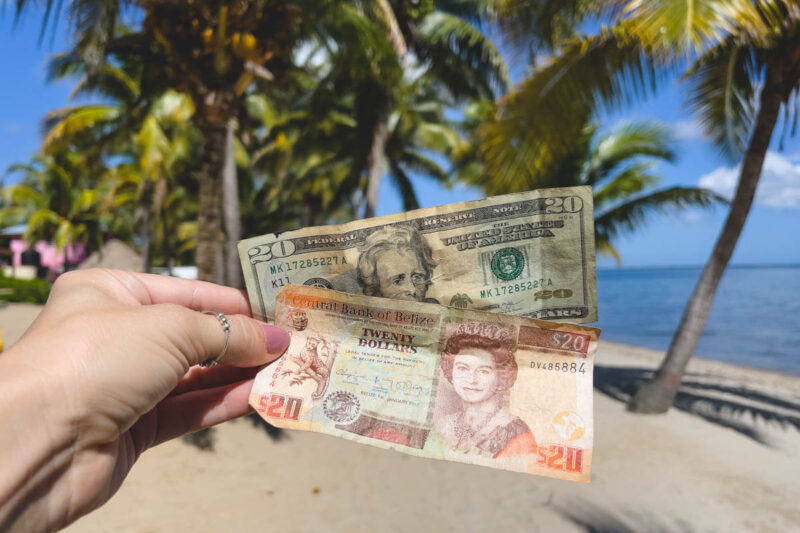 3. Pick the Right Time to Visit
Belize boasts balmy conditions year-round thanks to the subtropical climate, but warm weather doesn't always mean sunny skies. If you want great weather as you explore the jungles or bum on the beach, book your trip for the dry season – between December and May.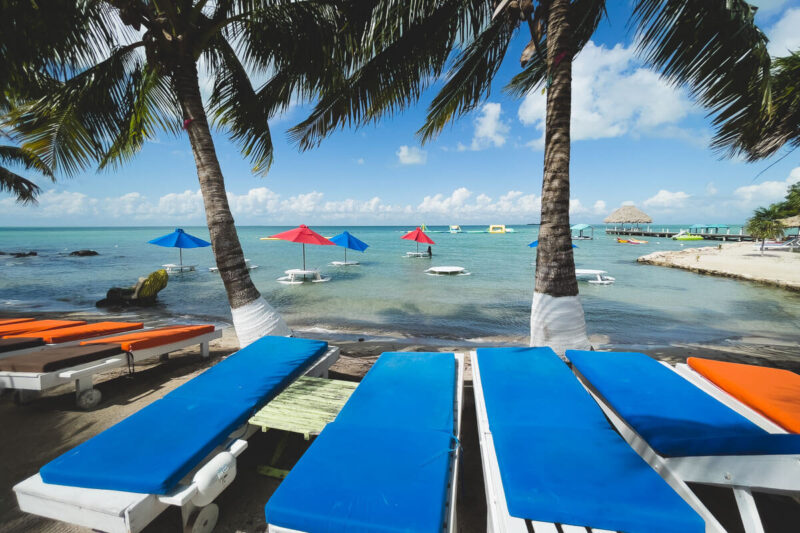 With that said, this is the tropics, and checking the weather is almost pointless. Before heading to San Pedro, I was checking the weather, and it was 100% raining all three days we were there according to the weather.
Every day we were there was bright and sunny. It rained for all of 5 minutes at night each night, that was it! So don't trust the weather predictions too much.
4. Bring Some Cash to the Parks
Almost every national park or reserve will cost you about 10 Belizian dollars (US$5) to enter, and they will likely only accept cash.
5. The Bugs!
If you're chasing waterfalls, heading into the jungle, or even just going for a beach stroll at sunset, you'll need GOOD bug spray. The bugs were pretty vicious, especially on our hikes, and I had bite marks for over a week. It's not just mosquitos either, sand fly and botfly bites are brutal!
No, seriously, Garrett had to get LARVE removed from his leg after Belize. He got really bad botfly bites that left a larve worm in the bites. It went unknown for a week or two, and a doctor had to surgically cut them out of his leg. It was horrifying. Bring all the spray!
6. Sample the Local Cuisine
Belizean cuisine is highly influenced by its native roots and the natural resources available. This means your tastebuds will be in heaven for your trip.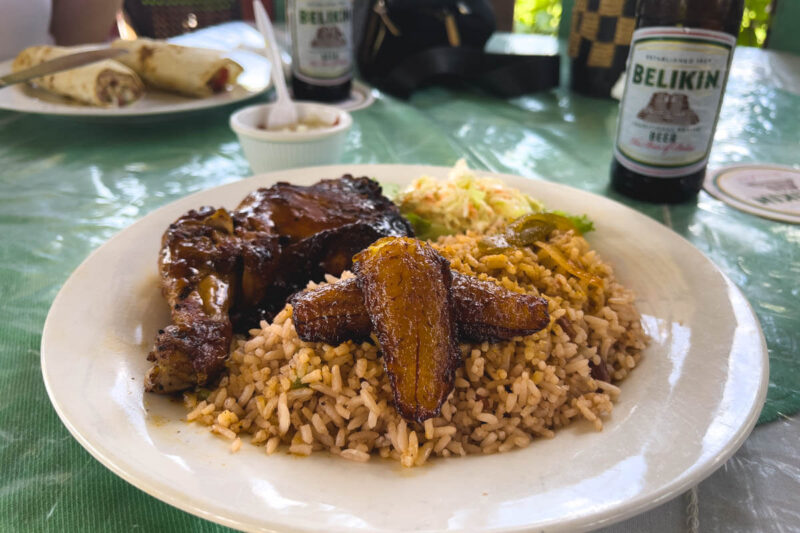 Fresh seafood dishes like lobster and conch ceviche or the coconut fish stew (hudut) are must-tries, while meat lovers can indulge in classics like stewed chicken and conchita pibil – a slow-roasted pork dish served on fresh flour tortillas.
7. Tip Your Servers!
Tipping culture in Belize isn't as hardcore as stateside, but it's encouraged! Depending on the type of place you're dining (or drinking), a tip of 10-20% is standard. Some establishments automatically charge a 10% service fee and add it to your bill, so check your receipt carefully.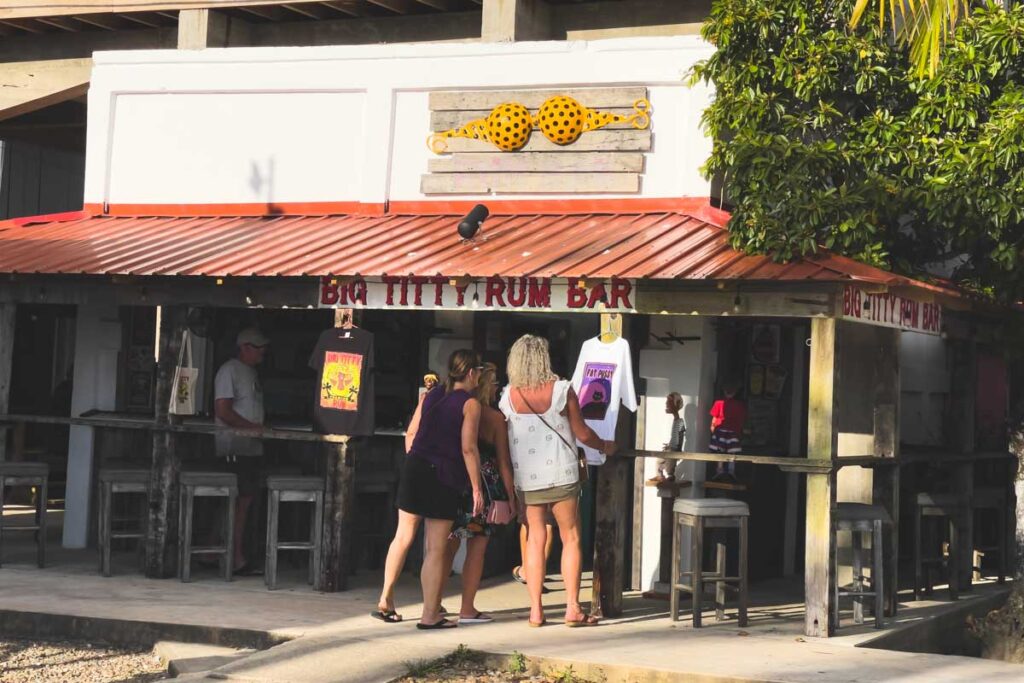 8. Card Usage
Surprisingly, Belize was way more "card-friendly" than I had thought. Even the lady serving us our hudut in the small Belizian town of Hopkins that only had 2 tables at her restaurant on the beach accepted cards as payment! Make sure you're using the right travel card.
With this said, always have cash on you because you will inevitably visit a store and restaurant that's cash only.
9. Solo Female Travelers
I "dared" to walk away from Garrett a few times and was cat-called almost endlessly. They continued even as I was down and across the street. It was—annoying. To say the least. Street harassment isn't new to me, but I got used to not dealing with it since I'm with Garrett often.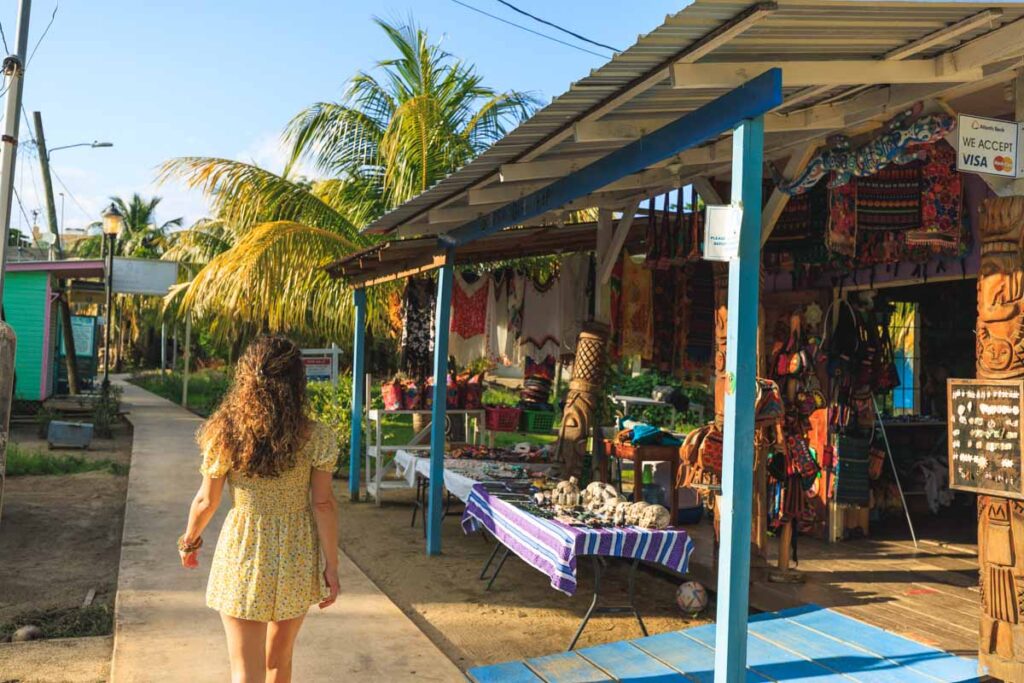 While Belize is safe overall, it might not be an ideal spot for a first-time solo traveler! Read Kate's experience on being a solo traveler in Belize.
READ MORE: The Best Travel Cards (For Any Traveler) That Save and Earn You Money!
How to Get Around Belize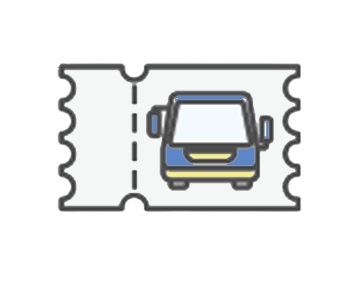 TRANSPORTATION TIP
If you're looking for bus or boat tickets around Central America and Mexico, you can easily book them online! Check Availability
There's no one size fits all solution to getting around Belize. It all depends on where you are, where you're going, and how comfortable you want to be.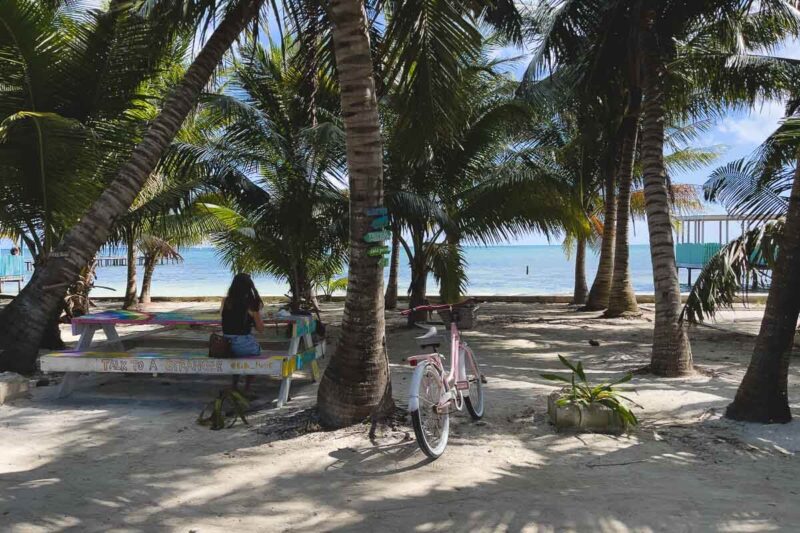 Taxis
Taxi drivers are always available if you prefer to leave the driving to the professionals. Drivers will drive you virtually anywhere in the country where their vehicle can go for a price. There are no meters in Belizean taxis, so agree on a price with your driver ahead of time.
You will have to use a service, perhaps through your hotel, as there aren't taxis just roaming around with the exception of maybe Belize City, but you don't really want to spend any time there. It's not the safest, nor is there anything to do.
Car
Driving around Belize is a great way to get around the country if you're sticking to the main areas. If you want to journey off-trail a bit, though, things can get a bit tricky.
Undeveloped roads abound, and potholes and unannounced speed bumps are also common. You'll likely need a vehicle with 4-wheel drive to go to far-to-reach places, which can be expensive to rent and fill up.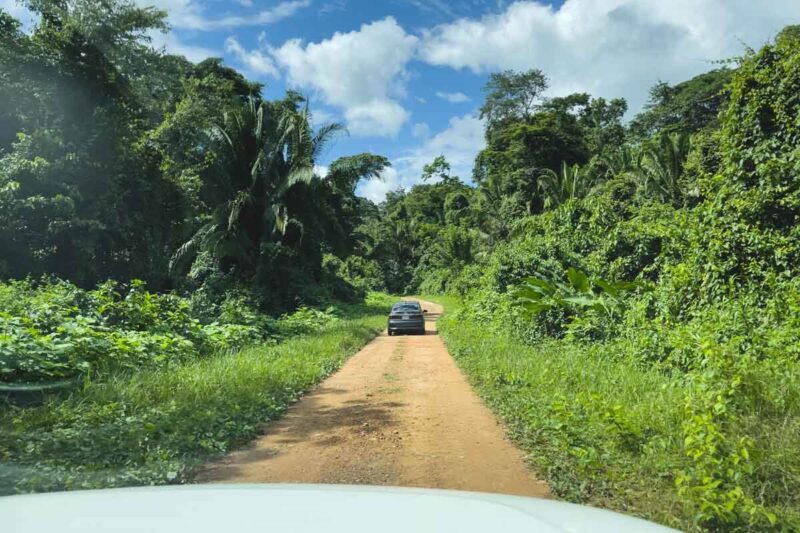 We rented a regular vehicle, and while we were able to do a lot of dirt-road sections, we couldn't make it out to Caracol and even had to park and hike in to a few of the attractions because the road simply got too rough to continue.
With that said, renting a car was 100% the way to go and offered us tons of freedom to explore!
We rented our car from Crystal Auto Rental, and they were probably the nicest and easiest car rental company we have ever used. No hassle, no pushy insurance spiel, no headaches returning the car… You can also check here for current car rental deals.
Driving was also very easy and chill throughout our time in Belize. The main roads were all paved and what you'd be used to at home, except with many speedbumps everywhere.
Once you're off the main road, you're in the dirt! Potholes and rocks, but our regular vehicle made it through just fine. Be careful after it rains, though! Those dirt roads become almost impassable.
Ferries
Belize has tons of cayes off the coast; to access them, you'll need to hop on a ferry – also known as a water taxi. Ambergris Caye and Caye Caulker are the most popular spots off the mainland.
A few large ferries operate between the islands and Belize City multiple times a day. Prices are reasonable, and the journey isn't too bad. Here's how to get from Belize City to San Pedro or Caye Caulker. You can also search and book your tickets here.
You can even get to Mexico from San Pedro via a ferry which is what we did. It saved us a whole day and many hours on boats, taxis, and buses!
Golf Carts, Bikes, and Walking
Once you get to the islands, you'll need a way to get around. Cars aren't really a thing on either Ambergris Caye or Caye Caulker, so golf carts have the lion's share of the transportation market on both cayes. Taxi service via a golf cart is also available on both islands if you don't plan on renting one yourself.
Using your own two feet or renting a bike on the islands is just fine too! We walked everywhere on Caye Caulker and San Pedro, except for renting a golf cart for one day just to head to Secret Beach.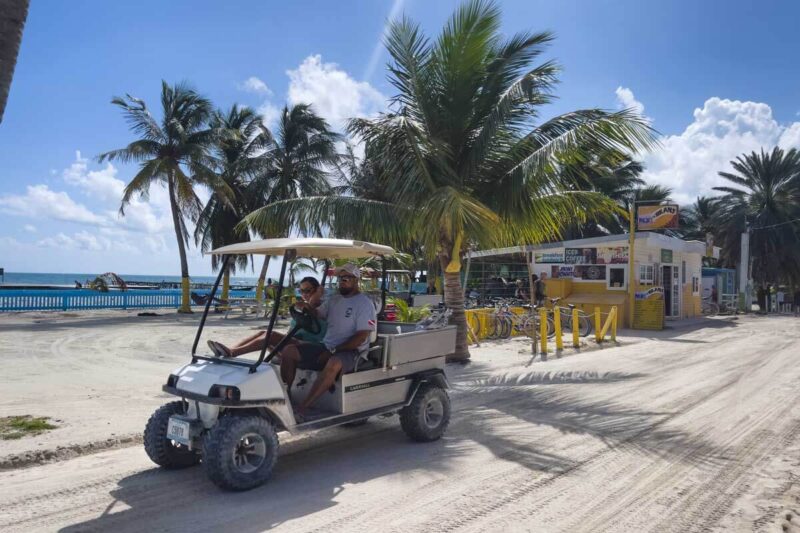 Buses and Shuttles
Bus travel is also an option; this is a great way to get around if you're on a budget. This is one for the more adventurous travelers.
Re-purposed US school buses are the norm, and don't get re-purposed confused with refurbished. The technology and comforts are as basic as they come, but hey, it's all part of the experience. Most major cities have bus terminals, and even small villages have bus stops.
Rather than paying when you get on, a conductor will come around and ask where you're going and provide you with a ticket. Fares are cheap and only cash is accepted, so have small change ready.
Alternatively, if you want more comfort, fewer stops, and even a pick up and drop off from your hotel, just book a shuttle! Find shuttles around Belize here.
Tips for Booking Your Trip:
---
---
---
---
Phew! Thanks for sticking around for this long, I know it was a long list of things to do in Belize, but I hope you found the extra tips and info available. Have an amazing trip!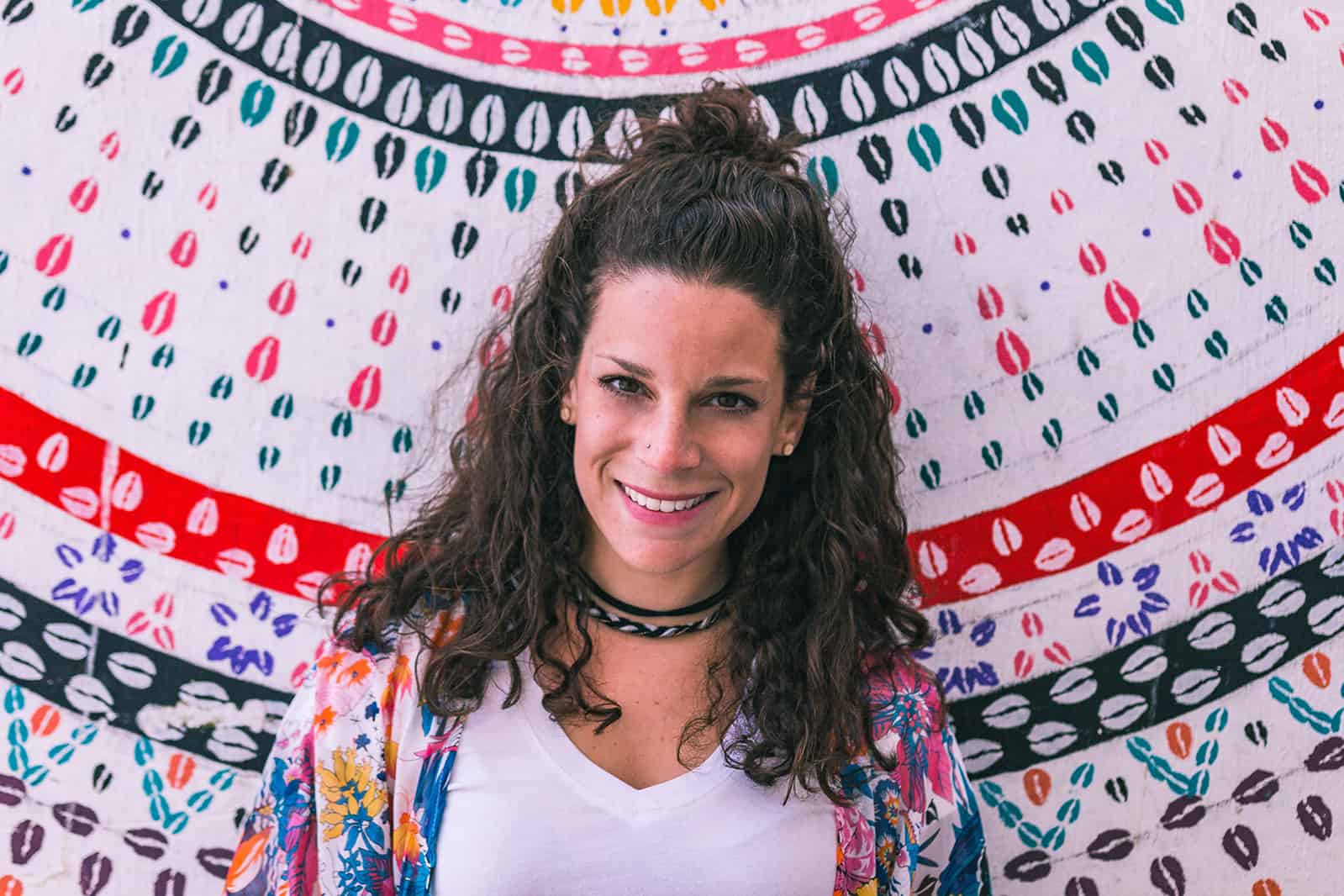 Nina Ragusa is an adventurer, messy bun master, breakfast fan, and full-time travel blogger. She's been abroad since 2011 and blogging on Where in the World is Nina? for nearly as long. Nina helps people like you move around the world while making money. She loves talking about how to work abroad and online to travel longer!