El Paredon, Guatemala, is a small and sleepy surf town. Many come here to relax, surf, or party as there are honestly not many other choices!
Here are the best ways to explore and enjoy this little slice of paradise in Guatemala.
El Paredon, Guatemala
---
The beaches in Guatemala aren't necessarily well-known, and most won't put these spots on their itinerary while exploring the country. Many people will flock to Antigua, Lake Atitlan, or the Mayan ruins.
If you are looking for a luxurious beach getaway or a beach that you can bask on for hours and hours while being catered to, this is NOT the place to go!
El Paredon is super sleepy and honestly can be explored in about an hour of walking around the town. There are very few places to eat and not many hotels either.
However, with that said, if you are the right person, you all have so much fun visiting this beach town!
El Paredon Beach
El Paredon Beach is not the typical beach to lay on all day while tanning. The sand is black volcanic sand, and it is boiling the majority of the day. It is so hot that most people don't bask on the sandy beach during the day.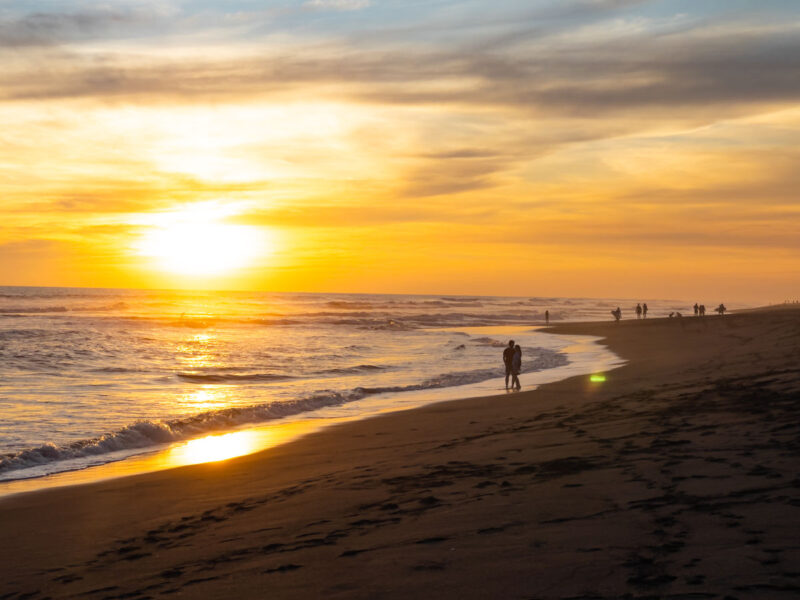 And those "hippies" that walk around beach towns barefooted regret all their life choices when they come here thinking they will do the same. The sand is HOT.
The beach is BEST enjoyed first thing in the morning or at sunset. During the day, it's best to observe from the safety of a hammock or a pool deck. If you're going to walk on the beach, walk along the wet part and run there because the dry sand will scald you on the way. Hold your shoes, don't leave them somewhere!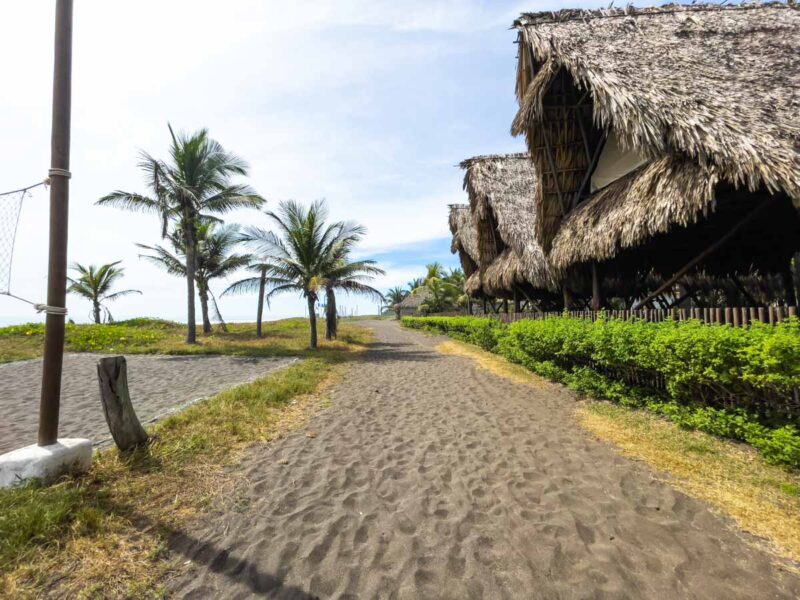 Make sure not to go anywhere around town barefoot as most of the town's streets are made of this same sand, and there is only one "major" (paved) road that runs through the town.
Luckily there are a few little hammock huts along the beach, but those are for guests only; we will talk more about this in a sec!
El Paredon Surfing
The majority of people that come in here are coming for the surf. The surf here in winter, when the waves are at their best, are of decent size. They are around 3 to 5 feet or larger even. Unfortunately, there are a lot of riptides, and you'll see signs scattered around the beach and all of the hotels warning you to be careful.
There are no lifeguards on the beach, and swimming is pretty dangerous. Not many people will be swimming because of the rip currents and the big waves that rip through here. However, if you want to take on some of the waves with a board, it is a great place!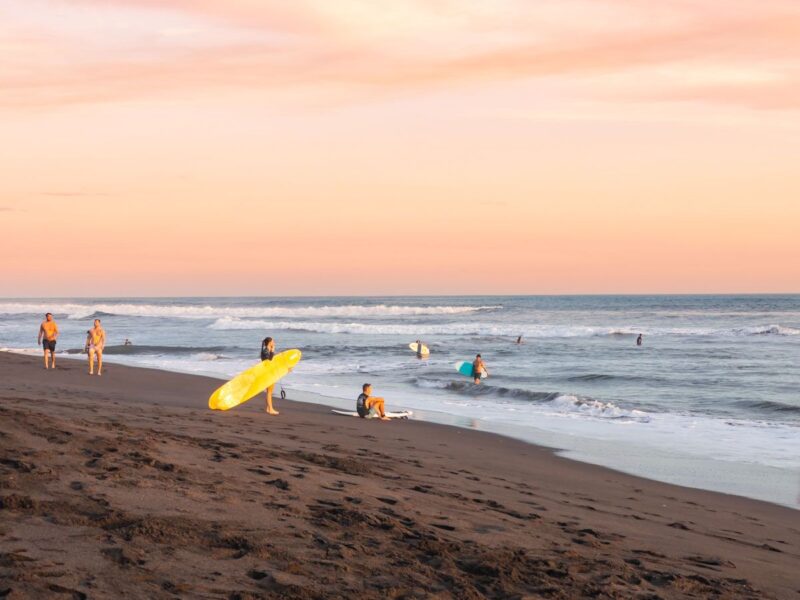 Almost every place on the beach will have board rentals available; however, some do not rent to people who have never been surfing before because, as we have mentioned, the surf can be dangerous. So make sure that you know what you're doing or go out with a surf camp.
El Paredon Surf Camp is the surf camp that I went with when I was here, and they were super cool and very reasonably priced. For 120 quezales($15), I had a private one-hour lesson with Bagley. He was super chill. I would recommend coming here and getting a class instead of going alone unless you have a decent amount of experience.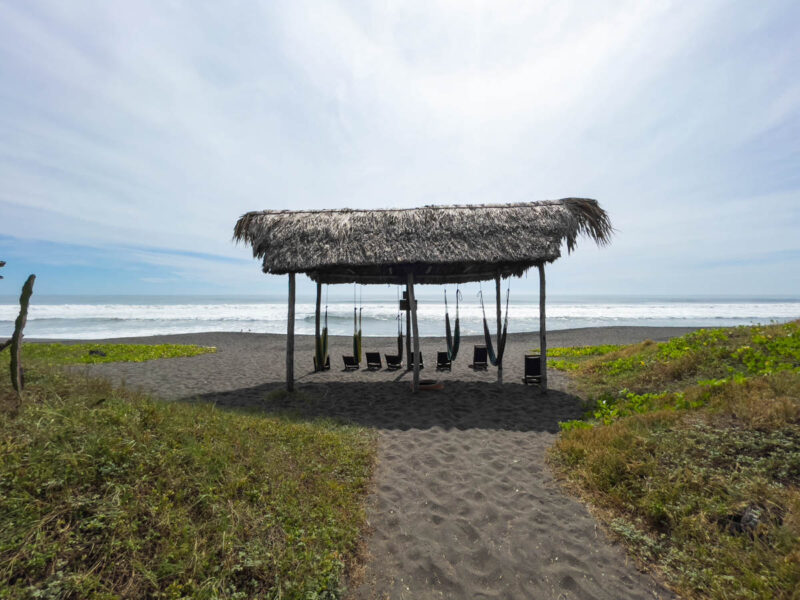 I've been surfing in many places around the world, including Ecuador, Morocco, Portugal, and Mexico. However, the water here is a bit intimidating, so you might want to go out with somebody who can help you have more fun and be super safe.
RELATED: Your Perfect Guatemala Itinerary: 1-3 Weeks + Tips!
Is There Anything Else to Do in El Paredon?
There are a few other things to do besides chilling and surfing in El Paredon!
Kayak the mangroves to the left of the town.
Visit the turtle hatchery early in the morning to see turtles hatch and run to the ocean! Nesting is from June-November.
Take a cooking class and learn to make local dishes so you can recreate them at home!
La Choza Chula is a non-profit that empowers locals by creating authentic experiences. You can take these tours with them, and many of the accommodations I mention below also offer these tours through them.
RELATED: 17 Adventurous Things To Do in Guatemala + Tips For Your Visit!
Day Passes at El Paredon
There aren't too many things to do here; however, the best thing to do is to chill at a hotel via a day pass unless you are already staying at that hotel. Considering I don't enjoy staying at places that have a lot of people with parties and have dorms to sleep in, I opted to have my private bungalow elsewhere.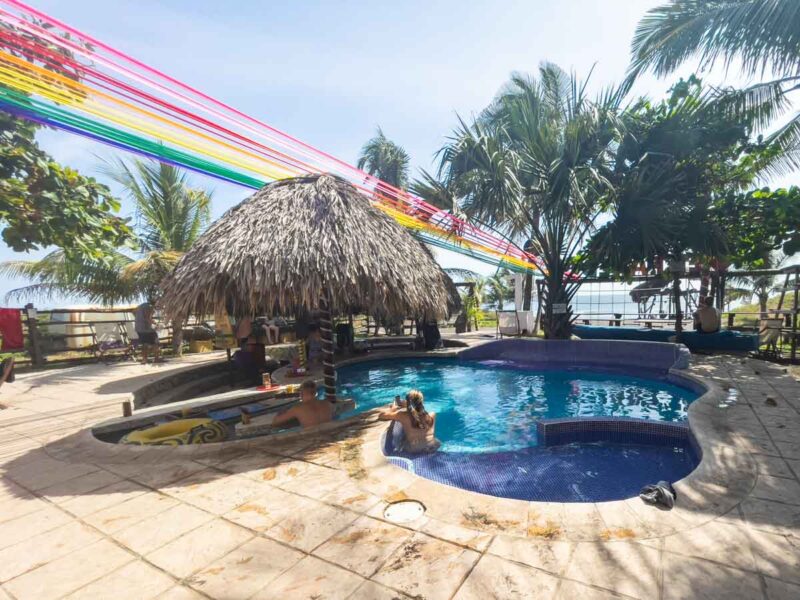 However, I used a day pass at a few of the hotels in the area, which was so much fun! I got the best of both worlds, access to the cool hotel WITHOUT the lack of sleep at night (granny needs her shut-eye, kids!)
A few of the hotels around El Paredon offer day passes where you can give them X amount of money, and you can use that money as your bar or food tab. You can chill at their pool (excellent since the beach sand has rough water and burning sand) and use their facilities.
Also, this is pretty much the main thing to do here, as I've mentioned. I'm not joking; this town is pretty desolate!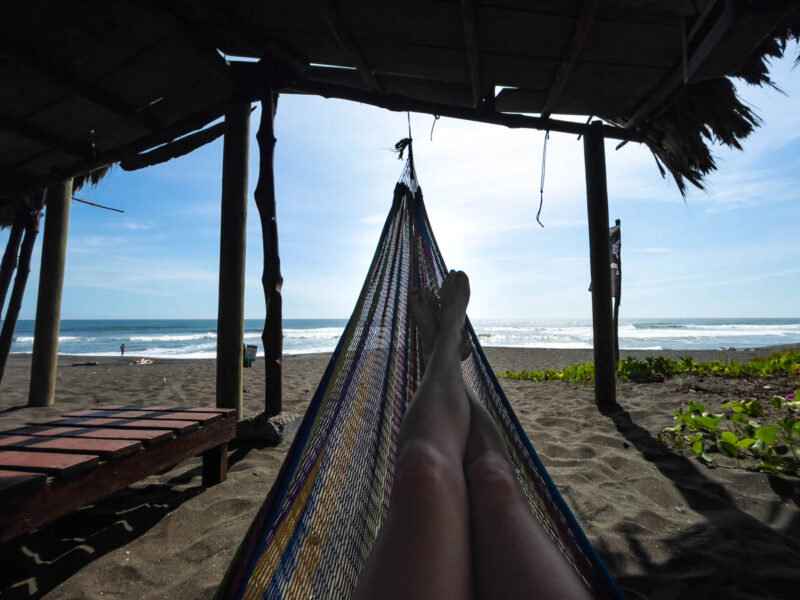 These spots are also where the parties will be if there are any. They will at the least have drinks going all day and often have DJs mid-day and well into the night, live music, and other events.
So which spots have the best day passes? I've got you! I did the homework, so you don't have to.
Best Spots To Chill on a Day Pass in El Paredon
So these are the spots offering day passes. Again, you can STAY at these hotels if you want, then you can get free access, but they are also kind of party places and most offer dorms as the budget accommodation. I don't care for that, so I just did day passes instead, which are 100% worth it!
Mellow Hostel
Super cool chill spot with access to hammocks, pool, and hang-out area at the top of their main bungalow. The only downside to the place is that it is a little away from the beach, so you don't get any beach access while hanging out here.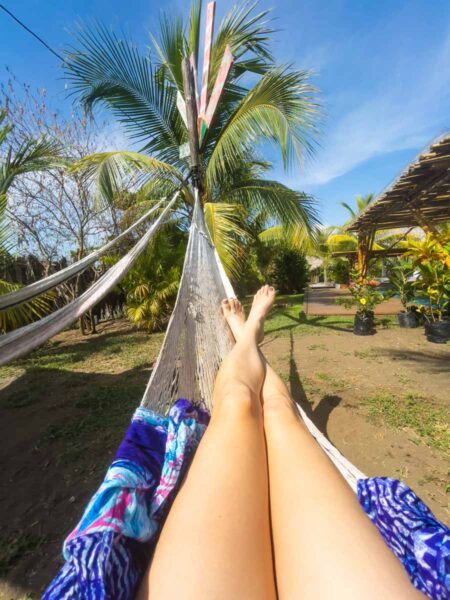 Cost – During the week, it's a 100q tab ($13), and on weekends it's 150q ($20), but you only get a 100q towards your bar tab.
This means any day of the week, you can use the 100q you pay for entry towards food and drink. Super worth it!
Driftwood Hostel
This is one of the most popular spots! They have a pool, good food, and the best part is they are right on the beach with a hammock house on the sand. So if you want to hammock it up along the coast, this is the spot.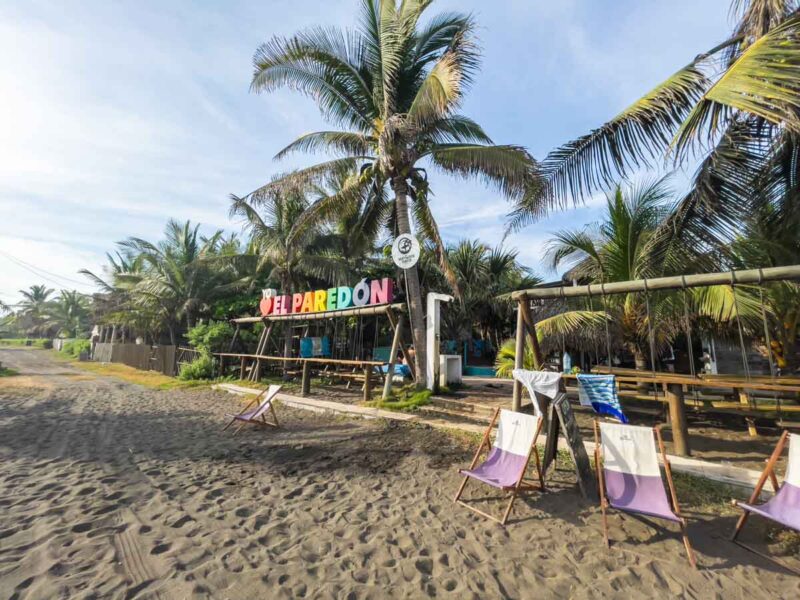 Cost – 150q tab ($20)
That means you can use all 150q on drinks and food all day while using their facilities.
Cocori Lodge
One of the main spots to hang out! They have all the usuals, pool, food, bar, hammock hut on the beach… and they often have parties and live music.
Cost – 150q ($20) access only; they do not have their day pass fees go towards a tab which is unfortunate.
I went to all of them, and the first two were my favorite only because you pay, and have it can go towards a tab. Since I have to eat and drink because I am human… it made it very worth it!
Where to Stay in El Paredon
Mellow, Driftwood, and Cocori are totally awesome places to book while staying in El Paredon! Remember, they have a bit more of a party vibe going on, though, so as long as you know that and that's what you want, you'll be right there in the action. Go for it!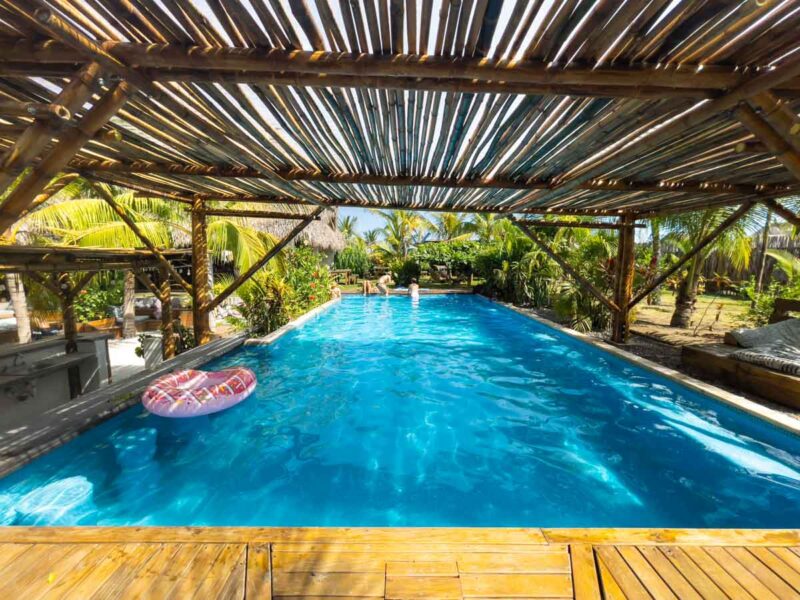 Book: Mellow Hostel | Driftwood Hostel | Cocori Lodge
Other options:
RELATED: The Essential Beach Packing List (+ Fun Items and Tips!)
How To Get to El Paredon
You're likely to either come from Antigua or at the least, you'll have a stopover at Antigua to get here.
The ride here from Antigua is around 2 hours and 3 hours from Guatemala city.
If you want the cheapest way, you'll be riding on the chicken bus and in that case, it will take around four hours to get here as you'll have tons of stops along the way. It will certainly be the slowest and least pleasant.
Instead, the easiest and still reasonably priced way to get here is to just book a shuttle! They will get you to El Paredon in no time and even pick you up and drop you off at your hotel.
Tips for Visiting El Paredon, Guatemala
REMINDER: Never walk around barefoot, the black sand is incredibly hot! It was even kind of burning my feet when it got kicked into my flip flops. Like, I'm not joking here, this sand is crazy.
There is no ATM! Bring all the cash you might need and try booking the hotels mentioned above online so you don't have to use cash! Also…
This is a very small beach town, don't just show up! It's highly advised to book accommodation before arriving. there aren't many options and many people book before arriving. Many hotels here give this advise as well.
Don't come here with the wrong idea. This isn't going to be a luxury beach getaway with perfect white sand.
Keep in mind parties, surf, and chilling in pools are pretty much the main things to do here and not much else.
Don't forget some of these hostels are total party spots so don't book your stay there unless it's your vibe! And definitely keep in mind if you book another place, the town is small and you might still here the music if you're close enough.
Everything is within walking distance so no need for transport to and from places.
Keep in mind this town is mega small! So don't expect too much in terms of… anything really! Beyond the few hotels and their resturants, there is one conveniece shop, a few tiendas, a few resturants, and that's it.
WiFi is meh and not offered at every accomodation.
Make sure you plan your meals accordingly because the majority of places only offer meals during select times. So if you're wanting a late lunch at 4pm you might struggle to find a place offering food at that time.
I was here for three days and it was MORE than enough time. Unless you're here to really take on the surf, you probably won't need more than 2-3 days.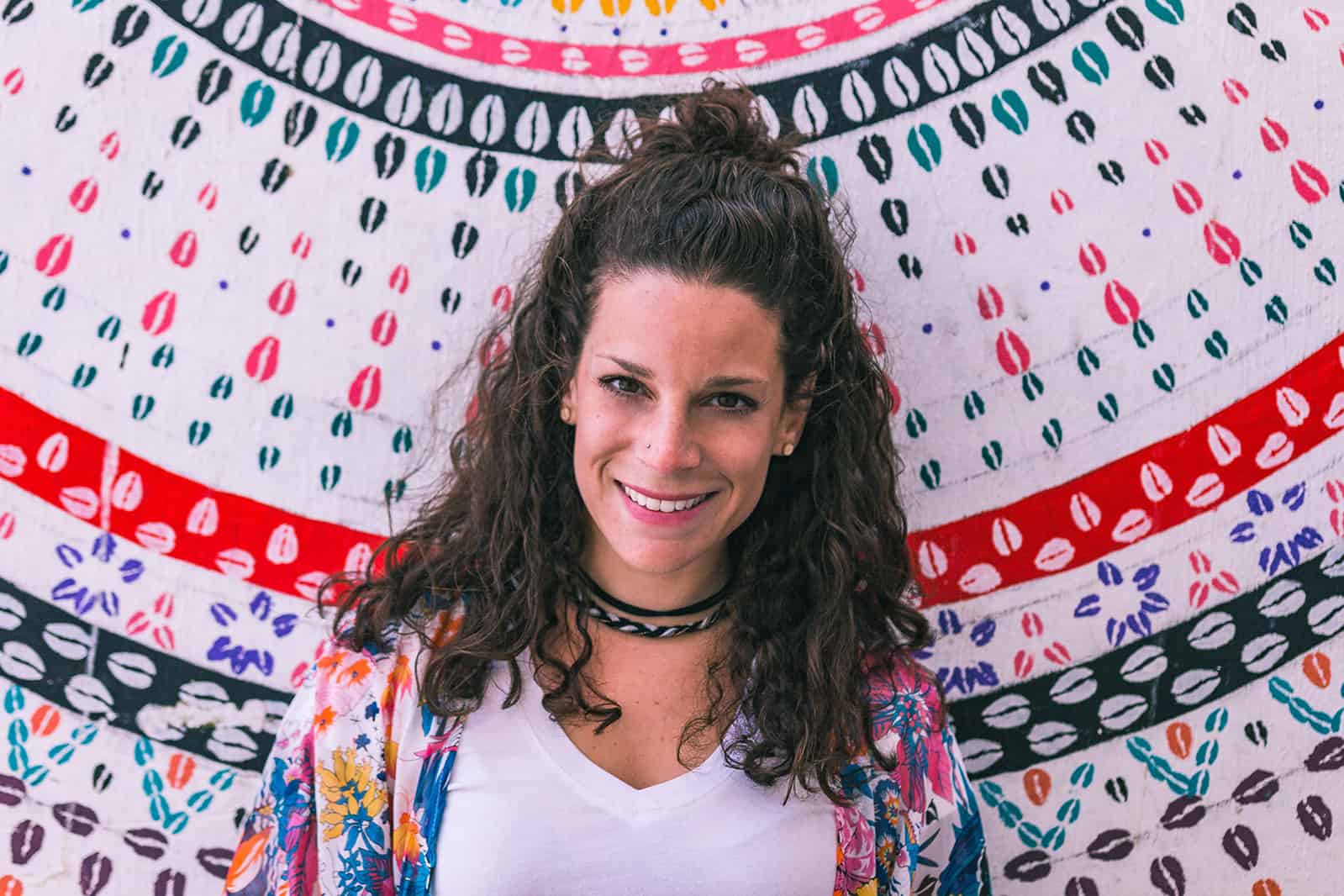 Nina Ragusa is an adventurer, messy bun master, breakfast fan, and full-time travel blogger. She's been abroad since 2011 and blogging on Where in the World is Nina? for nearly as long. Nina helps people like you move around the world while making money. She loves talking about how to work abroad and online to travel longer!