Don't let the size fool you. Caye Caulker is one of the most beloved islands in Belize, with its chill Caribbean vibe and "go slow" attitude. The caye is just a stone's throw from mainland Belize, and its convenient locale makes it popular with budget backpackers.
There are endless ways to relax here, but Caye Caulker also presents plenty of options for more adventurous travelers. From snorkeling along the barrier reef to paddling across the stunning blue waters, boredom will stay at bay no matter how you spend your time here.
Discover the top things to do in Caye Caulker in the comprehensive guide below!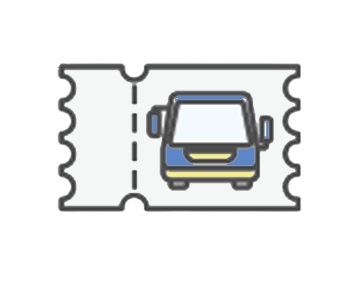 TRANSPORTATION TIP
If you're looking for bus or boat tickets around Central America and Mexico, you can easily book them online! Check Availability
Things To Do in Caye Caulker
---
1. Go Slow!
Don't over-plan your stay in Caye Caulker. The island's motto is "go slow", so block some time for taking it easy. Take a look at your surroundings, and watch the stress melt away as you release the need to be on the move every hour of every day.
The go-with-the-flow attitude is part of the charm here. So, turn your phone off, take a deep breath, and remember that you're on island time! This is mostly a walking island too so really, you will be going slooowww!
2. Snorkel Tour (*BEST Thing to Do in Caye Caulker!)
The bright Caribean waters that surround the island are begging to be explored. The Belize Barrier Reef sits just off the shoreline, and this protected area is home to some seriously incredible marine life.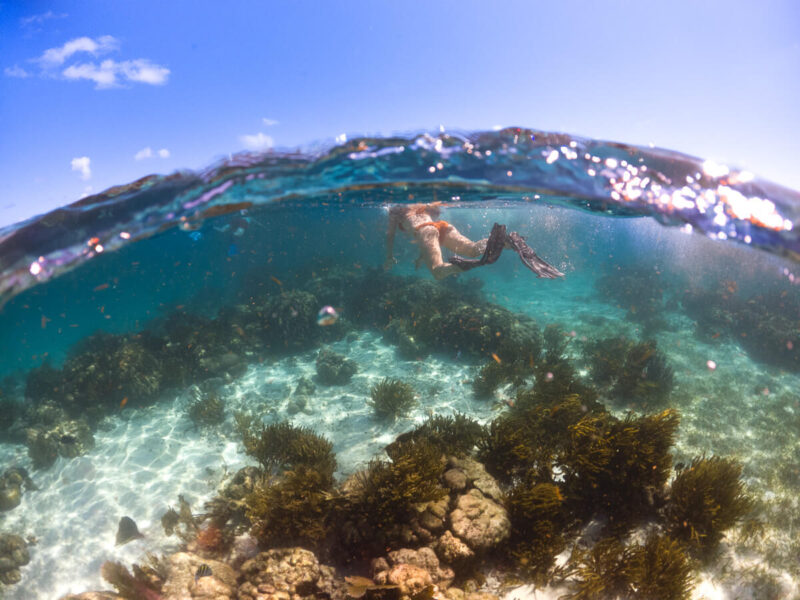 Taking a snorkel tour through Hol Chan marine reserve is one of the best things to do in Caye Caulker if you want to discover this stunning underwater area. Dive below the surface and snorkel with turtles, eagle rays, and manatees as you swim past colorful coral.
The tour also takes you through Shark Alley, where you can swim with nurse sharks. Fear not—these small sharks are completely harmless when unprovoked!
This is the exact tour I did and it was awesome. A lot of tour companies chum (feed the animals so they come over), but this one does not and they use reusable plastics for lunch and drinks.
This tour was also amazing because it's the earliest one. If you can muster up the energy to wake up to leave by 9 am, you'll be far ahead of the other tours that leave at 10 or 11 am which means fewer crowds and more fish friends!
Don't forget to bring:
You NEED reef-safe sunscreen. You're exposed all day for hours and you don't want to hurt the marine life here.
Bring a hat too to shade yourself.
Your own snorkel, if you want. They provide one but I like using my own since rentals usually don't fit my face well.
Use a dry bag for all your stuff, everything has the potential to get wet.
3. Sip N' Dip
If you're craving a beach day, a trip to the Sip N' Dip is one of the top things to do in Caye Caulker. There are no actual beaches here (more on this in a sec), but if you want to get in the water and relax, check this place out.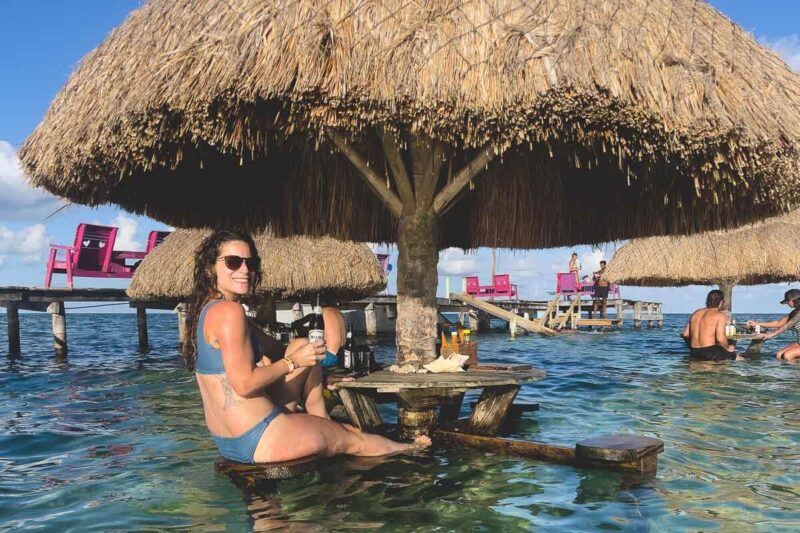 The Sip N' Dip serves up adult beverages with a reasonable price tag, and you can enjoy them from the water in a cool cabana. Need I say more?
They serve food as well so you could potentially end up here for hours—it's so much fun!
4. Lazy Lizard
The Lazy Lizard is another top contender when it comes to beachy things to do in Caye Caulker. A bit more upbeat, this popular outpost is known for its potent Lizard Juice and immaculate vibes.
You can sip your cocktails in the sun or shade as reggae music blares, then hop in the water once you're ready to cool down.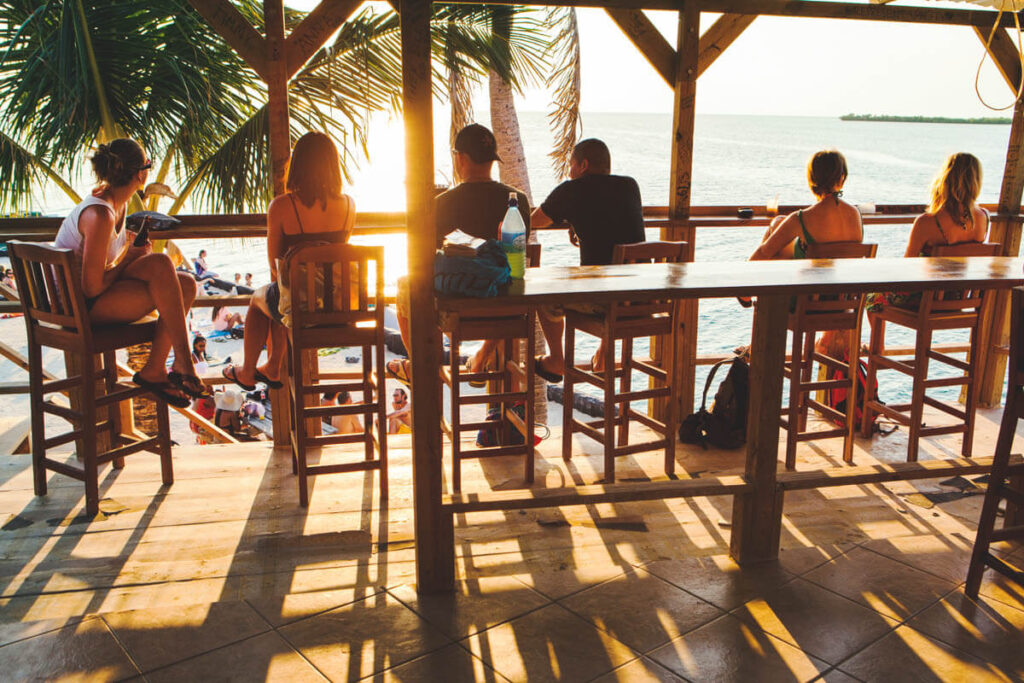 This place is on the expensive side, and it gets a bit rowdy. But if an afternoon of fun is what the doctor ordered, there's no better spot.
This is also the spot of the "beachiest beach" in Caye Caulker. It's mostly a sandy point at the end of the island just at the Split. It's not going to be soft and powdery though.
5. Tarpon Feeding Dock
One of the unique things to do in Caye Caulker is feeding Tarpon. Hear me out. Flinging sardines to fish the size of small dogs may not seem very enticing, but it's actually great fun.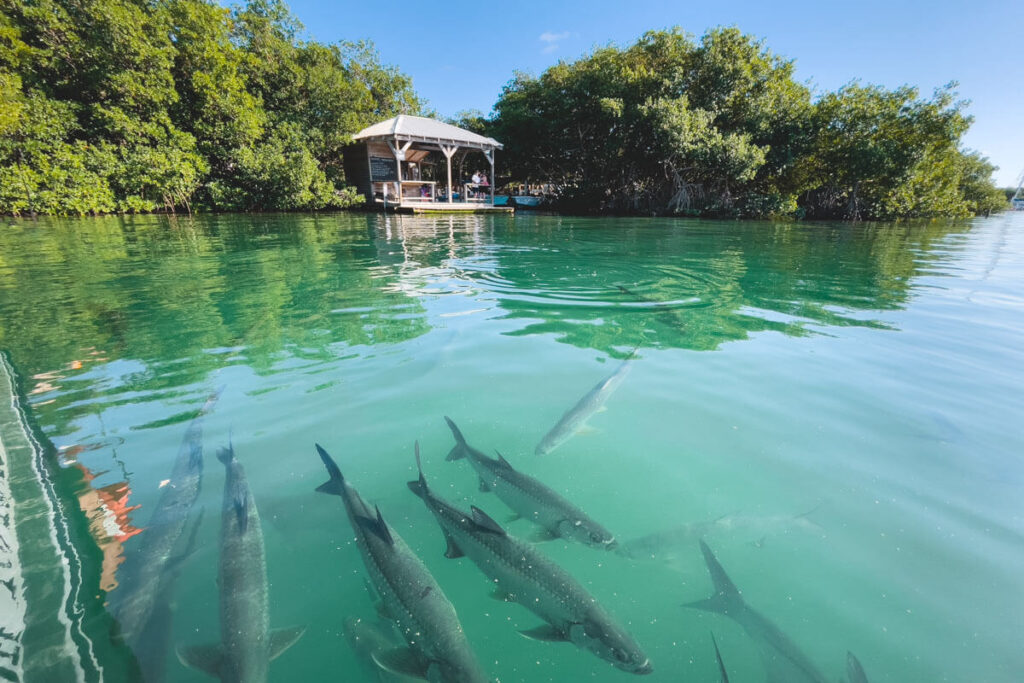 Head to the back side of the island, and you'll find a dock manned by a woman who sells baggies of sardines for five bucks a pop. Cheap thrills! She'll show you how to feed these acrobatic fish whose sandpaper mouths are endearing in their own sort of way. I'm not entirely sure how I feel about feeding them but that's up to you!
If you go on the snorkel tour I've mentioned they will take you here as well. These fish literally jump up to "high-five" your hand with their mouths. We did not feed the fish on the tour but they will pop up to your hand anyway thinking you have food.
RELATED: 27 Amazing Things To Do in Belize — A Complete Guide!
6. Caye Caulker Beaches?
Islands and beaches are basically synonymous, so Caye Caulker must have some great spots to bum around on the sand, right? Well, not exactly. Let's address the elephant in the room. There aren't any proper beaches on Caye Caulker.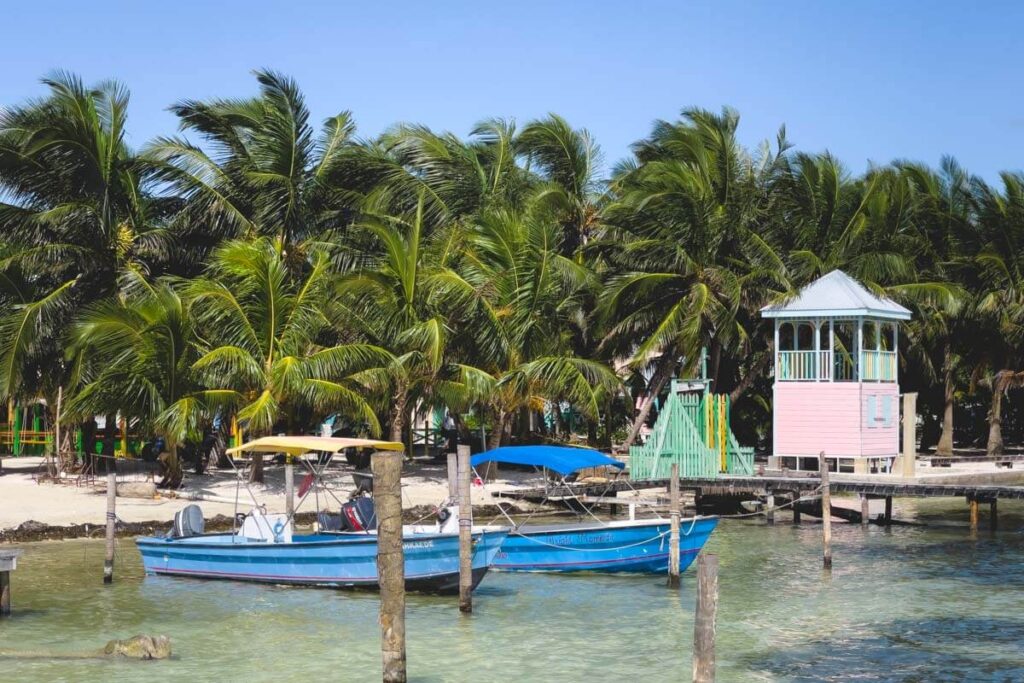 Please stick with me. This island is known for dishing out relaxing experiences in spades, so even if you're not bumming on soft sand, there are still plenty of spots to get in the water and chill, as you've seen above!
7. SUP or Kayak
Paddling along the calm Caribbean waters off the island is one of the best things to do on Caye Caulker. After indulging in the "go slow" lifestyle for an afternoon or two, nothing feels as good as getting the blood flowing again.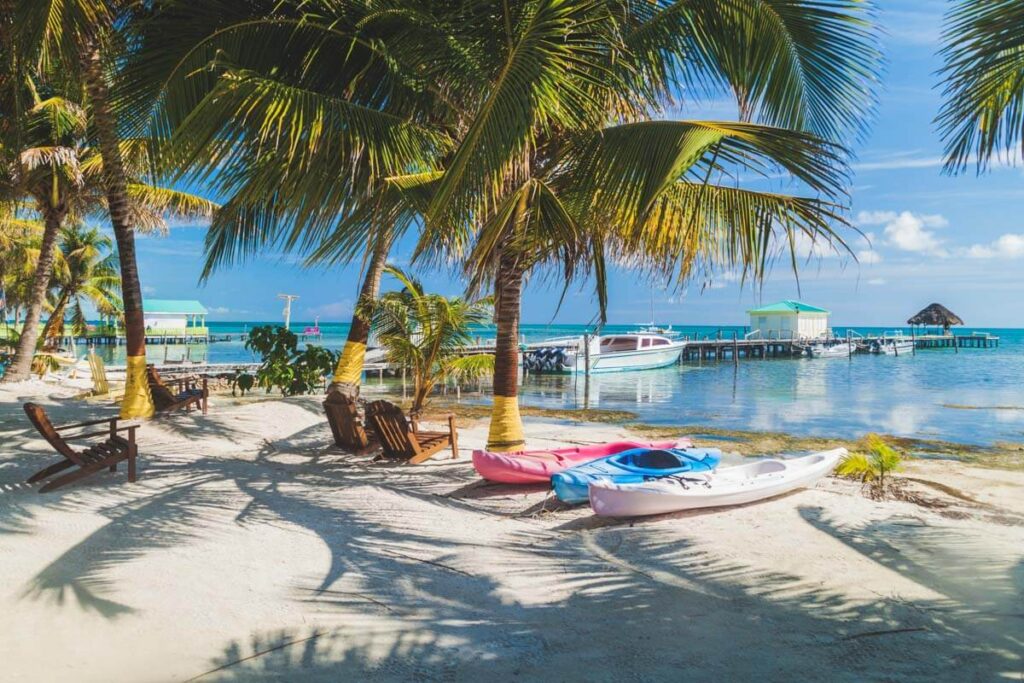 Head to the island's west side, and kayak or paddleboard to where the ocean meets the lagoon for a unique experience. There are usually fewer people on this side of the island, and you can enjoy views of mangroves and schools of tarpon as you paddle.
Don't worry—these big fish will leave you alone so long as you're not goading them with stinky sardines.
8. The Split and North Island
Caye Caulker was split in two during the devastating 1961 Hurricane Hattie, and the area is now creatively known as "The Split". This channel is now home to some of the most fun places on the island, like the Sip N' Dip and the Lazy Lizard. So it's not all bad!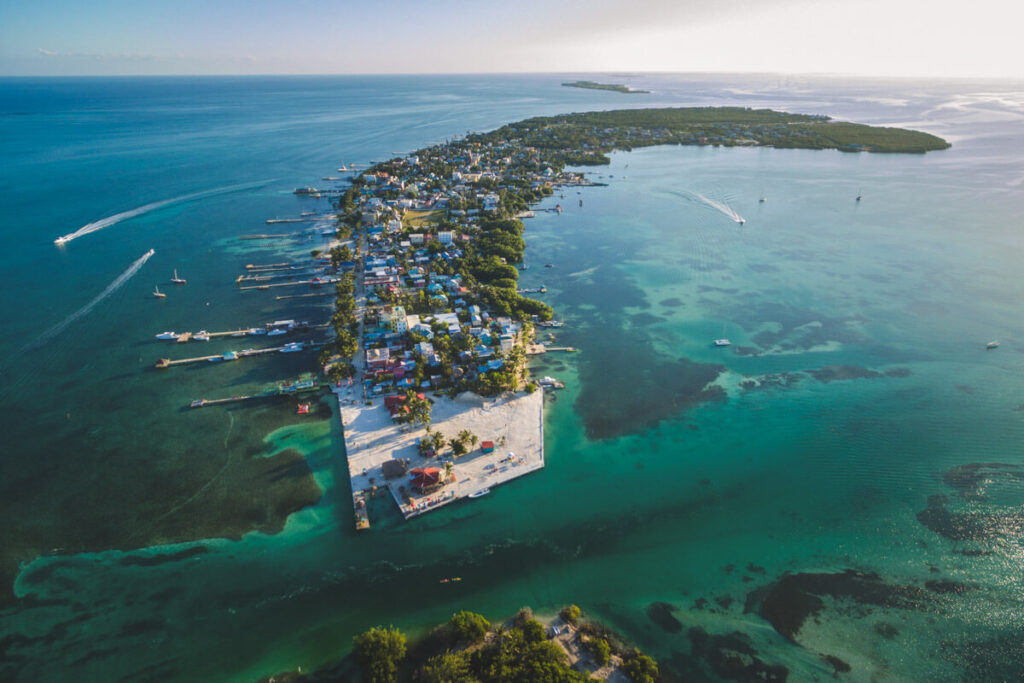 Most of the action takes place on the south island of Caye Caulker. But the North Island is slowly gaining traction thanks to the Northside Beach Club. Formerly known as Koko King, this happening spot has a restaurant, bar, pool, and club space that attracts visitors across the channel.
Crossing the split is fairly easy. You can hop on a ferry, take a kayak, or SUP across the 20-foot channel.
9. San Pedro Day Trip
Caye Caulker is small, so if you've seen all there is, you can head out on a day trip to San Pedro. San Pedro is the vibrant capital of Ambergris Caye, Belize's largest island.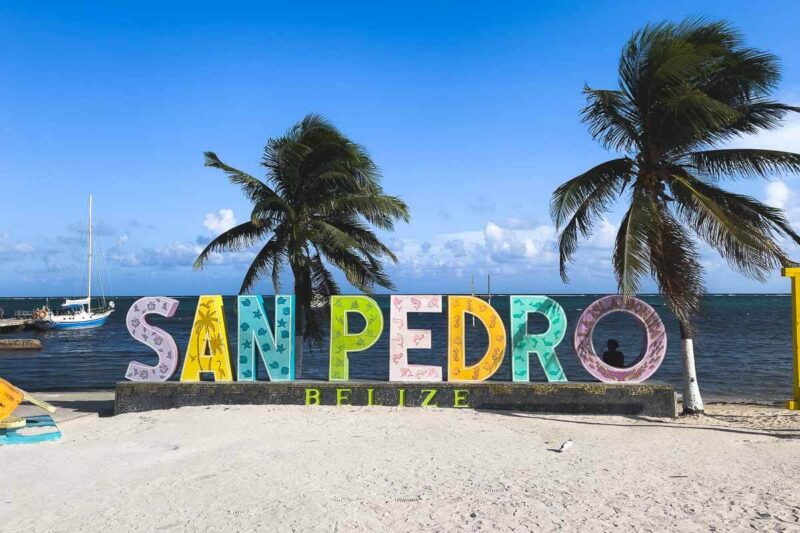 There are plenty of ways to spend a day here. From munching fresh seafood and wandering around the artisanal markets to hitting up the beaches and sipping on cocktails at hotel bars, San Pedro has a lot to offer.
This capital city is also famed for its nightlife, so consider extending your day trip if you want to experience San Pedro after dark. You can book your ferry between the islands super easily right here.
10. Other Tours on the Main Land
If Caye Caulker is your home base for your Belizean getaway, you'll want to venture to the mainland at least once. Ferries carry passengers between Caye Caulker and Belize City multiple times daily, and the crossing takes around 45 minutes.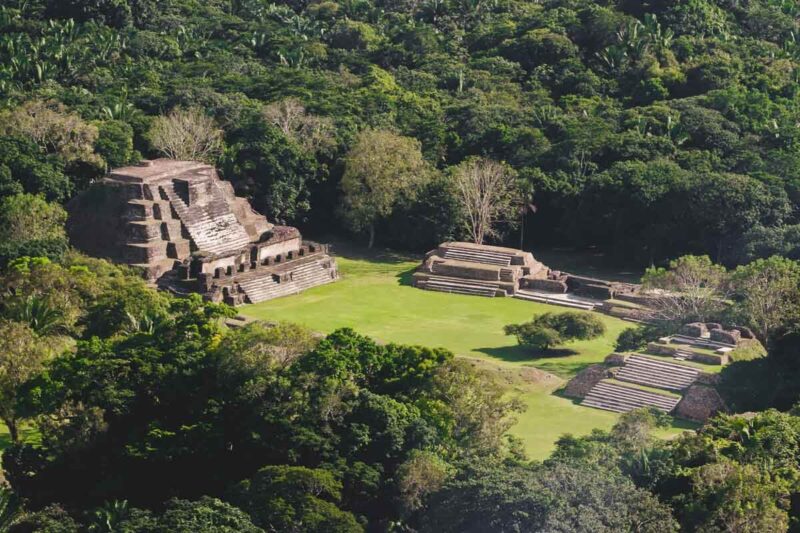 Once on the mainland, you can explore solo or book one of the many tours available. Booking a tour is a great way to see the otherwise (mostly) inaccessible wilderness of Belize's interior. This tour takes you through ancient Mayan ruins, tubing down a relaxing river, and ziplining through the jungle.
11. Blue Hole Tour
The Blue Hole is precisely what you might expect from the name. This massive oceanic void was created when a limestone cave collapsed thousands of years ago.
Today, it's an awe-inspiring spectacle that can be explored by scuba diving into its depths or snorkeling at the surface.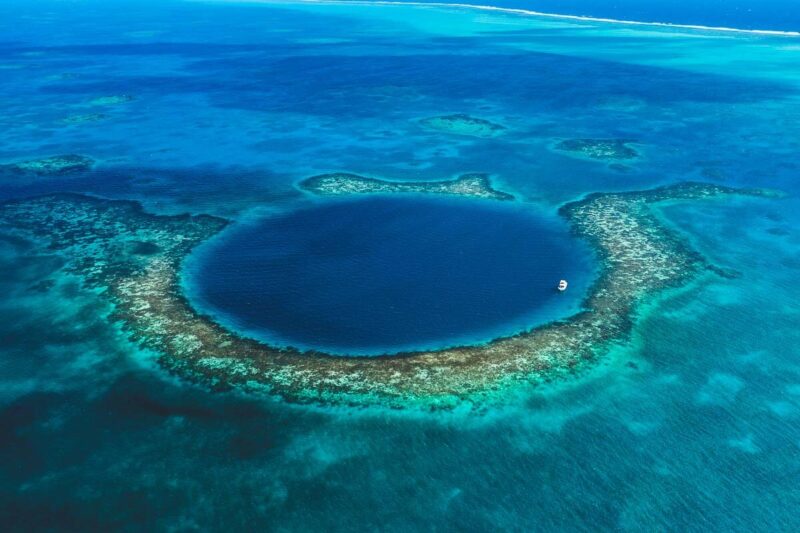 Note that scuba diving here is dangerous, and a PADI open-water certification is required. If you're willing to shell out the big bucks, you can simply observe it from above on a helicopter tour.
How to Get to Caye Caulker
Getting here couldn't be easier. There is a frequent ferry that departs from Belize and heads to Caye Caulker. You'll also use the same ferry if you're heading to San Pedro in Ambergris Caye. Caye Caulker will be the first stop.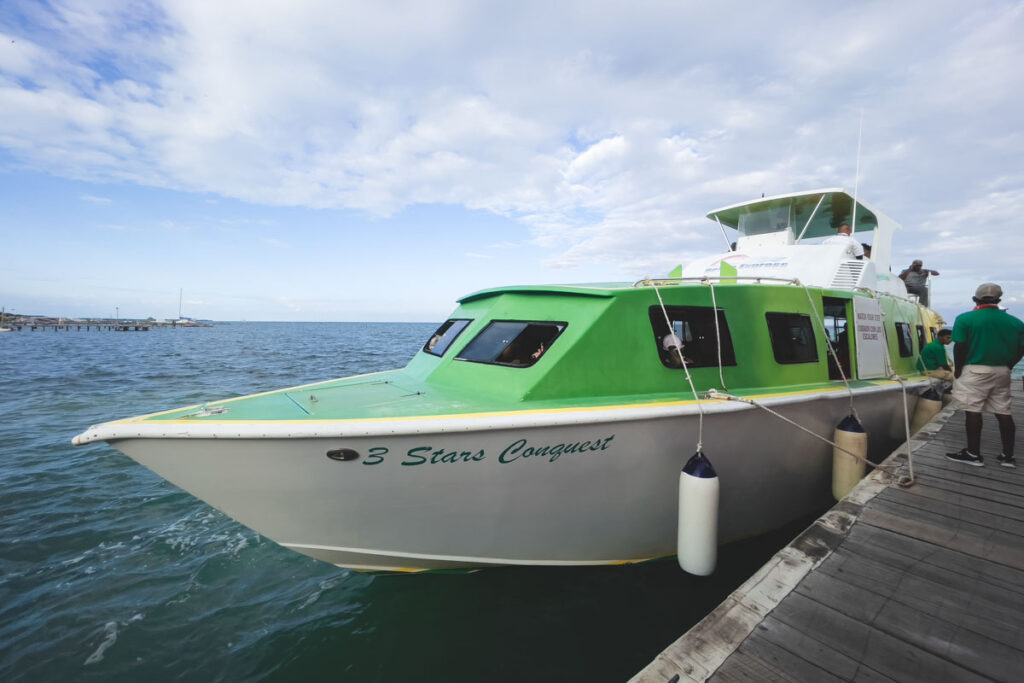 It takes about 45 minutes and the ride is generally pretty smooth.
The ferry dock in Belize City is here and staff will meet you as you approach to get your bags off your hands. Eventually, they will start boarding about 15-20 minutes prior to departure.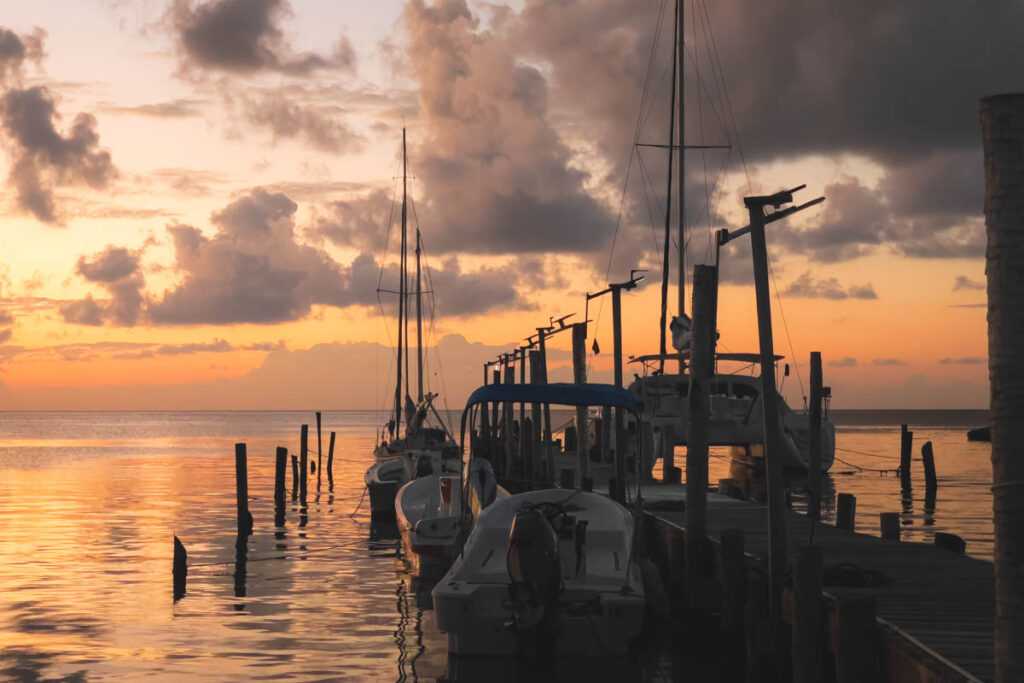 When you get to Caye Caulker, you'll land here. You'll wait for your luggage to make it off the boat and then either walk or grab a golf cart ride to your accommodation. It's usually $5 USD for a ride to most accommodations.
You can book your ferry to Caye Caulker here.
How to Get Around Caye Caulker
Walking is the way to go here! I thought I was going to rent a golf cart at one point but it really didn't make sense to. It was very easy, safe, and comfortable to walk around Caye Caulker.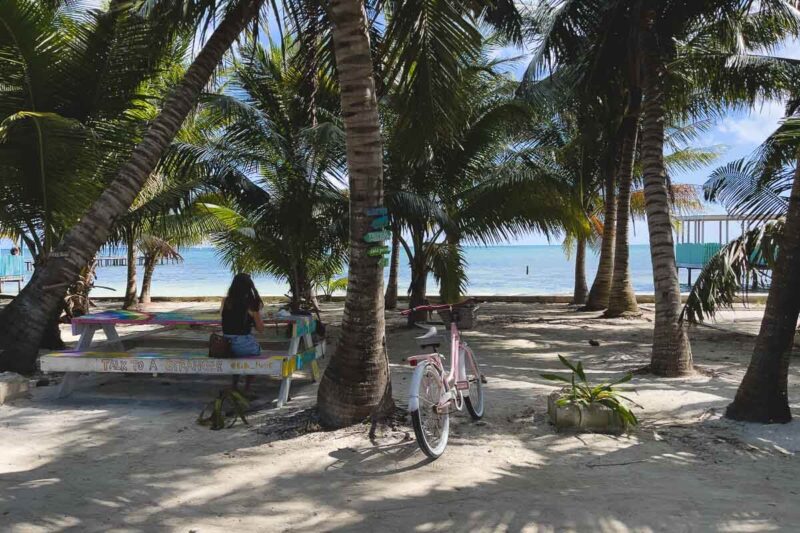 If anything you might rent a bike to get around but otherwise, a golf cart isn't needed. You'll need a ride to and from your accommodation because of your luggage from the ferry but that's about it.
I didn't mind the walking and I rarely walked for longer than 10 minutes to get from A to B. The roads are dirt/sand, nothing here is paved, and lots of people just use their own two legs to roam the island.
Where to Eat in Caye Caulker
I LOVED the food in Belize! Here's where I'd eat again in Caye Caulker…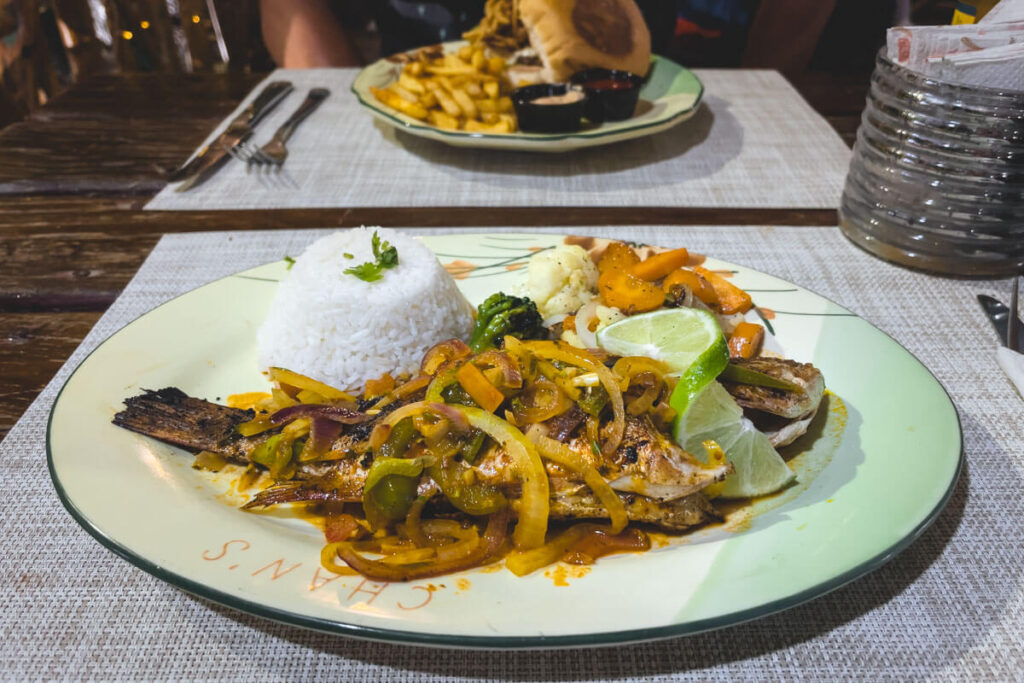 The Pelican Bar – This is an awesome spot for beers and good food while watching the sunset.
Wish Willy – Look no further, this is going to be one of the most delicious and affordable places to eat dinner while in Caye Caulker! Somehow Willy is a one-man show and serves up damn fresh and good grilled seafood.
Ice and Beans – Decent coffee, amazing bagel sandwich, awesome location and they are up before your tour starts so it's a perfect spot to fuel up before your snorkel tour.
Food Republic – They had such good cocktails and yummy jerk fish!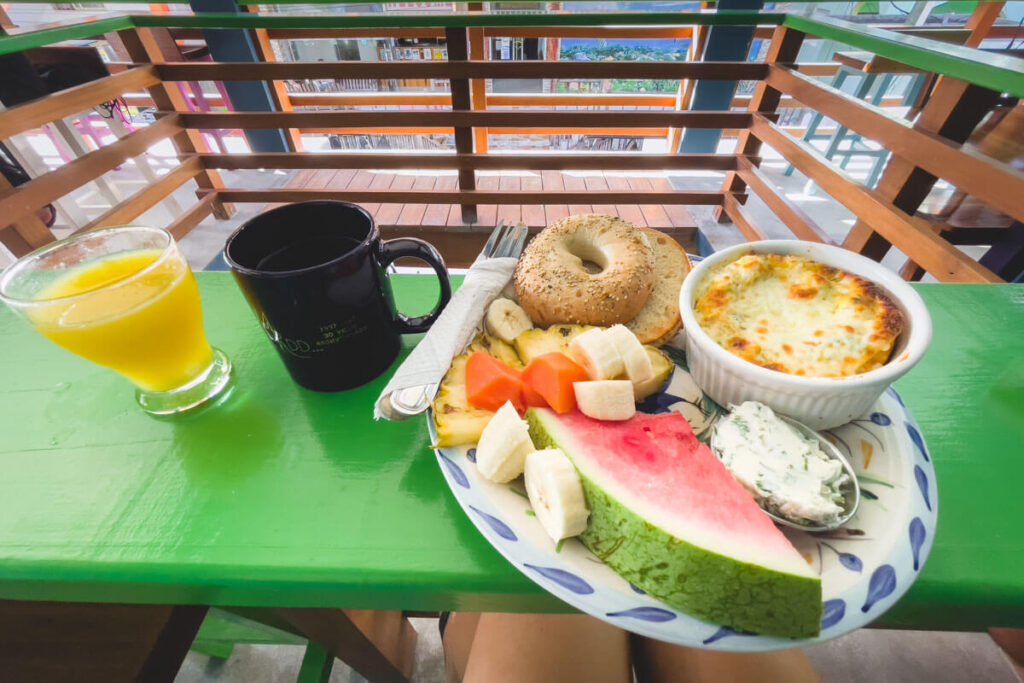 Paradiso – Water views with excellent coffee and fresh and filling breakfasts.
Namaste Cafe – In case you haven't noticed, I'm a big breakfast fan, so yes, this spot is also another breakfast place on the island, and possibly my fav. The portions are pretty massive, they have lots of healthy options, and the coffee is good!
Where to Stay in Caye Caulker
This island is small so you're close to everything no matter where you stay but you're probably going to want to stay at the northern tip of the south island. From The Split and down to the middle of the island is the spot to aim for if you want to be the closest to the center, restaurants, and the ferry.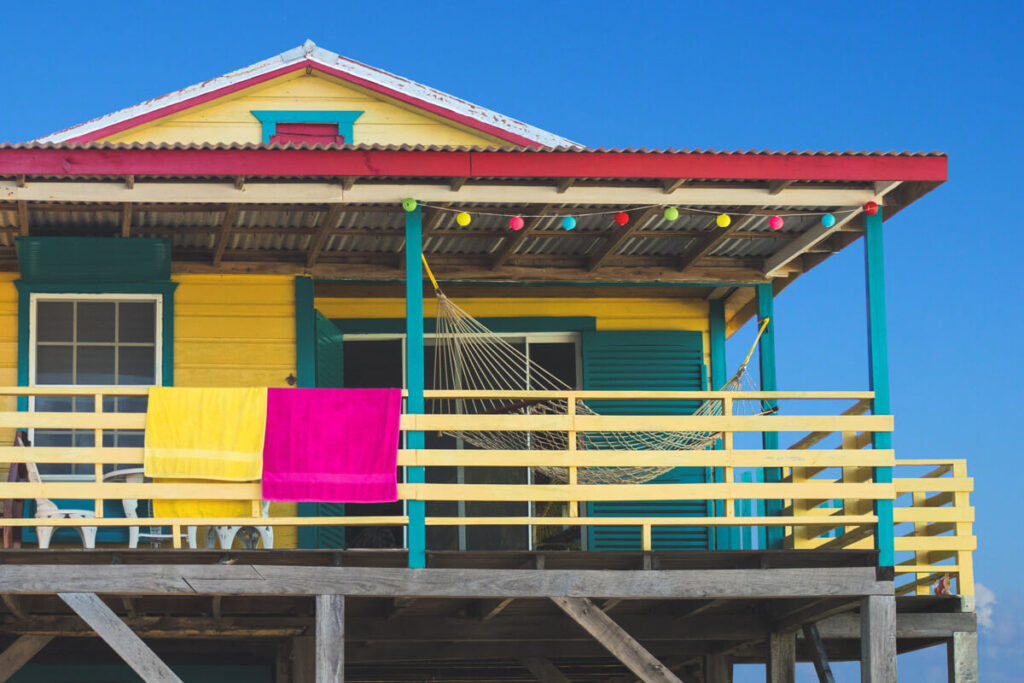 If you want to be far away from everyone and everything, stay towards the south or even on Caye Caulker's north island, across the Split!
Here are the most recommended places to stay in Caye Caulker:
READ MORE: Where To Stay In Belize: 21 of the Best Hotels and Resorts
MORE ACCOMMODATION OPTIONS IN CAYE CAULKER, BELIZE:
Tips for Visiting Caye Caulker
Arm yourself with these quick tips and reminders for Caye Caulker!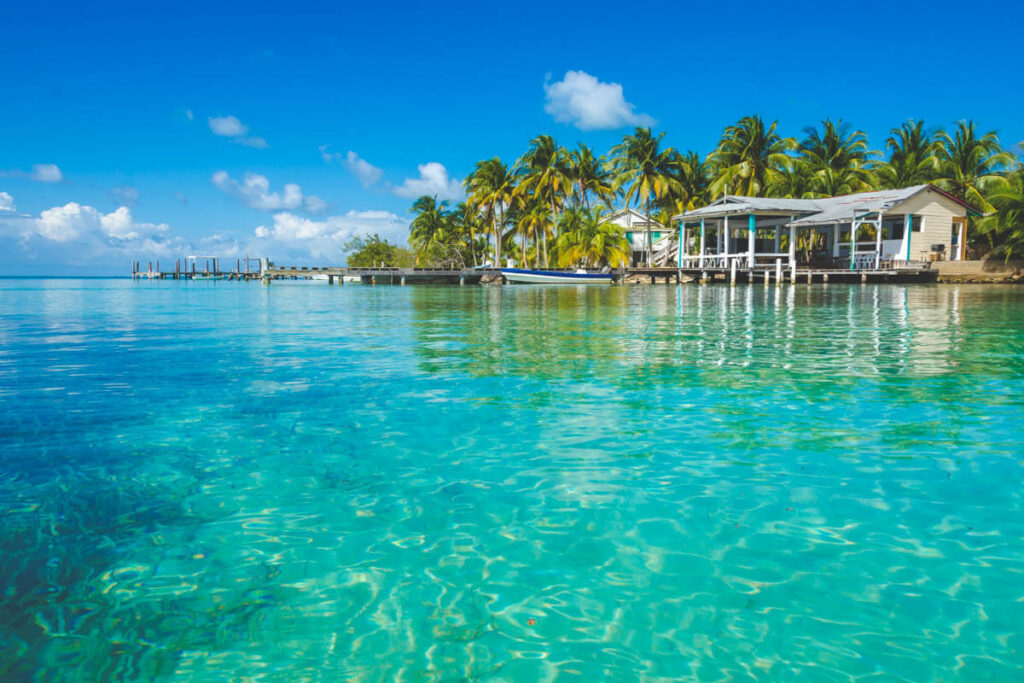 Cards are accepted in a lot of places but always have some cash on you as some spots are cash only. You don't want to accidentally eat at one and not have cash! (The Atlantic Bank in town is a safe ATM)
A snorkel tour is a must! This is the main thing to do in Caye Caulker and I wouldn't miss out on it. This is the exact one I did and it was great!
There are NO cars here! You are either getting around by golf cart or by walking. Almost everything is within 10 minutes of walking.
Remember this isn't going to be your typical beach getaway destination, there isn't a true beach here!
Don't forget to reserve your ferry ride from the mainland to Caye Caulker!
Don't bother taking the weather report too seriously when visiting here. It was supposed to rain the ENTIRE time I was visiting. It ended up being bright and sunny. It was supposed to rain the ENTIRE time I was in San Pedro as well, and it rained once, at night for an hour at that it!
With the above said, June through November/December is Caye Caulker's rainy season. I was there in November and had good weather most of the time.
Tips for Booking Your Trip:
---
---
---
---
I hope this helped you plan your trip to Caye Caulker!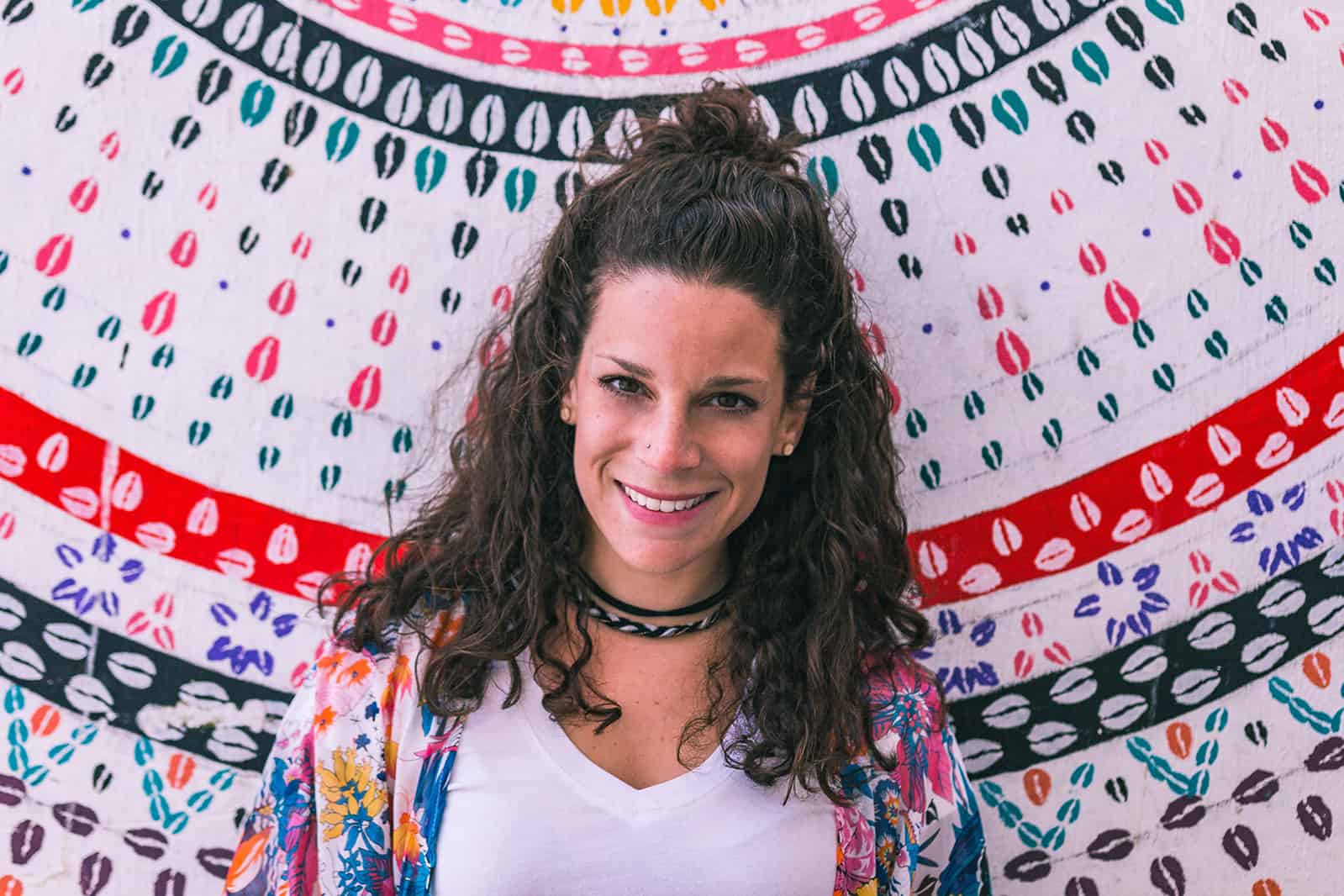 Nina Ragusa is an adventurer, messy bun master, breakfast fan, and full-time travel blogger. She's been abroad since 2011 and blogging on Where in the World is Nina? for nearly as long. Nina helps people like you move around the world while making money. She loves talking about how to work abroad and online to travel longer!