It may be small, but its 240-mile-long Caribbean coastline means there are beautiful beaches in Belize to discover. This Central-American country also boasts the world's second-largest barrier reef, making it a hot spot for scuba divers, snorkelers, and beach bums.
The beaches aren't just limited to the mainland, either. There are hundreds of islands and cays to explore off the coast, so you're not likely to run out of sandy spots to explore during your time here.
Below is a breakdown of the very best beaches in Belize.
Best Beaches in Belize
---
I feel like we need to preface this post a bit before we dive too deep into the best beaches in Belize… I must tell you the beaches here are going to be a bit different.
Some of Belize's beaches are not your typical powdery white sand beach where you can frolic and comfortably lie down on. Placencia and Hopkins will be closest to your typical sandy beaches.
Some beaches in Belize are more like sandy patches on a harder rocky bed. Even the islands feature a harder surface with some sand sprinkled on top (like Secret Beach and all of Caye Caulker).
Other areas may feature a beach, but it's not typically set up for lounging or swimming and may have some seaweed buildup.
The other option is to do some tours to the uninhabited cayes where you'll find a bit more of the typical sand you'd see on the beach. Overall, the beaches in Belize are gorgeous, but I just wanted to make sure your expectations are realistic!
1. Placencia Beach
Placencia is a razor-thin peninsula off the country's south-central coast. This popular spot is known for its long sandy shoreline and the charming village of Placencia. The peninsula is home to one of the longest beaches in Belize, spanning 16 miles from tip to tip.
There are technically three different beaches along this lengthy stretch: Maya Beach to the north, Seine Bight, and Placencia Beach to the south. However, this area is generally considered one continuous beachfront.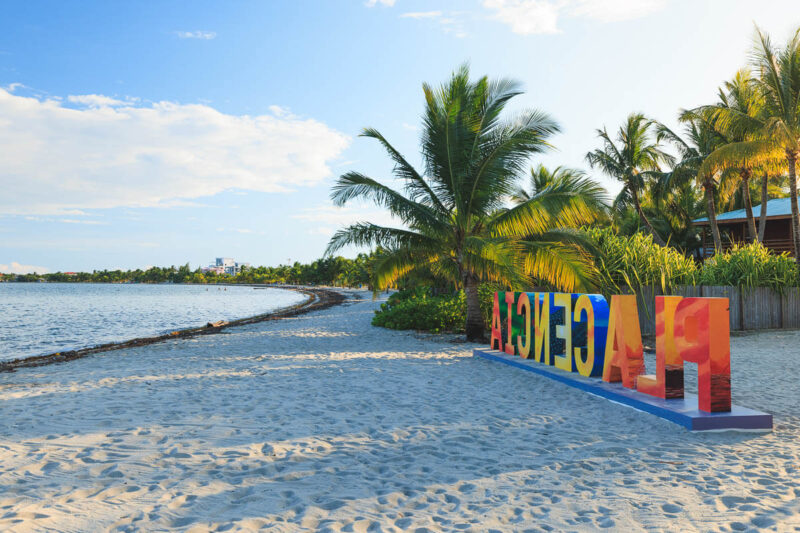 Locals have deemed this beach "barefoot perfect" thanks to the soft white sand, which also means it's beach bum approved!
The sand is lined with flowing palm trees, gorgeous blue waters, and "the world's narrowest main street." Vibrant shops, hotels, bars, and restaurants surround the pedestrian boardwalk.
Placencia Beach is far from a hidden gem, so expect crowds to swarm the beach most months of the year. While the beach here is technically not private, it's going to feel like most of it is.
Unless you're staying at one of the resorts or vacation homes around here, you'll want to head to the Placencia Pier or hang out at the Placencia Beach Club to nab a slice of sand.
Where to Stay in Placencia:
Chabil Mar Villas – If you want to stay close to all the action in Placencia, check in at the Chabil Mar Villas. Located near Placencia Village, this upmarket resort features spacious villas and top-notch amenities. Guests can enjoy two beachside infinity pools, roaming butler service, and 400 feet of private beach space!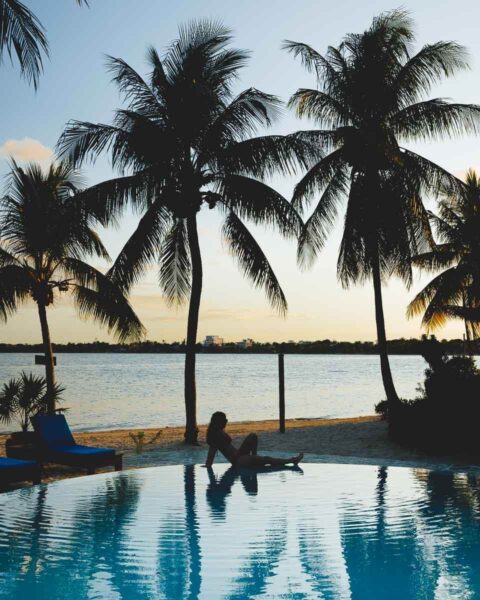 Maya Beach Hotel – Enjoy views of one of the best beaches in Belize from your room or private apartment at this three-star hotel. The grounds feature a year-round swimming pool, hammocks for lounging, and guests can make use of bikes or kayaks.
2. Ramon's Village Beach on Ambergris Caye
Ambergris Caye is Belize's largest island. The city of San Pedro and the stunning beaches surrounding it were once some of the country's best-kept secrets.
The cat is now out of the bag, and the sandy shores of Ambergris Caye are some of the most popular beaches in Belize.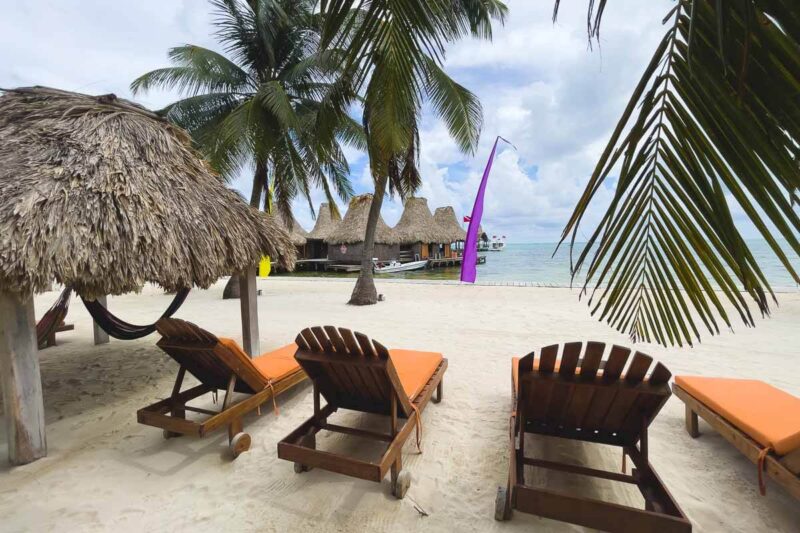 Even with the crowds, this 25-mile-long caye is a great place to spend the day. The laid-back atmosphere and soft sand make it perfect for all the classic beach day activities like sunbathing and swimming.
If you want to stick close to San Pedro, the beach at Ramon's Village Resort is great for beach bumming and swimming.
RELATED: 27 Amazing Things To Do in Belize — A Complete Guide!
3. Secret Beach on Ambergris Caye
For a bit more seclusion, you can head up to Secret Beach, located about 7 miles northeast of San Pedro. The best (and cheapest) way to reach the beach is by renting a golf cart for the day.
You probably won't have this scenic spot all to yourself, but the crowds are sparser than the beaches in the city center. There are a few restaurants with palapas for rent, but you could also get out onto the water with a rented kayak, canoe, or paddleboard.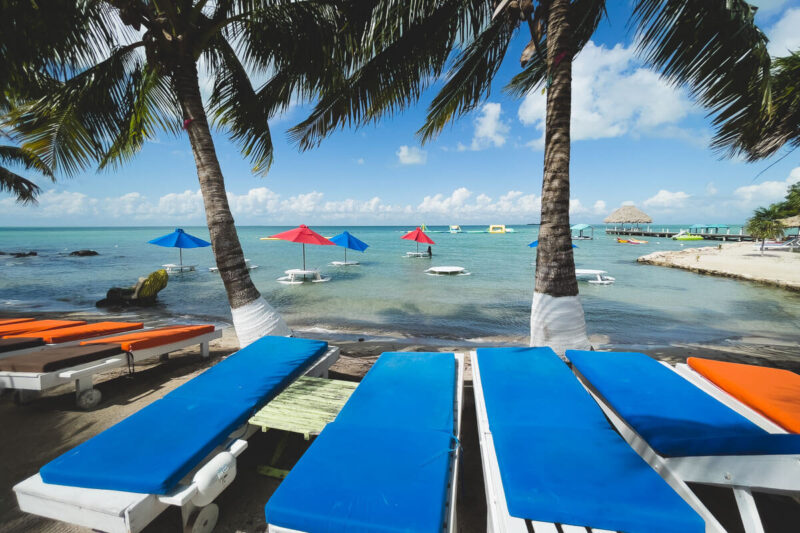 Note that this is one of the "harder" sand beaches in Belize, but they have tons of day loungers offered to guests for free, just order a snack or something to drink from the bar.
I recommend renting a golf cart to get out here as it's 30 minutes away from San Pedro town.
Aside from featuring beaches in Belize, Ambergris Caye is perhaps the best place for diving and snorkeling. You can easily book a diving or snorkeling tour to hit up tons of spots where you can swim with turtles, harmless sharks, and tons of colored fish!
The Mesoamerican Barrier Reef (also called the Great Mayan Reef) sits just off the Caye's coastline. The island has several protected areas that are great for exploring beneath the surface, including the Belize Barrier Reef, the Hol Chan Marine Reserve, Cayos Cochinos Marine Park, and the Arrecifes de Cozumel National Park, among others.
TIP: Don't miss out on The Truck Stop after your day at Secret Beach. They have a pool, games, events almost every night, and several food trucks to grab some food at after a long hard day of chilling on the beach!
Where to Stay in San Pedro (Ambergris Caye):
Drift Inn San Pedro – If you're planning a lot of water-based activities, this is the hotel for you. On-site there's a large dock stretching over the ocean, plus a tour shop to help you organize everything. For the budget conscious, there are dorms as well as private rooms.
Ramon's Village Resort – This hotel is exactly what you envision when you think of an island holiday. Stay in a private thatch roof cabana with direct access to lush tropical gardens and stunning blue waters. This is also a resort that is on one of the best beaches in Belize!
4. Caye Caulker (The Best "Non-Beach" in Belize)
For a truly relaxing time, make your way to Caye Caulker. The island sits about 20 miles off the coast of Belize City and is only accessible via water taxi. There are no cars on the island, which enhances the tranquil Caribbean vibe of this chill caye.
The water is clean and calm, perfect for swimming and snorkeling. Other popular pastimes on Caye Caulker include swaying in hammocks and sipping on ice-cold beer buckets from the bars and restaurants that line the shore.
One thing to note about the idyllic island is there are technically no beaches here! You might not even notice it as you'll have some sandy patches to bask on at the Lazy Lizard, or you'll be too busy getting tipsy at Sip 'n Dip where you can drink at a table in the water.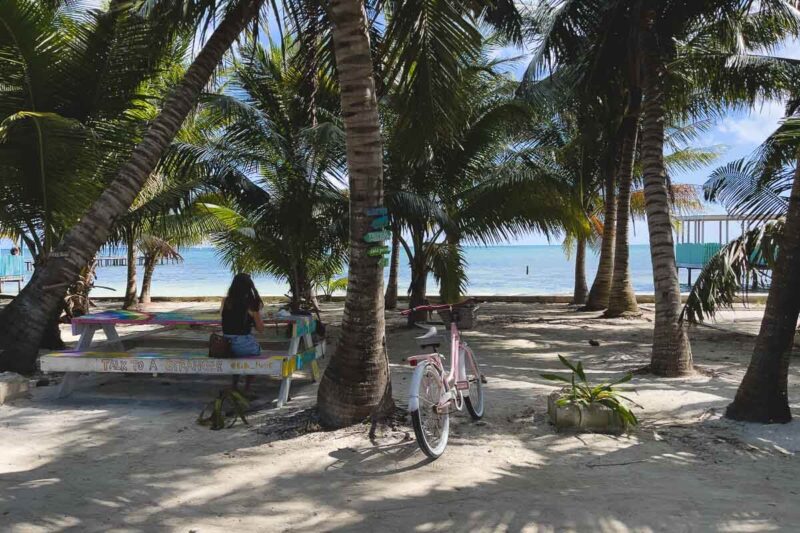 I honestly didn't miss not having a beach here, and this was probably one of the coolest places in Belize to just chill, so it had to make it on the list!
For a more exciting experience from Caye Caulker, you could take a day trip to the ruins on the mainland or spend an afternoon tubing through caves. If you don't want to head too far, you can do the same snorkel tour mentioned above at Ambergris Cay!
→ Book this Temple Tour | Snorkeling Tour (the exact one I did!)
Where to Stay in Caye Caulker:
CayeReef Beachfront Boutique Condo Hotel – You can really make yourself at home on Caye Caulker with one of these generous condo apartments. As well as a prime beachfront location you'll also get a fully equipped kitchen, living room, and balcony.
Sea n Sun Guest House – This cute and colorful guest house is a great pick for a more relaxed and affordable island experience. Rooms are simple but comfortable and there are free bikes and kayas for use.
5. Silk Caye
If you want to get away from the crowds for a day, take a tour out to Silk Caye. This uninhabited island is located east of Placencia and features white sandy beaches and calm, clear waters. While the beach bumming here is epic, the real treasure lies beneath the water.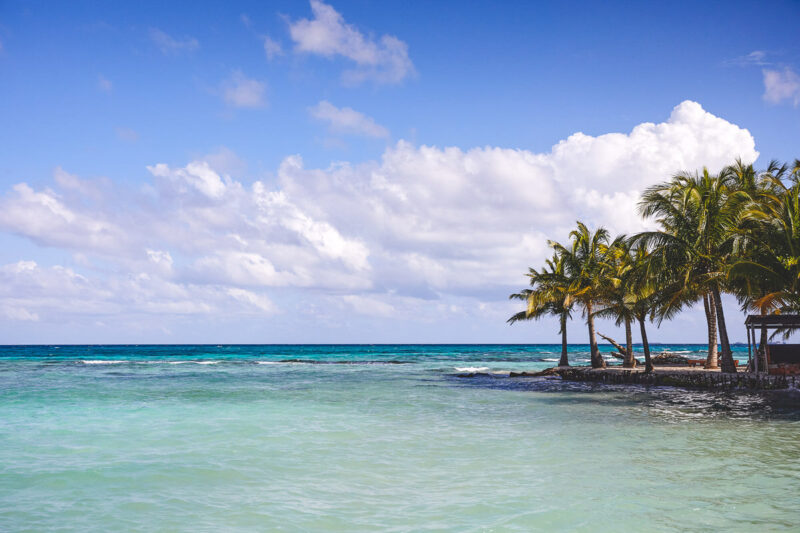 Grab your snorkel and look beneath the surface to discover abundant marine life. From ancient coral rings to enchanting sea creatures, Silk Caye is a fascinating dive site. You may even spot Hocksbill turtles and elusive whale sharks if you're lucky!
Note that there are no accommodation options on Silk Caye, so you'll need to return to the mainland at the end of your beach day.
→ Book this Silk Caye Snorkeling Tour
6. Hopkins Beach in Belize
Known as the friendliest village in the nation, Hopkins deserves a spot on every Belize bucket list. The beach may not be the clearest, but the seaweed-lined shores and fallen coconuts add to the authentic charm.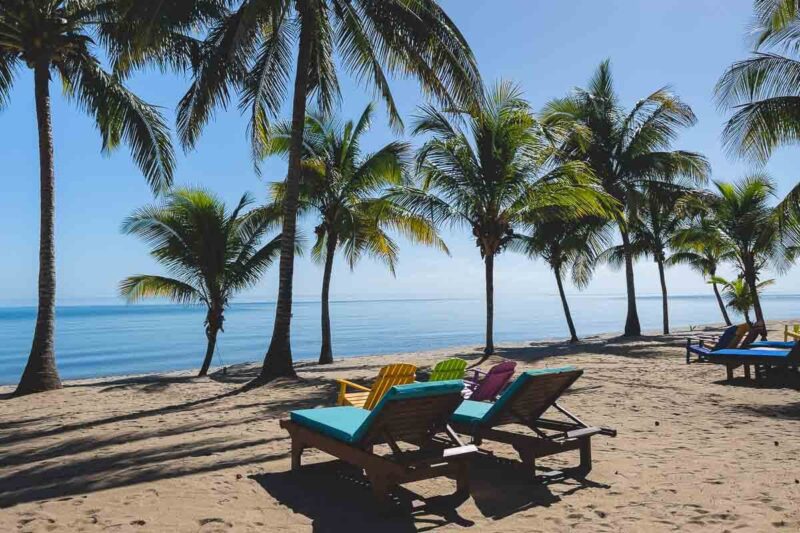 The five miles of shoreline are steeped with colorful homes, guesthouses, and local eateries. The Garifuna culture has managed to keep its natural allure intact, and you'll find plenty of options to indulge in classic cuisines, like coconut fish stew and mashed plantains (hudut).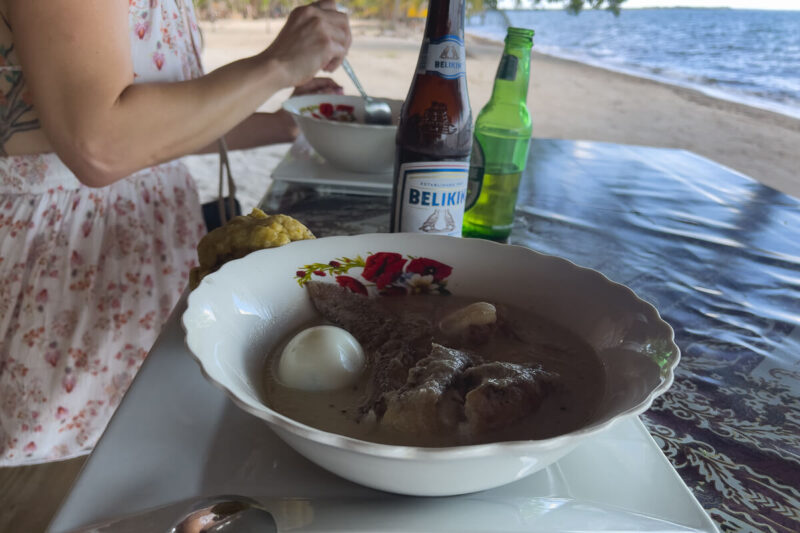 After you've enjoyed the tranquil vibes of the village, you can seek adventure at the nearby Bocawina National Park or Cockscomb Jaguar Preserve.
Where to Stay in Hopkins:
The Funky Dodo Backpackers Hostel – Hopkins' friendly, social vibe really shines at this popular hostel. Make new friends hanging out on the terrace, in the communal kitchen, or on one of the hostel's organized tours.
Coconut Row – The name says it all! Step out of your room or bungalow and you'll be met with a stretch of sand lined with coconut palms for that classic tropical vibe. There's a really delicious restaurant and bar on-site, and some rooms have kitchens.
7. Laughing Bird Caye
Named for the chatty birds that once inhabited the island, Laughing Bird Caye is one of the best beaches in Belize. The island is home to a national park and was dubbed a UNESCO World Heritage Site back in the 90s.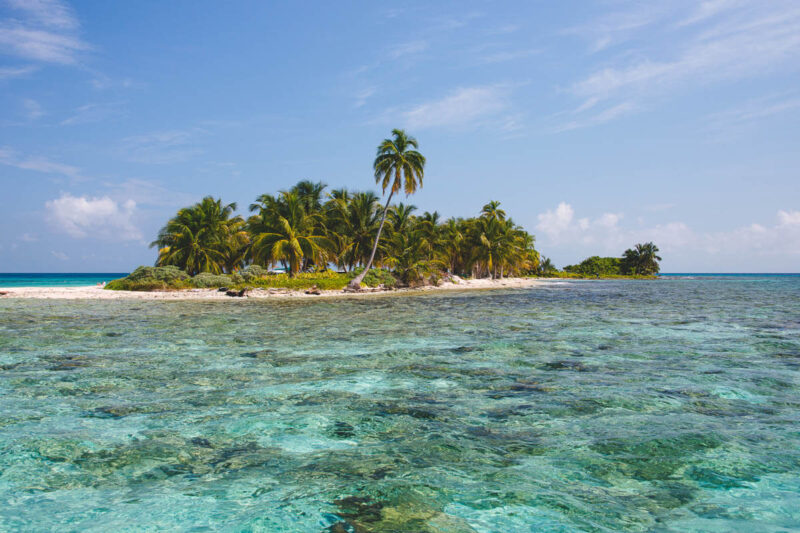 The caye is uninhabited by people, but it has plenty to offer in the way of wildlife. On land, you'll see a variety of unique bird species, including brown pelicans, green herons, blackbirds, and more.
Dive beneath the surface, and you'll discover colorful marine life like sting rays, lobsters, and schools of tropical fish.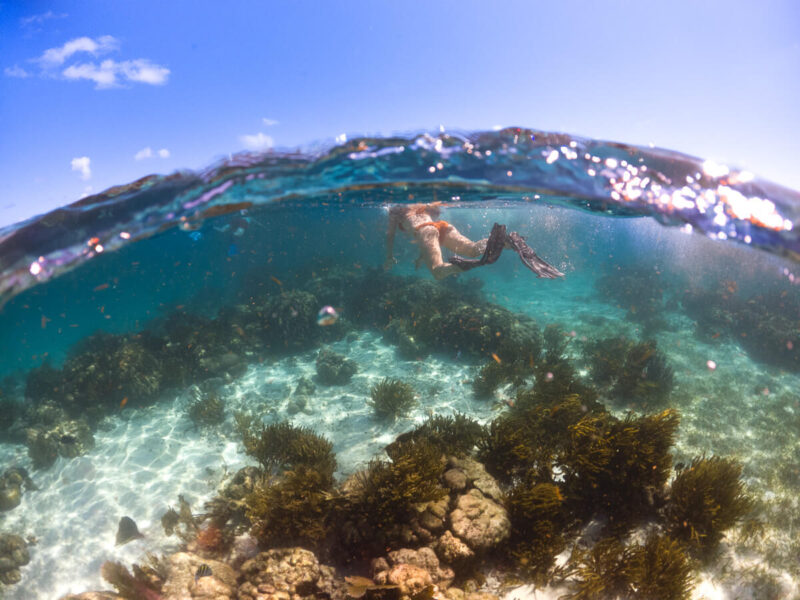 Of course, this undeveloped island also boasts soft sand perfect for sunbathing in solitude. Laughing Bird Caye sits about an hour off the coast of Placencia.
The easiest way to enjoy this enchanting island is by taking a tour or chartering a boat for the afternoon. There are no hotels or resorts, so plan to return to the mainland at the end of the day.
→ Book this Laughing Bird Caye Snorkeling Tour
The beaches in Belize are made for more than just beach bumming, that's for sure! I'd recommend making a base and exploring the cayes via tours to check out other beaches that you can't visit any other way to get the most out of your visits.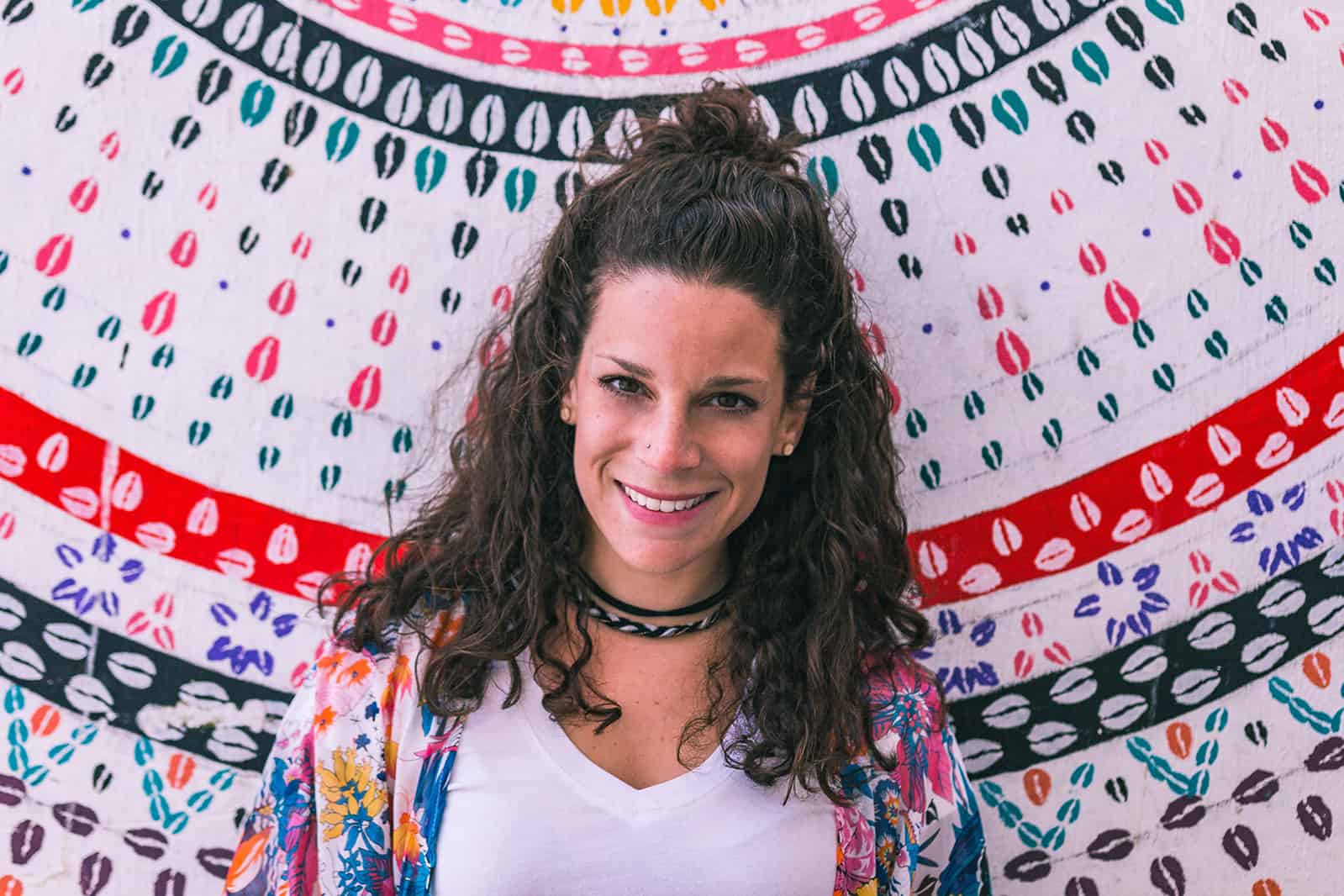 Nina Ragusa is an adventurer, messy bun master, breakfast fan, and full-time travel blogger. She's been abroad since 2011 and blogging on Where in the World is Nina? for nearly as long. Nina helps people like you move around the world while making money. She loves talking about how to work abroad and online to travel longer!