*Me staring at my computer with my jaw on the floor*
"What?! This place is in Colombia?!" I said out loud in complete disbelief.
One of the best parts about traveling for me is that the world continually shows me my ignorance, slaps me in the face, and then guides me to learn more about it.
That's what traveling is to me, continually being surprised about the world.
When I think of Colombia, I think of big cities, Cartagena, colorful buildings, coffee, a big and bad drug lord, and maybe some beaches… I didn't know too much about Colombia before coming here, and I try to keep things that way and make my decision while on the ground. Too much research and planning can take the fun out of things.
So when I was in my apartment in Medellin looking for some hikes, I was shocked to see some pretty insane-looking trails and snow-covered mountains! I know, I'm so silly. Duh, the Andes… But since this was my first time in South America, I had no idea the sheer magnitude of this mountain range.
*Cue the automatic booking of an epic hike in the Andes*
Yeah, there was no question I had to check out some treks here, and hiking in Los Nevados National Park seemed to be a perfect choice! And damn, did I make a good decision (I mean, I usually do… *pats self on the back*).
So I'm here to share with you, my fellow adventurers and hike lovers, a pretty freaking cool place to get up high, the Paramillo del Quindio Summit in Los Nevados!
Vamos!
Don't lose this! Click to pin it now.
Trekking in Los Nevados National Park: Paramillo del Quindio Summit
---
OK guys, if you're anything like me and love a good hike and a rocking challenge, you're in the right place. This hike IS IT.
I've outlined everything you can think of, so you know exactly what to expect. As you'll see, this hike is not for everyone, and you'll need to have some experience under your belt to get through it. But no worries, you don't need to be a superhero, just like, don't let this be your first hike in your life or anything.
As you'll see, this was a guided hike.
It would be pretty challenging to do alone, considering there are almost no signs, hardly a trail at specific points, and not a hike to take lightly.
And also, it's technically the rule of the park to have a guide!
I had a truly remarkable time, so I can recommend booking this trek in Los Nevados here if you're game for this hike.
Los Nevados National Park
Los Nevados National Park is a stunning mountain chain with snow-covered volcano peaks, insanely beautiful views, an alien-like landscape, and extreme adventure for avid hikers.
Los Nevados lies in the central coffee region and exhibits flora and fauna unique to this region. There are certain areas of the park that are off-limits due to the high volcanic activity that is still presented here. In 1985, 22,000 people in the area were killed by a massive eruption at Nevado del Ruiz.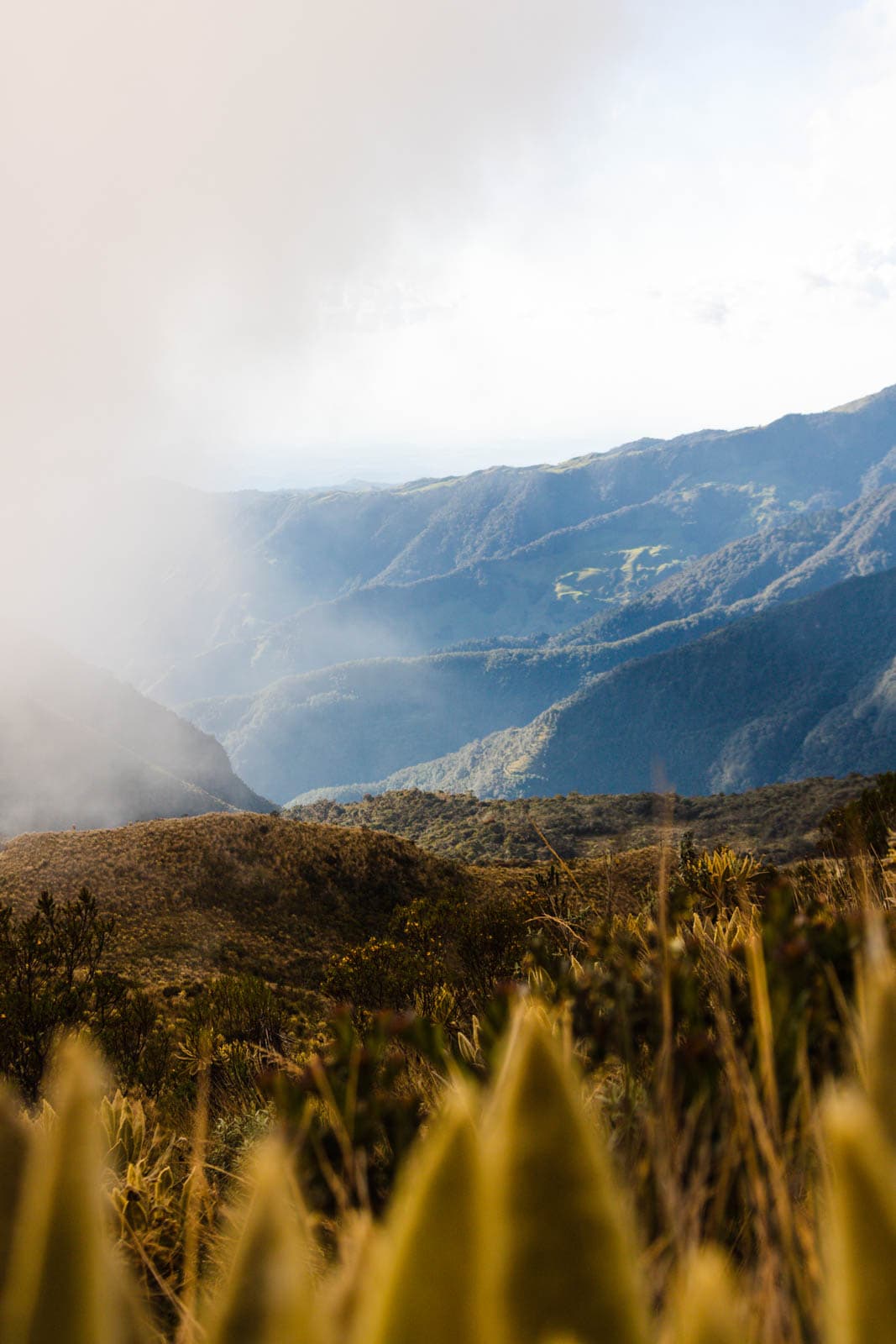 This remarkable park is still relatively under the radar with more people coming to visit for a day or perhaps checking out its famous "entry town" Salento, and that's about it. For those who want some real adventure, beyond what some other national parks can provide in Colombia, Los Nevados National Park is it.
While there are numerous options for exploring this magnificent park, I think summiting Paramillio del Quindio on a three-day expedition is genuinely an extraordinary way to do it!
Here's more about what to expect on a trek through Los Nevados…
3-Day Paramillo del Quindio Summit Itinerary
You're probably curious as to what exactly you'll be doing every day and what to expect. Here's a rundown of exactly that!
This tour starts in Salento; you'll get picked up very early or meet at the office first thing in the morning.
Quick details:
Each day you're trekking about 20km/12.5 miles for about 6-8 hours.
Your summit to Paramillo del Quindio will be at 4750 meters/15,580 feet.
Your accommodation is Finca Primavera both nights.
You will meet at the office one day before your trek to make sure everyone is ready, packing the right stuff, and for any weather updates, or discussion about your needs to rent equipment.
You start each day pretty early, around 6-7 am or so.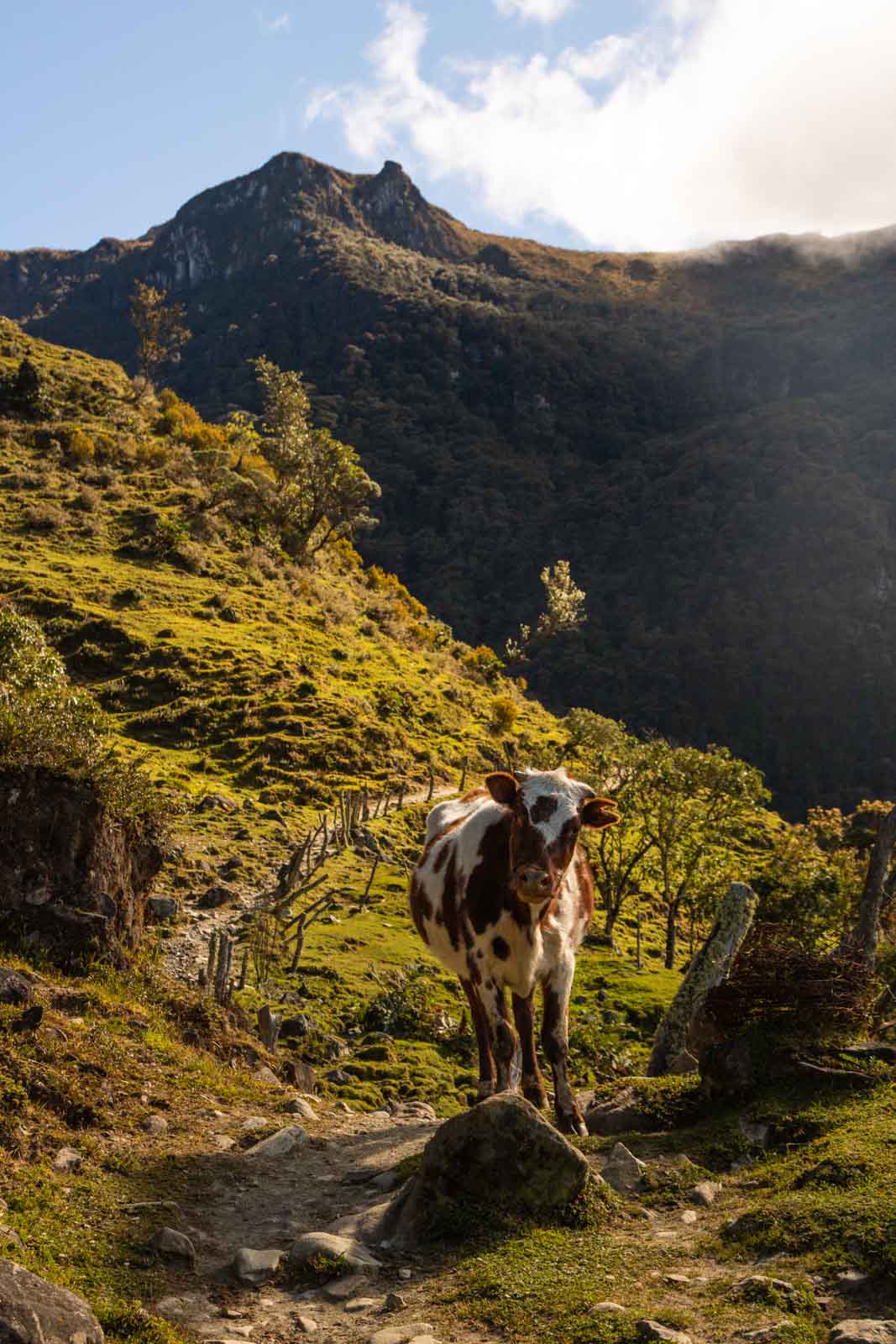 Quick highlights of the trip:
Paramillo del Quindio summit at 4750 meters/15,580 feet! Woop woop!
The insane Paramo ecosystem (foliage and views like you've never seen)
Stunning peaks all around you like Nevado del Tolima and jawdropping vistas in any direction.
Staying on a mountain farm with locals, the adorable farm animals, and eating an excellent homecooked meal after a savage yet legendary day of hiking.
Paramillo del Quindio Trek Day 1
You start trekking through a small portion of the Cocora Valley that soon leads you into a forest. You'll get sweet, sweet relief from the sun as a good chunk of today is canopied by the lush plants.
You'll meander through some potentially muddy trails if it's been raining, tons of rickety wooden bridges crossing streams, and up steep slopes.
Eventually, the forest opens up into the Paramo ecosystem, where the foliage immediately changes, and you're exposed. You're now walking amongst unusual dwarfed plants as you've never seen before and trudging up a summit and over a ridgeline to make it to the Finca.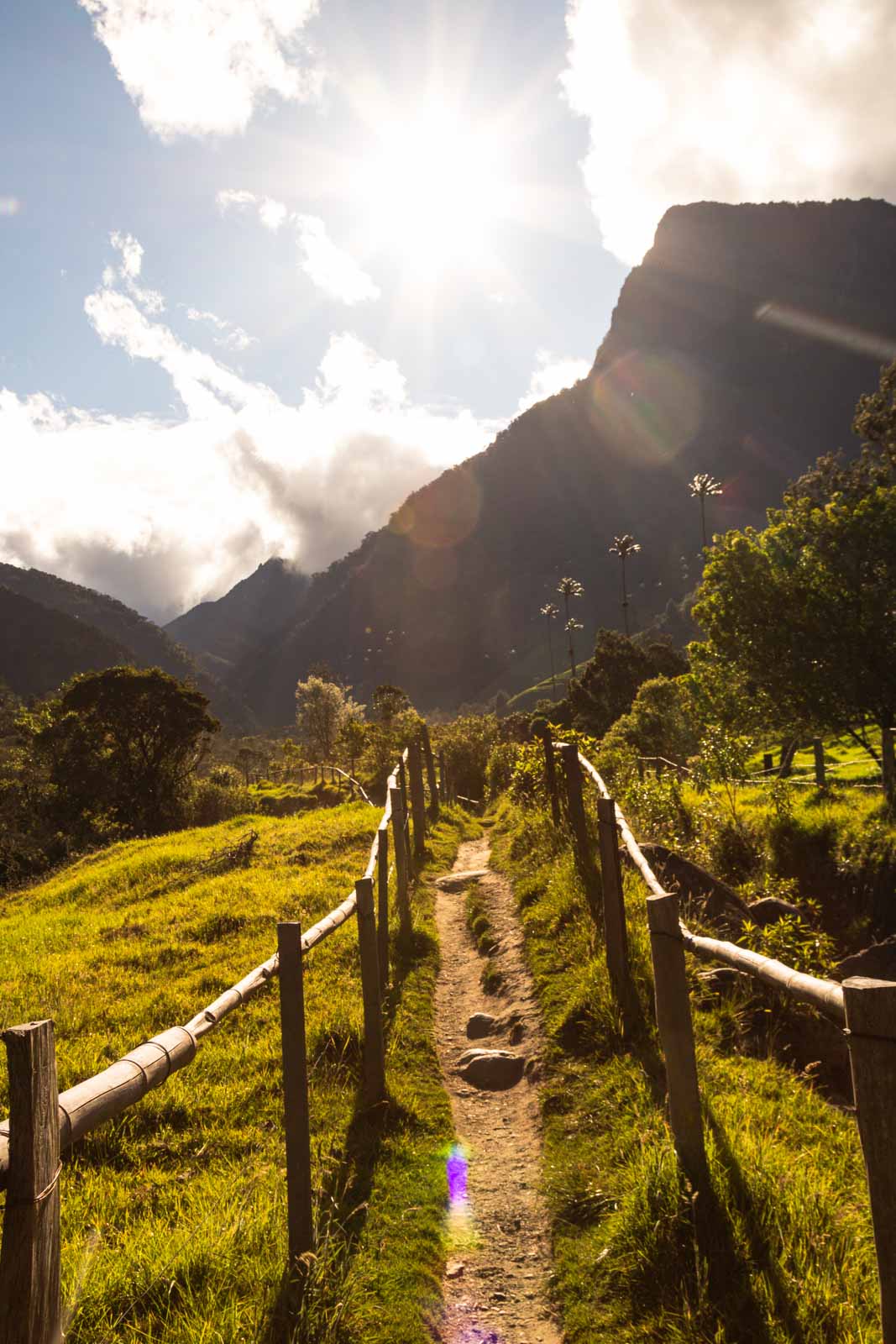 For us, the summit and the ridgeline made us grab our windbreakers and gloves; it went from swamp ass in the forest to frozen fingers in the Paramo very quickly! It was stunning up here, and the clouds went to and fro very quickly engulfing us on the ridgeline and then disappearing over the next ridge.
It was a fantastic first day and getting to Finca Primavera just at sundown was a perfect end to our day. We stuffed our face with dinner, grabbed a quick lukewarm shower, and passed out.
If your guide is cool like ours was, he will point out fun plants to eat or bring you some Mumbai to try, which was an awful ashy mixture you keep in the bottom of your lip. It supposed to help with altitude and energy, Garrett liked it but I was not a fan! Always happy to try new things though.
RELATED: 7 Cool Medellin Tours and Day Trips That Are Actually Worth It (Colombia)
Paramillo del Quindio Trek Day 2
Today is summit day! Get pumped and eat an extra arepa at breakfast to get fueled for this summit.
This was my tallest summit yet, and I was so excited. My highest was South Sister and Poon Hill, both just over 10,000 feet, so I was hoping I was going to be OK up there. Luckily, I was.
Paramillo del Quindio Ascent & Summit:
You'll set off from the Finca early, make your way through more Paramo terrain and then get to the middle of the valley, which is a massive crater. This was once a volcano that blew up many years ago.
So you're essentially standing in the caldera, and the insane summits around you (including Paramillio del Quindio) are the remains of the volcano wall that has now split up into many peaks.
The views are hard to describe, so luckily, that's what pictures are for. And, of course, I took tons!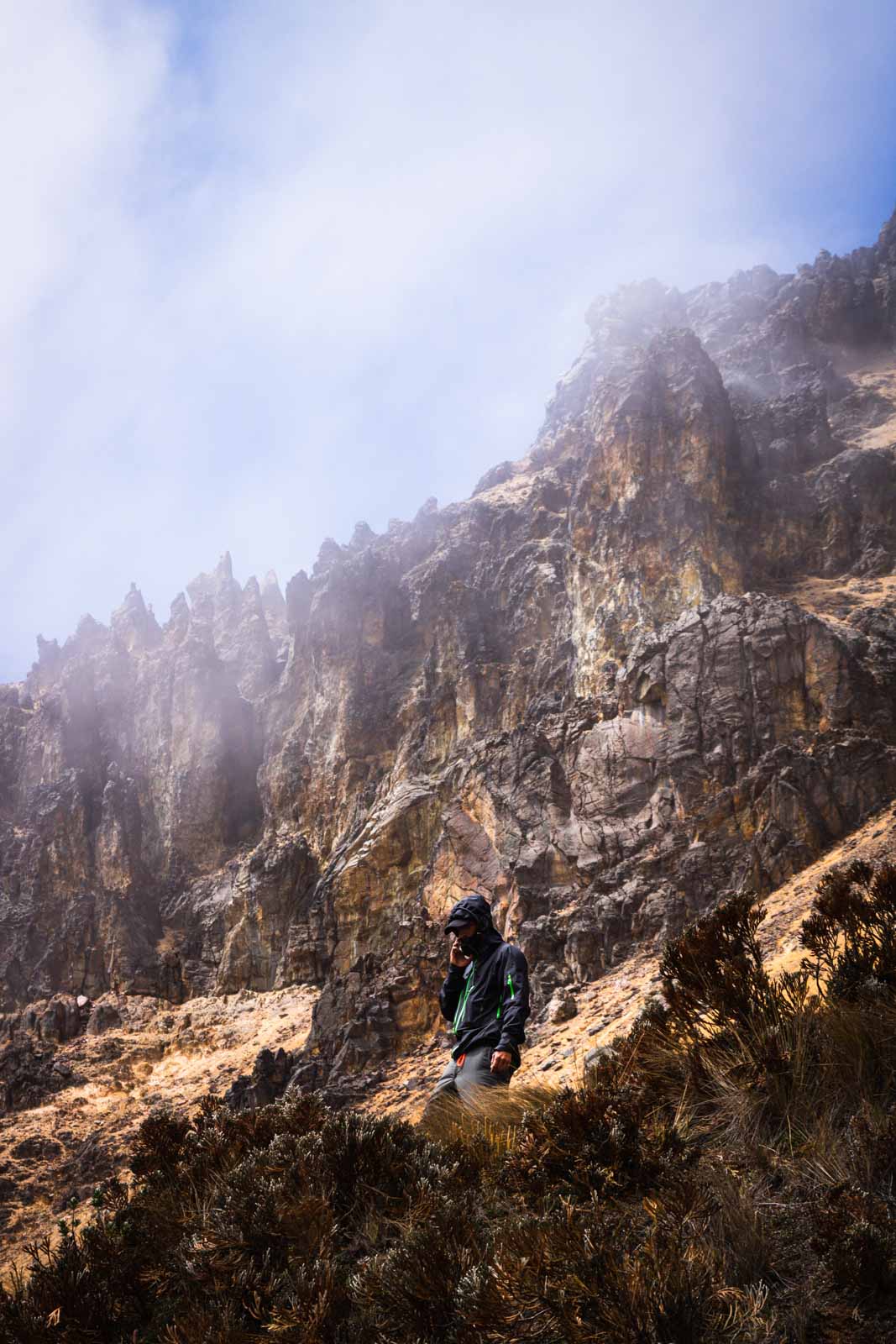 The trek up gets pretty challenging. The terrain is a bit loose, the air is thin, and it starts getting very, very cold up here.
The mountain is often engulfed in big white billowing clouds, so you can't even see the summit as you walk up. The closer you get, the steeper the climb gets.
I can't lie; I was repeating little mantras in my head as I was ascending the summit. Telling myself to keep going, you got this, you're almost there.
It was HARD. And not a summit you want to slip on either. On either side of you, you have a bit of room for error. But if you slip and don't catch yourself quick enough, there's some danger of falling off.
I don't mean to scare you; you're okay! But I'm just being real with you, this isn't a mountain to summit and have a blasé estimation about, it's pretty serious.
Making it to the summit at 4750 meters/15,580 feet is quite an incredible achievement, so yeah, I patted myself on the back, I did it!
Don't worry about the fact that you may not get to see anything up here. It's often a whiteout at the summit, but it's the challenge and the reward you get for such an epic summit.
Don't worry; you're not missing out on too much since you get views pretty much the entire way up and throughout the trip. I'm thrilled with my white-out summit picture, plus you'll be so high (like literally and figuratively) you may not even remember to take any more photos. Seriously, I only have this one summit photo!
RELATED: A Guide to Jerico, Colombia—Don't Miss This Charming Pueblo
Paramillo Del Quindio Descent:
OK, so if you thought the summit sounded challenging, wait until you start walking down. I hope you saved energy because you're coming down at almost a 90-degree angle.
This ended up being the hardest part for me. My knees are a bit shit, and so they were achy, and the terrain is loose, so sliding right down was very easy. I had to go pretty slow to get down safely, and this was honestly more difficult for me than going up.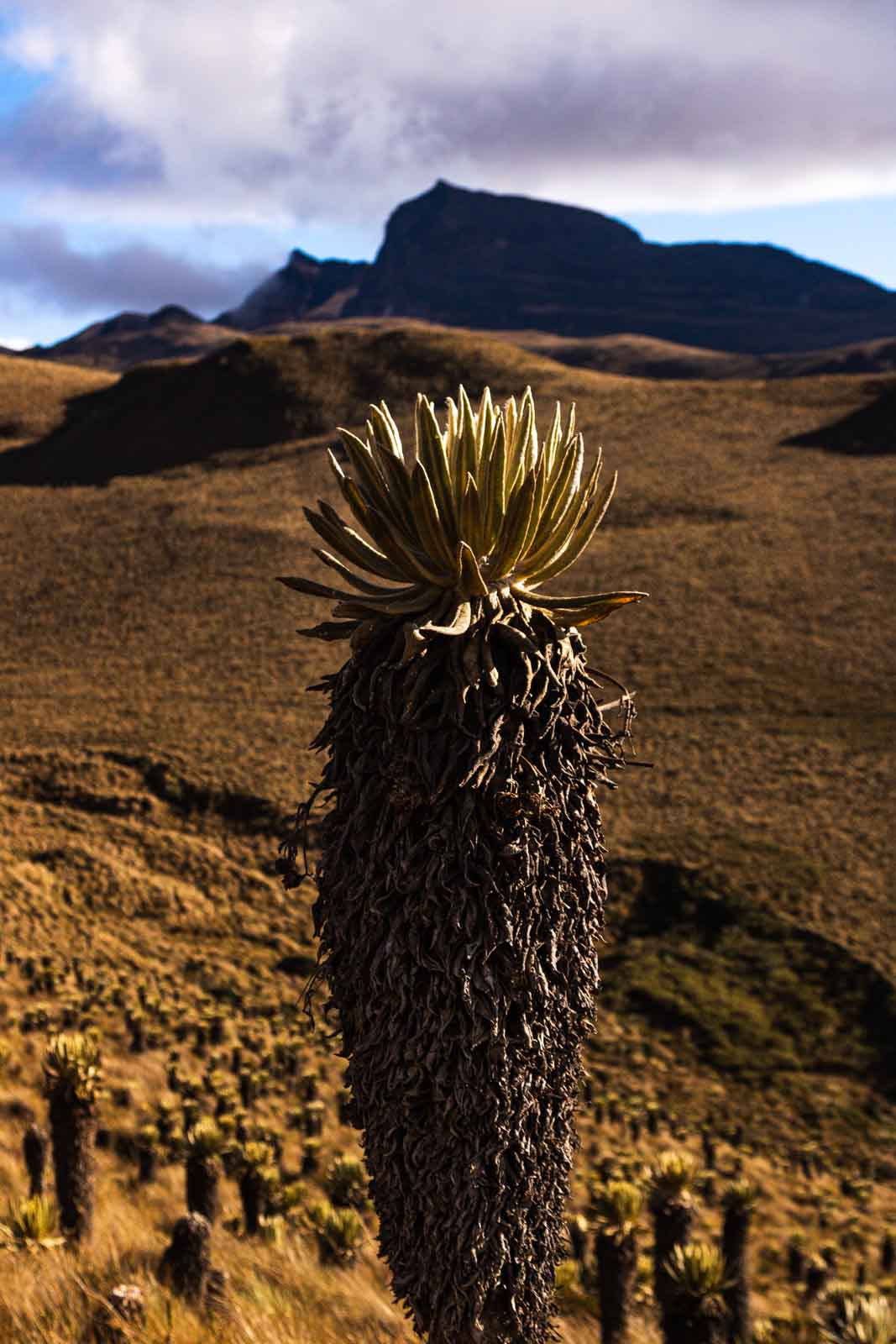 The views are spectacular, so that helps keep your mind off of the steep decline. After a long walk up and then back down Paramillio del Quindio, you'll make your way back down to Finca Primavera where your stuff is, and a hot meal is waiting for you.
The Alternative Route:
We didn't go back to Finca Primavera and continued along on our hike to another Finca to make a bit of a shorter day three for ourselves.
The only caveat here is you'll have to carry your stuff on your back for the whole three days while if you go back to the first Finca after the summit day, you can leave your stuff there.
The reason we decided to do this was that we wanted to walk through Cocora Valley a bit more, and this afforded us the time to do so.
Note that modifying a route is possible, but we were on a private tour with a badass guide, Seb, who is super friendly and offered this choice to us. If you're on a group trip, this may not be possible since you'll have others on tour with you.
Paramillo Del Quindio Trek Day 3
Don't start getting tired yet because day three is still full-on!
You'll wake up, gather your stuff, eat breakfast, and head out for your last full day trekking in Los Nevados National Park.
You'll wave hello to the summits again as you see them peeking out in the distance. Today consists of walking above a deep valley and back toward Cocora Valley.
You'll pass by Argentina and Buenos Aires Fincas, (one of these Fincas is where you'd stay if you did the modified route we did), take in the stunning greenery, the random farm animals along the way and the winding river crossings over sketchy wooden bridges.
In the end, you'll make it back to civilization where you'll see tourists flocking to the massively tall wax palm trees of Cocora Vallery. If you have any energy or time left, you can meander around the wax palms, or head straight for your transportation to get back to Salento.
→ CHECK THE PRICE OF THIS TREKKING TOUR TO LOS NEVADOS ←
What to Pack for Trekking in Los Nevados National Park
Here the exact list of things you'll need to bring to trek in Los Nevados if you book and do the same tour I did. I HIGHLY encourage you to BRING all of these items. My life is a bit crazy, I live out of a bag, and I thrive on spontaneous adventures, HOWEVER – it was very annoying to have to shop for all this shit when I had everything on this list back in the US.
Don't be like me. Bring this gear if you're doing this hike. YES, you need everything here. Don't skimp out, don't bring cheap stuff. This isn't the type of mountain to take lightly, and I needed and used every single thing on this list.
If you're the worst, like me, and you're already reading this in Colombia and don't have any gear, do what I did and buy stuff at a Decathlon. Most big cities have one. Luckily I had a few of the major items with me like jackets, a backpack, and hiking shoes. But the little things I had to buy…AGAIN.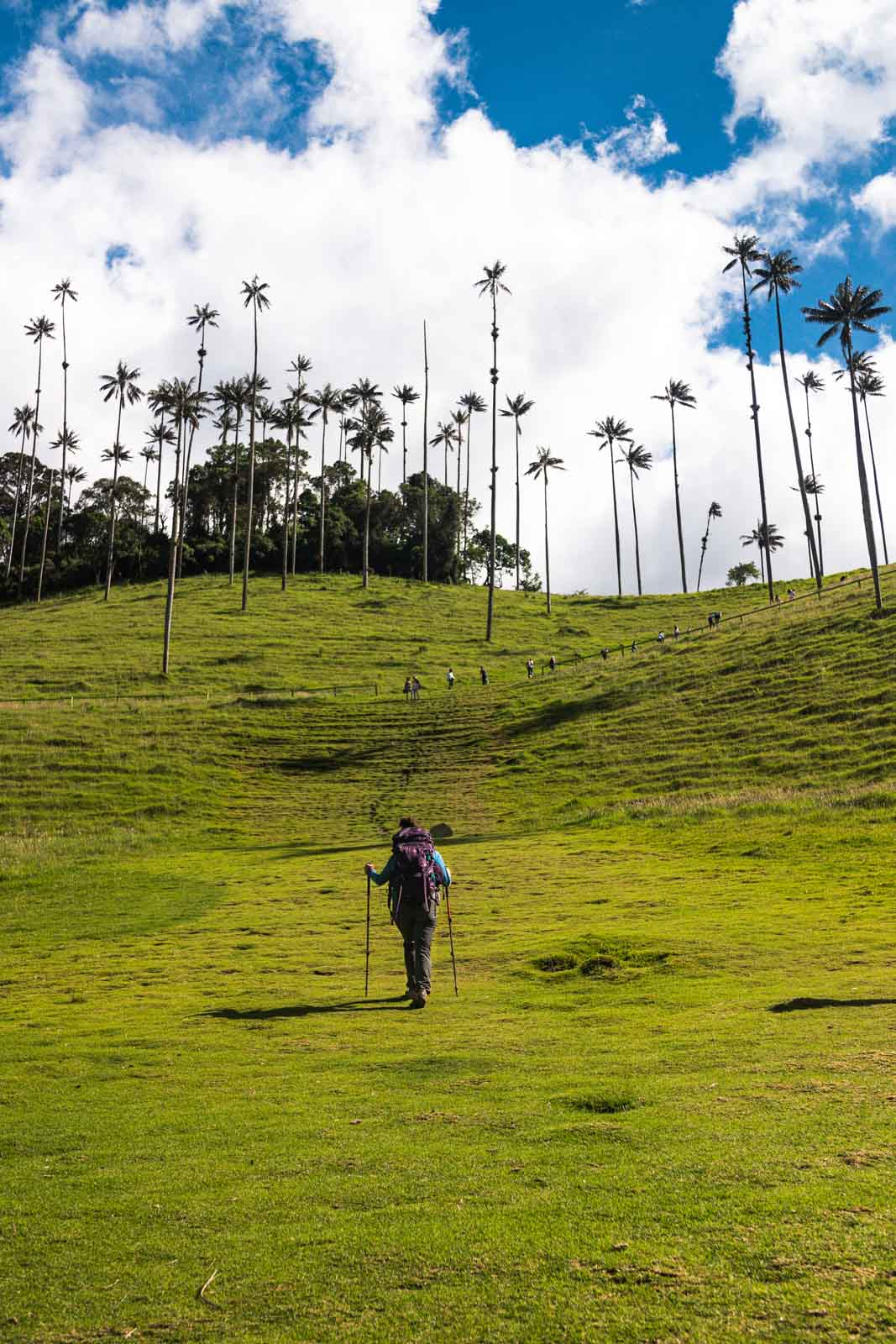 A proper hiking backpack with back support and waist straps – It's fine to use the backpack you're traveling with if it checks these boxes, that's what we did! Just get a random bag to hold your junk you're not trekking with and leave it at the office. Make sure your backpack has a rain jacket or, at the least, get some big garbage bags to use just in case it rains.
Proper hiking shoes or boots depending on the season – If it's dry season like it was for me, hiking shoes are fine, but I did miss my proper boots!
Hiking pants x2 – Nothing cotton, no jeans, something that's quick-dry, comfortable, and light.
Trekking shirts x2 – No cotton, nothing heavy, just light and moisture-wicking. Make sure to get long sleeve shirts for sun protection and to be extra covered. I'm SO happy I didn't wear short-sleeved shirts.
One puffy jacket – Mostly used at night because it's freezing at the Finca.
One rain shell jacket – For wind and rain, aside from proper shoes, this is the second most important piece of equipment you NEED.
Gloves (waterproof) – Yes, I needed mine numerous times, my hand became frozen towards the end of our hike on day 1 and at the summit.
One warm outfit to sleep in – Long sleeve shirt and pants.
Flip flops – To wear around the Finca, in the shower, and when you are dying to get out of your boots.
Socks – 2-3 REALLY good pairs of socks at least, merino wool, is the best. Another warm pair to sleep in and walk around the Finca in.
Neck buff – I used mine every day. It's perfect for keeping dust and wind away from your face too.
Beanie – Necessary.
Headlamp – A must. In case you're running late and are hiking in the dark or need to pee in the middle of the night at the Finca.
Sunscreen and lip balm with SPF – While most of your body will be covered, you'll need this for your face at the least.
Towel or sarong – Used for showering at the Finca.
Water bottle – A 1.5-liter bottle at a minimum a 2 liter is better.
Sunglasses – You'll hate life without them.
A mini medical kit – Gause, antibacterial cream, tape, a few bandaids…
Camera – DUH! Bring all the cameras. Note that the Finca will have minimal electricity, and there's a chance you may not be able to charge cameras or phones. I bring my solar charger everywhere, which is perfect for charging GoPros and phones. For DSLRs and other such batteries, bring extras or shoot mindfully over the three days.
RELATED: 51 of the Best Travel Accessories for Men and Women
Things That Were Provided for Trekking in Los Nevados:
They gave us rain pants which we luckily didn't have to use. They are not totally waterproof, but they would do the job to help prevent getting your pants soaked.
They have trekking poles for you too, which would have been annoying to buy or bring.
Your tour guide will have a water filter for the trip, so it's not necessary to bring your own or be worried about having clean water.
Food was provided, even snack packs to carry and to eat throughout the day.
They accommodate vegetarians and vegans as well.
They do have other items they can provide as a rental at a cost. However, they have a limited supply, so it would be a small risk to bank of them having exactly what you need. Be sure to communicate with them before the trek if you have special needs or to see if they can offer certain things for rent.
(Note these were provided by the company I went with and I can't speak for other companies).
Other Questions About Hiking the Paramillio Del Quindio
What's the Food Like?
The food was good, surprisingly. Breakfasts are arepas, eggs, coffee, and fruit. Lunch is usually something quick to make on the trail, we had veggie tacos (with stuff that didn't need to be cooked) or a veggie sandwich, and dinners were hearty soups, rice, and beans, etc. Snack packs consisted of hydration power to put in your water, nuts, chocolate bars, granola, and other easy trail items.
Like I mentioned, there's no need to worry about water because your guide will have a filter. There are other drinks available at the Fincas as well, like agua panela (essentially a local sugar water drink that's served hot, it's delicious, drink it.) and other things like Coke or beer for sale.
RELATED: A Guide to Jardin, Colombia—the Prettiest Pueblo You Ever Did See
What's the Accommodation Like?
VERY simple. The Fincas, or farmhouses, are as basic as they get. We're talking about a few bunk beds in a room, a communal kitchen, some farm animals roaming around, and MAYBE a semi-hot single shower, for a bunch of dirty-ass hikers.
Also, as mentioned, electricity is slim out here, so charging items is a challenge. It's also all by solar, so if they are running low, there may not even be electricity at the Finca.
I hope it goes without saying, but just in case, no, there's no wifi or cell service either.
Do I Really Have to Carry My Bags on the Hike?
Yep. Unless you want to pay more for a mule or porter to do it, but honestly, if you are not able to carry a backpack on a hike, then this hike may not be for you. Plus, if you have a proper bag and pack light, as I mentioned above, it is not a big deal to carry it.
Can't I Visit Los Nevados for a Day?
Dude, no. It doesn't do it justice, and you won't be able to see much. You'd only be able to enter through Manzinales as well, not Salento. So If you're in Manzinales, and have NO time to do a three-day trek to Paramillio del Quindio, then you can do a day tour from Manzinales to Los Nevados.
It looks great but seriously, getting acclimatized, and considering how big and gorgeous the park is, a single day won't give it the justice it deserves. With that said, if that's all you got, a one day tour, I guess, is better than none! You can check it out here.
Is This Paramillo Del Quindio Trek for Me?
That's for you to decide.
But what I can tell you is you don't want to take this hike lightly. You need some hiking experience under your belt. You need to have the ability to trek with a backpack on your shoulders as two out of three days require this (or all three depending on if you do a modified tour, as I mentioned above).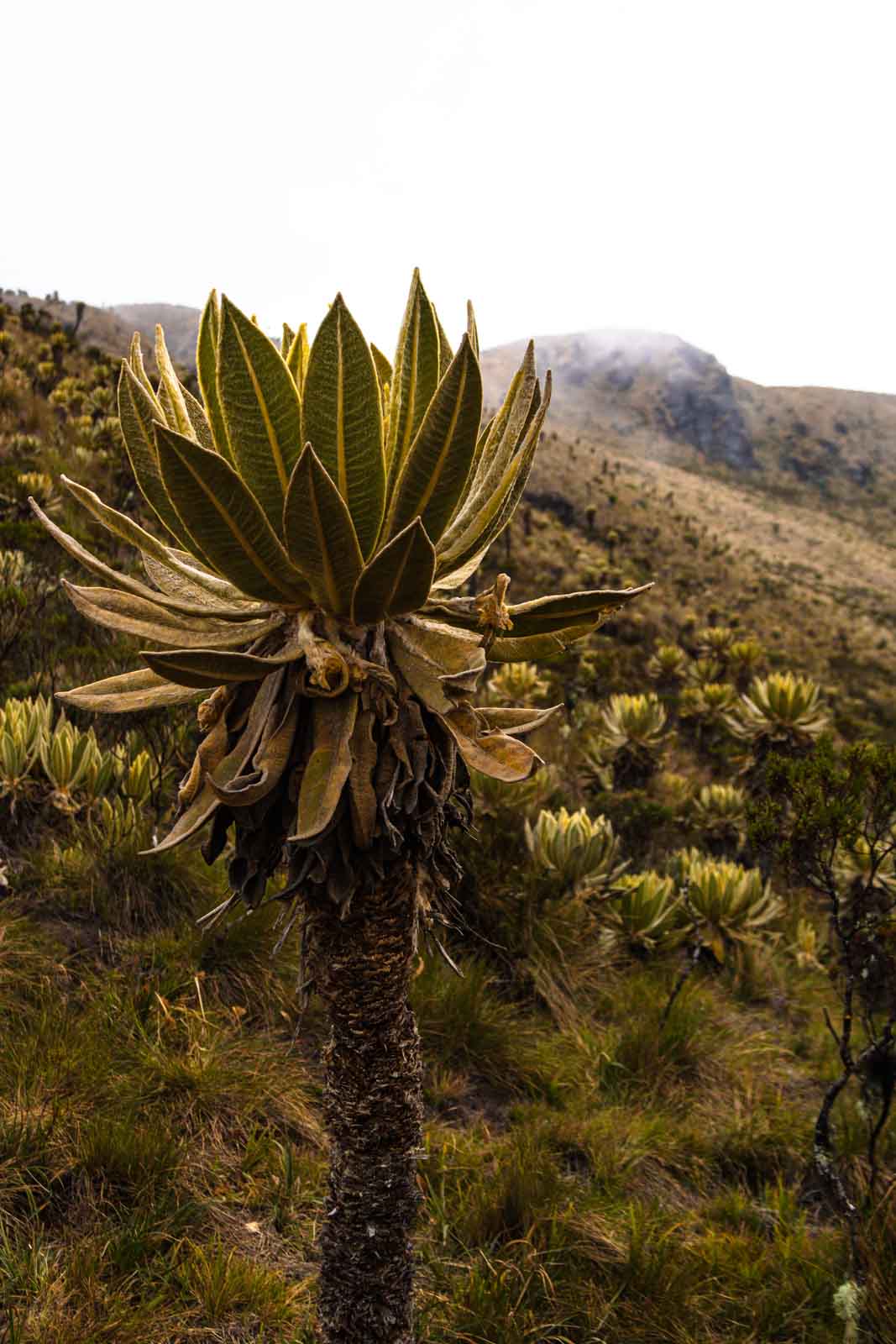 The trail is very rugged. You'll be walking through muddy areas, steep inclines, exposed areas without shade for hours, drastic altitude changes, and overall uneven and tough paths.
This isn't to scare you off from this hike, but it is to tell you the truth—This isn't a walk in the park! This should not be your first "real" hike ever in your life, that's for sure.
Want more visuals? Garrett filmed the entire three-day hike, so check out his Youtube for an insider look into the whole hike. Here's his first video of day 1 the other days should play after.


Other Notes and Tips for This Los Nevados Trek
There are 15 guide agencies in the Salento area, but only five of them are properly certified. Out of all the guides in Salento, only about 20% of them are certified to guide in the Los Nevados, and the rest are not! This is pretty dangerous, so if you don't go with the tour I recommend here (one of the certified five), please be very careful with the tour company you choose.
Just note that the summit is 80% of the time a total whiteout. Don't let this deter you, this doesn't mean you won't get views, and everything will suck. As you can see above, the views and the scenery were insane! You just may not get crazy views from the actual summit. But you'll be too busy reeling from making it up there, just like I was! It's fine.
You don't see much of Cocora Valley, so if you want to do this hike, it only takes about a half a day, maybe a full one if you do the longer route and take your time. You'll see the wax palms, and it's nice, but you don't "really get into" that area too much. Plan to stay in Salento for a bit longer if you want to do the whole Cocora Valley loop.
This hike is technically supposed to be done with a guide. It's hard for them to monitor the hikers, though, so people get away with no guide. Let me tell you though, if you try this without a guide, you'll be missing out on a lot of things. Commentary and local knowledge for one thing, but more importantly, you'll get lost — 100 %. My wonderful guide, Seb, helped out at least ten helpless hikers on this trail. Hopefully, they made it OK. This is a serious hike; getting lost can be very dangerous. In addition to all of that, you'll be carrying A LOT more gear. You'll need a tent in case the Fncas are full of people using a guided tour; you'll need to carry all your food and supplies too. Just relax and get a guide instead. Oh, and also,

it's the rules!
So! That's about it; this should be all the info you need to trek and summit Parmillio del Quindio in Los Nevado National Park! You won't regret it; the hike is absolutely epic.
BOOK THIS TREKKING TOUR TO LOS NEVADOS
So what do you think? Are you going to try out summiting Paramillio del Quindio? Let me know in the comments!
---
---
Don't lose this! Click to pin it now.