How this charming pueblo in the Andes has been flying under the radar for so long, I have no idea.
I happened upon the place "Jerico, Colombia" while scrolling around Airbnb Experiences (more on this below). I thought, huh? What's this place? It's not far from Medellin, and we are heading south…
After all of two seconds of looking into Jerico, I thought, "yep, we're going here next, this is the place."
We had been living in the concrete jungle of Medellin for over a month now, and we wanted OUT. We needed greenery, more accessible mountains than Medellin offered, the sweet shop owner who recognizes you after a few days, dusty roads, and small-town vibes.
We were over the downtown scene and Jerico, Colombia looked like a sweet escape for two nature-loving individuals who've been caged in a city.
And damn, did we make the right decision. I hope this little guide to the charming pueblo of Jerico helps you on your travels through Colombia.
Don't lose this! Click to pin it now.
Your Guide to Jerico, Colombia
---
Here's a map to help you see where everything I recommend is in Jerico. I'd say you'd need at least two days to enjoy most of these things but three days is better!
Cerro Las Nubes Hike
If there's a hike, I'm going to do it, and the hike to do in Jerico, Colombia is the Cerro Las Nubes hike. We heard the way was a bit confusing or perhaps not even accessible as there was a landslide not too long ago. We decided to give it a go and see what was up!
What we found out was… It's best to do the hike from either side, but the middle was a bit sketchy. This was our assessment.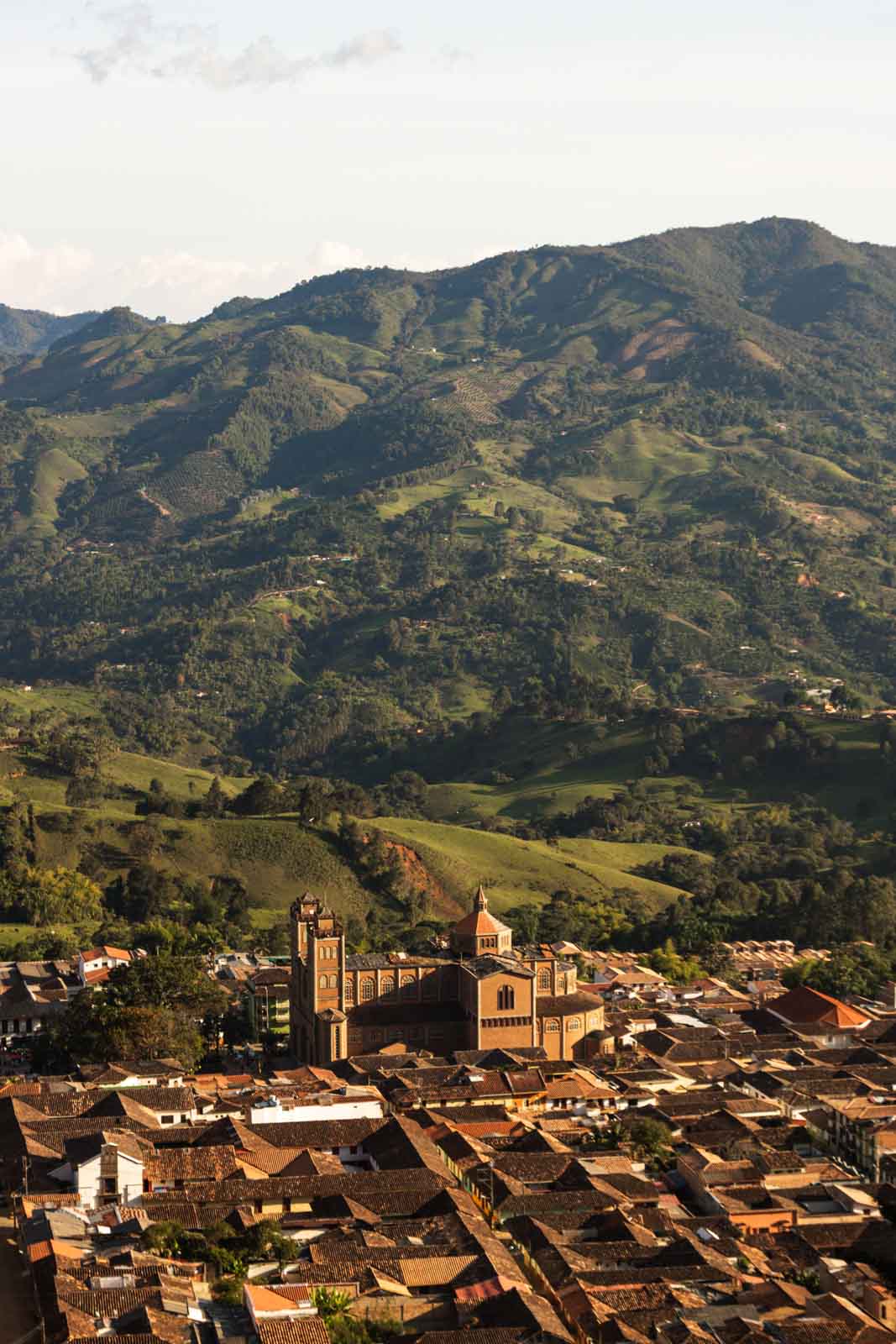 Here's how we did the Cerro Las Nubes Hike in Jerico, Colombia:
Going up the left side of the hike: Take the Las 80 Escalas or "80 stairs" street straight up to the hill. You can easily find this trail using Maps.Me. Head up this well-marked path, and you'll make it to La Gruta, where you'll see a statue and a beautiful view of the town.
Here, you'll notice where the massive landslide happened as the statue was "miraculously" spared any damage while the shelter surrounding it was smashed. We decided not to continue here as the path wasn't clear; we were technically a bit off-trail, according to Maps.Me and the area was in complete disrepair. We got a great view of Jerico already and moved on.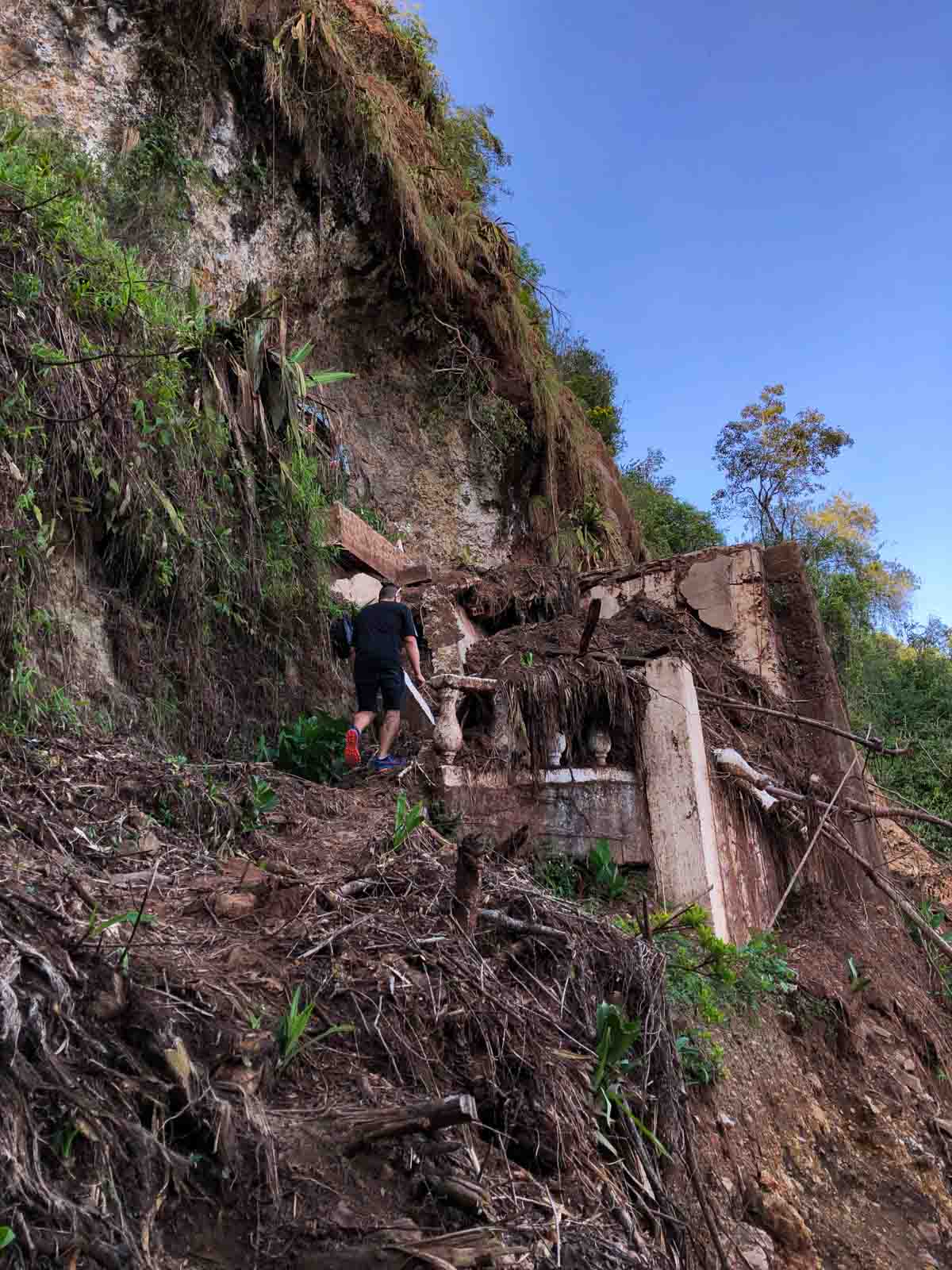 Going up the right side of the hike: The next day, we wanted to see what the hike was like from the other side. This one is pretty easy, as well. You'll start here, yep, jump that little fence thing. Make sure to jump this next one too as you'll be in a random field, and it's difficult to see. After following the path up, you'll make it to the old cable car that's no longer in operation. The vista is great from up here too.
There was a trail continuing up, but since we knew what the other side looked like and it was nearly sunset, we decided we had seen enough and headed down.
That's how we hiked the Cerro Las Nubes, but I'm sure repairs will happen soon, and we missed a path or two! There's also a choice to do a cheap tour with a guide that can take you through the forest a bit more.
Jerico Botanico
There's nothing crazy special here, but it's probably a place you'll happen upon as you stroll the colorful streets. The botanical gardens in Jerico, Colombia offer relief from the sun with its verdant canopies. As you traipsing through the short walk you'll smell the fresh flowers and plant life. The first thing I said when I walked in was, "I smell green!"
There's also a path here if you're down for a short hike that leads to the next thing on the list…
Cristo Redentor Jerico
Take a stroll through the botanical gardens, and you'll see a path that leads you straight up to the Christo Redentor in Jerico, Colombia. What's a Colombian town without a big ol' Jesus statue looking over it?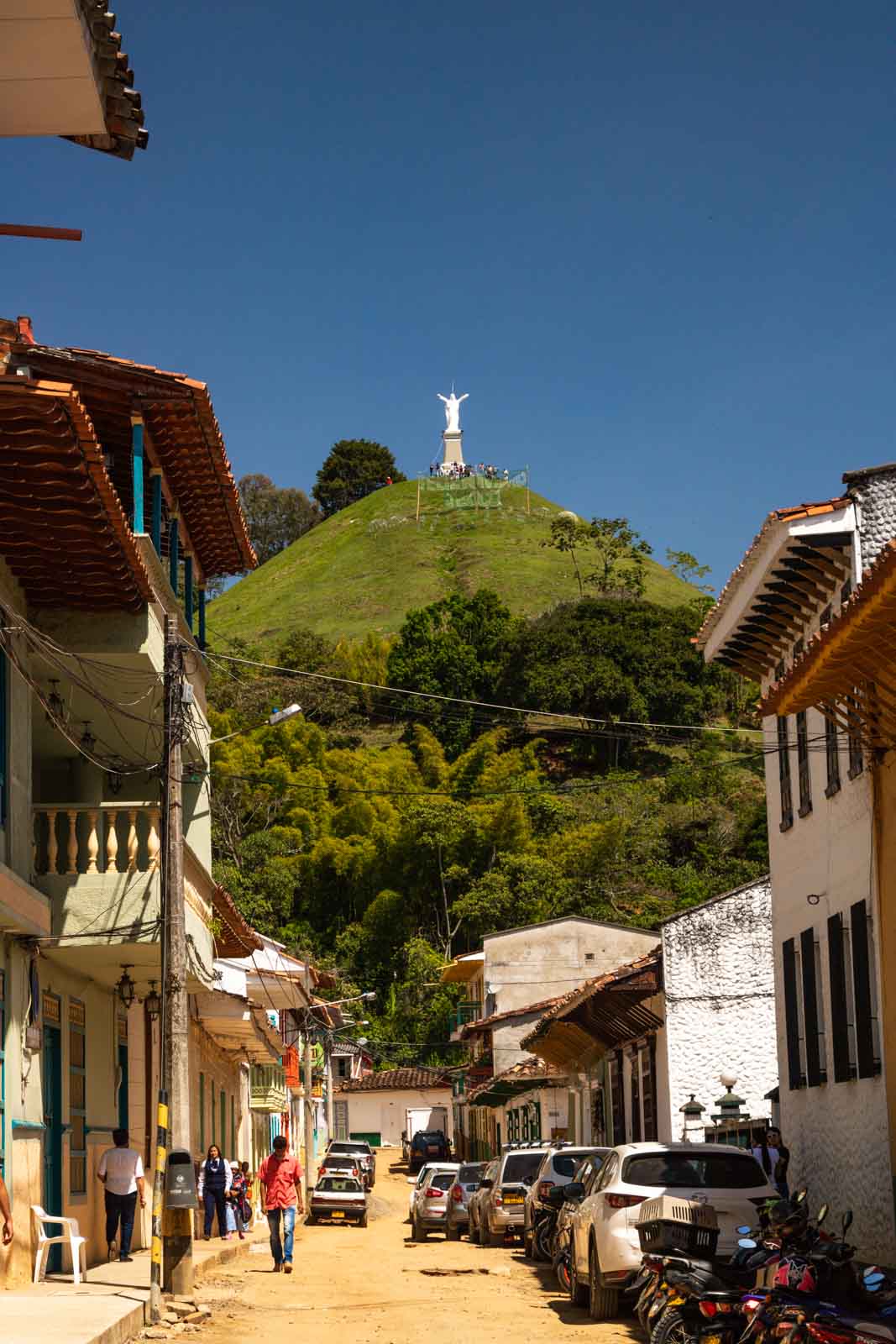 You'll get some cool views of the village from here and see the no-longer-working cable car that leads up to one of the vistas at the Las Nubes hike.
Paraglide Jerico
This is a crazy cool thing to do in Jerico, Colombia and I can't lie, I'm a bit pissed at myself for not doing it. You'll see below I was here with a paraglider to take a look at a few people to jump off the hill and into the Andes, but I didn't take the plunge myself.
I was a bit off from a bumpy and dizzying ride from Medellin, so I passed on the opportunity, but if I could visit Jerico, Colombia again, I'd do it in a heartbeat.
Recommended place to paraglide from a local paraglider: Nube Xtrema Jerico
RELATED: How to Find The Best Travel Insurance For Your Trip
Strolling The Streets
Simply strolling the streets in Jerico will be magical. The entire town is color-splashed with vibrant paint adorning the window trim and doorways, it's incredibly charming. Of course, there's the main square as well, quaint and close-knit, you'll see Caballeros sipping their coffees (or cervezas) while their horses patiently wait for them to hop back on.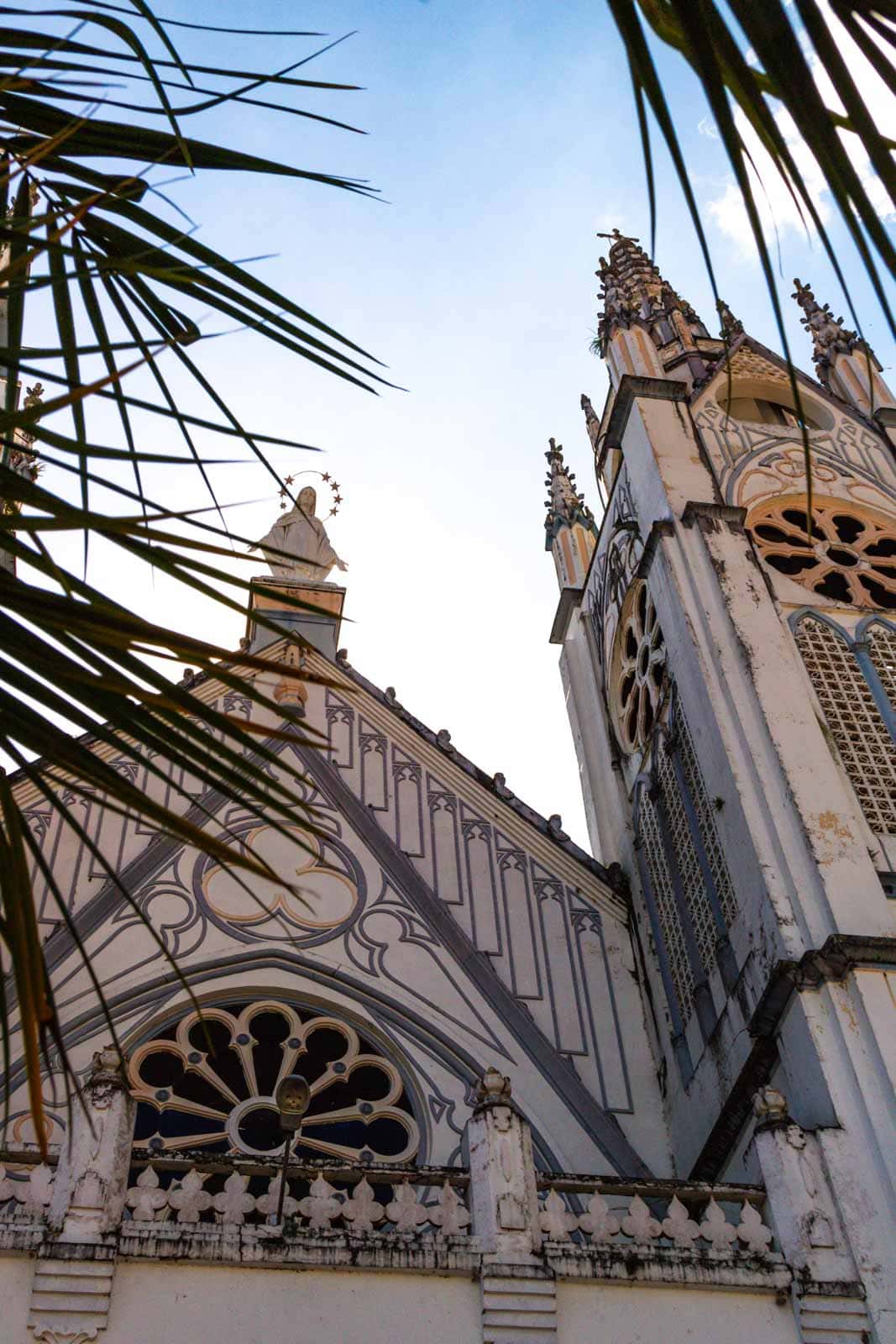 The churches are abundant for such a small town; there are around 15! The Santuario Santa Laura and Catedral Nuestra Señora de Las Mercedes are two of the most notable and the two that you'll notice on your Las Nubes hike.
Coffee Tour
When in the coffee region, one drinks coffee, no? Of course! And drink coffee I did.
If you're curious about how the coffee is made, produced, and all that jazz, this is the place to learn, that's for sure! Jerico has some great opportunities to learn more about coffee, so depending on your route, try a coffee tour while you're here.
I wanted to do one tour a bit more south of Jerico, Colombia, so I skipped a trip here, although I wanted to go on one! This coffee tour is highly recommended and offers a bit more than just coffee (hint: waterfalls!)
Check Price: Coffee Tour in Jerico
RELATED: 7 Cool Medellin Tours and Day Trips That Are Actually Worth It (Colombia)
Bomarzo
I so wish this place was happening when I was here, I know I'd dig it! Bomarzo is a hip and happening place offering food, drinks, and art all in one beautifully decorated courtyard.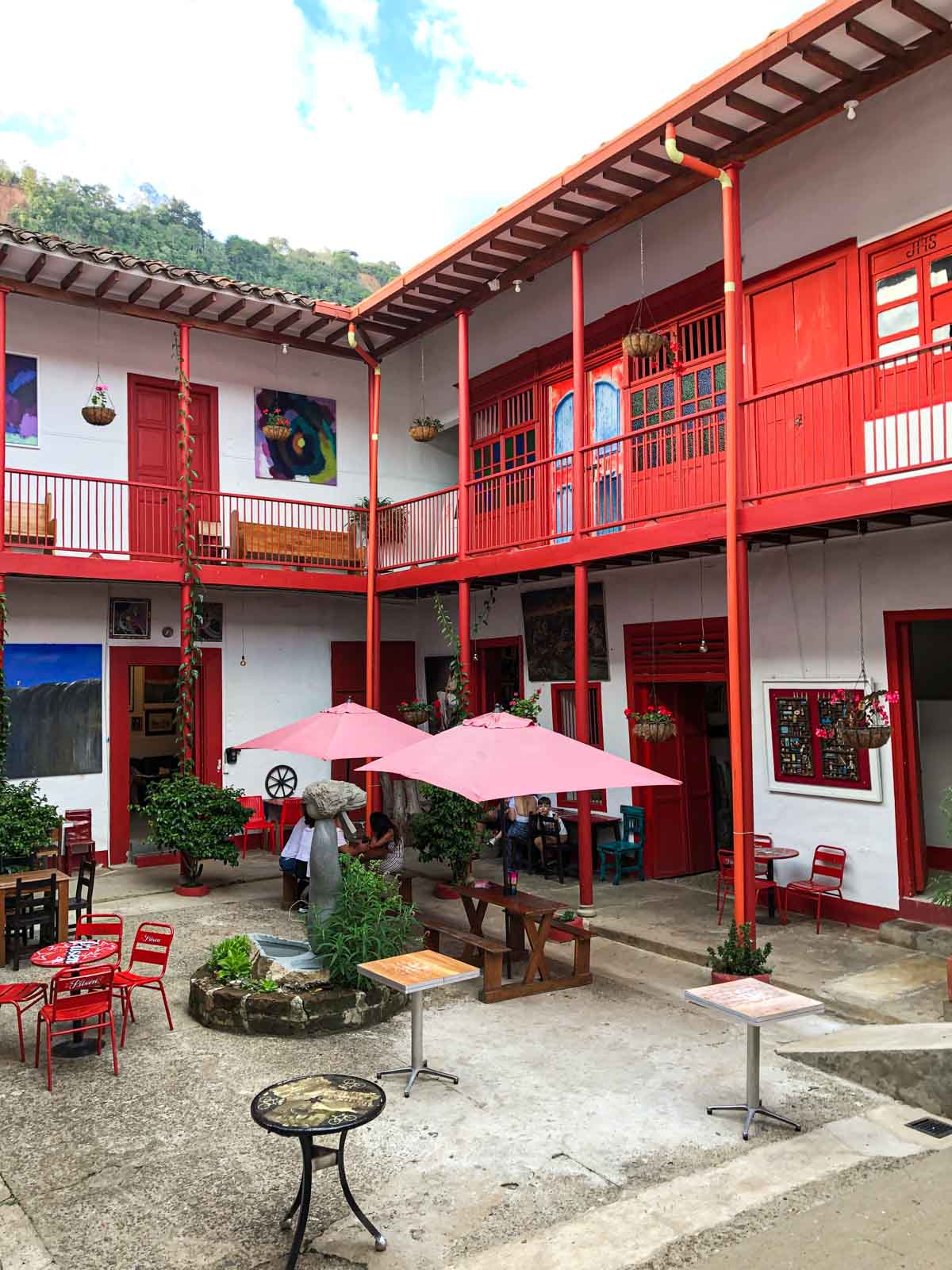 We happen to get here just after a big holiday and missed out (also, we're grandma and grandpa and go in for the night pretty early, womp womp), but if you're here at the right time, you'll get to enjoy live music, browse local art, and grab a bite and beer. Check when their next event is here.
Where to Eat in Jerico, Colombia
Here are a few places we enjoyed eating. Keep in mind I'm a vegetarian which prevented me from eating at some more authentic places so… 🙂
Tomatitos
Nothing crazy special, but we were desperate for some pizza, and this place served us up a decent pie. The waitress was very patient with my elementary Spanish as well, gracias!
We also tried their wok, but it wasn't that great, so maybe stick with the pizza.
Cafe Don Rafa
Cappuccino with a chocolate and nut crusted rim. Do you need me to say anything else?
We just had lunch, so I didn't get to try any of their lovely looking food items, but my cappuccino was amazing, and Garrett's cold brew was liquid crack…mmm. So good!
La Gruta
The menu del dia here is pretty good and at a fair price. All the locals and Colombian tourists flock here to eat, so you know it's excellent! Their lulo shakes were super bomb, and they accommodated my menu del dia with an egg instead of meat. Definitely a good stop for Colombian food.
Isabel Parrilla Cafe
It came highly recommended from a few local, but to be honest, vegetarian options were slim here. They had precisely two items that were vegetarian, and while I didn't feel like ravioli on this day, they were damn good ravioli! Garrett said the burger was good too.
Where to Stay in Jerico, Colombia
Villa Palosanto
This was our little paradise. Set in the hills just about two kilometers from town, Villa Palosanto was our refuge from the concrete jungle we just spent over a month in.
The views were incredible, there was a cute kitty, the breakfasts were on point, and it was comfortable and clean.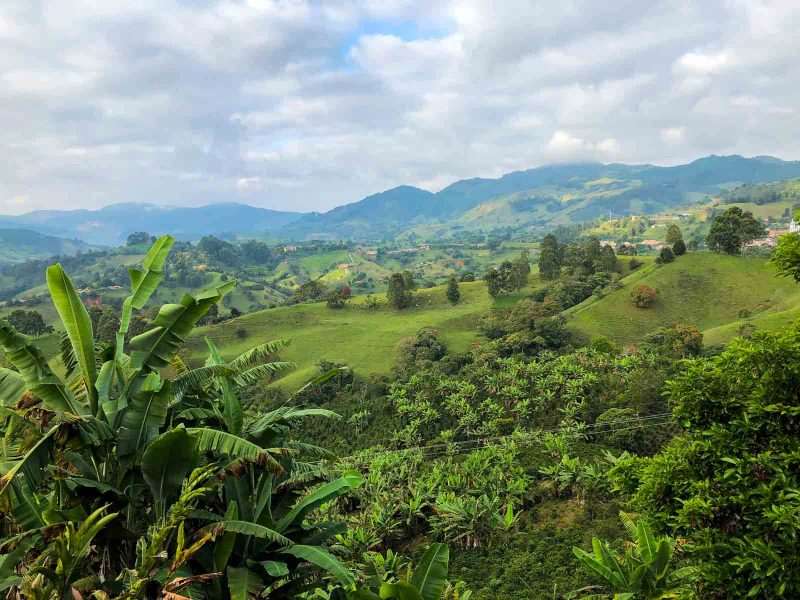 Riverside Ecoliving Space
If you're happy to stay a little way out of town you can enjoy rural bliss at this coliving space, combined with all the mod cons you need for working remotely.
El Despertar Hotel
For something a bit more comfortable without breaking the bank, El Despertar Hotel is an excellent choice with its perfect location just on the outskirts of town.
How to Get to and Leave Jerico, Colombia
The transportation office isn't really obvious or marked on Google Maps so I marked it on the map above for you.
Just across from that point you'll see Chivas waiting to transport people off to the next spot.
From Jardin:
You'll take a Chiva to the Andes, switch rides, and continue with a Chiva or bus to Jerico.
From Medellin:
So from Medellin, you'll go to the southern bus station (Terminal Sur) and look out for the buses to Jerico. It will take around three hours; it's bumpy and windy AF.
Another Option from Medellin to Jerico:
Here's the option we did, and if I may, I'm going to give myself a bit of a pat on the back for this genius idea. I actually booked an Airbnb Experience to Jerico from Medellin, took the tour, and then just never returned to Medellin. Essentially I got a tour and a private transfer in one.
Genius, no? I thought so!
So if you're like us, don't mind paying a few extra bucks to get additional value, want a private car, and a cool local to show you around, I highly recommend booking an Airbnb Experience with Daniel. He's a college student, paraglider, and all-around cool dude who lives in Medellin but has been frequenting Jerico, Colombia, for a long time.
It's where he often paraglides as well so he will take you to the area to show you what it's like, see if you want to do it, take you around town, grab you lunch, and hang out all day with you talking about all things Jerico, Colombia, or life.
You can book here, and don't forget to check out my Airbnb tips post first because I'll give you a discount code that will either save you some money on your next stay or even this Airbnb Experience. (Woo!)
PS- Tell Daniel that Nina and Garrett say hi!
Leaving Jerico, Colombia
You can go into the office I marked on the map and buy a ticket for a bus to some of the bigger cities like Medellin but to get to Jardin, if that's next for you like it was for us, you'll just need to wait across the street where the Chivas are parked and hop on one. There are no reservations. You'll need to switch Chivas in Andes.
Make sure to go into the office and ask for the times, they will help with that but they may not be able to sell you a ticket depending on where you're going.
Jardin isn't all that far and if you don't want to deal with waiting and switching Chivas, and have a bit of a bigger budget, you can get a taxi from Jerico to Jardin for $50.
After doing the math and realizing we'd need a taxi to the bus station in Jerico, a bus to Andes, a bus to Jardin, and then a taxi to the hotel in Jardin we noticed we'd be only saving about $8-10 each. I think the $8-10 each extra for the taxi was a smart move, at least for us.
Our taxi driver was very nice, not a psycho on the road, and did everything properly (as in, he had to register this drive with the tourism office for everyone's safety, it was very official!) Our driver was Tato and his What's App is +57-311-7746363. He said it was fine for me to give his number out for anyone else wanting to taxi from Jerico to Jardin. He only speaks Spanish.
*NOTE: The drive from Jerico to Jardin is pretty windy, I took Dramamine and was fine. If you get car sick like me, TAKE SOMETHING! Especially if you're doing public transport.
I hope my guide to Jerico, Colombia, helped you plan your visit! Let me know in the comments if I just convinced you to add this spot to your itinerary!
---
---
Don't lose this! Click to pin it now.