This guide to things to do in Colombia is authored by Adam.
Colombia has long been on the travel map for the cool vibes of Medellín, the culture of Bogotá, the colonial charm of Cartagena, and the gorgeous small towns in the coffee-growing region.
However, an increased security situation in rural Colombia has opened up many previously lightly traveled areas over the last decade. Many of these areas also happen to be some of the most adventurous things to do in Colombia!
Here, you'll learn about some of the most exciting and lesser-known adventures you can have in Colombia.
Adventurous Things to Do in Colombia
---
1. See the Multicolored River of Caño Cristales (The Most Unique Thing to Do in Colombia!)
The first of our adventurous places in Colombia is something you cannot see anywhere else in any other country in the world.
In the river of Caño Cristales, a unique aquatic plant grows that blooms hues of red, pink, and green. Add some yellow from the minerals in the rocks, and you have an extraordinary sight!
In addition to the pretty rainbow effect, you can hike to several waterfalls along the river, and this is also a great place to spot wildlife. Caño Cristales is quite remote, near the small town of La Macarena.
Visiting is best arranged with a tour agency since entry into the park is limited and must be done with locally authorized guides. The flower that gives the river its colors only blooms from June to November, so plan a visit during those months.
It is one of the most unique places you can visit globally and easily one of the most adventurous things to do in Colombia!
→ Book this three day trek to Cano Cristales.
2. See Another Multicolored River + So Much More in Guaviare
Next up is one of the country's best-kept secrets for nature and adventure travel. San José del Guaviare is located directly south of Bogotá on the northern edges of the Amazon Rainforest.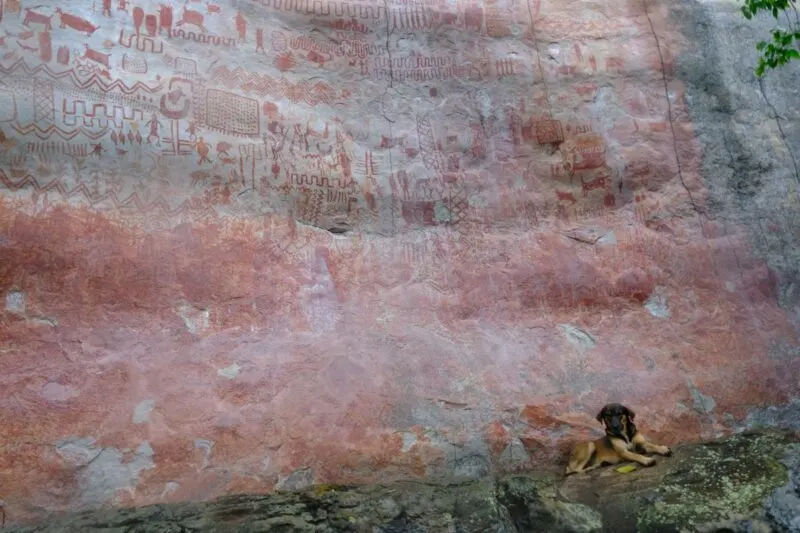 There is another, smaller multicolored river like Caño Cristales here that can also be seen during the June to November season; however, there is so much more.
Some of the best hiking in all of Colombia is here! You can hike through rock formations that create natural tunnels, swim in natural pools carved into the rocks, and swim with pink river dolphins.
You can also see ancient rock paintings that anthropologists believe were created by the region's indigenous peoples over 12,000 years ago. Keep your eyes peeled on all the hikes because you are almost guaranteed to spot some monkeys and tons of bird species in the jungles here.
RELATED: 2-Week Colombia Itinerary: Exploring the Andean Coffee Region
3. Go on a Safari in Los Llanos
If Guaviare is Colombia's best-kept secret, Los Llanos is its second-best kept one. This is the absolute best place to see wildlife in Colombia.
The vast plains that stretch between the Andes Mountains and the Amazon Rainforest in Casanare are teeming with animals. Going on a safari here is one of the best things to do in Colombia!
You're likely to spot capybaras, deer, caimans, field owls, turtles, herons, and many more species of birds. You may also spot anacondas, monkeys, crocodiles, and giant anteaters with a bit of luck. Although extremely rare, visitors also occasionally catch glimpses of jaguars and pumas (I'll cross my fingers for you!).
You can organize a day trip safari from the city of Yopal, but the best and most adventurous way to see Los Llanos is by staying at one of the cattle ranches, or hatos, that double as nature preserves.
In addition to all the incredible wildlife, you can learn a bit about the traditional methods of cattle ranching still employed here, and you can even choose to do your safari on horseback.
When planning a trip to Casanare, keep in mind the seasons. During the rainy months from March-June and September-November, the plains flood. During this time, the area is much greener; you can go on canoe rides and see many more birds.
In the dryer months of July and August but especially December-February, some rarer animals are easier to spot as there is less water available for them and their ranges decrease. Regardless of when you go, it is one of the most adventurous things to do in Colombia!
4. Climb the Prehistoric Hills of Mavecure
Located beyond Los Llanos at the edge of Colombia's far eastern border is Guanía. The lush jungles here, part of the basin of the Orinoco, remain sparsely populated and are home to one of the more unique natural landscapes in the country.
Upriver from the small town of Inírida, you'll find the Cerros de Mavecure. Part of the Guiana Shield, these rock formations are believed to date to the Precambrian. Here, you can stay in the indigenous communities in the shadows of the hills.
You can even climb the shortest one to take in the fantastic view across the river of the other two larger hills. You can also swim at nearby beaches in the river and go pink dolphin spotting.
→ Book this four-day trip to Mavecure.
5. Go Whale Watching in Colombia's Pacific
Another of the best things to do in Colombia is to see the humpback whales that migrate to the Pacific coast each year. The whales come here from the Antarctic to enjoy the warmer waters for the mating season.
The following year, they return to give birth. With a bit of luck, there's even a good chance you can spot a newborn calf with her mother!
The whales migrate to this area every year from late June to early November, but August and September are the best months to see them. There are a couple of good places where you can go whale watching. Bahía Solano is the easiest to reach and has the most tourist infrastructure.
However, Nuquí is a bit more remote but has incredible beaches nearby. While not exactly the white sand Caribbean beaches you'll find in the better-known Rosario Islands near Cartagena, the beaches of Colombia's Pacific coast are almost entirely unspoiled and undeveloped.
While it is possible to travel to either of these areas via the port city of Buenaventura, safety concerns there make flying the best option. The small airline of Satena and charter flights fly to both places.
Seeing the whales is one of the neatest natural wonders in the world and, without a doubt, one of the coolest things to do in Colombia.
6. Stand at South America's Most Northern Point (One of The Coolest Things to Do in Colombia!)
If you're looking for something different from the jungles and wildlife featured so far, how about a sprawling desert? The desert of the La Guajira Peninsula might be the most unique landscape in all of Colombia.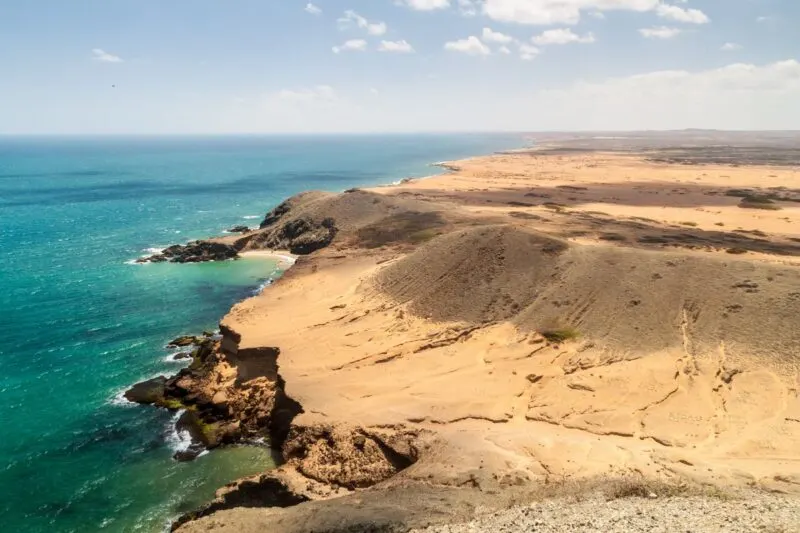 Here, you'll find the sprawling Taroa dunes running into the sea. You can even set foot at the most northern point in South America at Punta Gallinas. It feels like being at the end of the world (or maybe the top?).
The landscape views around the area are truly amazing, and sleeping in a hammock in the desert will bring out your adventurous spirit.
One of the nice things about this adventure destination in Colombia is it can be reached overland. Other lovely places to see, like the windswept beaches of Tayrona, the mountains and waterfalls of Minca, and the hip beach town Palomino are all on the way from the international hub of Cartagena.
7. Go Paragliding
If you want something adventurous to do in Colombia that isn't in a remote, far-flung landscape far away from the nearest city, getting a bit of adrenaline with paragliding might be for you.
The mountains and valleys of the Andes in Colombia mean there are several good places where strong upward drafts are perfect for paragliding.
The Chicamocha Canyon is the best place near the town of San Gil, where you can also organize several other extreme sports such as white water rafting.
It's also near the beautiful colonial town of Barichara. It is also possible to organize paragliding tours out of Medellín, a remarkable urban destination in its own right.
→ Book this paragliding experience in Chicamocha.
8. Go Hiking in The Paramo
Paramos are unique landscapes and habitats that only exist in the Andes mountains. There is no good English translation for the word paramo, as these areas are green but barren. Located high up in the mountains, they don't have a ton of wildlife but are gorgeous.
Dominating the landscape are the neat plants known as frailejones, which translates to "giant friar" in English. These plants are actually what makes the ecosystem so important because they capture passing water vapor and release it into the soil through their roots.
Besides seeing the plants, hiking through a paramo will give you gorgeous views of the Andes. Altitudes here are high, and temperatures do drop, so come prepared. The easiest paramo to visit is La Chingaza National Park, not too far away from Bogotá.
However, for an extraordinary hike, consider heading to Paramo Ocetá outside the small town of Monguí in Boyacá, not too far from the pretty colonial town of Villa de Leyva.
→ Book a full day hike to Paramo de Oceta.
9. See the Tatacoa Desert (One of The Most Bizarre Things to Do in Colombia!)
While not nearly as impressive or as extensive as the desert of La Guajira, the Tatacoa Desert is also a unique landscape in Colombia. While called a desert, it is a dried-up tropical forest that has slowly turned into a desert over the last million years.
Mineral deposits in the soil give the Tatacoa Desert two distinct colors. In the gray part of the desert, you'll find wavy formations in the shallow canyons that some say look like ghosts.
Meanwhile, in the red part of the desert, you might feel like you've been transported to Mars as you wander through a labyrinth of eerie pathways with wavy clay and rust-colored walls. The formations here are not rock but tightly packed sand formed over millions of years of erosion by wind and rain.
You will find the Tatacoa Desert outside the small town of Villavieja near the city of Neiva southwest of Bogotá. It is conveniently located in the middle of Bogotá and the famous archaeological and nature destination San Agustín.
Taking in the unique landscapes is another one of the more interesting things to do in Colombia.
→ Book a private tour to Tatacoa.
10. Take a Cruise Up the Amazon River
Up last is a visit to Leticia and the Amazon River. It is probably the most well-known adventure destination in the country, so there's a chance you have heard of it before.
Here's the thing about Leticia, though, the town itself is not that pretty. It's neat that you can cross into neighboring Brazil by foot and cross the river to Peru without even passing a border checkpoint. However, getting out of Leticia is the way to truly experience some adventure.
You can do a standard day tour that will take you up the river to Puerto Nariño, which is pretty and makes several other stops, including at a small island where there is a colony of monkeys.
However, the truly adventurous will want to organize a proper expedition into the jungle. You can organize multi-day treks that will take you to stay with indigenous peoples in the jungle, often across the border in Peru or Brazil out of Leticia, reasonably easily.
Doing some of the other destinations, such as Guaviare, is better if you prefer to base in a town. However, if you would like to explore the Amazon River itself and are willing to stay in an indigenous community in the jungle, doing so definitely belongs among the most immersive things to do in Colombia!
→ Book a four-day Amazon River experience.
---
Most Incredible Things To Do in Colombia
Hi, Nina here, owner of the blog you're reading 🙂
I'm obsessed with Adam's list of incredible things to do in Colombia because he featured everything I didn't get to see during my visit! (There's just so much!)
So I'm going to pop in and offer you some of my favorite spots from around the country so your list of things to do in Colombia is even longer (sorry, not sorry?)
These spots are a bit more "on the path" than Adam's places above—so now you get to choose your favorites and mix them all together for an epic Colombia itinerary.
11. Medellin
Medellin is a popular buzzing city in the middle of Colombia that's loved by many. What was once a dangerous and deadly city is now an innovative and bustling metropolis drawing in over half a million tourists + a year!
Medellin is steeped in history, surrounded by lush rolling green mountains, and is a playground for visitors to explore and for digital nomads to roam.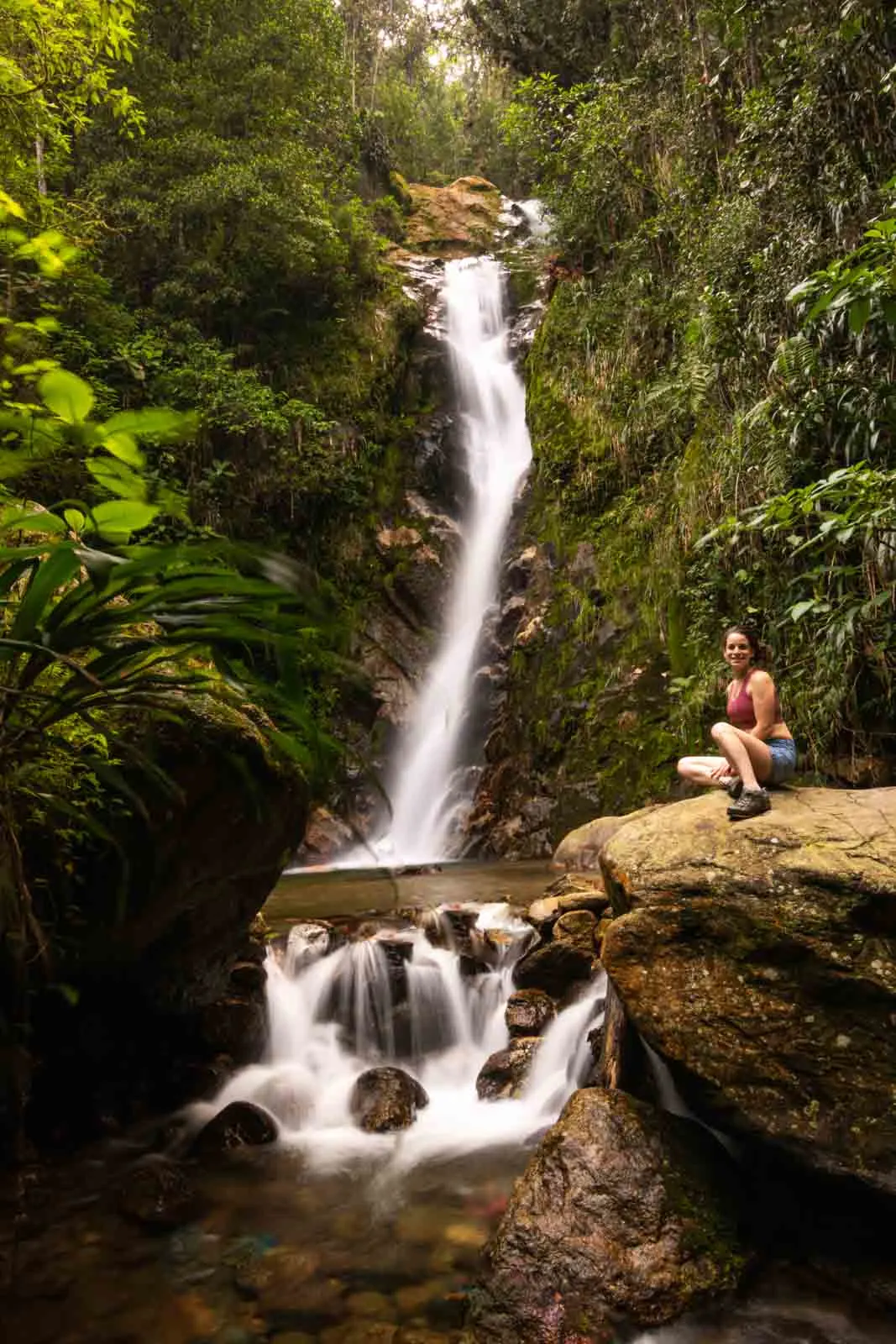 Some of the must-visit spots may surprise you! One of my favorite things to do in Colombia was actually hiking Arenales Waterfall. Yes, that's a waterfall just outside a major city! It's a beautiful swimming hole and the hike strolls along the hills over Medellin.
Another must-do is to visit the once mega dangerous, Comuna 13. Grab a guide so you can dive deep into the history of the area.
RELATED: 7 Cool Medellin Tours and Day Trips That Are Actually Worth It (Colombia)
12. Salento
Visiting Salento was probably the highlight of my trip to Colombia. It's a popular spot on the tourist trail but I still felt very much in Colombia during my stay here. I love that the authentic feel of the place seemingly hasn't changed!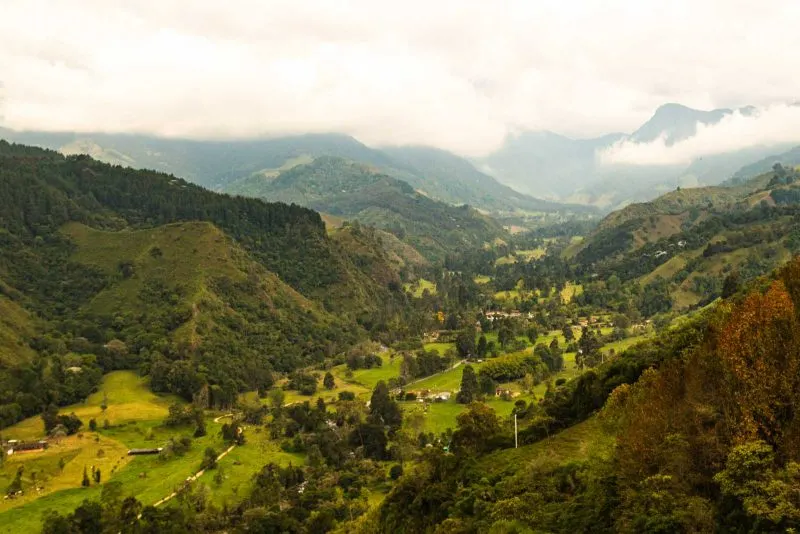 There are epic hikes to do from here that include visiting the Paramo (wait for it…), hiking in the epic Cocora Valley, stuffing your face with chocolate, and learning about the famous Colombian coffee you've probably sipped on many times.
PS – A day trip to the nearby Filandia is definitely worth it.
READ MORE: 5 Things to Do in Salento, Colombia That Aren't Cocora Valley
13. Los Nevados National Park (One of The Coolest Things to Do in Colombia!)
If trekking is your thing, I have the hike for you! I love hiking and have hiked A LOT over the years, but I've never hiked anything as cool or bizarre as Colombia's Paramillo del Quindio.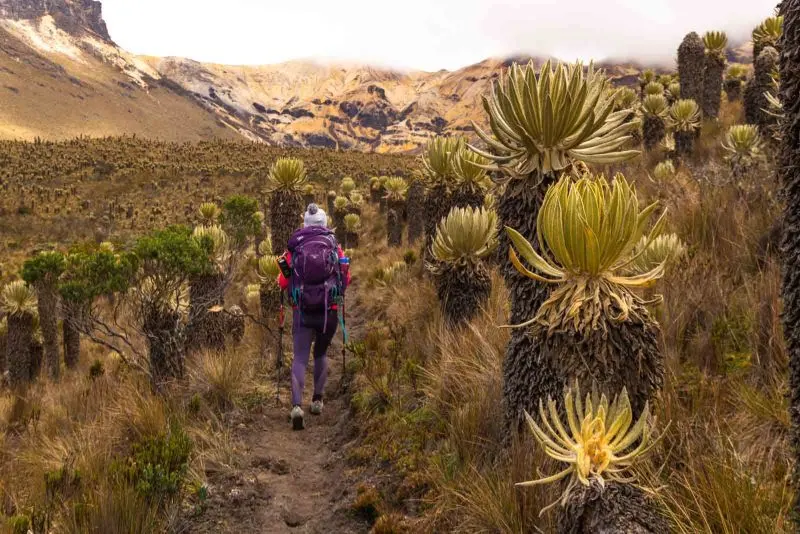 Like Adam mentioned above, you'll get up close and personal with frailejones which are crazy-looking plants that keep Colombia hydrated along with views for days—literally. Because this hike takes three days to complete.
Trekking Paramillo del Quindio was one of my favorite things to do in Colombia!
READ MORE: Trekking in Los Nevados National Park: 3-Day Paramillo del Quindio Summit (Colombia)
14. Jardin
Is this the cutest and prettiest little town in Colombia!? You'll have to visit and see for yourself. It's such a colorful and lovely place to chill, chase waterfalls, or hike to a bat cave?!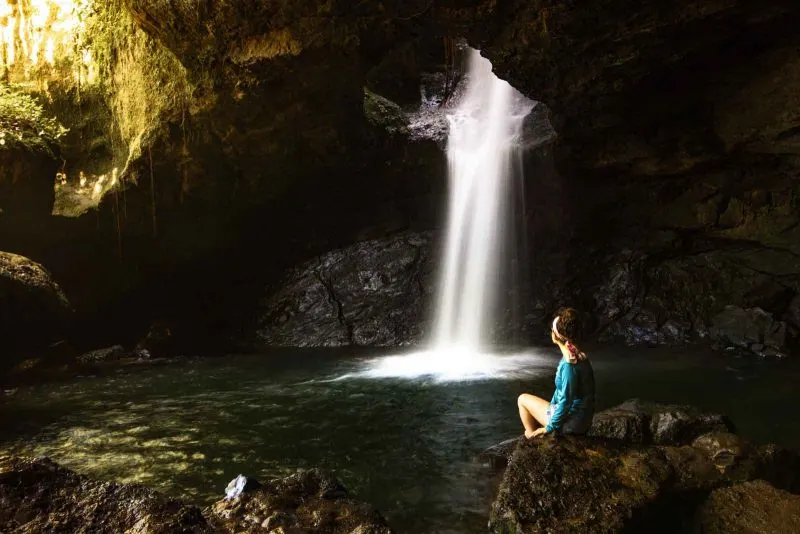 Yep, all of those things to do are in Jardin, and more.
This cute mountain town is perfect for the adventurous or hanging out in hammocks. I did both during my few days here. I wish I stayed longer.
READ MORE:
A Guide to Jardin, Colombia—The Prettiest Pueblo You Ever Did See
How to Hike to Jardin's La Cueva del Esplendor & Is It Worth It? (Colombia)
15. Jerico
OK, I lied, maybe it's Jerico that's Colombia's cutest town!? I guess we can tie them, because I really can't choose, there are both adorable and actually have similar vibes.
Both are surrounded by hills, are tranquil AF, and are colorful and endearing.
In Jerico, you can be a daredevil and paraglide into a valley, visit cute markets and eateries, hike up in the hills for epic views over the pueblo, and visit captivating gardens.
READ MORE: A Guide to Jerico, Colombia—Don't Miss This Charming Pueblo
That's it for me, I'm going to hand this article back to Adam to finish up! 🙂
---
You've learned about jungles, deserts, mountains, and plains in this post. These are not only among the most unique and lesser-known destinations in this diverse country, but they are, without a doubt, the most adventurous things to do in Colombia.
While Colombia's major cities, colonial towns, and better-known destinations are well worth visiting, visit these areas for a memorable and unique experience!
---
---
>>> BIO
Adam McConnaughhay lived in Cartagena for over a decade and has had the opportunity to travel much of Colombia, including every place mentioned here. He writes about Cartagena and other destinations in Colombia at CartagenaExplorer.com.