The memory of the time I voluntarily hiked into a dangerous crater full of sulfur smoke that smelled of rotten eggs x10 to see some blue fire and a toxic green acid lake will be etched in my brain forever.
Hiking Kawah Ijen was F-in nuts!
If you're into crazy adventures, weird things to witness and overall dangerous mystery—Hiking Kawah Ijen is your thing!
We decided to DIY a Kawah Ijen tour but I know some people would rather just take an organized tour to Ijen. So if you'd like a tour, I have the best ones listed below.
For the rest, here's how you can make your own Ijen tour because hiring someone is 100% unnecessary.
Hiking Kawah Ijen: Everything You Should Know About A DIY Ijen Tour
If you're looking to hike Kawah Ijen just as you would if you hired an Ijen tour guide, there are some very important tips you need to be aware of. This mysterious crater has tons to offer to any traveler, but without the right prep from first-hand experience, you could be asking for trouble.
You might be wondering why we chose to create our own Kawah Ijen tour because we didn't even plan on hiking Kawah Ijen ourselves. It all came down to the cost. From the price of the taxi to the bus fares, hotel, and of course a guide, it was anything but convenient.
So we narrowed down the costs by just taking a taxi and hiking Kawah Ijen ourselves, a Kawah Ijen tour isn't necessary.
With this in mind, our DIY Ijen tour will never be forgotten, to say the least. We started at 1 am and below I've included all of the information you'll need so you can accomplish this feat as well, in your own journey to Kawah Ijen.
Yes, you read that right, 1 O' CLOCK IN THE MORNING!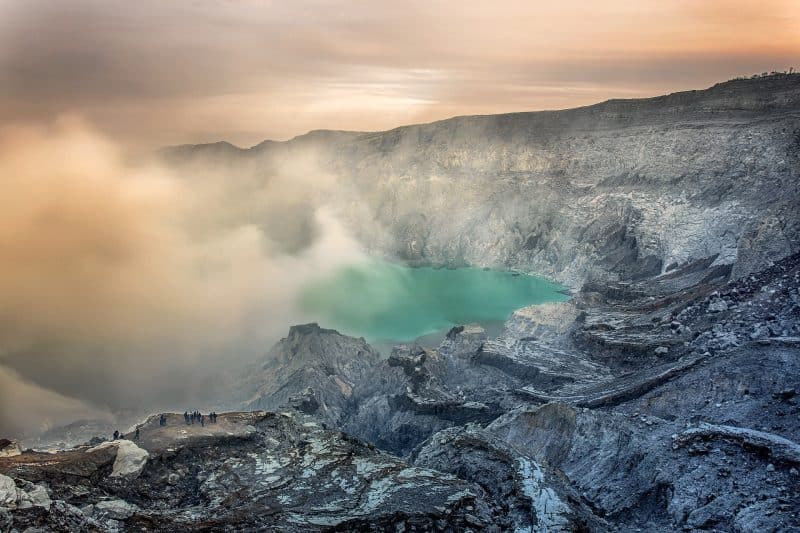 DIY Kawah Ijen Tour
You start off on the obvious path near the entrance hut around 1 am (:sigh: it was rough!). The great thing about not taking an Ijen tour is the fact you can start whenever you'd like BUT you have to start early to get the full experience. I'll explain why below.
The first part is about a 1.5km hike up a pretty steep hill.
It's dark, but the moon provided enough light for us. When you reach the little snack shop, look for the small stairs to the left of the building. Walk up there, you're close.
After another ten or so minutes you will have reached the rim of the crater.
This is where you might need your mask/scarf. A huge waft of spoiled egg aroma will take over, this is the sulfur. It's an overwhelming smell. Use a damp scarf to minimize the effect of the smell. It helps immensely. When the scarf dries out, immediately add more water.
Going Down Into A Dark Smoke Filled Hole
Now, this part of the path isn't so obvious, but you need to find the path down the rocks and into the crater. There's a sign that you can try looking for with your light. The sign says for visitors to stay out…go down there anyway.
The rocks are loose, it's dark, and a bit dangerous.
Be careful. It's about 30 minutes down this crater and then you will start to see the workers working around these smokestacks. That's where the blue flames will be. It must be dark in order for you to see this, hence the ridiculous hour you started this trip. But just like on any Ijen tour, guide or not, you this is what you came for, so that early wake up will be totally worth it.
Because you chose to forgo a typical Kawah Ijen tour, you can take all the time you want to snap pictures, as well as begin the tour as early as possible.
Taking Cover & The Blue Flames
At this time the smoke can become more overwhelming. It's even worse when it's windy, which it was for us.
All of a sudden the wind would turn and blow the smoke everywhere sometimes choking us out and blinding us.
It would be like a war zone and everyone ran for cover behind a rock and tried to bury their head somewhere. You can't see anything, you can't breathe properly, your eyes are tearing, your nose is runny, and all you can do is just wait for the smoke to clear up a bit.
It's shitty, but if you push through you'll get to see something only a handful of people even know about!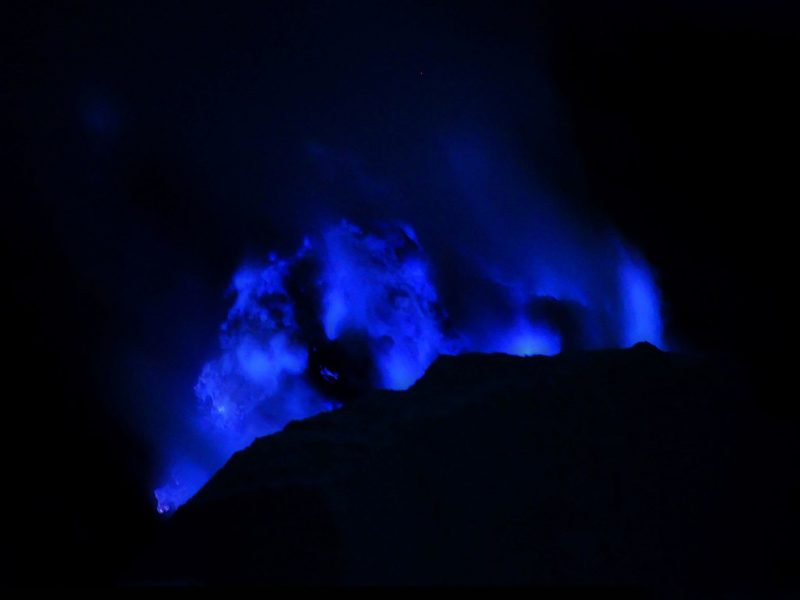 The blue fire is quite impressive, perplexing and interesting. As you watch it, you will see the sulfur miners hard at work making very little money. That trek you just made, they do it at least twice per day with 60-90 kilos on their shoulders! It's crazy. They make maybe $10 a day doing this arduous labor.
The Crater Rim
After you have enough of the blue fire, walk back up the rocks. It's a bit easier to go up than down in this case with the exception of breathing. At this point, I felt I was partly suffocating from the smell and from my scarf covering my nose and mouth. It was pretty uncomfortable. I didn't know what to do, so I just climbed as quickly as I could to the fresh air above.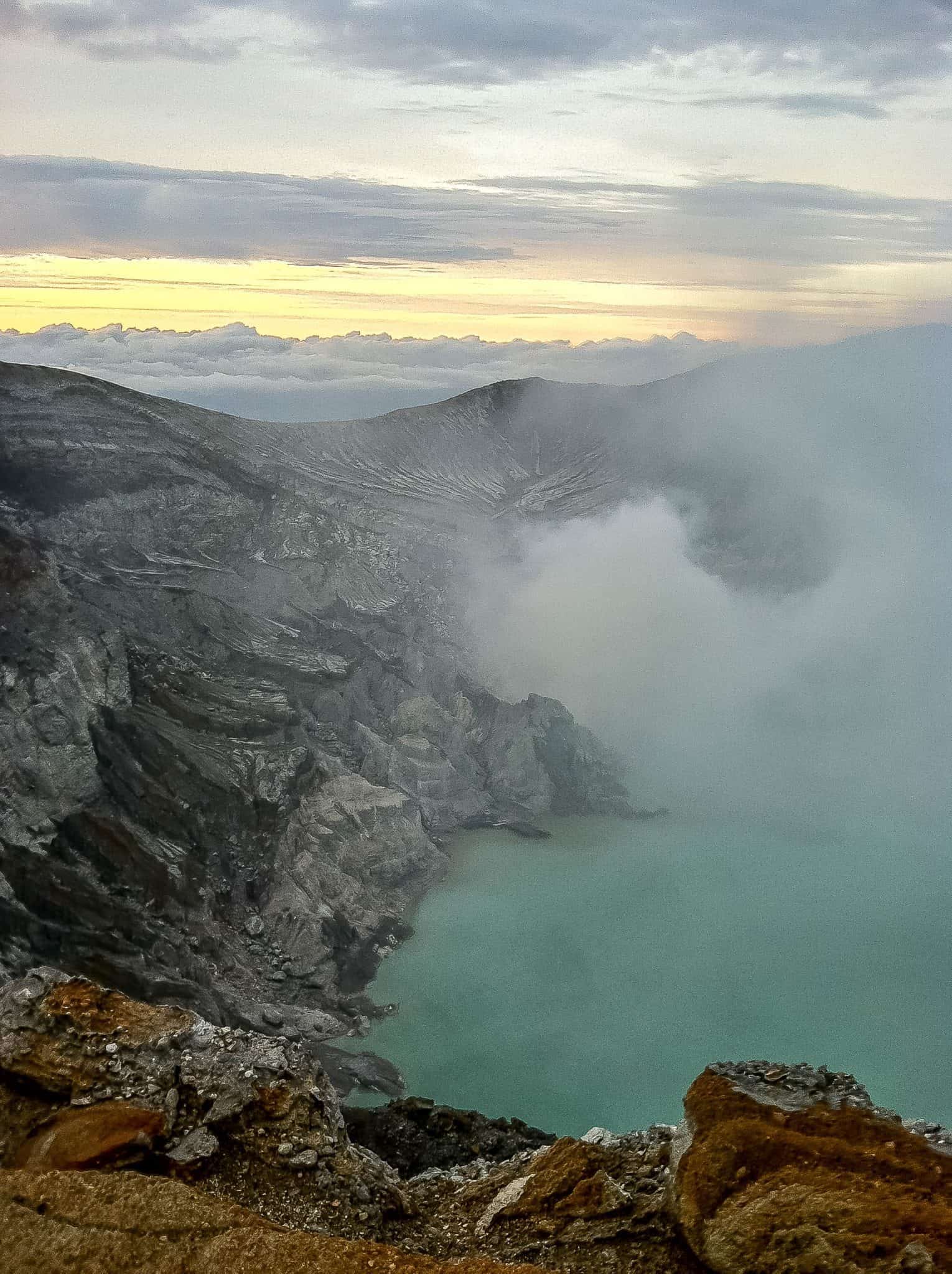 After you reach the crater rim again you will likely be used to the smell, and not that close to where it's coming from. You can take off your scarf so you can breath more clearly. It will start getting light out and you will see the path that brought you there. Keep walking away from that path and further along the edge of the crater rim as if you were continuing your walk from before without going down the rocks.
Walk along the rim and look down to see the sulfur lake below, the beautiful, yet toxic, green lake is really spectacular.
Walk for about 20 minutes for the best views and enjoy the vistas of the lake, crater, surrounding mountains and volcanoes, and the sun rising.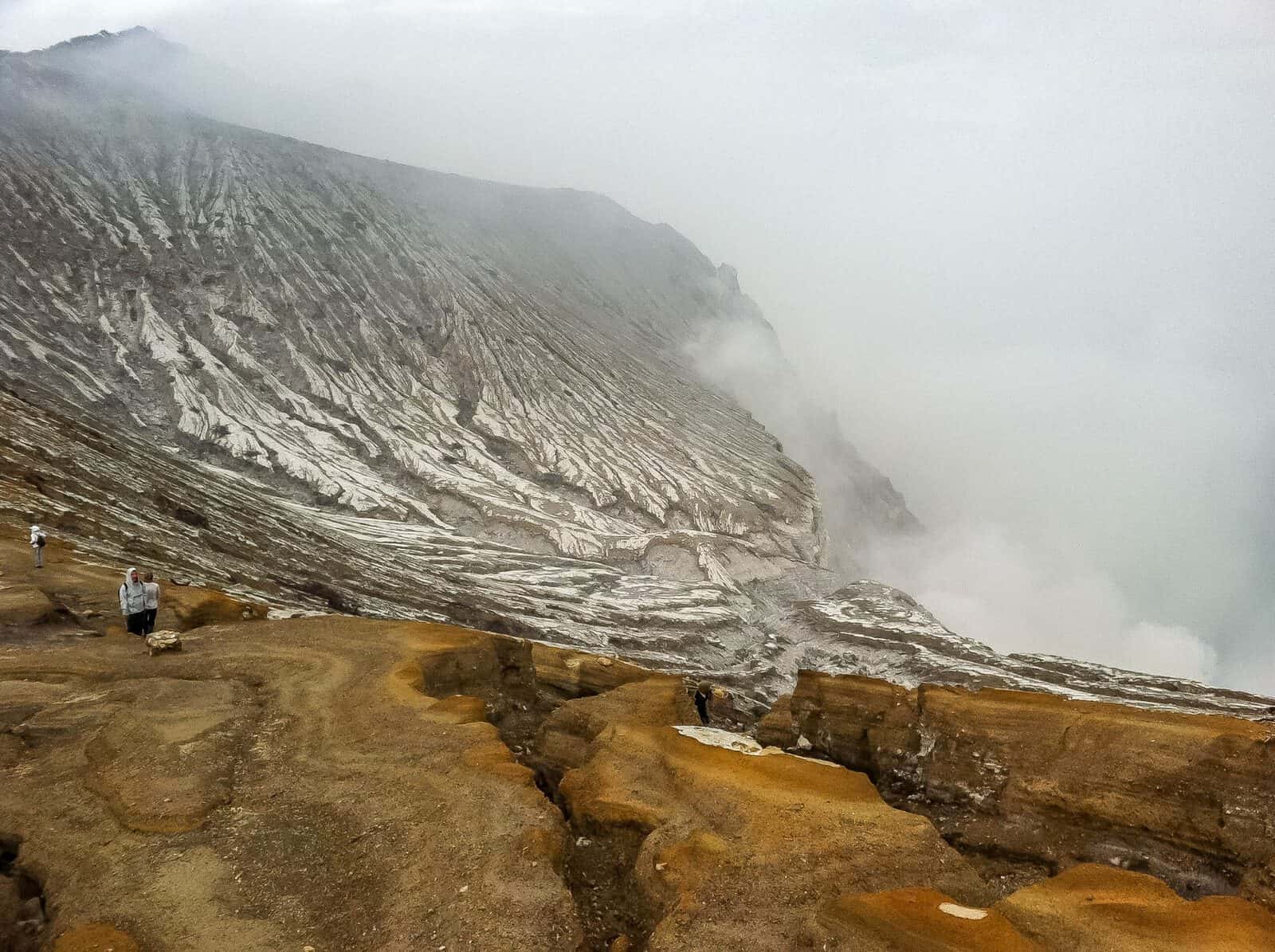 Finishing Up Your DIY Ijen Tour
When you're all done, you go back the way you came. It's all downhill and only takes under an hour to get back to the entrance. You will encounter many sulfur miners along the way on their daily trip to the noxious place you just conquered. You will be offered many sulfur souvenirs by them. They are all very sweet and you will be told "hati hati" (take care/be careful) many times as you walk past them.
Why did I do this? Why would anyone do it? It's all part of the experience. It was dangerous and adventurous, plus the views are worth it. This might be one of my most exciting and incredible things I've done on my travels thus far!
Booking A Kawah Ijen Tour If You Prefer
If you want to do this tour but would rather have a guide with you and someone else to help plan it, these are some options to make life easier!
What To Bring For Hiking Kawah Ijen:
Bring a scarf and a light.
Lights are available for rent at Ijen, but it would probably cost the same to buy your own. Your phone's flashlight app would work, but when you're climbing into a crater at night you might not want to be holding your phone.
Bring water. Not just for hydrating but enough to wet your scarf. I can't emphasize enough how much that helped with the smoke and smell. My throat would burn a bit when it dried out and immediately was relieved when I rewet the scarf.
It was cold when I was there (Dec), so bring warm stuff. Make sure you can take it on and off because when you're hiking uphill it does get warm.
Hiking Kawah Ijen can be dangerous, please be careful and be prepared!
Extra Info On How To Do Your Own Kawah Ijen Tour
TIP: 12go.asia is the best way to book ferries, buses, and trains ahead of time in Indonesia!
Prices are from 2016.
Bus Costs:
We came from Bromo and went to Probolinggo: 45k Rupiah each, 9 people.
Probolinggo to Bondowoso- 30k Rupiah
Taxi And Information For Your DIY Ijen Tour
The nice man who spoken English well and gave us a plethora of information is named Danny.
Danny Adelberg
082140727971 [email protected]
Our driver's information:
Innuendo – 082330729440
Where To Stay In Bondowoso
Ijen View Hotel & Resort
Ijen View Hotel & Resort is a 3-star hotel & smart choice for travellers. This is centrally located and known for its cleanliness and facilities. They too have a good Wi-Fi facility but remember only in public areas.
Hotel Baru
This spot was OK. Again, not many tourists, so it was a bit difficult to communicate with the staff, but we made due. The rooms at Hotel Baru are ok for a night, but be prepared for a bucket shower. There are no actual showers here.
Hotel Palm
This is conveniently located hotel in Bondowoso. Hotel Palm provides the best breakfast and it's actually worth for money. This hotel offers easy access to the city's must-see destinations.
Taxi To Ijen And Back
150k Rupiah each, 4 people, from Bondowoso to Ijen and back.
Pick up is at 10:30 pm the night before. You start hiking at 1 am.
Hike finishes around 8:30 am, and then it takes a couple of hours to get back to town and to where you're going next.
Kawah Ijen Entrance Fee
100k Rupiah
Where will you go after Indonesia?
Laos | Malaysia | Singapore | Philippines | Thailand | Cambodia | Vietnam
SO! What do you think? Would you enjoy hiking Kawah Ijen yourself or is a an Ijen tour more of your thing?
---
---
>>> EVEN MORE ABOUT INDONESIA <<<
How to Get to Pacitan, Java Indonesia: A Hidden Surfer's Beach Paradise
How to See Borobudur and Prambanan in Yogyakarta, Indonesia (Java)
Trekking in Bukit Lawang & Chilling in Lake Toba—Sumatra, Indonesia
Why and How to Visit Ambon and Saparua, Indonesia Before Everyone Else Does
---
---
Click the pictures to PIN it!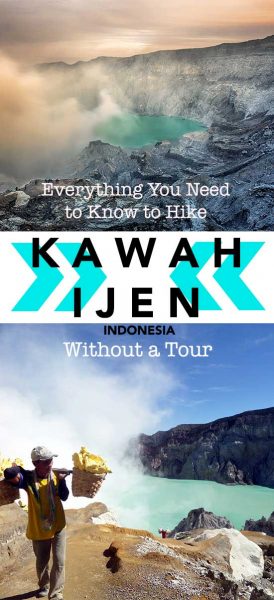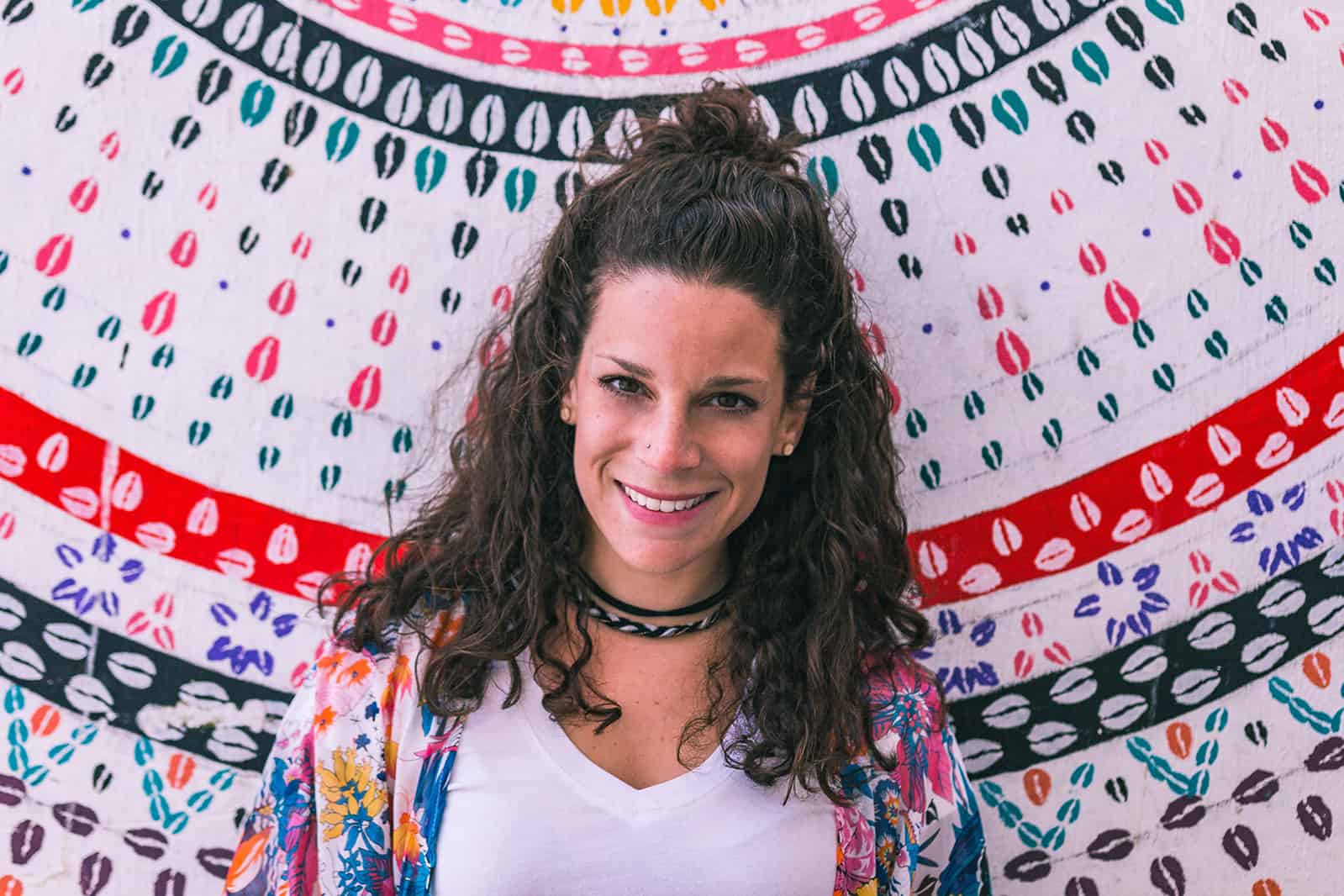 Nina Ragusa is an adventurer, messy bun master, breakfast fan, and full-time travel blogger. She's been abroad since 2011 and blogging on Where in the World is Nina? for nearly as long. Nina helps people like you move around the world while making money. She loves talking about how to work abroad and online to travel longer!