Here's how I got to hike Mount Bromo for free! Seeing Mount Bromo without a tour is the BEST choice if you're not into crowded viewpoints, exorbitant prices, and enjoy walking in nature as opposed to a drive in a Jeep. Do your own DIY Bromo tour for a more authentic experience.
UPDATE: As of 12/2018 people have reported that this DIY Bromo tour guide is still valid and have successfully done the hike at Bromo without a tour!
Mount Bromo, quite possibly the most famous and iconic place on Java. My initial "plan" (because you should know I literally don't plan…it happens to work out most of the time, like this time) was to work my way west towards Jakarta because the concert I was going to was about 6 days away now. It didn't make sense for me to do anything else…except there isn't as much to see between Jogja and Jakarta. And I say that relatively because I'm sure there is some cool more off the path shit, but I didn't have that much time for it. I did find a few beach spots of interest, however, the weather was a bit gloomy. I figured if there are more cool and accessible things to do east, and my cool new friends that I literally just met want to go there too, then east I shall go.
What it's like hiking Mount Bromo without a tour and for free!
Not only did I really wanted to see Mount Bromo, but now Kawah Ijen was in the picture. I had read about it briefly, but your options come more to light when you're right there planning your adventure… This spot was even more east. So that was it- I was going east and then I'll just to fly from the east of Java to Jakarta!
We looked at tours to both of these spots for reference, and they were quite pricey. But the worst part is, sometimes going on tours are really no fun. It's more exciting to figure it out on your own, and when you have a few friends you met on the road also trying to be a bit more budget savvy, it's a no-brainer. Figure it out yourself! So a DIY Bromo tour was the best choice.
To sum up the actual hike and experience, we all loved it. It was a really beautiful morning, which we were worried about because it had rained a lot the previous day. We saw the sunrise but it was to the side of the mountains at this time, yet still provided a spectacular show. The views were really gorgeous and the hike wasn't too difficult, yet still rewarding to do.
Inside the volcano was nice and worth the walk up. This was where there was a lot of people, so it wasn't my favorite spot. I also was upset about the amount of horses around. I don't think the horses anywhere in the country get treated correctly. The walk isn't hard, and you have to walk up the steps yourself anyway. Please don't support it.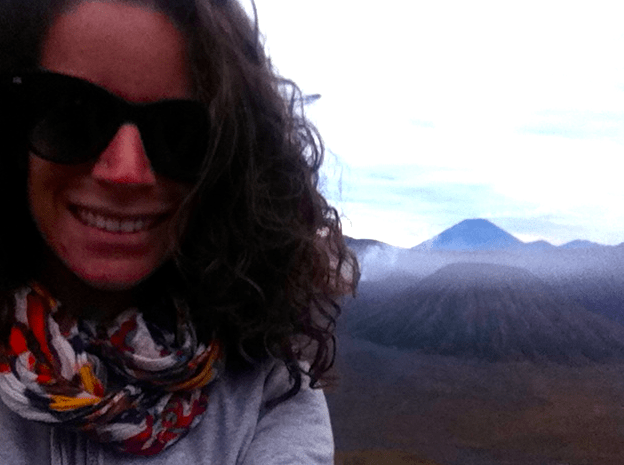 I'll let the pictures do the talking… It's a phenomenal way to spend the early morning hours and it was worth every bit in my opinion. I have a feeling if I did it by tour my opinion would be different.
If you're like me and often don't want to pay for the touristy buses or just simply like figuring your way around yourself, I try to break it down as much as possible. I hope this helps as seeing Mount Bromo for free is probably one of my coolest experiences of my travels so far!
**Obviously the buses there and back are not free. When I say "free" I mean we didn't pay for a tour, a guide, a jeep to drive us around the volcano, or the entrance fees.
Resources for Your Trip:
How to get to…Probolinggo from Surabaya:
We started out in Pacitan, so if you happen to be there, you can expect to pay 55,000 Rupiah to get to Surabaya. We took the night bus which left around 10-11pm. Surabaya to Probolinggo cost us 31,000 Rupiah ( pretty sure that 1,000 got pocketed.)
How to get to…Probolinggo to Bromo:
We got to Probolinggo quite early in the morning and we stood around trying to find the right way to finally make it from Probolinggo to Mount Bromo. We needed the public bus that goes there to take us, but they, unfortunately, wouldn't leave until it was full. Luckily we met a German couple and got to talking. We went to have breakfast at a local restaurant to scheme. We eventually negotiated to 75,000 Rupiah each and we were a group of 6. Not that great of a deal, you're paying for the empty seats. It took around an hour and a half.
Accommodation:
We got to our accommodation at the top of the mountain village that has the entrance to the viewpoints. The closer you stay up, the better. I'm honestly not even sure the name of my place. It was nothing to write home about. We almost stayed at Cafe Lava Hostel. It was 200,000 Rupiah and we then found a place for 150,000 Rupiah down the street. It might have been better to get the proper spot, ours sucked. The water was scalding hot, and it was a bitch to shower. It was cold up there sooo… I guess I was happy that it wasn't freezing? I don't know. It had some hangout spots on each floor, but the room was pretty dingy and gross, but it was for one night only.
Check for accommodation here:


Devising a plan to see Mount Bromo without a tour and for free:
We spent the rest of the day out of our dingy rooms and trying to see how we can do Bromo without doing a stupid jeep tour that was expensive and just going to take you up a mountain to a crowded viewpoint. It didn't seem as rewarding as hiking everything yourself.
So we got some info from the hotels in the area.The Cemara Indah Hotel is a spot we asked questions at, but of course, everyone in town is going to tell you that it's hard, it's far, it's too dangerous without a guide…etc. I wouldn't say to ignore this advice, but after doing some research and speaking to the people who were checking out of our hotel and just did the hike… We knew we were fine. We asked our questions and went to bed early. The hike starts at 3am!
Instructions for Hiking Mount Bromo for free and without a tour:
I'll try to be as detailed as possible. I hope this helps some of you.
Get walking around 3am. (not a typo- yes, 3am)
You start at the Cemara Indah Hotel. The pathway to the right, not the path going down the side of a nature path, that's the way you will come back. Go up the pathway to the right, it's paved. You will pass two small viewpoints with a small wooden fence. Keep going up until you find stairs.
The top of the stairs has a big sign and a proper viewpoint with small gazebo. Enjoy the sunrise from there. After that, continue walking up the dirt and rock pathway that's behind you (behind you if you're gazing at Bromo from the viewpoint). When you look at the steps you just came from, it will be to the left. Be careful especially if it's muddy. There are a few points where you're close to the edge of the cliff. Continue up, more views – gorgeous! There are some more viewpoints higher up, but we didn't go, the views we had were awesome enough. We didn't see a point in going any higher.
When you get to the road, go down to the left. Walk for maybe 20 minutes, we were chatting, I don't know how long we walked for really. You will see some restrooms eventually at the intersection. Here is where you can choose to continue seeing Bromo for free… Or pay a $1.50. From those restrooms we negotiated and agreed on 15,000 Rupiah each for a motorbike ride down the hill. There will likely be random locals hanging around that will ask you if you want a ride. Two passengers and a driver per bike. Well worth the money, I promise you. It was a steep downhill that would have crushed our toes and took a couple of hours. This is the only money we spent, you can choose to walk it, though. (It's $3 for the ride, but $1.50 each as two people were on each bike. Yes, so that's three people total! Asia stylz!)
They took us down into the caldera region, snapped a few pictures, and then they drove us to where the hike up to Bromo is. They dropped us there.
Go up the stairs, this is the most obvious part of the hike as there are tons of people trying to sell you horseback rides. There's also hoards of people going up the stairs. Everything we saw was desolate until now. From this point, you can see inside the volcano.
** Mini-rant about the horses… Like, just don't do it. The horses are not properly cared for. I don't think anyone should support the people who can't care for their animals who work all day to make THEM money. The least they can do is care for the poor animal properly. This is just my opinion and something for you to think about when traveling Indonesia (horses are in many places, not just here). Also, the walk is so easy, so stop being lazy unless there is something seriously wrong with your legs/body.
To get back to town, walk all the way out and head towards the town on top of the hill. Bromo behind you. There's a small pathway, you might not see it from far away but it becomes more apparent once you walk up to the hill. When you get up that hill you will be where you started near the hotel.
By doing the hike like this, we avoided the tour groups at the view points, we didn't pay the exorbitant 300,000 Rupiah entrance fee, and we hiked it ourselves which felt great.
TIP: 12go.asia is the best way to book ferries, buses, and trains ahead of time in Indonesia!
We left at 3am and got back to our hotel around 8:30am. We weren't rushed or anything, it was an amazing morning!
What to bring on your DIY Bromo tour
Bring food! We got really hungry and there's nothing really around.
Bring enough water.
Wear warm clothes that you can also easily take off. We were all taking our clothes on and off. While you're hiking, it gets super hot. Once you stop for a bit and enjoy the sunrise, it's freezing again.
If you're here when I was, (Dec), it might be a bit rainy. You don't want to be stuck in the rain on the mountain and be freezing. Grab a cheap poncho just in case.
Decent shoes. Well, it could be cold, so you're likely to be wearing decent enough shoes. I wore my All Stars and was OK. Hiking shoes aren't necessary.
Please let me know if you got to hike Mount Bromo without a tour and for free using my guide, I'd love to know if I helped and please help the rest of the readers here by letting us know if anything changed! 🙂
Where will you go after Indonesia?
Laos | Malaysia | Singapore | Philippines | Thailand | Cambodia | Vietnam
---
---
>>> EVEN MORE ABOUT INDONESIA <<<
How to Get to Pacitan, Java Indonesia: A Hidden Surfer's Beach Paradise
How to See Borobudur and Prambanan in Yogyakarta, Indonesia (Java)
Trekking in Bukit Lawang & Chilling in Lake Toba—Sumatra, Indonesia
Why and How to Visit Ambon and Saparua, Indonesia Before Everyone Else Does
Kawah Ijen Without a Tour: Everything You Need to Know (Indonesia)
---
---