My recent trip to Indonesia was a (very much needed) surprise little visit!
It wasn't planned at all, especially after my recent post about my life in Australia and how I'm saving thousands by living and working here. I surely didn't expect to hop on a plane a mere few days later, BUT I wasn't going to say no to an invitation from the tourism board of Indonesia either! Who would?!Sulawesi has long been on my radar. What is this mysterious large island that sits up top the rest of the archipelago of Indonesia? Why does hardly anyone ever talk about it? It's not really on the tourist trail…
Hmmmm… Yeah, I want to go there!
Little did I know I would be visiting sooner than I thought. I'm grateful to have visited such a beautiful island and getting over to a couple of the islands of Maluku was the icing on my cake! Or maybe I should say the tempeh on my nasi goreng? Ah, you get the point – It was freaking fabulous! More than I could ask for, AND I met tons of wonderful people along the way.
Check it out, friends…
Here are some positively phenomenal things to do around Sulawesi and Maluku!
Hill of Love
These active sulphuric hills stink! No, literally, it's smells.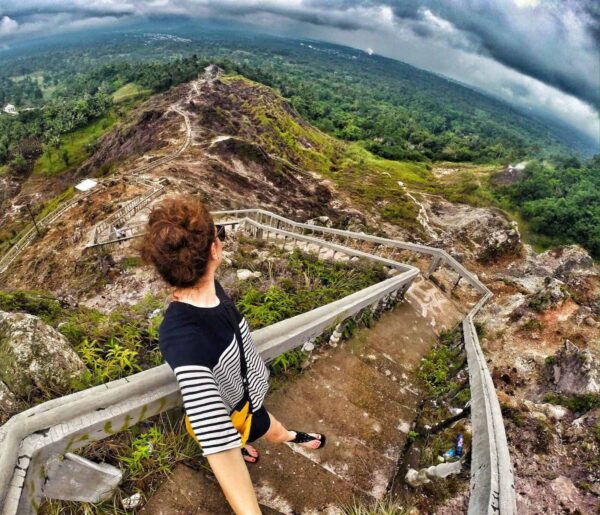 Sulfur smoke billows out from under the earth which doesn't provide the nose with much desire to continue, but no worries, your eyes will be thinking something totally different. A small little village sits here along with a church, temple, and mosque.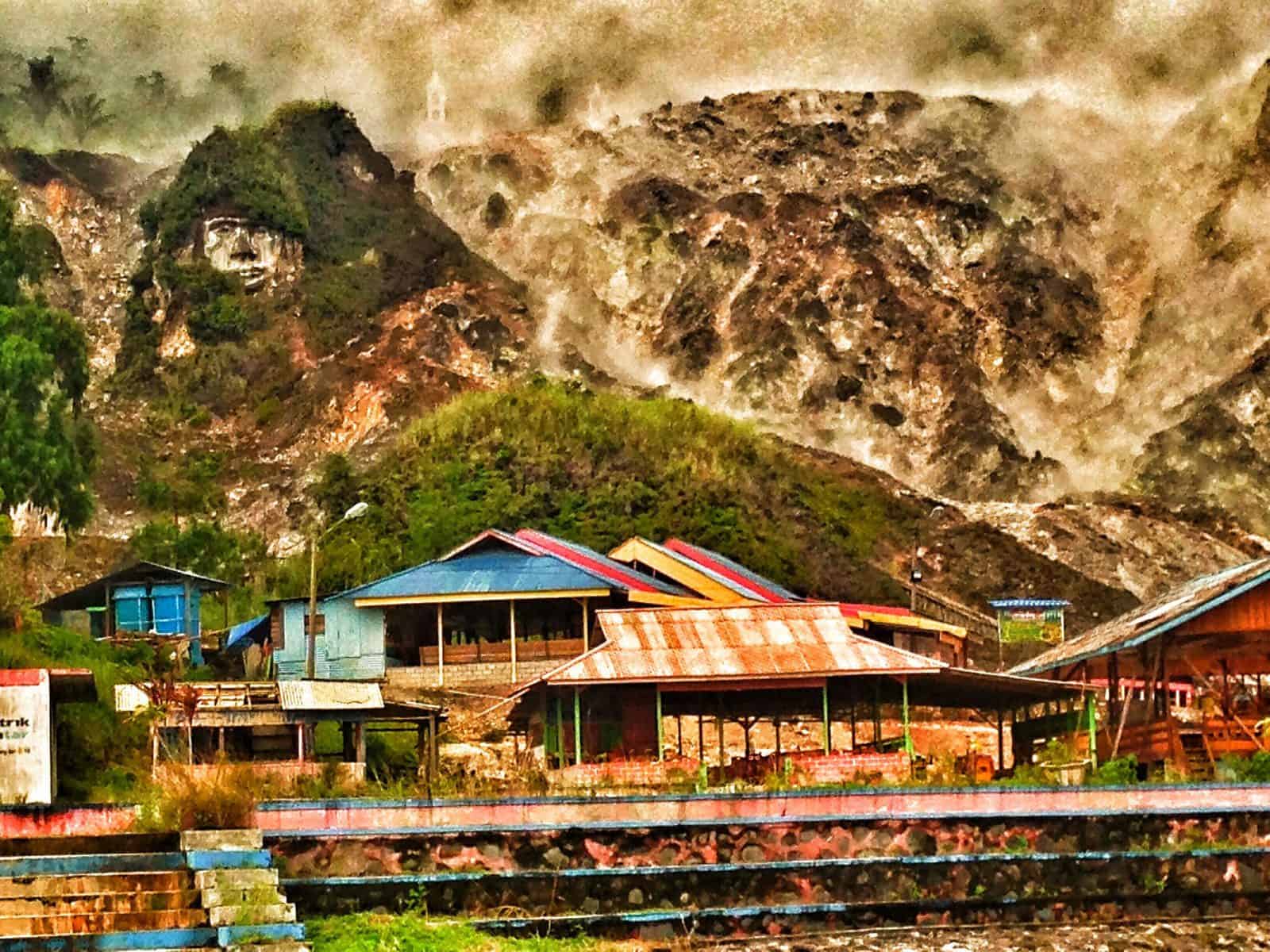 It's believed that the Minahasa ancestor's tribe originated from here and you can even see a face carved into one of the mountain rocks. Walk up the 2,435 steep steps to the very top and be greeted with a huge cross and epic views.
Waruga
Would anyone like to wander around a graveyard? Sure! Why not?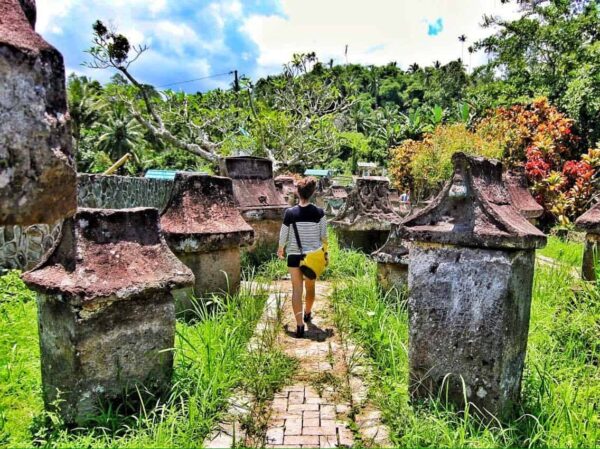 While this might not be the ultimate hot spot on your trip here, it's an important historical attraction and a UNESCO World Heritage Site. The bodies here are of the Minahasa people who are buried in a fetal position and pointing north towards their ancestors.
The tombs are above the earth and are shaped like a house with engravings about the person buried such as character, the cause of death, and hobbies. Death is an important element to the natives of this land, Tana Toraja also has a unique burial site.
Tangkoko National Park
If you're used to the regular brown macaque monkeys that run rampant in Southeast Asia, the black crested macaque monkeys that reside here will be a breath of fresh air. These will likely be the most docile monkeys you'll ever meet. They allowed us to get up close and personal without running away, or running off with our stuff, for that matter. They just go about doing their monkey thing and let you snap away without fear that your camera will soon have a new home 50 feet up a tree.
In fact, they were a bit too comfortable around us. Some of them got a little frisky and had no shame. Uh, thanks for the peep show, guys…?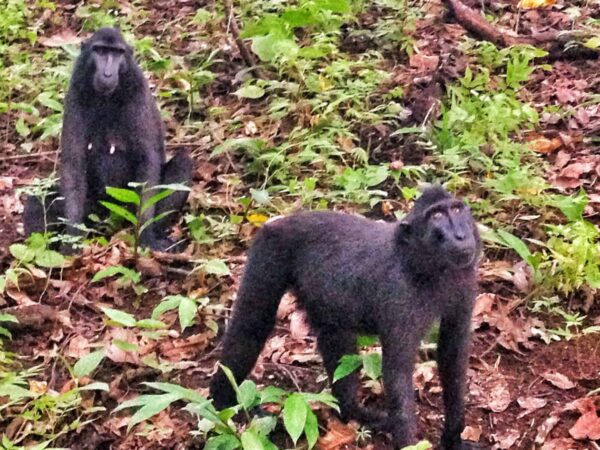 More cute animals? Sure! How about the teeniest and tiniest primate ever? They're called tarsiers and they reside here well, but good luck finding them without a guide. These critters look something like a tiny gremlin and would fit in your palm. They hide out in tree holes and are nocturnal so keep those eyes peeled for them.
Need to chill out after monkeying around all day? Nothing will welcome you more than the gorgeous black sand beach after a day of hiking.

Tondano Lake
Surrounded by rolling hills and mountains is the massive and serene Tondano Lake. One comes here to relax and perhaps grab a fresh seafood lunch. Having a seafood feast is certainly a delicious way to energize you for the rest of the things to do around Sulawesi. We had a fantastic lunch at Astomi Restaurant.
Tanjung Karang Beach
Palu is often just a transfer city, but if you get stuck here, it's OK! It will be well worth your time to stay stuck and enjoy the clear-as-can-be-waters of Tanjung Karang Beach and of course, it's powdery white sand shores.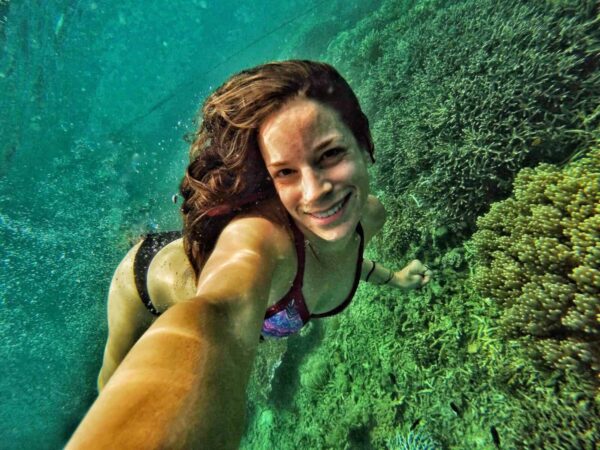 If the sun is scorching you, which it will be because you're only a few kilometers away from the equator, just grab your snorkel and dive right in. The reefs are practically right off shore and a short boat ride will get you there in no time.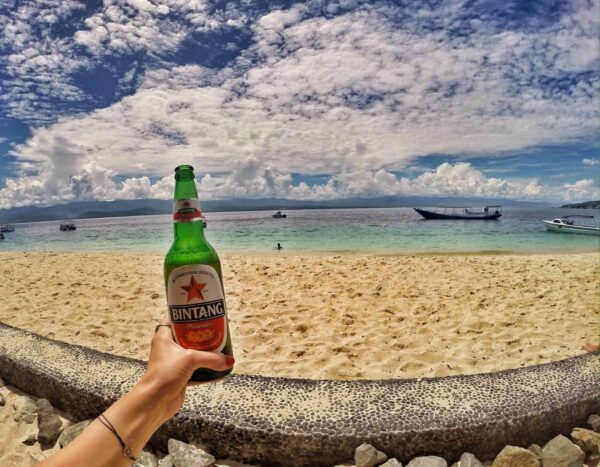 The Prince John Dive Resort is the popular spot to be on this beach and they keep their slice of heaven absolutely pristine. You will pray to be "stuck" here for another few days.
There's an opportunity to go diving in this area as well. Considering the number of islands in Indonesia (17,000+!) there's no lack of ocean to dive in at. Here's info on diving in Sulawesi.
There's also diving around Bali if you can't make it over to this spot.
Bunaken Island
Famous for its incredible diving and snorkeling (some of the best in Indonesia), and it's positively breathtaking looks, both in and out of the water, Bunaken Island stole my little heart.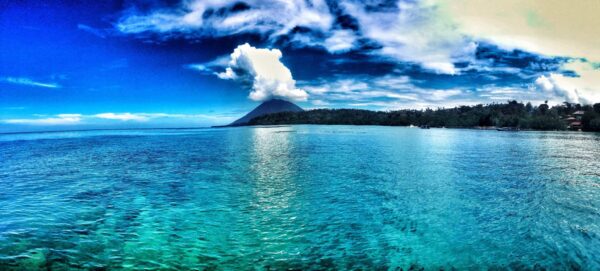 The boat ride out is simply magical with the island gazing back at you and Manado city getting smaller and smaller just behind you. You're surrounded by beauty and crystal clear blue waters.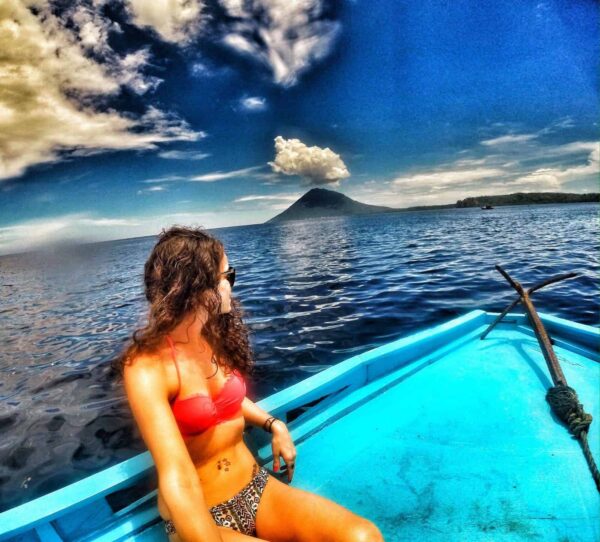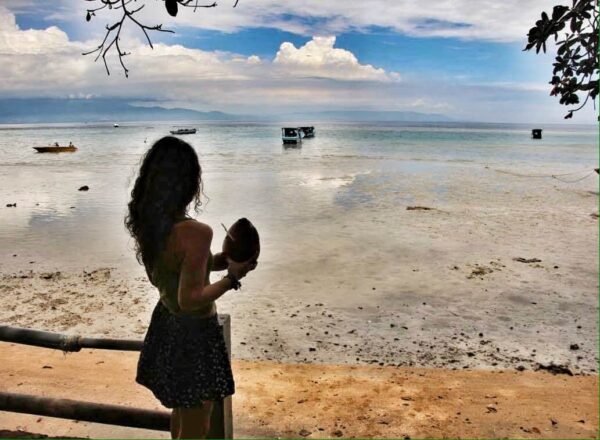 The snorkeling was possibly the best I've seen in Southeast Asia with the Philippines being its close competitor. The marine life is abundant and lively. The coral was near pristine showing off its vibrant colors rather than tired and bleached crackling pieces, which can be common in some neighboring areas due to blast fishing, natural disasters, and over-commercialization.
This was certainly one of my favorite things to do around Sulawesi!
Ambon and Saparua offer their own flavor to Indonesia and here's where you can find out more about the Spice Islands.
Ambon Island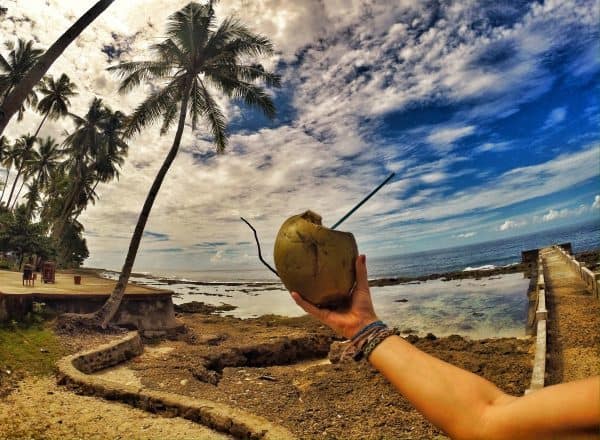 The Ambon War Cemetery is in a beautiful garden setting where men from WW2 lay to rest after a Japanese invasion.
The World Peace Gong is set in the city and represents and reminds the locals and visitors the need for peace in the world.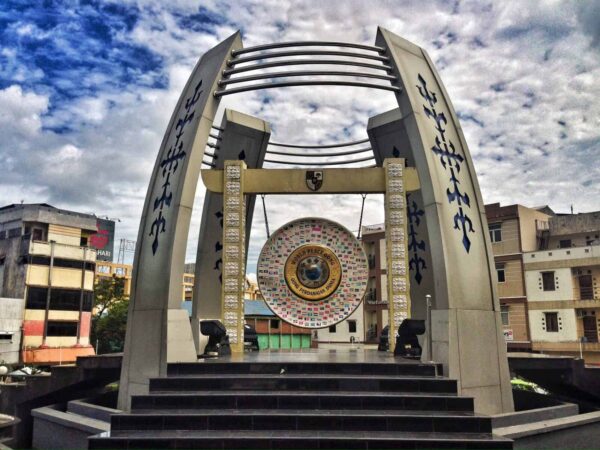 Martha Christina Tiahahu Memorial is a statue, also set in a gorgeous garden setting, on a hill with views of the ocean in the background. This young heroine is revered as a freedom fighter who was against the Dutch colonialism.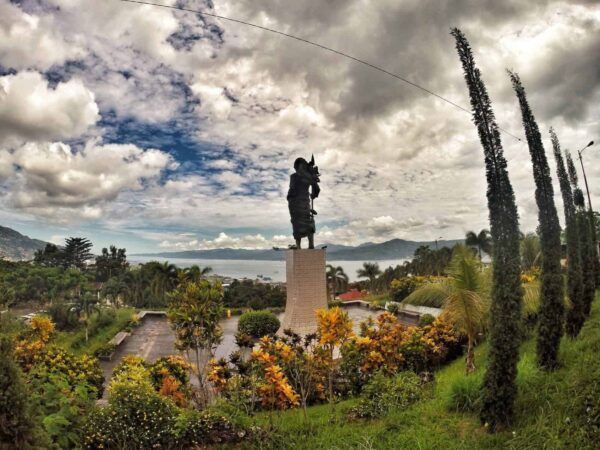 Saparua Island
Duurstede Fort is a restored fort right on the shoreline of the Island. This Dutch fort was taken over by Pattimura who had nearly all the Dutch at the fort killed. There is also a small museum near the fort that explains a bit of the history. The views from the fort are incredible!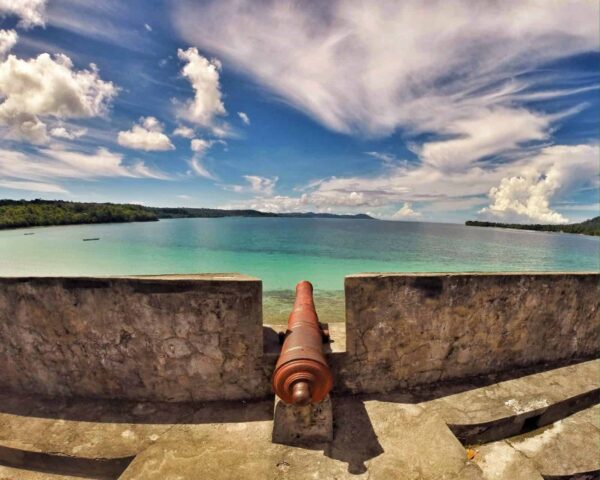 Walk around the markets and interact with the locals, and when you're tired, just bask on one of the beaches on the island. Kulur or Laino Beach seem to be the place to head to but they do take some effort.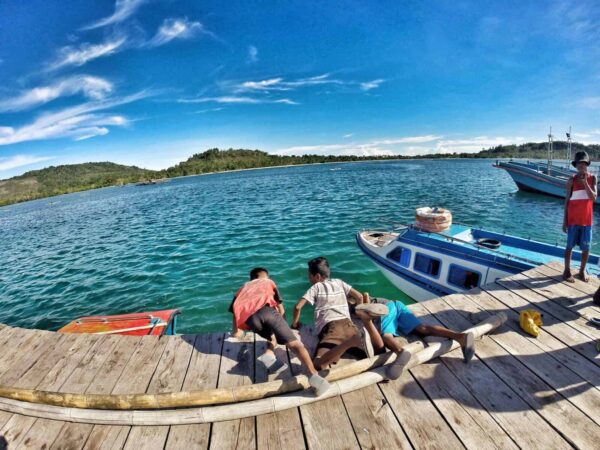 While I was absolutely wrecked these couples of days considering I taken a red-eye flight the night before, I still appreciated the importance of these historical sites. Make sure to get to know the rich history of these fascinating islands.
If you're curious about these off the track islands, this is where you can find out more about the Maluku Islands of Saparua and Ambon.
OK OK… these are some cool things to do around Sulawesi and Maluku, but why else should I go here?
– This area has some of the best diving and snorkeling in the region and possibly the world.
– The people are simply fantastic. Yes, of course, they are in other parts of Indonesia as well, but hey – awesome people are definitely a highlight!
– The area isn't inundated with tourism – Yet. Comparing Bali to this region is like comparing apples and oranges. With that said, don't expect the infrastructure to be developed.
– The tradition is alive. Try catching a traditional dance like the Saho Reka Reka or Crazy Bamboo (unfortunately, I can't provide info on how, it's not necessarily an organized planned event, but keep an ear out for it when you're here and maybe you'll be lucky like I was!). Apparently, the locals of Ambon are great singers too, they call Ambon the city of music, so let me know if you get lucky enough to be serenaded!
I absolutely LOVE Indonesia and every time I visit, I have a new reason to love it even more. I hope these phenomenal spots have enticed you to extend your trip around Indonesia and visit a few other islands off the main tourist trail.
What were your favorite things to do around Sulawesi if you've been before?
Where will you go after Indonesia?
Laos | Malaysia | Singapore | Philippines | Thailand | Cambodia | Vietnam
Which are you most excited about seeing after reading this list? Are Sulawesi and Maluku on your Indonesian itinerary now? I hope so!
---
---
>>> EVEN MORE ABOUT INDONESIA <<<
How to Get to Pacitan, Java Indonesia: A Hidden Surfer's Beach Paradise
How to See Borobudur and Prambanan in Yogyakarta, Indonesia (Java)
Trekking in Bukit Lawang & Chilling in Lake Toba—Sumatra, Indonesia
Why and How to Visit Ambon and Saparua, Indonesia Before Everyone Else Does
Kawah Ijen Without a Tour: Everything You Need to Know (Indonesia)
---
---
Pin this to share the love and the beauty!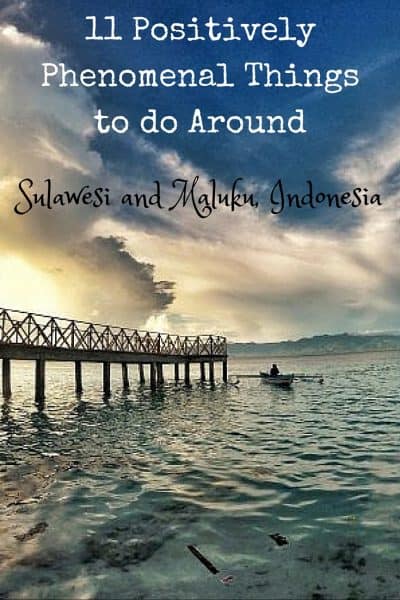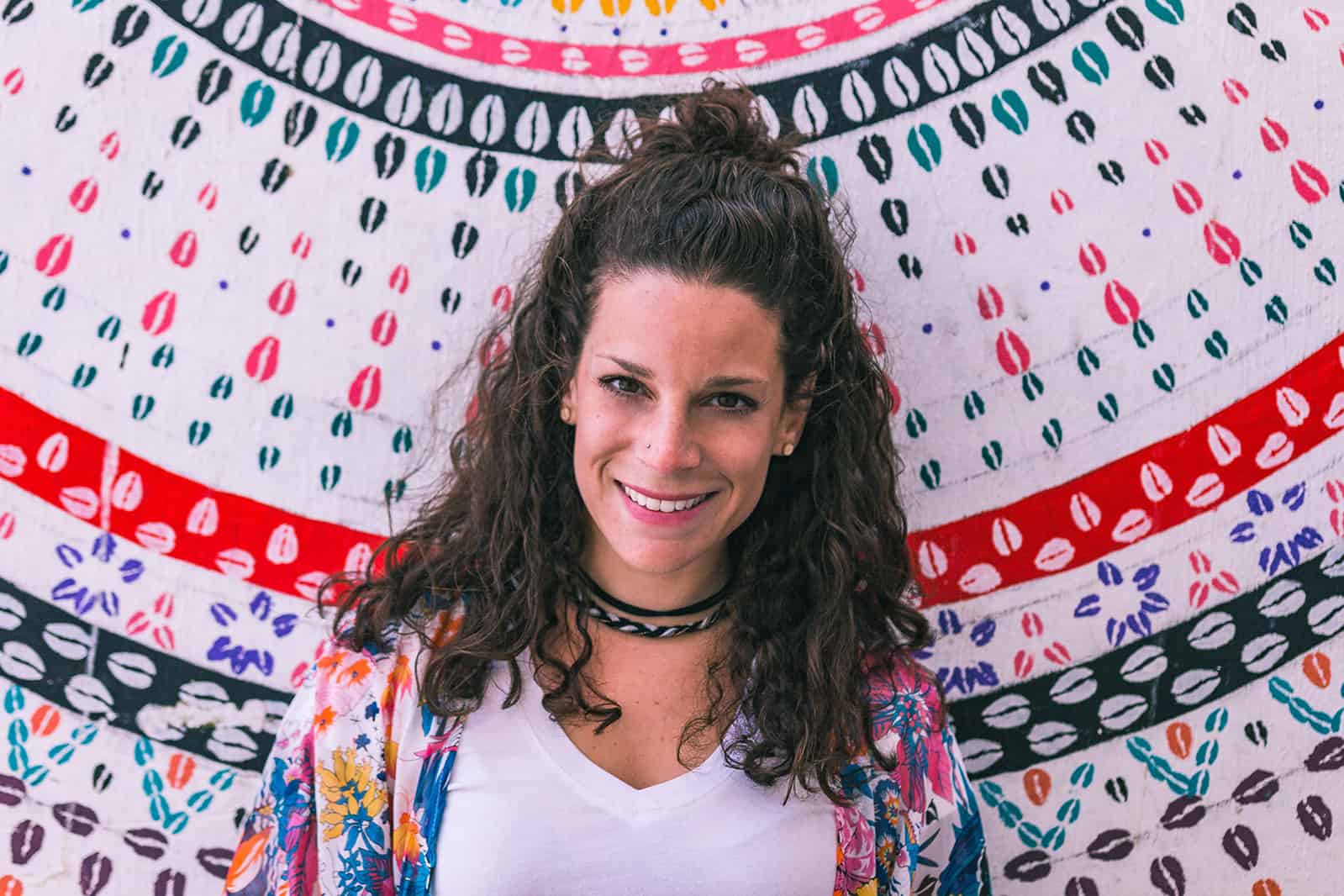 Nina Ragusa is an adventurer, messy bun master, breakfast fan, and full-time travel blogger. She's been abroad since 2011 and blogging on Where in the World is Nina? for nearly as long. Nina helps people like you move around the world while making money. She loves talking about how to work abroad and online to travel longer!