If you're wondering where to stay in St. Lucia, look no further! These 10 incredible resorts really are the cream of the crop on the island.
Whether you're looking for an adults-only spot to spend time with your loved one or resorts that cater to your entire family, these are the best places to stay in St. Lucia!
Where to Stay in St. Lucia
---
Where To Stay in St. Lucia—NORTH
The North part of the island is for those wanting to be right in the heart of the hustle and bustle. Boasting nightlife, shopping, bars, restaurants, and resorts, this area is popular because it's a main cruise port.
Ideal for families or girlfriend getaways, spend some time at the beaches before getting ready to hit up the nightlife scene!
Things To Do in the North
Hike around Pigeon Island National Park and Fort Rodney, an old pirate hideout turned military fort.
Explore Marigot Bay by taking a water shuttle. Enjoy kayaking or catch a meal at Doolittle Restaurant.
Attend the Gros Islet Street Party every Friday night dancing, street food, and rum punch.
1. Sandals Grande St. Lucian
All-inclusive and adults only, Sandals Grande St. Lucian offers those 'welcome to paradise' vibes that you might see on the front of a vacation brochure. The resort is located on a peninsula between Pigeon Island and Rodney Bay.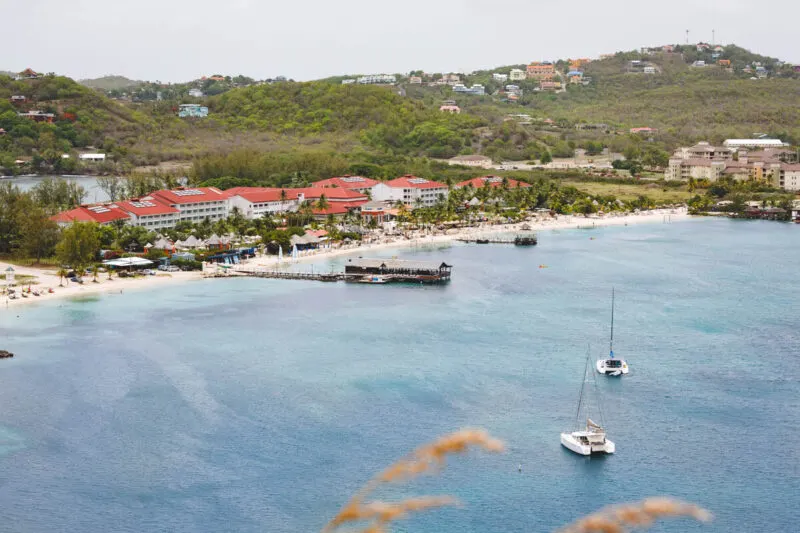 Pigeon Island is well worth an explore while staying at the resort, with lofty viewpoints and an old fort. With beach and mountain views, there is plenty to admire while you sip your cocktails.
You could stay in 4 different areas: the Caribbean Village, the Swim-up Lagoon Village, Grande Rondovals, and the additional bungalows. The over-the-water butler bungalows offer the ultimate luxury, with glass floor panels, an outdoor tub, and direct sea access.
It is hard to find fault with this place. With 12 different restaurants, you could choose another place to dine every night, plus there are 7 bars and four pools to make your daily decisions even more difficult.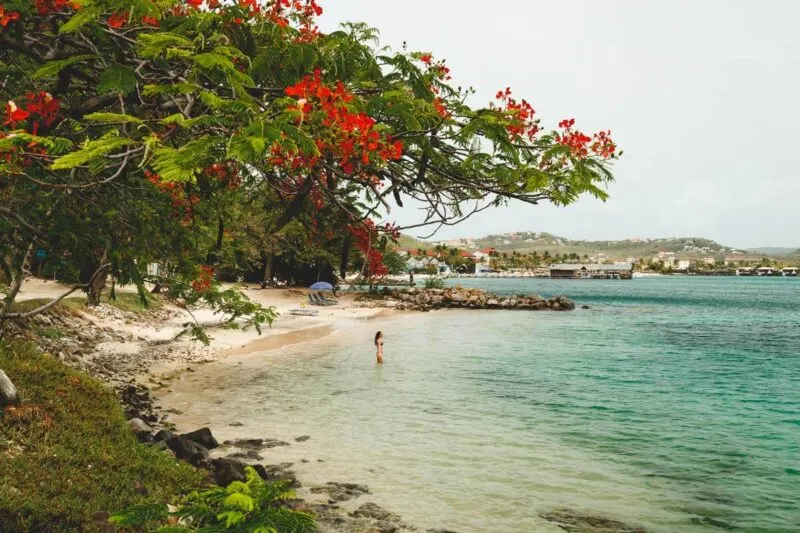 The resort is bordered by a long beach, which is relatively sheltered and calm, offering plenty of opportunities for water play.
An added benefit of staying at a Sandals resort is that you can enjoy the restaurants and amenities at the other two Sandals resorts on the island, and round-trip transport is included between the resorts.
2. Mystique St. Lucia by Royalton
Mystique boasts a stunning beachfront setting, bordered by palm trees and an impossibly blue sea. The resort sits on the beautiful Reduit Beach, with impressive mountain views. From fine dining to casual open-air terraces, there are several dining options available.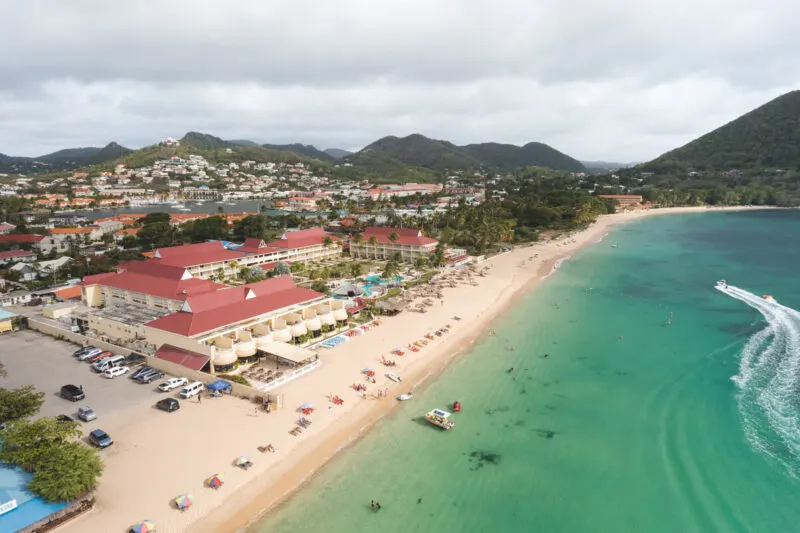 You will also have plenty of choices regarding the sort of room you stay in, ranging from deluxe junior suites to large presidential suites. The breathtaking views and thoughtful touches help this hotel stand out from the crowd, plus the huge lagoon pool is a major perk.
Although you have the natural beauty of the beach to enjoy, the village of Rodney Bay is just a short walk away, so you can also pop in and out of the local shops and sample a few cocktail bars without traveling too far.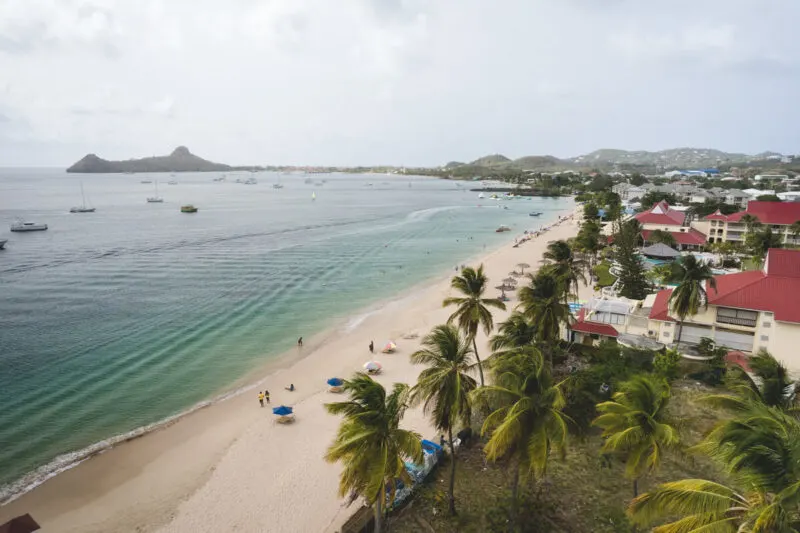 Arranging tours around the island is easy, thanks to the tour representative location on-site. Or, if the sort of vacation you are on is one where you don't do too much, the Serenity Spa will help you find your zen through facials, body treatments, and massages.
RELATED: 9 Incredible Beaches in St. Lucia for Epic Beach Bumming
3. Calabash Cove Resort & Spa—This is Where I Stayed in St. Lucia!
You won't want to leave Calabash Cove Resort and Spa once you step foot through the doors into this stunning, adults-only resort. Staying here, you will feel as though you have found your secret paradise, with some rooms even nestled into the vegetation surrounding the hotel.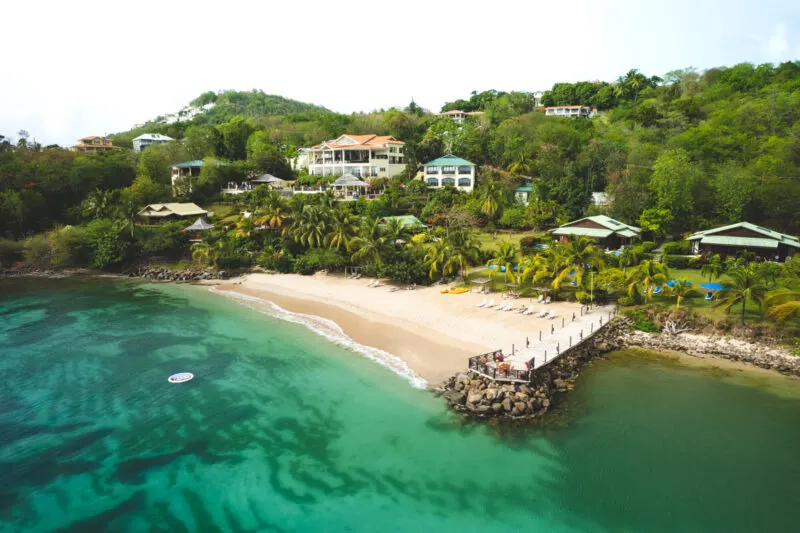 As a small hotel, it does have that intimate feel, and the beach in front of the resort feels entirely your own as you sip a coffee or get buried in a book.
One of the best things about a small hotel is that you have more of a chance of getting a great view, and even the entry-level rooms here have impressive views and are decorated tastefully.
Most nights, local musicians fill the restaurant with music, coupled with the views out to sea, creating a magical atmosphere. The beach is pretty secluded, so you can rest assured it won't be crowded with tourists; once you have had enough of the beach, have a dip in the infinity pool.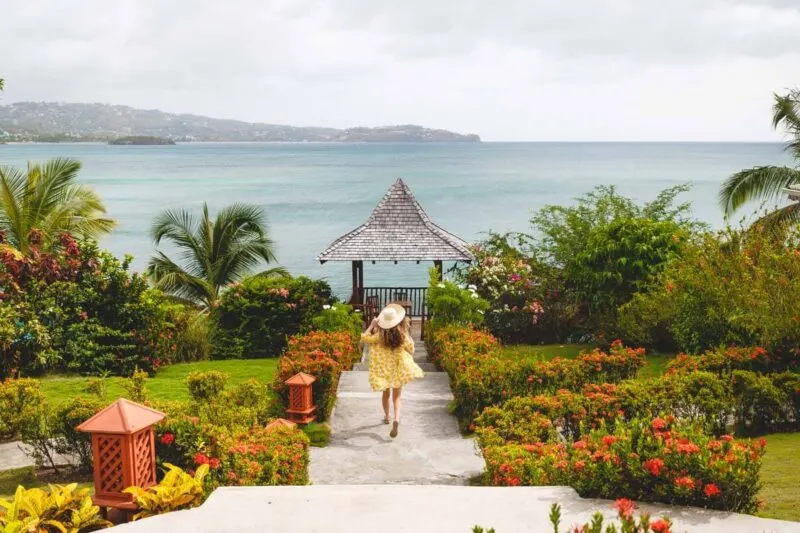 The resort also offers some fantastic, complementary activities, ideal for those that can't sit down, like paddle boarding, kayaking, yoga, and nature hikes. The on-site Cove Gardens, full of local fruits and flowers, is perfect for relaxing in the shade.
If you fancy doing something extraordinary, consider taking up the offer of private dining on the hotel's jetty that juts out to sea.
4. Rendezvous
Rendezvous has a unique concept; it is entirely dedicated to couples. Think candlelit dinners, couples massages, and more. The rooms are luxurious but lack features like TVs, as the aim is for guests to spend quality time with their partners. It is quite cute!
A range of rooms and suites are available, and the beachfront cottages scream out to honeymooners. The resort is within walking distance of a few different beaches, although it will take a while to walk around itself, spread out over several acres of tropical paradise.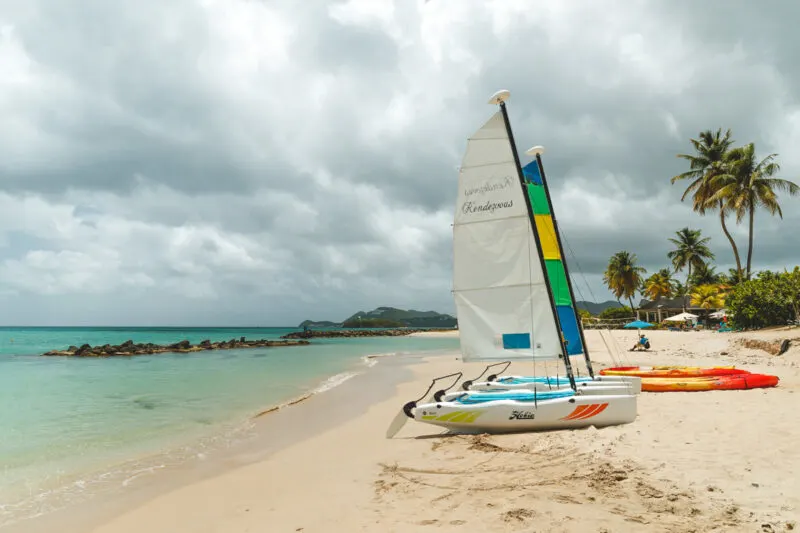 There are three delicious restaurants on-site, as well as three bars, one of which is swim-up. The Terrace restaurant boasts regular evening entertainment and plenty of other ways to stay entertained during your trip.
There are a couple of pools, a spa, gym, lazy river, tennis courts, archery, Tai Chi classes, yoga, beach volleyball, bike tours, water sports, and we could go on. There is even one complimentary dive per day for certified divers or a training dive for beginners; you certainly will not get bored here.
RELATED: 14 Things To Do in St. Lucia—Best Beaches and Adventures!
5. Ti Kaye Resort & Spa
Located dramatically on a clifftop, Ti Kaye is a unique hotel that overlooks one of the most beautiful beaches in St. Lucia: Anse Cochon. The resort has been inspired by nature, and you will feel these vibes as you step foot into any of the carefully curated cottages.
Despite their natural feel, all accommodation is packed with modern amenities and added extras like an outdoor shower and personal plunge pools. With its lofty position comes incredible views, but it also means there are 166 steps down to the beach.
However, the wooden pergolas, sun loungers, complimentary kayaks, and paddleboards make the trip a little easier to manage.
Wine lovers will be in their element at Ti Kaye, as the resort boasts its very own underground wine cellar, home to 500 different wines. The wine waiters will excite your taste buds with a wine tour of the world, paired with some tasty cheeses.
The resort is also home to a PADI dive center, with training rooms and a dive boat, allowing you to learn new skills and visit some of the island's best dive spots.
Where To Stay in St. Lucia—SOUTH
The South Island is more for honeymooners, nature lovers, and relaxing in secluded luxury types. You'll find snorkeling, waterfalls, volcanoes, and more. Or simply bask in the quiet, laid-back vibes as you rejuvenate with a pamper day at the local beauty spas.
You'll want to check out my things to do in St. Lucia article, as well! You may even want to book two different places to stay in St. Lucia so you can spend time in the north and the south part of the island to get the full experience.
Things To Do in the South
Visit Sulphur Springs Park and take a volcanic mudbath with revitalizing properties.
See the Pitons. You can hike, drive, helicopter, take a land and sea tour, or stay at a resort there.
Witness the incredible coral and marine life while scuba diving or snorkeling at dozens of beaches.
Take a chocolate tour at the Hotel Chocolat. Need I convince you?
6. Anse Chastanet Resort
Anse Chastanet covers 600 acres of land, really making the most of what St. Lucia has to offer, taking inspiration from the peaks, flowers, and sea that make this island what it is.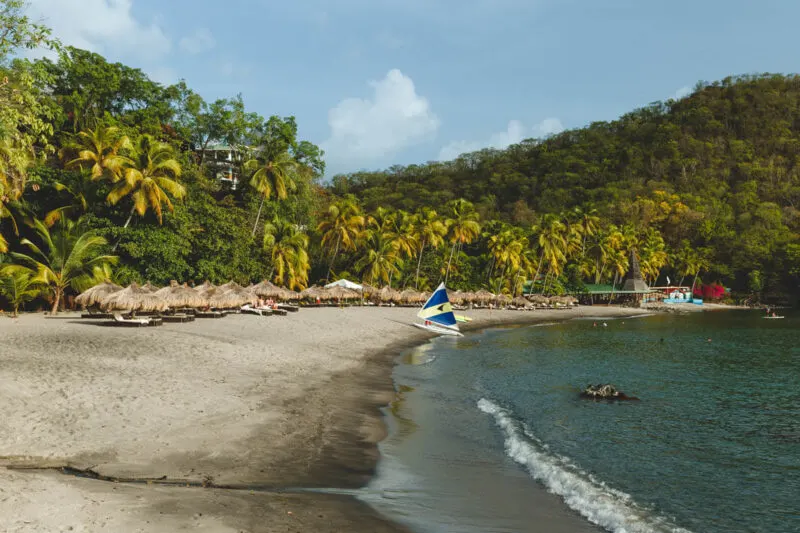 The landscape inspired the architect so much so that the resort is distinctly environmentally conscious, making changes where they can care for the environment. For example, the restaurant sources most ingredients from its organic farm.
Rooms are either dotted up the hillside or line the beach, but most benefit from balconies and views, all intertwined with nature and the trees. The resort overlooks the iconic Petit and Gros Pitons—a coveted view.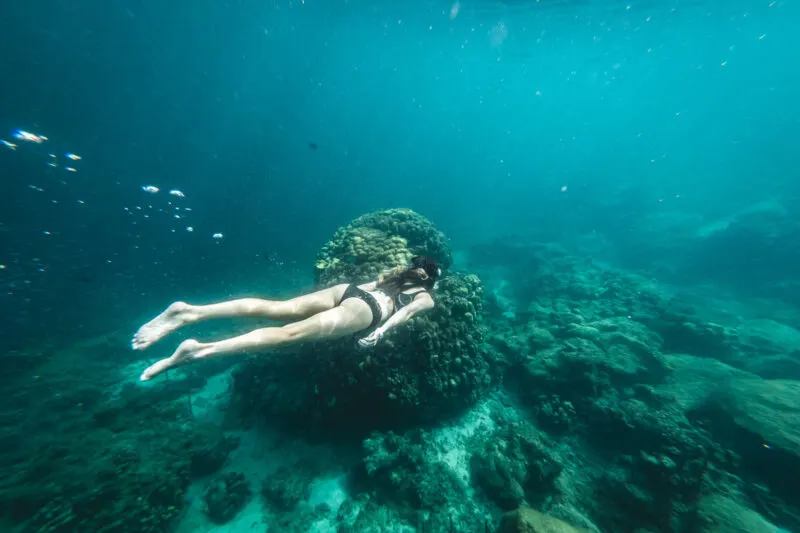 The resort reaches down to Anse Chastanet Beach, and Anse Mamin Beach, which is slightly smaller, can be reached by a five-minute walk. The crystal clear waters and soft sand beach of Anse Chastanet are rarely crowded, meaning even more room for activities.
Hiking and birdwatching can be enjoyed directly on the resort, plus scheduled excursions help you to explore the island easily. The resort is located in the heart of the island's marine reserves; therefore, some magical snorkeling opportunities are right off the shore.
7. Green Fig Resort & Spa
With the town of Soufriere and the Pitons as the hotel's backdrop, the Green Fig Resort & Spa has arguably one of the best views on the island. This small hotel only has 25 rooms, escaping that overly resort-like feel.
Some of the rooms are incredibly unique, such as the Prime Minister Suite which is open-air, so you can be at one with nature while gazing out at the Caribbean Sea. All rooms have been carefully decorated with soft whites and creams that let the surroundings shine while offering luxury elements.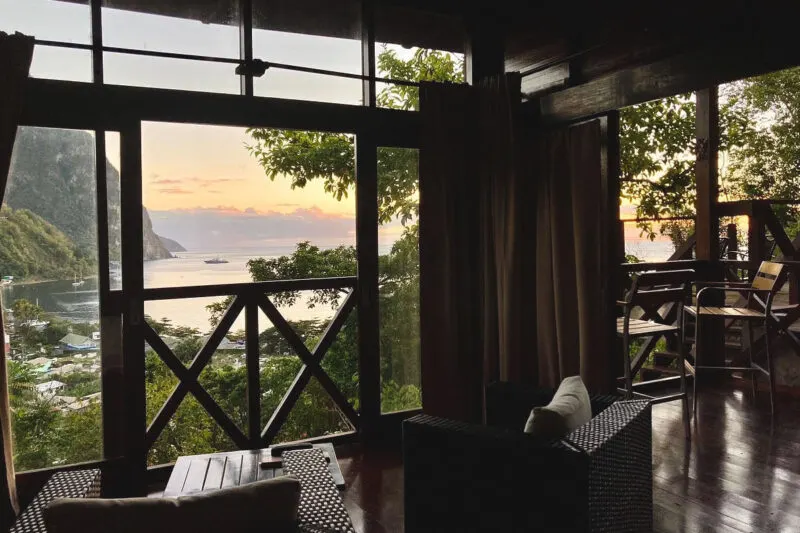 Located a short walk from the beach, the hotel has the best of both worlds, with incredible lofty views, surrounded by vegetation, but with civilization not too far away.
Green Fig boasts incredible spa facilities located in a treehouse-style space overlooking the Pitons. The spa offers numerous treatments, perfect after a long day of hiking. The onsite restaurant cooks some incredible Caribbean cuisine cooked with deliciously fresh ingredients.
8. Hotel Chocolat
The charm of the Caribbean mixes flawlessly with modern luxury at Hotel Chocolat. There are two types of accommodation available. The Luxe Eco Lodges offer incredible views of the Pitons from their lofty position, private verandahs, super king four-poster beds, and open-sky twin rainforest showers.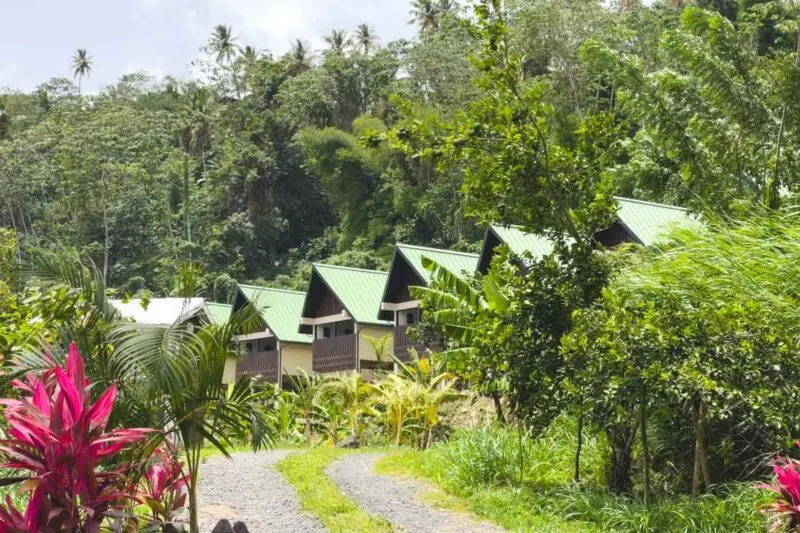 The Eco Lodges sit around the courtyard garden and have views of Petit Piton. Freshly ground coffee and freshly made chocolate treats are standard in every room.
The hotel was built on the Rabot Estate, St. Lucia's oldest cacao farm, and to this day is home to some ancient and rare trees. If you are a chocolate lover, this is the hotel for you.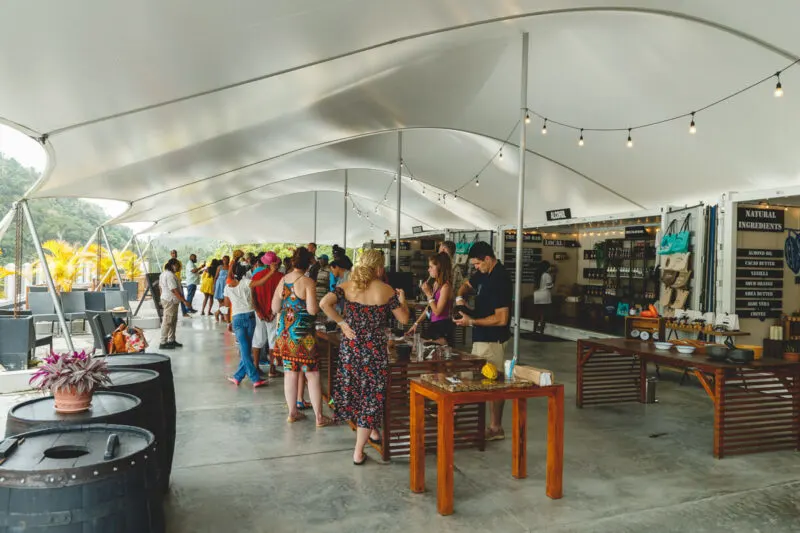 Even if you're not staying here, you can take a tour of the cacao plantation, try your hand at crafting your own chocolate bar, and enjoy some of the finest chocolate delicacies in the restaurant.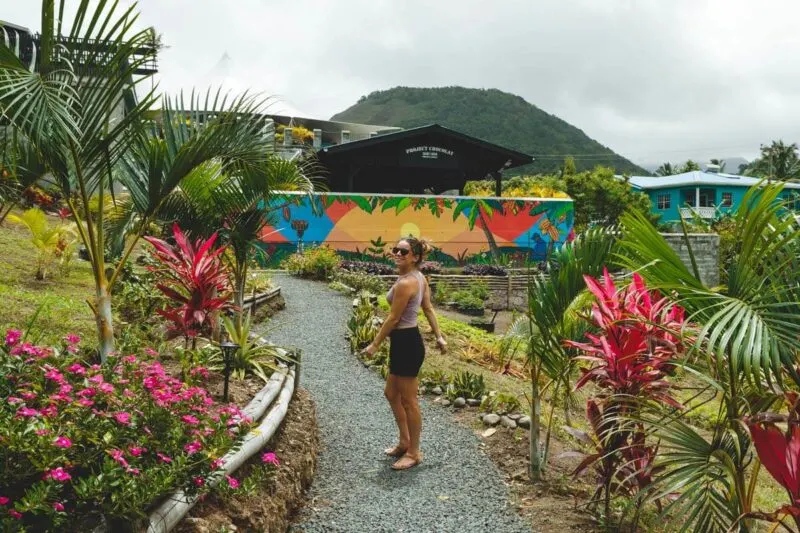 There is an incredible infinity pool with mountain and rainforest views, and what makes it even better is you can get cocktails delivered right to your sun lounger. If you're in more of a beach mood, the complementary land transfer shuttle will take you down the hill.
9. Ladera Resort
Ladera Resort is one of the smaller hotels on the island with 37 rooms and was once a famous cacao plantation. It is St. Lucia's only resort situated on a UNESCO World Heritage site, sitting 1000 feet on a volcano ridgeline. You will not get a much better view of the Pitons on the island.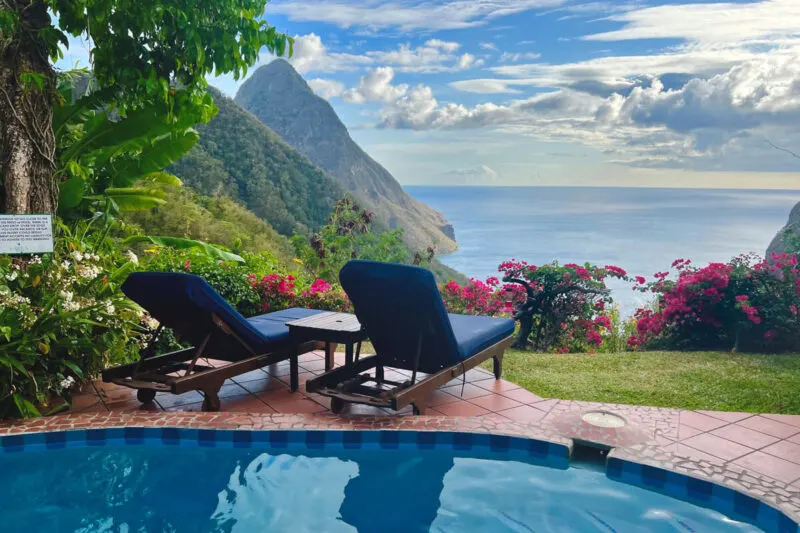 As you are quite high, there are free shuttles to the beach for easy access. The onsite restaurant offers delicious local food, with views to die for. Complimentary activities include a garden tour, yoga, sunrise meditation, a nature trail, and a wellness gym for ultimate relaxation.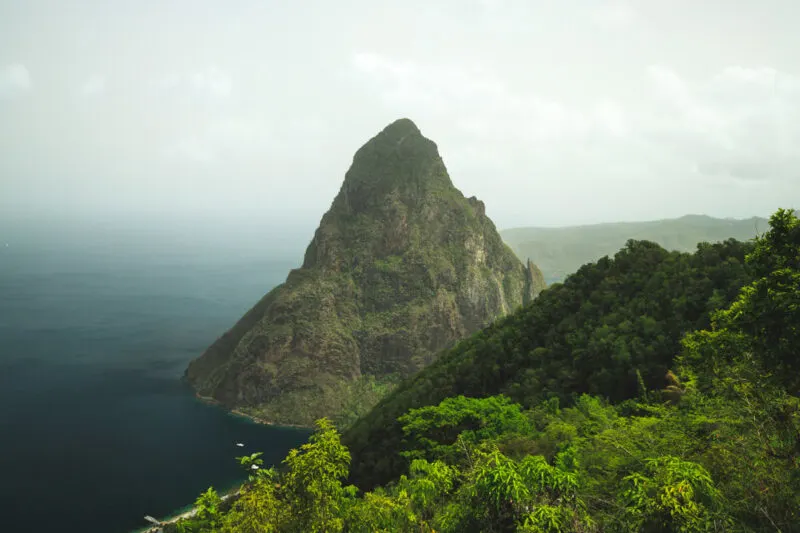 Rooms at Ladera Resort are pretty unique. The decor is gorgeous, made from local hardwoods, tile, and stone, and the furniture is made on-site by island artisans. It doesn't stop there; the rooms come with a private plunge pool, offering incredible views of the Pitons.
The colossal window walls let the outside in, so you don't even have to be outside to admire the astonishing landscape.
10. Sugar Beach, a Viceroy Resort—Where to Stay in St. Lucia in the South!
Nestled within 100 acres of rainforest, right on the edge of the Caribbean Sea, Sugar Beach, a Viceroy Resort, has a lot to offer. This stunning hotel is located on an 18th-century sugar plantation site and is in a prime position for Piton viewing.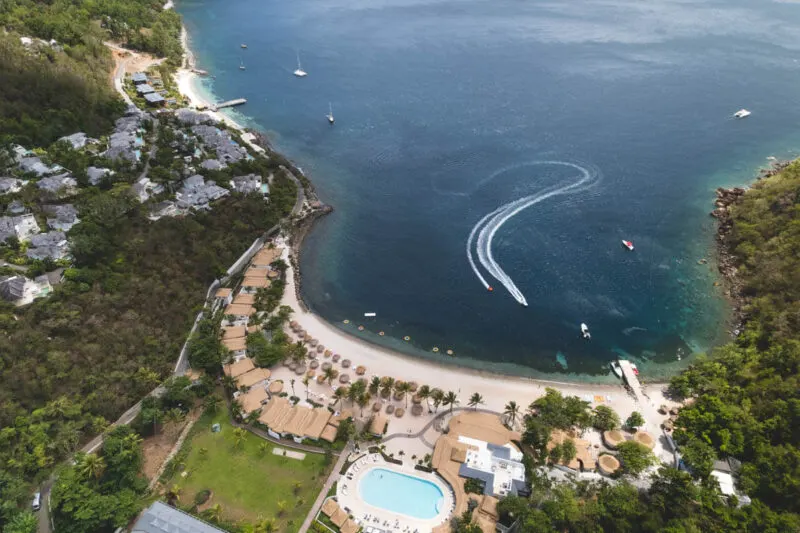 Accommodation options are varied and plentiful and include beachfront bungalows, where you can spend your morning with toes in the sand, mountain cottages complete with stunning views, and luxury suites.
There are several different dining options to choose from, from fine dining to more casual venues, but you can always rely on getting an incredible cocktail from the poolside bar.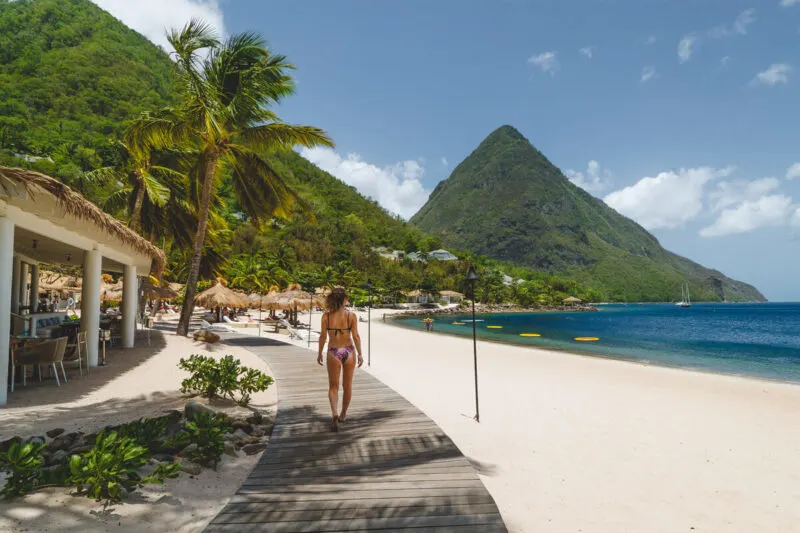 When staying at the resort, you will have access to all the entertainment you can manage, including tennis, beach volleyball, scheduled fitness classes, sailing, kayaking, pedalos, and snorkeling. You can also get the team to arrange an excursion and show you everything the incredible island of St. Lucia offers.
For those that prefer a more laid-back lifestyle, get a bit of rest and relaxation at the St. Lucia Rainforest Spa onsite, with views of the surrounding mountains. You can even get a massage in a treehouse.
How to Get Around St. Lucia
St. Lucia makes getting around relatively easy, with several options available. It's going to totally depend on you and what type of getaway you're after. If you're still deciding where to stay in St. Lucia, then this section might help!
Renting a Car
Renting a car is another option for getting around St. Lucia, giving you the freedom to explore the island at your own pace. This is what we did!
However, it is important to be aware that driving in St Lucia can be challenging, with narrow roads, steep hills, and sharp turns. Don't let this turn you off though as it's overall pretty chill with the occasional driver or two wanting to pass you for going too slow.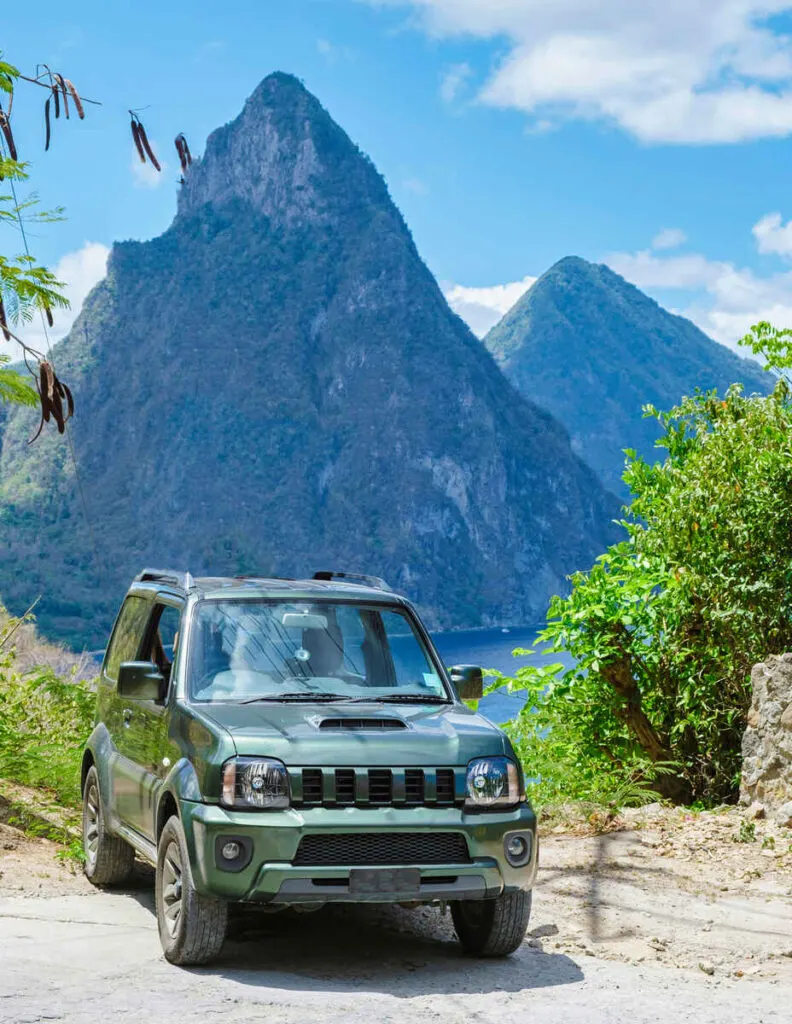 If you're confident in driving around in other countries, this will make your time in St. Lucia very rewarding as you can take yourself anywhere. Do note that they drive on the left-hand side in St. Lucia!
You can find car rental deals here.
Taxi
Taxis are one of the most convenient ways to get around St. Lucia, being readily available at the airport, in the major towns, and at tourist locations. Taxis in St. Lucia are generally safe, but it is advisable to agree on a fare with the driver before starting your journey (like anywhere else in the world!).
Taxis are also a good option for longer journeys, as they are more comfortable than other modes of transportation. Of course, this will certainly not be the cheapest option, and it's best used when you have a family in tow or you're here with some friends to split the fare.
Bus
Another option for getting around St. Lucia is the bus. The bus system is a cheap way to get around the island, with buses running regularly throughout the day. However, the buses can be crowded and may not run on a strict schedule. It is recommended to ask around and to be prepared for some waiting time.
Buses are a great way to see the island and experience local life, but they may not be suitable for everyone, especially those with limited mobility.
This will be a cheap way to get around the island, and you can expect to pay around EC$2.50 to EC$8.00 ($1-3 USD). It's definitely reserved for the more adventurous soul and someone who has some more time on their hands.
Tours
Finally, tour operators are a great option for getting around St. Lucia, especially for those who want a guided tour of the island to get a deep understanding.
Tour operators offer sightseeing tours that include transportation and are a great way to see the highlights of St. Lucia without having to worry about driving or navigating.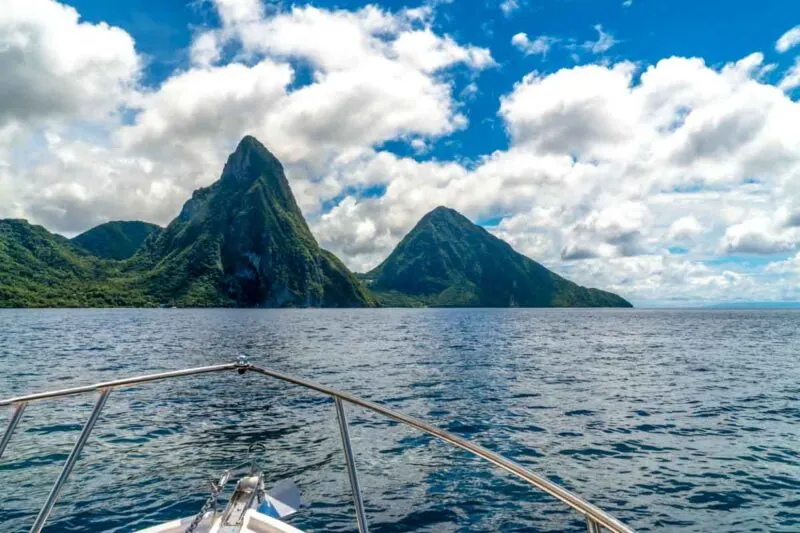 They all include picking you up from your St. Lucia hotel and returning you at the end of the day, making this option the best for those coming for a more relaxed vacation.
You can search for the best tours around St. Lucia here.
To wrap it up, there are several options for getting around St. Lucia, and each option has its own advantages and disadvantages. The best option for you will depend on your personal preferences and circumstances and of course—where you're staying in St. Lucia.
If your resort is pretty removed, you might like that, and that's fine! Or you might want to rent a car to explore.
If you're not confident enough to rent a car, then perhaps choose two St. Lucia hotels from above, one in the north and one in the south, and then take tours from each base.
Should you have time on your hands, you might want to explore with the locals by bus, slowly moving your way around the island and keeping costs significantly down.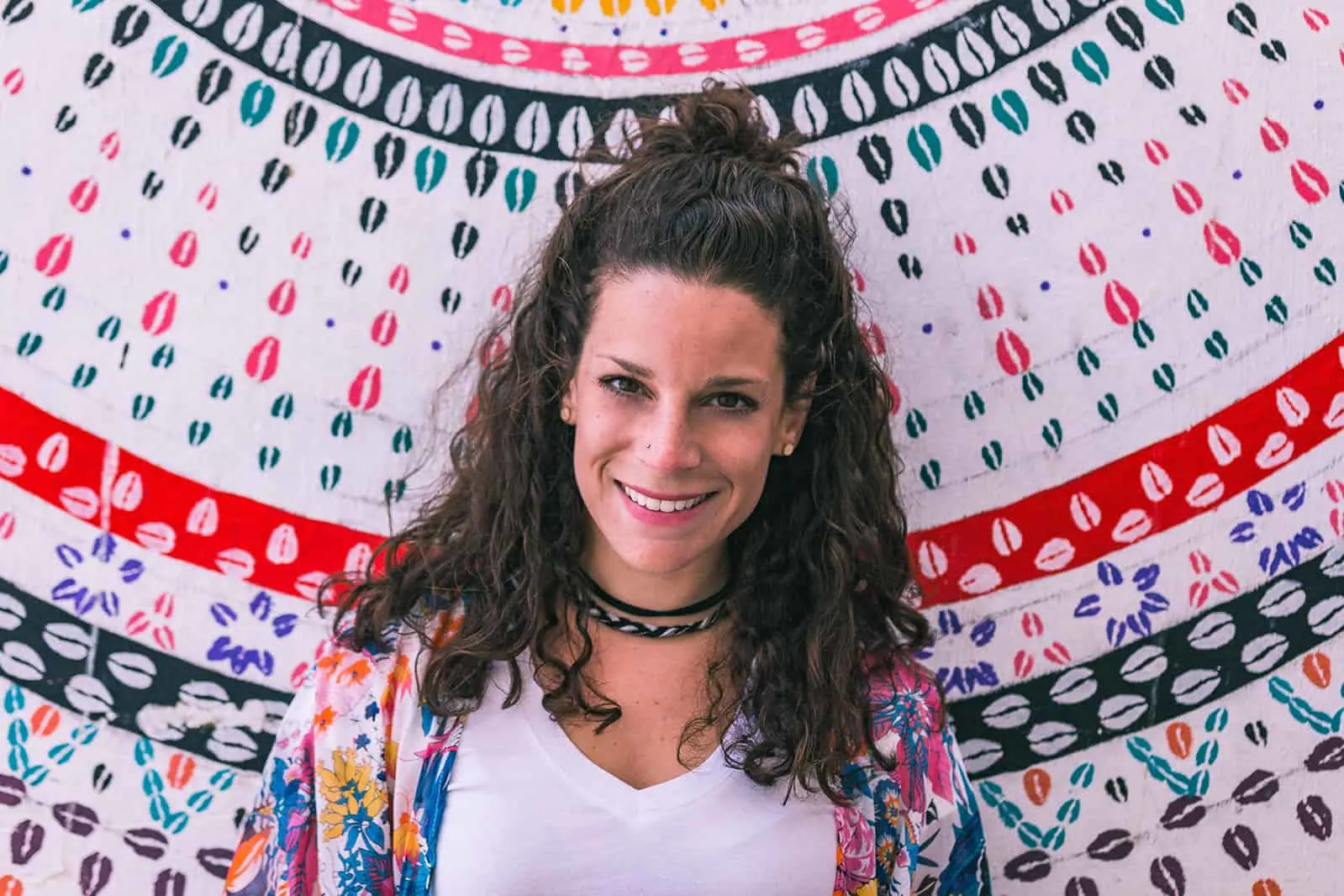 Nina Ragusa is an adventurer, messy bun master, breakfast fan, and full-time travel blogger. She's been abroad since 2011 and blogging on Where in the World is Nina? for nearly as long. Nina helps people like you move around the world while making money. She loves talking about how to work abroad and online to travel longer!