Famed for its pink sand beaches, turquoise blue waters, and tropical temperatures, it's not hard to see why Bermuda is often mistaken for a Caribbean Island.
This small island is actually located just a few hours off North America's east coast, making it the perfect place for a week or weekend getaway.
Bermuda is small – just 21 miles long and 1 mile wide at its thickest section. But what this tiny island lacks in size, it more than makes up for in epic activities.
From beautiful beaches and lush nature reserves to historic colonial towns and an abundance of noteworthy landmarks, here are the best things to do in Bermuda.
Things to Do in Bermuda
---
Things to Do in Bermuda—WEST END
Bermuda's West End was once home to the most extensive naval base in the Atlantic. Today, the area has some of the best things to do in Bermuda, including parks, pubs, and historical landmarks.
1. Royal Navy Dockyard
Once a symbol of the mighty British Military power, the Royal Navy Dockyard has been transformed into a hub for shopping, docking, and eating. You can wander the craft markets within, play a round of mini-golf, or take to the water with one of the watersports outfitters.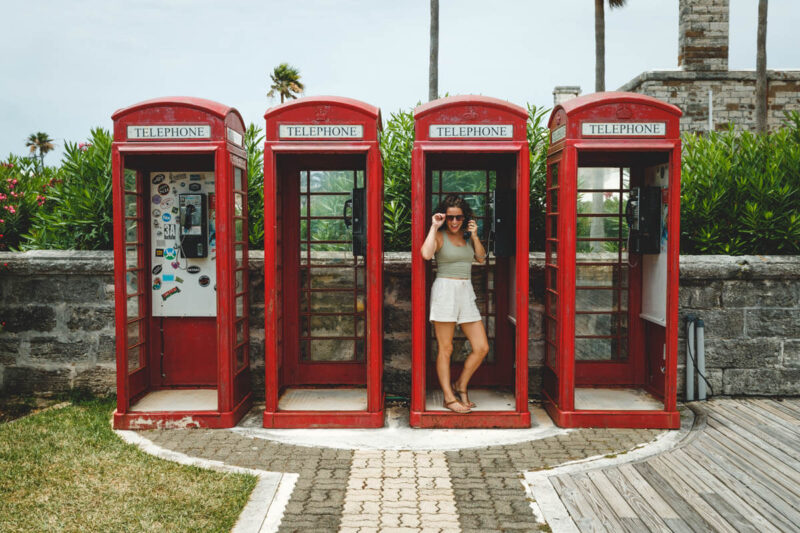 Of course, simply observing the regal architecture of the 18th-century Clock Tower is a rite of passage while visiting Bermuda. You'll likely see some roosters roaming around this area, too.
The Royal Navy Dockyard also encompasses the Royal Naval Cemetery, the National Museum of Bermuda, and a replica of an 18th-century three-masted warship.
Be sure to eat at the Frog and Onion Pub for amazing huge beers, British pub favorites, Bermudian dishes, and live music!
PS – The adorable old-school British payphones are next to Island Outfitters.
2. West Whale Bay Park
Whale watching is one of the best things to do in Bermuda, and there's no better spot than the West Whale Bay Park. From March through May, Humpback whales migrate past the island, and this hillside park offers a great vantage point of the ocean below.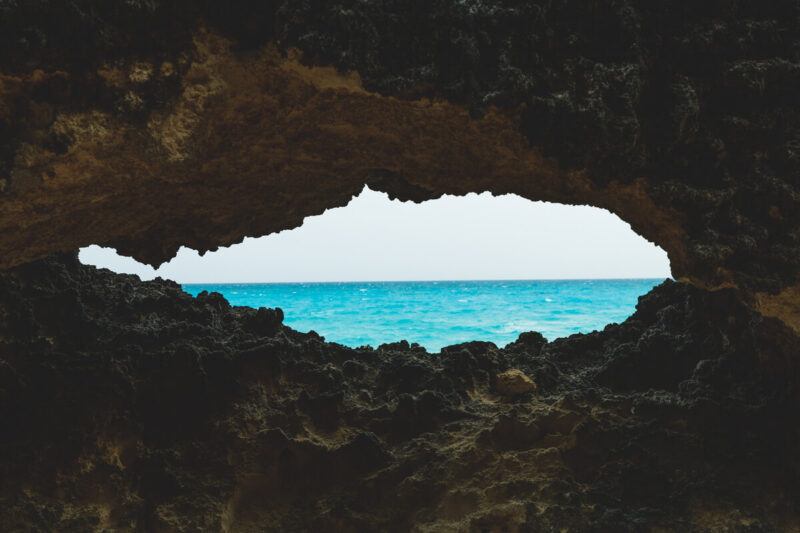 Even if you don't spot any whales, you can stick around to catch one of the best sunsets on the island. West Whale Bay Park is also popular for shore fishing, picnicking, and all the classic beach day activities.
While you're in the area, be sure to check out the 18th-century Whale Bay Fort and Battery, located nearby.
3. Church Bay Park
Church Bay is one of Bermuda's best-kept secrets. This secluded cove flies under the radar of most tourists, allowing those in the know to enjoy the pink sand in solitude. Church Bay Park is an excellent spot for swimming – be sure to wear foot protection, so you don't get cut on rocks.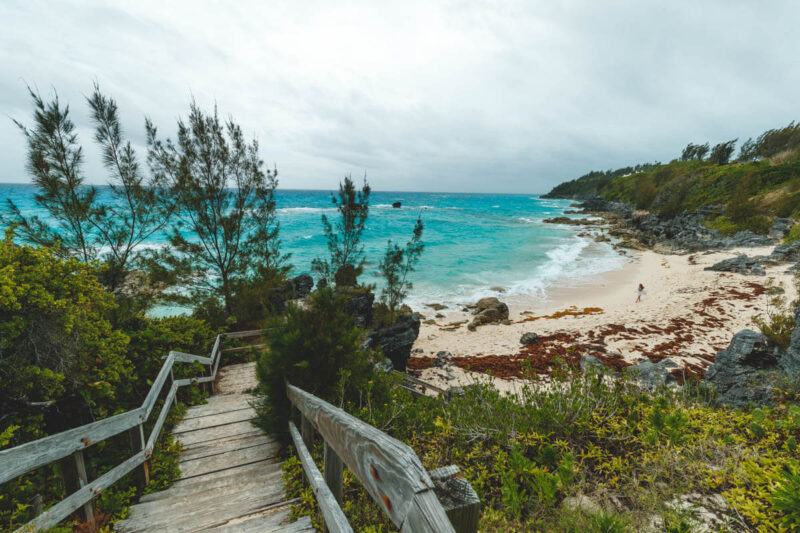 When conditions are right, the area beyond the breaks is one of the best places on the island for snorkeling. Once you get past a bit of seaweed, you'll see tons of tropical fish and cool rock formations.
Note that you will need to descend a set of steps to get down to this idyllic beach.
4. Gibbs Hill Lighthouse
If you're after the best views on the island, make a beeline to Gibbs Hill Lighthouse. After recovering from the trek up the hill, you can ascend the 185 steps to the top of the historic lighthouse. On a clear day, the panoramic views from Gibbs Hill Lighthouse stretch across the whole island.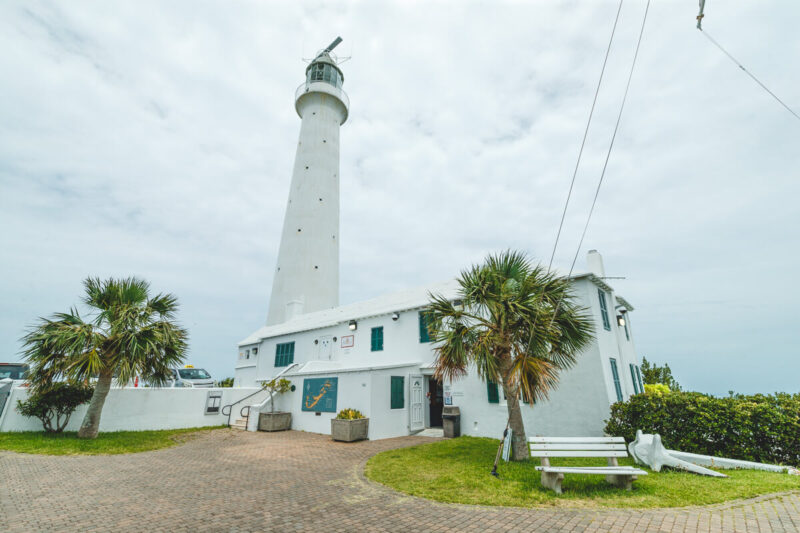 If you worked up an appetite on the climb, head to the Dining Room. This restaurant sits at the base of the lighthouse and serves fresh seafood, pizzas, pasta, and salads.
Where to Stay
The West End is a great place to make a home base in Bermuda, and a few spots stick out from the bunch.
Cambridge Beaches Resort
The Cambridge Beaches Resort & Spa features historic, cottage-style accommodations on the peninsula of Somerset Villiage. Guests can enjoy sandy beaches, an infinity pool overlooking Mangrove Bay, waterfront restaurants, and more at the Cambridge Beaches Resort.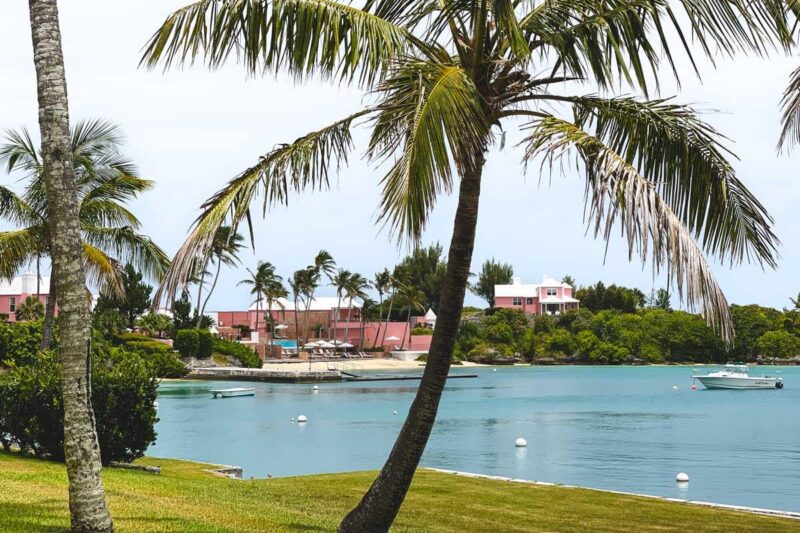 Paul's Ocean View Apartment
For private apartment-style accommodation in Bermuda, check out Paul's Ocean View. As the name suggests, the apartment features stunning ocean views, a private hot tub, and a beautiful backyard area.
Things to Do in Bermuda—CENTRAL
The central zone of Bermuda is home to the island's capital city—Hamilton. Dappled with pastel-colored buildings, high-end restaurants, and some of this island's best beaches, there are tons of things to do in Central Bermuda for all travelers.
5. Horseshoe Bay (One of The Best Things to Do in Bermuda)
Conjur up an image of the perfect beach, and your vision will likely match the real-life shores of Horseshoe Bay. This gorgeous stretch of pink sand and turquoise blue water is the most iconic beach on the island and is renowned worldwide for its picture-perfect shores.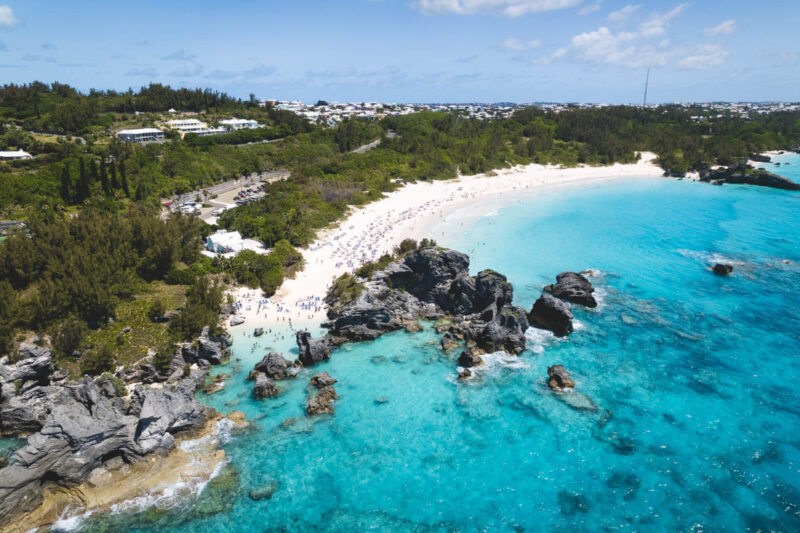 Of all the things to do in Bermuda, spending a day at Horseshoe Bay is a must. You can rent everything you'll need for a perfect beach day right on the bay, including towels, umbrellas, chairs, boogie boards, SUPs, and more.
Try to get here early to scope out a good spot – this famous beach gets crowded! With that said, people do crowd around the entrance so just walk down a bit and you'll find a slice of paradise to yourself.
6. Jobson's Cove & Warwick Long Bay
For a more secluded beach day in Bermuda, head to Warwick Long Bay. As the name suggests, this long stretch of shoreline has plenty of space to spread out and find some privacy.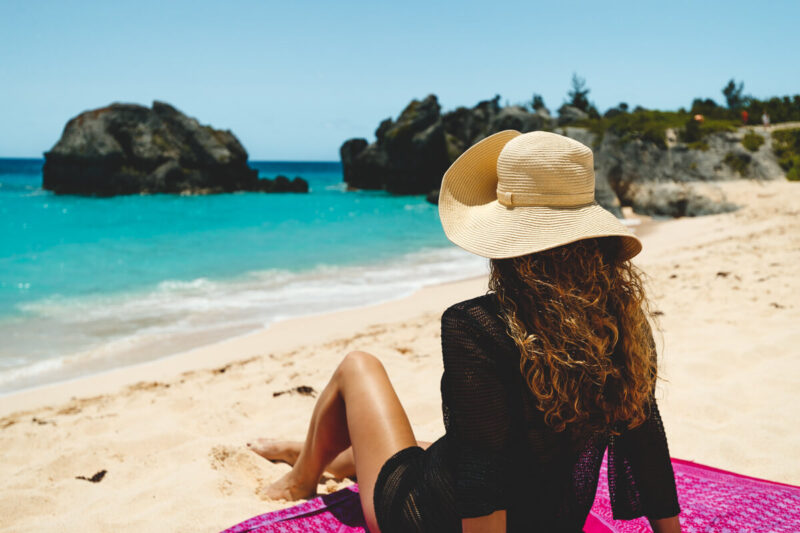 Jobson's Cove is an especially beautiful section of this beach, and many claim it rivals its neighbor (Horseshoe Bay) in terms of stunning scenery. This area is much less crowded, but it's also more rugged with fewer facilities – so be prepared to bring all your beach gear.
7. Astwood Park & Beach
Astwood Park is another one of Bermuda's hidden gems. The grassy park is perched above the rugged cliffs of Astwood Cove and features spectacular views, picnic tables, bathrooms, and a decent-sized parking lot.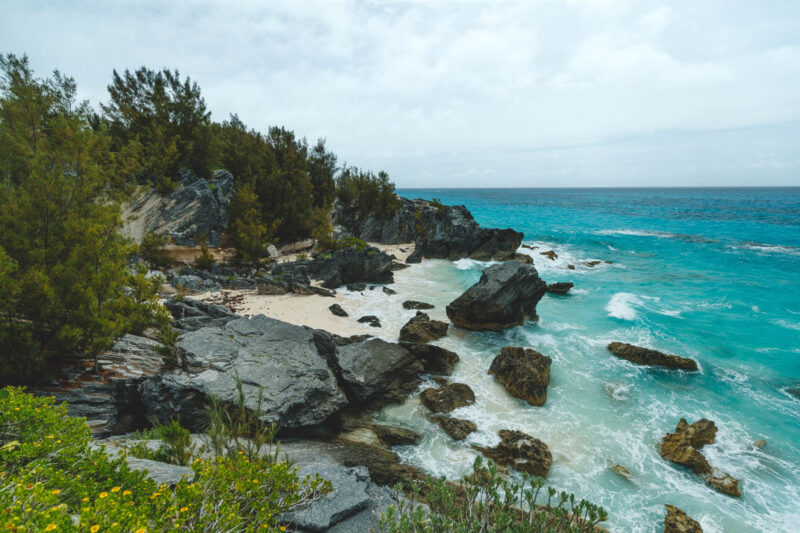 There's also a secluded beach beneath the park, though you must hike down a steep path to reach it. Many forgo this hard-to-reach beach, so there are rarely any crowds to contend with.
If you want to go for a dip, be warned that the water here is usually pretty choppy. Only strong swimmers should attempt to swim the waves at Astwood Cove Beach.
8. Marley Beach
If you're searching for things to do in Bermuda far off the beaten path, head to Marley Beach. This quiet little piece of paradise is surrounded by lush greenery and cliffs, so getting to it will take some effort.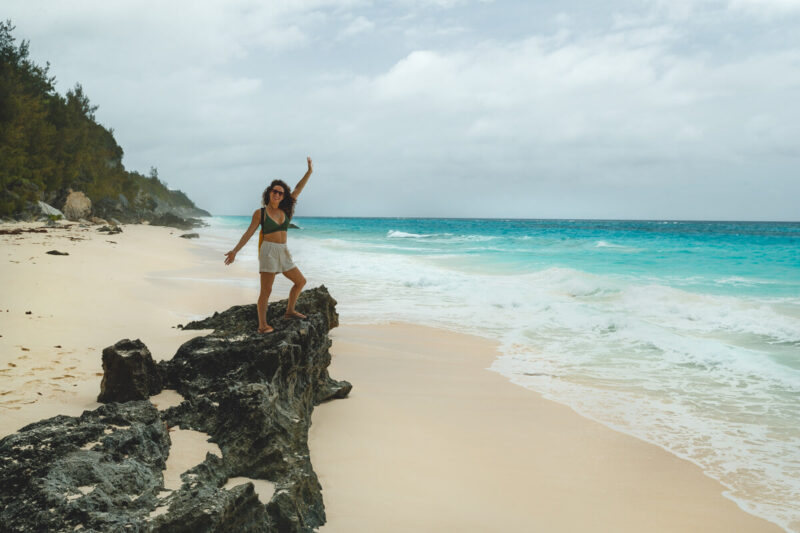 However, those who make the journey will be rewarded with soft sand and beautiful blue waters, and you'll likely have the whole beach to yourself. Swim with caution – the waves are a bit choppy here.
Parking was a bit tricky here too, so park here, and then you'll see a little forest opening to your left, walk down the path there to reach the beach.
9. Elbow Beach
Endowed with Bermuda's famous pinkish sand, Elbow Beach is one of the most popular beaches on the island. It's conveniently located outside Hamilton and has resorts lining the shores. The beach has excellent facilities, including cabanas, chairs, umbrellas, and cocktail bars.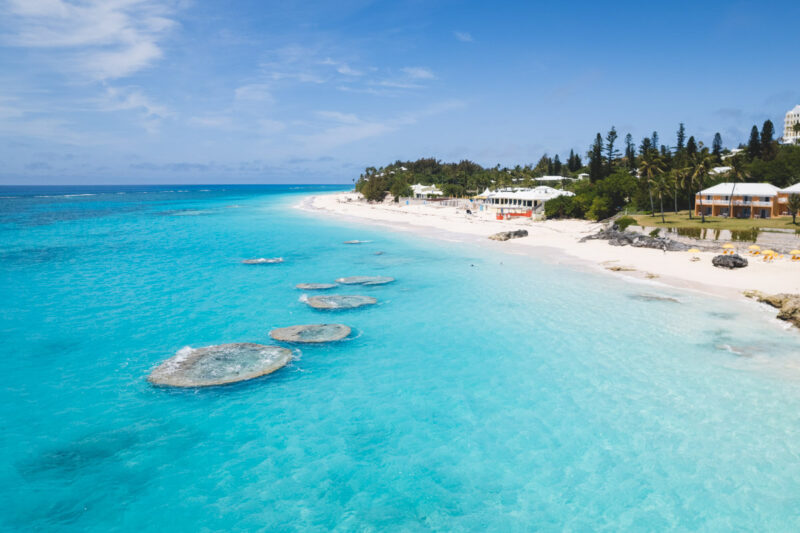 In addition to kicking back and relaxing, Elbow Beach is an ideal spot for snorkeling. A coral reef is right offshore, and a shipwreck sits just 300 feet from the beach. You can explore the shipwreck with a guided snorkeling or kayaking tour.
10. Stroll around Hamilton
Once you've had enough beach time, be sure to stroll around the streets of Hamilton. This Insta-worthy capital city is situated smack dab in the middle of the island and features a historic colonial flare with a modern twist.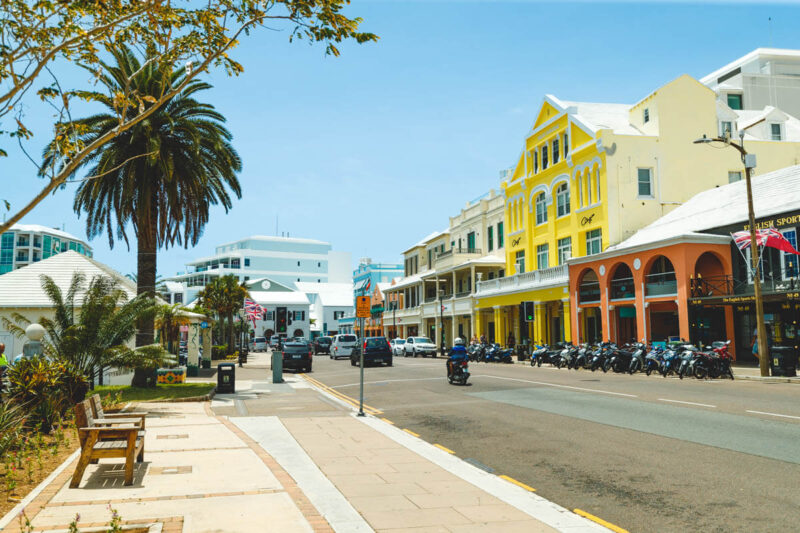 As you wander past the colorful buildings, you'll have plenty of opportunities to pop into contemporary boutiques and sample some of the island's best cuisine. Some highlights of Hamilton include Front Street (the waterfront street), Sessions House, and the Cathedral of the Most Holy Trinity.
Favorite places to eat in Hamilton:
Art Mels Spicy Dicey – a bit north of Hamilton but worth the stroll up. It will be the best fish sandwich you've ever had—it's the size of your face!
Devil's Isle Cafe – Fresh and famous for a reason. The health bowls are nourishing, the pasta is made in-house, and the seafood is cooked impeccably.
Brew – Awesome and yummy quick eats with fresh local beer and wine on tap (yes, the wine is on tap too!)
Aurora – I stayed at the Newstead Belmont which is where Aurora is, just a 5-minute ferry ride across the way, and it was spectacular! The dishes here are next level. The Thai curry was the closest tasting I've had (I lived in Thailand!), and the octopus was perfectly cooked. We ate here TWICE it was so good.
11. Spanish Point Park
One of the best things to do in Bermuda is to experience life like a local. Spanish Point Park is a favorite amongst islanders who use the shady grounds for picking, playing cards, and simply relaxing.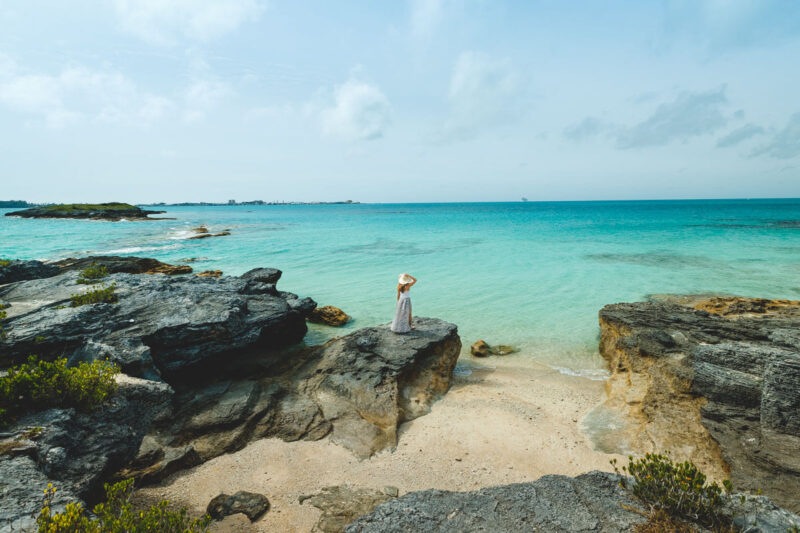 However, if you're looking for a little more action, you can snorkel in the calm waters on the Atlantic side of the park. Try to stick around Spanish Point Park until sunset – it's one of the best places to watch the sun go down on the island!
12. Admiralty House Park and Clarence Cove
Located on the island's north shore, Admiralty House Park should be at the top of your list of things to do in Bermuda. The park once housed an opulent bungalow for admirals of the British Royal Navy. Though little is left of the structure, the secret underground passages remain.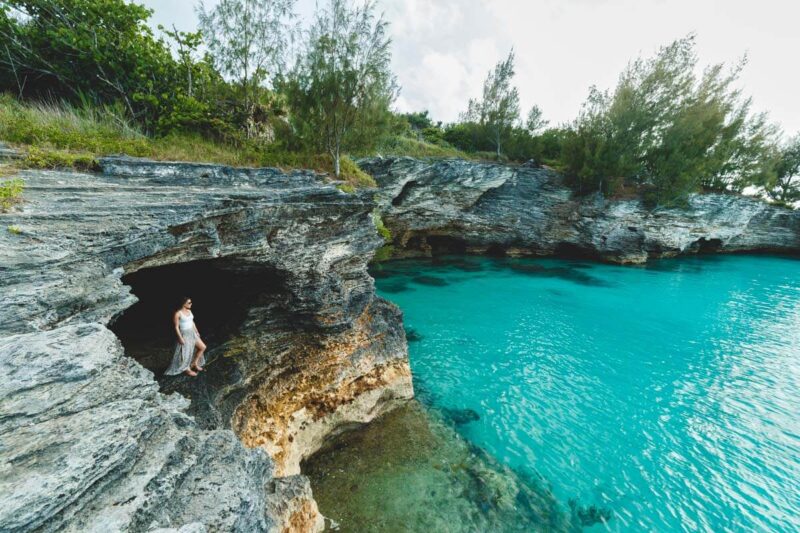 These "caves" were constructed to offer discrete entrances to the home; today, you can explore them for free. The park also features scenic walking trails, a small beach, picnic facilities, and jagged rocky outcrops for cliff jumping.
Where to Stay
The Central section of Bermuda has plenty of options for accommodation, and we've highlighted some of the best options below. This will be an ideal location as you'll be close to all of the things to do in Bermuda!
Newstead Belmont Hills Resort—Where I Stayed!
The lavish Newstead Belmont Hills Golf Resort and Spa is the place to stay if you want to relax in luxury. This ocean-front oasis is conveniently located near all the island's top attractions.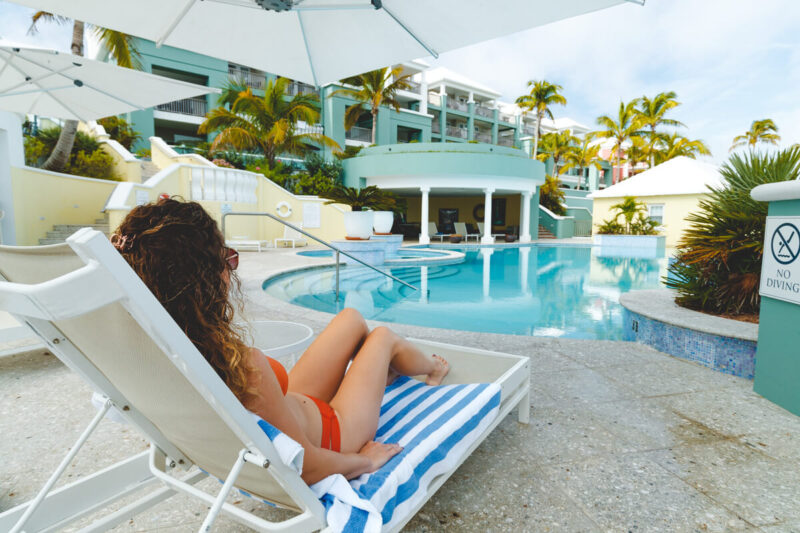 The resort features top-notch amenities, including an 18-hole golf course, an infinity pool overlooking the ocean, a state-of-the-art fitness room, and more. In addition, guests can enjoy stunning waterfront views from every suite, along with various bars and restaurants across the resort.
Regarding places to stay in Bermuda, this resort is hard to beat!
While it's not directly on a beach, it is on the water. Plus, they have a free shuttle to take you to Elbow Beach, their golf course, or other resorts and restaurants within a 5-minute radius of the resort. They even have a free ferry that takes you right over to Hamilton!
Hamilton Princess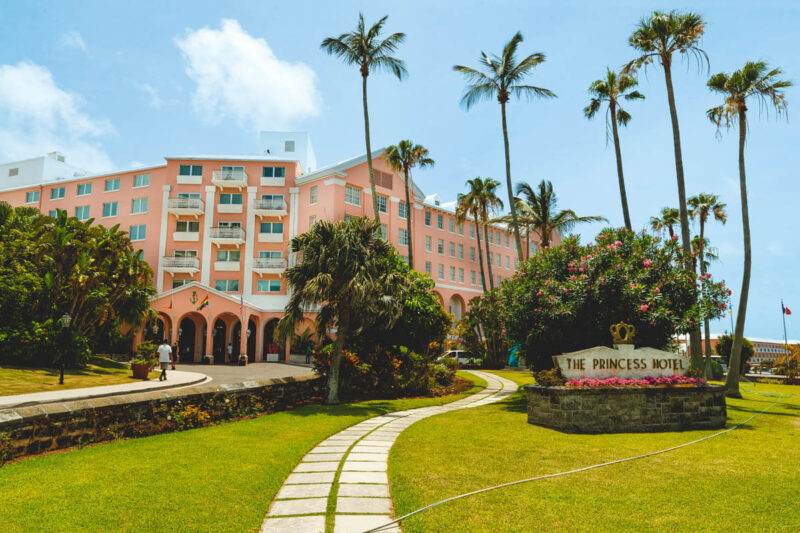 Those who want to stay in the center of the action should head to the Hamilton Princess. Located in the heart of Hamilton, this iconic hotel caters to elite travelers with next-level luxuries like multiple pools, swanky art collections, a private marina, and more.
Cliffs of Marley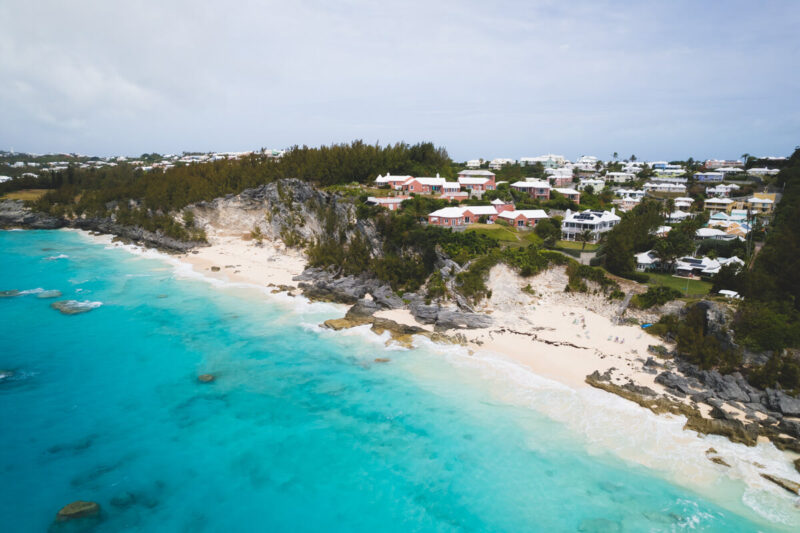 The Cliffs of Marley offers apartment-style living on Bermuda's stunning South Shore. The property features furnished apartments with kitchens, private balconies, and a private beach and pool.
Things to Do in Bermuda—EAST END
Bermuda's East End is home to the historic town of St. George's. This port city played a crucial role in multiple US wars and has earned its place on UNESCO's list of World Heritage Sites. This area of the island is packed with historic churches, a seaside fort, and some of Bermuda's most pristine natural areas.
13. John Smith's Bay Beach
John Smith's Bay Beach comprises a wide, pink sand shore and crystal clear water. When conditions are right, the snorkeling here is some of the best in Bermuda, thanks to the nearby reefs.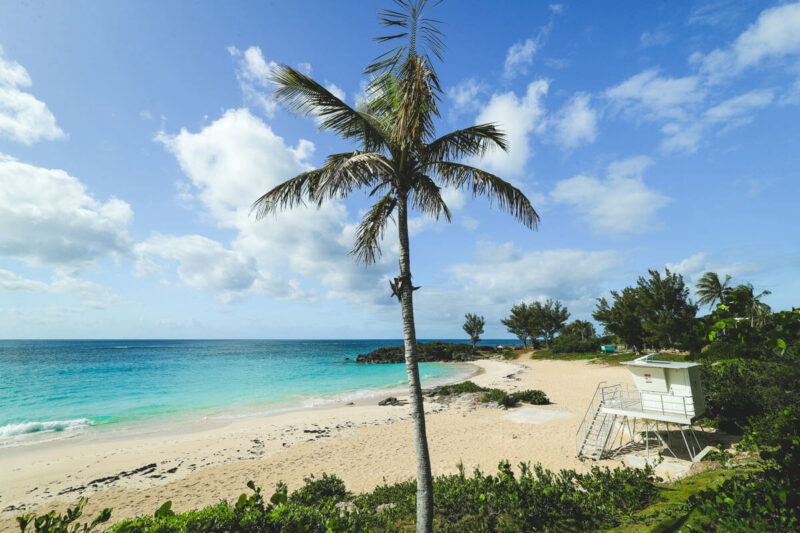 This stretch of sand is in a somewhat remote location. It is usually less crowded than the more popular Horseshoe Bay and Elbow beaches.
It's a local favorite with plenty of amenities like lifeguards in the summer months, a convenient parking area, bathrooms, and a lunch cart selling concessions.
14. Blue Hole Park
Named for the vibrant-hued swimming hole at its center, Blue Hole Park is a great spot to spend a sunny afternoon. Towering mangrove trees surround the swimming hole, and the water teems with bright tropical fish.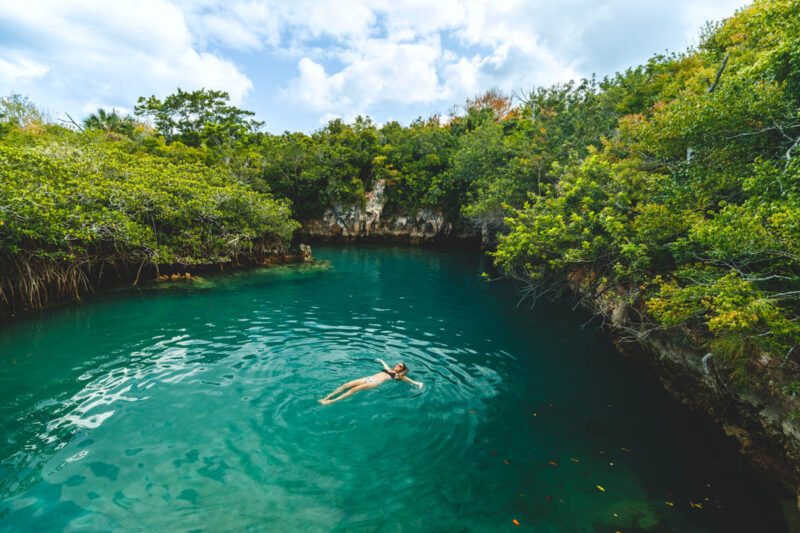 In addition to the swimming hole, the 12-acre park also has cliffs to jump from and caves to explore. If you're looking for unique things to do in Bermuda, Blue Hole Park is it! The best part is that it's free to access.
While in the area, you could also explore the nearby Walsingham Nature Preserve/Tom Moore's Jungle. It's a nice break from the sun as it's a beautiful stroll through a lush canopied forest.
15. Crystal and Fantasy Caves
Bermuda's Crystal and Fantasy Caves are some of the island's true hidden treasures. The ethereal network of underground caves and subterranean lakes is dotted with centuries-old stalagmites and stalactites.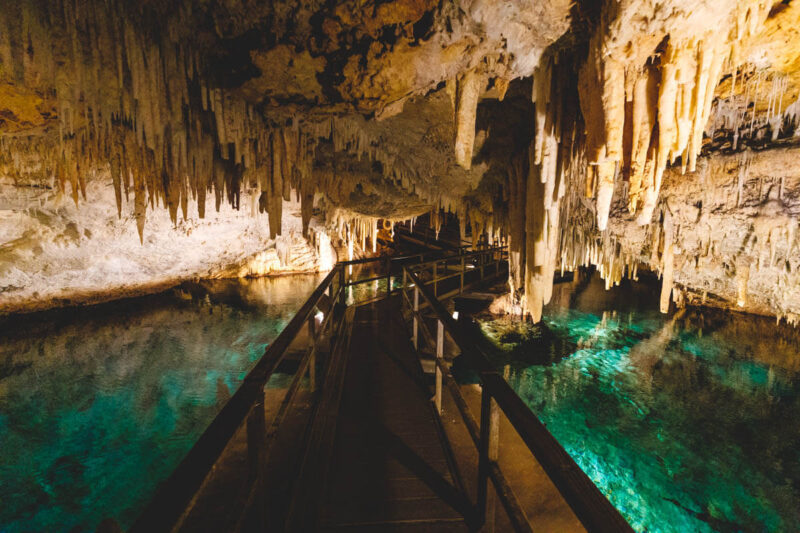 Taking a tour of these ice age-era caves is one of the best things to do in Bermuda, so long as you're not claustrophobic – some of the caverns are seriously tight!
16. Swizzle Inn
This is the only food spot I'm including as a "thing to do in Bermuda," but for good reason! This is the oldest pub on the island and is home to the famous Rum Swizzle, the island's legendary drink. This drink is iconic, and they sell it by the glass or the pitcher. It's a delicious blend of rum, juices, and bitters.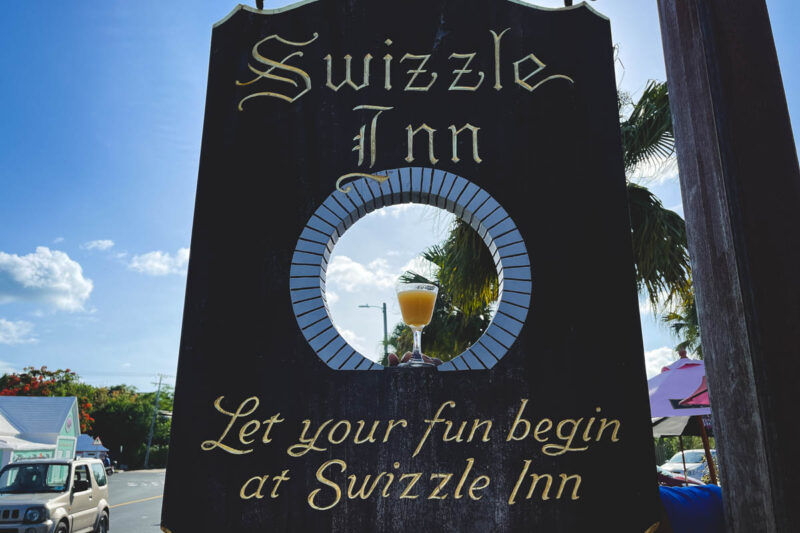 They have tons of pub favorites and local dishes, but if you want to honor Bermuda, you'll order the national dish—Bermudium Fish Chowder. It's served with black rum and a sherry pepper sauce that you can dash in to your liking.
If you've saved room for dessert, head across the street to Bailey Bay's Ice Cream, they "only" have 30 or so flavors to choose from!
17. Tobacco Bay Beach (One of The Most Famous Things to Do in Bermuda)
Situated on the outskirts of St. Geroge's, Tobacco Bay is the epitome of a quintessential Bermuda beach. The beach is beloved for its massive limestone cliffs and crystal clear shallow water.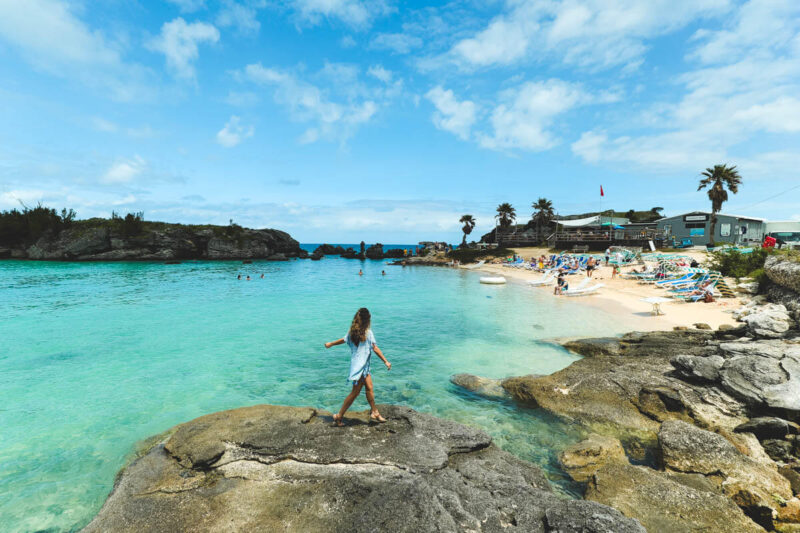 The combination makes Tobacco Bay one of the best spots on the island for snorkeling, and you can rent gear right on the beach. You can also rent paddleboards, kayaks, and kiddie floats.
The fun continues after the sun sets on this lively beach. There is a bar and restaurant that offers live music, a big beach bonfire, and plenty of tasty cocktails to sip on as you enjoy the beach party.
18. Fort St. Catherine and St. Catherine's Beach
Situated on St. George's northeasternmost tip, Fort St. Catherine is Bermuda's largest fort. The fort was constructed in 1614 but underwent significant renovations in the 19th century.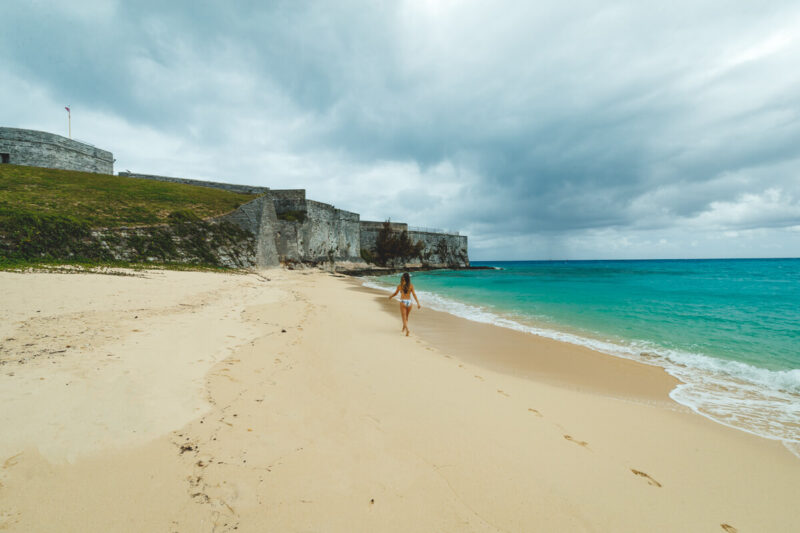 You can tour this impressive structure, explore the artifacts and exhibits, or play around on the drawbridge and towers. The fort also boasts some of the best views on the island, with sweeping ocean vistas around every corner.
Most people come for the fort, but St. Catherine is also an excellent spot for a beach day. The soft sand beneath the fort is never overly crowded, and the calm water is great for swimming.
19. Unfinished Church & St. Peter's Church
Bermuda's East End boasts a collection of impressive churches. One of the most famous is unfinished, hence its appropriate (albeit a bit uninspired) name.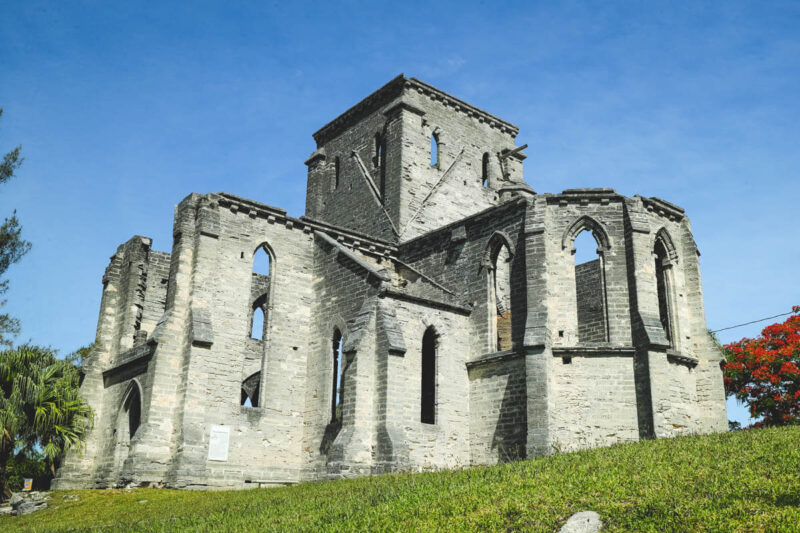 The Unfinished Church is still incredible, with its dilapidated limestone structure standing tall above St. George's. You can roam the ruins for free and imagine how beautiful this church might have been.
The Unfinished Church was meant to replace the historic St. Peter's Church just down the road. Instead, St. Peter's was revitalized and remains the oldest Angelical place of worship outside the British Isles.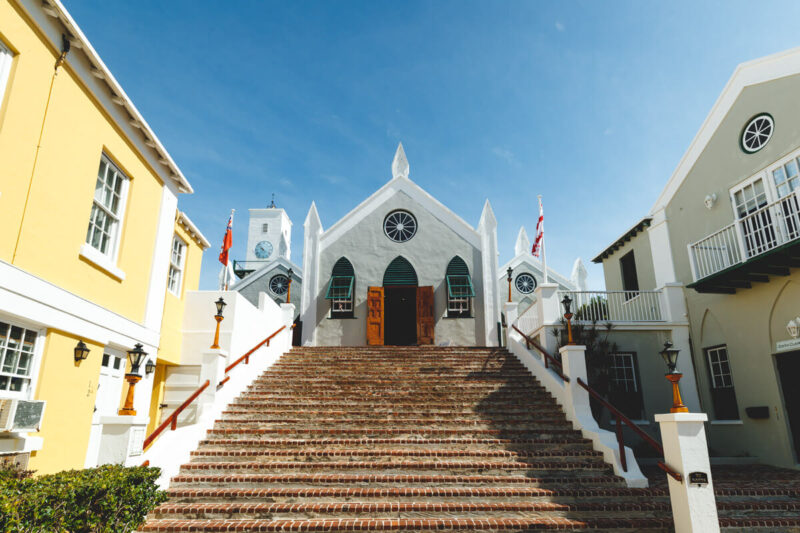 Dating back to 1612, St. Peter's Church has weathered more than one storm in its long lifetime and is a beautiful and well-preserved gem of Bermuda.
20. Clearwater Beach
Tucked along the southeastern coast, Clearwater Beach is far off the beaten path. Most tourists don't come this way, though locals enjoy this stretch of sand on the weekends.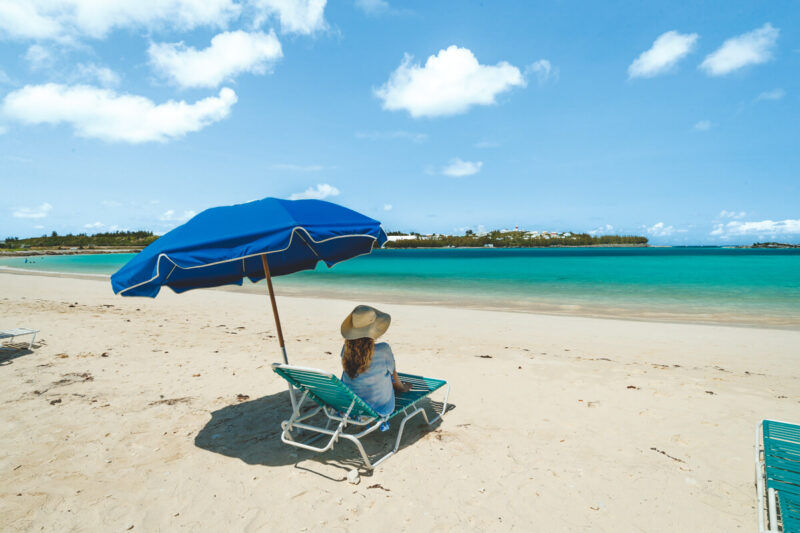 When the more accessible beaches become inundated with cruise ship passengers and other tourists, Clearwater Beach remains a quiet oasis with many great amenities. A bar and restaurant on the beach serves fresh catches of the day and other local staples.
You can also rent beach gear from the restaurant, including chairs, umbrellas, and snorkeling gear. While it lacks reefs, Clearwater Beach has seagrass and shallow ocean floors, making it an excellent spot for snorkeling.
21. Cooper's Island Nature Reserve (One of My Fav Things to Do in Bermuda)
Cooper's Island Nature Reserve is one of the best things to do in Bermuda for those who want to experience the island's wild side. The area was once a restricted US military area, but today the reserve's 12 acres are used for hiking, wildlife and bird watching, and simply enjoying nature.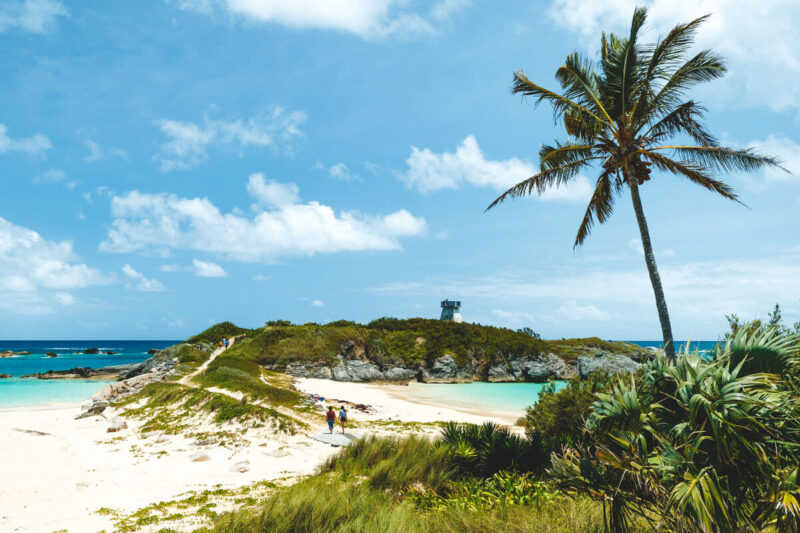 Be sure to climb up the Wildlife Observation Tower for epic coastline views. If you're lucky, you might spot migrating humpback whales (March-May), birds, and other wildlife.
After an afternoon of trekking through the reserve, you can hit up one of the nearby beaches, including Long Bay, Clearwater, and Turtle beaches. These quiet stretches of sand are a far cry from the better-known beaches around Bermuda, so solitude is almost guaranteed.
Where to Stay
If you want to be close to all the East End offerings, check out some of the best places to stay below.
Grotto Bay Beach Resort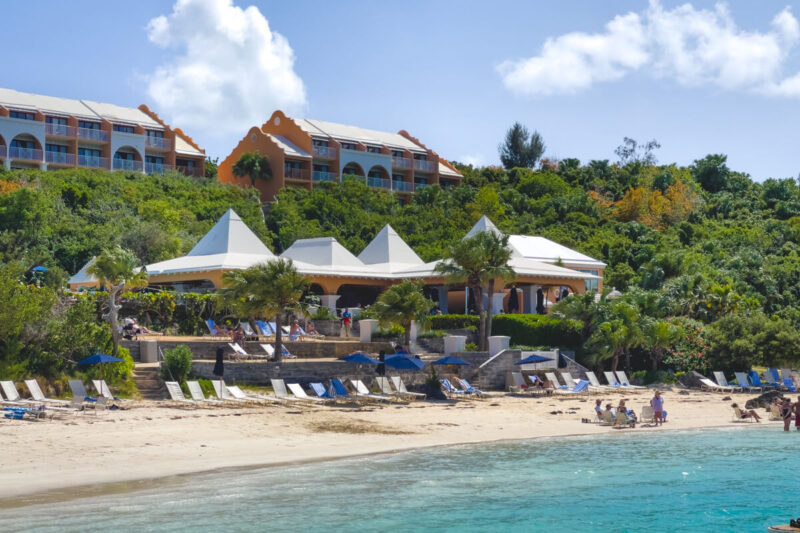 Grotto Bay Beach Resort is a great option if you want to stay all-inclusive in Bermuda. The resort features cottage-style accommodation overlooking the bright blue waters of Bailey's Bay.
The St. Regis
The St. Regis is one of the most exclusive resorts on the island. So, if you want the best of the best, this is the place for you.
How to Get Around Bermuda
There are several ways to get around the island; you can choose which is best for you or mix it up depending on the day!
Car Rental (The Best Way to See All The Things to Do in Bermuda on This List)
You can't rent "regular" cars on the island. Even the locals have restrictions on how many cars they can own. So visitors have the option of renting electric vehicles to get around the island.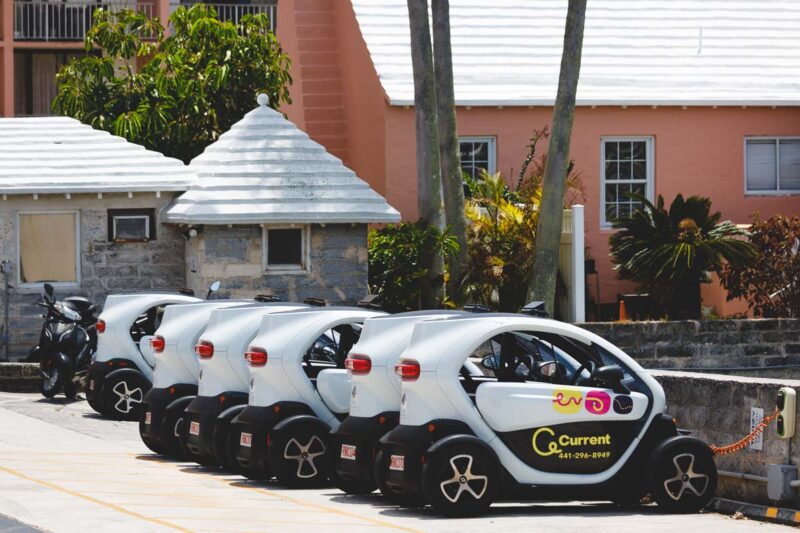 These are usually teeny tiny little cruising vehicles. Some offer more room than others as there are different companies around the island.
We went with Current as it was the most accessible option. You can use the app and pick up or drop off a car at any of their locations. It was mega easy, but holy crap, definitely not cheap. You can rent it by the hour ($15), and after 8 hours, it "caps" your bill ($120). We rented ours for a few days straight and spent $120 a day! Ouch.
Scooters and Bikes
Getting around on two wheels is another great way to get around. This will be the second most economical way to get around the island. The speed limit is 35 km (20 mph) around the island, so it's pretty easy and safe to cruise around.
They usually offer a better deal the more days you rent as well, so be sure to inquire about that if you plan on using it for more than one day. More info here.
Bus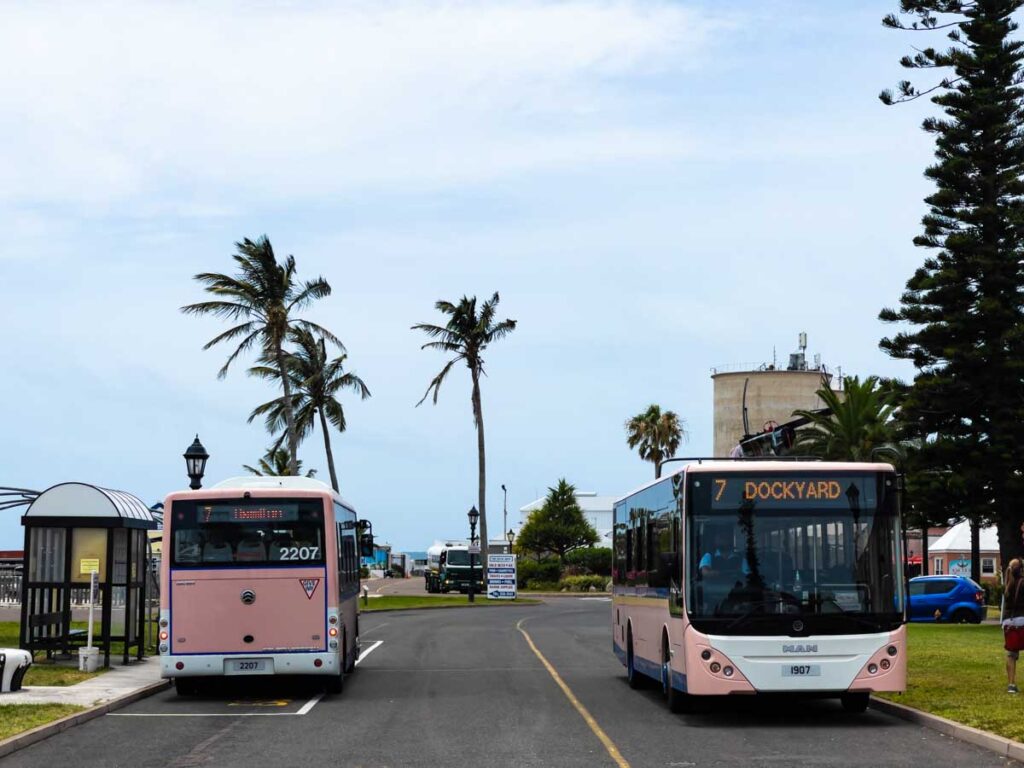 Bermuda actually has quite an efficient bus system with plenty of stops around the island. The bus goes to most of the highlights on the island. You can check the bus timetables here. This will be the most economical way to get around the island.
Taxi
I'd say don't use taxis! You might need it to and from the airport, but that's about it. Getting around trying to see the best things to do around Bermuda in a taxi will bleed your wallet dry. It's very expensive here.
It was about $50 from the Hamilton area to the airport, which is only about 15 km (9 miles). Sundays are often more expensive as well.
Tours
If none of the options appeal to you and you want to be extra catered to without having to figure out a bus schedule or get behind the wheel, then there are plenty of cool tours to choose from!
Visit many of the island's main highlights in one epic day—The Dockyard, Horseshoe Beach, Hamilton, Gibbs Lighthouse and more! BOOK THIS TOUR
Go snorkeling and sailing on a really cool PINK catamaran while sip on Rum Swizzles. BOOK THIS TOUR
If you want to bask on the beach all day and do nothing more during the day, maybe a sunset cruise on a gorgeous catamaran with some drinks is more your jam. BOOK THIS TOUR
Check out the famous Crystal Caves, shop, and explore some beaches on an awesome day trip. BOOK THIS TOUR
Want to eat all the things but don't want to do the research on WHERE to get the best eats? Take a Bermudian foodie tour! BOOK THIS TOUR
Swim with the fishes, drink a Rum Swizzle, and explore shipwrecks on a half-day tour. BOOK THIS TOUR
Bermuda Tips
1. Location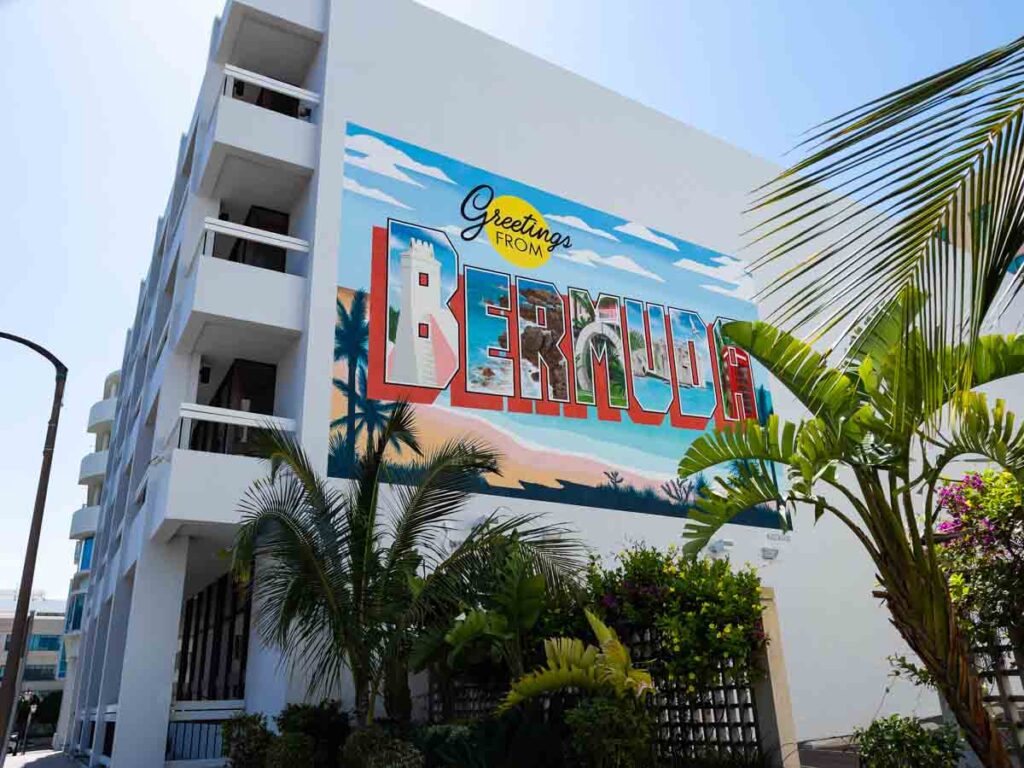 The most important thing to know is that Bermuda is not part of the Caribbean, despite the tropical vibes. It's technically a British Overseas Territory, but it's located in the middle of the North Atlantic, and the closest landmass is the east coast of the US. In fact, the closest state is North Carolina!
2. Time Zone
Bermuda is on Atlantic Standard Time (AST), which is one hour ahead of Eastern Standard Time (EST) and four hours behind Greenwich Mean Time (GMT). So depending on where you're coming from, jetlag won't be too much of an issue.
3. Best Months to Visit
Summer runs from May through October, which is when you'll get the warmest temperatures (upper 80s), but also the most tourists and the highest prices. The end of summer (August through October) is also hurricane season, which is best to avoid.
If you want to avoid the crowds, visit in winter (November through April), which is cooler but still averages in the 60s. April is the sweet spot, with the highest winter temperatures.
4. Entry and Exit Requirements
Bermuda has strict but straightforward entry requirements for foreign visitors. You need to have a valid passport and an approved Travel Authorization (TA), which can be applied for up to 30 days in advance.
5. Language, Currency & Electricity
The island's official language is Bermudian, a mix of British, American, and West Indies dialects, so you'll have no problems communicating in English.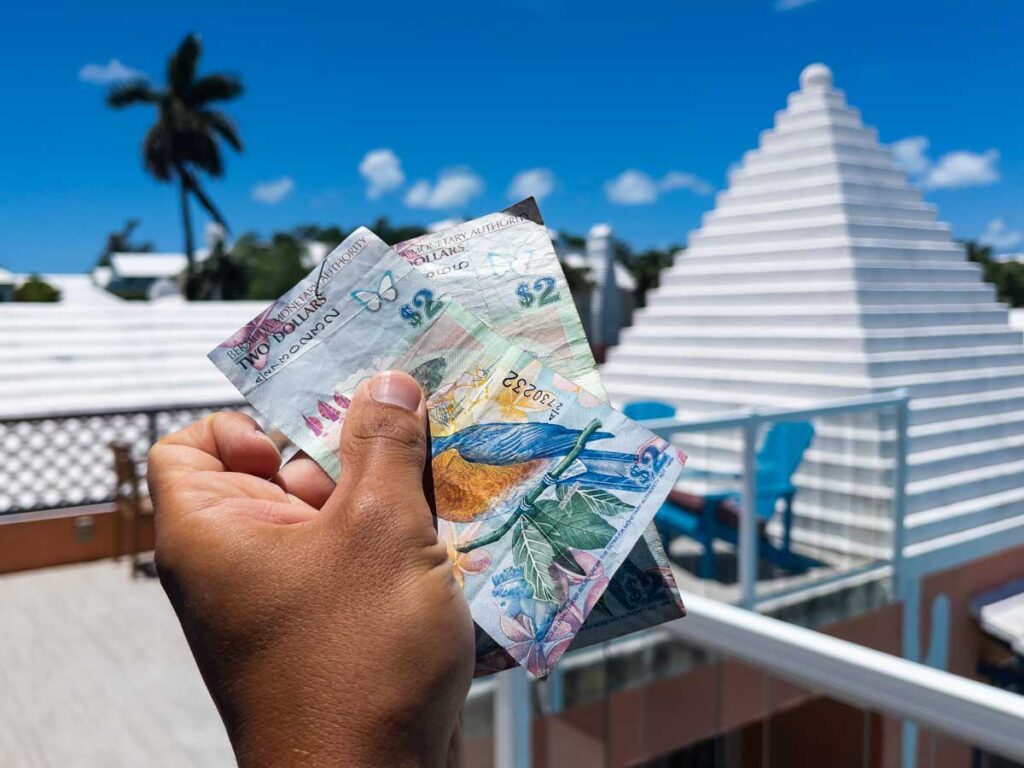 The Bermudian Dollar (BMD) is the local currency, but US dollars are also widely accepted. And to make things even easier, 1 BMD = 1 USD. Credit and debit cards are also widely accepted, but taxis only take cash.
Despite being a British Territory, the power outlets here are the same as in the US.
6. Safety
Bermuda is a small island with a relatively low crime rate, but there are still some things you should be aware of:
Portuguese man o'wars – these jellyfish-like creatures with long tentacles can bob on the surface of the water. Their stings aren't usually fatal, but they can be incredibly painful and ruin a beach day.
Hurricanes – they're not as prevalent as you might find in the Caribbean, but there is still a hurricane season here. Keep your eye on the forecast if you're traveling from August to October.
Water – Bermuda has no source of fresh water, so be aware that any tap water you're offered will be collected rainwater. Avoid it unless you know it's safe or simply take a filter water bottle.
Theft – the crime rate here is generally low, but as a tourist destination, petty theft and pickpocketing is still something to look out for. Don't leave important items in those electric vehicles as they are very easy to open.
Emergency services – the emergency number in Bermuda is 911.
7. How to Save Money in Bermuda
Bermuda has long been considered a holiday destination for the rich, so this is not a place to visit on a budget. Add to this the fact that everything has to be imported, and prices add up. That said, you can still be conscious about spending your money.
Avoid taxis, which are very expensive. Instead, rent a scooter, bike, or electric car if you want independence, or take public transport to save the most cash.
Book your accommodation early for the best prices (and ensure you get the hotel you want).
For even better prices, travel in the off-season (November to March), which can be up to 25% cheaper.
Eat out! This may seem counterintuitive, but all the imported ingredients means cooking can be just as expensive. I'd say the only exception is cooking a quick breakfast for yourself, which is likely cheaper.
8. What to Eat and Drink
The cuisine here draws influences from both its British heritage and the plentiful local seafood. For fish dishes try mussels, wahoo, rockfish, and chowder. Other traditional fare includes peas n' rice, savory cassava casserole, and papaya casserole. Don't forget to indulge in fresh fruit, which is one of the only foods grown here.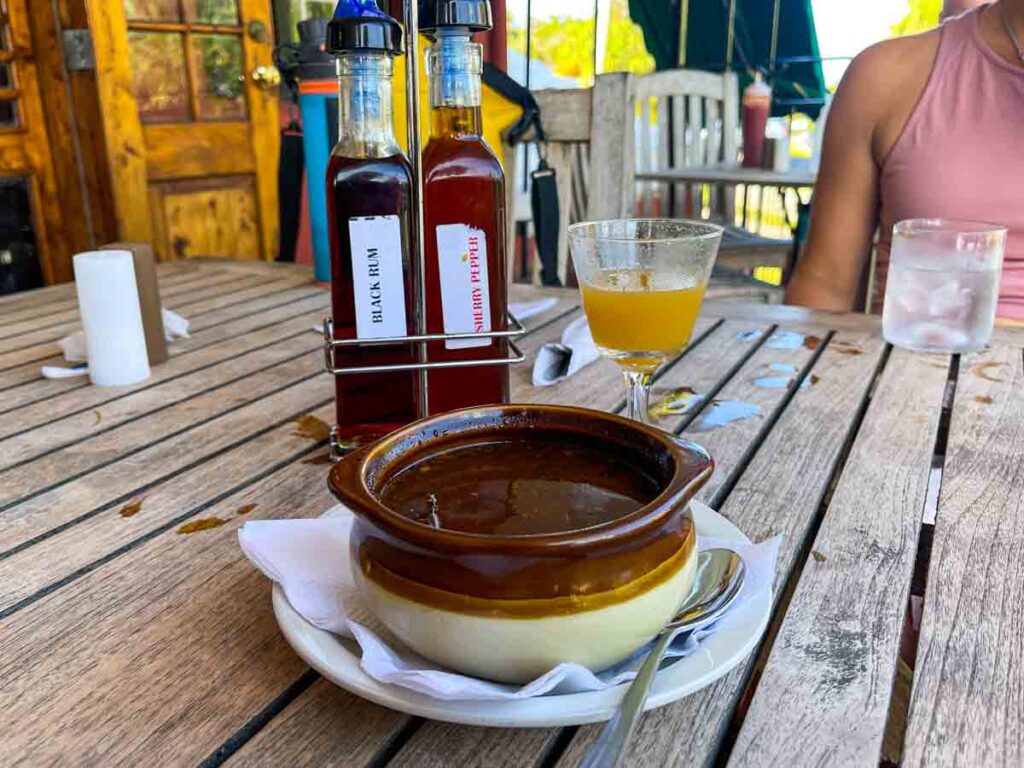 A rum Swizzle to drink and a Bermudian Fish Chowder should also be on your list of things to eat and drink.
9. Tipping
There's no need to tip in restaurants–you'll find a 17% gratuity charge has already been added. In taxis, it's customary to tip around 10-15%.
10. What to Pack
Despite the plethora of beaches in Bermuda, you can't get away with just taking beach gear. As an affluent holiday destination, there is something of a conservative dress code here. Casual clothing is fine during the day, but crop tops and short shorts will still be frowned upon in restaurants. By night you might need to dress more formally.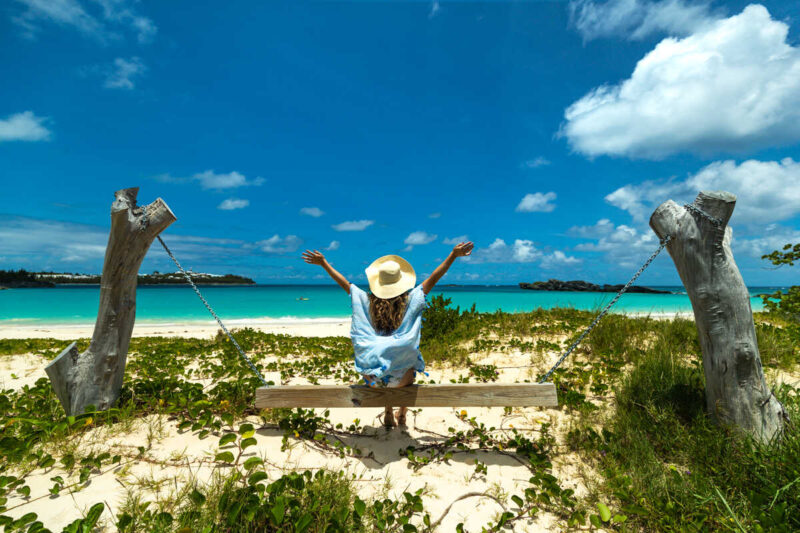 It might also be worth bringing a light jacket, depending on when you plan on visiting; it can get chilly here for some months.
If you plan on snorkeling, I'd suggest bringing your own. Not only will it save you some money but also time having to hunt down a rental shop every time you want to hop in the water.
I hope this helped you plan what to do in Bermuda, have an amazing trip!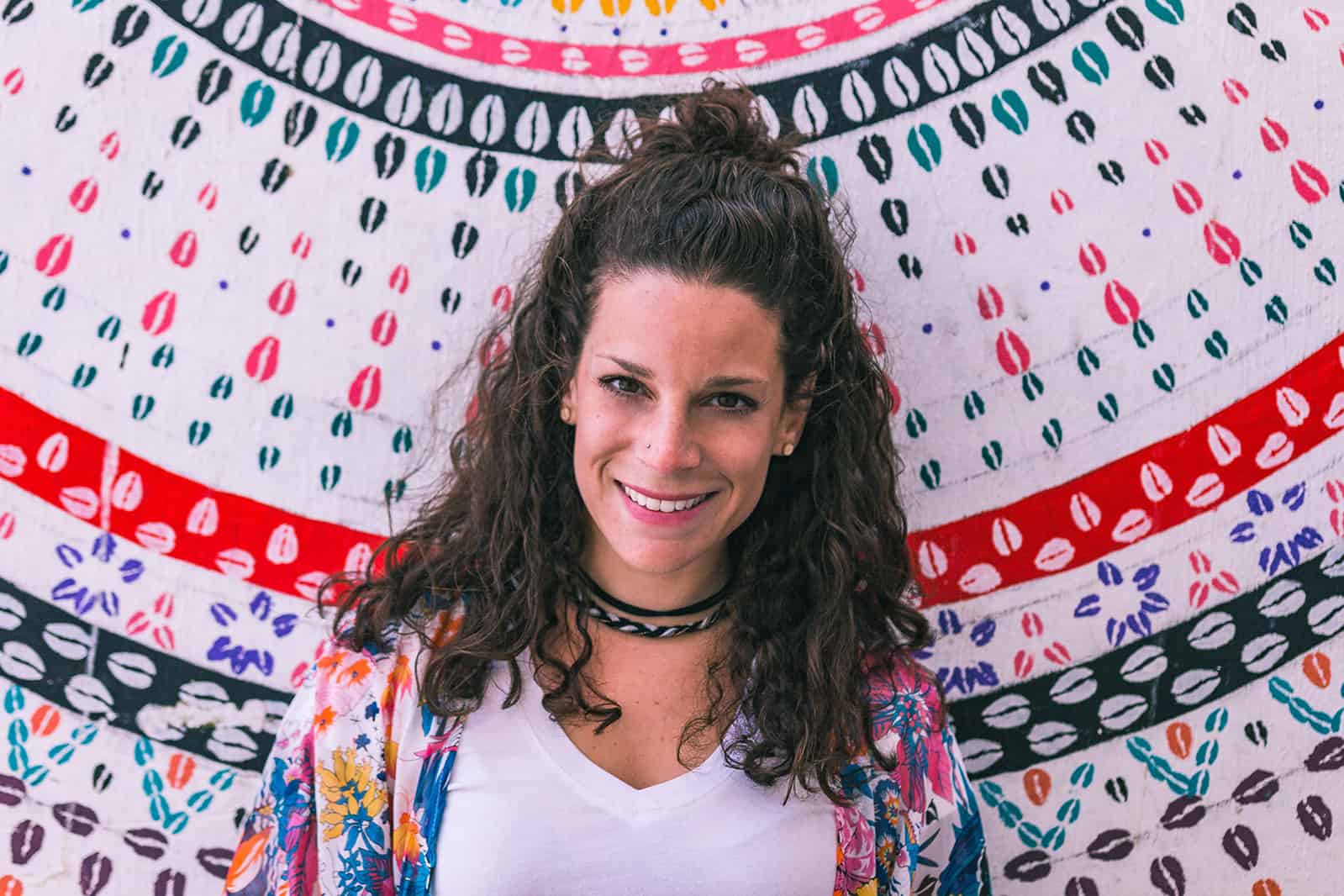 Nina Ragusa is an adventurer, messy bun master, breakfast fan, and full-time travel blogger. She's been abroad since 2011 and blogging on Where in the World is Nina? for nearly as long. Nina helps people like you move around the world while making money. She loves talking about how to work abroad and online to travel longer!