Ah, Bermuda. A tiny slice of paradise (just 21 miles long and one mile wide at its thickest point) serves up tropical vibes in spades. So much so that many visitors confuse it for a Caribbean Island.
Although technically part of the Atlantic, Bermuda shares many of the same characteristics as the islands of the West Indies. This little island has a lot to offer, from colorful colonial architecture to lush swaths of wilderness.
But above any other attribute, Bermuda is famed for one thing – its beaches. The plush pink sand and crystal clear waters put the beaches in Bermuda on a level all their own. Spending a day (or several) at the beach is one of the best things to do in Bermuda.
Whether you're looking to beach bum, snorkel, explore caves, or jump off cliffs, your options are endless. Continue reading to discover the best beaches in Bermuda.
Beaches in Bermuda
---
1. West Whale Bay Park
It's no surprise that West Whale Bay Park is a prime spot for whale watching. But few know that this westerly park is also one of the best beaches in Bermuda.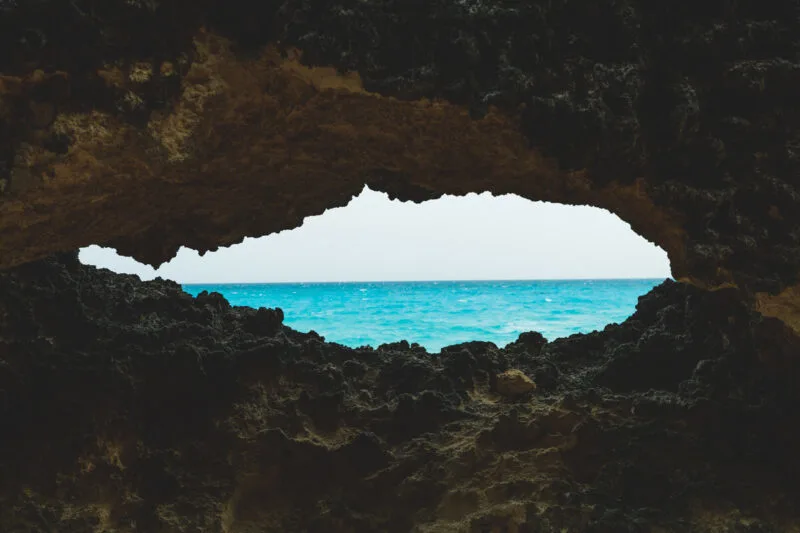 The soft pink sand and calm shallow water make it an excellent place for all the classic beach day activities, and the coastal pines surrounding the area provide a sense of seclusion and privacy.
West Whale Bay Park also offers up activities for the more adventurous beachgoers. The fishing here is good, as are the views from the top of the hill. If you venture up the cliffs, you may even see pods of humpback whales that migrate through the area between March and April.
While you're here, don't miss the nearby Whale Bay Fort and Battery, which dates back to the 18th century.
2. Church Bay Park
Church Bay Park is often considered the best beach in Bermuda for underwater exploration. Once you get past the breaks (and the seaweed), the snorkeling here is epic.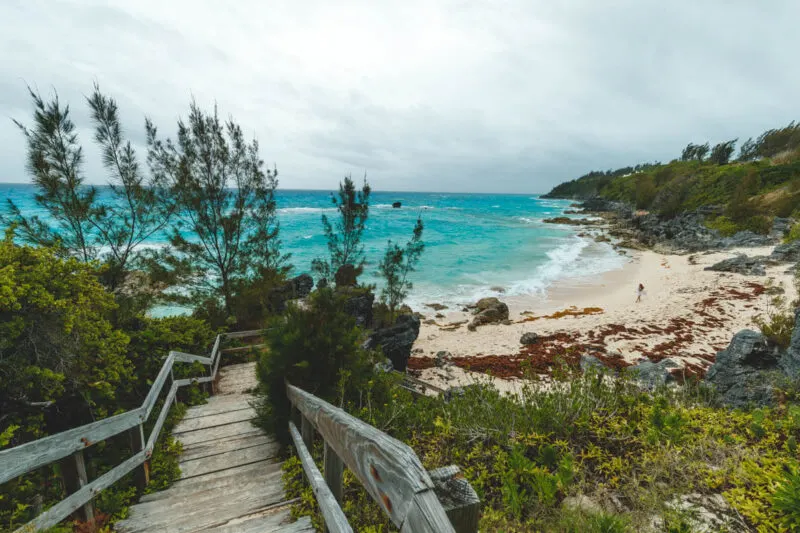 There's a reason why Bermuda is known as the parrotfish capital! If you don't have your own gear with you, there are beachside concession stands that rent out masks and snorkels on good weather days.
Once you've scoped out the tropical fishies, you can head back to the small sandy outcrop and enjoy the solitude of this hidden gem. Note that Church Bay Park is at the bottom of a long staircase that you will need to descend (and eventually climb back up).
3. Horseshoe Bay (Most Famous Beach in Bermuda)
Far from a hidden gem, Horseshoe Bay is one of the most popular beaches in Bermuda. Often considered one of the best beaches in the world, Horseshoe Bay attracts the praise of the masses with its soft pink sand, calm blue waters, and stunning scenery.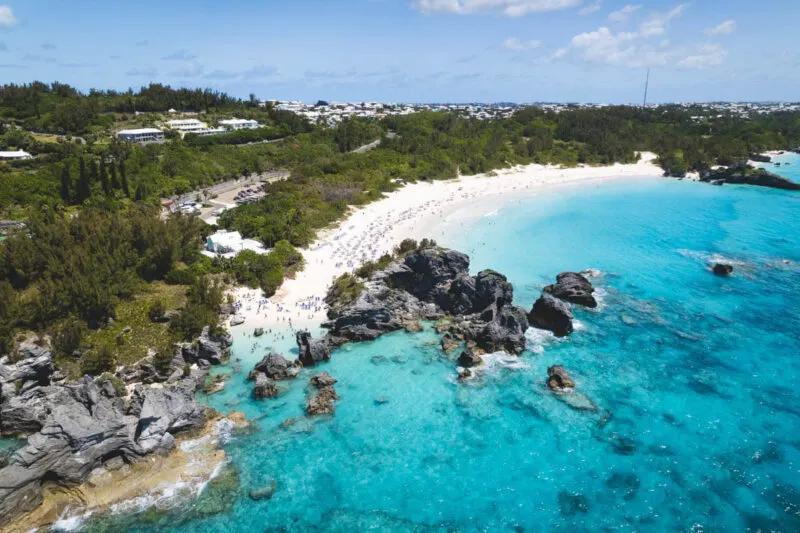 While no one would fault you for simply soaking up the sun on this beautiful beach, Horseshoe Bay has tons of activities for every type of traveler—there are some perks to visiting famous beaches!
You'll find everything you need for a perfect beach day available to rent, including towels, sun loungers, umbrellas, snorkeling gear, SUPs, and more. Once you've had enough fun in the sun, you can head to the bar above the beach for a burger and refreshing drink.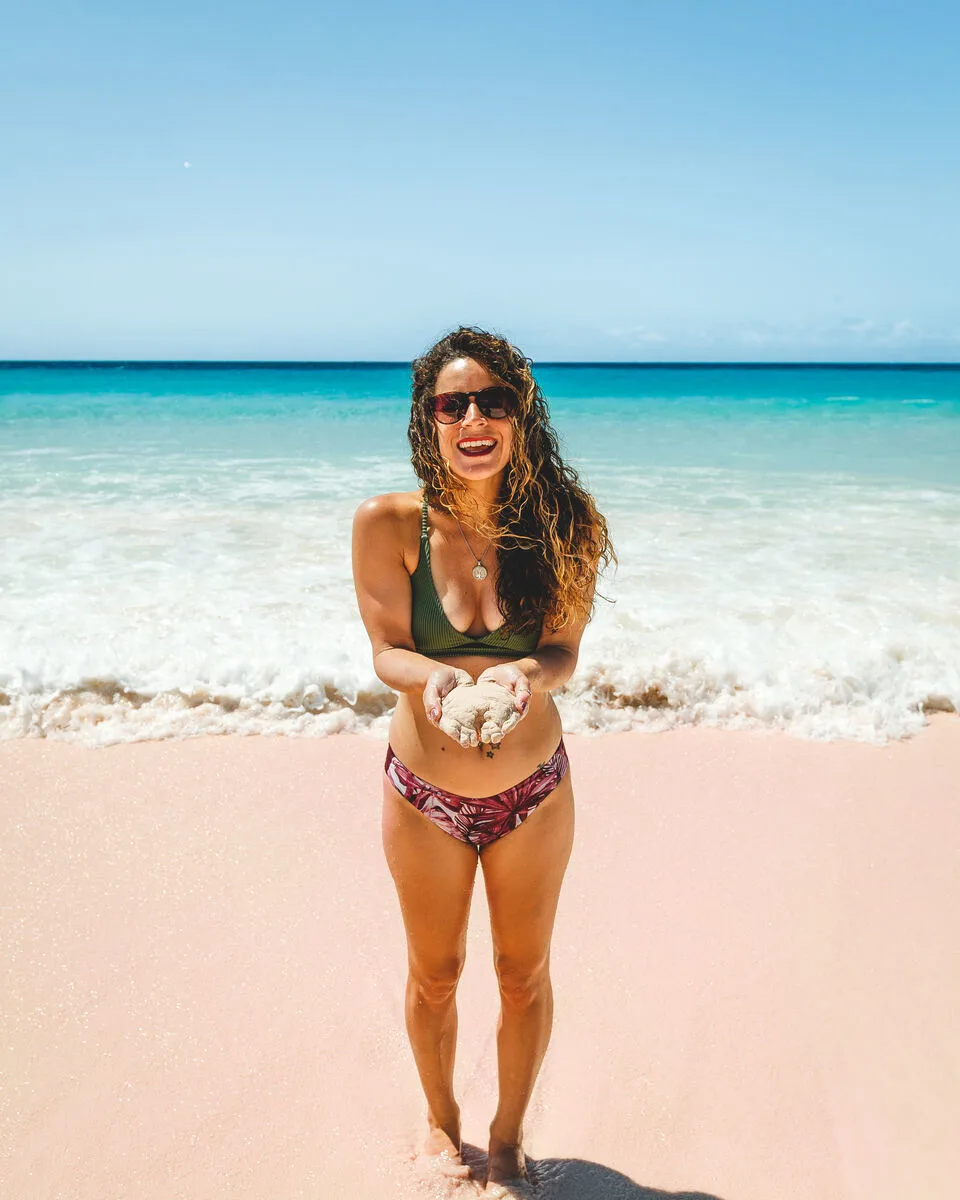 As one of the most iconic beaches in the whole world, Horseshoe Bay gets BUSY. Plan to arrive early and head further south of the main entrance to avoid the thickest crowds.
Also, just to keep your expectations at bay, the pink sand is stunning, but it's not literally pink. It's more like regular sand with many pink specs, giving it a pink hue. Many pictures online have been edited to be a crazy pink color, so don't think you will see that during your visit!
4. Jobson's Cove & Warwick Long Bay
If you want to avoid the crowds completely without sacrificing scenery, head to Warwick Long Bay. This long stretch of pink sand is the star of Bermuda's southern shore, backed by scenic sand dunes and tall cedars. The offshore reef makes snorkeling a must and helps protect the shores from big swells.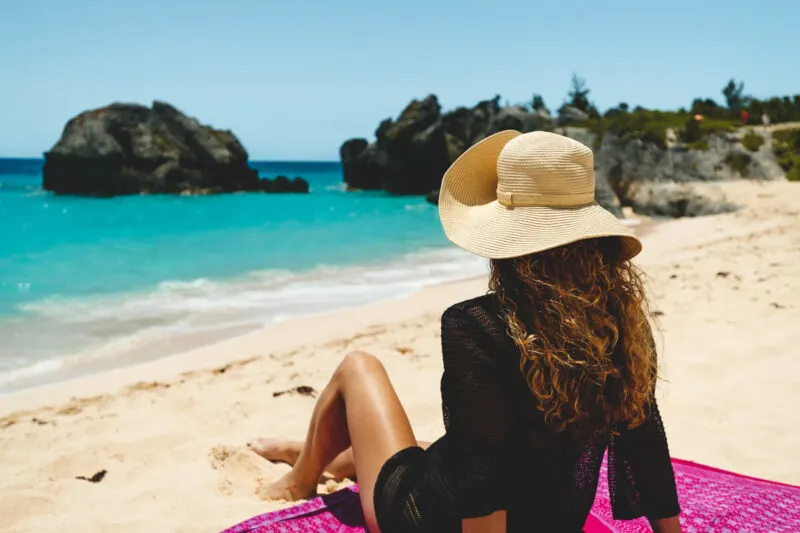 Warwick Long Bay can get busy on weekends, but it's long, so it's usually no worries. You also can head to Jobson's Cove (located on the same stretch) for a little more seclusion.
Many consider this isolated area the most beautiful of all the beaches in Bermuda, with its jagged volcanic rock formations and deep clear water. This secret cove lacks facilities, so pack all your beach gear when visiting Jobson's Cove.
If I'm being honest, I found the sand here to have an even pinker hue than Horseshoe Bay!
RELATED: The Essential Beach Packing List (+ Fun Items and Tips!)
5. Marley Beach
You won't see Marley Beach on most lists touting Bermuda's best beaches, and that's because it's still a true hidden gem. It is a bit off the beaten path, but those who seek it out will likely have the scenic shores all to themselves. The beach is surrounded by forested cliffs, which amplifies the feeling of seclusion.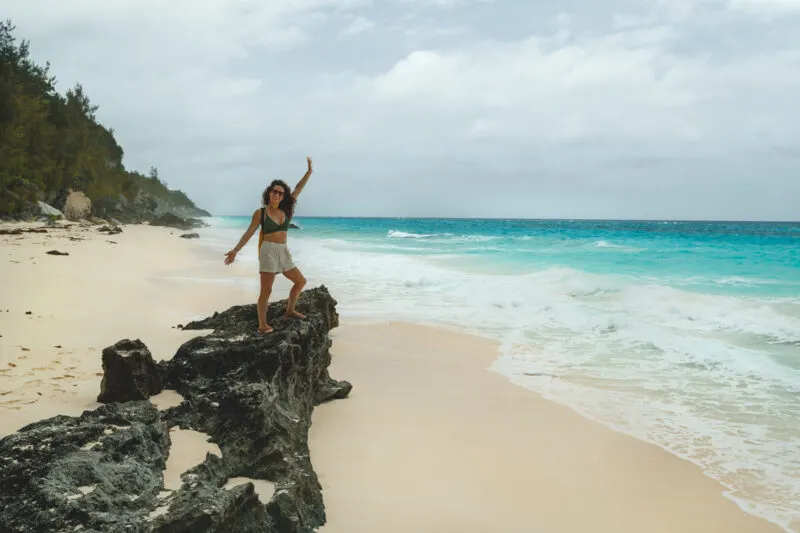 The water here can be rough, but there's plenty of soft sand to bum on if you're not a great swimmer. Because Marley Beach sees few visitors, there are no concessions here – so pack all your beach gear with you!
It's a bit odd as there's not a true entrance to the beach. Park here and then head to the left through the forest a bit to find the path to the beach.
6. Elbow Beach
Backed by some of the swankiest resorts in Bermuda, Elbow Beach is one of the most popular beaches on the island. But there's more to love than just its convenient location. The quintessential pink sand, blue waters, and excellent facilities ensure you have a five-star day at the beach.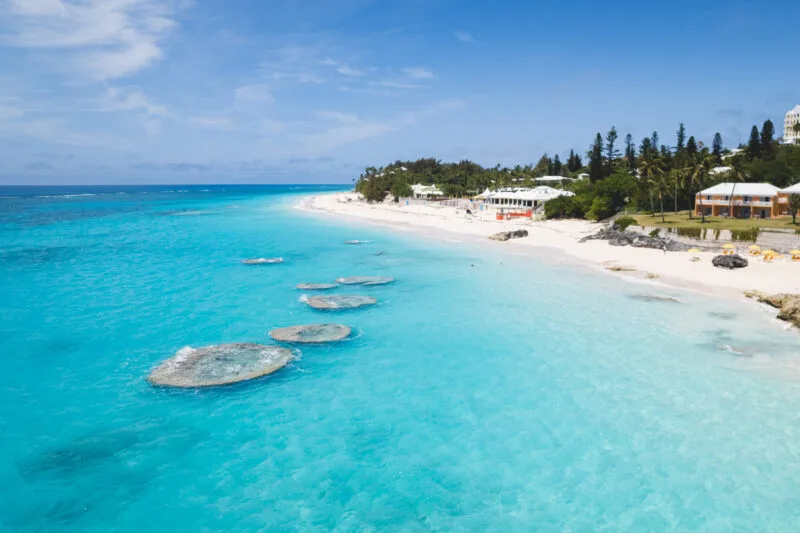 You can rent cabanas, chairs, umbrellas, and sports equipment like kayaks and paddleboards or simply hang out in one of the cocktail bars that line the beach.
The coral reef off the shoreline also makes Elbow Beach an excellent spot for snorkeling, and there's even a shipwreck nearby! The shipwreck is a bit too far to explore on your own, but guided snorkeling and kayaking tours are available.
7. Clarence Cove at Admiralty House Park (Underrated Beach in Bermuda)
A visit to Clarence Cove is no typical day at the beach. What was once the site of a lavish housing unit for admirals of the British Royal Navy is now a park open to the public. The Admiralty House no longer stands, but the caves used as discreet entrances to the structure are still there.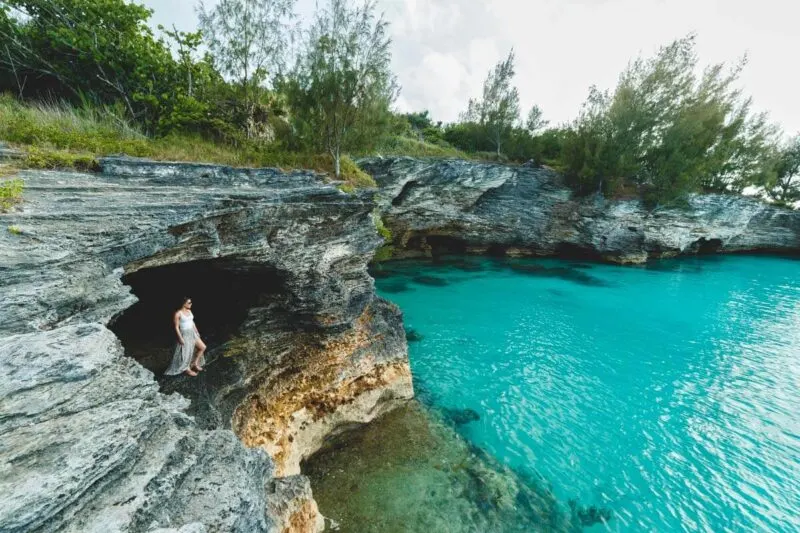 Exploring these artificial caves is a great way to spend the day, and the park also has walking trails, picnic facilities, and plenty of spots for cliff jumping.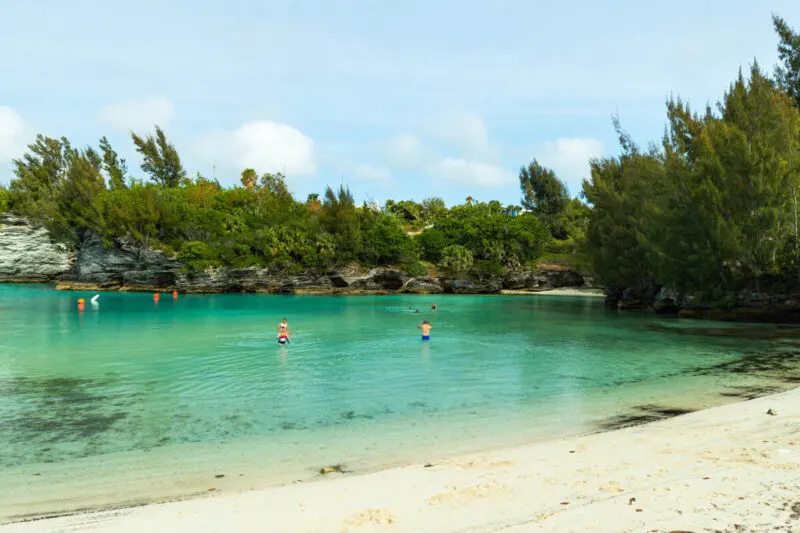 There is also a small beach (Clarence Cove) for those who prefer relaxing on the sand.
8. John Smith's Bay Beach
John Smith's Bay Beach is a local favorite, thanks to its calm, clear water and facilities. You won't find many tourists on this swatch, primarily due to its somewhat remote location in Smith's Parish.
John Smith's Bay Beach is also loved for its offshore reefs, which are great for snorkeling. Amenities include public bathrooms, a lunch cart, and a convenient parking area.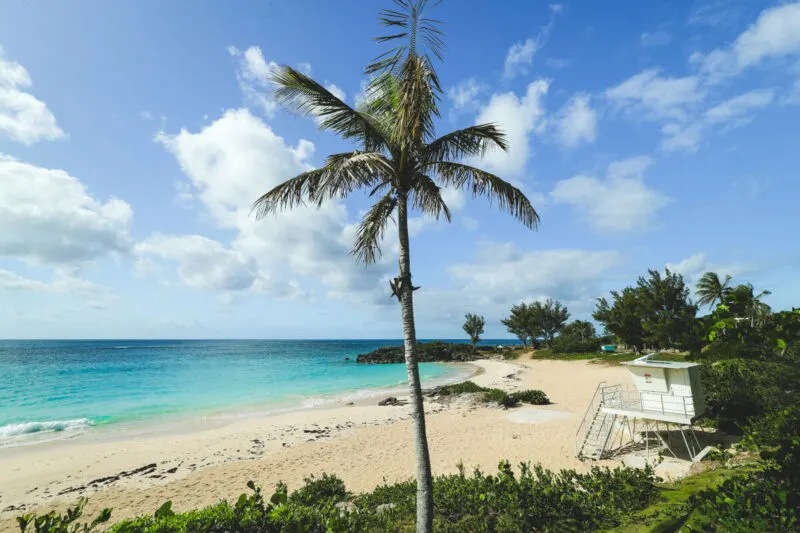 If you need a break from bumming on the beach, you can walk along the shore until you reach the Spittal Pond Nature Reserve – about 10 minutes from the main beach area.
This area has several walking trails through marshes, woodlands, and saltwater ponds, and you'll likely see tons of unique bird species along the way.
9. Tobacco Bay Beach
Of all the beaches in Bermuda, Tobacco Bay Beach is the best if you want a natural feel for the island. It has all the quintessential attributes of a Bermuda beach: beautiful blue shallow water and cliff-flanked shores.
Tobacco Bay is also famed for its epic snorkeling opportunities, with abundant offshore reefs that teem with tropical fish and other marine life.
You could also opt to explore the area via paddleboard or kayak. No matter how you spend your day at this incredible spot, equipment rentals are available from various waterfront kiosks.
Unlike other beaches, the fun doesn't stop when the sun goes down at Tobacco Bay. Stick around to catch a sunset and then dance the night away as you enjoy live music and a big bonfire by the beach's local bar and restaurant.
RELATED: 11 Best Restaurants in Bermuda
10. St. Catherine's Beach
Although renowned for its incredible beaches, Bermuda also has a fascinating history. You can enjoy the best of both worlds at St. Catherine's Beach!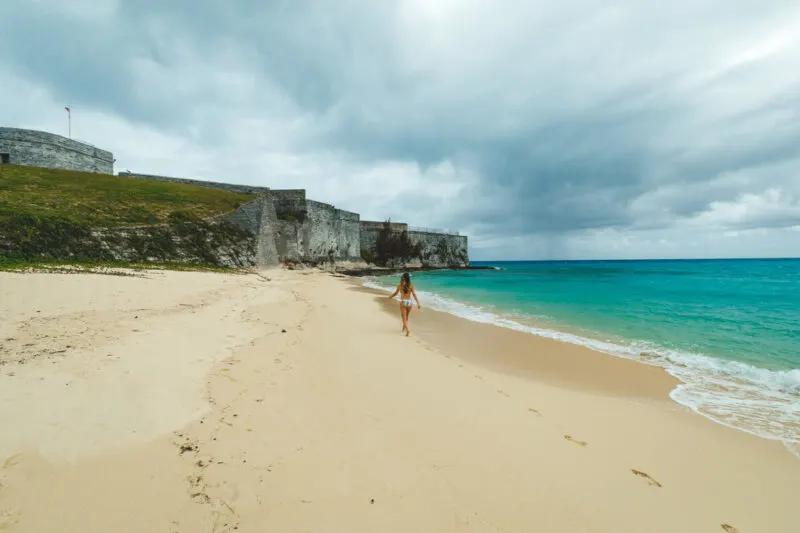 Situated at the island's northernmost tip, Fort St. Catherine's was once Bermuda's largest naval fortress. Today, it houses an awesome museum with some seriously stunning ocean views.
Below the fort sits a quiet beach. Since most people come for the fortress, the beach is usually quite deserted, which makes it a great spot to get some solitude as you swim and sunbathe.
11. Cooper's Island Nature Reserve (My Favorite Beaches in Bermuda!)
Take a walk on the wild side and spend your beach day exploring Cooper's Island Nature Reserve. The reserve is located on the island's southeastern edge and comprises 12 acres of protected wilderness.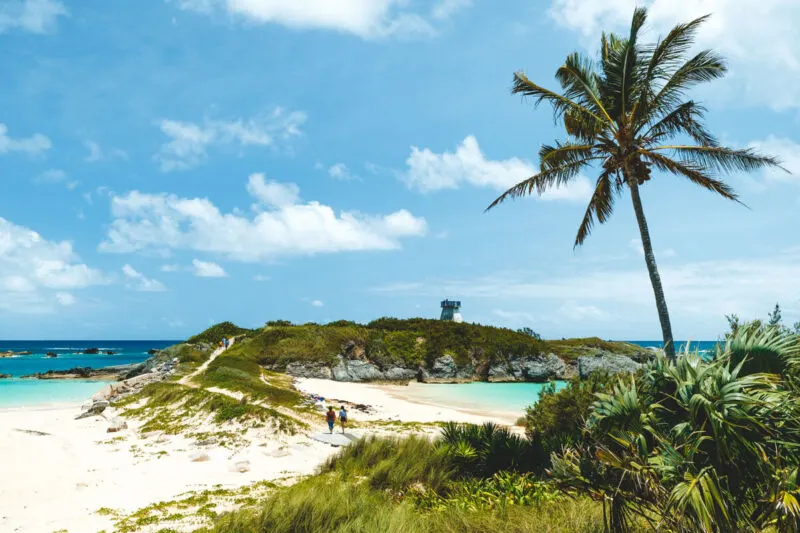 The area was once a restricted military area, but now it's open to the public for hiking, birdwatching, and beach bumming.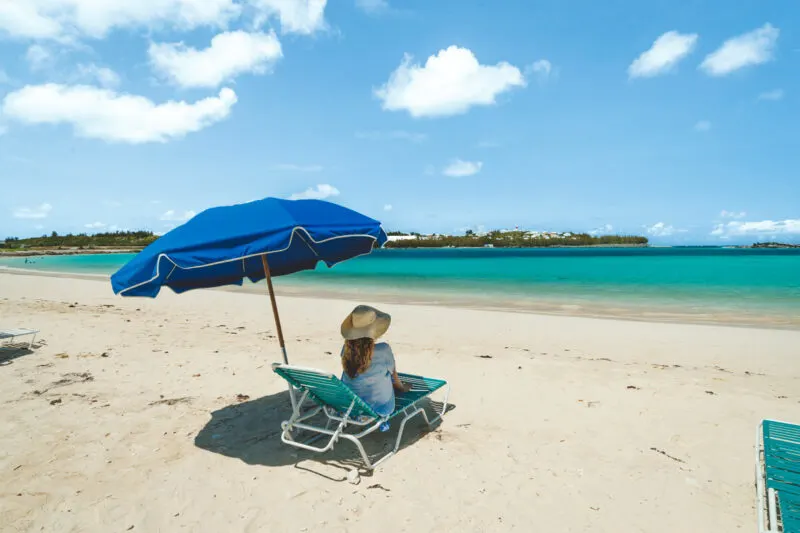 Several beaches are tucked into the reserve, including Long Bay, Turtle, and Clearwater. The reserve is a great place to explore because it's a bit off the beaten path, and few tourists venture out this way. If fact, I'm shocked so many people skip this area. If I had to choose a beach in Bermuda to sit on all day, it would be one of the beaches in this area, hands down.
Quiet natural surroundings and deserted beaches? There's not much not to love about Cooper's Island!
What to Pack for Visiting The Beaches in Bermuda
Your favorite stylish beach wear is essential, but here are a few extra things you should remember to put in your suitcase.
What Else to Know Before Heading to Bermuda's Best Beaches:
A quick run down of some questions you might have…
Which is Bermuda's BEST beach?
That's subjective but the top pick for Bermuda's most beautiful beach has to be Horseshoe Bay Beach. It boasts the iconic pink sands and stunningly vibrant blue waters that have made Bermuda famous. This is also the busiest beach.
Which beach in Bermuda has the most pink sand?
Horseshoe Bay Beach again!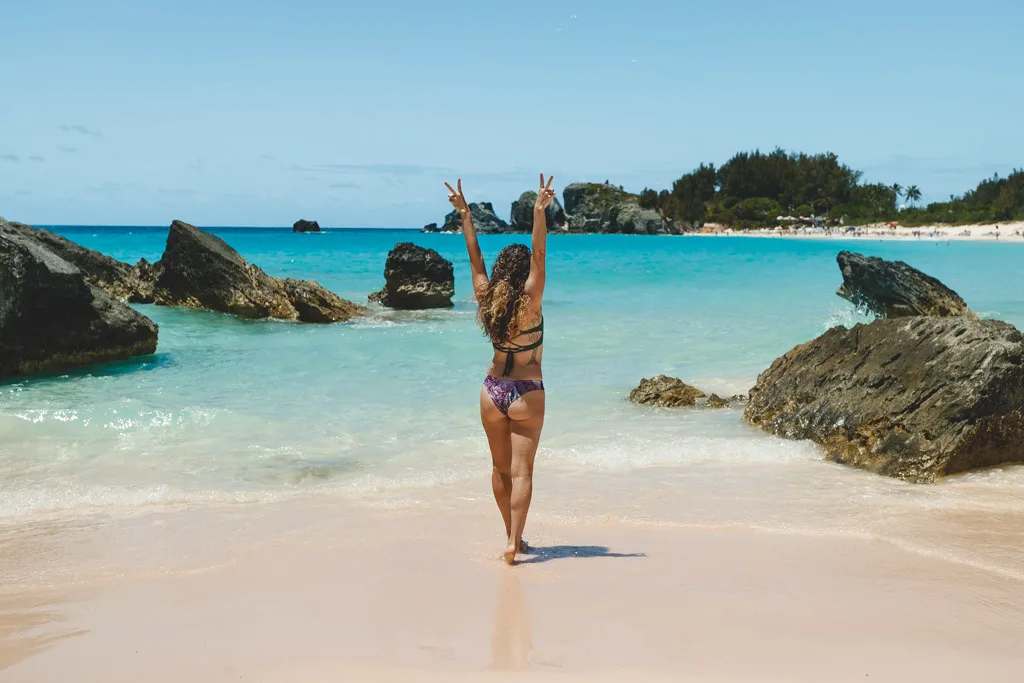 What's the safest beach in Bermuda for swimming?
Elbow Beach in Paget Parish is a top choice. This beach is renowned for its nearly mile-long stretch of pale pink sand and is a favorite among visitors because it's safe for swimming is the protective coral reef that encircles it. Overall, most beaches in Bermuda are swimmable.
How warm is the water in Bermuda?
The average water temperature remains at a comfortable 23°C (73°F) year-round, with a low of 20°C (68°F) in January and February, and a peak of 28°C (82°F) in August.
When should I visit Bermuda?
The ideal time for a Bermuda getaway is during the summer. From May to October, Bermuda experiences its high season and is the prime time for a beach vacation. In May, highs average around 76ºF, and from June through October, temperatures surge into the high 80ºFs, creating the perfect conditions for enjoying the beaches and basking in the sun.
I hope you love exploring Bermuda's best beaches as much as I did!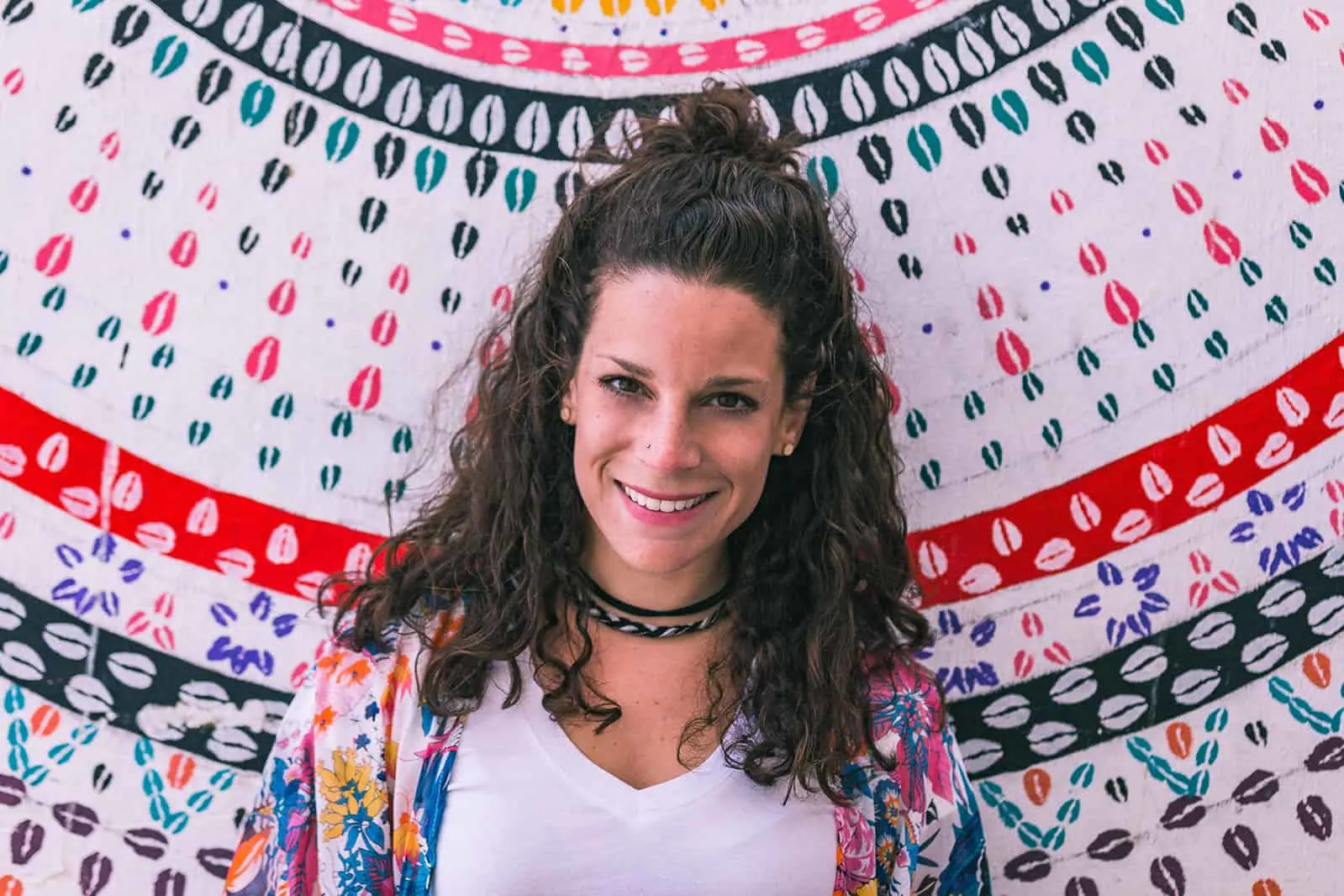 Nina Ragusa is an adventurer, messy bun master, breakfast fan, and full-time travel blogger. She's been abroad since 2011 and blogging on Where in the World is Nina? for nearly as long. Nina helps people like you move around the world while making money. She loves talking about how to work abroad and online to travel longer!