If you're looking for the best restaurants in Bermuda, you've landed in the right place! I scoured the island for days, and I think I stumbled on some of the island's best spots!
Lost far, far away in the Atlantic Ocean's cerulean waters, Bermuda is a feast for the eyes and a treat for your taste buds, that's for sure.
Picture yourself with colorful cocktails topped with little umbrellas, plates brimming with fresh seafood caught right from the azure depths, and panoramic views that look like a postcard… You truly get it all here.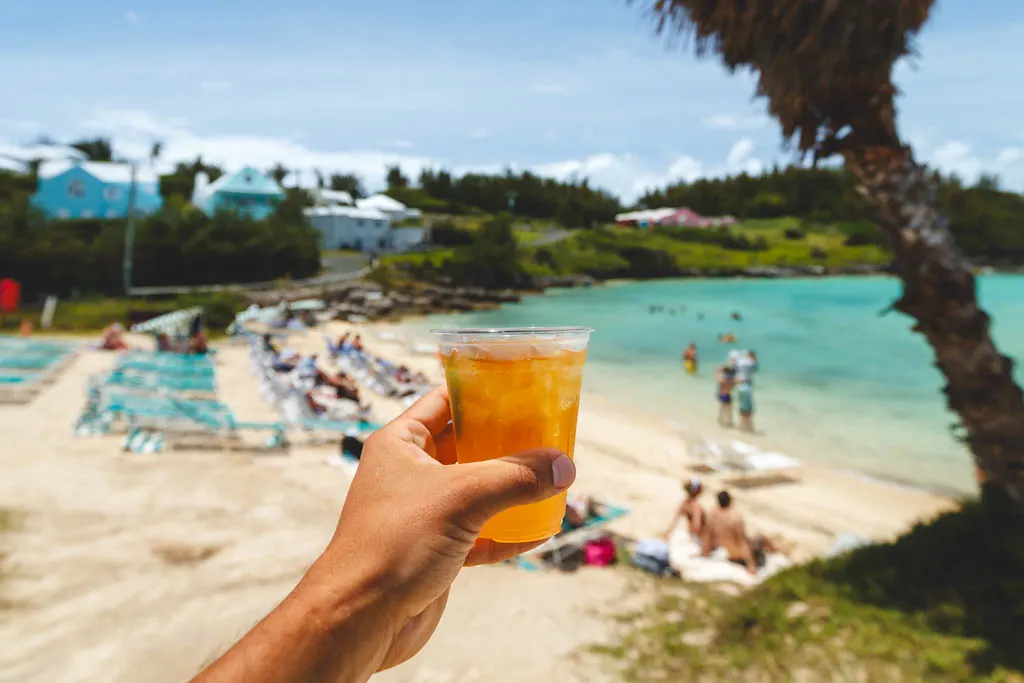 From charming pubs echoing with the laughter of locals to elegant bistros serving up mouthwatering seafood creations—loosen your belts and prepare to indulge in delectable dishes as vibrant as the island itself. Here are some of the most epic places to eat in Bermuda!
Some Tips For Eating Out in Bermuda
Oop! Just a sec… You might want to know a few things before eating out in Bermuda. Here are a few tips before you pick up your fork…
Prepare for Bermuda's not-so-budget-friendly dining experience – but you probably had an inkling about that since you're on an island in the middle of nowhere! Arm yourself with a well-padded wallet before boarding that flight, as the cost of nearly everything here will be double.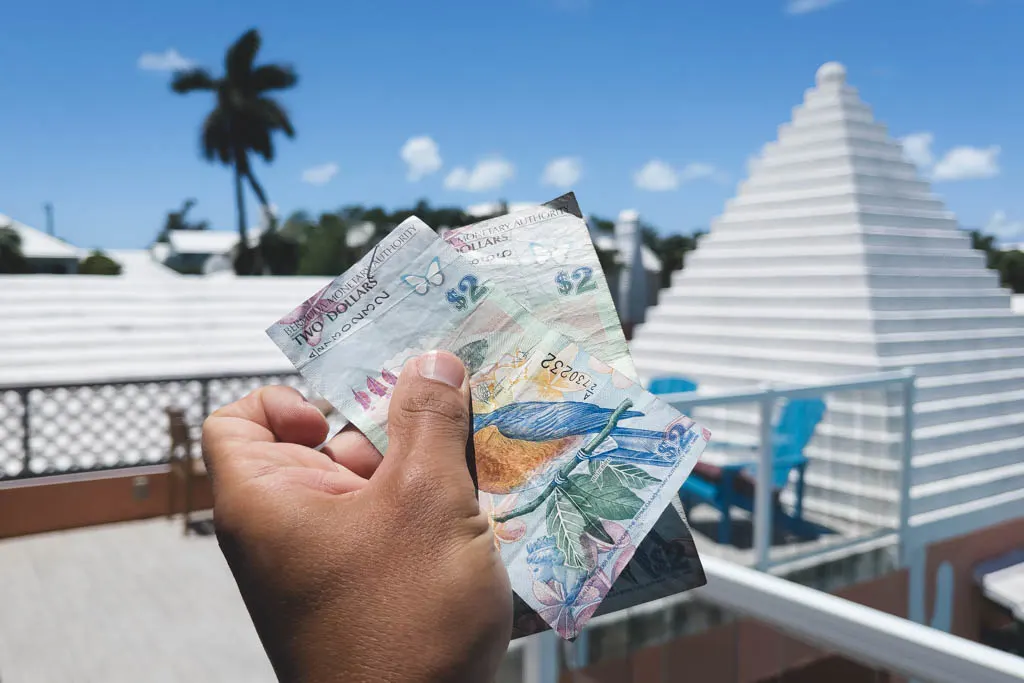 Tipping is customary – Though it often comes bundled in your bill, so there is no need to do any math while you're vacationing. Most eateries tack on a 17% gratuity to bills, or they'll explicitly mention its exclusion.
Cash or card? – When it comes to payments, credit cards are widely accepted across the island, but cash remains king. Given the 1:1 exchange rate between the Bermudian Dollar and the US Dollar, the conversion is easy, and you can use either to pay. But you will also get your change in either currency.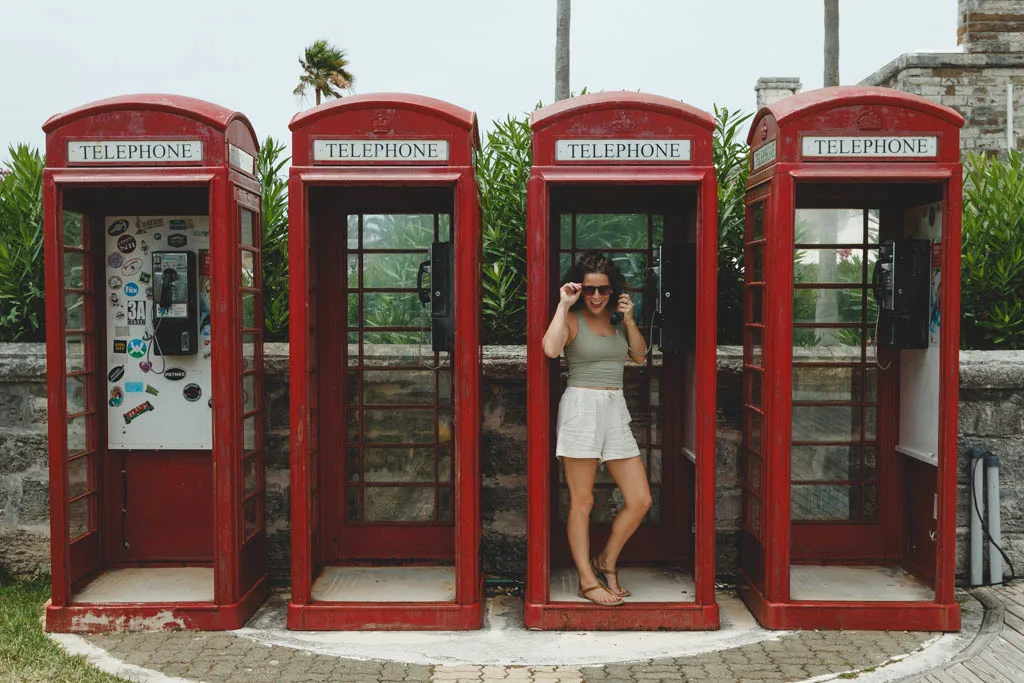 Reservations are wise: At least at some spots. Given the popularity of many restaurants, especially during peak tourist seasons, making reservations ahead of time can save you from waiting in long queues or being disappointed due to fully booked tables.
Dress code matters: Bermuda has a casual yet refined dress code at many restaurants. While beachwear might be appropriate for some beachside cafes, it's generally advisable to dress a bit more smart-casual for most dining establishments, especially in the evenings.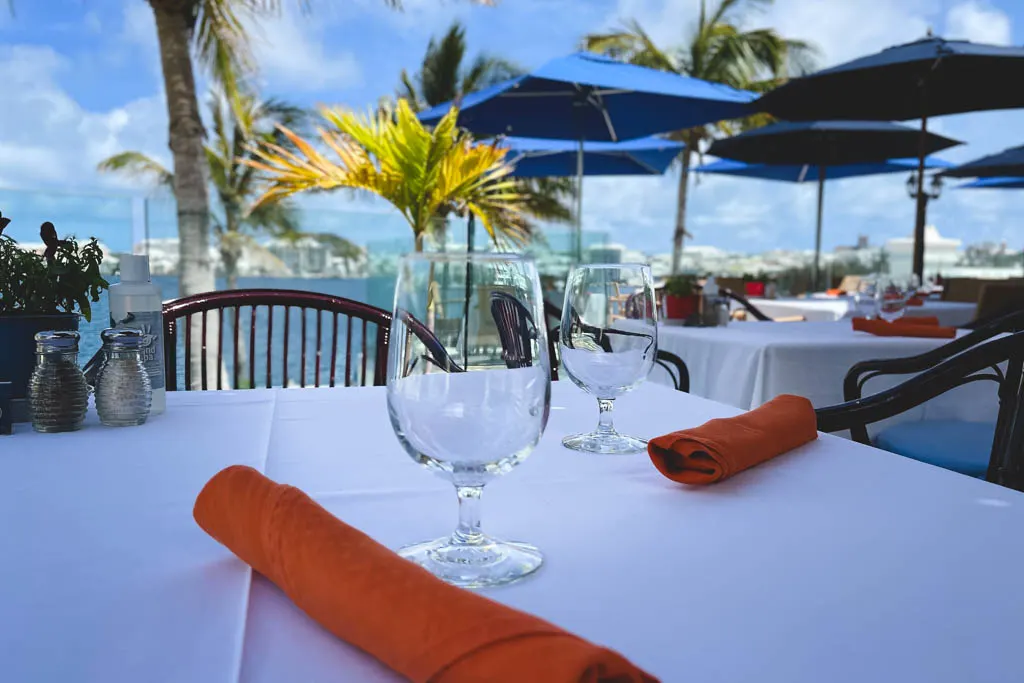 Seasonal closures/availability: Some restaurants in Bermuda might close during the off-season, typically from November to March. Be sure to check their opening hours and availability in advance. Also, some of the fresh seafood they offer will change with the season; for example, lobster is typically only served from September through March.
Best Restaurants in Bermuda
---
Psst! You might want to check out my other Bermuda guide too!
1. Frog & Onion Pub and Restaurant in Bermuda
Stepping back into history, the Frog & Onion Pub was born from the collaborative spirits of a Bermudian (the Onion) and a Frenchman (the Frog).
It's now known for its fusion of French and Bermudian influences, and it's known as one of the best restaurants in Bermuda on the island's far west side. This charming English-style pub is more than just a place to dine; it's an experience waiting to unfold while you explore the Royal Navy Dockyard!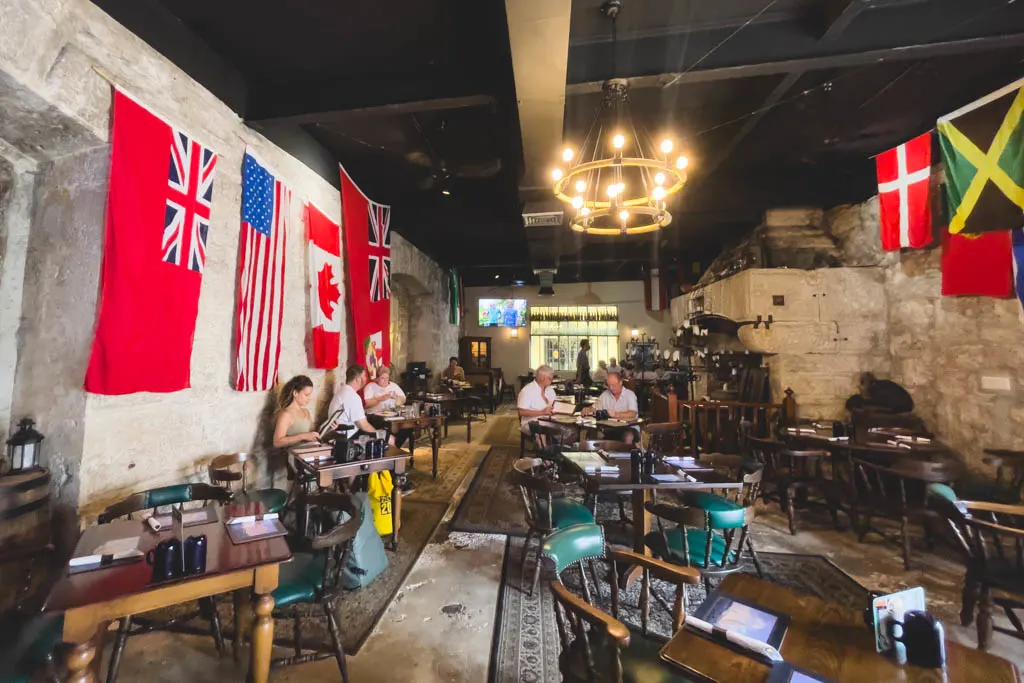 Positioned at the heart of the action, surrounded by a cruise port, mall, and captivating attractions, the Frog & Onion Pub and Restaurant stands out as Bermuda's sole brewpub.
Prepare for an exceptional culinary journey featuring the island's only craft microbrewery, pouring British imperial pints of their own freshly brewed beers alongside your favorite tropical cocktails and mouthwatering pub fare.
Entice your taste buds with various delights, from German-style pretzels and nachos to authentic homemade British pies and classic pub curries. Craving the comfort of island favorites? Discover fish chowder and blackened Wahoo, served amid the ambiance of live music within a historic 19th-century cooperage building.
With a focus on British brewing methods, their selection of beers and ales epitomizes the art of finely balanced flavors, presented through natural carbonation and unfiltered authenticity.
2. Aurora
Welcome to Aurora at the Newstead Belmont Resort, one of the best places to stay in Bermuda. Here, you'll find culinary enchantment throughout the day, whether it's a hearty breakfast, a satisfying lunch, or a sumptuous dinner.
The monkfish curry dances on your taste buds with its rich flavors and was particularly memorable for me. For a tasty journey, the salmon poke bowl fills you up with just the right balance, leaving room for the sweet finale, which changes each night!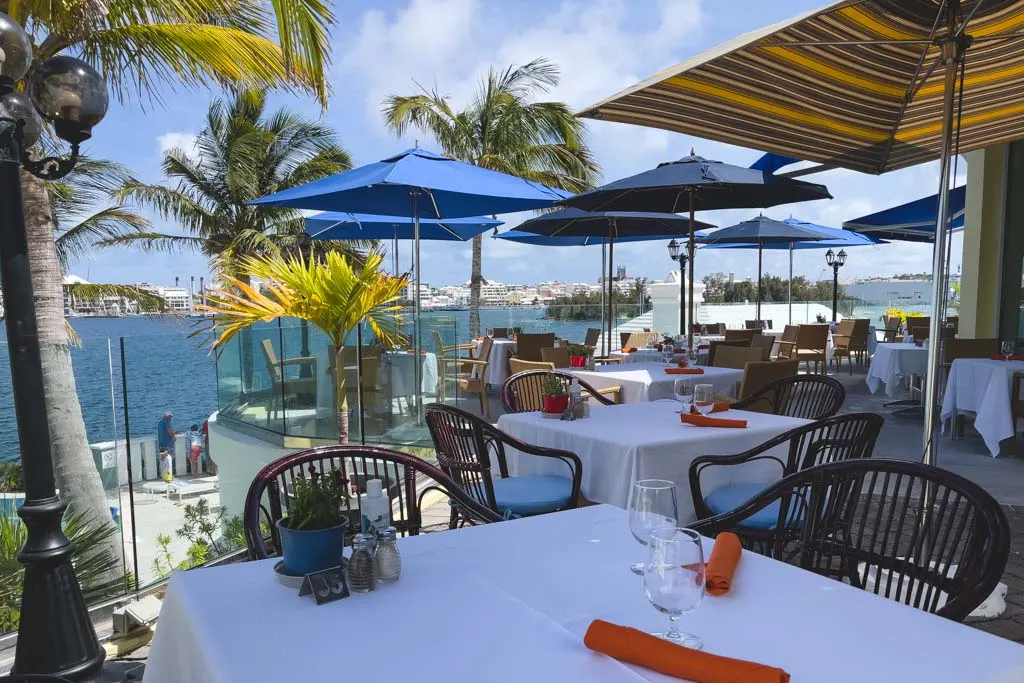 Aurora's ambiance sets the stage for an elegant dinner experience. Remember, the dress code is chic, so leave the flip-flops behind and, gentlemen, don those collared shirts. A call for reservations is a smart move, as this culinary gem is often abuzz with activity.
Aurora celebrates the ocean's bounty with an array of the freshest seafood, all hinging on locally sourced ingredients. The team curates an epicurean journey, presenting the Atlantic Ocean's pantry in various styles and dining encounters.
As champions of the "Ocean To Table" philosophy, the emphasis on local seafood and produce is unwavering.
If they happen to have the octopus special as they did when I was here, I can't recommend it enough. Octopus is often cooked into a car tire's texture, but not here! It melted in my mouth! We loved this restaurant in Bermuda so much that we ate here twice during our stay.
3. Mad Hatters
Step into the charming world of Mad Hatters, a hidden culinary gem in Hamilton.
Mad Hatters masterfully blends Classic European and Thai/North American influences, an ever-evolving fusion. The dining room adorned with an array of hats adds whimsy, a playful touch that resonates with Head Chef Ben Jewett's spirited presence.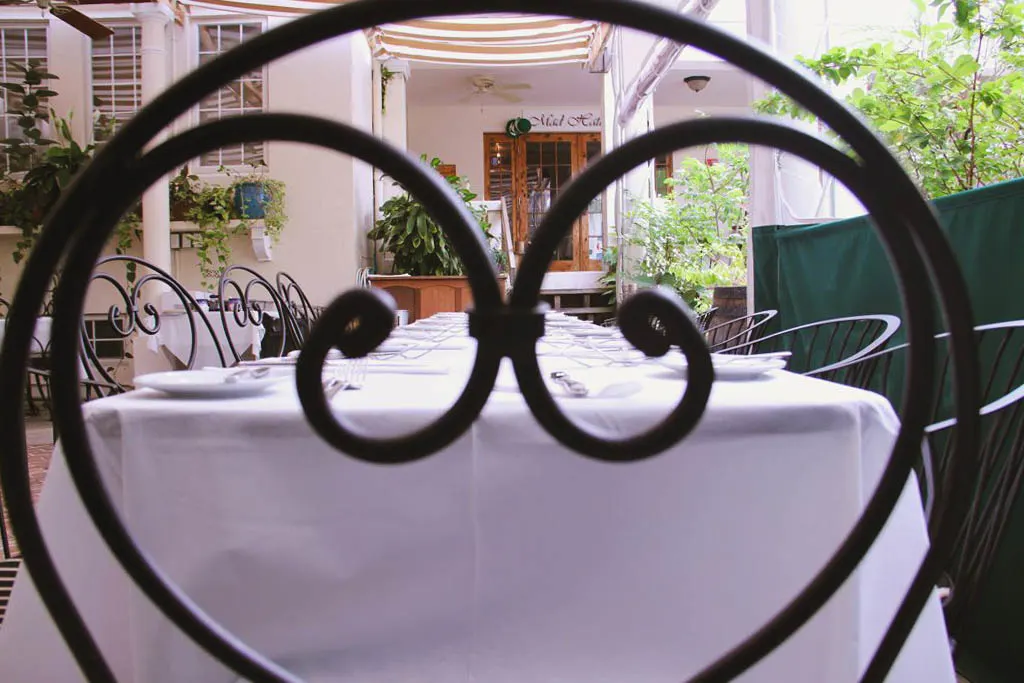 The menu's curated selection simplifies decisions, offering bacon-wrapped scallops with a tantalizing pepper-mango-tamarind glaze. For mains, the sauté rockfish with a banana nut crust and dark n' stormy sauce (very Bermudian!), alongside the surf and turf special, are just some of your yummy options.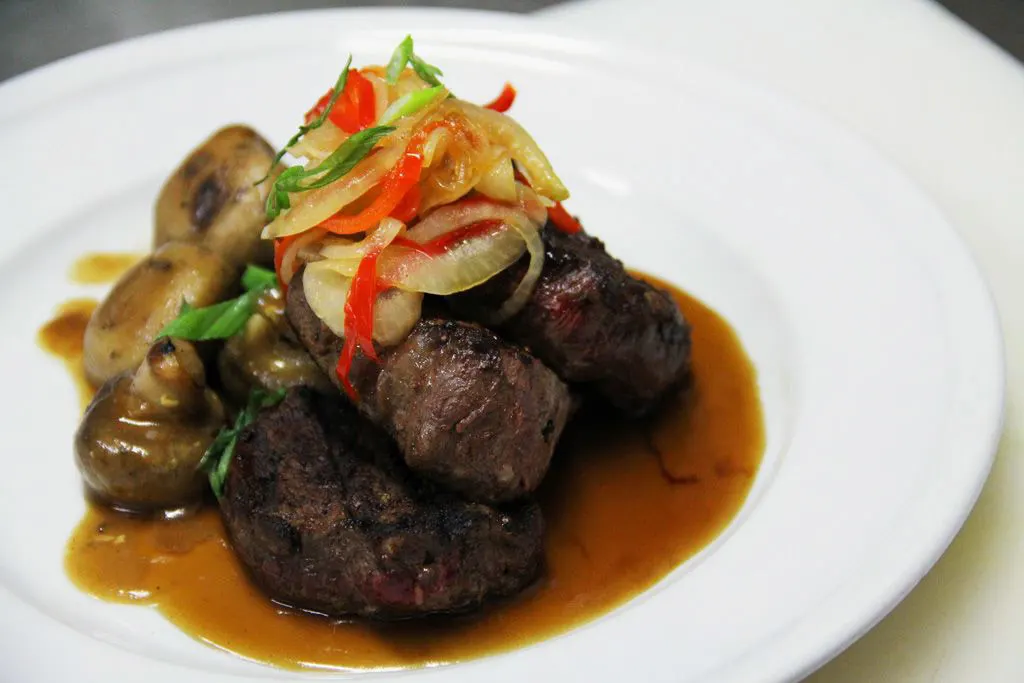 One of their main specials is a duck leg cooked to perfection, but you'll find yourself at a crossroads with what to actually order! Don't forget to ask for their daily dish specials before making your final decision.
In Bermuda, Mad Hatters isn't just a restaurant; it's an experience where culinary artistry, sociability, and a touch of magic intertwine.
4. Brew
Discover the essence of Brew, a dynamic culinary haven in the heart of Hamilton that's bound to captivate the palates of each visitor. If you loved to concept of Frog & Onion, you'll love this spot since the same people opened up this joint! Brew encapsulates the same devotion to craft brews, yet with a distinctive twist – a fusion of convenience and delectable yet simple dining.
Situated in the city, Brew exudes an air of liveliness that complements its urban surroundings. Here, you can indulge in breakfast with a brew—whether that's a coffee or beer is totally up to you!
From delightful brekkie bagels to nourishing superfood bowls and from invigorating fresh smoothies to aromatic coffees, Brew offers an array of morning delights to fuel your daily adventures. Adding a touch of innovation, a NASA-designed nitrogen generator unleashes wine, adding an element of novelty to your experience.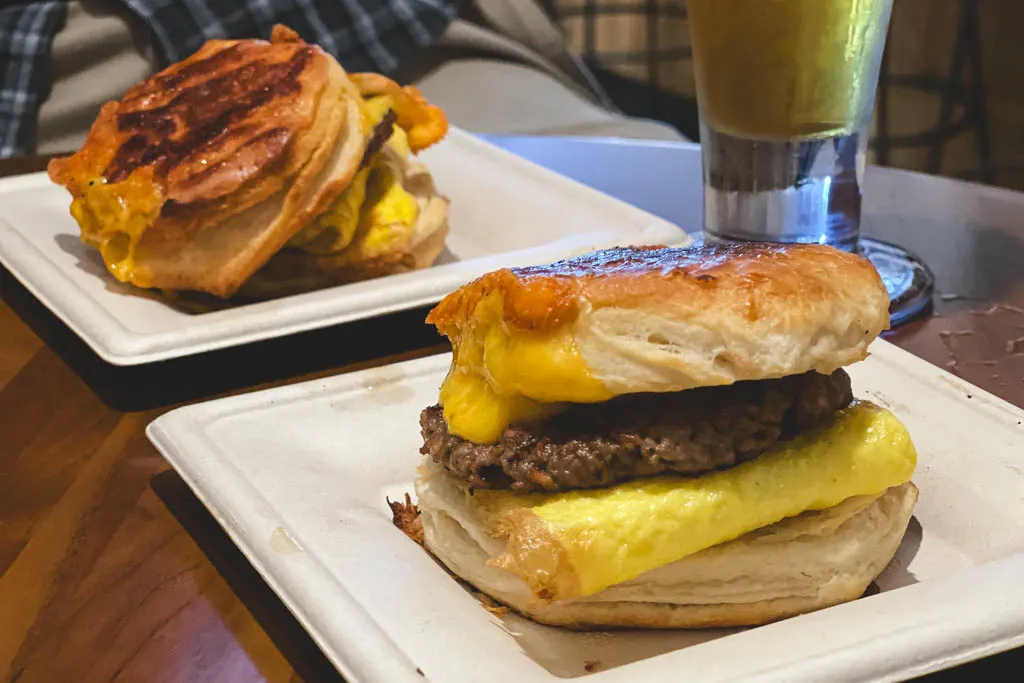 Brew isn't just a culinary stop; it's a must-visit destination for both Bermudian locals and curious visitors—you'll figure this out when you see the line at this spot (it does move quickly)! This newest concept harmonizes grab-and-go convenience with a comprehensive menu catering to breakfast, lunch, and dinner desires.
Whether you're seeking a quick bite or a leisurely dining escapade, Brew caters to your every craving AND it was the "nicest" to our wallet considering some of the prices in Bermuda.
5. Devil's Isle Cafe
Devil's Isle Cafe is a culinary haven! My mouth is watering thinking about this place again… It's located in the heart of Hamilton, Bermuda, and is definitely another favorite amongst… everyone! This local gem offers a diverse menu that combines fresh, locally sourced ingredients.
Devil's Isle Cafe's dedication to culinary excellence is evident in its handcrafted dishes. From the octopus pasta to the harvest bowl with tofu and balsamic chipotle dressing, each dish is a masterpiece of flavors. Complementing the meal are delightful sweet potato wedges and a curated beer selection that adds a touch of indulgence.
What sets Devil's Isle Cafe apart is its commitment to freshness. The menu is a blend of artistic creations crafted from organic produce supplied by local farmers and ranchers.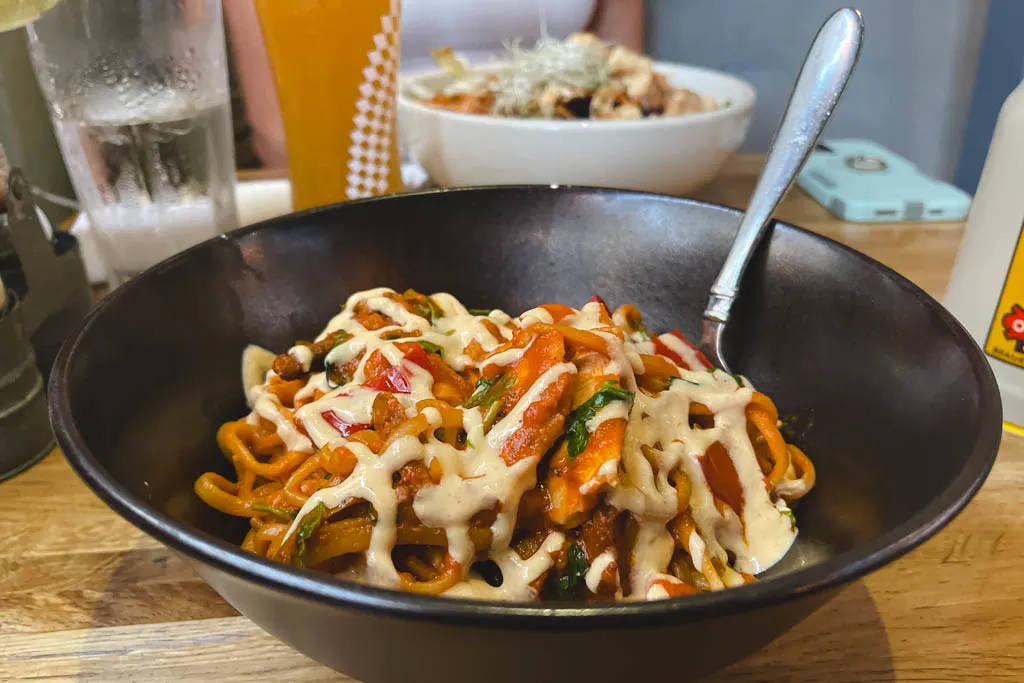 The menu spans a range of small and large plates, all honoring local ingredients. From rustic sandwiches to nourishing bowls and homemade pasta, each dish embodies creativity and quality. Even the simplest elements, like focaccia bread and condiments, are crafted from scratch.
Devil's Isle Cafe captures the essence of Bermuda's culinary scene, inviting all to explore its flavors and indulge in an unforgettable dining adventure. While we eat here for dinner, they also offer a breakfast menu so you can get in here to get your day started if you so choose to.
6. Art Mel's Spicy Dicy (Most Local Restaurant in Bermuda!)
Introducing Art Mel's Spicy Dicy, where the fish sandwich reaches new heights of deliciousness. Imagine a fish sandwich like no other – wrapped in foil, bursting with the freshest fish, and fried to perfection. This isn't your ordinary sandwich; it's a flavor-packed delight that's double the size of typical ones.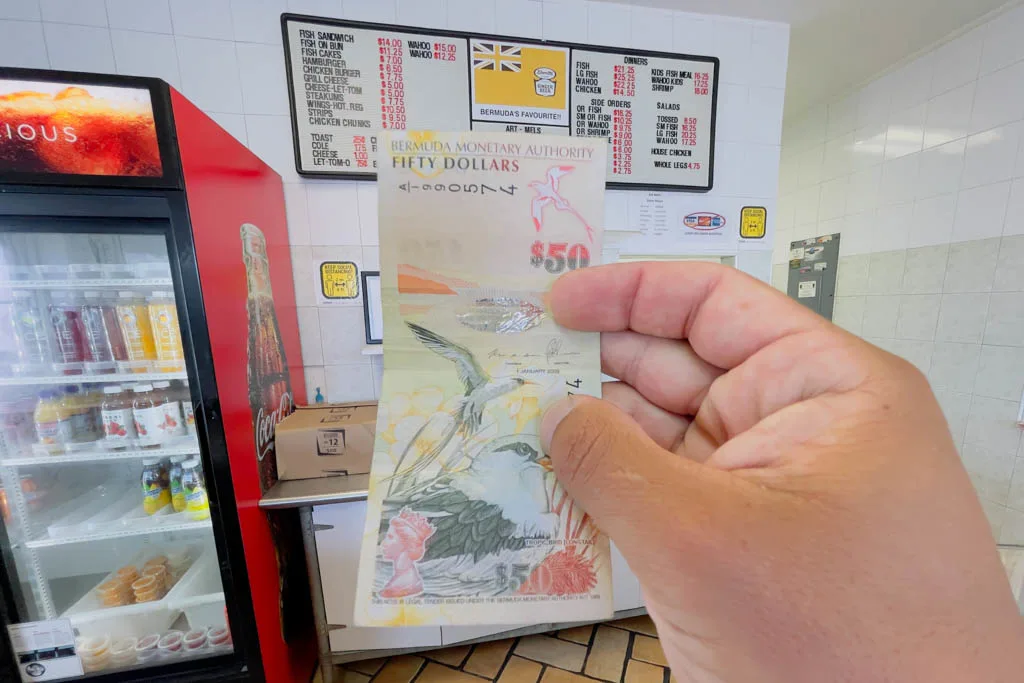 Slapped between two slices of raisin bread (I know it sounds weird, but it works), this masterpiece is crowned with homemade coleslaw. Brace yourself for a generously massive serving – it's like double the goodness of your typical fish sandwich.
Speaking of which, this is a take-away sandwich shop, so don't forget to grab a fist full of napkins on your way out. This sandwich will ooze and "dress" you with its filling. It's super messy but worth every drop.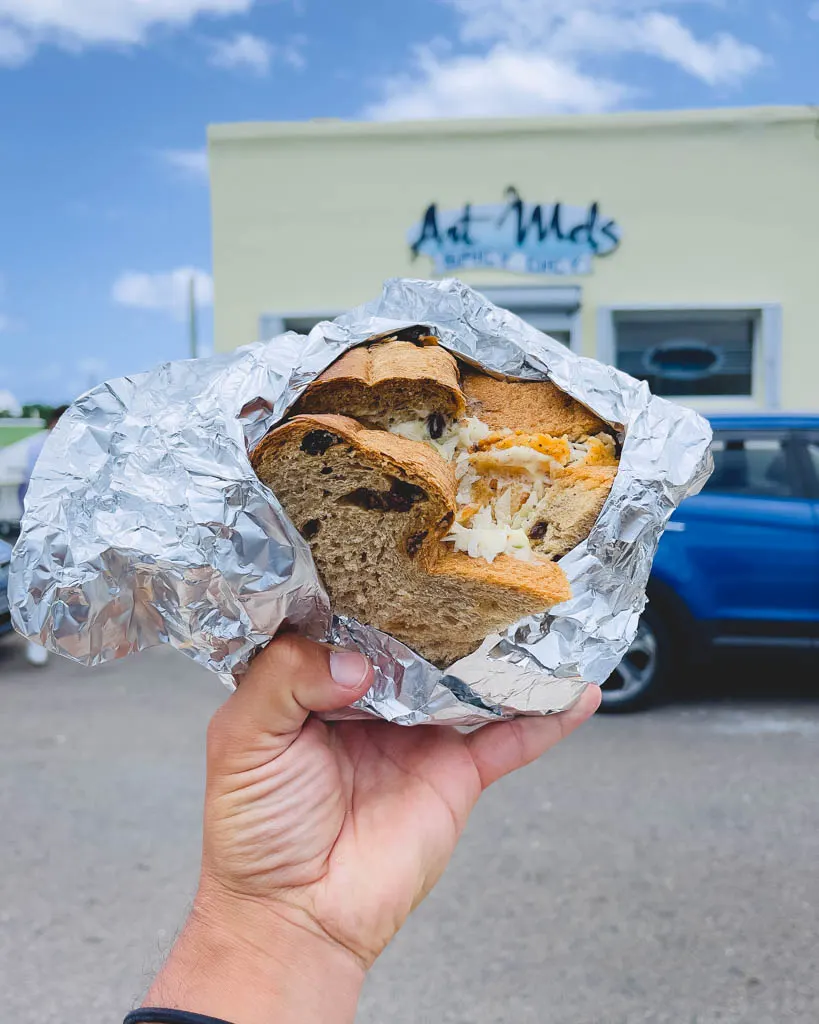 While famous for its fish sandwiches, Art Mel's offers more, including chicken sandwiches, fried shrimp, mac and cheese, and more. Don't be surprised if you get here and have to wait in line for your food either, this spot is no secret!
This hole-in-the-wall haven is your ticket to Bermuda's ultimate fried fish sandwich! I'm truly spoiled, and every fish sandwich I will have for the rest of my life will be compared to this one.
7. Sea Breeze Lounge
The Sea Breeze Lounge is a haven on the stunning Elbow Beach, offering a seamless blend of flavors and a peaceful coastal atmosphere.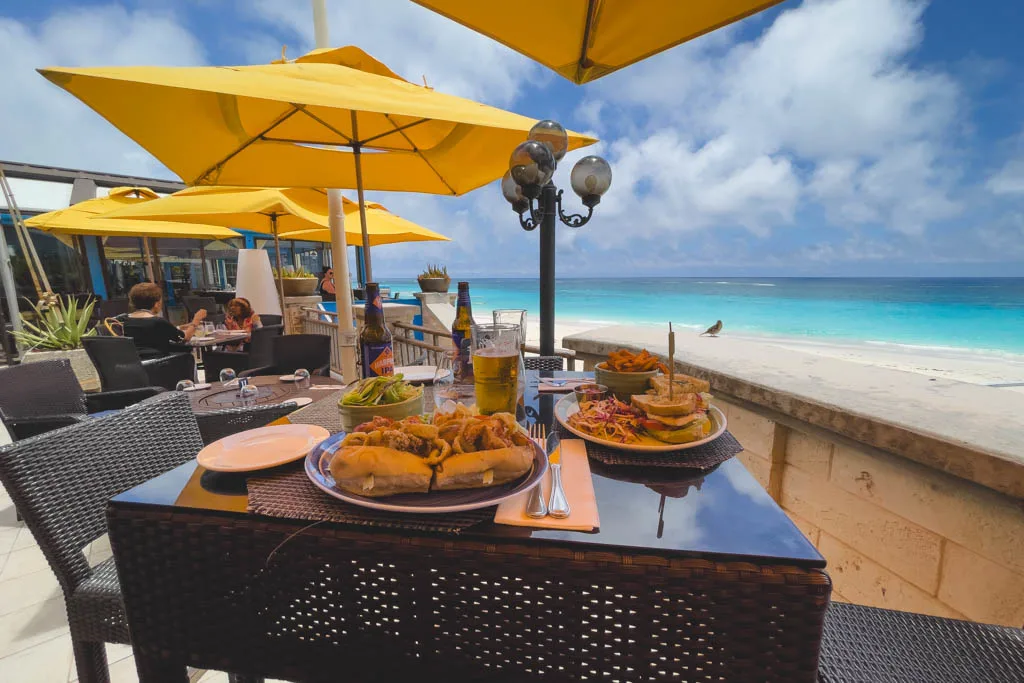 Located just steps away from the sandy shores of one of Bermuda's beautiful beaches, Sea Breeze Lounge provides a unique experience of savoring delectable dishes while enjoying panoramic views of the azure waters. The open-air terrace is perfect for chowing down or simply sipping a mid-day cocktail.
The menu at Sea Breeze Lounge is a celebration of creativity and taste. You'll delight in an array of offerings that range from inventive tapas to mouthwatering sushi rolls. For those seeking a taste of local flavors, po' boys packed with fresh seafood and flavorful ceviche await your palate. Every dish is thoughtfully crafted to tantalize your taste buds!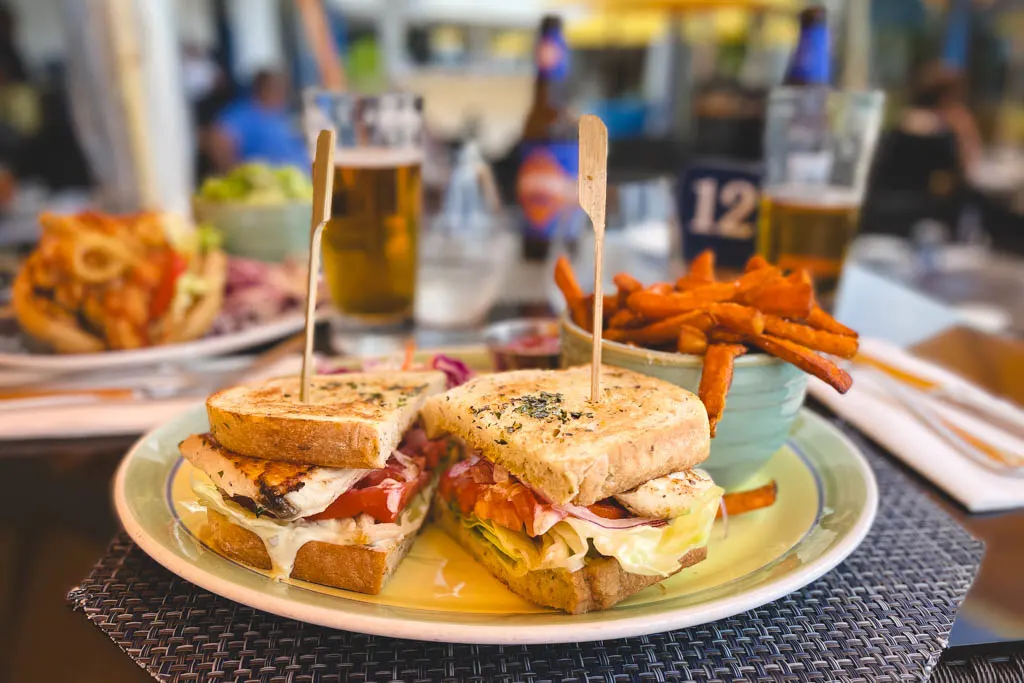 Beyond the exceptional cuisine, Sea Breeze Lounge offers an inviting space to unwind and bask in the beauty of Bermuda's coastal surroundings. Sip on expertly crafted cocktails or a local brew as you lounge on the terrace, soaking up the sun's rays and enjoying the sugar sand beach views.
8. Swizzle Inn Pub and Restaurant in Bermuda
Ah, the timeless Swizzle Inn Pub and Restaurant—a Bermuda treasure where the island's vibrant spirit truly comes to life! Out of all these restaurants in Bermuda, this one is not to be missed. I honestly consider this a place to eat AND a thing to do in Bermuda. It's an experience!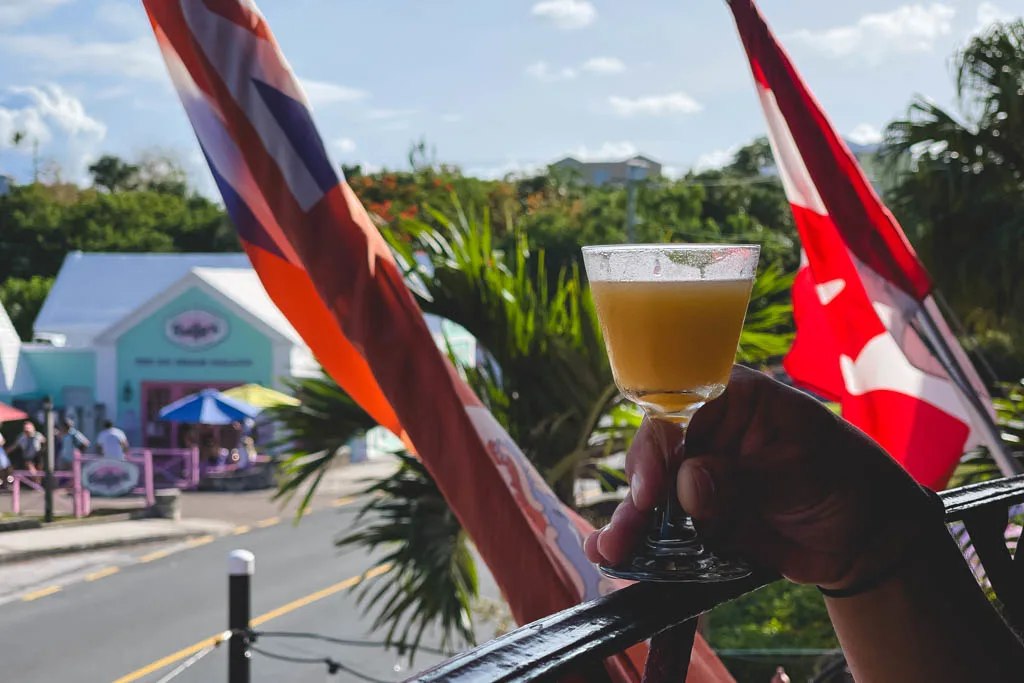 Delight in the quintessential Bermuda experience by savoring the renowned Rum Swizzle, the island's signature drink, available by the glass or pitcher. But the good stuff doesn't end there; dive into the national dish, Bermuda fish chowder, an extraordinary concoction of fresh fish, tomatoes, and onions, elevated with a dash of sherry pepper sauce and black rum. It's a culinary legend worth experiencing—and I'm not much of a soup person.
Just in case that's not your thing, the menu extends beyond tradition, offering an array of beloved classics like burgers, sandwiches, and nachos. However, the spotlight undoubtedly shines on the Blue Hole fish sandwich—you can't go wrong here!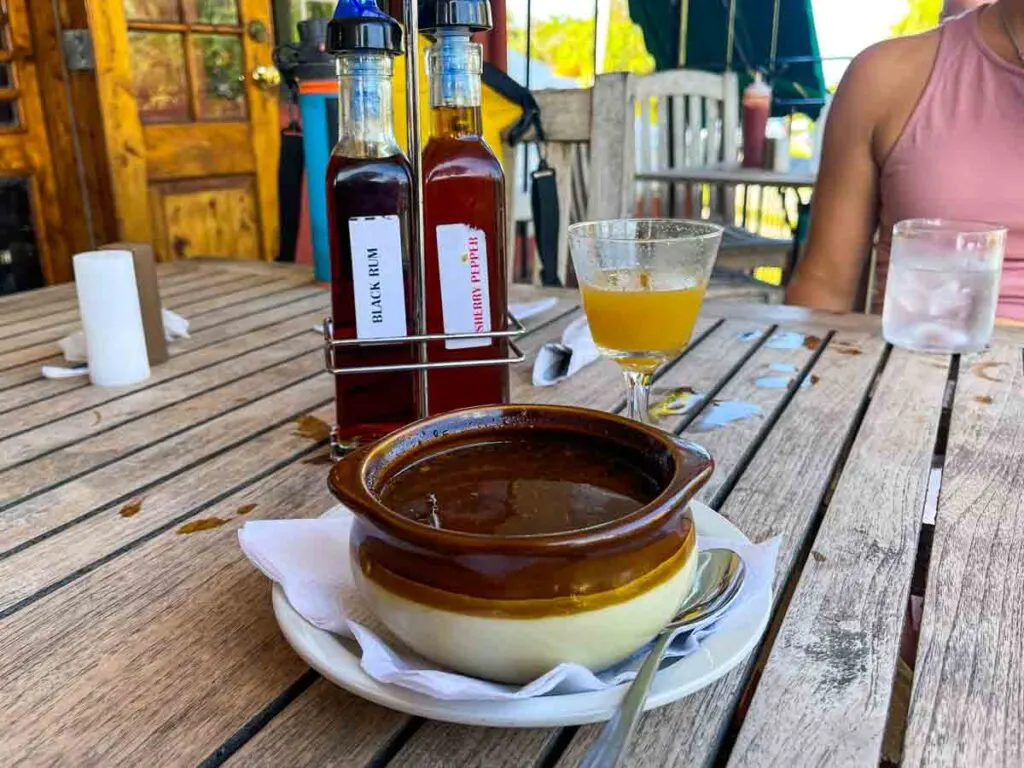 Amid the bustling ambiance, guests discover a lively pub scene. While reservations are often in high demand, arriving early might just secure you a coveted spot in this iconic establishment—that's how we lucked out, we're like your grandma who wants to eat at like 5:30 pm. It worked in our favor.
At the Swizzle Inn Pub and Restaurant—it's not just a meal; it's a journey into Bermuda's heart and soul!
9. Village Pantry
The Village Pantry is a charming restaurant in Bermuda in the picturesque Flatt's Village. With its bright and airy ambiance, this establishment seamlessly caters to both relaxed brunches and refined dinners, making it versatile for gatherings.
Village Pantry's menu boasts a sophisticated array of seafood creations, generous portions of grass-fed meats, and an enticing vegan selection that earned them some awards.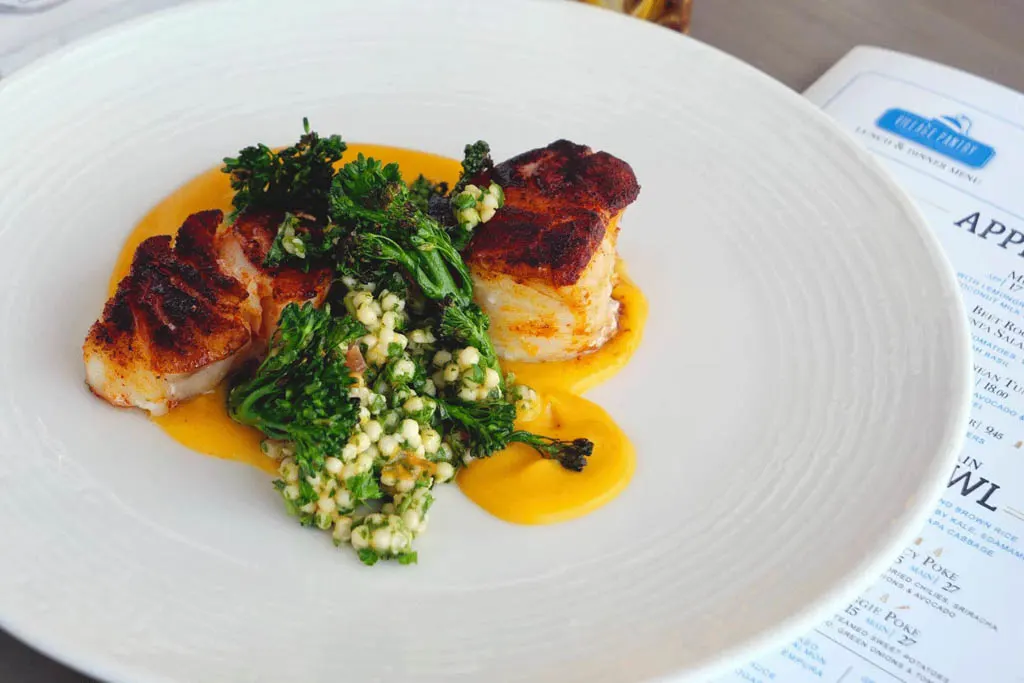 Speaking of awards, they have even earned themself some notoriety with their specialty coffee beans, expertly roasted in Bermuda through a meticulous "small batch" process.
From cozy brunches to festive family gatherings, Village Pantry's warm and friendly atmosphere with thoughtfully prepared dishes invites you to indulge in their flavors and quality food.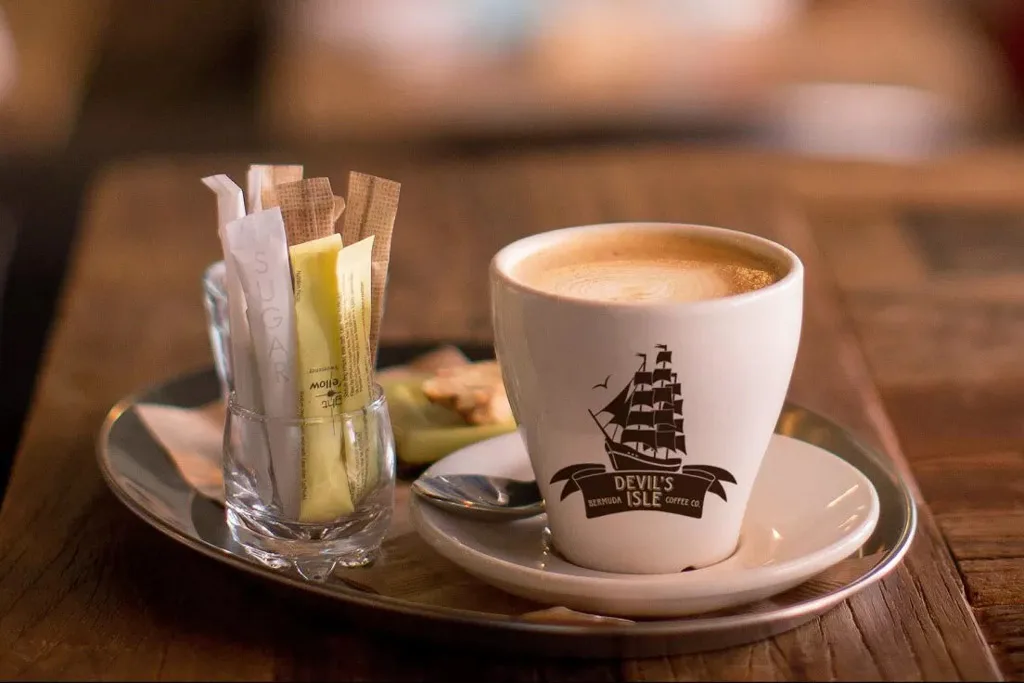 Only grass-fed beef and certified humane chicken, free from hormones and antibiotics, grace their menu. A dedication to locally grown vegetables and fish reflects their unwavering support for Bermuda's farming and fishing community.
Here you'll get to indulge in some exceptional calamari, spinach feta pizza, breakfast burritos, and even chickpea bruschetta! You can actually taste the attention to detail here.
10. Bailey's Bay Ice Cream Parlour
Indulge your sweet tooth at Bailey's Bay Ice Cream Parlour, a delightful treat haven situated just across from Swizzle Inn (mentioned above!). After a satisfying meal, this spot will call to you with its mouthwatering array of homemade ice creams crafted from fresh and all-natural ingredients.
Whether you're cooling off after a day of Bermuda exploration or simply seeking a delectable dessert, Bailey's Bay Ice Cream Parlour has got your back!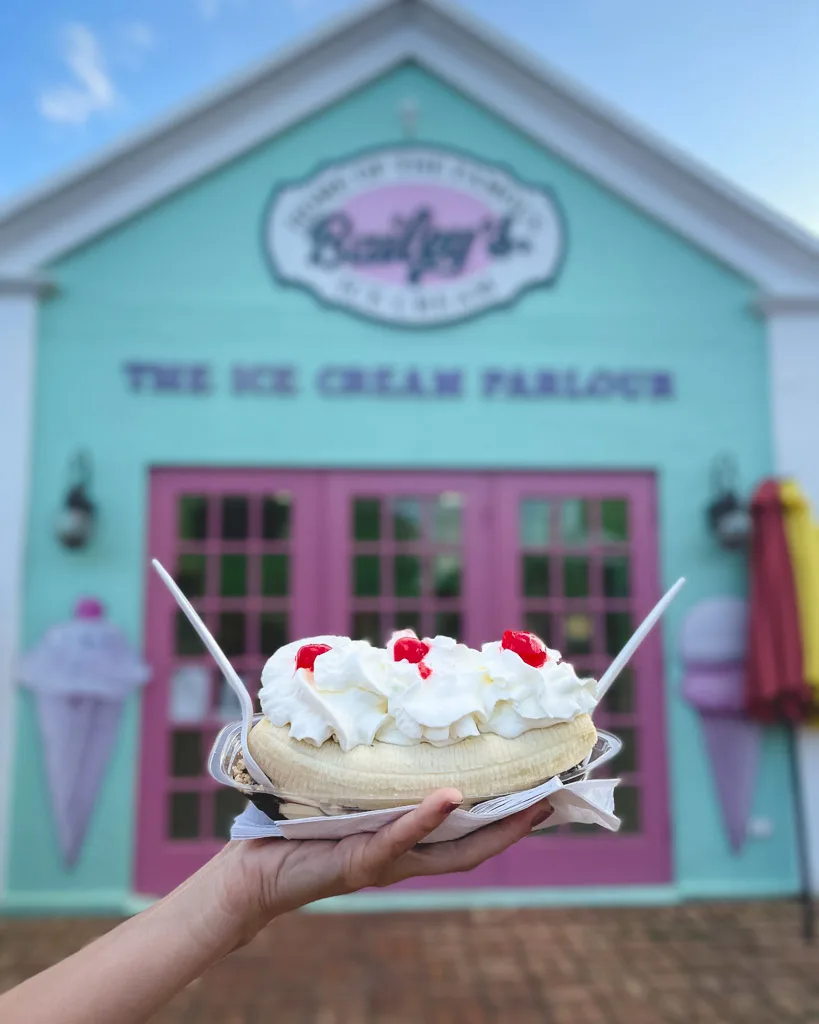 From local specialties like Bermuda honey and Bermuda banana to classic favorites such as vanilla and chocolate chip, you'll be spoiled for choice among the impressive selection of 30-40 flavors (wow!). For those fond of fruity delights, fruit sorbets make a refreshing option.
Want to level up? Dive into decadent sundaes topped with an assortment of toppings, or savor the rich flavors of brownies and floats. If you're on the go, a milkshake provides the perfect "portable" treat.
11. Wahoo's Bistro & Patio Restaurant in Bermuda
Wahoo's Bistro & Patio Restaurant in Bermuda is in the heart of historic St. George's with breathtaking harbor views. Executive Chef Alfred proudly crafts Bermudian cuisine, skillfully infusing the finest catches from Bermuda's waters.
What sets Wahoo's apart is a full page of delectable options highlighting the restaurant's namesake fish (I ate Wahoo religiously during my visit, it's SO good!), along with the seasonal delight of fresh Bermuda Lobster.
The menu offers an array of options, from beloved fish dishes like Wahoo nuggets and award-winning fish chowder to Wiener Schnitzel sandwiches and ever-changing specials.
This waterfront gem provides both indoor and patio dining, but you might want to nab a spot outside since the waterfront location is part of the experience here.
With great prices (for Bermuda…), friendly vibes, and a casual atmosphere, Wahoo's Bistro & Patio is the epitome of awesome dining in the St. George's area of the island!
OK, I'm now officially starving and itching to go back to Bermuda! I hope this helped you find some awesome restaurants in Bermuda to try!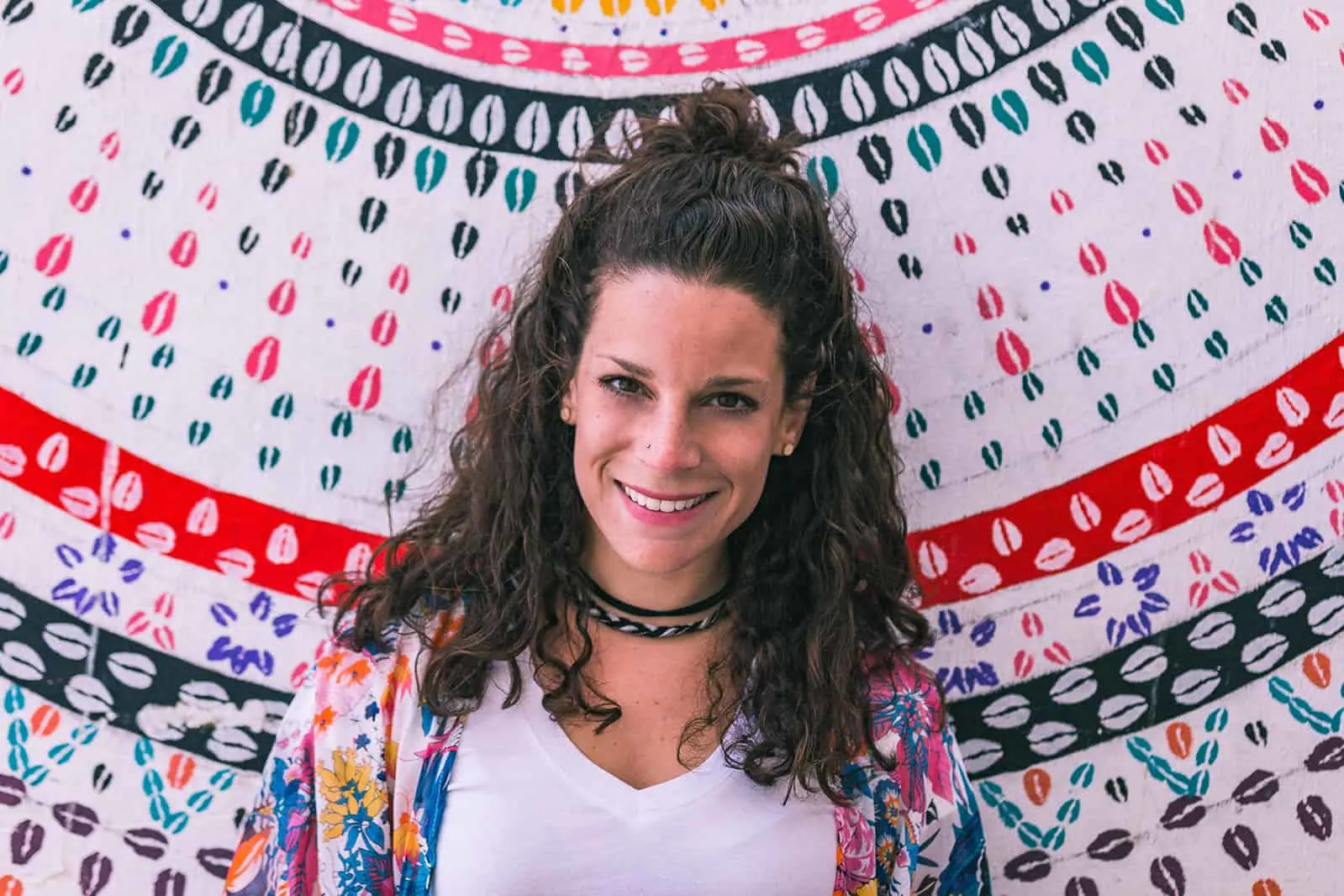 Nina Ragusa is an adventurer, messy bun master, breakfast fan, and full-time travel blogger. She's been abroad since 2011 and blogging on Where in the World is Nina? for nearly as long. Nina helps people like you move around the world while making money. She loves talking about how to work abroad and online to travel longer!