You may have a preconceived notion that Bermuda is just like any other Caribbean island—filled with sparkling white (or pink!) sand, tropical vibes, and tons of touristy resorts. And you'd only be partially wrong.
Bermuda is actually situated in the Atlantic (not the Caribbean), and while there are plenty of relaxing things to do on this island, there's also a lot more to it than just its gorgeous beaches.
Take Blue Hole Park, for instance. This wistful grotto is a literal oasis, best known for its aquamarine swimming hole. Not to be confused with the other "blue holes" around the world, Blue Hole Bermuda is a 12-acre park comprised of underground tunnels which feed into a turquoise swimming hole.
There are also hiking trails, caves, and sandy beaches. Lush forests line the area, so you imagine why this picture-perfect spot is an excellent alternative to just another beach day.
Keep scrolling to learn everything you need to know about Blue Hole Park!
Blue Hole Park—What You Need to Know!
The main draw to Blue Hole is the vibrant swimming hole. The water is simultaneously bright blue and crystal clear, and you'll likely see plenty of colorful fish swimming below you.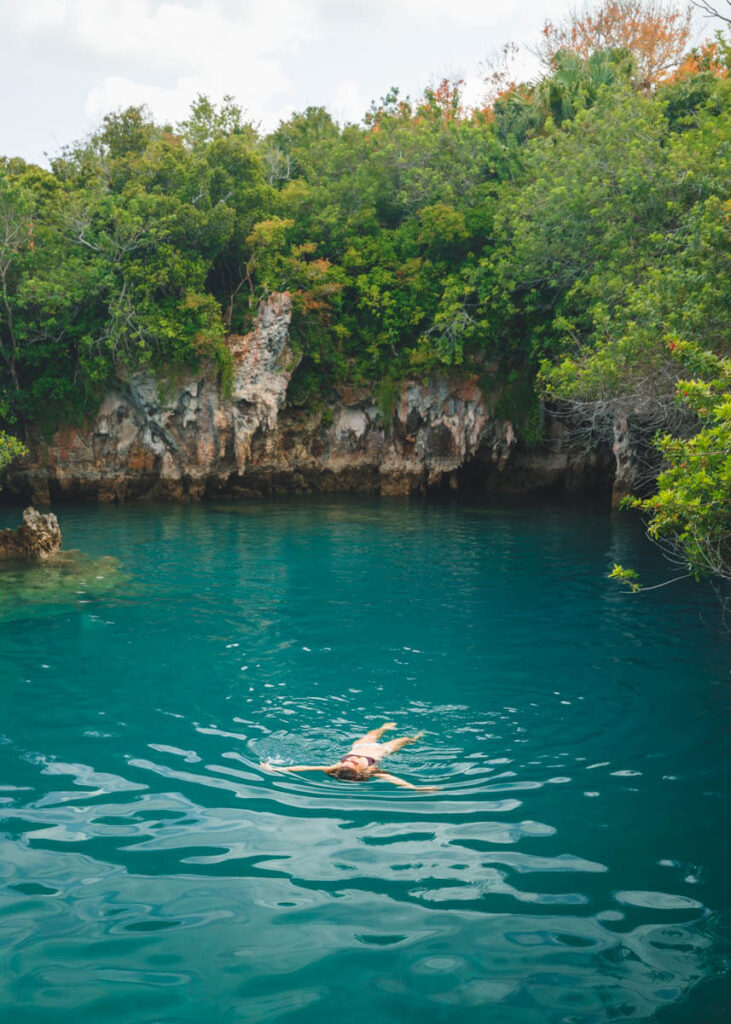 While the water alone is worth a trip out to Blue Hole Park, the scenery surrounding it makes the experience even more bucket-list worthy. Intricate mangroves surround the water, and there's even a cave on one end of the hole.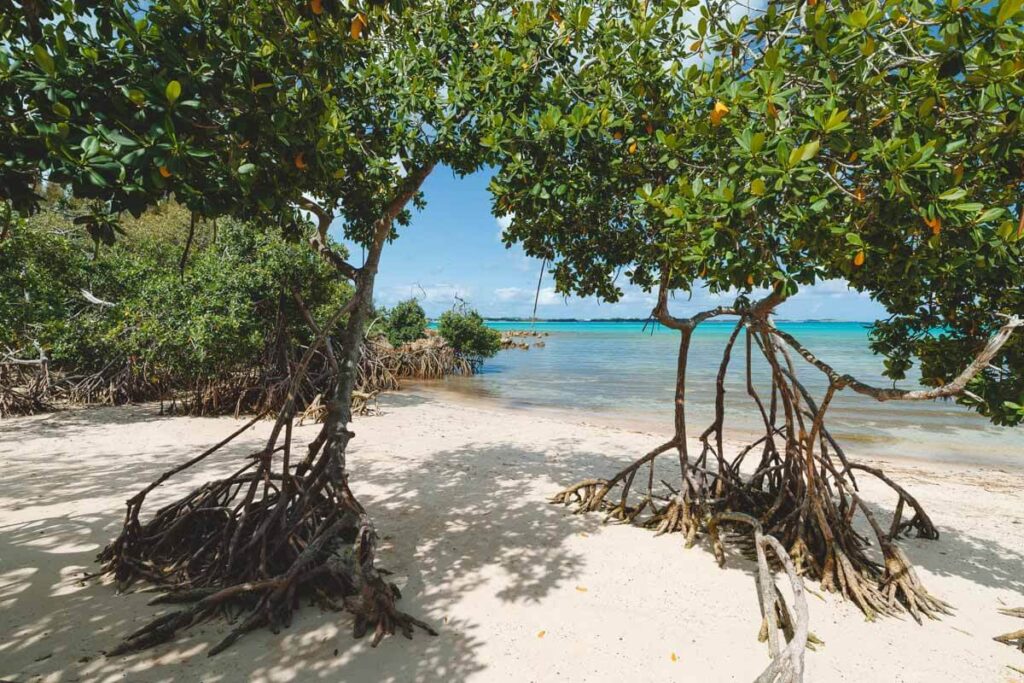 In addition to simply swimming, cliff jumping is a popular pastime at Blue Hole Park. There are a few different spots for cliff jumping – follow the trail (dirt path) to the right of the viewing platform.
The grotto is deep, so have no fear! You may want to wear water shoes or sandals, though. The rocky cliffs can be jagged and, therefore, problematic for bare toes.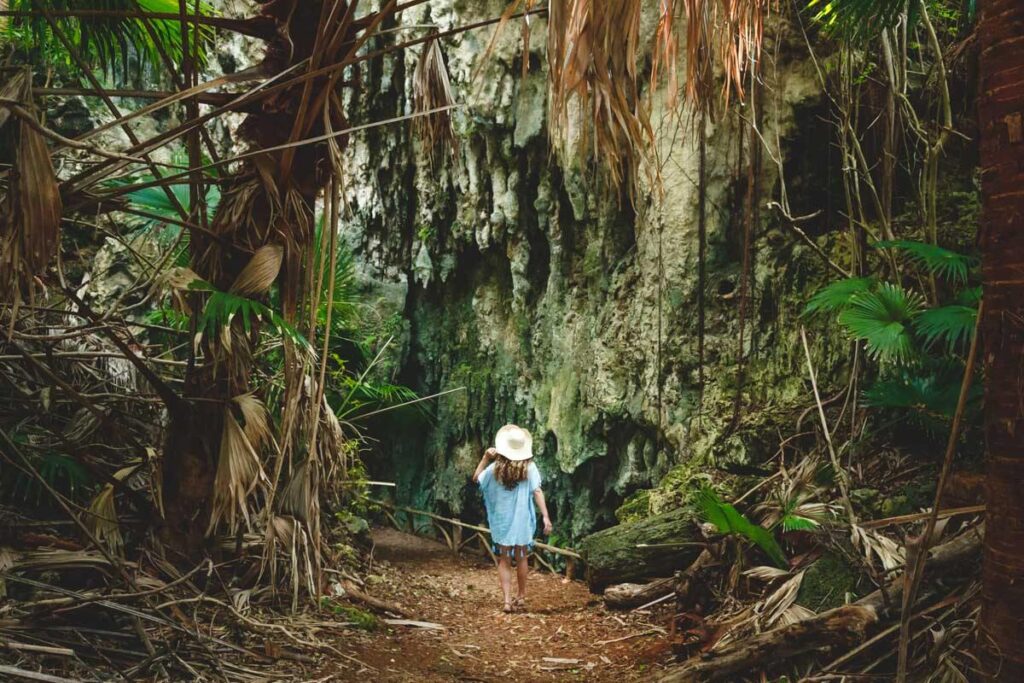 Blue Hole Park is also a cool spot for snorkeling, thanks to the crystal-clear water. The waters teem with tropical fish and other colorful marine life. You'll need to bring your gear, as rentals are unavailable at the park.
Tom Moore's Jungle & Walsham Nature Reserve
If you can tear yourself away from the azure swimming hole, there's more to discover at Blue Hole Park. This area is sometimes referred to as Tom Moore's Jungle or Walsham Nature Reserve, but rest assured, it's all part of the same park.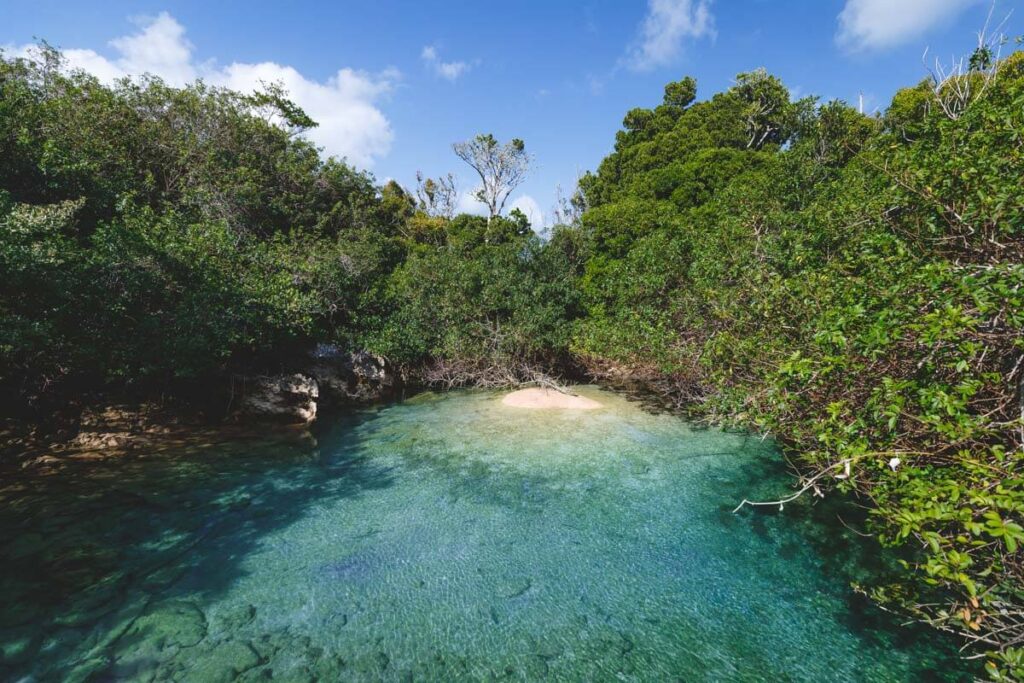 If you'd like to stay dry, hiking is one of the best ways to explore this stunning area. Trails line the park's grottos, caves, and beaches, so you're guaranteed incredible scenery as you hike.
Rules of the Area
This area is wild. You won't find anyone milling about keeping an eye on visitors or enforcing safety precautions. But that doesn't mean there aren't any rules! For both personal safety and the preservation of the area, keep these rules in mind.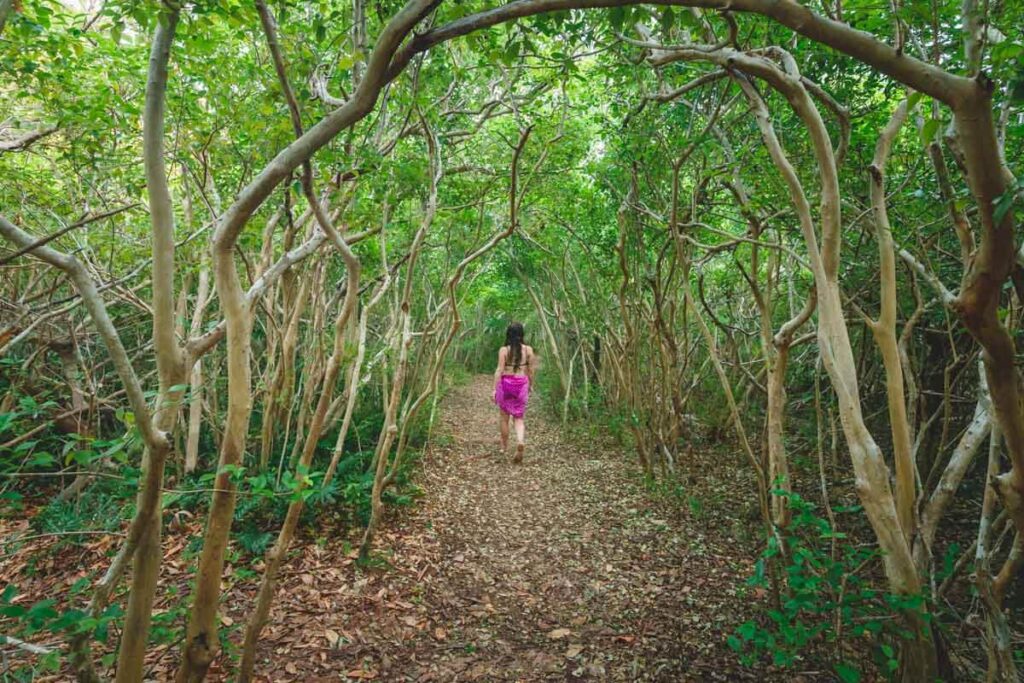 Stay on the trails.
If you bring your furry friend, clean up after them and keep them leashed at all times.
Pack all your trash out with you.
This is nature in its purest form. Beware of hidden sinkholes, poison ivy, bee hives, and uneven ground.
Swimming in the grottos is prohibited. Stick to the Blue Hole – it's the best for swimming.
Hours & Facilities
Blue Hole Park is open daily from sunrise to sunset, and it's completely free to visit!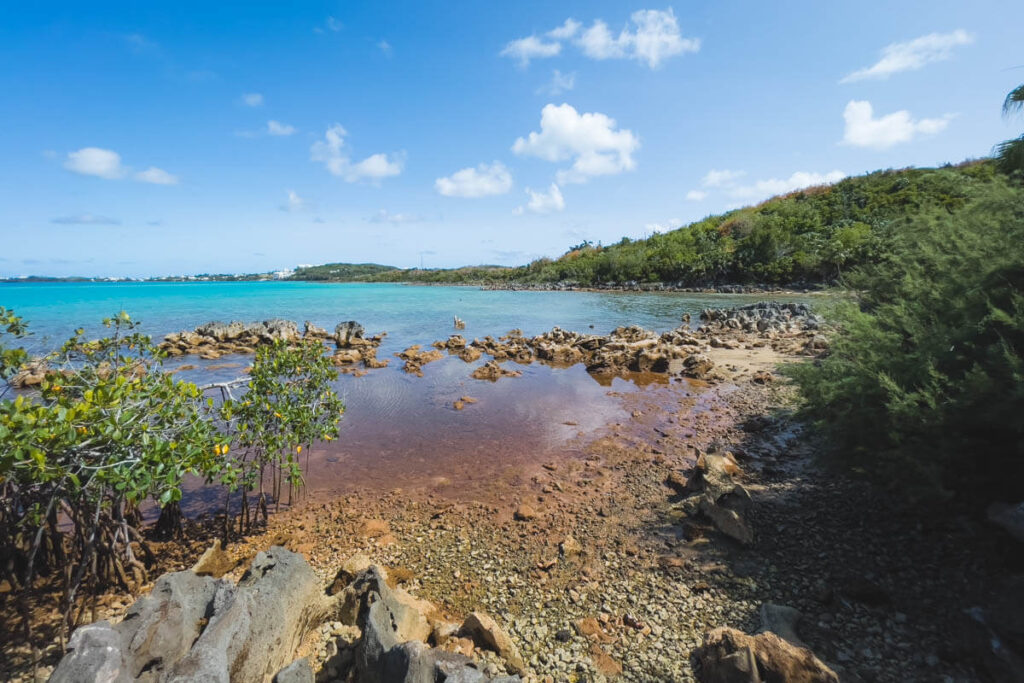 Because there is no admission fee, services within the park are limited. There is a parking lot, some picnic tables, and a few restrooms, but you should use the latter at your own discretion.
No kiosks, food services, or tour guides are available within the park. Be sure to bring plenty of water with you or fill up at the gas station near the park entrance before heading in.
How To Get to Blue Hole Park by Bus
While it may feel worlds away, Blue Hole Park is pretty accessible with public transportation. Buses #1, 3, 10, and 11 drop passengers off at the Grotto Bay Beach Resort entrance in Hamilton Parish. From there, walk along The Causeway towards St. George for about two to three minutes.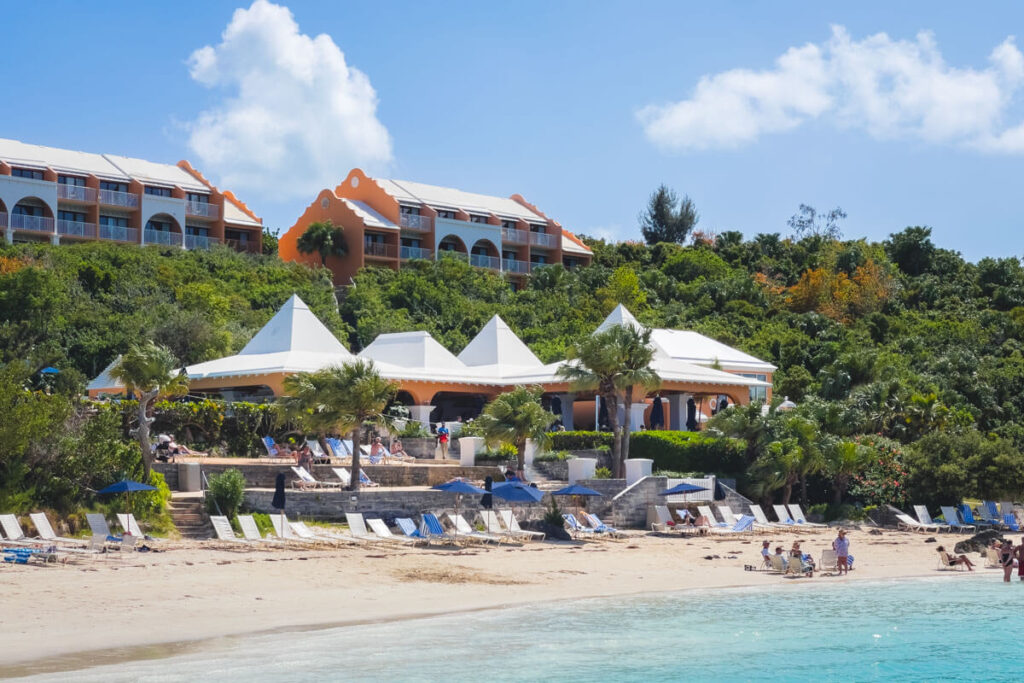 You'll know you're getting close when you pass the Rubis gas station—this is where you want to fill up on water and use the bathroom, folks! Once the actual causeway begins, take the path on the right-hand side leading into the park.
Things To Do Near Blue Hole Bermuda
Check out the Crystal and Fantasy Cave if you want to make a full day out of your trip to Blue Hole (or if you're really into cool caves). This is one of the absolute best things to do in Bermuda, and it's located just on the other side of the park!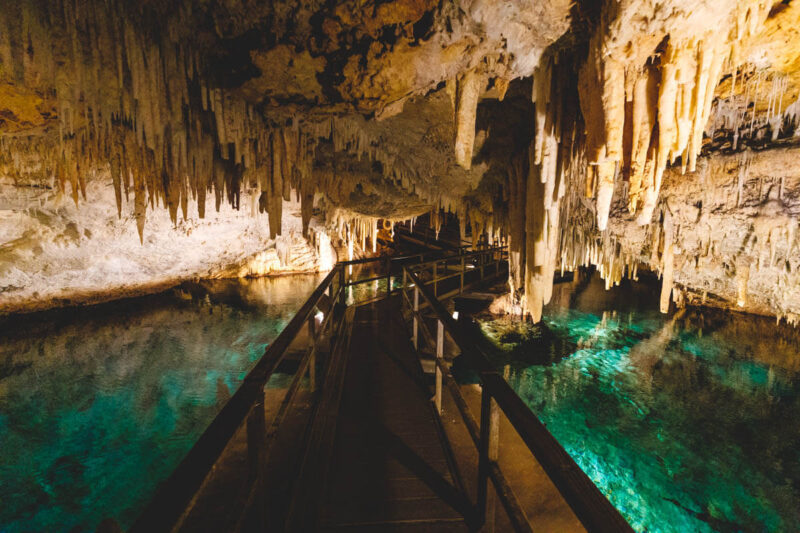 You'll get 45 minutes to wander the boardwalks beneath the surface and admire the incredible geological formations for which the cave is famed. Alternatively, visit as part of this full-day tour that also includes shopping and beaches.
Hungry? Head to the Swizzle Inn for some traditional Bermuda fish chowder or perhaps some perfectly fried Wahoo nuggets! Of course, you'll have to try the famous Rum Swizzle, which originated here.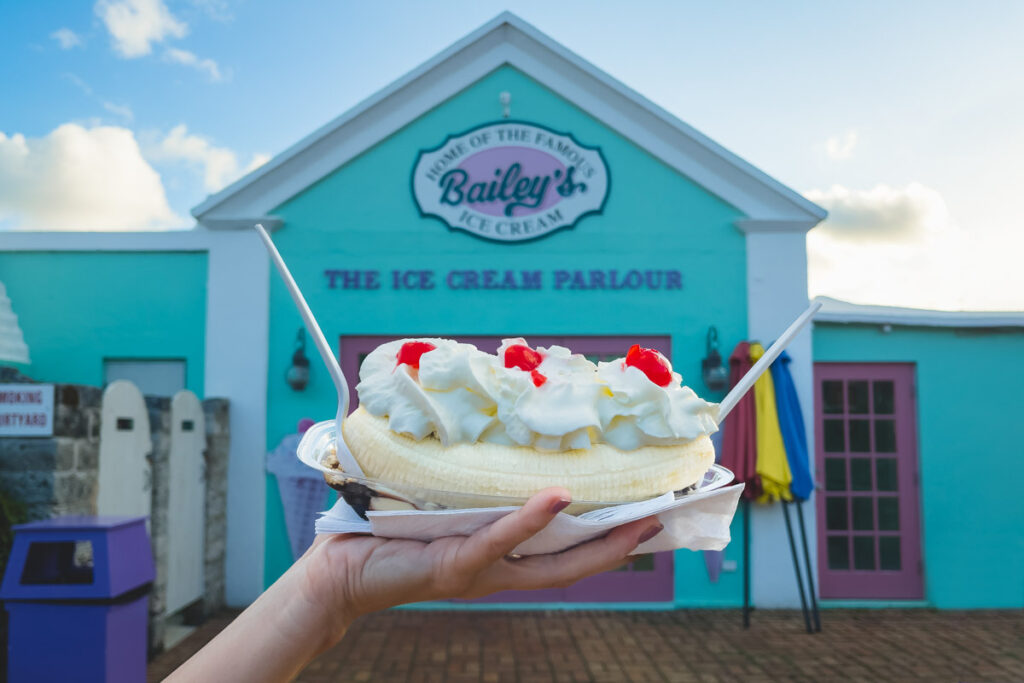 For dessert, waddle over to Bailey's Bay Ice Cream, where you'll "only" have about 30-40 incredible flavors to choose from.
RELATED: 11 Best Restaurants in Bermuda
You could make it a whole day in this area… I'd do the caves first, then head to Blue Hole for a swim. After you've worked up an appetite, you can head to the Swizzle Inn, Bailey's, and then turn in for the night.
If you want to stay close by, Grotto Bay Beach Resort & Spa is the spot! Not only is it one of the best places to stay in Bermuda, but it's also a stunning property with its own private caves to swim in!
I hope this helped you plan your trip to Blue Hole in Bermuda! Have fun!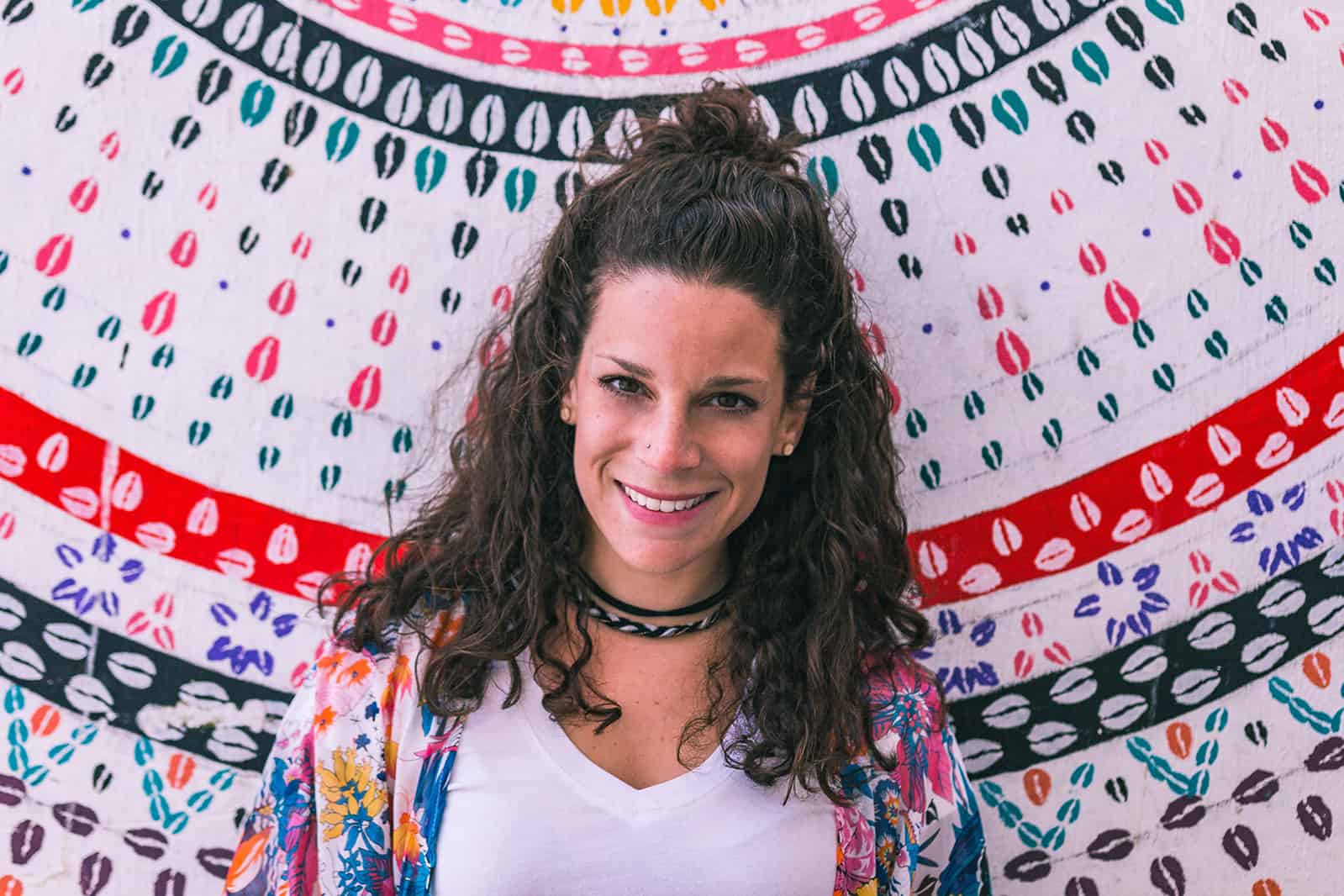 Nina Ragusa is an adventurer, messy bun master, breakfast fan, and full-time travel blogger. She's been abroad since 2011 and blogging on Where in the World is Nina? for nearly as long. Nina helps people like you move around the world while making money. She loves talking about how to work abroad and online to travel longer!