In addition to its dazzling beaches and fascinating history, Bermuda impresses visitors with its vast array of swanky accommodations. For such a small island, the amount of places to stay in Bermuda is staggering.
In addition, the island is divided into three different regions: the West End and the East End. So, deciding where to call home base for your island adventure can be difficult.
But fear not! We've got you covered with some top picks for where to stay in Bermuda so you can spend less time scouring the web and more time enjoying your island vacation. Plus, you'll find the best things to do in Bermuda near each resort, so you can ensure you're staying next to the activities you're interested in.
In a rush? Here are the top three…
LOCATION! LOCATION! LOCATION!
You're right above Horseshoe Beach, one of the best beaches.
You're in the center of the action in Hamilton, and you'll be staying at THE famous pink hotel in Bermuda!
Great location with perks like free rides to Hamilton, one of the best restaurants on the island, and a stunning pool!
BEST Places to Stay in Bermuda
---
Best Places to Stay in Bermuda: West Side
The West Side is made up of three areas: Somerset Village and Hog Bay, Hamilton, and Mount Pleasant. Somerset and Hog Bay is the region known for its relaxing vibes, nature reserves, and for being more secluded away from crowds.
Hamilton is where you want to go if you're a first-timer. Known as the capital of Bermuda, you'll find it hard to have a dull moment here, with access to historical museums, restaurants, galleries, shopping, and more!
Looking for that ultimate leisurely getaway? Try one of the dozens of breathtaking beaches that flaunt turquoise waters and white sand. Elbow Beach is located in this area and is one of the most well-known. Or if you're wanting slightly more activity, try your hand at the golf courses that sprinkle the land.
1. Cambridge Beaches Resort & Spa
The Cambridge Beaches Resort and Spa is one of the best places to stay in Bermuda for those who want to get some serious R&R. The resort is tucked away at the tippy top of a peninsula on the island's West End, with panoramic ocean views from virtually everywhere on the 30-acre grounds.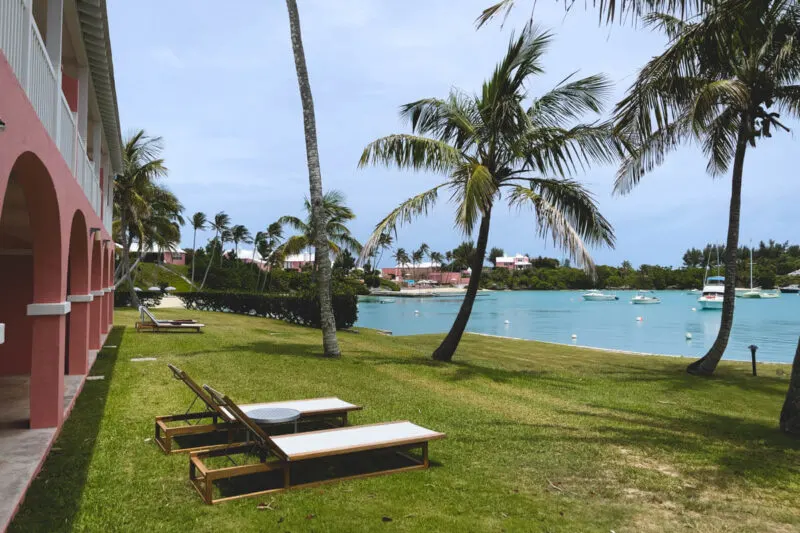 Rooms here include detached Bermudan-style cottages with water views and private outdoor spaces. Guests can also bask on the resort's four secluded beaches, book a spa treatment, or relax in the infinity pool overlooking the stunning Mangrove Bay.
The best part: the Cambridge Beaches Resort & Spa is one of the only places to stay in Bermuda that doesn't allow children under 12.
Highlights of Staying at This Resort in Bermuda:
Access to the gorgeous sands of Cambridge Beach.
H20 Sports is located here, so you have water toys to play with anytime!
You're near Fort Scaur, a historical fort to wander around and catch some nice views.
Just a few minutes north, and you're at the Royal Naval Dockyard, one of Bermuda's best areas to explore and catch tours. Go snorkeling around shipwrecks or sailing on a pink catamaran for the day!
2. Paul's Oceanview (A Secluded Place to Stay in Bermuda)
For private apartment-style accommodation in Bermuda, check out Paul's Oceanview. This self-catering apartment is located on the island's West End in the village of Hog Bay.
As you may have guessed from the name, the apartment features stunning ocean views. The vistas are exceptionally breathtaking at sunset, so be sure to stick around home a few evenings during your vacation!
Guests can relax in the private hot tub, grill out in the beautiful backyard area, or hunker down on the deck overlooking the ocean with a drink in hand.
Highlights of Staying at This Resort in Bermuda:
It's a bit more remote here, and you'll have amazing intimate sunset views!
Only a few minutes north, you can enjoy strolling around the Dockyard, visit eateries, and go shopping.
West Whale Bay Park is just south of you, with a cool fort and ocean views. There's a beautiful beach with turquoise waters, and opportunities to see humpback whales if you're here March-April!
3. The Reefs Resort & Club
Situated on the cliffs above one of Bermuda's best beaches, The Reefs Resort & Club is perfect for travelers who want to dwell in a secluded location while staying close to all the action.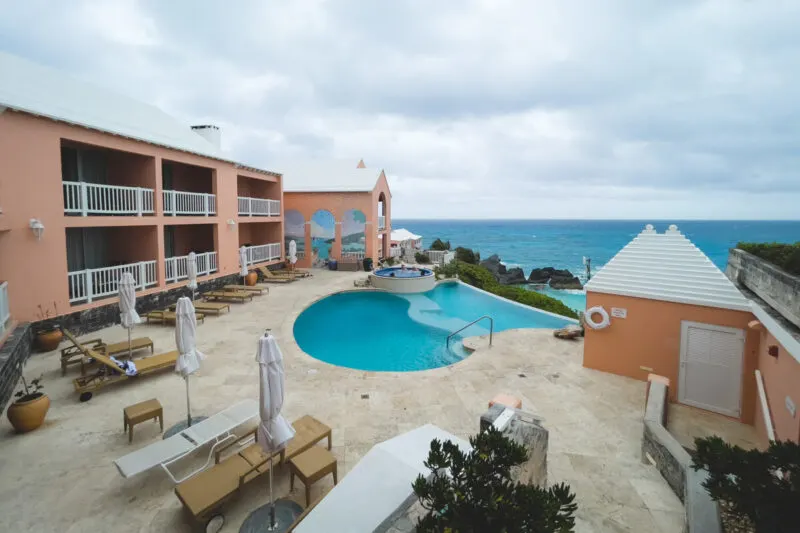 The resort sits along the West End's southern shores, just a few miles from Horseshoe Bay, Gibb's Lighthouse, and other top island attractions. The boutique resort usually hosts repeat guests, so you can bet that the experience here makes people want to come back again and again.
Highlights of Staying at This Resort in Bermuda:
You'll have a private beach, so no need to leave if you don't want to, but…
Just to your west, you have Church Bay Park with a tinge of pink sand and cool snorkeling opportunities.
And just to the east, you'll have Horseshoe Bay's famous pink sand beach.
To the north, you can also make the quick trip to Gibb's Hill Lighthouse!
4. Southern Views Villa Fairmont
If you're searching for the best places to stay in Bermuda with a mix of privacy and luxury, look no further. The Southern Views Villa sits on the shores of the much-loved Horseshoe Bay. This opulent beach villa boasts four bedrooms, a private pool, a modern kitchen, and a vast deck overlooking the water.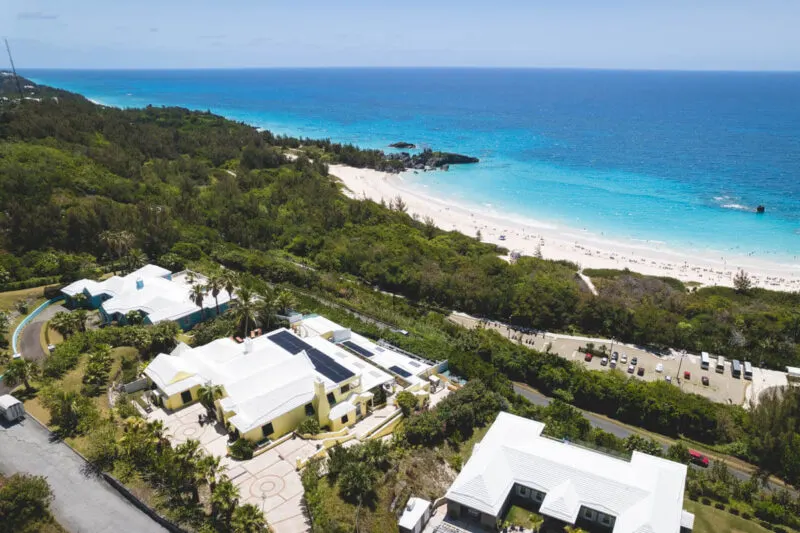 While it is an apartment-style rental, Southern Views is on the grounds of the Fairmont South Hampton Hotel. That means guests can enjoy all the hotel amenities, including the golf course, tennis courts, restaurants, and more.
Highlights of Staying at This Resort in Bermuda:
Talk about location! This resort is lucky enough to be a hop, skip and jump away from the ever-famous Horseshoe Bay. This pink sand beach stretches for miles, and this resort is the closest to it.
Venture a bit east, and you'll get to play on lesser-visited beaches that are even pinker—Warwick Long Bay and Jobson Cove.
5. Cliffs of Marley
Wondering where to stay in Bermuda on a budget? Cliffs of Marley is a great pick. These light and airy waterfront apartments boast a private pink-sand beach, a pool, and patios with epic ocean views.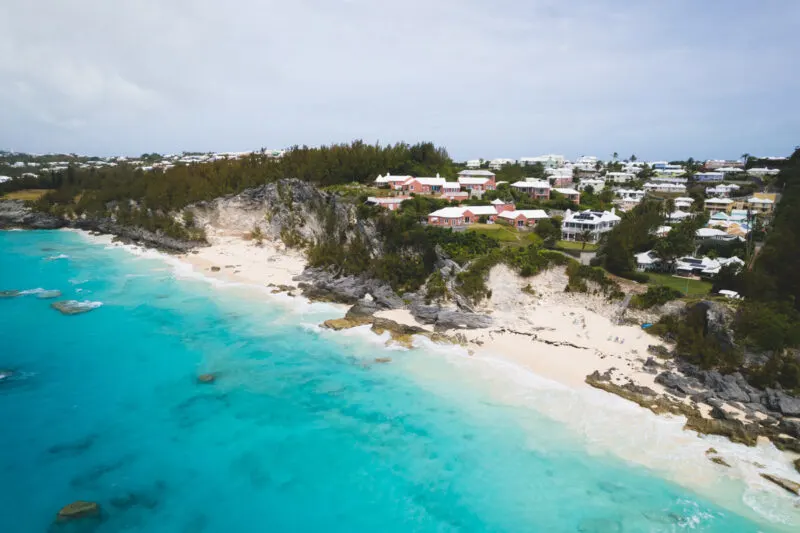 In addition, the apartments sit just ten minutes from central Hamilton. So, regarding price, amenities, and location, Cliffs of Marley is one of the best places to stay in Bermuda!
Highlights of Staying at This Resort in Bermuda:
Being perched on those cliffs gives you quite the view of Marley Beach, a beach hardly anyone goes to!
Astwood Park is just down the way and is a lovely place for a stroll and to scramble down rocks into secret coves with slices of sand to privately bask on.
6. Watercolours (One of The More Affordable Places to Stay in Bermuda)
Watercolours is a boutique bed and breakfast in the Mount Pleasant region of Central Bermuda. All four rooms boast sea views and spectacular sunsets, and the B&B also has beautiful gardens, a freshwater pool, and a dock.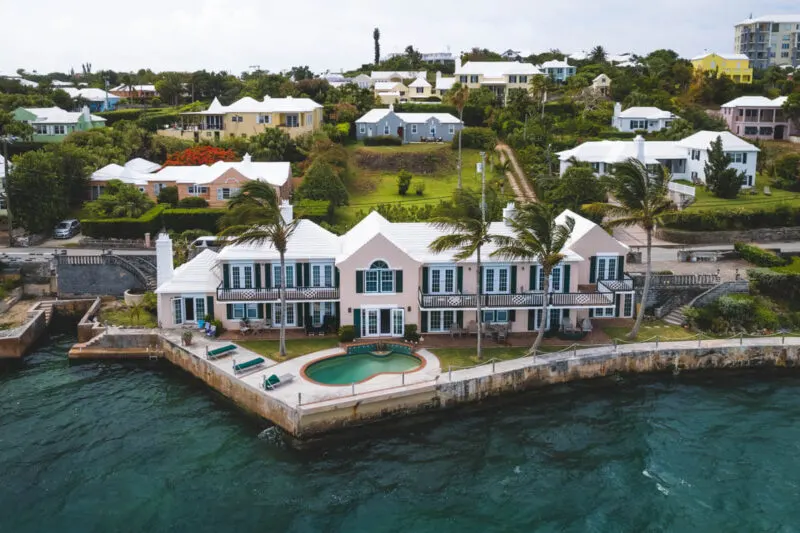 Although tucked into a quiet, exclusive neighborhood, Watercolours is just minutes from the Belmont Ferry to Hamilton. You may think a luxury B&B like Watercolours is out of your budget, but it's one of the most affordable places to stay in Bermuda!
Highlights of Staying at This Resort in Bermuda:
Ideally located in the island's center and near the ferry service that takes you across to Hamilton.
This spot is just across from the Cliffs of Marley and not too far from Elbow Beach and Warwick Long Bay Beach.
7. Newstead Belmont Hills Golf Resort and Spa—Where I Stayed in Bermuda!
The lavish Newstead Belmont Hills Golf Resort is the perfect place for those who want to relax in luxury. This oceanfront oasis is conveniently located near tons of the island's top attractions in Central Bermuda.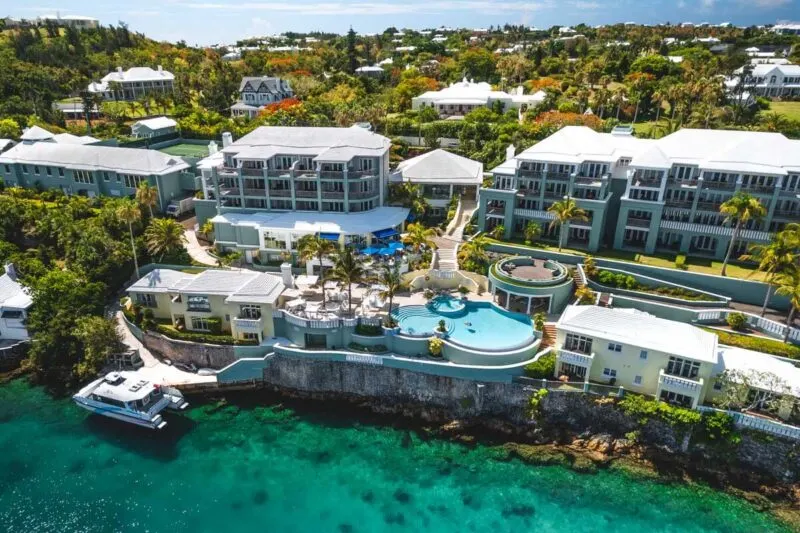 The resort features top-notch amenities, including an 18-hole golf course, an infinity pool overlooking the ocean, a state-of-the-art fitness room, and more. In addition, guests can enjoy stunning waterfront views from every suite, along with various bars and restaurants across the resort.
Of all the places to stay in Bermuda, this resort is hard to beat!
Highlights of Staying at This Resort in Bermuda:
Extremely well located in the center of the island, so everything is accessible.
Access to one of the best golf courses on the island.
The free bus shuttle takes you to nearby spots like Elbow Beach and the Fourways Restaurant, and the free boat shuttle tasks you across the channel to Hamilton.
The Aurora Restaurant on site is award-winning and one of the best on the island. (one of our fav places to eat in Bermuda, actually!)
RELATED: 11 Best Restaurants in Bermuda
8. Coco Reef Resort Bermuda
The Coco Reef Resort is conveniently located just ten minutes from Hamilton in Central Bermuda. It receives top marks for its private, pink sand beach, and each room has a private balcony with beautiful ocean views.
Other amenities that make this one of the best places to stay in Bermuda include the private pool, tennis courts, walking trails, and its central location near all the island's top attractions.
Highlights of Staying at This Resort in Bermuda:
Extremely well located right on Elbow Beach, one of the most stunning beaches in Bermuda.
Otherwise, it's a bit removed from the rest, providing guests with a castaway feel. With that said, you're still only a 10-minute drive away from Hamilton.
9. Hamilton Princess & Beach Club—The Most Famous Place to Stay in Bermuda
Often referred to as "the Princess," this luxurious beach resort is one of the oldest establishments in Bermuda. The pink walls have stood since 1885, and the hotel is an island icon in all the best ways.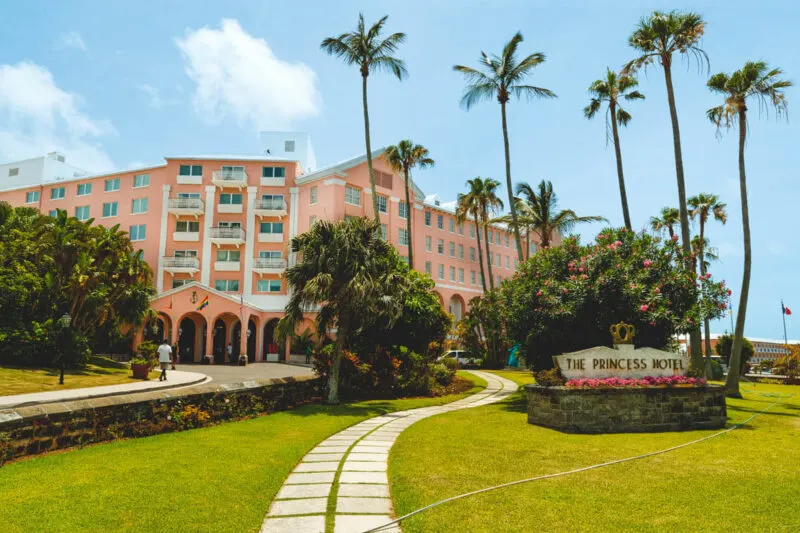 The Princess has recently had a full makeover and caters to elite travelers with next-level luxuries like multiple pools, swanky art collections, a private marina, and more.
In addition to the exceptional amenities, the Hamilton Princess has one of the best locations on the island – right in the heart of Hamilton!
Highlights of Staying at This Resort in Bermuda:
Not only centrally located but right in Hamilton, the capital and the most happening town on the island. All of the best shopping and eateries are here.
Access to the electric rental cars is just outside your doorstep, with one of the largest fleets parked and ready for usage as you, please.
Head north for a lovely time at the gorgeous Clarence Cove and Admirals Cave, or take a wander at Spanish Point Park.
Best Places to Stay in Bermuda: East Side
Bermuda's Eastern region is highly recommended for families. Set to the backdrop of quaint streets and UNESCO heritage sites such as the Town of St. George, walk amongst the history while enjoying the entertainment of modern activities.
With resorts and restaurants aplenty, kids will thrive in this area. See the plentiful wildlife at the local zoo or take a tour through the mystical Crystal Caves. Take in all the beauty the East side has to offer.
10. Grotto Bay Beach Resort & Spa
Grotto Bay Beach Resort is an excellent option if you want to stay all-inclusive place in Bermuda. This East End resort features cottage-style accommodations overlooking the bright blue waters of Bailey's Bay.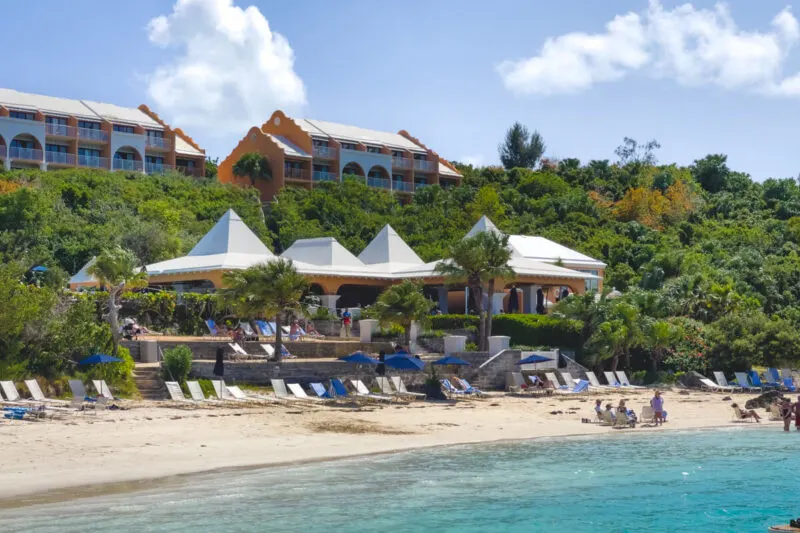 Guests can swim in the shallow waters of the resort's private beach or relax in the outdoor jacuzzi overlooking the ocean. The resort also has a spa, oceanfront fitness center, freshwater pool, and even a private swimming cave!
Highlights of Staying at This Resort in Bermuda:
This place to stay in Bermuda potentially has the most and best things to do at its doorstep, and it's just minutes from the airport.
Down the road, you can access the stunning Blue Hole, a swimming lagoon with a dense forest and caves to wander around.
Check out Crystal and Fantasy Caves on a beautiful tour roaming an underground network of caves with pools and sparkling stalactites.
Grab some grub at the Swizzle Inn next door but save room for Bailey's Bay Ice Cream too!
11. The St. Regis Bermuda Resort
If you're searching for the most exclusive places to stay in Bermuda, the St. Regis Bermuda Resort takes the cake. Nestled alongside the historic Fort St. Catherine, this swanky locale will cost you a pretty penny.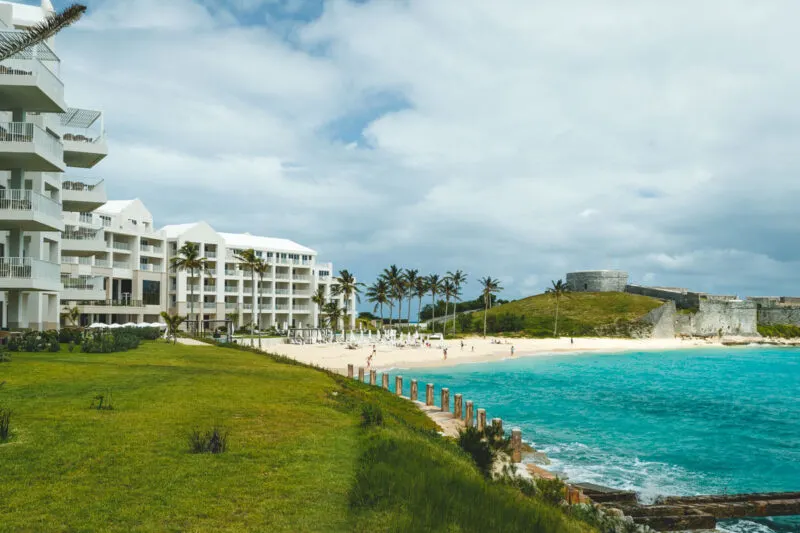 But those who can afford it will love the upscale resort amenities like the adults-only pool and the on-site spa. Other amenities include a golf course, a modern fitness center, and multiple dining options.
Guests will also have direct access to the beautiful St. Catherine's Beach – one of the quietest and most secluded beaches in Bermuda.
Highlights of Staying at This Resort in Bermuda:
St. Catherines Beach is gorgeous and massive, but you're also within walking distance of the famous Tobacco Bay Beach, where you can climb rocks, grab a rum punch, and swim with fish.
Wander Fort St. Catherine, the fort you can see from the beach!
Head south to St. George and check the Unfinished Church and St. Peter's Church.
This resort in Bermuda is also one of the closest to my favorite areas—Cooper's Island!
How To Get Around
Whether you want to be adventurous and live like the locals or enjoy the comforts of privacy and air conditioning, Bermuda has ample transportation options for getting around the island.
Car Rental (The Best Way to See All the Things To Do in Bermuda on This List)
Visitors have the option of renting electric vehicles to get around the island. But these aren't "regular" cars exactly.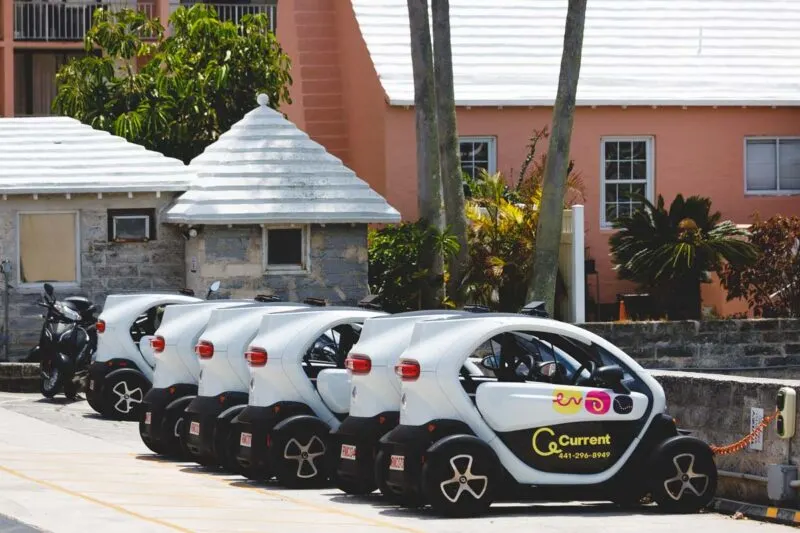 These are usually small cruising vehicles (like, smart car size) that vary in slightly in size, depending on which company you rent from.
While on the more expensive side ($15 per hour or $120 per day), we went with Current as it was the most accessible option. The app is user-friendly, but take price into consideration for this option if you're on a budget.
Scooters and Bikes
A very common and equally economical way to get around the island is on two wheels! The speed limit is 35 km (20 mph) around the island, so it's safe and relatively easy to ride around.
Companies will offer a better deal when you rent for more days, so be sure to ask if you know you'll use it for more than one day. More info here.
Bus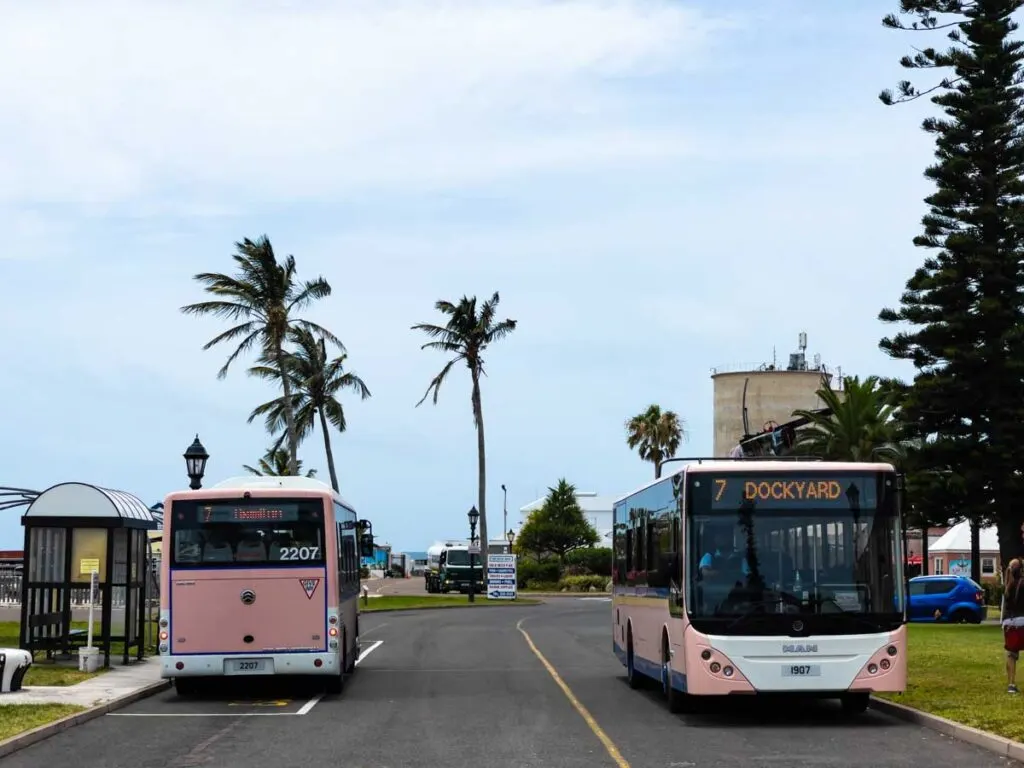 Bermuda has an impressive bus system with plenty of stops, hitting most of the highlights on the island. You can check the bus timetables here. This will be the most economical way to get around the island.
Taxi
Taxis should be a last resort or only utilized for your airport trip. This is the most expensive option and you'll wonder why all that cash you diligently exchanged has disappeared.
It was about $50 from the Hamilton area to the airport, which is only about 15 km (9 miles). Sundays are often more expensive, as well.
I hope you were able to narrow down your search for where to stay in Bermuda—It's hard to make a bad choice here!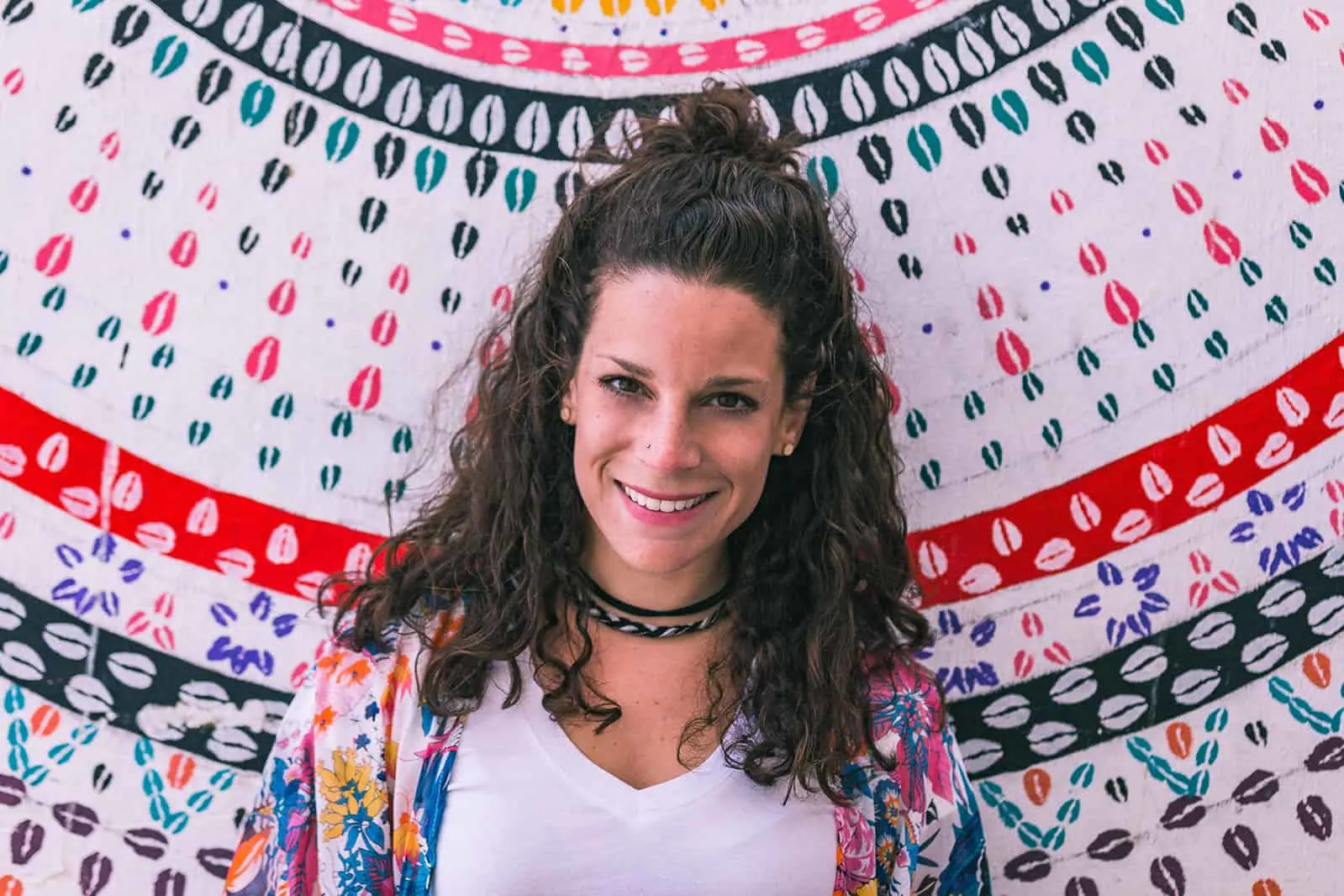 Nina Ragusa is an adventurer, messy bun master, breakfast fan, and full-time travel blogger. She's been abroad since 2011 and blogging on Where in the World is Nina? for nearly as long. Nina helps people like you move around the world while making money. She loves talking about how to work abroad and online to travel longer!