Belize is a small Central American country known for its diverse landscapes and rich culture. From mountain ranges and lowlands to a breathtaking Caribbean coastline, there's no shortage of natural beauty to explore. But one of the standout features of Belize is its waterfalls.
Camouflaged within the country's many national parks and protected jungle reserves, these natural wonders range from easily accessible falls to those requiring a bit of effort and planning.
Whether you're an experienced hiker or simply looking to take in the beauty of the surrounding wilderness, these waterfalls offer something for everyone. Here's a rundown of the top 7 waterfalls in Belize.
Belize Waterfalls
---
1. Rio On Pools
Of all the Belize waterfalls, Rio On Pools is perhaps the most unique. Like many of the falls in this region, Rio On Pools sits within the Mountain Pine Ridge Preserve in Cayo. But this waterfall offers up an interactive element unlike any other.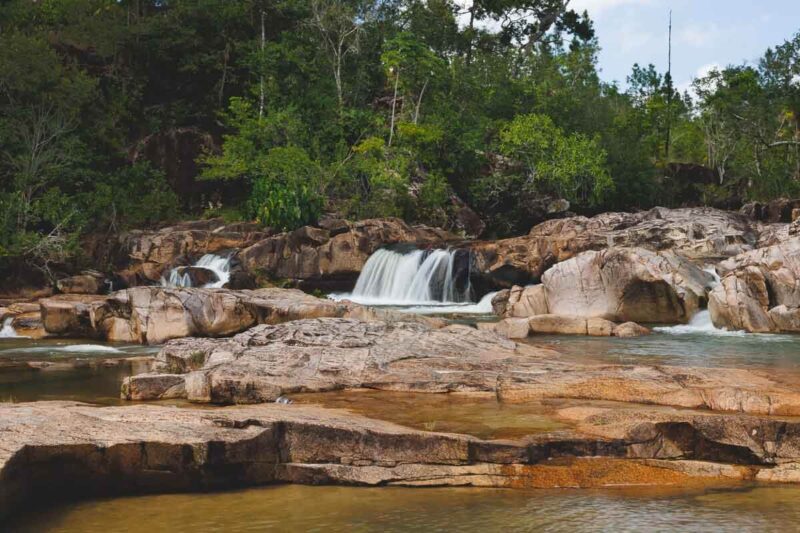 Numerous small falls cascade down into a series of "pools" below, creating one of the country's most enchanting swimming holes. Chilling in a pool fed by a waterfall while surrounded by a serene forest? Say no more!
Rio On Pools is a popular attraction, but the abundance of reservoirs means you won't have an issue finding a spot to bathe.
2. Big Rock Waterfalls
Cascading down from an impressive 150 feet, Big Rock Waterfalls are a sight to behold. These falls are amongst the grandest in Belize, but there's much more to do here than just staring wide-eyed at this massive waterfall.
After traversing the wooden stairs that lead to the falls, you can cool off in the water below. There are two modes of entry into the pool below.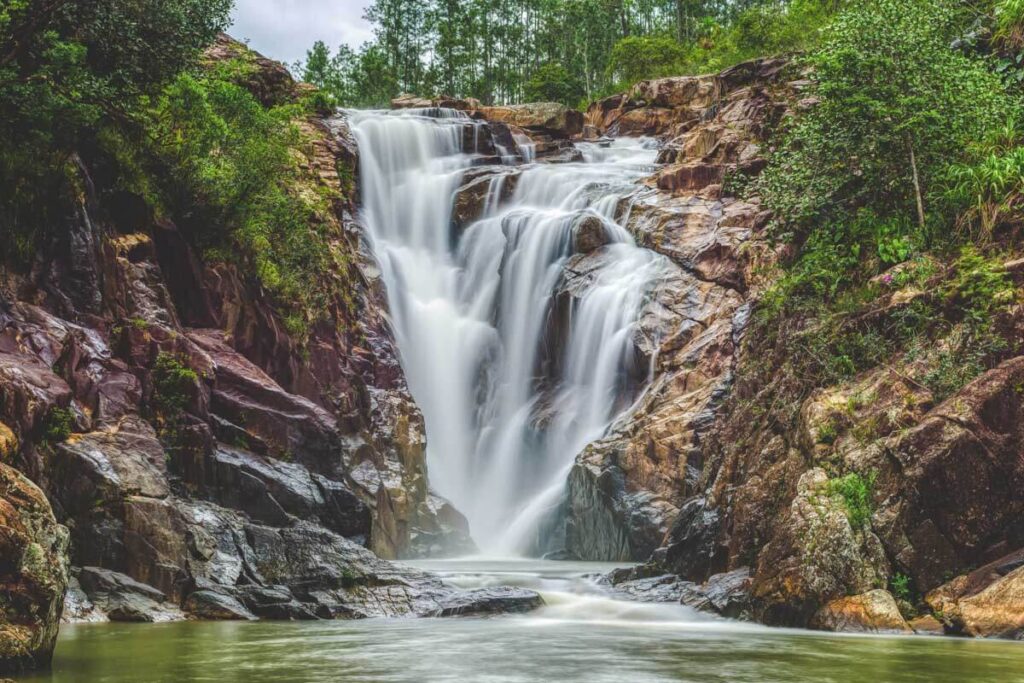 Thrillseekers can climb the cliffs and take a plunge into the falls (be careful, as the rocks can be slippery), while those seeking a more leisurely experience can wade in from the bottom.
The falls are hidden away in the Mountain Pine Ridge Preserve in Cayo. There's a short hike down to the falls, and while it isn't physically challenging, there are some rickety stairs and slippery rocks you'll need to conquer.
TIP
If you don't have your own car, you won't be able to get to waterfalls #1 and #2 on this list. However, you can see both of these special spots if you take a
tour to Caracol Mayan Ruins
! Make a whole day of exploring ruins and then swimming in waterfalls.
As an additional side note, even if you have a car to see these falls, the road can be rough, especially after a day of rain so just be aware.
3. Billy Barquedier Falls
Tucked away in the national park of the same name, Billy Barquedier Falls is a must-see for any nature lover visiting central Belize's Emerald Valley. The hilly park is a popular hiking area with over 1,500 acres of verdant evergreen forests.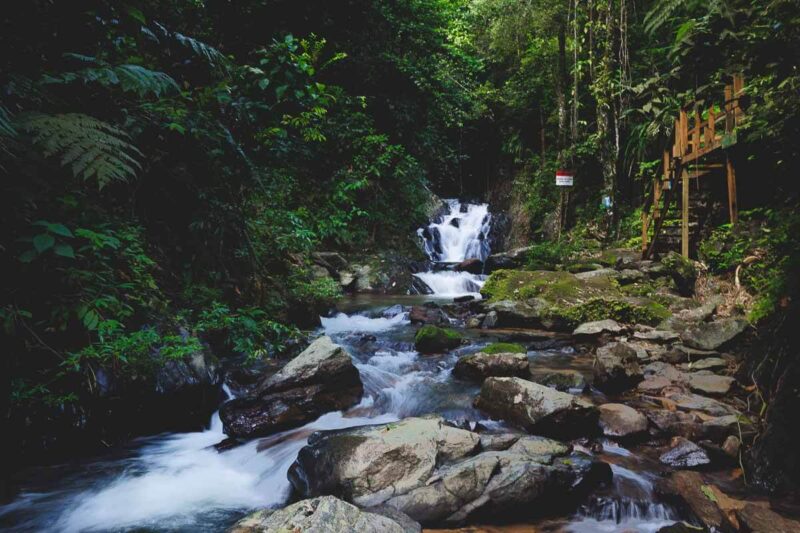 The falls sit at the end of the aptly-named Waterfall Trail, which is an easy 15-20 minute trek. Beware that there may be muddy sections and slippery rocks along the trail. You will also be traversing alongside the river and sometimes IN the river to make it to the falls. Your shoes will get wet here.
The refreshing pools beneath the cascade are a great spot to relax on warm days!
RELATED: 27 Amazing Things To Do in Belize — A Complete Guide!
4. Bocowina Falls
While some of Belize's waterfalls have grown in popularity, Bocowina Falls remains a bit of hidden gem. The falls are concealed within the dense forests of the Mayflower Bocowina National Park, which means that few visitors seek them out.
With some planning, the falls are easy to access—follow the Bocowina Falls Loop! The hard part comes before you hop on the trailhead, and many choose to hire a guide to lead them here as the roads can be a bit rugged. If the rough road is impassible, you can always walk from the park's welcome center to the trailhead.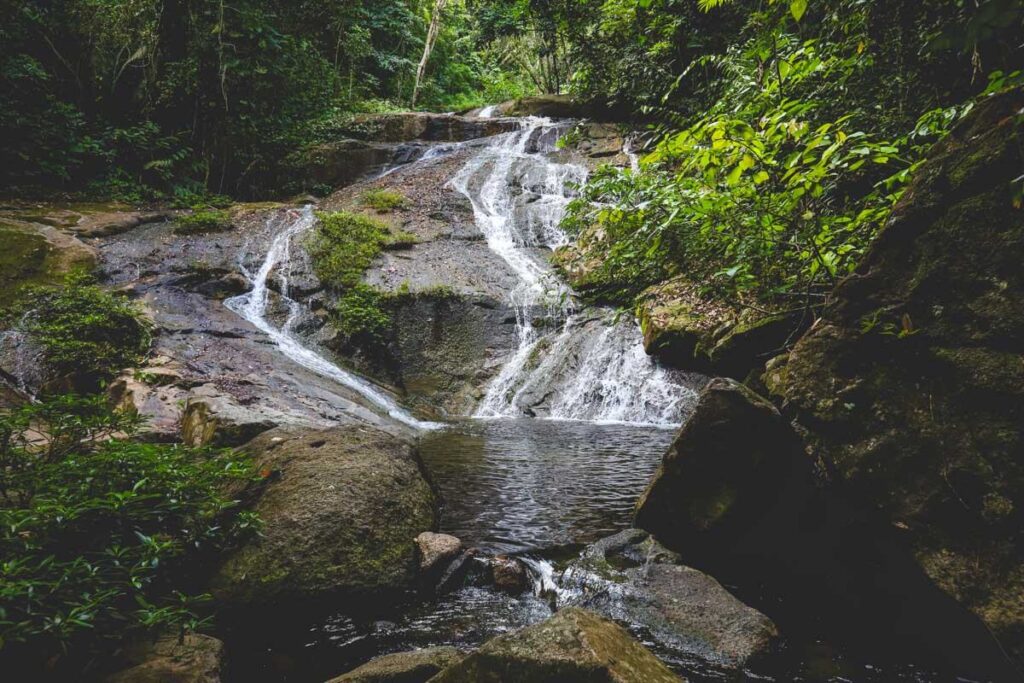 Once you get to the gorgeous 100-foot Bocowina Falls, you can reward yourself with a refreshing dip in the pool below the lower falls area. You could also continue along the same trail to the upper falls for a different vantage point.
As you hike, you'll likely encounter incredible wildlife, including big cats, howler monkeys, tapirs, and tropical birds.
TIP
For a real thrill, instead of hiking to the waterfall, why not
RAPPEL
down it instead?
5. Antelope Falls (My Favorite Waterfall in Belize!)
Antelope Falls is another Belize waterfall that deserves a spot on your itinerary. The massive, 1000-foot waterfall is tucked away in Mayflower Bocawina National Park in central Belize.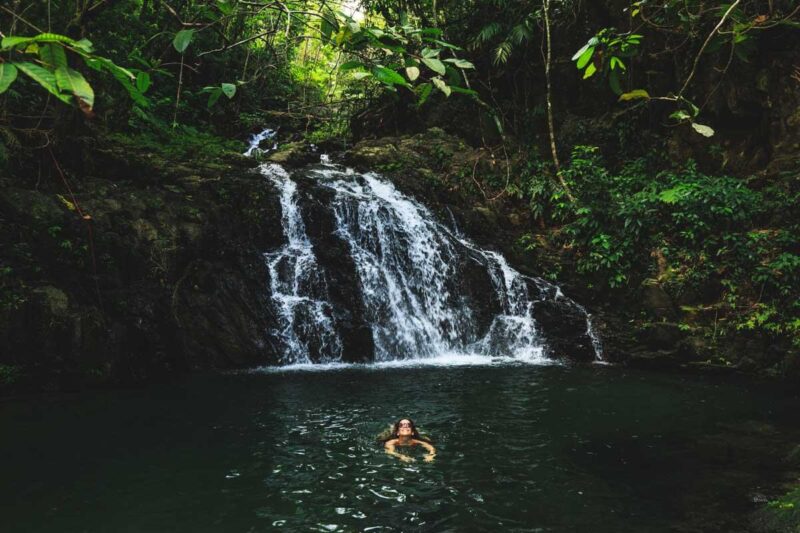 Unlike other waterfalls on this list, you'll need to put in some serious effort to reach Antelope Falls. But don't count it out just yet. The daunting 1.5-hour hike is worth the pain. The stunning scenery will help distract you from the trail, and this lush jungle is filled with unique wildlife.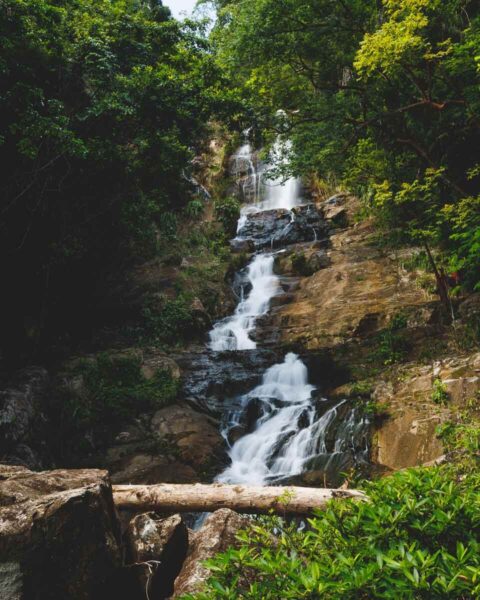 The falls are some of the tallest and most impressive in the country, and from the top, you'll get panoramic views all the way out to the Caribbean Sea. After the long hike and clambering up tree roots, you can reward yourself with a refreshing dip in the pool beneath one of the tiers of the falls.
TIP
If you like both #4 and #5 on this list, I have some good news for you—They are in the same park! Even better news? You can do a
combo tour
where you rappel down the waterfalls, go for a swim, zipline across the lush Belizian jungle, and refuel on a traditional lunch before heading back to your hotel to rest.
6. Tiger Fern Waterfall
The Tiger Fern Waterfall, located in the Cockscomb Basin Wildlife Sanctuary, is considered one of the most beautiful in the country. The double waterfall is serene in its own right, but the hike to the falls is part of the experience for this one.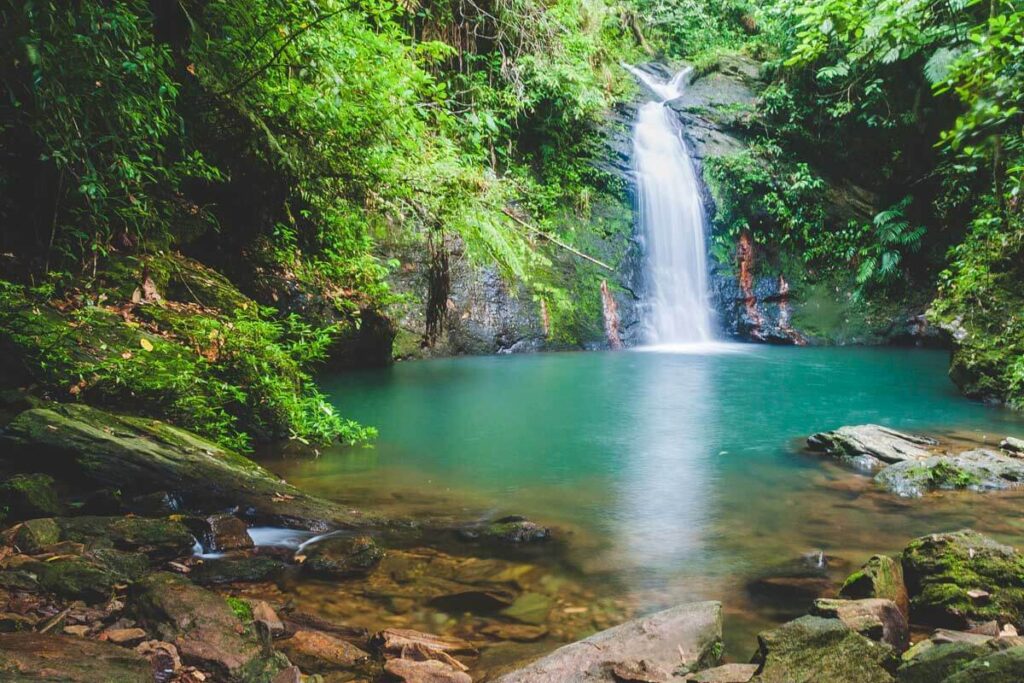 You'll need to trek a few miles along the aptly named Waterfall Trail before you reach the falls, but the route is moderate and easy to follow. Along the way, you'll be treated to views of the forest above, Victoria Peak, and likely plenty of exotic flora and fauna.
Do note a guide is obligatory to hike here. You can head to the welcome center first for more information.
7. Ben's Bluff Falls
Why not make a full day chasing waterfalls in the Cockscomb Basin Wildlife Sanctuary? From Tiger Fern Waterfall, hop onto Ben's Bluff Trail. Be warned: this section of trail is steep, narrow, and less maintained than others in the sanctuary. But don't let that stop you!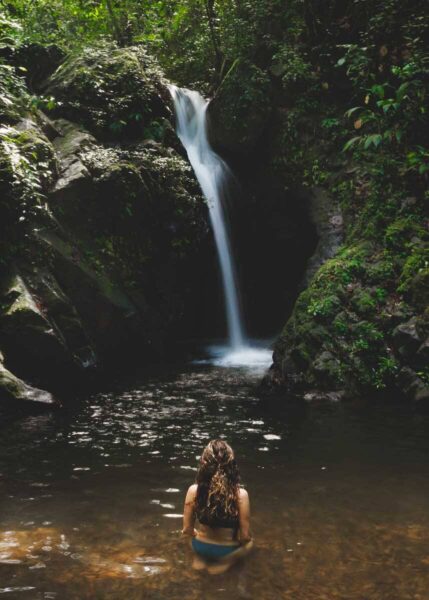 These falls are still easy enough to reach and, for some reason, are much less crowded. You may even have this tranquil area all to yourself! However, wild jaguars love this serene spot, too, so avoid hiking here early in the morning or late in the afternoon.
TIP
While getting to this waterfall in Belize is easier than some of the others, you may find it best to book a tour, particularly if you don't have your own car. Grab a tour
here
to visit this spectacular waterfall, take a dip, and even float down the nearby river!
Tips For Visiting these Waterfalls in Belize
Pretend that I'm yelling and begging you while on my knees when you read this: BRING BUG SPRAY! A very good one at that. The bugs, particularly the botlass flies, are horrendous. I was praying for mosquitos. Botlass bites are far worse, itchier, and last longer. In fact, long story, but Garrett got bit and HAD LARVAE IN HIS LEG from these flies. It was awful. He literally needed surgery to get them out. Watch more here, and yeah, bring allll the bug spray and bathe yourself in it before hiking.
Wear good shoes. I'm all about hiking in flip-flops if I can, but this isn't the place to do it. First, the bugs, second, the mud. There's going to be mud! A few of these require some clambering as well so definitely wear decent shoes.
You need a car to get to these falls. Either that or scroll back up and book one of the tours I mentioned.
Each of these parks has an entrance fee. It's $5 USD ($10 BZD) per person to get in. Of course, if you book a tour, this price is included.
Enjoy these STUNNING waterfalls in Belize!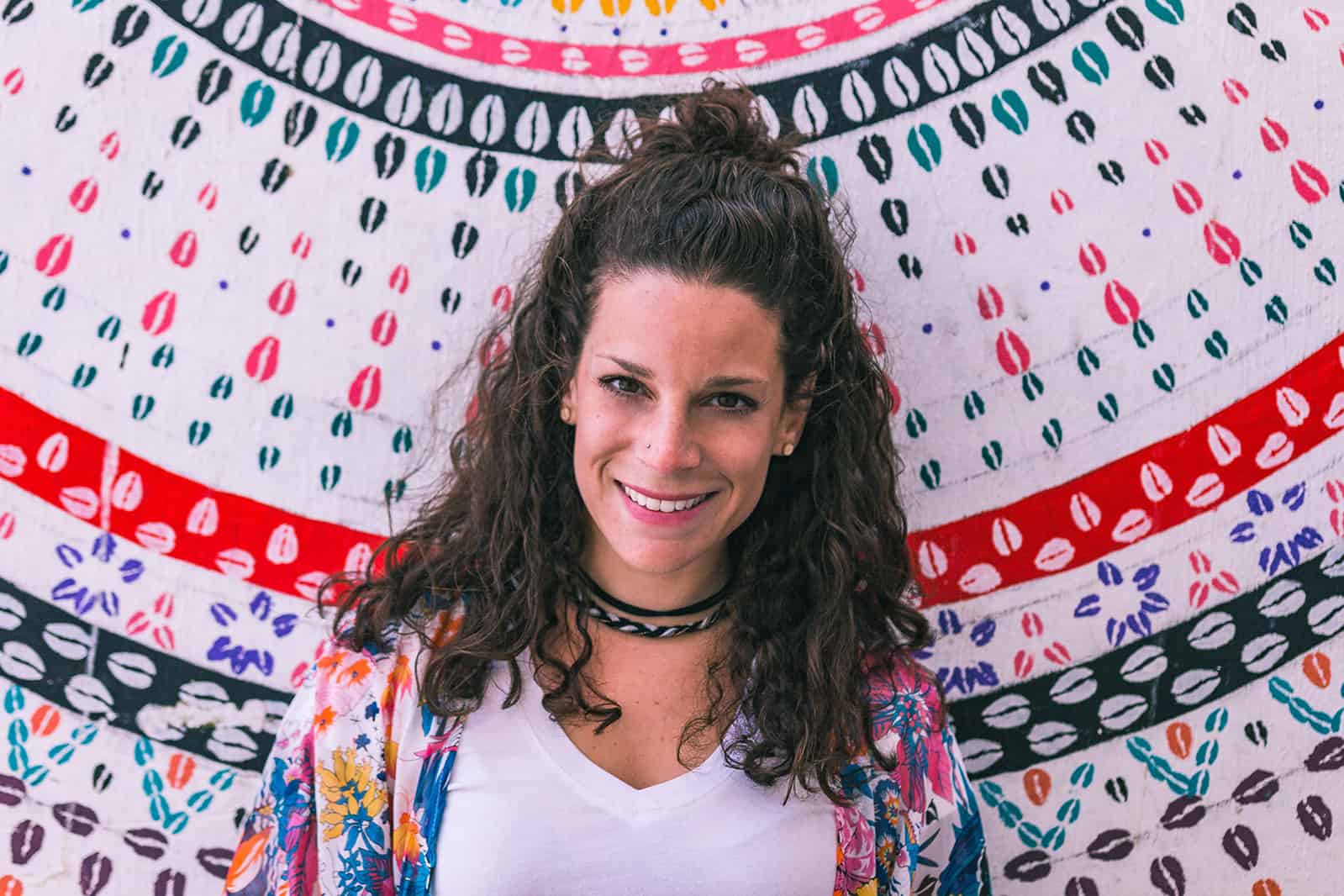 Nina Ragusa is an adventurer, messy bun master, breakfast fan, and full-time travel blogger. She's been abroad since 2011 and blogging on Where in the World is Nina? for nearly as long. Nina helps people like you move around the world while making money. She loves talking about how to work abroad and online to travel longer!