Caye Caulker is pure paradise, but if you think the landscape is beautiful above the water, wait until you get underneath it! One of the best ways to experience the surrounding seas is on an incredible Caye Caulker snorkeling trip.
If becoming mates with manatees or tip-toeing with turtles sounds like your kind of thing, a day trip out to the UNESCO World Heritage Site, the Belize Barrier Reef, from Caye Caulker is likely your ultimate day out. A day snorkeling in the colorful coral reefs of Belize will not be forgotten in a hurry as you discover a whole new world beneath the waves teeming with marine life!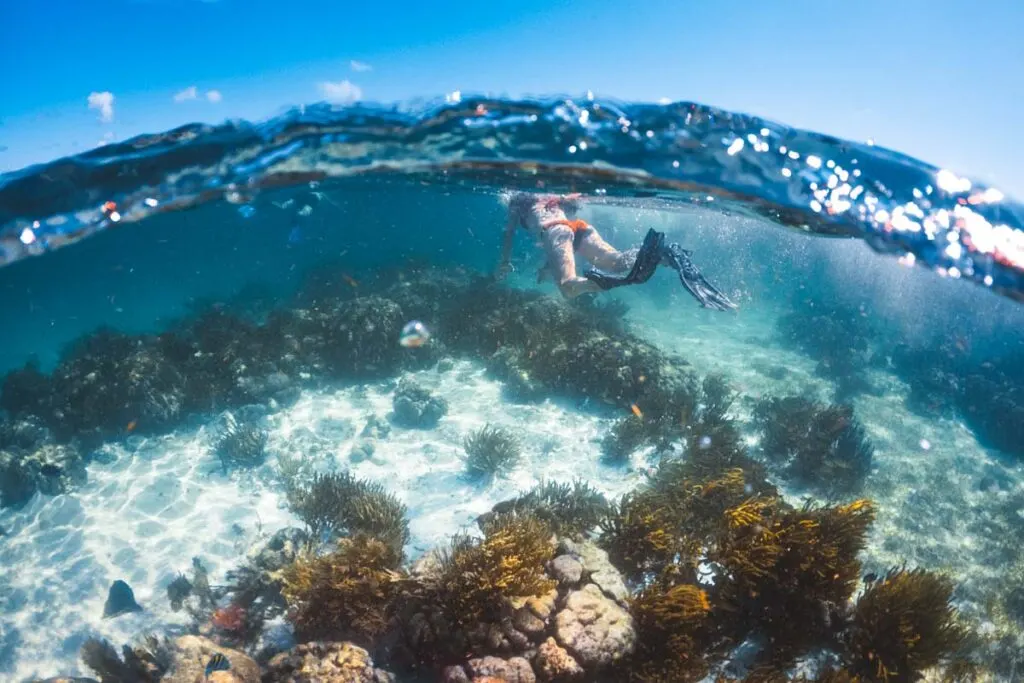 On this Caye Caulker snorkel tour, you'll head out across the beautiful blue waters on a comfortable speed boat, with seven or so stops along the way. When you are feeling hungry, a delicious lunch with drinks is provided, as is the use of good-quality snorkeling equipment for the entire trip.
As a bit of a bonus, you will go home with GoPro videos and photos included in the price, so you can live in the moment and not have to worry about taking your own snaps. Seeing as there are only 4 to 10 people on this trip, you don't have to worry about the boat being too crowded, making it one of the best Caye Caulker snorkeling tours out there!
Snorkeling in Caye Caulker
If you're ready to go, fins on, snorkel in hand, and you don't want to wait any longer, this is the tour I did!
I loved this tour! They were super nice, they left the earliest (so we got to places before everyone else!), they were eco-conscious, and overall I had a blast. Want to know more? Here's what we got to see…
Manatee Spotting
If you have never seen a manatee in the wild, let us tell you it is one of the most magical experiences you will ever have! These gentle giants hardly seem real, and you might have a chance to spot some during your first stop. You won't always get lucky, but if your knowledgeable guides hear that some are in the area, they will try to find them, and you may be able to witness some out in the open ocean.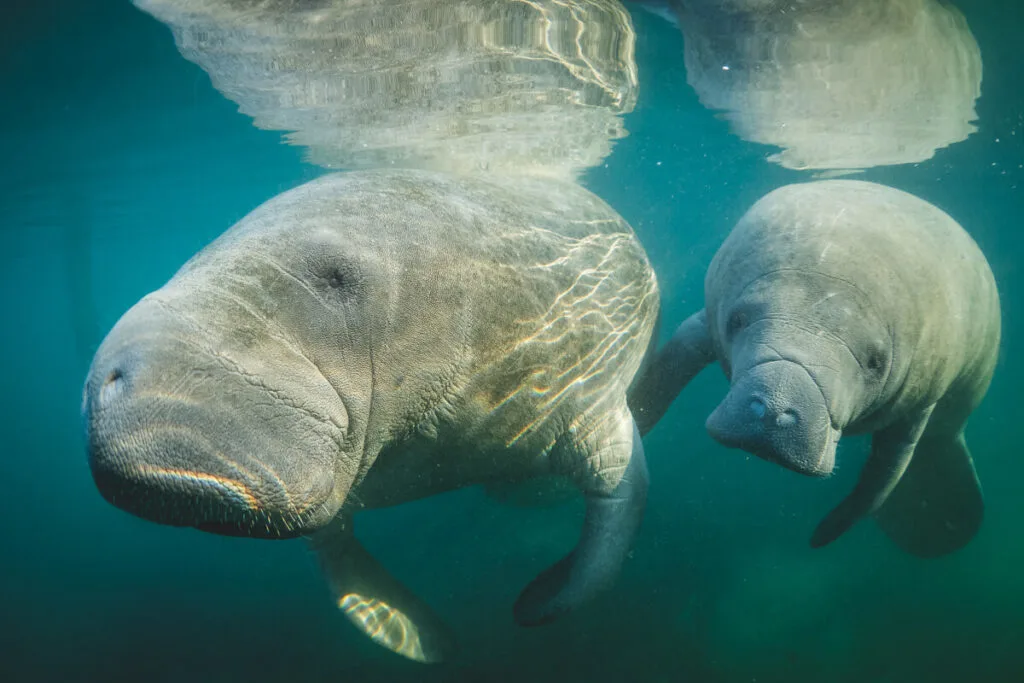 Be aware that manatees can be found here year-round BUT are not around all the time, so don't set your hopes on seeing one, but it's that exclusivity that makes seeing one all the more magical, right? During my visit, we didn't get lucky, but I am from Florida, so I wasn't too upset. I will say our captain tried his hardest, though. We must have visited five extra sites attempting to spot some!
Sunken Barge
If you can bear to tear yourself away from these incredible creatures, you will be whisked off to your second stop, a sunken barge.
All sorts of fish and sea creatures have claimed this derelict vessel for their own, giving you a prime opportunity to see hundreds of creatures as you go on your second Caye Caulker snorkel adventure just off your boat.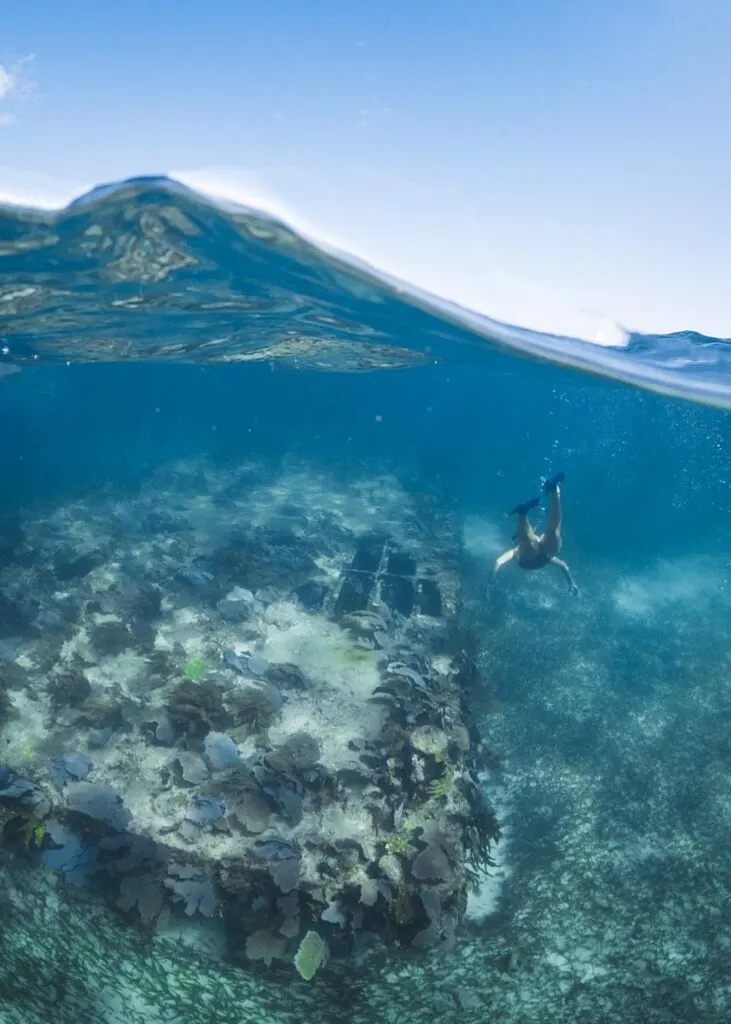 The barge is 30 feet long, meaning there is plenty of room for all sorts of sea life to claim a spot and for everyone on tour to get a good look. Even if you don't see much marine life here, the vast barge sitting on the sea bed is an impressive sight.
Hol Chan Marine Reserve
The next stop is at Hol Chan Marine Reserve. At this stop, you'll be snorkeling in an incredible coral reef teeming with wildlife. You'll be able to see all sorts of different coral, and chances are you will see a lot more than fish.
The waters are filled with turtles, sharks, Morey Eels, rays, and much more. Thanks to the channel in the barrier reef here, bigger sea life can visit the spot making for more impressive viewing.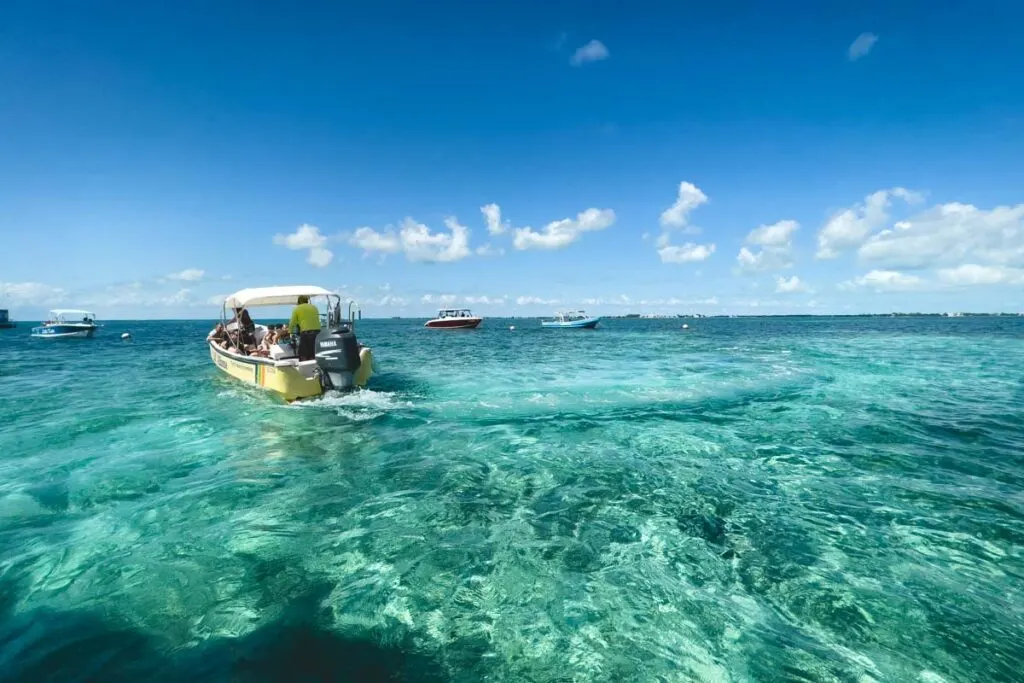 This is one of the most popular Caye Caulker snorkeling spots around the Cayes, but as soon as you dip your head under the water, it is clear to see why. The area is protected. Therefore you will have to stay with your guide, but restrictions like this just help to keep this natural wonder wonderful and not destroyed by humans.
Shark Ray Alley
The fourth stop on your Caye Caulker snorkeling trip is Shark Ray Alley, which does sound a bit scary but don't worry, they are just nurse sharks, generally considered non-dangerous to humans (most of the time!).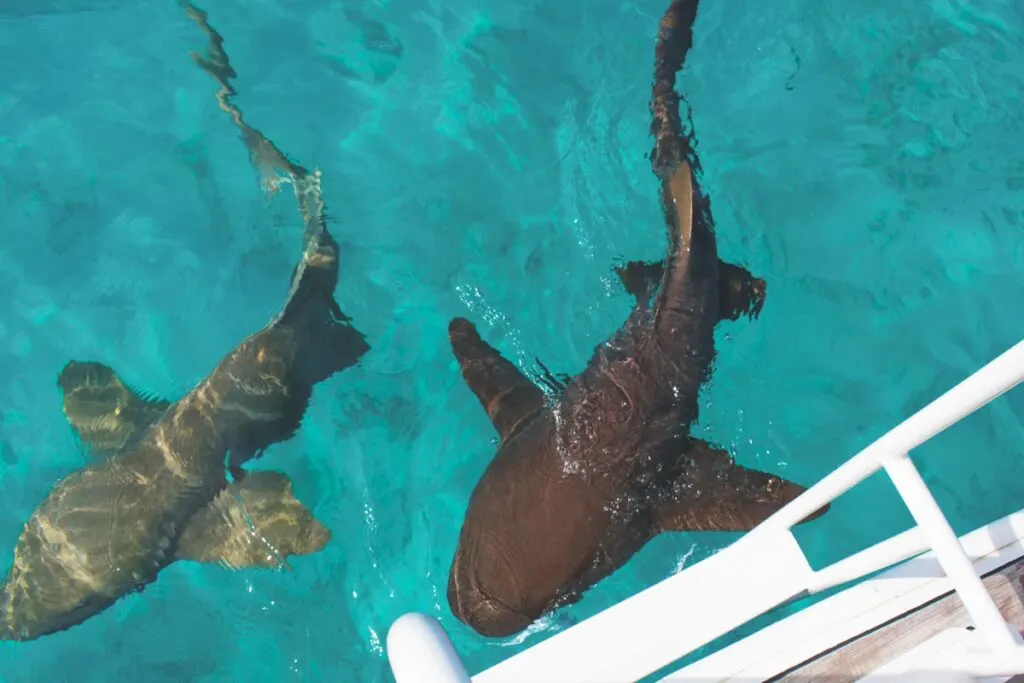 Any guesses of what the other sea creature you will likely see here? The clue is in the name. Sting rays are also in abundance. Both animals hang around the area in the hope of getting some fish that is regularly thrown into the water by other boaters.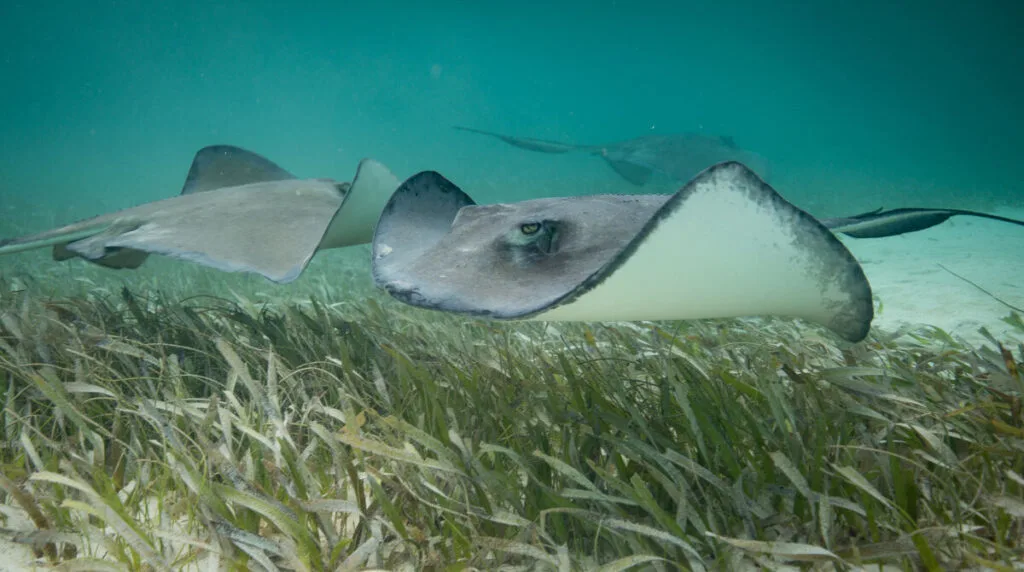 Despite only being nurse sharks, when you get into the water, you may be surrounded by creatures, which is quite an experience, and it is not unusual for some people to have a bit of a freak out. But fear not, it's awesome!
Coral Gardens
The day starts to come to an end at a much calmer location, at Coral Gardens. The colorful coral is the highlight here rather than the marine life, but there still is likely to be a fair few fish swimming around.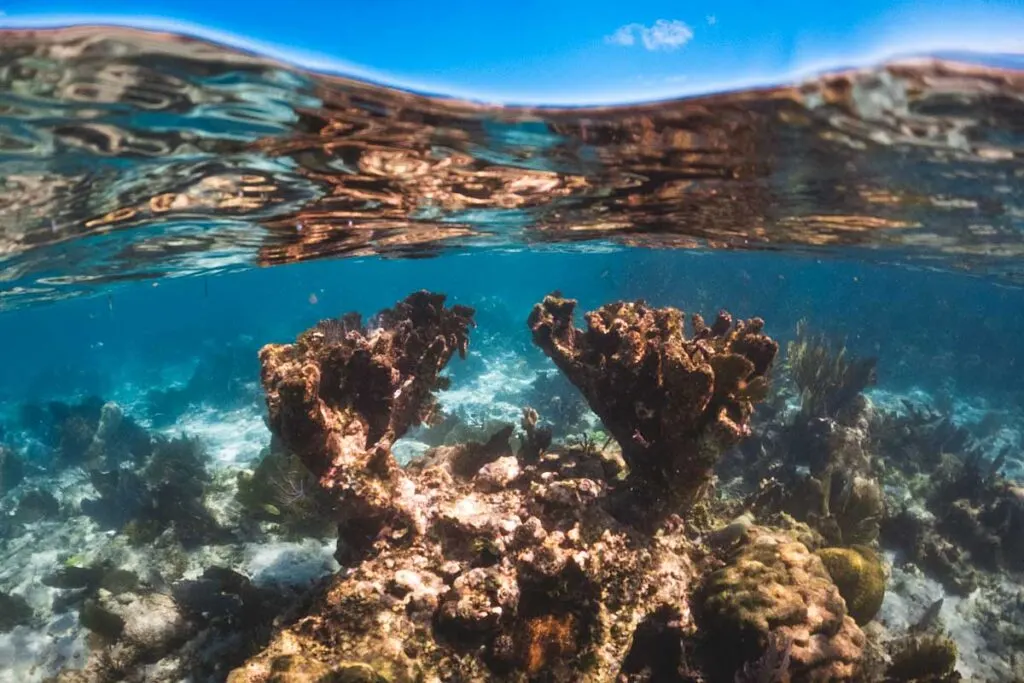 The water is incredibly clear and relatively shallow, giving you an excellent opportunity to view the coral up close. Seeing as the water is so shallow, you must be careful where you put your feet so you don't damage any of the precious corals!
Tarpon Feeding
You will also be able to see some Tarpon on your Caye Caulker snorkeling tour! Tarpons are some seriously big fish and can grow up to 300 lbs. (They usually are not anywhere near this big around Caye Caulker, but they are still big!)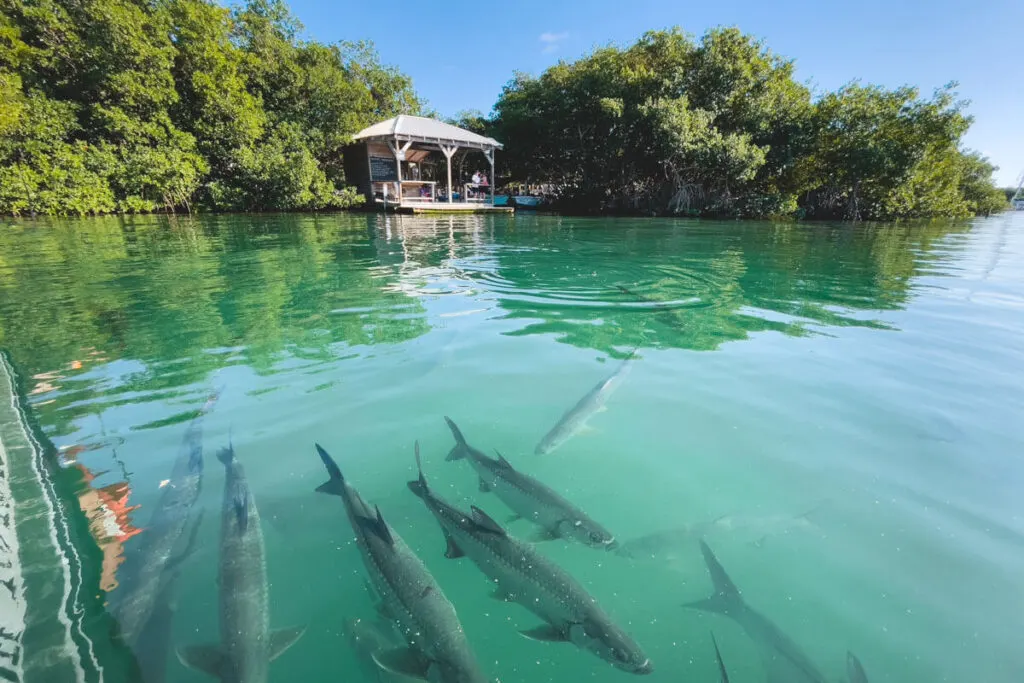 These huge creatures will leap up from the water and eat from your hand, but that's if the birds don't get them first.
Other Snorkeling Stops
There will be other stops on your Caye Caulker snorkel tour, but these are the main ones that you'll visit. Your captain will take you around to the best areas they know about.
You'll be getting in and out of the boat all day, finding animals to observe and swim with!
Why Do You Need a Tour to Snorkel in Caye Caulker?
You can't snorkel right off of Caye Caulker. Well, you can, but it's nowhere near the reef and isn't too happening. All of the best spots to snorkel in Caye Caulker are a few miles off the coast and require a boat to get to.
That is why you need to take a trusted tour out here. There are no other options! Not to mention this truly is one of the best things to do in Caye Caulker.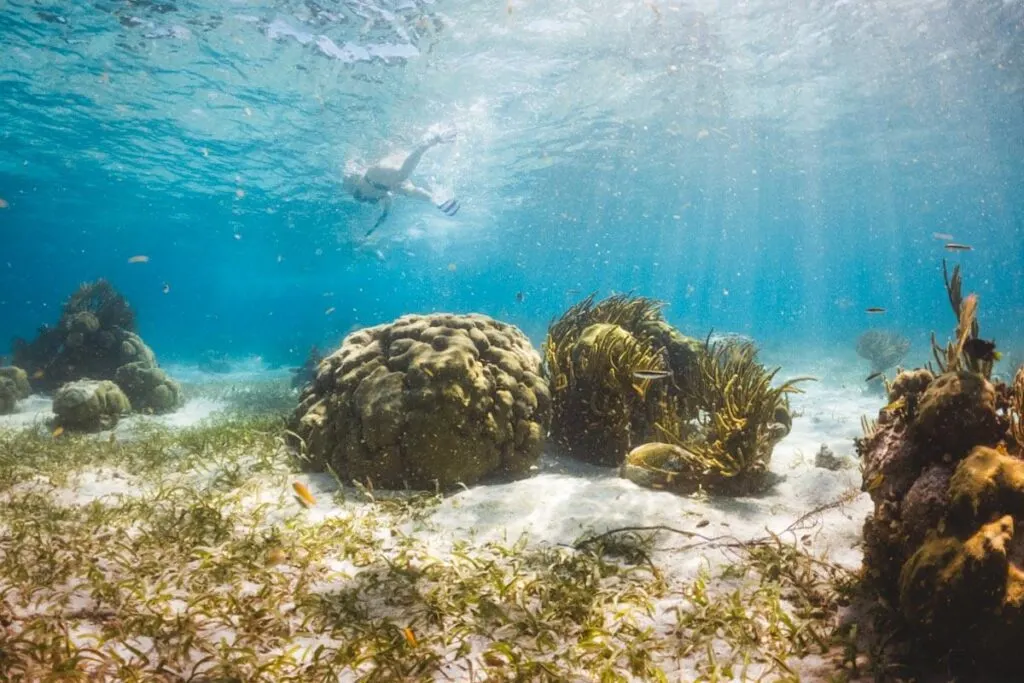 Is The Tour Eco-Friendly?
We're talking about a marine reserve and a delicate environment, I wanted to go on a tour that respected this space. I chose this tour because they didn't chum for the animals (throw food in the water), they asked everyone to bring reef-safe sunscreen, and their lunches were in reusable containers, as were the cups for rum punch! They really are trying.
Book the same tour I did here!
Packing List For Snorkeling in Caye Caulker
Sunscreen (water-resistant and reef-safe) – You will be exposed the entire trip! Lather it up!
Rash guard or swim shirt – To protect your skin from the sun. Again you're exposed out here, so you might want something to cover you at least while you're on the boat.
Towel or Sarong – you'll want to dry off in between snorkeling spots.
Swimwear – Well, that's a given! Make it a comfy suit, as you'll be in and out of the boat.
GoPro – If you want your own footage and shots, otherwise, they send you some of what they shoot.
Water bottle – Make it a reusable one too!
Hat – You'll want the extra sun protection.
Sunglasses – Don't forget a case for them either since you'll need to take them off for snorkeling and don't want them roaming around the boat.
Dry bag – Really the only bag you should consider bringing!
Flip Flops – These are the only shoes you'll really need.
READ MORE: 11 Things To Do in Caye Caulker, Belize: Your Guide to The Island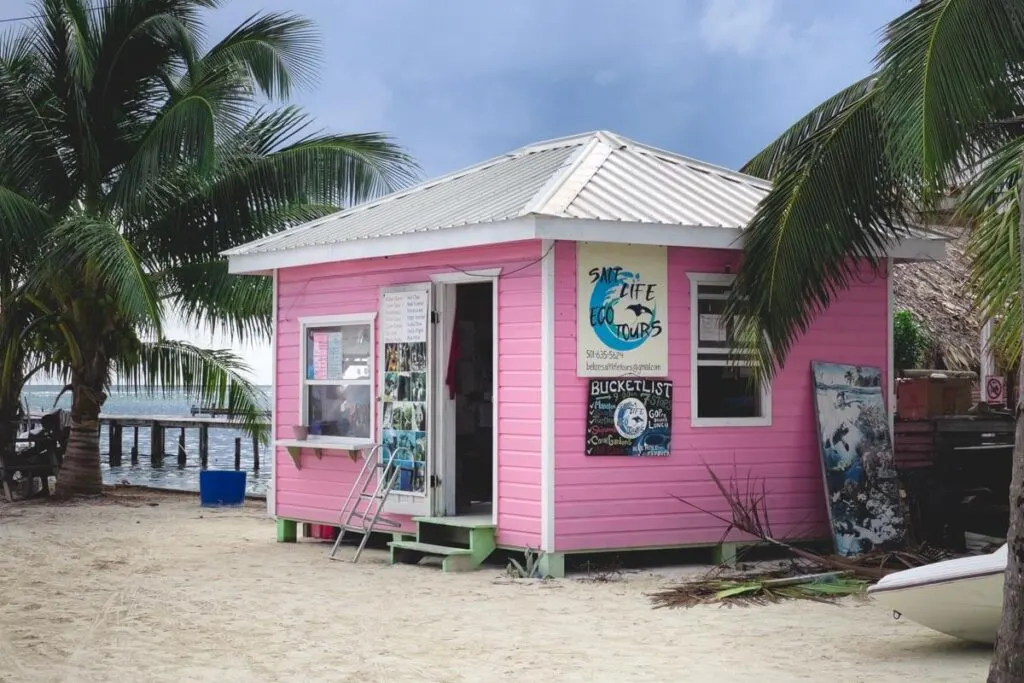 Tips
Ensure you arrive at the tour office with plenty of time before your trip. You don't want everyone to be waiting for you. You also need to get your mask and fins fitted, so get here 20 minutes early.
Sun cream is a Central America essential, but seeing as you are spending a lot of time in the water surrounded by delicate coral, ensure it is coral-safe sun cream.
Don't touch anything while snorkeling. This includes the sea life and the coral, as this can be damaging!
Listen to your guide's instructions. They are there for a reason to keep you and the environment safe. They have tons of experience, so will ensure you get the best views while staying protected.
If you get seasick, take a motion sickness tablet before the trip. You are going to be spending a very long time on a boat, and feeling sick the whole time won't be a very pleasant experience. Don't forget to get the non-drowsy kind!
Leave no trace. If you bring anything with you, they come off the boat with you as well.
The sun's rays can be powerful here, so wearing a long-sleeved sun top over your swimwear might be wise for extra protection.
Check out this article for the best places to stay in Belize, including Caye Caulker.
TIP:
Book your tour
ASAP, and don't wait for your last day! You never know what the weather will bring, so aim to do your Caye Caulker snorkeling tour right away in case it gets pushed back due to the weather.
How to Get to Caye Caulker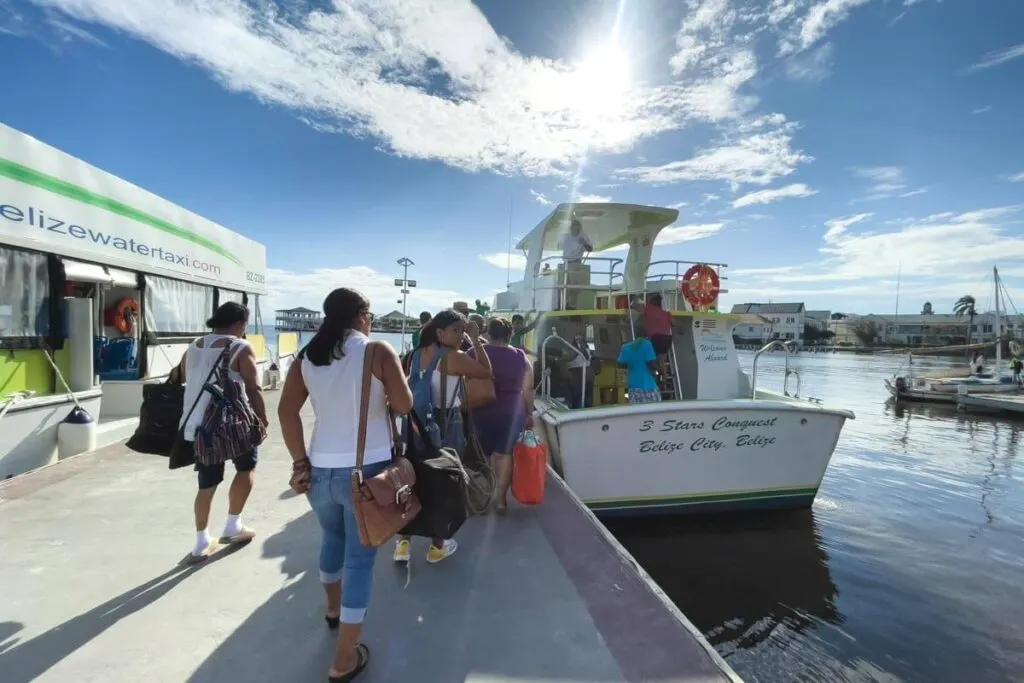 Take the ferry – This is the most common way to reach Caye Caulker and it's going to be the cheapest. From Belize City, you'll take a water taxi to Caye Caulker. The water taxi takes about 45 minutes and runs several times a day. You can easily book your ferry ticket online.
Coming From Mexico: If you're coming from Mexico, you can take a ferry from the port of Chetumal to San Pedro on Ambergris Caye and then take a ferry to Caye Caulker.
Fly to Caye Caulker: You can fly directly into Caye Caulker from Belize City takes about 15 minutes but including the before and after airport stuff, not to mention the cost—It's best to just take the ferry!
After you get here, book that snorkel tour, and you're good to go! Hope this helped you plan your trip better!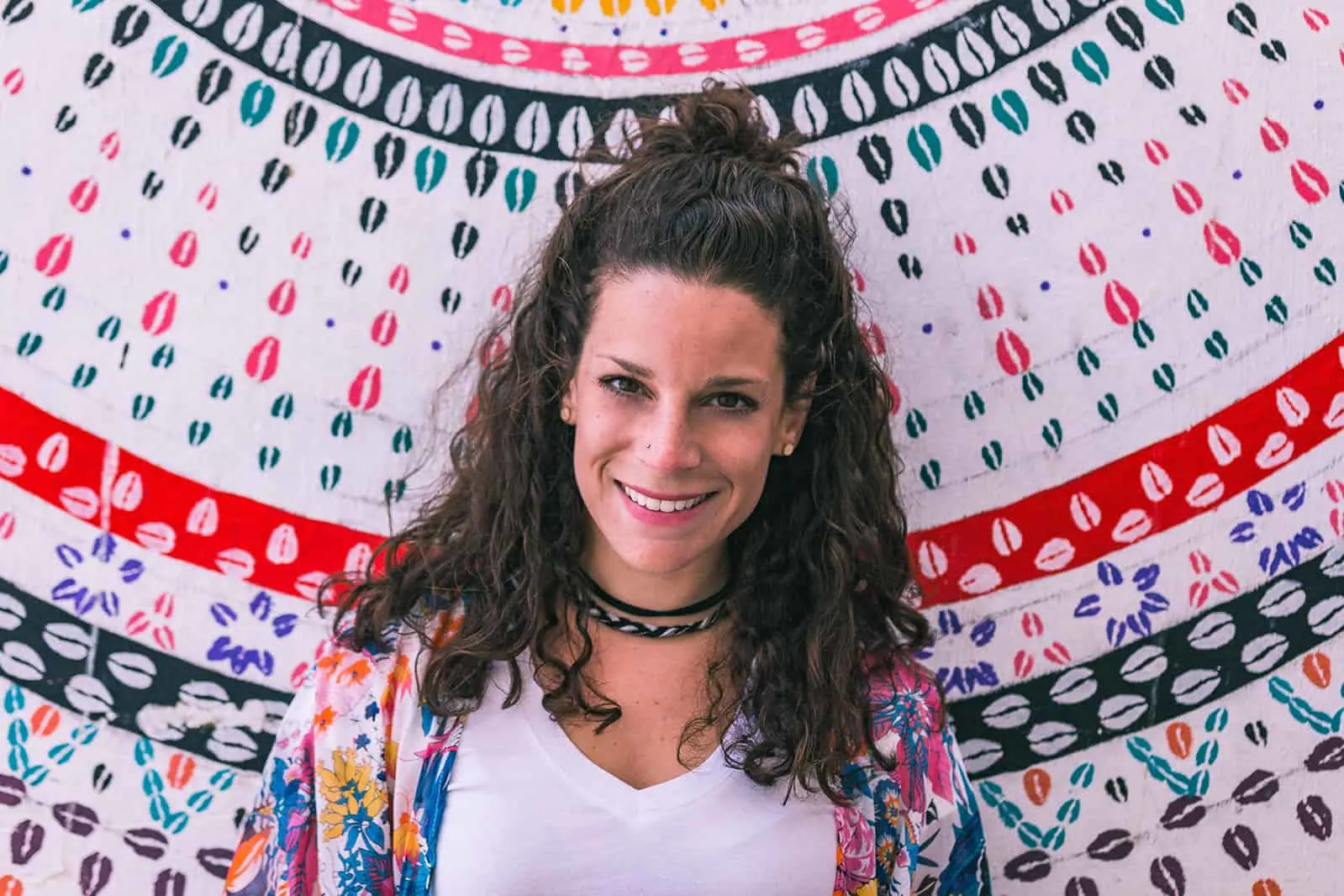 Nina Ragusa is an adventurer, messy bun master, breakfast fan, and full-time travel blogger. She's been abroad since 2011 and blogging on Where in the World is Nina? for nearly as long. Nina helps people like you move around the world while making money. She loves talking about how to work abroad and online to travel longer!