This guide about reasons to become location independent is authored by Danny.
I had my heart broken for the first time two years ago.
Needless to say, it wasn't a fun period of time. But, there was a silver lining to the despair that washed over me. It gave me a kick up the butt to turn a long-held dream into reality: to pack my stuff into a backpack and hit the road as a digital nomad.
Basically, the only thing way I could think of to escape my heartache was to travel and not look back. Thankfully, I already had a writing job I could take with me. With nothing left to do but book my flights, I grabbed my laptop, packed my bags, and left the UK on a one-way ticket.
I've been location independent ever since!
Living and working on the road has been an almighty learning curve. All told, though, it was undoubtedly one of the best decisions I've ever made.
Are you thinking of doing something similar, but want a final shove to make it happen (…without having to have your heart broken)?
Read on for ten key reasons you'll love the location independent lifestyle.
10 Incentives to Become Location Independent
---
1. For the Freedom
Being location independent has freedom at its very core.
You break the chains of a stationary, sedentary life and enter a nomadic one. You can come and go as you want, living anywhere in the world as long as you have an internet connection.
It's a liberating feeling to know there's nobody to answer to any longer. Everything from your time to your schedule is yours to do with as you please.
Even better, any responsibilities that you do take on are all of your own makings. Again, you decide what's up and what's on.
Like me, you might be so taken with the freedom you discover that you can't help but write about it! (Heads up, if you do decide to start a blog, then this post is sure to help out).
2. For the Control
Everything I just said speaks to the newfound control you enjoy as a digital nomad as well.
You might have spent a decade (or two, or three, or four) working for someone else and following their orders. You push paper and hit targets all for somebody else's benefit. Likewise, everything from your daily tasks to your job security is at their mercy.
That all changes when you become location independent. Sure, you still have to work, and you may have clients for whom you need to work hard and make commitments.
But it's different because you're the one in charge! You're your own boss, which makes working hard a whole new ball game. Rather than something arduous and dull, work feels imbued with a sense of pride and purpose.
Don't want to work? Then don't! Go for a hike (preferably in your minimalist hiking boots), go to the beach, or laze around reading books all day. Once again, you're free to choose.
RELATED: How to Work Online – Ways to Make Money to Travel Longer
3. For the Time
Time is a currency you can't earn back.
I've been hooked on that idea ever since I first heard someone talk about it in those terms. I become obsessed with being the master of my time. I want to make the most of what little I have of it, and fill it with things that I'm passionate about.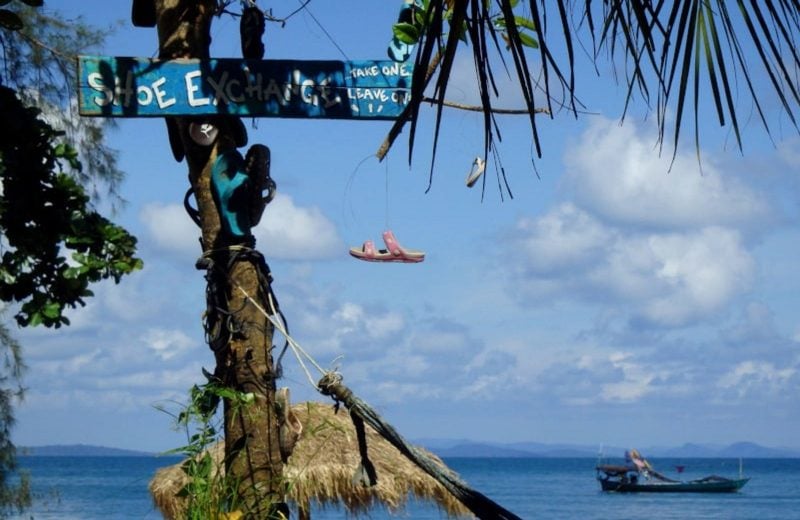 That's far harder when you're working for somebody else in a standard 9 to 5 job. You end up living for the evenings and weekends, forgetting that you're spending almost half your waking life doing something you might be unsatisfied with.
The freedom and control that comes with location independence put your time back in your hands. You get to decide how you spend it.
4. For the Travel
You don't have to travel as a digital nomad.
You could quite easily stay at home, in one place, and work for yourself in the knowledge that you could get up and go if you chose to.
For most people, though, location independence is all about hitting the road and taking your work with you. I mean, it's literally the dream. I've lost count of how many times I've had people express envy at my ability to earn money on the road and travel indefinitely.
You get to spend your time exploring new countries and seeing the world's most beautiful sights. You get to generate an income on the beach, or up a mountain, or next to the pool. The best part? Traveling in cheaper countries means the cash you earn goes 10 times further as well.
RELATED: 56 Work From Home Websites—Earn Money Outside the Office!
5. For the Fun and Excitement
Being location independent is fundamentally fun!
It still gives me a thrill when I think about the fact I can earn a living anywhere in the world. I can literally get up and go whenever I want. There's nothing tying me down or limiting my experience.
I get to spend my days how I please. Sure, that might mean hunkering down in a coffee shop for a week getting work done.
But in my breaks, I might head to the beach for a swim and grab a beer to watch the sunset. It's just not the same as being stuck in the office every day, going about the same routine, and knowing what your days will look like until you decide to quit.
Being location independent means you're always doing something new and exciting. It's hard not to feel a greater sense of satisfaction with your day.
6. For the Memories
Being a digital nomad makes life interesting.
When you aren't working, you're filling your weeks and months with new experiences, seeing and doing incredible things. It's natural that you come away with stories to tell and memories to look back on with a smile.
Being a digital nomad is memorable in its own right. You might be the only person you know who's embraced this way of life. You know that you're forging memories for yourself every step of the way. You'll back on this period with fondness, no matter what the future brings.
RELATED: How to Be a Freelance Content Writer and Turn Your Words Into Money
7. For the People
You always meet incredible people when you're traveling.
And, though having work to do and less time to explore has a definite impact, being a digital nomad is no exception. Whether you're working in cafes or staying in hostels, there are always cool people with whom to strike up a conversation a forge new friendships.
It's nice to meet fellow nomads when you're on the road as well. Most people you meet are backpackers who are away for a set period of time before heading back home to their ordinary lives. Most digital nomads you meet have been living this way for serious amounts of time.
I met someone who'd been location independent and traveling constantly for 5 years! I'm sure there'll be others out there who've done it for much longer.
For one thing, meeting these guys is inspiring. But you also have something to connect over instantly. You've chosen to break the mold and live an alternative lifestyle. Likewise, because they don't have a 'going home' date in mind either, you know your friendship on the road can stand the test of time.
8. For the Challenge
For all its immense positives, being location independent isn't always easy.
Being away from friends and family is tough. Being glued to your computer all the time can get frustrating. The constant struggle to find a solid internet connection gets annoying. The lack of routine and structure can get tiring and unsettling.
You can feel homeless, displaced, and exiled. And you know that you chose to inflict it upon yourself.
But you get through it! You wouldn't want a life without any hardship. It'd leave no room for learning, growth, and development.
The challenges involved with location independence will test your mettle. But you come through it stronger and with a host of new experiences under your belt.
RELATED: 71+ Ways to Travel & Make Money—a Badass List of Paid Work Abroad
9. For the Change
I don't think we're designed to thrive in one unchanging, never-ending routine.
We might tell ourselves it's what we need; the stability might make us feel safe and secure. Yet, in time, I think it makes us sad, unmotivated, lethargic, and bitter.
We know there's more out there, but lack the guts, gall, and creativity to get up and explore out options. It's all too easy to get stuck in one place for too long. You wake up one day at 50 years old and wonder where on earth the time disappeared to.
What we really need is change, stimulation, surprise, and excitement. It gives us a boost, lifts our spirits, keeps us curious, and helps us feel more fulfilled.
Location independence gives you all of those things.
RELATED: How To Work Abroad & Travel the World.
10. For the Sake of It
My final incentive for becoming location independent is simple:
Because you can!
The internet is incredible. It opens doors and creates endless opportunities. With it, you can earn money from anywhere in the world- with ease! You don't need any prior qualifications or even specific skill sets sometimes.
That would have been such an outlandish thought for our grandparents. They couldn't have dreamed of the opportunities we have out our disposal thanks to the web. Taking the step into location independence is about seizing the opportunity with both hands.
It's about seeing what's there and running with it. If you're not enjoying what you're currently doing, and you like the idea of having more freedom, then digital nomadry offers the ultimate solution.
Time to Become Location Independent!
I'll be forever thankful to the girl who broke my heart two years ago.
If it wasn't for her, then I may never have made the transition into digital nomadry! Now that I have, there's no going back for me. Nothing could convince me to switch back to my old way of life.
I just love everything this lifestyle has to offer, and feel exceptionally grateful for the life and freedom I enjoy.
Are you thinking of becoming location independent too? Well, I hope the incentives for doing so will be the final push you need to make the move! It might take some getting used to, but I promise you won't regret it.
Now we'd love to hear from you. What's the number one thing stopping you from becoming a digital nomad? Drop a comment below to let us know!
More Digital Nomad Resources
So, what do you think about becoming location independent? Are you interested in trying it out? Let me know in the comments below!
---
>>> Bio
Danny Newman is currently writing and traveling his way around the world in a bid to figure out exactly what he's doing with his life. He'd love you to follow along with his journey over at What's Danny Doing. You can also follow him on Facebook.
---
---
>>> EVEN MORE DIGITAL NOMAD POSTS<<<
How to Work Online – Ways to Make Money to Travel Longer
17 Free Online Tools to Make Your Work Life Easier
Simple Travel Home Office Accessories You Need to Work Comfortably
56 Work From Home Websites—Earn Money Outside the Office!
Podcasting 101: 5 Mistakes to Avoid When Starting a Podcast
How to Be a Freelance Content Writer and Turn Your Words Into Money
How to Be a Social Media Assistant and Never Work in an Office Again
71+ Ways to Travel & Make Money—a Badass List of Paid Work Abroad
11 Travel Jobs That Helped Me Stay on the Road
---
---