Raise your hand if you love things that make your life easier AND are free!
*everyone raises their hand*
*I sit back, unsurprised*
We are all after the easier way to do something, and whether that's in business or life in general, anything to make life easier is welcomed. So I hope you find this list of free online tools helpful.
These will help you organize, store, and work more efficiently, which will help you work better and, thus, make life easier. Woo!
Don't lose this! Click to pin it now.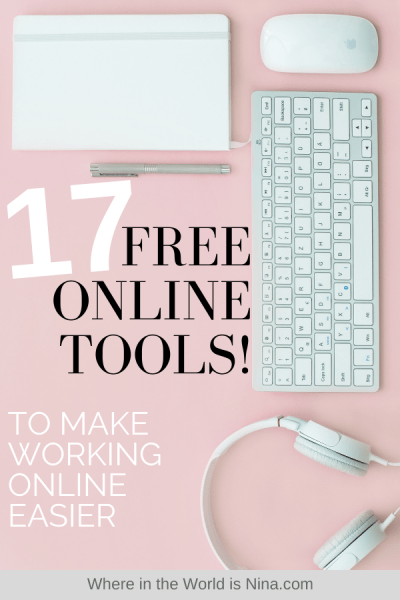 Free Online Tools to Make Your Work Life Easier
---
I LOVE these sites, I use most of them or have used them in the past. 17 free online tools may be a lot to take on all at once, though, so I would recommend prioritizing. What do you REALLY need help with right now? Editing photos? Organization? Storage?
If I had to choose one free tool listed here that I'd be lost without, it would be Asana. It holds my entire life! Read through and I promise you'll find at least one life-changing work tool.
Free Online Tools for Photo and Video Editing
1. Snapseed and Lightroom Apps
Snapseed is one of the best photo editing apps out there. It is the perfect in-between for someone who needs something a little more than basic photo editing sites but is not ready to dive into the complexities of a more professional photo editing tool. It is a free online tool and quick to install and optimized for desktop use.
There are 29 tools and filters available to use, such as healing, filter brushes, color tuning, crop, detail adjusting, perspective, and a range of filters. All styles can be tweaked to a fine precision and make photo editing pretty fun.
Lightroom is a free mobile app, and like its paid-for desktop version, is quite powerful.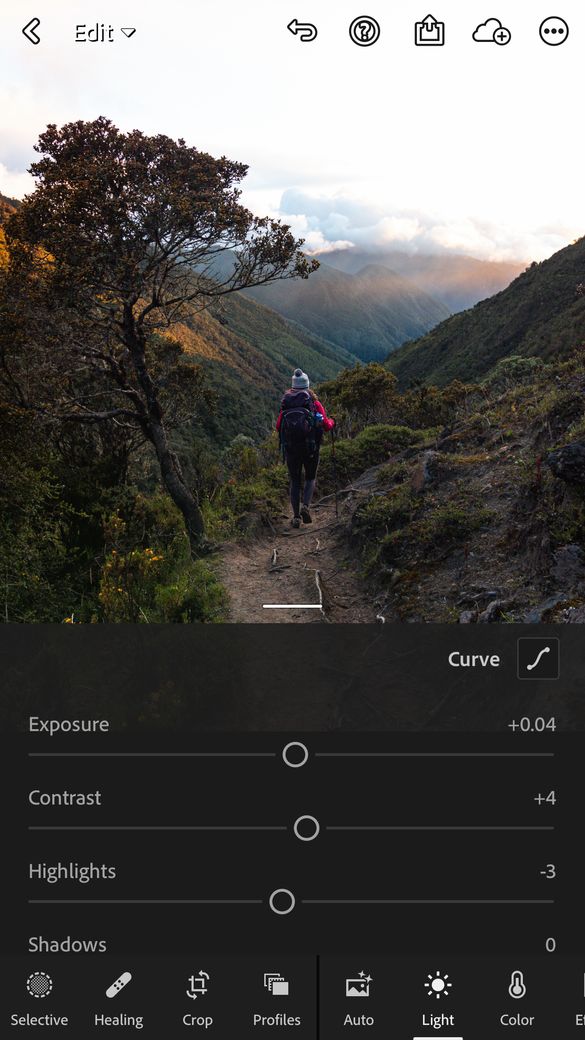 If you are out in the world and manage to capture a great shot, you can edit it straight away and upload it to social media instantly. The app offers a high upload speed and has extensive image editing capabilities, especially for a free online tool. Change your exposure, make an image back and white, alter the white balance setting…
The best perk about using the Lightroom App is that you can use presets! Presets are a "blanket" photo edit; you can apply to all photos and tweak from there which saves a lot of time and helps with a consistent look.
There are a few more premium features such as image retouching that you have to pay for, but the majority of features come with the free version.
These two do the same thing, so it just depends on personal preference and which you prefer using. Lightroom is a tad more advanced. I use both here and there, but all my major photo editing is done on Adobe Lightroom on my laptop.
2. Davinci Resolve
If you require an extremely powerful video editing software, look no further than DaVinci Resolve. It has all sorts of capabilities, including visual effects, professional 8K editing, color correction, and audio post-production all in one free online tool.
For newbies to video editing, it may seem a little daunting, but there are tons of how-tos out there, and you should be able to learn as you go without a problem. You'll be able to create some awesome videos with this tool that you can use on your social media channels or website.
Garrett, my boyfriend, and videographer and editor uses Adobe Premier, which is essentially the standard for video editing—but requires a yearly fee. However, if you want a free online tool that's pretty amazing for video editing, this is what he recommends. It's missing a few features, but out of all the free video editing software out there, this one is the clear and cut winner.
3. PicMonkey
Make your social media really stand out by creating stunning images for Facebook, YouTube, Instagram, and more with PicMonkey. It allows you to edit photos with dazzling filters and effects and easily add text or graphics. You can also browse through hundreds of artist-made templates that are perfectly sized for social media posts.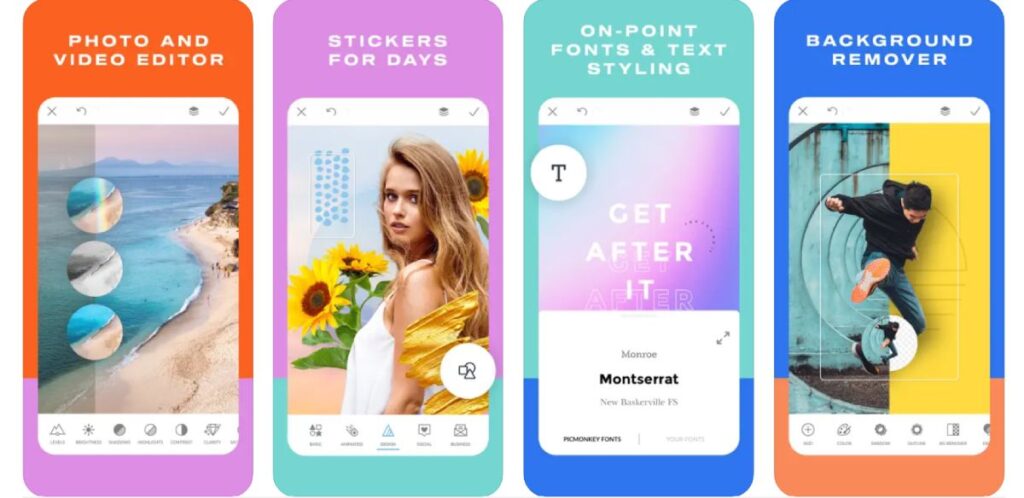 To use the templates, all you have to do is click and replace the image with your own, and you are ready to go. Overall there are over 6000 graphics and textures, hundreds of fonts, thousands of template designs, collage layouts, and more to utilize to make your social media accounts look great.
The desktop tool is no longer free, but the apps for iPhone and Android are.
RELATED: 7 Steps on How to Become a Travel Videographer + Tips
Free Online Tools for Design
4. Canva and Adobe Express
Canva gives you all the tools that you need to design free of charge. It is effortless to use, and the finished work looks professional and sleek. You can choose from hundreds of layouts, or create your designs from scratch.
There are options to design all sorts of things such as social media posts, posters, cards, business cards, Facebook covers, and more. You are provided with everything you need to design, such as free backgrounds, hand-selected fonts, over a million images and illustrations, photo editing tools, and more, making it a great free online tool for all sorts of uses.
Adobe Express (formerly Adobe Spark) allows you to create professional-looking graphics, social media posts, videos and even business cards for free in just a few minutes.
As it's powered by Adobe, you'll get access to a selection of stock images for use in your creation, or you can upgrade to Premium for the full Adobe Stock library. There are apps for Android and iOS as well as an online tool, which sync to ensure you can access your images anywhere.
This tool is easy to use even if you are not a designer and allows you to develop impactful content in just minutes.

Both are great free online tools, so you can have a play around and see which works best for you. Canva tends to work best for me as it is so easy to use, and the finished work comes out looking professional. I've also been using Canva since the beginning of time, and I'm too comfortable to change!
I do use Canva on desktop, which is where I get most of my work done but when I need this type of design from my phone, I use Adobe Express.
5. Awesome Screenshot
This free online tool is available on Chrome and, as the name suggests, allows you to do some pretty awesome things with screenshots. With Awesome Screenshot, you can capture either a whole web page or just part of it, and then add comments and annotations, share the page in only a few clicks and blur information you don't want on show.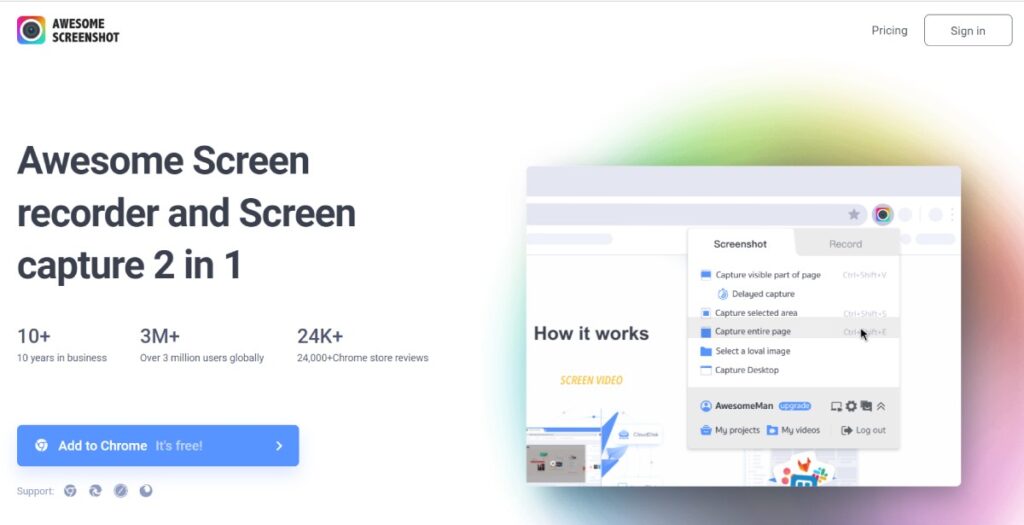 It will just make your life so much easier as you can capture a whole page without having to scroll and screenshot several times, and the fact that you can then edit it makes it a one-stop-shop for all of your screenshot needs.
Explaining things and marking things for others just got a whole lot easier!
Free Online Tools for Organization
6. Google Suite
Google Suite is a whole collection of free online tools, so how many and which you want to use is up to you. These products include Gmail, Drive, Docs, Sheets, and more. Primarily, people use the suite for their email; however, all of the other features are quite handy.
Google Calendar is great as you can use it to schedule calls, set reminders for essential projects, and just stay organized, plus if you make a booking through Gmail, it automatically is added to your calendar. You are also able to share your calendar with others and invite others to events or meetings.
Google Docs allows you to create and edit documents right in your browser, making it easy to share files back and forth, for example, it is ideal for connecting with guest bloggers on content for blogs. Google Keep is lesser-known but is a great little tool that you can use to write to-do lists, quick notes when out and about, set reminders, and more, plus you can easily share them with your team.
I even use Google Forms when I send out surveys to my readers—which displays the responses in such an easy format.
7. IFTTT
"If This Then That." This free online tool will stop you from going insane online and make your life a little more relaxing. IFTTT helps your apps and devices work together for free, intending to build a more connected world.
With everything connected, you only have to do things once, so if something happens with one service, the action will also take place in other places, such as on multiple social media sites. Your daily workflow will suddenly become automated, whether that is something as simple as managing home devices or apps to automatically emailing people when they comment on your blog.
Some examples…
Get a weather notification at 7 am every morning.
Automatically Tweet your Instagram posts.
Turn on and off your light with a tap on your phone.
Find my phone through Alexa.
A reminder to drink water.
Forward all emails from one person to another when they come in.
There are TONS of different combos that you can make happen when one thing occurs, and you want something else to happen after that. Whether it's personal or business-related. The best part? You can make up your own "recipes" for IFTTT.
8. Trello and Asana
Both of these free online tools are great for task management. I use Asana daily and would be a lost puppy without it. People are pretty divided on which platform they like more, so this one is totally up to you!
Trello is an excellent tool for working collaboratively and effectively. If you are always juggling projects and find it hard to keep on track with what needs to get done and who to delegate tasks to, Trello can help. The boards, lists, and cards enable you to both prioritize and organize your tasks and projects in an easy and manageable way.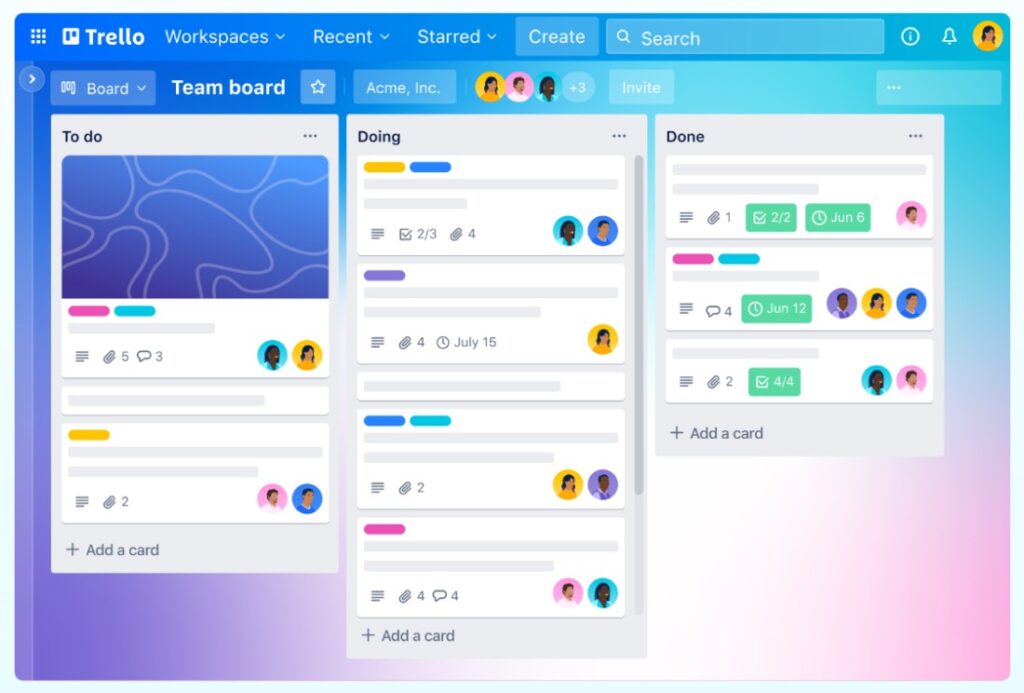 You can go into detail with each project by adding comments, attachments, and due dates, and share these projects with others. You can also integrate apps that you and your team already use directly into your workflow.
Asana is such a useful free online tool if you are juggling lots of different projects at once. You can keep remote and keep your teams on track anytime and anywhere. It also saves automatically, which is a bit of a lifesaver.
It reduces the need for emails and unnecessary meetings as you can assign different team members 'tasks' and keep tabs on where they are at with the help of due dates, comments, and notifications. You can assign subtasks to main tasks, set reoccurring assignments, and my favorite feature, a unicorn or flying monkey flying across the screen when you complete assignments.
I still use the free version of Asana, and I'm thrilled with it. There are a few features I'm missing, and I would need to upgrade to have, but I'm not crying over them.
9. BeFocused
Staying on task can be tricky, especially when working from home, as there are so many things that can be distracting. That is where BeFocused comes in. It helps you to get things done by breaking individual tasks into more manageable intervals, with short breaks in between.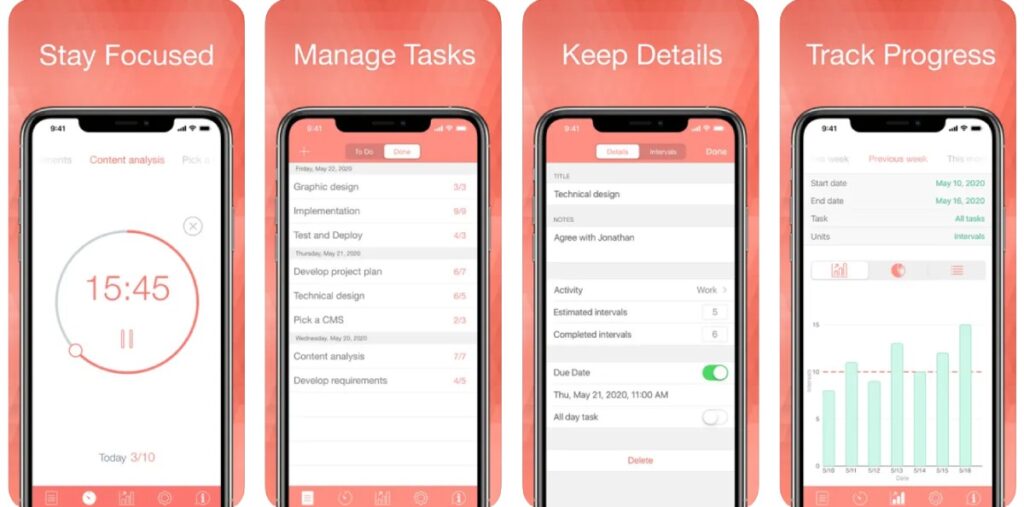 This may sound simple, but it is a surprisingly effective way to retain motivation, and stay on track. As well as the timer element, the app allows you to create tasks, configure your breaks and track your progress, whether that is just for a few hours, the day, or the whole week.
The iPhone app is free, but you'll need to pay for the Mac desktop version (no Windows or Android options, unfortunately).
10. Toggl
Essentially, Toggl is a time tracking app that allows you to track your activities across different platforms online. This is a great way to see just how much time you are spending in different places and optimize your workflow and time better.

This is one of the most surprisingly effective free online tools out there, as you'll be able to stay on top of what you and your team are spending your time on the most.
You can use it for keeping track of remote workers or just keeping track of yourself. I use it for both!
RELATED: Simple Travel Home Office Accessories You Need to Work Comfortably
Free Online Tools for Communication
11. Zoom
Zoom is an ever more popular video conferencing tool that is used by companies across the globe. There is both a desktop version and a mobile app that allows you to stay connected with others online, with or without video. It makes collaborating on projects super easy, as you can share an annotate each other screens all within one platform.
Today, it is one of the leading video conferencing software apps in the market, essentially making it possible to have meetings when meetings are not possible. You can choose just to have an audio call or video, and lets you record these sessions to then use later.
12. Slack
Slack is a workplace communication tool that helps you stay connected with those that you are working with. It could be described as an instant messaging platform for the workplace, with lots of other add-ins and cool free online tools.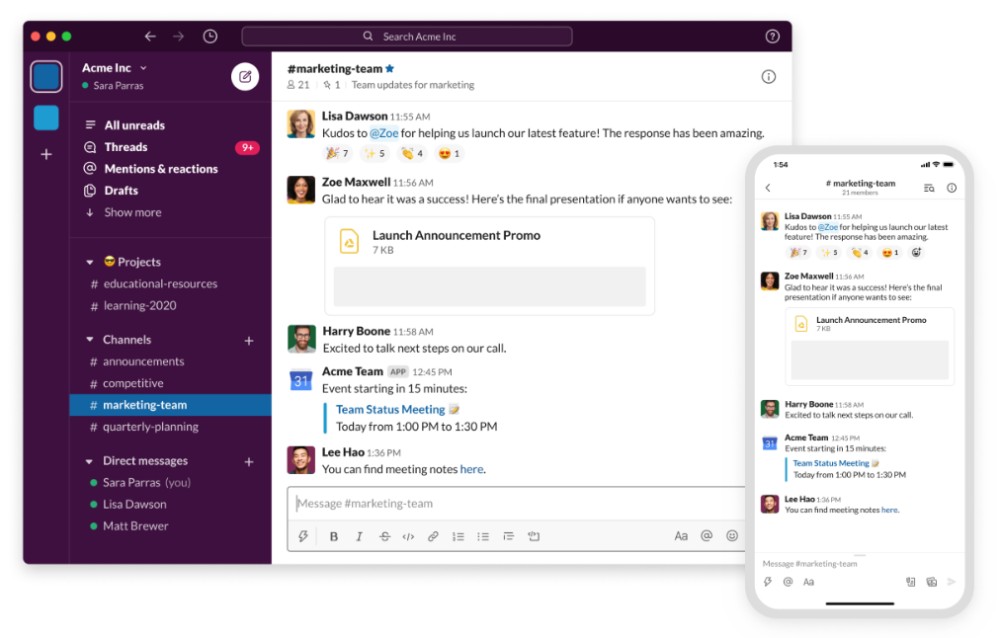 There are two main ways of talking to people in Slack, either through Slack Channels, which is like a group chat and Direct Message, which is just a person to person chat. The invitation system lets you have a level of control over who is in which chat and is intuitive and straightforward to use.
Free Online Tools for Grammar Checking
13. Hemingway
For those that write blog posts or articles when working from home, it is vital that your grammar is on point; otherwise, you may not be landing many more jobs. Let the Hemingway app do all the hard work for you. This great app highlights any lengthy, complex sentences and common errors, so you know where a little work may be needed.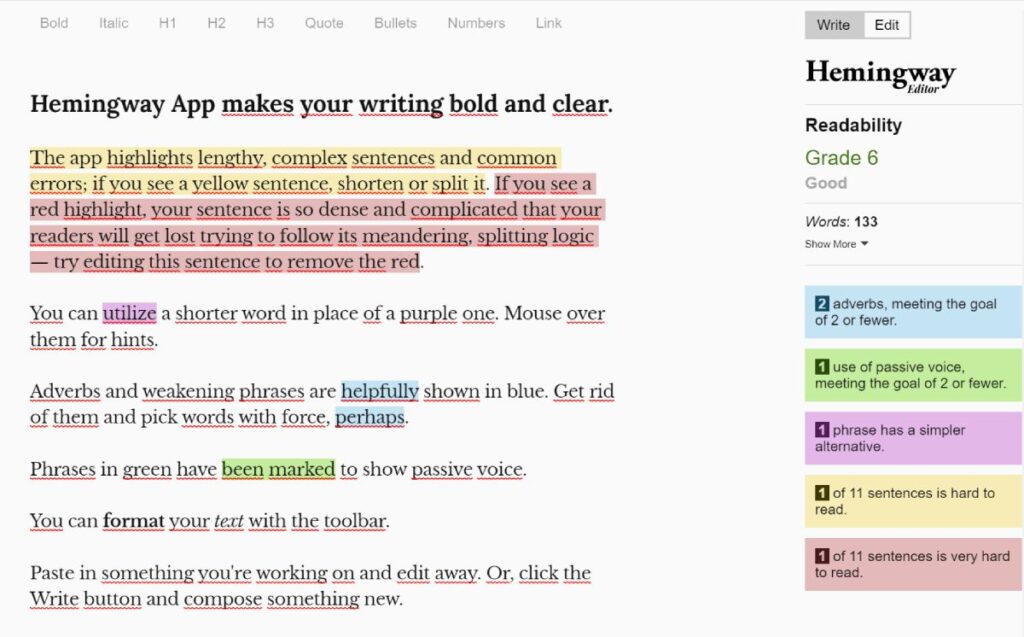 Yellow sentences are complex, so you may need to shorten or split it to make it read better, and red means it is even more confusing, so much so that your readers will struggle to understand. The app makes your writing bold, clear, and easy to read.
14. Grammarly
Grammarly is a must-have free online tool if you are writing regularly. Whether that is blog posts, social media posts, articles, reviews, or anything that requires writing content, Grammarly ensures that your grammar is perfect every time.
The great thing about this tool is that you won't have to copy and paste your text onto the site every time, you can add the app to your web browser and have it check your work automatically as you go.
The clever AI analyzes each sentence and looks for a way to improve it, from something as simple as spelling to correcting verb tense or offering a more evident sentence structure.
You can access it through your desktop or mobile device, significantly cutting down on time you would usually need to reread and rewrite your work, making sure your work is polished and perfect every time.
The free version is excellent but ever since I upgraded, I wonder how I lived without it. It's reasonably priced and the extra features are worth it.
RELATED: How to Be a Freelance Content Writer and Turn Your Words Into Money
Free Online Tools for Storage
15. Dropbox and Google Drive
Dropbox is essentially a cloud-based storage system and works by keeping identical copies of selected files both on your computer and in the system. If you are working on multiple devices, it allows you to access your documents and photos with ease, plus offers general storage solutions.
It is also effective when working as part of a team, as you can share folders and files with others who you give your permission to do so. You can bring traditional data, cloud content, web shortcuts, and more all together in one place, and any changes you make will sync across your account.
Google Drive is another free storage tool, so you might as well use it as well and make the most of all the free storage solutions you can get your hands on. You can store your documents, photos, music, videos, all in one place, with the added benefit of syncing up with your mobile and computer for easy access. Meaning if you make a change on one device, it will automatically show up on the other places where you have access to the drive.
Another great thing about it is that it tracks your changes so that you can look back at all your revisions from the last 30 days. If you want to find something, you can conduct a search based on the content within a document, making it easy to find what you need.
You might as well use both of these and maximize the amount of free storage that you can get your hands on! between these two free online tools, I don't need to pay for the storage of documents.
16. WeTransfer
WeTransfer is the perfect solution when it comes to sharing and sending big files either to yourself or others. You can share large files up to 2GB for free. It allows you to send the selected item or items to one or more people via email.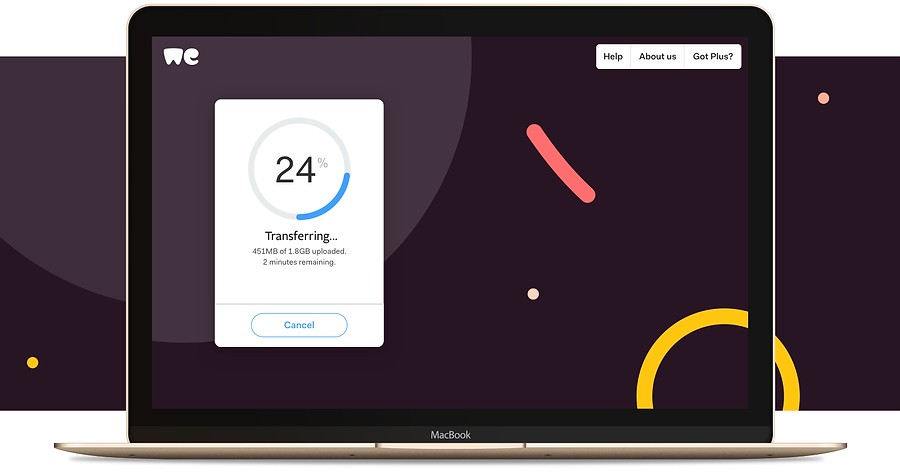 How many times have you tried to send a photo to someone via email, only to have it bounce back because it is too large? WeTransfer is the answer to this problem; you simply upload the files to the site and enter the email address of who you want to send it to.
Free Online Tools for Learning
17. Skillshare and Udemy
Up your skills and continue your learning journey with any of these free online tools. If one doesn't have the course you are looking for, try checking out some of the others.
Skillshare allows you to access thousands of classes on all sorts of topics, including design, photography, video, freelancing, illustration, and more. If you are in the market to learn something new, or simply want to brush up on some skills, Skillshare will have a creative class for you. The tool already has millions of members, and it is a great free online tool where everyone comes together to share ideas and find inspiration.
Udemy is another online and teaching marketplace which has a library of over 100,000 courses and millions of students all over the world. The range of classes you can choose from is vast, so you may have to search to find the real hidden gems.

Anyone can create and sell a course on the site, which means the quality of courses varies greatly, so it is best to read the individual course reviews in detail.
More Remote Working Resources
I hope you found all of this list of free online tools helpful. Which one of these tools are you most excited to use? Let us know in the comments below!
---
---
Don't lose this! Click to pin it now.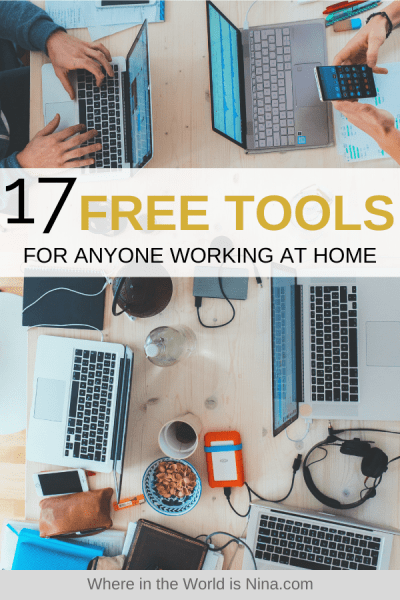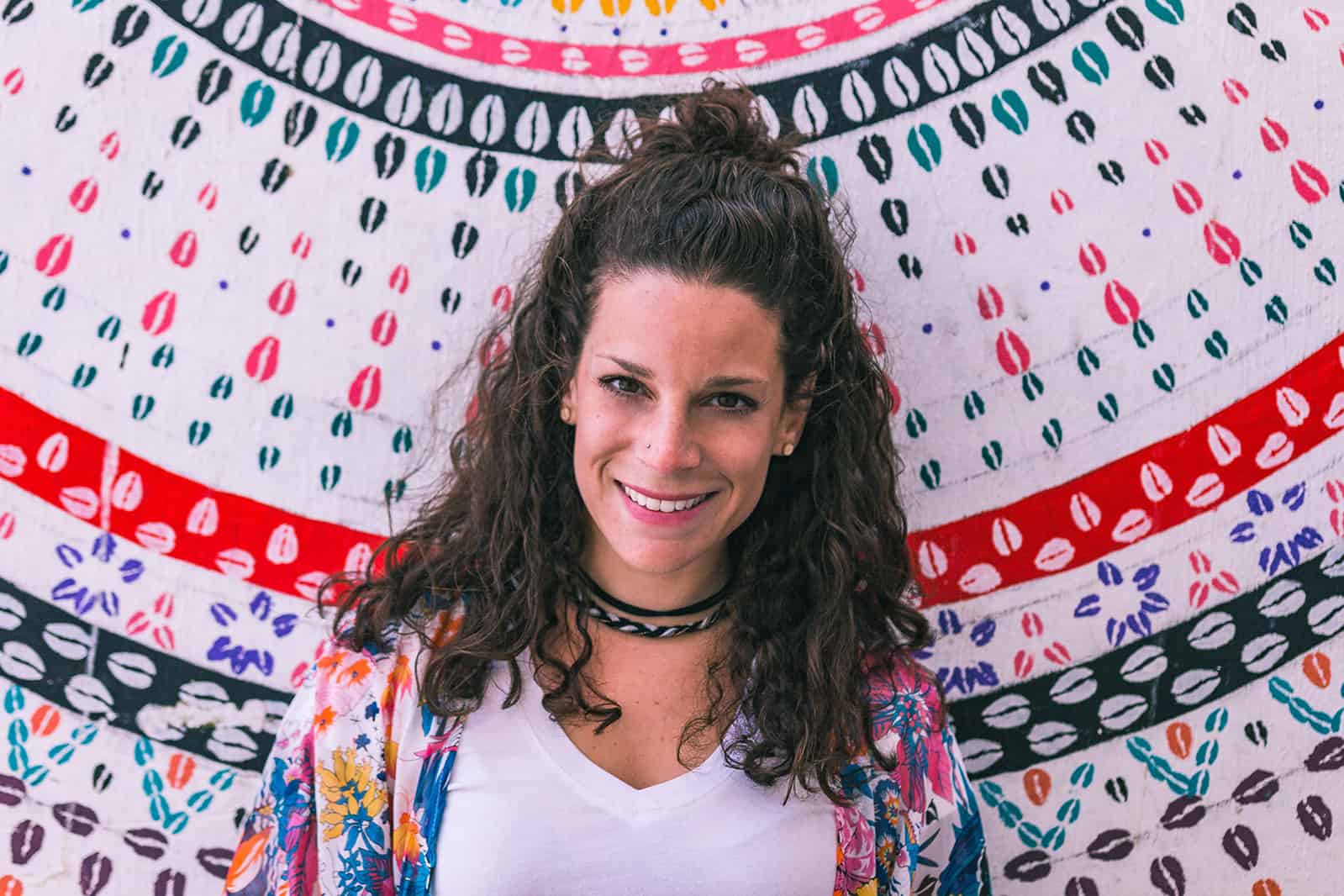 Nina Ragusa is an adventurer, messy bun master, breakfast fan, and full-time travel blogger. She's been abroad since 2011 and blogging on Where in the World is Nina? for nearly as long. Nina helps people like you move around the world while making money. She loves talking about how to work abroad and online to travel longer!