Finding the best carry on backpack can literally make or break your trip.
I'll never forget my pre-expert travel days… I use to schlep around a massive open mouth tote bag. Things were flying out every which way and I could never find what I needed. This also poses a security and safety issue when you actually land and try getting around town!
I also got on a plane once with just my purse. MISTAKE. Of course, as life would have it, my luggage got lost and I was left with chapstick, a passport, and some old receipts to my name for a whole 24 hours. Great.
Luckily I've tried and tested and researched carry on bags for ages now and I know, (which means, know you know,) the best carry on backpacks to bring along for the trip!
If you're anything like me, YES, an actual backpack, I think, is the best bet.
The weight is on both shoulders, it's safer, it keeps your hands free for the sprints across airports, it holds more… There's so much good about an exellent carry on backpack! There's no looking back…
Here are some of the best on the market but it depends what type of traveler you are and what you'll be getting into. So which of these are best for you?
Busy? Click the picture to Pin this for later
The Best Carry On Backpacks For Every Traveler
---
1. Pacsafe Luggage Venture Safe 25L GII
Loaded with lots of nifty features, the Pacsafe Venture Safe is the best carry on anti-theft backpack for your next adventure. The pack and its straps are built from special reinforced fabrics and materials that are slash resistant, and it's pretty light, weighing in at just over 2 lbs.
The pack is the perfect size for carry on, and the internal suspended laptop sleeve will accommodate a 15'' laptop, without letting it touch the bottom of the bag. It has a system for a hydration pack, side pockets for water bottles and with plenty of space for other items.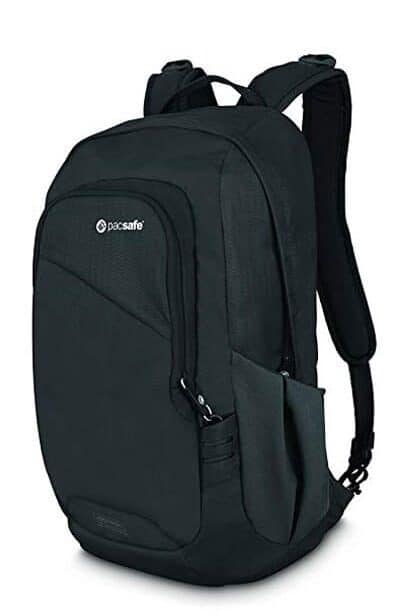 The zippers come with a clipping mechanism to prevent pickpockets from opening your pack without you noticing, and the pack can be fastened to a secure fixture using special 'turn and lock' hooks that prevent a thief from making off with it.
PRO
Excellent security features, like the slash-proof straps, the RFID blocking pocket for cards and passport, securable zippers and turn and lock security hooks. This is also the smallest backpack on the list and it can fit under your seat!
CON
More internal compartments to store personal items would be great.
2. Osprey Sojourn 45
When you're traveling through a city, sometimes a backpack isn't the best way to carry your stuff. Wheeled luggage that doubles as a backpack like the Osprey Sojourn is the answer.
It features a hip belt, a deployable harness, a removable back panel suspension, and straight jacket compression straps that allow you to secure your load.
Rolling it along is pretty easy since it has a high clearance with large polyurethane wheels and an ergonomic dual rod retractable handle. You won't have any problems with durability due to its aluminum frame and ballistic nylon construction.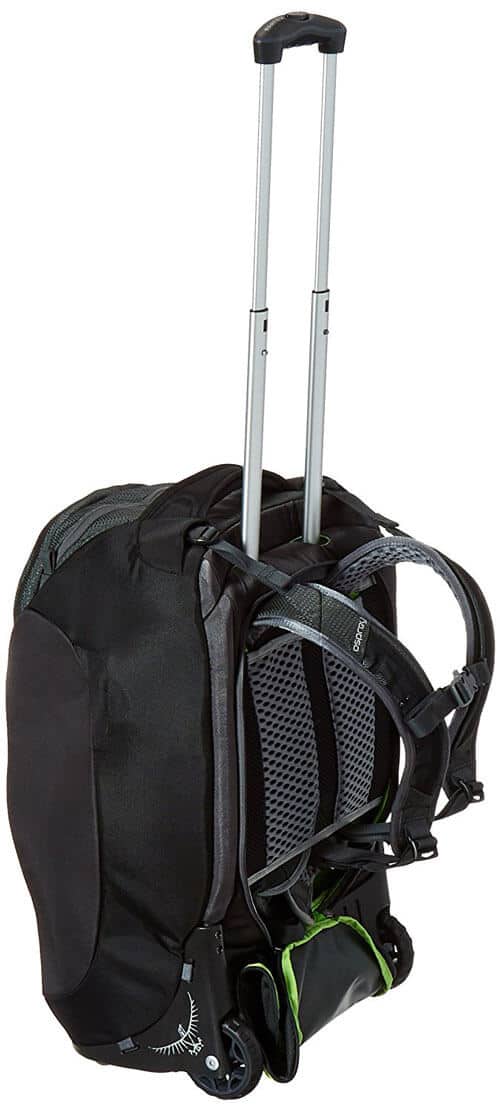 The Sojourn comes into its own when you need to use it as a backpack for extended periods, as the comfortable design is superior to other rolling carry on backpacks.
Inside the open space main compartment, you will find plenty of room to store your clothes and other items, but no laptop sleeve or external pocket, however, an electronics organizer can be added for that purpose if needed.
You might face issues carrying it on with some airlines, depending on how much you've stuffed it.
PRO
The Sojourn can pack in a lot of items, both due to the space inside and the straitjacket compression straps, perfect for that long trip you were planning.
CON
Converting from a roller to a backpack can take around a minute, as you need to attach the straps and arrange the suspension system.
3. Eagle Creek Gear Hauler
The Gear Hauler is the best carry on backpack if you want versatility and convenience when traveling light. You can fit enough items inside to last you a couple of weeks, all while keeping everything safe and dry. You can carry it as a backpack, a briefcase or across your body, depending on the situation.
The bag is compact enough to be carried on, but you should still check the guidelines of your specific airline.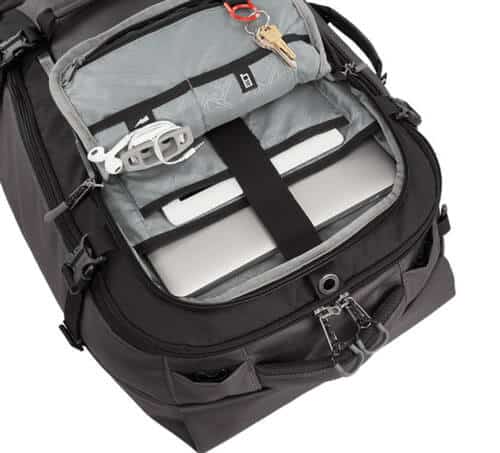 It is built tough, with a puddle resistant bottom, water-repellent fabric, a central lock point, puncture-resistant zipper and lock, and well organized internal storage pockets to keep your electronics and personal items where they belong.
The backpack straps can be stowed away when not needed, and you can keep your shoes or dirty clothes in a separate storage compartment.
PRO
Being convertible makes it ideal for the savvy traveler who needs a backpack, briefcase and crossbody shoulder bag rolled into one.
CON
It would be great to have double zippers on the bottom shoe compartment that can be locked for extra security.
4. North Face Borealis
If you're on the hunt for the best carry on backpack that can keep your laptop safe while traveling, then look no further. The North Face Borealis is a highly popular backpack amongst students as well as casual travelers, due to its comfort, resilience and the ability to store a 15'' laptop with ease.
Accessing your laptop and placing it back while moving through security is a cinch, thanks to the padded interior laptop sleeve.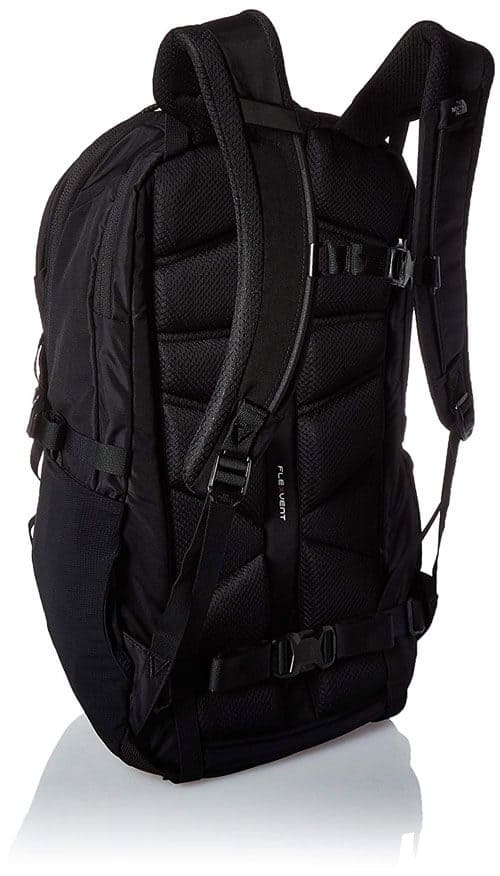 There are three compartments, a large one, a medium one with extra pockets for organizing your items and a small one for keys, wallets, passports, etc. The cords on the front can be used to hold a jacket or hoodie while traveling, and the side pockets are perfect for bottles or an umbrella.
PRO
The rigid, breathable padded back provides great support, making the bag very comfortable and great for hiking or everyday use.
CON
The Borealis might be somewhat water-resistant, but it is not waterproof. This is a problem for hikers or outdoor enthusiasts.
5. Osprey Farpoint 55
This carry on backpack is useful for people looking for a daypack combined with a larger bag to carry enough gear for a longer getaway. The Farpoint is able to carry 50 pounds, and the main compartment has lockable zippers.
A great feature is the LightWire framework suspension, which transfers the weight from the harness to the hip belt. To keep your backpack compact even with heavy loads, the compressions straps come in handy.
Perhaps the highlight of this carry on backpack is the detachable daypack which essentially makes this back a two in one. Simply detach the day pack for a day exploring the city with just your necessities or reattach it for moving around the airport.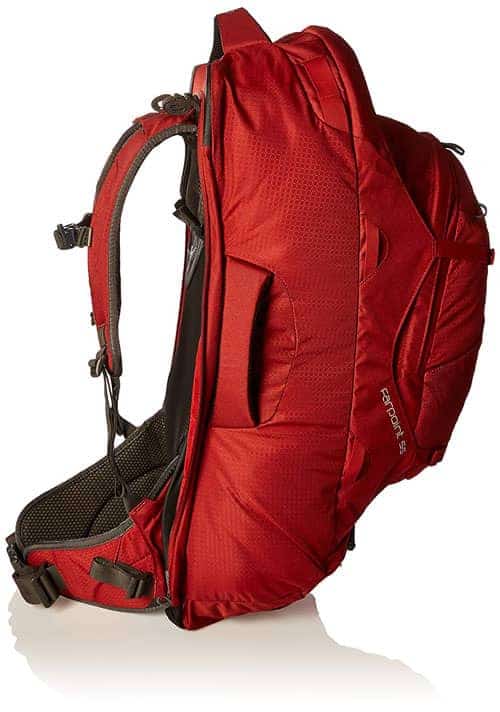 This backpack is popular with both travelers and hikers due to it being very comfortable and having plenty of storage space for various necessities.
PRO
The LightWire suspension system makes it feel as if you're carrying less than what's actually in the bag and the plus of having a detachable small pack is a fab feature.
CON
The zippers can break or fail to work over a period of time. However, Osprey is known for their lifetime warranty so just send it in to get a quick fix.
6.
Pacsafe Venturesafe EXP45 Anti-Theft Carry-On Travel Backpack
Looking for the best carry on backpacks that will prevent thieves and pickpockets from making off with your expensive equipment or all your worldly possessions? More importantly, do you need something that's pretty much like a suitcase but you need it to be in carry on and backpack for?
Then the Pacsafe EXP45 is the best choice, hands down!
The laptop sleeve can hold a 15'' MacBook, while the center is large and roomy. This bag opens just like a suitcase would and yes, you almost fit a suitcase's worth of stuff in here.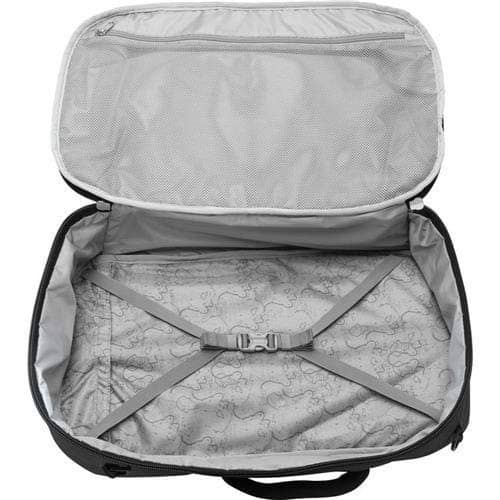 It's massive and very accommodating for that random stuff you insist on bringing with you. I'm not sure there's a carry on backpack as large as this one while still complying with all the rules!
You'll be safe from 'scan and scam' artists thanks to the RFID blocking construction of the pockets. The eXomesh material and smart zips keep your items safe from would-be thieves, and you can anchor your bag to a secure fixture with the metal security rope.
PRO
The anti-theft security features like the smart zips, slash proof straps, and the Turn & Lock security hooks are all critical for keeping your stuff safe AND you can stuff it full and still have it as a carry-on.
CON
You will have to triple check airlines to make sure this baby can fit as some are getting way stricter but most airlines will accept it. (If it's any consolation I've personally taken this bag around for about two years and who knows how many flights with zero issues)
Related: Long Haul Flight Tips and Essentials for Surviving Economy (AKA Hell)
7. Altura Wanderer Backpack
A good camera backpack has one primary function, keeping your photography equipment safe and easily accessible while you're traveling. This carry on backpack from Altura is made from durable, water-resistant nylon and has storage for laptops up to 14''.
You can easily fit in a DSLR or full frame camera with attached lens, 4-5 additional lenses and a flash, plus tripod or monopod.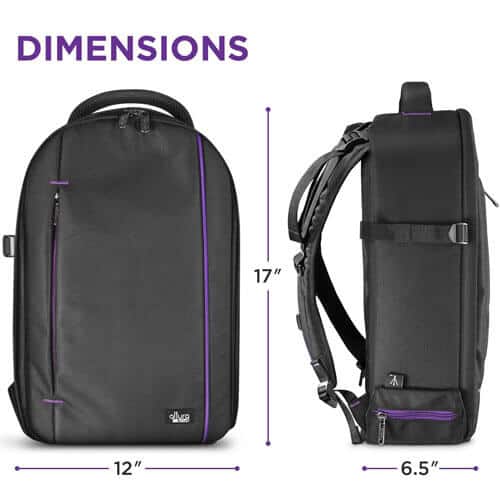 You can travel in comfort thanks to the padded ergonomic shoulder straps and rearrange the interior to suit your photography equipment with removable foam inserts. There is plenty of space for smaller accessories like batteries and memory cards in the backpack as well.
PRO
The bag is slim, low profile and holds plenty of photography equipment in a compact package.
CON
Due to the size, there are limitations on which cameras can fit inside, with larger cameras like the Canon 80D not fully accommodated.
8. Tortuga Setout Divide Backpack
There's a lot to love about this carry on backpack. The entire bag is made with comfort in mind as there is padding in all the important areas, so no worries for those who are over packers (that's sometimes me!), this bag doesn't weigh down on you.
The Tortuga Setout Divide is the epitome of a carry on backpack and is exactly what you need for a light week or a long weekend getaway to avoid checking in any bags. The bag is a 26L or 34L if you unzip the extra room panel to allow for that extra pair of shoes or some souvenirs. The bag features water repellent coating, lockable zippers, and a laptop sleeve.
This is my new go-to carry on cabin bag and while I'm not a carry on only traveler, for everything that I DO want to carry on, I'll be able to fit in this bag.
PRO
It has all the pockets you can dream of, the organization is on point. Rejoice, my OCD friends, we have all the storage compartments!
CON
The bag is slightly bulky, particularly the waist straps and back padding.
9. Osprey Packs Nebula Daypack
Modern air travel can be a pain, even for the most avid of travelers, which is why the Osprey Nebula Daypack makes so much sense.
It has a TSA approved padded laptop sleeve that zips open flat, allowing you to breeze through security. You can tighten the cinch straps on this carry on backpack to lower its profile and you won't be hassled about gate checking it before boarding.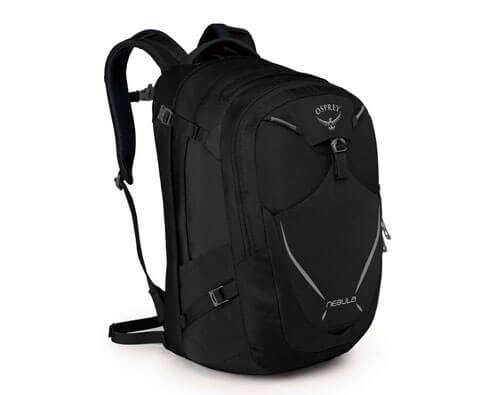 While the Nebula can hold up to 34 liters, it is compact enough to fit into pretty much any overhead luggage bin.
All that space can be utilized effectively with the help of three main compartments, an assortment of pockets, zippers and two bottle holders. The pack is extremely comfortable, durable and can also fit underneath your airplane seat in a pinch. It's highly recommended if you're on a budget.
PRO
The compactness of the backpack combined with the ability to hold up to 34 liters is a big plus, and the slim looking bag won't attract the attention of airline staff.
CON
The zippers for the various compartments and pockets tend to be sticky.
10. Kelty Redwing 32 Backpack
For the budget-conscious traveler looking for the bag that can do it all, the Kelty Redwing would be a wise choice. This carry on backpack has the storage capacity, comfort and nifty features that you'll love when out and about!
For starters, it can fit 32 liters of equipment and gear, and keep everything dry in light rain thanks to being water resistant. You can always add a rain cover if you'll be encountering heavy rain.
The hip straps and sternum strap help distribute weight when hiking or walking, the ventilating back panel keeps you cool, and the HDPE frame sheet provides the support you need for a comfortable fit.
The top-loading option is great for quickly accessing your items, and you can unzip the backpack all the way if needed. The extra pockets for personal items and exterior clips to attach accessories make this backpack a standout.
Even better, the Redwing is carry on compliant for most airlines, so you can confidently carry it for your next flight.
PRO
Great comfort when carrying the backpack for several hours thanks to the suspension features and lumbar ventilation. There's also some serious organization perks too.
CON
Getting things out of the main compartment can be a pain because of the compression straps and the stash pocket getting in the way.
Best Carry On Backpack: All Around
---
11. Pacsafe Venturesafe X30 Anti-Theft Adventure Backpack
Built for harsh conditions and to prevent the theft of your personal belongings, the Pacsafe X30 Adventure carry on backpack is ideal for you to explore both the urban jungle and the great outdoors.
This pack can fit a 15'' laptop, and you should have no problems using it as your personal item while flying on most airlines. It has a built-in hideaway rain cover, a hip belt that stows away, as well as a hydration pack compartment, ideal for hiking or outdoor adventures.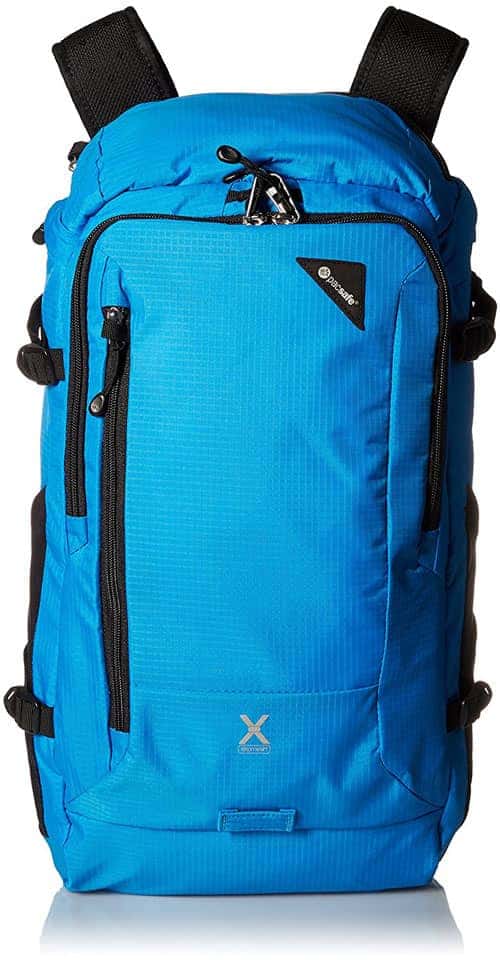 The bag has a layer of wire mesh under the fabric to prevent thieves from slashing through.
Additional security measures you'll find useful include the RFID blocking pockets for stopping scan scammers, secured zip tab with zip clips and the ability to secure the bag to a fixture using TurnNLock security hooks.
This is the backpack I use day in and day out when I travel, and it's my ultimate bag! If I had to choose from all of these, this one is it.
Worried that this one isn't camera friendly? Think again! You can buy a badass camera insert that fits perfectly in this bag and is its own separate bag too. So if you want to be truly sneaky, the camera insert can be your personal item, and this can be your cabin bag.
Side note: Garrett has this exact backpack as well and completed two long hikes in Spain, totaling 45 days and over 600 miles with this backpack with no issues.
PRO
Along with the anti-theft features, and the camera insert, this pack comes with a hideaway rain cover, ensuring your gear won't get wet in a sudden downpour.
CON
The front chest straps are a bit weak and if you have a heavy pack, it might snap. We had to get this replaced for a few bucks at a fix it outdoor gear shop and they aren't going anywhere now!
So with adventure, anti-theft features, camera protection, and plenty of room in mind… This bag is a clear winner, for me! Maybe for you too?
Wondering what's all the rage about anti-theft bags anyway?
Read: Best Anti Theft Backpacks, Bags, and Purses + Tips for Keeping Your Stuff Safe!
Carry On Backpack Tips:
Before you go, here are some tips to get the most out of your new carry on backpack…
Volume matters, but how efficiently you use the space inside the bag matters more. If you use vacuum bags as I do, for example, you can stuff more items into the pack without making it too bulky.
Compression straps can really help slim down your carry on backpack, even if it's fully stuffed. A slim bag is not only easier to maneuver inside a train or in crowded places, but it also saves you from getting hassled by airline staff about carry on size restrictions. Use them!
Look for zippers made by YKK if you want a truly reliable, long-lasting zipper.
Look for products that offer a generous warranty so that you're at least assured peace of mind that the backpack won't fail you for a few months.
Always double check an airlines requirements, they are so sneaky and constantly change the rules.
A hack I like to pull when I'm not sure I'm going to meet the weight requirements is I wear my DSLR on the outside, so when they weigh the bag, my bag will be a few pounds lighter! What's the heaviest thing in your bag and can you wear it to lighten the bag up temporarily for weighing?
So which of these carry on backpacks is the best on for you? Let us know in the comments!
---
---
>>> Read More! <<<
Read all of my packing lists here!
---
---
Don't lose this post! Click the picture and pin it to Pinterest!