This Sydney itinerary is authored by Laura Sellwood.
Planning a trip to Sydney but not sure where to start? From the sweeping sails of the famed Opera House to the surfers shredding waves over on Bondi and everything imaginable in between, it's safe to say you're spoilt for choice for what to do.
After spending a few weeks here, I've put together a pretty solid 7-day Sydney itinerary that will allow you to soak in the buzz, find out about some hidden gems and hopefully make you fall in love with the city.
So it's time to put on your walking shoes and grab your cameras…
Day 1 Sydney Itinerary – Get to Know Sydney
Free City Walking Tour
Ok, so I'm a proper fan girl when it comes to free walking tours, but the I'm Free walking tour is one of the best I've been on.
It starts every day at 10:30 am from the Town Hall and covers so much of the city including Hyde Park, Martin Place, Sydney's hidden bars and tonnes of great tips straight from a local.
To top it off the tour finishes on Observatory Hill boasting amazing views of the Sydney Opera House and Harbour Bridge.
Circular Quay
Go on, admit it, you wanna see what the Opera House looks like up close right? Well here's your chance. Wander over to Circular Quay where you will see the ferries coming and going from the wharfs and perhaps even a massive cruise ship docked up.
It's going to be busy here but the atmosphere is amazing. Follow the quay round to the Opera House where you can go up the steps and get a good look at this famous building.
Royal Botanic Gardens
Just past the Opera House, you will enter into these beautiful gardens. It's full of stunning displays and hosts different events each week. It's the perfect spot to take a break and watch the world go by or choose one of the paths and see some of the beautiful displays.
If you want to learn more about the work that goes on here then join on one of their free daily walking tours.
You can also grab the iVenture card to get into most of Sydney's attractions for free or a discount plus use the 24-hour hop on hop off bus for a one time fee!
Mrs. Macquarie's Chair
A pretty strange name for a viewpoint, right? For the longest time, I had no idea what it was all about, but the name actually comes from a bench shaped sandstone rock that was carved into the shape of a bench by convicts for Governor Macquarie's wife in 1810.
What isn't strange is the view you get from here. You know those postcard pictures you see of the harbour bridge and opera house together? Well, this is it, but for real and it's pretty darn awesome.
Resources for Your Trip:
Day 2 Sydney Itinerary – Explore The CBD
Royal Mint And The Rum Hospital
Only in Australia would you find a hospital built in exchange for the monopoly on rum. The 'rum hospital' was the project of Governor Macquarie in 1810 to treat sick convicts.
The British Government wouldn't help fund it so he traded the rights on all rum imports for 3 years to 3 businessmen to make the build happen. Today the building has become Parliament House and The Mint and sadly I think far less rum is involved.
State Library Of NSW
This magnificent building is the oldest library in Australia dating back to the 1820s when it started out as a small library for colonials that wanted to read. Be sure to check out some of their beautiful exhibitions on too.
Martin Place
If I tell you this is where the banks and post office are it doesn't sound that great, but these buildings are stunning!
Here you will find the Cenotaph War Memorial which is the site of Anzac Day commemoration, the stunning commonwealth, APA, Australasia Bank buildings, Challis House and Colonial Mutual Life Building.
The most striking building both inside and out is One Martin Place. Go in and have a look for yourself!
Pitt Street Mall
Head here for some retail therapy. You will find all the main retailers here and a number of malls to explore. It's all pedestrianised so you'll get a nice break from the heavy Sydney traffic.
The Strand Arcade
Whiz yourself back in time and have a walk through this beauty.
It was the last of 5 arcades built in Sydney and the only one left in its original form today. From the beautiful tiled floors to the colourful glass ceiling, It's a real feast for the eyes.
The Queen Victoria building
When I tell you that this building was almost knocked down and turned into a carpark back In the 70s, you'll wonder what the hell was going through people's minds.
This building is seriously impressive and even though may not be able to afford anything in here, I always have to go in. There are two amazing clocks hanging from the ceiling at either end, beautiful stained glass, curved staircases and even a piano you can play for yourself.
Sydney State Theatre
Another gorgeous building for you to drool over.
The State Theatre hosts loads of shows throughout the year ranging from musicals to comedies to burlesque so there's something for everyone. As you'll just be passing by, for now, make sure you take a look in at the beautiful art deco foyer.
Hyde Park
Like NYC, Sydney has its very own city park, Hyde Park, and it's the perfect break from the crowds. Have a picnic and chill out for a while before walking through to the fountain, Anzac Memorial and huge St Mary's Cathedral in the centre of this green haven.
Sydney Tower Eye
If you're like me and love getting a birds-eye view of places, then the Sydney Tower is a must.
It's Sydney's tallest building and the 360-degree views from the observation deck are pretty epic. Head up for sunset and watch the city switch over to night.
RELATED: 10 Cool Things To Do on the Gold Coast of Australia.
Day 3 Sydney Itinerary – The Blue Mountains
Just a couple of hours out of Sydney you hit the breathtaking Blue Mountains National Park. It's the ultimate place to go if you love hiking, can't get enough of waterfalls and want jaw-dropping views.
The hotspots such as Wentworth Falls, the Three Sisters and Pulpit Rock are all nestled next to a series of cute country towns with tonnes of charm and it's so easy to visit.
If you have your own vehicle then it's a fantastic scenic drive and if you don't, you just need to simply jump on a train to the Blue Mountains where you can catch the hop-on-hop-off bus to all the places.
Honestly, there's no other word to describe the Blue Mountains other than unmissable. If you're looking for more of this, then check this article out here.
RELATED: 7 Adventurous Things To Do Around Cairns, Australia.
Day 4 Sydney Itinerary – Hit the Beaches
Bondi Beach may be one of the most famous beaches in Australia, but here it's all about the Bondi to Coogee coastal walk too. This 6km route literally hugs the coastline between the 2 beaches and boasts amazing rock formations, cliff top views, and crystal clear waters.
There are loads of beaches in between so swimsuits are a must! My favourite spots are Gordon's Bay, Waverly Cemetery (it's not as weird as it sounds) and the iceberg pool at Bondi. So slap on the sunscreen and spend the days relaxing and soaking in the views.
Day 5 Sydney Itinerary – Explore the Suburbs
As amazing as the CBD is, Sydney wouldn't be Sydney without its suburbs.
The inner suburbs are easy to reach on public transport and you'll be sure to see more of the local's side of the city.
Surry Hills
If you have a passion for art and all things creative then Surry Hills is for you.
It's full of art galleries, quirky shops, theatres as well as cocktail bars and pubs selling craft beer. On the first Saturday of each month, they also hold the Surry Hills markets which are worth checking out if you can.
Newtown
This eclectic suburb is teaming with boutiques and quirky restaurants. Walk down Kings Street and have a good look around you at the beautiful architecture and the brilliant street art.
Be sure to check out the restaurant Lentil as Anything too – it's a not-for-profit restaurant where you pay what you want for a delicious meal and the money goes towards helping those in the area who need it.
Darlinghurst
This 'burb close to the CBD hosts the Sydney Gay and Lesbian Mardi Gras each year and it's a pretty vibrant place. Check out Oxford, Victoria and Stanley Street for awesome laneways full of eateries as well as a number of stylish boutiques and upcycled fashion gems. It's great for a rummage.
Paddington
Paddington is famous for its Saturday market and, in my opinion (and I freakin' love a market), it's one of the best.
Full of local designers and food vendors it's so good to look around and support small businesses. Paddington is quite a stylish area full of boutiques and cafes all along Oxford and William streets.
Kings Cross
Ok, so this is actually Sydney's red light district but it's a seriously buzzing place. It's the cheapest place to go for a night out with loads of options ranging from bars to clubs to rooftop bars.
Highly Recommended Sydney Day Passes:
Day 6 Sydney Itinerary – Manly and the Rocks
Manly
Manly is one of my favourite spots in Sydney and the journey over gives you the chance experience the harbour waters for yourself.
Jump on a ferry at Wharf 3 at circular quay and take the 30-minute ride to Manly. When you arrive, cross the road and walk down the main shopping area, Manly Corso, full of shops, bars and restaurants.
Carry on and you will hit the popular Manly beach.
It's a great beach for surfing and usually less crowded than Bondi. Wander around to the Cabbage Tree Bay Eco-Walk which has lots of cute sculptures along it representing the vast marine life and plants in the area.
Stop for a dip in the Fairy Bower Rock Pool before reaching the peaceful cove at Shelly Beach.
This route takes just 20 minutes so Shelly Beach is the perfect place to relax, go for a swim or snorkel and even have a good ole' Aussie BBQ using one of the public BBQs right on the beach.
The Rocks
As well as the Rocks being a beautiful part of the city full of cobbled streets and lanes, it also has a tonne of history embedded into it, most of which is captivatingly shady.
Swing by the Rocks Discovery Museum to learn about the important history of the area pre-European days before taking a walk around.
You'll see a great mix of architecture as well as Sydney's Oldest pub, the Big Dig Archaeological Site underneath the YHA hostel, Suez Lane which was once run by gangs and 4 houses preserved from different decades at Susannah Place.
Head to The Rocks Square for plenty of dining options or the famous Rocks Markets on Saturdays for some independent stalls and delicious food.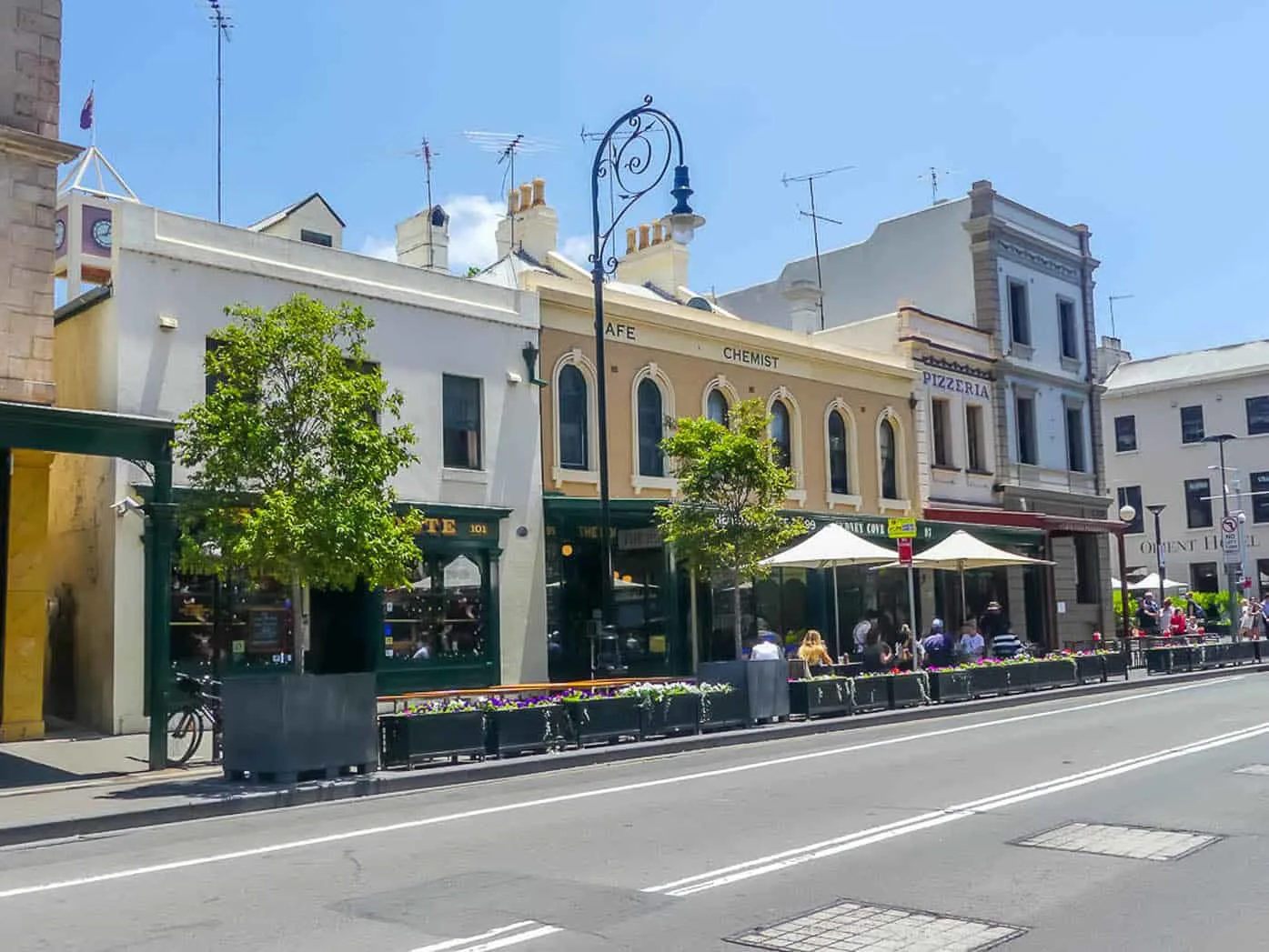 RELATED: 5 of the Best Things To Do in Queensland, Australia.
Day 7 Sydney Itinerary – Darling Harbour And China Town
Darling Harbour
This shiny suburb has loads to offer. Here you will find the Sealife Aquarium, Wildlife Zoo, Madame Tussauds and the free Maritime Museum. As well as this there is a whole host of restaurants with super affordable deals to get a delicious bite to eat.
Here are some incredible vegan places to try in Sydney!
Paddy's Markets
This huge market hall pretty much has everything you could imagine under it – and I mean everything! When I visited I saw clothes, cosmetics, crafts, antiques, jewellery, fruit, veggies, hot food as well as some wacky souvenirs.
It's just brilliant if you love a bargain!
China Town
Every Friday China Town hosts a fantastic night market with loads of delicious food stalls selling all sorts at a bargain price.
It's the perfect place for the indecisive as you can try lots of different foods from a variety of Asian countries without breaking the bank.
But don't worry if the market isn't on for your visit, it's a great area to visit at any time.
The Sydney Harbour Bridge
Did you know that the locals nicknamed the bridge 'the coathanger'? It's a bit hit-and-miss with the locals but I love the harbour bridge and no week in Sydney would be complete without walking across it.
It only takes about 20 minutes and you'll get an amazing view of the harbour. The perfect end to your 7 days in Sydney.
Only around Sydney for a few days? Not sure if you want to deal with organizing anything? Here are some tours that will sort out your Sydney itinerary with a few clicks!
Click now to grab your must-have Sydney tickets:
Where to Stay In Sydney
Kirketon Hotel – An art-inspired boutique hotel located within walking distance to the city center and surrounded by bars, restaurants, and nightclubs.
Bondi Apartment – Perfect for surfers, this sunny one-bedroom apartment is just a short walk away from the waves at Bondi Beach.
Crown Street Studio – A stay at this modern apartment will place you right in the middle of artistic Surry Hills, home to cafes, galleries, and boutique shopping.
So what do we think of Sydney and all it has to offer?
I hope you enjoyed my 7 days In Sydney itinerary! Which spot are you most excited for?
---
>>> Bio
Laura Sellwood from Escapes Etc is a British travel blogger currently based in Australia with a huge desire to prove how affordable travel can be. Escapes Etc is full of affordable guides to help you plan your dream trip and inspire you to travel more for less. Join me as I share my tips and tricks for affordable travel, as well as some stories along the way!
---
Pin this for later! Just click the pic 🙂