This post on things to do in Queensland is authored by Lotte.
Queensland is the second-largest and third-most-populous state in Australia. Queensland is known for its lush rainforest, splendid beaches, vibrant cities, and cute villages. It's also a state that offers loads of amazing outdoor activities, from hiking to scuba diving and from sailing to chasing waterfalls.
In this post, you can read all about the best things to do in Queensland as well as practical information about planning your Australia East Coast road trip adventure.
Things To Do in Queensland
---
1. The Skyrail Rainforest Cableway
As a little girl, I was very fond of climbing trees. There was just something magical about being able to see things from higher-up. Flash forward more than 20 years and deep down I am still that little girl who likes climbing trees.
Unfortunately, I am no longer as fearless as I was when I was younger, but I still love a birds-eye view. As such I absolutely loved our Skyrail Rainforest Experience and highly recommend this awesome Queensland outdoor activity to anyone who loves rainforest, birds, and waterfalls!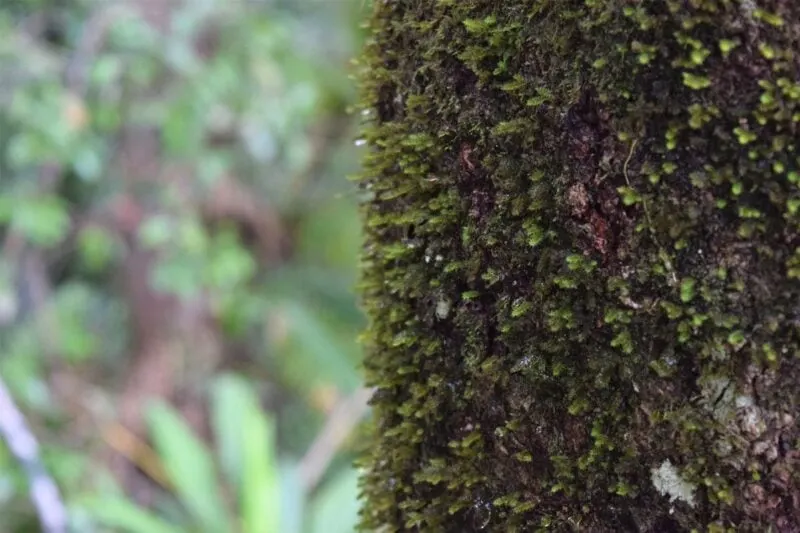 We flew over the treetops, explored the jungle, learned about the vulnerable rainforest ecosystem, admired the Barron Falls, and visited Kuranda village.
The Skyrail Rainforest Cableway is 7.5-kilometers long and was built in 1995. There are 32 towers in total and the tallest one is over 40 meters high! These towers were lifted into place by helicopter, to avoid disturbance of the rainforest.
The cableway can reach speeds up to 18-kilometers per hour, but it usually goes much slower so you can enjoy the beautiful rainforest longer.
There are three stops:
Red Peak Station: Join one of the ranger-guided walks to learn about the beautiful rainforest.
Barron Falls Station: Follow the short trail leading to three different viewpoints of the mighty Barron Falls. The Falls are at their peak during the wet season (December-March),
Kuranda Station: Explore this quaint village in the middle of the rainforest that has been a tourist attraction since 1888.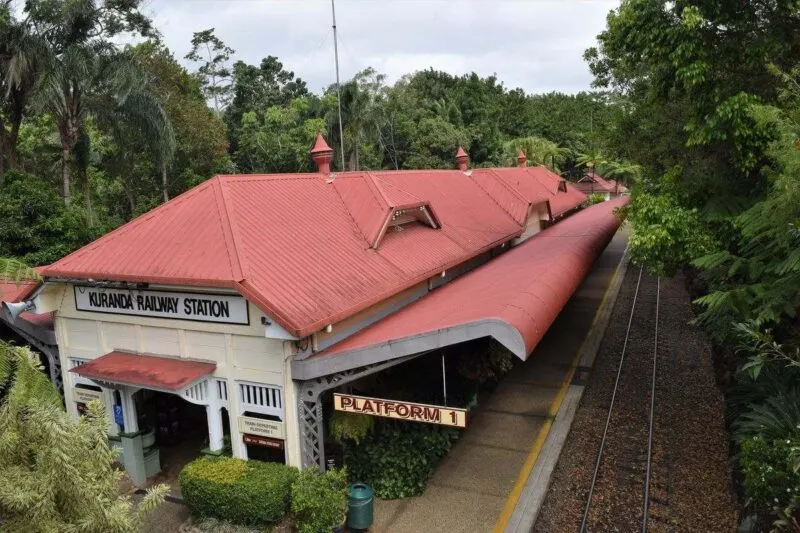 Insider tip: Combine the Skyrail Rainforest Cableway with the Kuranda Scenic Railway, a beautiful train ride through the rainforest ending at Cairns.
How Long Does the Skyrail Rainforest Cableway Take?
Give yourself half a day for the Skyrail Rainforest Cableway. While the rides between the stations are only short, you will be spending time at every station as there is much to learn and see. Here are the travel times between stations:
Smithfield Station – Red Peak Station: 10 minutes, spend around 45 minutes at Red Peak Station.
Red Peak Station – Barron Falls station: 10 minutes, spend around 45 minutes at Barron Falls Station.
Barron Falls station – Kuranda: 10 minutes, spend around one hour in Kuranda.
Kuranda – Smithfield Station: 30 minutes
Total time: 3.5 hours
Below you can find the ticket prices for a return ticket on the Skyrail, more information about prices can be found here.
RELATED: 7 Adventurous Things To Do Around Cairns, Australia.
2. Daintree National Park
Daintree National Park is a must-do on any trip to Queensland! Take into account that for Daintree National Park the best time to visit is between May and September. These months are relatively cool and also have the lowest levels of precipitation.
Board the Daintree river ferry to enter this fascinating National Park and give yourself at least a full day to explore. Park rangers can tell you lots of interesting stuff about the plants and animals living in this beautiful rainforest.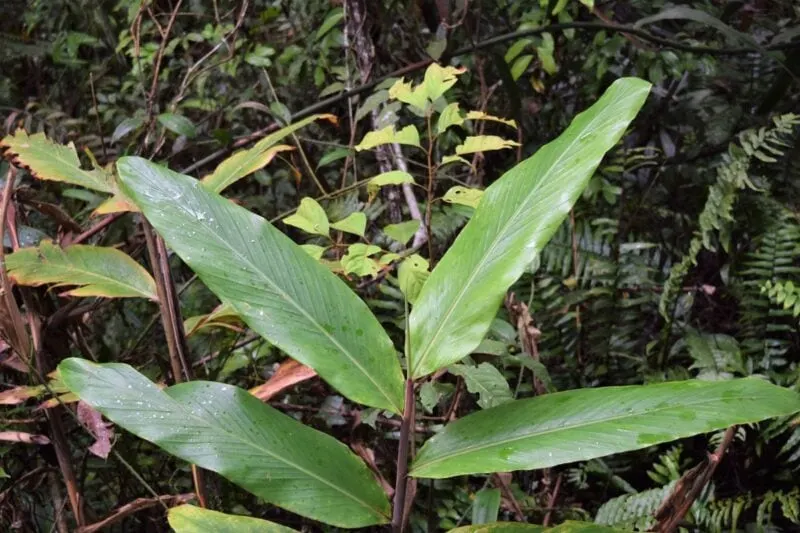 For example, there are plants that carry berries that will make you go blind for two hours if you eat them! Birds can eat the berries because they don't actually digest them and the pit stays intact. But if a human (or mammal) chews on them, the seed releases a toxin that temporarily makes you lose your vision…
Luckily there are 'friendlier' plants in the jungle as well, such as the one pictured above. The big leaves are super soft on the backside and if you ever get stuck in the jungle, seek out this plant to create a makeshift mattress from its leaves for a comfortable night (well, relatively speaking).
Mount Alexandra Lookout, Cape Tribulation Beach, and the Kulki Boardwalk are good stops, but there are lots of other interesting stops and hikes in Daintree NP. Keep your eyes peeled while driving (and walking) around Daintree, if you are really lucky you may be able to spot one of the elusive and very shy cassowaries who live in the rainforest!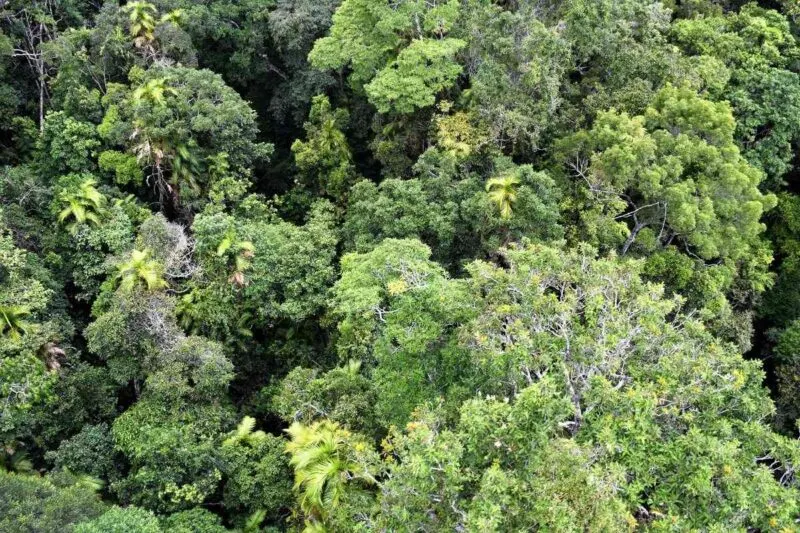 A couple of years ago there were only 500 of these unique creatures left. Luckily, thanks to the efforts of UNESCO and several other organizations there are now over 2500.
Nevertheless, the species is still endangered and needs to be well protected in order not to become extinct…
Fun fact: Did you know cassowaries communicate on a 23-32 Hz frequency? We can hear their sounds, but only just, as humans are only capable of perceiving sounds of at least 20 Hz.
3. Scuba Diving the Great Barrier Reef
The Great Barrier Reef is more than 2300-kilometers long and is a UNESCO World Heritage Site. It is the world's biggest reef and can even be seen from outer space! If you love exploring the underwater world, definitely go scuba diving at the Great Barrier Reef.
Cairns is a popular jumpoff point, as is Townsville (where you can dive the SS Yongala wreck). Allow a full day for this activity, most tours depart around 7.30-8 am and return around 4.30 pm.
Lunch is usually included in the tour price, as is water, tea, and coffee. Often snacks and fruits are served after every dive as well, though this depends on the tour operator. Soft drinks, beer, and other snacks can often be purchased on board.
There are many companies offering tours, we went with Tusa Dive and had a great experience. Keep in mind that the reef lies 50 kilometers from Cairns, a long way over the water. It took us two hours to reach the dive sites and two hours to go back.
Also, know that the sea can get pretty rough (it was on the day of our diving excursion) and you may get seasick. Seasickness pills are usually available onboard but I recommend also bringing your own.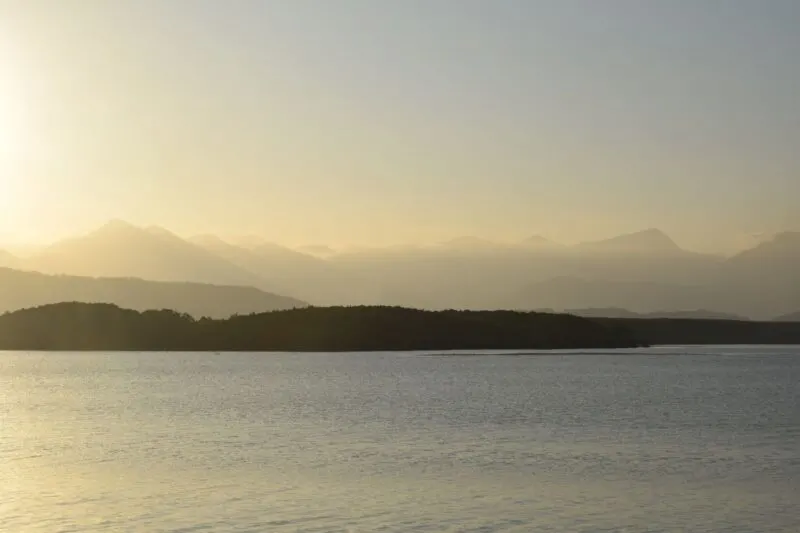 There are countless dive sites at the Great Barrier Reef and it very much depends on the tour company you book with where you end up going. I don't think it matters much, there is something beautiful to be seen at every dive site!
Expect to see lots of beautiful corals, huge clams, Christmas tree worms, clownfish, Maori Wrasses, stingrays, pufferfish, groupers, and tiny nudibranchs. If you are lucky you may spot turtles or white-tipped reef sharks.
Diving the Great Barrier Reef: Dive Prices
I'll be honest: diving in Australia is very expensive, especially compared to Asia. Expect to pay around $330 for three dives (including a $10 Reef Levy) and an additional $10 per dive for a guided dive. That being said, the dive spots are amazing so you will get excellent value for money!
RELATED: 11 of the Best Things to Do On the Sunshine Coast Australia
4. Sail the Whitsunday Islands
The Whitsundays are a cluster of no less than 74 islands, most of them are uninhabited. These pristine islands are covered in tropical rainforests and fringed by gorgeous white sand beaches. Below the surface, you'll find coral, colorful fish, and turtles. Sounds like paradise? Yes, it pretty much is!
To protect the islands and preserve their beauty, a National Park was established in 1944. You can read more about the park and its conservation on this website.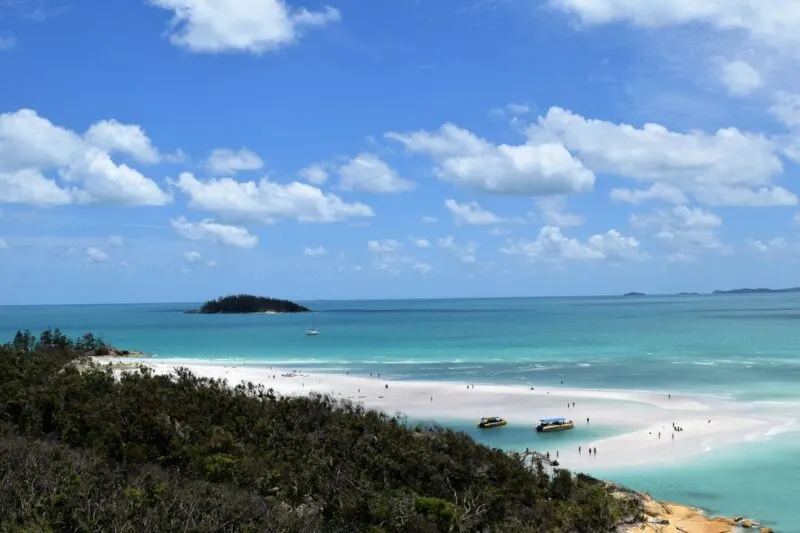 The waters around the Whitsunday Islands are inhabited by many underwater creatures. For example, if you are visiting between June and October, you may see migrating humpback whales! And between November and February, you might see a turtle nesting on the beach…
The Whitsunday Islands are a treasure and must be treated as such. If you are visiting the islands, please don't leave any trash. Don't take anything from the Islands either. Don't step on the coral. Preserve this unique ecosystem.
A typical Whitsunday Island Tour departs from Port Airlie and takes an entire day (approximately 7.30 am until 5.30 pm). From personal experience, I highly recommend taking a tour on the Camira catamaran, owned and operated by Cruise Whitsundays.
These tours are well-organized, the staff is very friendly and the boat has every facility you need. Food (fresh fruit, biscuits, cakes, BBQ lunch, and an extensive snack buffet) and drinks (soft drinks, water, tea, coffee, beer, and wine) are included in the tour price.
Stops included on the Whitsunday Island tour:
Hill Inlet Lookout: One of the most iconic views of the Whitsunday Islands and rightly so, it's pretty perfect (see picture above). There is a short walk (1.3-kilometer return) from the beach to the viewpoint and it remains one of the most beautiful views I've seen in my life.
Whitehaven Beach: A stunning 7-kilometer-long beach on the largest island of the Whitsunday group (Whitsunday Island) and famous for its pure white sand. The sand on Whitehaven Beach is among the whitest anywhere on earth and is composed of 98% silica. A very special property of this type of sand is that it doesn't retain heat, so your feet won't get scorched!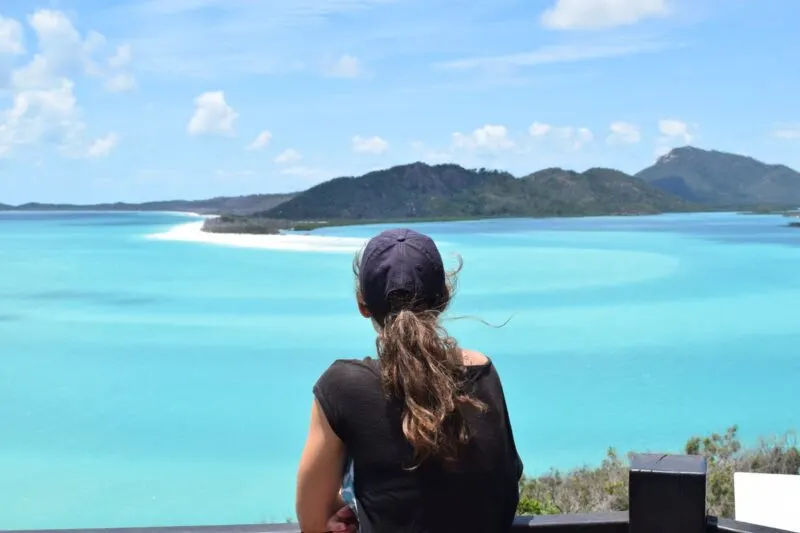 Fun 'fact': Some say the pure sand of Whitehaven Beach was used to make glass for the lens of the Hubble Telescope, but nobody knows if this is true…
Snorkeling the Great Barrier Reef: The water around the Whitsunday Islands is clear, warm, and relatively shallow, perfect for many types of coral to grow. Therefore, snorkeling is included in pretty much every Whitsunday Tour. It's a fun activity and the underwater world is amazing! Depending on your snorkeling spot, you may see dead or bleached coral as well which is very sad and a vivid reminder that we must take much better care of our beautiful planet.
Sailing the Whitsunday Islands: What To Bring
Some things to bring on your Whitsunday Island Tour:
Hat (preferably one that has a strap or sits snugly on your head to avoid it being blown off)
Sunglasses
Sunscreen
Bottle of water
Hoodie (when it's cloudy or a windy day, it can get cold on the boat)
Camera
Towel
Optional: a book ⇒ I didn't bring one, nor did I feel the need to. I spent the entire day gazing over the water and admiring the views.
RELATED: 10 Cool Things To Do on the Gold Coast of Australia.
5. Hiking
There are countless hiking trails in Queensland, ranging from easy 10-minute strolls to challenging multi-day hikes. Below you can find some of my personal favorites:
Mossman Gorge Trail: This is a short 2-kilometer walk and while the walk itself is nice but not that special, the final destination is definitely worthwhile… Mossman Gorge is a beautiful freshwater swimming hole in the rainforest. There are no crocodiles but sometimes there are strong currents so pay close attention to the signs.
Lake Eacham Lake Barrine Circuit Tracks: Walk around these beautiful volcanic crater lakes. The loop around Lake Eacham is 3 kilometers and the hike around Lake Barrine is 5 kilometers. The lake views are stunning, especially on a sunny day!
The Inskip Peninsula and the Carlo Sandblow Circuit: While only a short walk (900 meters return), don't skip this hike at the rugged Inskip Peninsula. The 120-meter-tall Carlo Sandblow dune offers splendid ocean and coastal panoramic views. If you are looking for a more challenging hike, check out the 5-day Cooloola Great Walk.
Tabletop Mountain: While Tabletop Mountain is only 600 meters high, the view from the top is pretty spectacular! There is a 3.6-kilometer trail leading here and there are several steep sections with loose rocks so be sure to wear proper hiking boots.
RELATED: 5 of the Best Things To Do in Queensland, Australia.
Tips for Visiting Queensland:
Best Time to Visit
While you can certainly travel in Queensland year-round, December-February are the summer months. That being said, these are also the busiest (and hottest months). November and March are great months to plan a Queensland trip, the weather is generally very nice and crowds are fewer than during the summer.
Transportation and Accommodation
I highly recommend renting a campervan for your Queensland road trip. Not only will you have your own wheels to drive you everywhere you want to go, but you also have a little house on wheels. This will save you lots of money and enable you to travel Australia on a budget.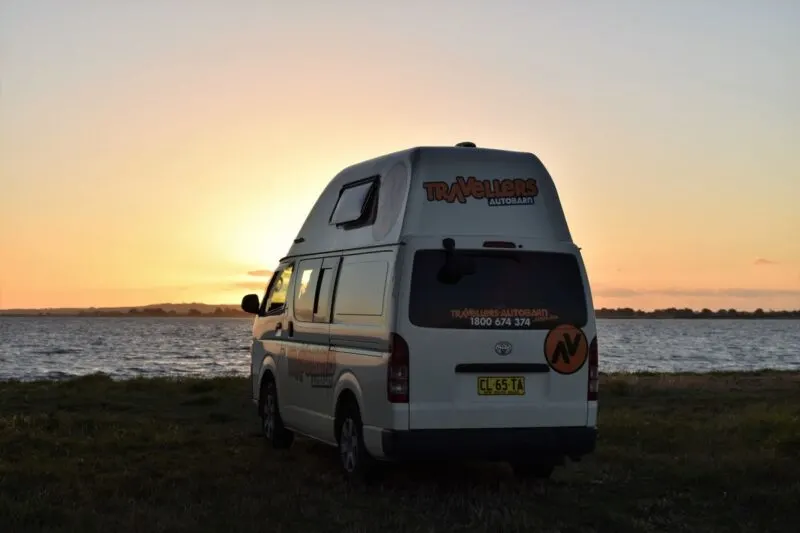 Instead of spending hundreds of Australian dollars on hotel rooms, you will pay a fraction of that for beautiful campsites next to the ocean. Some nights you won't have to pay at all as there are lots of freedom campsites in Australia as well. You can find campgrounds on the (free) Campermate app.
RELATED: How To Do a Campervan Relocation in Australia For $1.
Driving Tips
It's not hard to drive in Australia, but there are some things to take into account:
Drive on the left
Watch for wildlife
Don't underestimate the distances you need to cover
That being said, roads are generally in good condition and well signposted and it's an absolute pleasure exploring this beautiful continent by car or campervan.
I hope you have enjoyed reading about the best Queensland outdoor activities! A Queensland road trip is surely one of the best ways to explore Australia.
---
---
>>> BIO
Lotte is an avid traveler who loves road trips, hiking, camping, and scuba diving. She is a mom of two, enjoys cooking (and eating), can quote pretty much every scene from Friends, and loves to help people plan their trips.
Lotte writes about travel on Phenomenal Globe Travel Blog, about kids on Beste voor Kids, and about healthy cooking on Gezond Weekmenu.