This guide to things to do around Cairns is authored by Peta and Jonas.
Cairns is a city in tropical Far North Queensland and is considered to be the gateway to Australia's Great Barrier Reef. Enjoy all that tropical Cairns has to offer with adrenaline-pumping adventures, cultural experiences, wildlife encounters, and a huge range of shopping, dining and entertainment options.
If you have the time, why not head to the Atherton Tablelands, also known as the Cairns Highlands. With an altitude ranging between 600 to 1100 meters, this is the perfect area for those seeking a reprieve from the warmer weather of Cairns. The countryside of the Tablelands features lush green rolling hills, crisp clean air, and historical townships.
Queensland has so much to offer any traveler, but the list below of the variety of things to do in Cairns and its surrounding areas will convince you it is an absolute must to visit on your next trip to Australia.
Things To Do in Cairns, Australia
---
There are many things to do in Cairns and its surrounding areas, and it is the perfect place to explore the Great Barrier Reef and World Heritage-Listed rainforest with your base in a lively, modern city.
1. Crystal Cascades
About 17.5 kilometers/11 miles from Cairns, Crystal Cascades, part of Barron Gorge National Park, is a popular freshwater swimming hole surrounded by tropical rainforest. There are a number of small waterfalls that flow into larger swimming holes (all crocodile free), encircled by large granite boulders.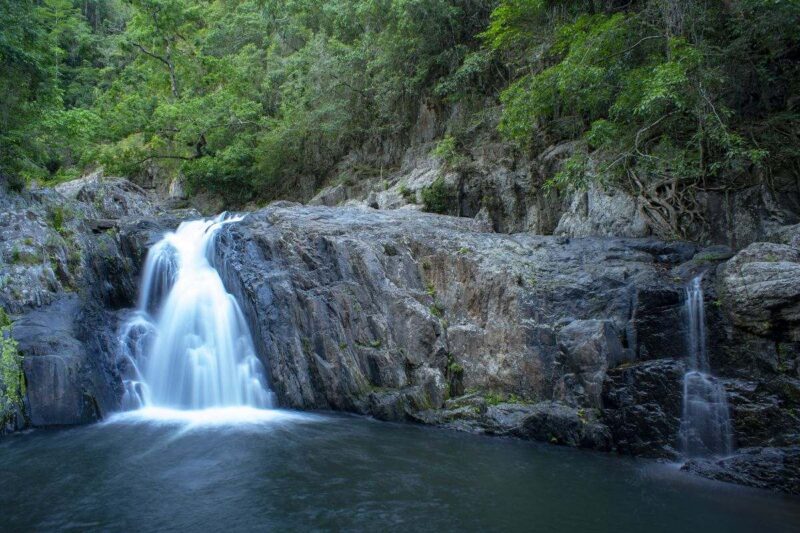 The area is accessed by a short and easy 1.2 kilometre/0.75 mile (30-minute) walk from the car park. Facilities include electric barbeques and picnic tables, with a toilet block close by.
There is no public transport to Crystal Cascades so you will need to drive or, alternatively, there are a number of half and full-day tours available offering canyoning, abseiling, and zip-lining.
RELATED: 5 of the Best Things To Do in Queensland, Australia.
2. Esplanade Lagoon
The Cairns Esplanade Lagoon is located right in the heart of the Cairns business district on the foreshore of Trinity Harbour. The 4800 sq meter/51600 sq ft salt-water swimming pool has crystal clear waters and sandy shores and is surrounded by timber decking and grassy hills.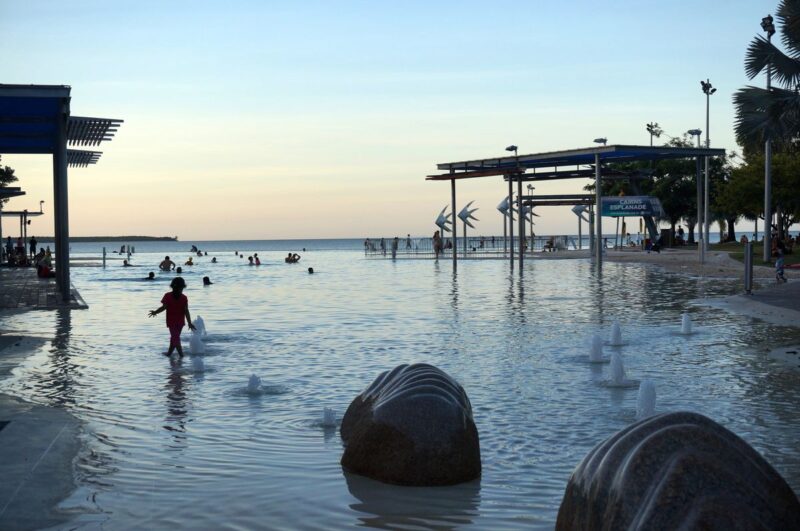 Cool down and take a swim in its inviting waters, and enjoy a picnic at one of the many tables located in the surrounding parklands under the huge Banyan Trees.
3. Reef Fishing / Game Fishing / Sport Fishing
Cairns is the closest major port city to the spectacular Great Barrier Reef. The corals on The Reef provide both shelter and food to the extensive range of fish living within this ecosystem. This abundance of life provides the perfect opportunity for the visiting fisherman to capture some truly impressive fish.
Reef Fishing: Experience the thrill of catching Coral Trout, Nannygai and Sweetlip Emperor.
Game Fishing: Tag the world's best bluewater fish, the Black Marlin.
Sports Fishing: Chase Giant Trevally's, Mahi, and Sailfish.
RELATED: A Legendary 7-Day Outback Road Trip Itinerary (Australia)
4. Smithfield Mountain Bike Park
North Queensland has an abundance of quality mountain biking parks and trails, but Smithfield Mountain Bike Park is the highest-profile rainforest trail system in the world. This park is the oldest in the country and has been a regular host for the UCI Mountain Bike World Cups and the World Mountain Bike and Trials Championships.
Located just 20 minutes drive north of Cairns Airport, this world-famous facility is a must for mountain biking enthusiasts of all abilities. Trails range from:
Green Trails (Easy)
Distance: 120 – 900 meters/400 – 3000 feet
Time: 1 – 15 minutes
Perfect for beginners, young riders or families who want to build their confidence and just have fun.
Gradients are gentle with smooth surfaces.
Some obstacles such as roots, logs and rocks.
Blue Trails (Intermediate)
Distance: 70 metres – 3 kilometres/230 ft – 1.8 miles
Time: 3 minutes – 1 hour
For more experienced riders.
Moderate gradients, variables surfaces, and obstacles.
Includes steep and slippery sections.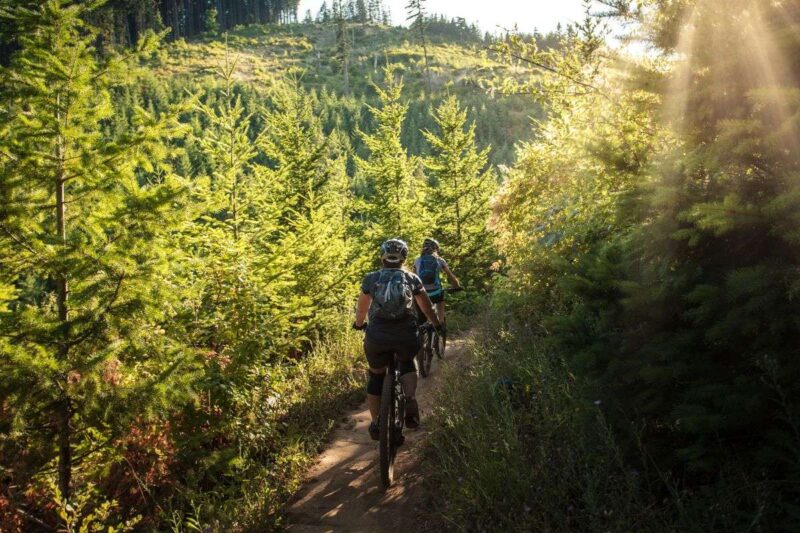 Black Trails (Difficult / Extreme)
Distance: 40 metres – 1.34 kilometres/ 130 ft – 0.83 miles
Time: 1 minute – 17 minutes
Only for very experienced riders and for those with advanced-level skills.
Large, unavoidable obstacles, long steep climbs or descents, and loose surfaces
For more information on each of the individual trails, check out this website.
5. The Great Barrier Reef
No visit to Cairns would be complete without a trip out on the World Heritage-listed Great Barrier Reef. This amazing site can be explored in a variety of different ways which include:
Snorkeling
Snorkeling is an easy, safe, and fun way to explore this underwater universe, with its colorful coral gardens and abundance of marine life. Expect to see giant clams, angelfish and clownfish sheltering within the tentacles of a sea anemone, and even some larger sea creatures such as turtles, sharks, and rays.
Diving
Scuba diving gives you the chance to submerge yourself below the surface and into an underwater wonderland of vibrant corals, complex reef systems and thousands of different varieties of marine life.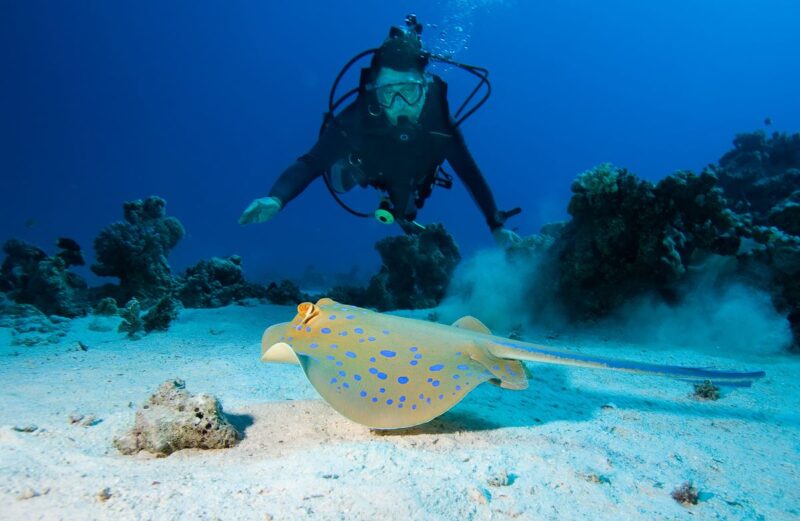 You may even be lucky enough to swim with turtles on the edge of the continental shelf, encounter a friendly two-meter-long Potato Cod at the Cod Hole off Lizard Island, or see a shark at North Horn at Osprey Reef in the Coral Sea.
RELATED: 5 of the Best Things To Do in Queensland, Australia.
Glass-Bottom Boats
Glass-bottom boat tours are a great way to witness the charms of this enchanting underwater world, often with an expert on board providing a detailed commentary of the sights you are seeing. Highly recommended for those that are less mobile or families with young children.
Helmet Diving
Helmet diving is a great way for non-divers to get a first-hand view of the reef. It's a little like scuba diving, but you're breathing normally the whole time as the helmet has a hose connected to the surface that provides a constant supply of oxygen.
Kayaking
Fitzroy Island and Dunk Island offer some great kayaking opportunities with a high probability of wildlife sightings such as dolphins arcing through the water or turtles coming up for air.
Sailing
One of the best ways to see the Great Barrier Reef is to book a sailing day tour or an overnight liveaboard tour which will enable you to see so much more marine life, as well as the opportunity to experience the most amazing sunrises and sunsets over the Great Barrier Reef.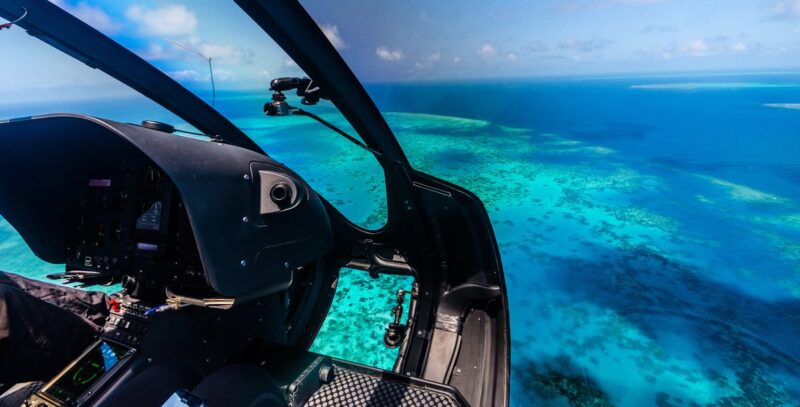 Scenic Flights
Take to the skies in a helicopter or fixed-wing aircraft, and you'll get a bird's-eye view of the scale of this incredible ecosystem, the only living organism visible from outer space.
6. Hartley's Crocodile Adventures
Located halfway between Cairns and Port Douglas, Hartley's Crocodile Adventures is the best place to see crocodiles and local wildlife in Tropical North Queensland. As well as being one of the longest continually operating wildlife parks in Australia, Hartley's is also a working crocodile farm, where saltwater crocodiles are bred and raised for their skins and meat.
During a visit, guests can participate in a wide range of tours and shows such as the Crocodile Farm Tour, Snake Show, and the Crocodile Attack Show. During the Cassowary and Koala Feeding times, caretakers will teach you about these unique creatures.
On the Wetlands Cruise through Hartley's Lagoon, you will have the opportunity to see the legendary Saltwater Crocodile in their natural habitat. For more information on ticket prices and the times of tours, check their website.
RELATED: 10 Cool Things To Do on the Gold Coast of Australia.
7. Kuranda
The mountain retreat of Kuranda is a 30-minute drive from Cairns via the Kuranda Range Road and is a popular day-trip destination for visitors to Cairns. Some of the most popular attractions in Kuranda include:
Kuranda Scenic Rail
The Kuranda Scenic Rail is one of the most unique and scenic rail journeys in Australia. Beginning in Cairns at sea level, the journey takes you past beautiful waterfalls, through spectacular rainforest and 15 handmade tunnels, and across 37 bridges.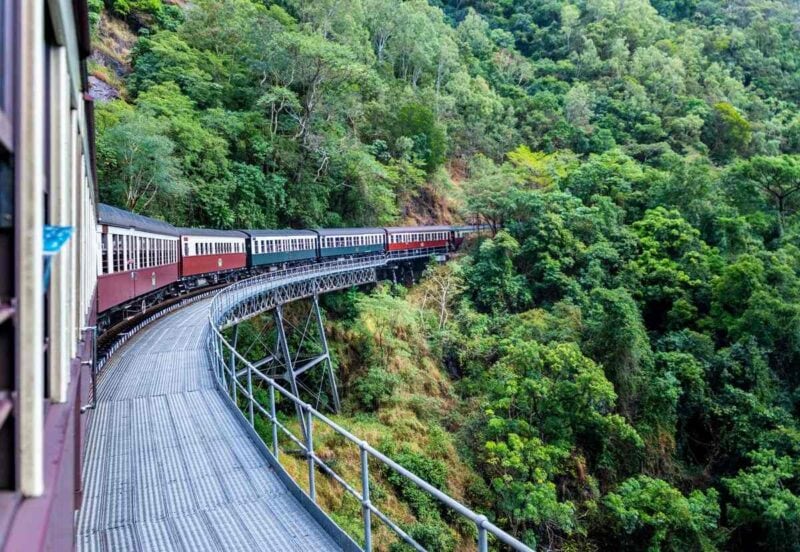 Your rail trip includes commentary in English providing detailed information about Far North Queensland's World Heritage-Listed rainforest which is amongst the oldest on earth and home to an incredible array of plants and animals.
You will also receive information on the history of the railway's construction, a map of the rail journey, and a map of your destination point, Kuranda.
Skyrail Rainforest Cableway
Located just 15 minutes north of Cairns, the Skyrail Rainforest Cableway will take you on a 90-minute adventure over the top of World Heritage-Listed rainforest.
Take the opportunity to witness this unique perspective of this ancient landscape while gliding mere meters above the canopy of the rainforest, before going down into the heart of the forest and having the chance to explore it up close.
N.B. A Skyrail Rainforest Cableway experience can be combined (return trip) with the historic Kuranda Scenic Railway to create the perfect full-day rainforest itinerary (book ticket here).
White Water Rafting on the Barron River
Barron Gorge National Park is only 20 minutes from the center of Cairns and is known for its rugged rainforest mountains, steep ravines, Barron Gorge, and the mighty 260 meter/850 ft waterfall, Barron Falls.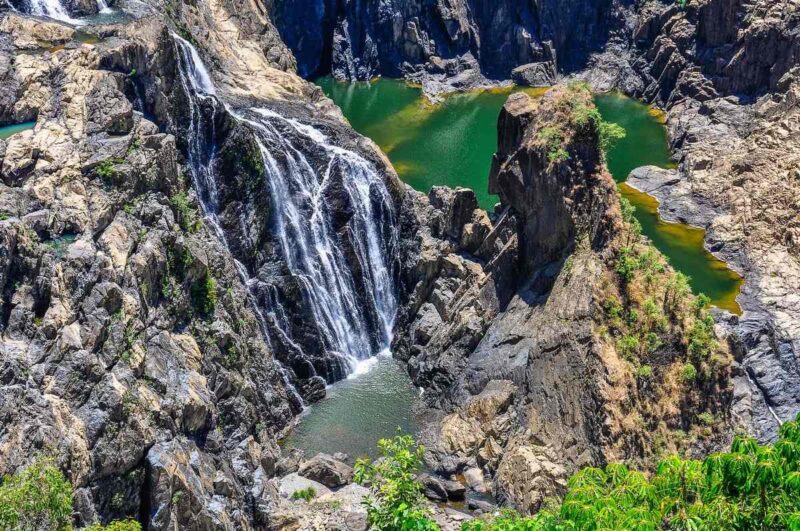 A half-day white water rafting tour on the Barron River is a fantastic introduction to White Water Rafting, best suited to beginners, families, or those a little short on time. This is a scenic rafting/rainforest adventure that combines calm water floating with a series of grade two to three white water rapids for adventure and action.
N.B. If you have a full day and are looking for a little more adventure, book a white water rafting tour on the Tully River.
Kuranda Heritage Markets
The Kuranda Heritage Markets are open daily from 9:30 am to 3:30 pm and showcase an enormous range of locally produced items. You will find handmade soaps and body products, souvenirs, local arts and crafts, jewelry, gemstones such as opals, homemade cakes, jams and sauces, and one-off items of clothing.
The market also features native wildlife attractions such as the Koala Gardens, Birdworld Kuranda, and the Australian Butterfly Sanctuary.
RELATED: 7 Day Sydney Itinerary – For Those That Want a Bit of Everything!
Day Trips From Cairns to Atherton Tablelands
If you have the time, the Atherton Tablelands is undeniably one of the most beautiful regions in Queensland. The northern area of Atherton Tablelands is only a one-hour drive from Cairns via the Kuranda Range Road, heading towards Mareeba along the Kennedy Highway.
With its vast number of waterfalls, amazing viewpoints, magnificent lakes, and lush tropical rainforest, a visit to the Atherton region is one of beauty and the opportunity for adventure and exploration.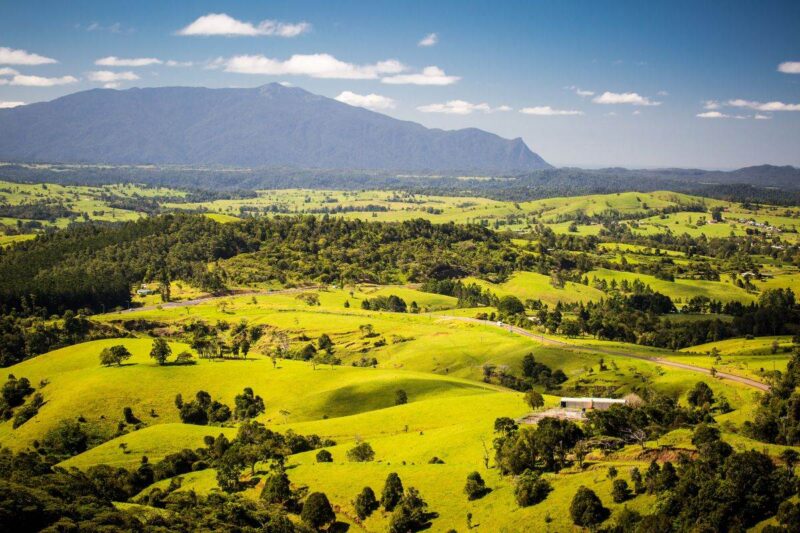 Each of the townships within the Tablelands have something unique to offer and experience:
Mareeba – waterfalls, coffee plantations, and wineries… what more could you ask for?
Atherton – the first town settled in the region and is known for its historic Chinatown, Lake Tinaroo, and Hasties Swamp Wetlands Reserve.
Herberton – historic mining town and the best display of Australian pioneering history at the Historic Village Herberton.
Yungaburra – the prettiest town in the Tablelands and offers the perfect opportunity to spot an elusive platypus.
Malanda – home to tea plantations, dairy farms, and Malanda Falls.
Millaa Millaa – follow the Millaa Millaa Waterfall Circuit through Wooroonooran National Park.
Paronella Park – mystical wonderland, complete with a Spanish-style castle, waterfalls, bridges, and tunnels.
Chillagoe – an outback town with a fascinating mining history and amazing underground cave system.
Far North Queensland is an amazing part of Australia and should be added to every traveler's bucket list!
You will be spoilt for choice with the many things to do in Cairns and the surrounding areas. Whether you choose to go diving on the Great Barrier Reef, white-water rafting down the Barron River, mountain biking in one of the world's best mountain biking parks, or searching for freshwater crocodiles in their natural habitat, there is something to suit every type of traveler.
Have you ever visited Cairns? What did you enjoy doing most in this area or the surrounding region of Atherton Tablelands? Leave a comment below.
---
>>> BIO
In 2017, Peta and Jonas from Exit45 Travels sold nearly everything they owned, took an adult gap year, and began traveling the world. Today, they are still travelling fulltime. Their blog aims to inspire and inform with stories about international travel destinations, travel and saving tips, early retirement, and how you can do it too!