It's no secret that one of the best things to do in the Algarve is beach bum. It's hard to find a bad beach here (if that's even a thing), though the sheer abundance of coastline can make picking a sunny spot challenging.
Enter Albufeira—one of the most popular destinations in the Algarve and home to some of the most spectacular stretches of sand in the region. But even when you narrow your beach options in Albufeira, there are still tons of choices.
Whether you want to shred some waves, soak up the sun, hike, or have access to fun beach bars, your prospects are plentiful.
Below you'll find an epic roundup of the best beaches in Albufeira, so get those bathing suits ready!
Beaches in Albufeira
---
1. Praia Albufeira + Praia do Túnel (The Most Popular Albufeira Beach!)
Both Praia Albufeira and Praia do Túnel sit in the center of town. Though technically two separate beaches, it's really more like one long sandy stretch. Because of its convenient location, this Praia Albuferia is quite touristy.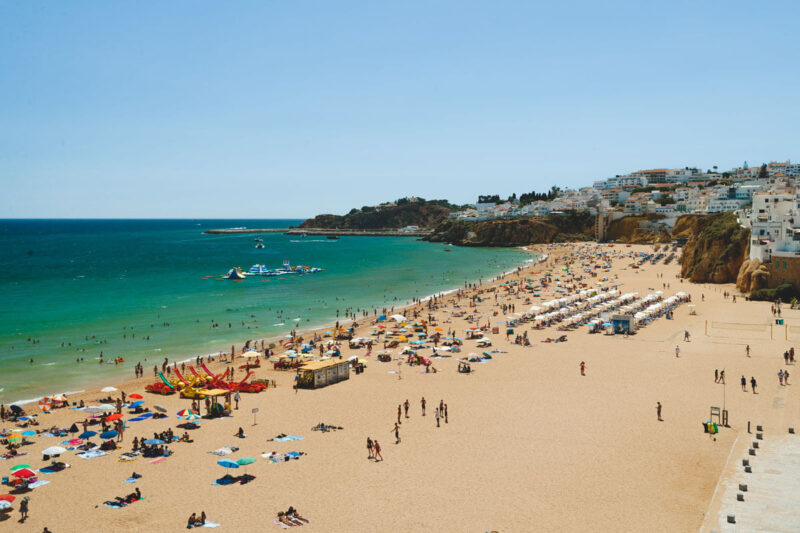 This can be both good and bad, depending on what you're looking for in your beach day. There is plenty of space to lay your towel down and work on your tan, and there are also sunbeds and umbrellas for rent.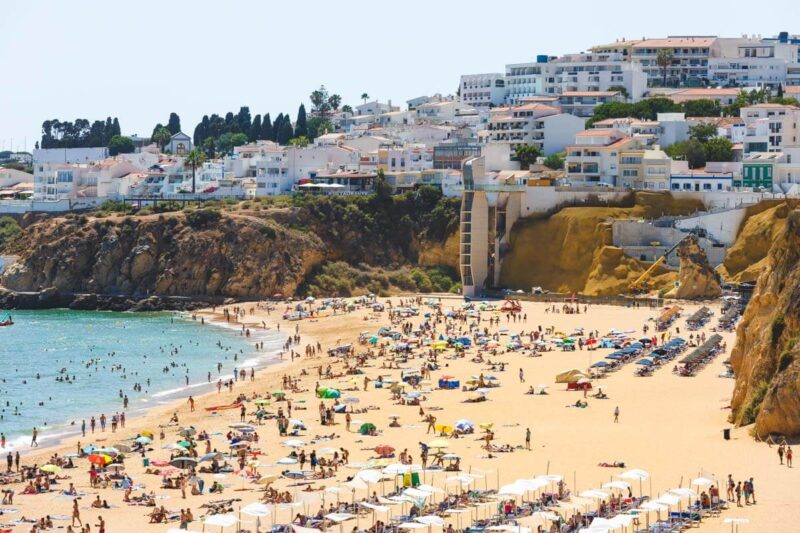 No one would fault you for doing nothing more than hardcore beach bumming here. However, if you do get bored, you can explore the gorgeous Old Town or head up to the Old Town via Elevador do Peneco on Praia do Túnel. The scenic lookout at the top of the elevator is especially stunning around sundown!
2. Praia da Galé
For a bit of local flair, head to Praia da Galé. This golden stretch of sand doesn't see the same crowds as some other beaches in Albufeira, but that doesn't mean you won't find plenty to keep you entertained!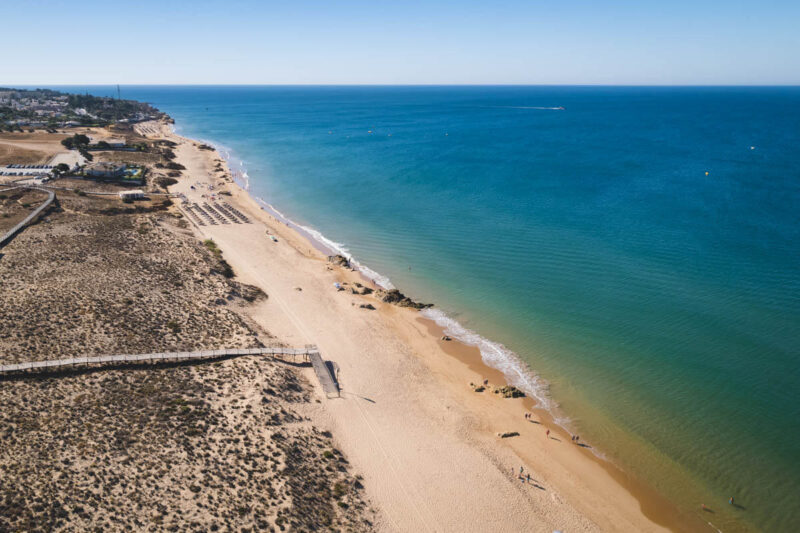 The west end of Praia da Galé features shallow waters and soft sand – perfect for all the classic beach day activities like swimming and sand castle building.
This is also a popular spot for watersports like surfing and jet skiing. If you prefer relaxing, there are a few beach bars and restaurants with sunbeds and umbrellas for rent.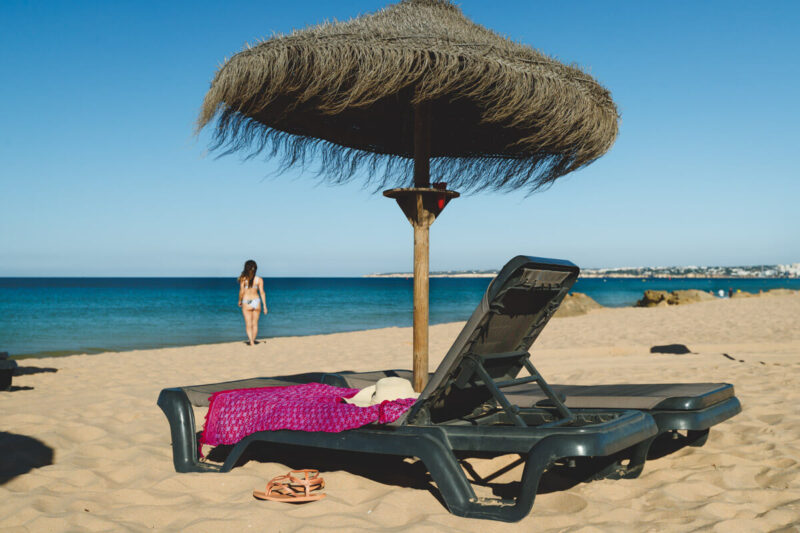 On the east end of the beach, you'll find stunning rock formations, environmentally protected sand dunes with boardwalks, and even a few caves to explore.
3. Praia da Falésia
If you've spent any time at all Googling the 'best beaches in the Algarve,' you're likely familiar with Praia da Falésia. This famous beach is renowned for its breathtaking views, especially around sunset when the surrounding cliffs light up in a fiery hue.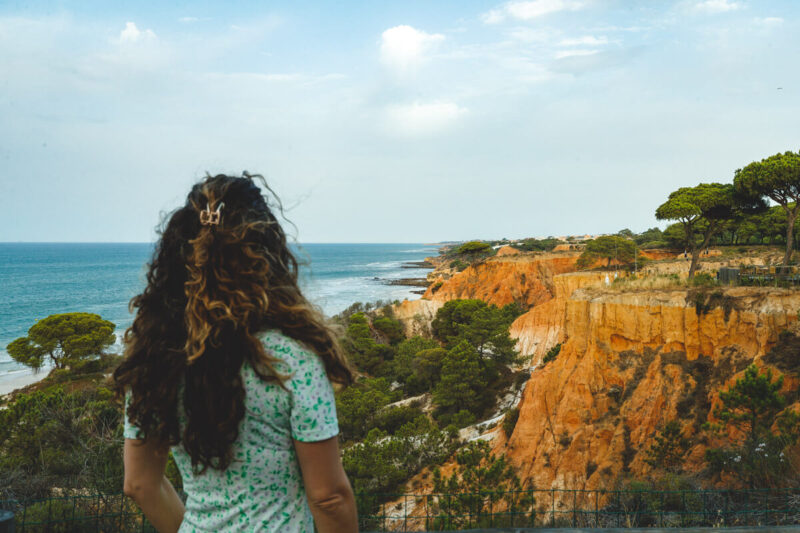 In addition to the stunning scenery, Praia da Falésia is also an excellent place for sunbathing, beachcombing, and clamming at low tide. If you want to turn the action up a bit, some adrenaline-inducing activities are available here, including diving, surfing, and paragliding.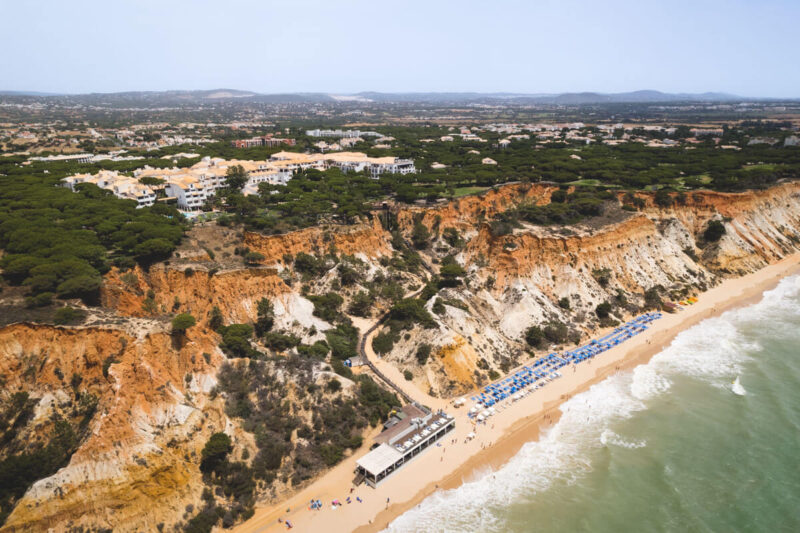 This beach does get quite busy in the summer, but with more than 6 km (3.7 miles) of coastal real estate, there's plenty of breathing room at Praia da Falésia.
4. Praia da Oura
Praia da Oura has made a name for itself amongst younger beachgoers thanks to its prime location near Albufeira's lively Strip. But this spot has a little something for everyone. The calm, clear waters are great for swimming, and watersports like jetskiing and diving are also popular pastimes here.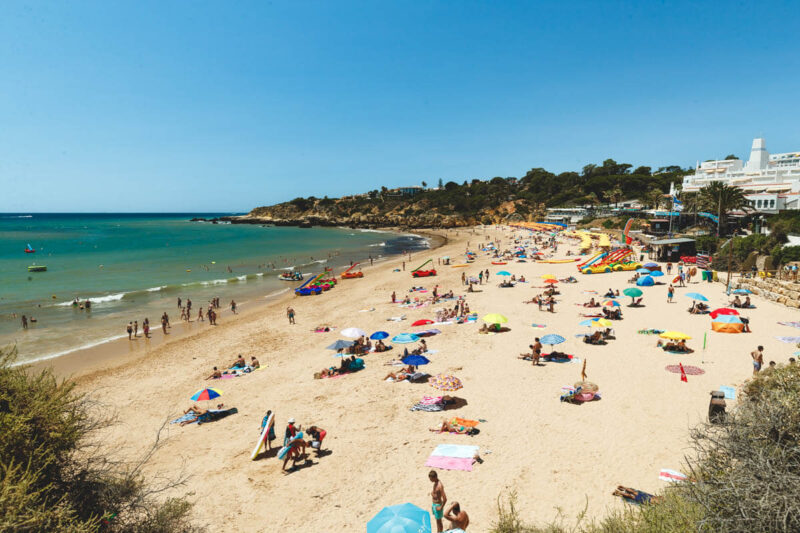 Once it's time to get the party started, head to the nearby Strip and check out the array of upbeat bars, restaurants, and clubs.
5. Praia da Coelha (One of my Personal Fav Beaches in Albufeira!)
A few kilometers west of Albufeira proper, Praia da Coelha isn't a huge tourist attraction. It is, however, one of the local's favorite beaches in Albufeira. Unlike some of the more famous beaches in town, Praia da Coelha never gets overly crowded, even on busy summer weekends.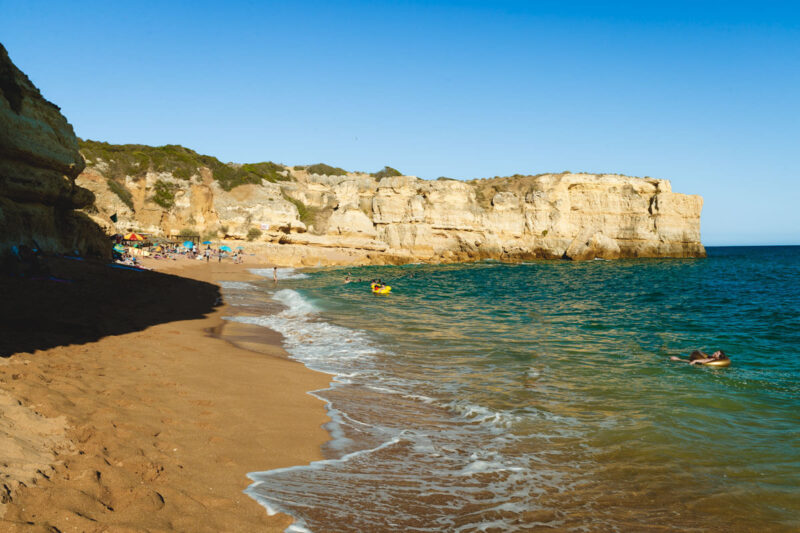 In addition to bumming, Praia da Coelha offers excellent conditions for swimming, shell collecting, SUP, and snorkeling. There are even some clandestine coves hidden in the cliffs surrounding the beach.
If you're still at the beach around sundown, make your way to the top of the cliffs for a colorful sunset across the ocean.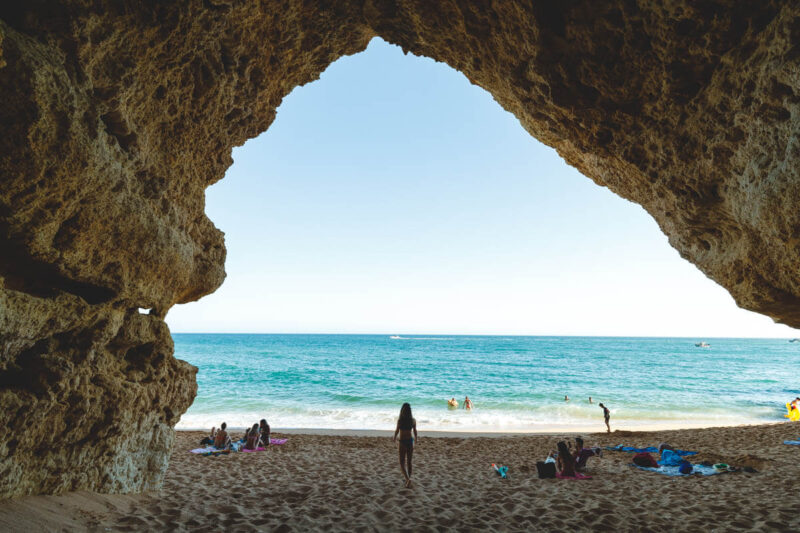 Something to note about this beach is that during high tide the beach is a bit narrow, so keep this in mind if you get a sweet spot near the ocean! You may have to move your spot back closer to the rocks soon.
There's also a gorgeous cave, but it's not very deep. Perfect for lounging at the beach but not in the direct sun.
6. Praia do Castelo
Another good spot for dodging big hoards of tourists is Praia do Castelo. This small sliver of sand sits about 6 km (3.7 miles) west of Albufeira and is rimmed by tall ochre-colored cliffs.
Although a bit far from town, there are decent facilities here, including a small beach restaurant, sun loungers, and umbrellas.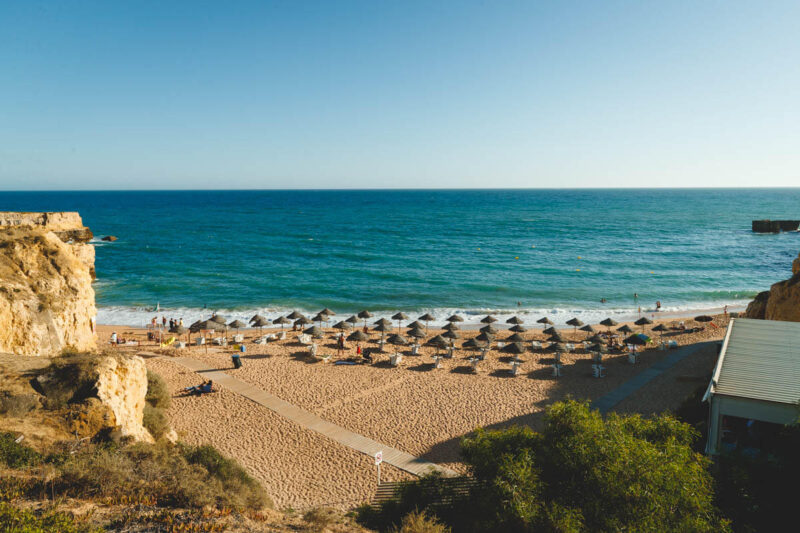 Lifeguards are posted all summer if you feel like taking a dip in the serene waters. Alternatively, the crystal clear water and lack of large crowds make Praia do Castelo one of the best beaches in Albufeira for snorkeling.
If the seas are playing nice, take a stroll down the beach to the kayak rental hut and go for a nice paddle out on the water to check out the cool rock formations a bit closer. Alternatively, take a guided kayak tour to discover some hidden caves and beaches.
7. Praia da Ponta Grande
Praia da Ponta Grande is a true hidden gem. This thin outcrop of sand is backed by towering sandstone cliffs, which is part of the reason its shores are usually deserted.
Those who want to bask in the beauty of Ponta Grande will need to put in some effort. You'll either need to scale down the jagged cliffs with nothing but a rope to support you or access the sandy shores via boat.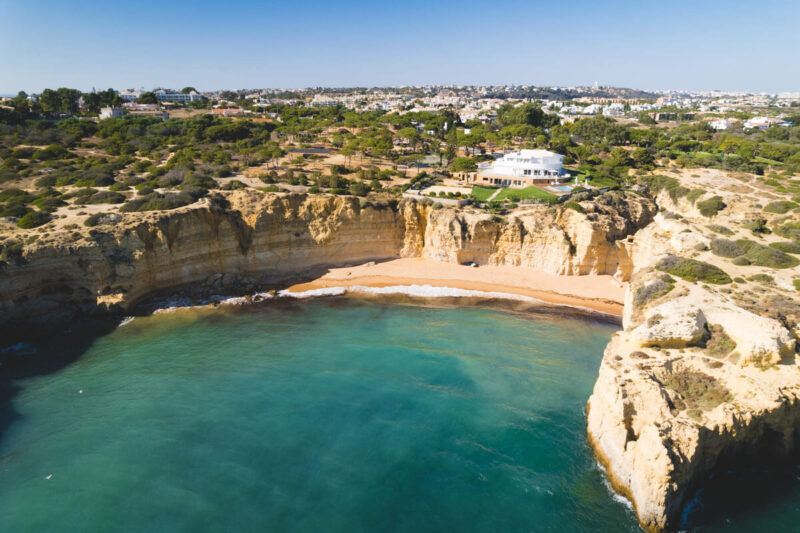 Those who journey here will be rewarded with pool-like waters, enchanting scenery, and absolute solitude. For obvious reasons, there's not much in the way of facilities here, so be sure to pack all your gear with you.
If this sounds like a bit too much work to get to, then the next two, Praia de São Rafael and Praia dos Arrifes can a better option for you! These three are all very close by.
RELATED: 11 Adventurous Algarve Tours Worth Taking (Portugal)
8. Praia de São Rafael
Tucked away just outside the city center (about 2 km/1.2 miles), Praia de São Rafael is far enough away to avoid large swaths of tourists yet close enough to be easily accessible. Situated in a protected bay, the views and the calm waters are big draws to this stunning beach.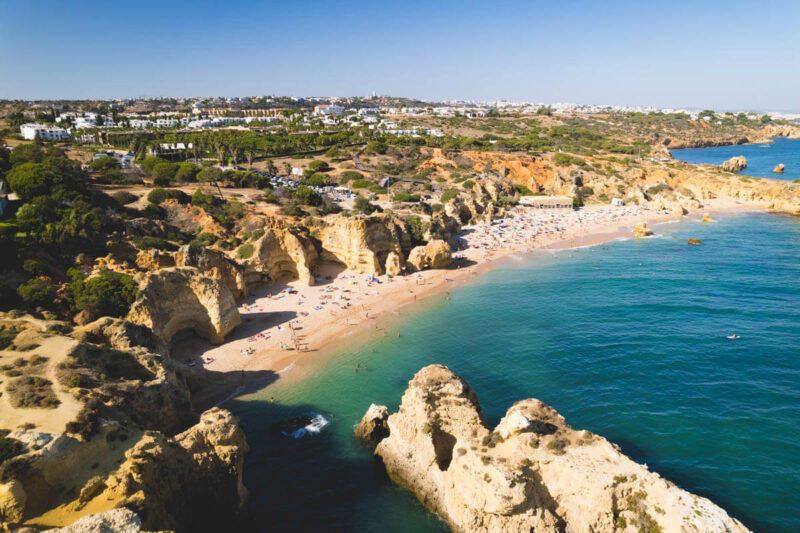 The cliffs and rock formations surrounding the beach give it that quintessential Algarvian feel. In addition to the gorgeous scenery, there are tons of fun activities to keep you entertained for hours on end.
The calm waters and rocky shoreline make Praia de São Rafael an excellent spot for snorkeling, and above ground, there are some small caves and caverns to explore.
There are also a variety of paddleboarding and kayaking tours that leave from here to explore the surrounding coastline. Of course, simply chilling on the beach is never a bad option!
9. Praia dos Arrifes
At just 75 meters (250 feet) long, Praia dos Arrifes is the smallest beach in Albufeira. But don't count it out just yet! This tiny swatch of sand has some of the best scenery in all of the Algarve, with mangled sea stacks jutting out directly in front of the sand.
The underground area surrounding the sea stacks is teeming with wildlife, so don't forget to pack a snorkel! When the tide is out, beachcombing and cave exploration are favored activities.
Once the tide comes back in, the beach becomes even smaller and can feel quite crowded. Keep this in mind on busy summer weekends when there are sure to be crowds.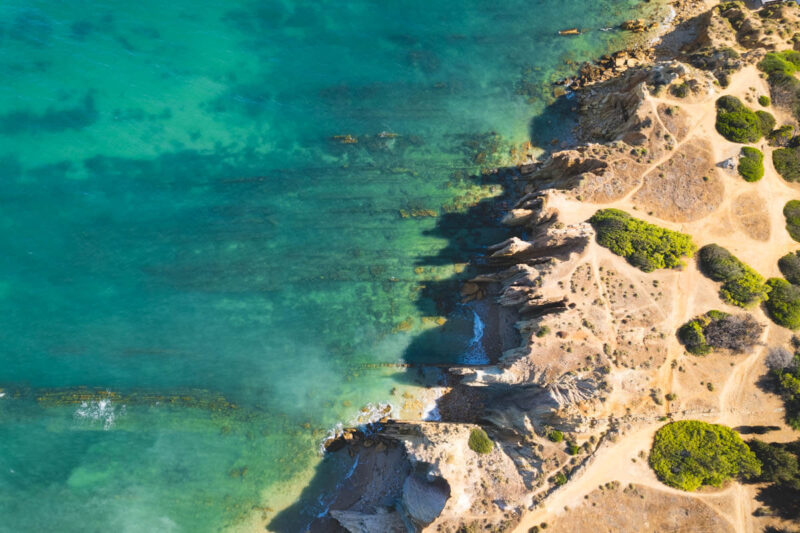 As I mentioned above, this beach, as well as Praia de São Rafael and Praia da Ponta Grande, are all close together. Arrifes is the "first in line" so as you walk down towards the others, the crowds usually thin out.
There's a series of dirt trails along the cliff sides you can use to walk between all these beaches. Even if you're not in the mood to sunbathe, just strolling above the water on the cliffs is gorgeous!
10. Praia de Santa Eulália
There's something enchanting about Praia de Santa Eulália that sets it apart from the other beaches in Albufeira. It may be the lush vegetation behind the sand, the calm azure waters, or maybe just the serene ambiance. Whatever it is, Praia de Santa Eulália is worth checking out!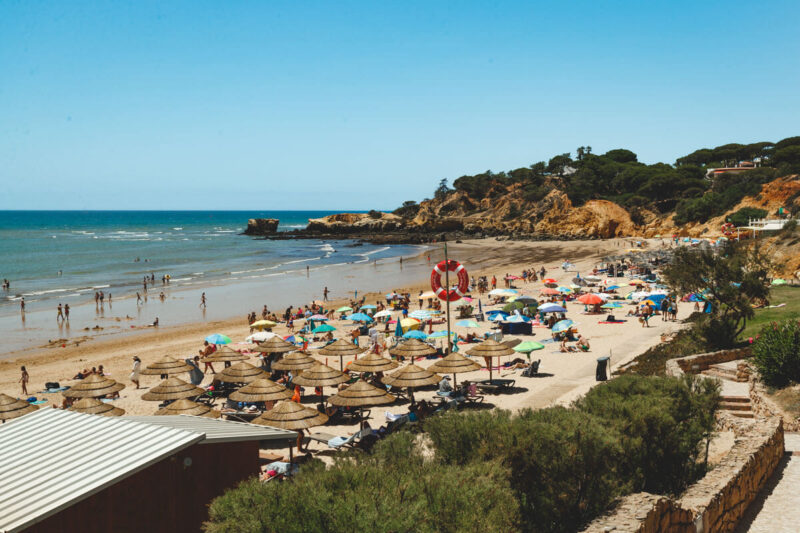 This upscale area sits about 4 km (2.5 miles) east of Albufeira but has all the facilities of a centrally located beach. There are public toilets and showers, and lifeguards patrol the coastline during summer.
You can rent sun loungers, umbrellas, and pedalos or simply park yourself at one of the upmarket beach bars, cafes, or restaurants.
Where to Stay in Albufeira
Salgados Dunas Suites
If you want to do the Albufeira region in style, you can't do much better than Salgados Dunas Suites. With no less than six swimming pools, restaurants, a rooftop bar and tennis courts, you'll have no shortage of ways to enjoy yourself.
Pine Cliffs Resort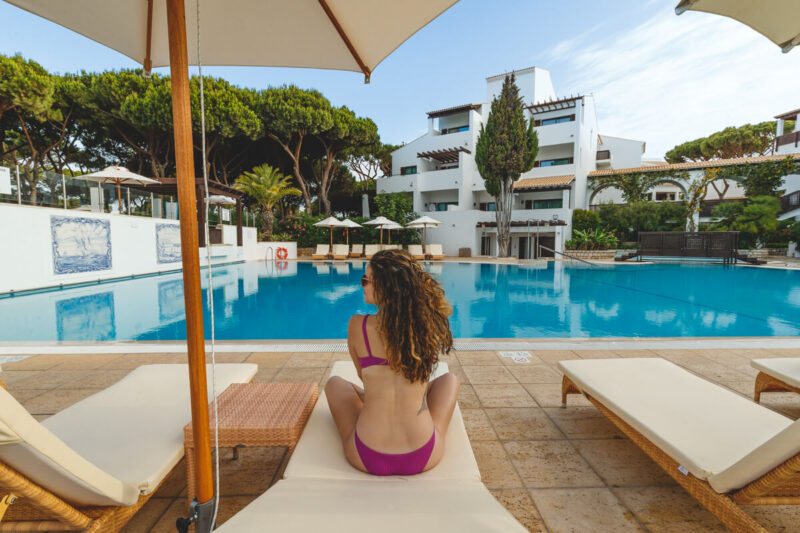 The clifftop location of this luxury resort offers some of the best views in Albufeira. When you're not kicking back on your private balcony, you can enjoy the tennis court, golf course, or nearby Praia da Falésia.
Windmill Hill – Alto do Moinho
Couples and families can stretch out in these generous one- or two-bedroom apartments. You'll have everything you need for a comfortable stay, including a full kitchen, washing machine and swimming pool.
Son of a Beach Hostel
For a stay with a social element, check out this fun hostel in Albufeira's Old Town. You're sure to make new friends at the hostel's bar, terrace or one of their organised tours.
Alisios Hotel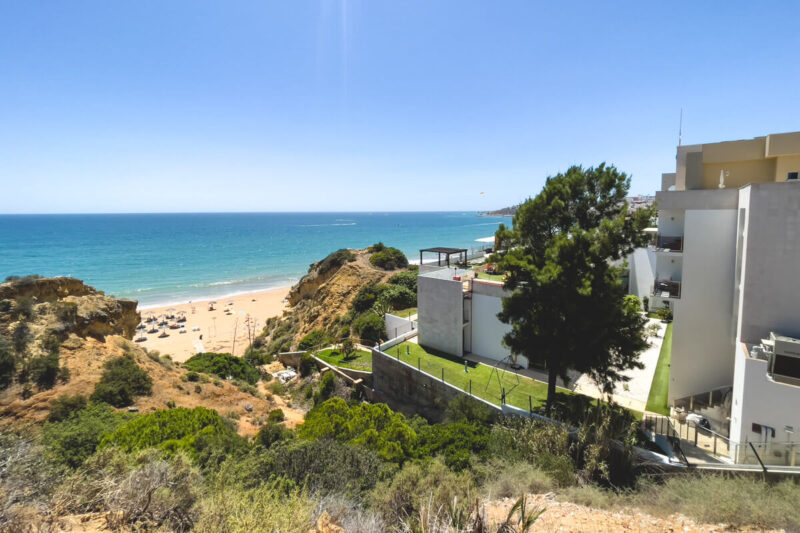 Just steps from the blue flag Alemães Beach, this hotel offers private balconies in all rooms and an outdoor dining area for enjoying the view. The heated indoor pool makes it a great choice for any time of year.
Alfagar Cerro Malpique
At this three-star hotel, you can enjoy views out over the ocean from one of the many swimming pools or the garden terrace. Each apartment is equipped with a full kitchen, balcony and satellite TV, providing everything you need for a comfortable stay.
Hotel Baltum
With location right in the center of Albufeira, this hotel makes a perfect base for exploring the area. It has both rooms and apartments decked out in a modern style, and there's a rooftop bar with panoramic views.
Grand Muthu Oura View Beach Club
This impressive hotel is perfect for water babies, with direct beach access, an indoor pool, outdoor pool and jacuzzi. Choose from a range of rooms from standard doubles up to two-bedroom apartments.
Vila Gale Cerro Alagoa
This four-star hotel offers a little bit of luxury in the heart of Albufeira. You'll be a short walk from Praia dos Pescadores, or you can kick back in one of two outdoor pools, a heated indoor pool or the hotel's sauna.
RELATED: Where to Stay in The Algarve + Which Algarve Town is For You
What to Pack for Albufeira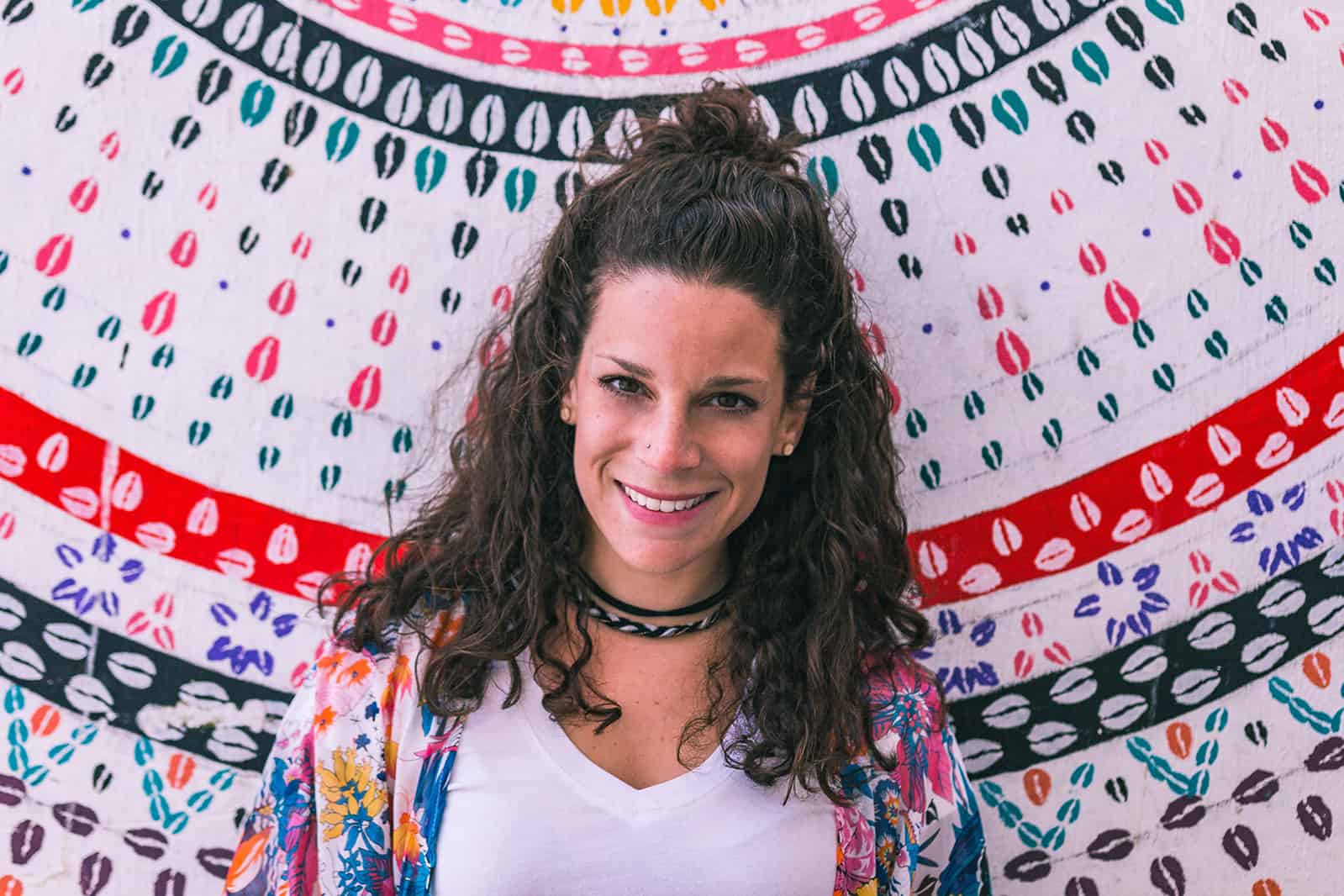 Nina Ragusa is an adventurer, messy bun master, breakfast fan, and full-time travel blogger. She's been abroad since 2011 and blogging on Where in the World is Nina? for nearly as long. Nina helps people like you move around the world while making money. She loves talking about how to work abroad and online to travel longer!