The Algarve region of southern Portugal is bursting with stunning scenery and ample opportunities for adventure. But perhaps the best combination of the two is the famous Benagil Cave.
You've likely seen this natural sea cave splattered across social media—it is incredibly photogenic, with its large entrances opening up to the sea and a hole in its ceiling that casts the cave in a beautiful light. In fact, this is one of the most photographed landmarks in all of Portugal!
Benagil Cave is one of the few places in the world that stacks up to its Instagram profile, and it deserves a spot on every Algarve bucket list. However, there are a few things you need to know before you visit. Read on to discover the best time to visit, the top Benagil Cave tours, and more.
Planning Your Portugal Trip NOW?
Here is the quick low down for kayaking at Benagil:
🗺️ Top Tours and Rentals:
Take a boat tour from one of these towns in the Algarve:
🚘 Looking for a way to get around?
See current car rental deals here.
🛟 Safety
Travel insurance is a must, and it doesn't have to cost much—Here's what I use.
What is Benagil Cave?
Benagil Cave sits between Faro and Cabo de São Vicente along Portugal's southern coast. This iconic structure was formed by years of erosion, and the battering of waves opened up the windows to the sea and sky.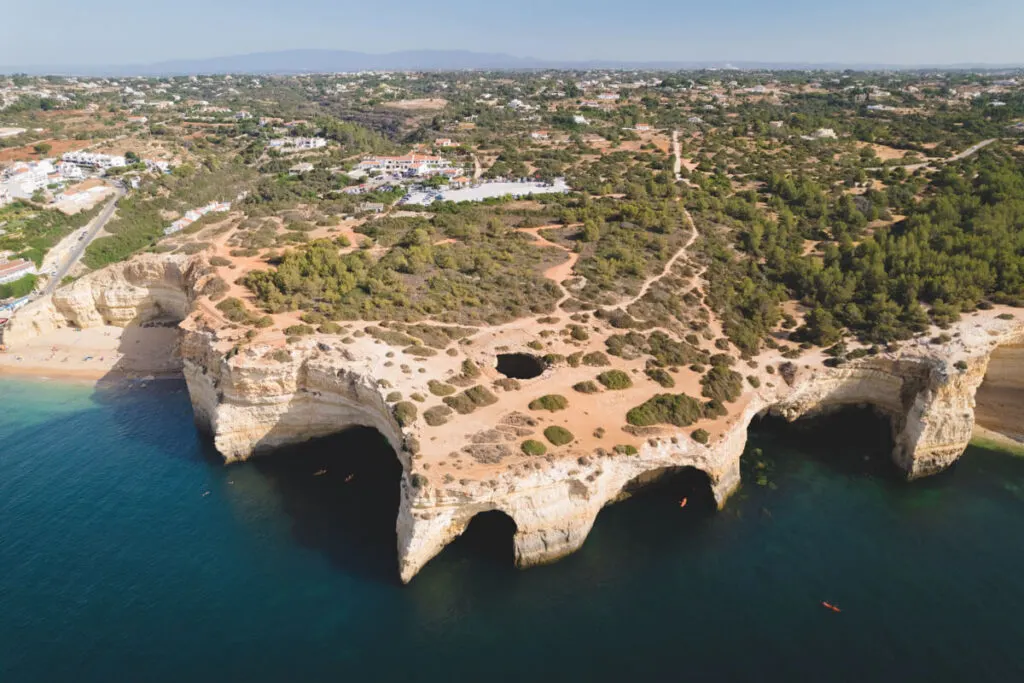 The sandstone interior shows off lovely shades of amber and gold in beautiful contrast to the bright blue ocean beyond and the sky above. Its size and overall grandeur have earned the cave the nickname 'Benagil Cathedral,' and there is something undeniably divine about this natural formation.
Although it sits just 200 meters from Benagil Beach, the only way to access the cave is by sea. The best and easiest way to get there is with a Benagil Cave tour, available from the nearby Benagil Beach and other locations around the Algarve.
Best Time to Visit Benagil Cave
You can visit Benagil Cave year-round, but some seasons are better for cave exploration than others.
Summer is the busiest time of year by far. Warm temperatures draw tourists in droves, and if you're here during this chaotic time, make sure to book an early Benagil Cave tour.
The earliest tours begin around 7 am, so make sure to book ahead and snag a spot on the earliest tour. More space with fewer crowds – BOOK THE MORNING TOUR.
You could also plan your trip to the Algarve for a shoulder season to avoid the crowds altogether. Spring and fall are lovely times to visit, and Benagil Cave tours run all year.
Always check the tides, particularly if you're not taking a tour, so you're prepared, and do note the weather can make the water angry! You don't want to go if there's a lot of chop in the water, it won't make for a good or safe trip.
RELATED: A Perfect 3-7 Day Algarve Itinerary: Hike, Surf + Beach Bum! (Portugal)
The Best SUP & Kayaking Benagil Cave Tours
Because Benagil Cave is one of Portugal's top attractions, there are hundreds of different tours. Choosing your tour and booking in advance is a good idea no matter which season you visit, but it's essential if you want to see the cave in the peak summer season.
There are a few different tour options, including SUP, boat, and kayaking Benagil Cave tours. Here are the BEST ways to see Benagil Cave.
Rent a Kayak to Benagil Cave
If you prefer to explore on your own, you can forget the tours and just rent your kayak. You'll get two hours to explore Benagil Cave and the surrounding caves, beaches, and marine life.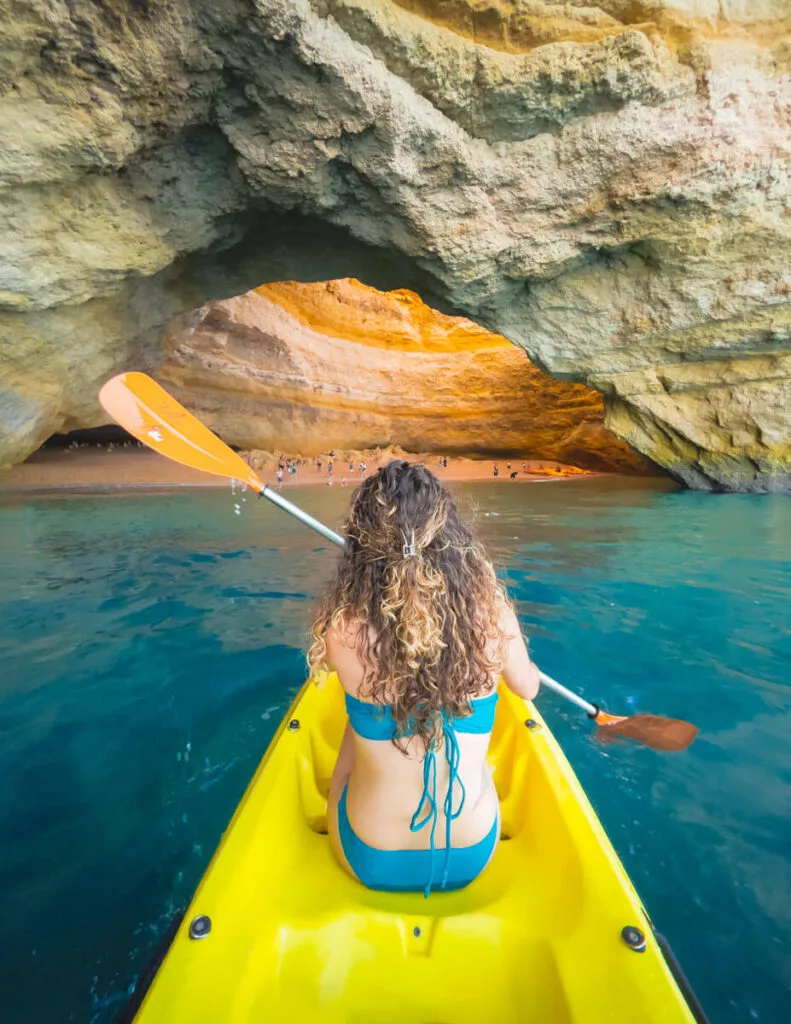 Going in alone will require you to pay attention to tide times and navigate the open water solo, but it also gives you the freedom to explore at your own pace. I kayaked to Benagil Cave and I LOVED it.
This is the exact kayak rental I did as well. It was so easy and gave us ultimate freedom.
Remember, you still need to reserve your kayak online if you want to snag a kayak rental for the morning. Don't rock up without a reservation, they might not have a kayak available for you!
PS: They will also direct you to other amazing caves to explore once you're there at the beach with your kayak!
Sunset or Sunrise Benagil Cave Kayak Tour
By now, we know that booking an early Benagil Cave tour will gain you a sense of solitude that is often hard to find at this popular spot. A sunrise kayak tour will help you avoid the crowds, and it's also just a surreal time to see the cave. Sunset tours are less crowded if you're not a morning person.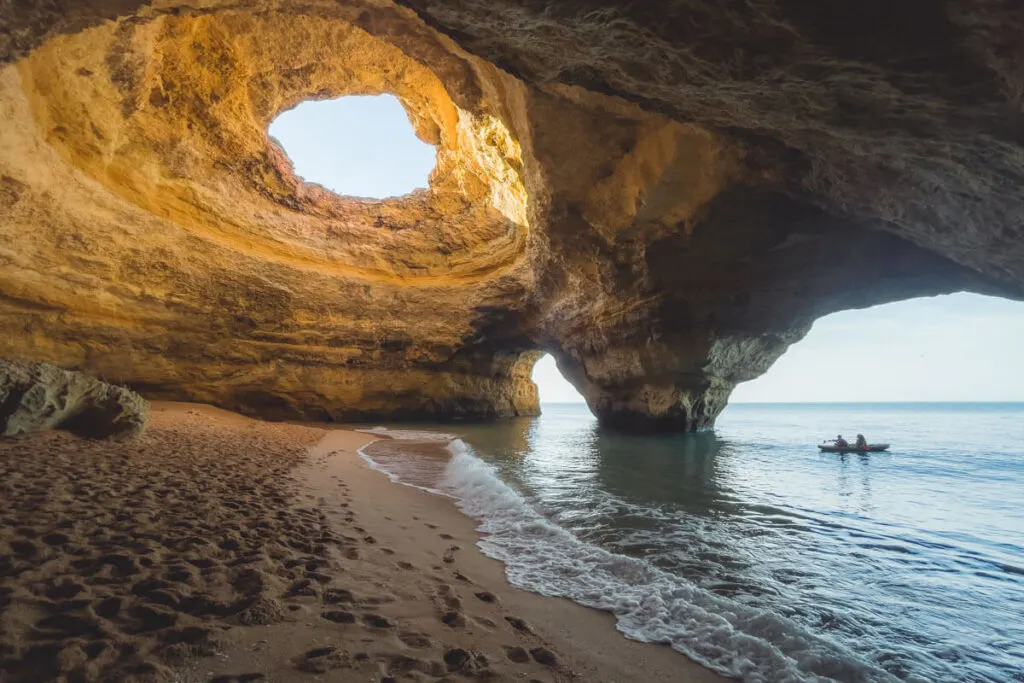 SUP Tour to Benagil Cave
You could also hop on a stand-up paddle board and make your way to the cave. A SUP tour of Benagil Cave will give you great views of the jagged cliffs and clandestine beaches that comprise this part of the coast, and it's also a darn good workout!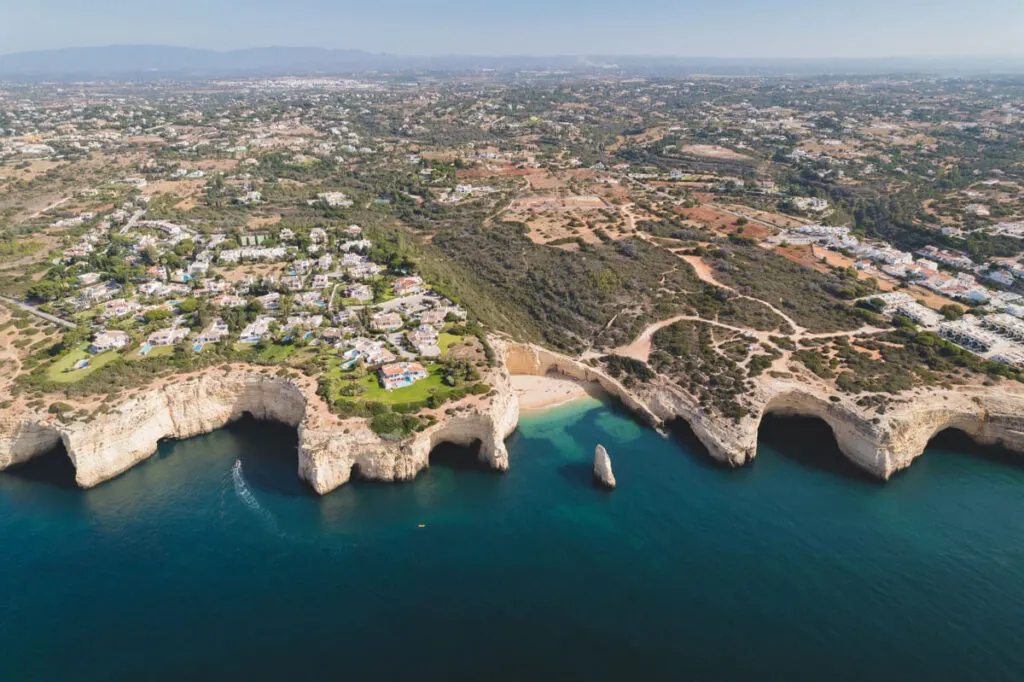 If you're not keen on taking to the seas solo but want to tone your arms and actually get INTO the cave, then this is the best choice for you. Your guide will take you to other equally gorgeous caves on this trip too!
RELATED: 11 Adventurous Algarve Tours Worth Taking (Portugal)
Tours to Benagil Cave From Other Areas of The Algarve
While most Benagil Cave tours depart from Benagil Beach, you can reach the cave from almost anywhere in the Algarve, including:
Notice some of these options are boat tours! This is great for those who don't want to take to the seas by themselves or need manpower to get anywhere. This is a solid choice for families as well, so everyone can come along without needing to rent multiple kayaks.
I hope this helped you plan your trip to Benagil Cave!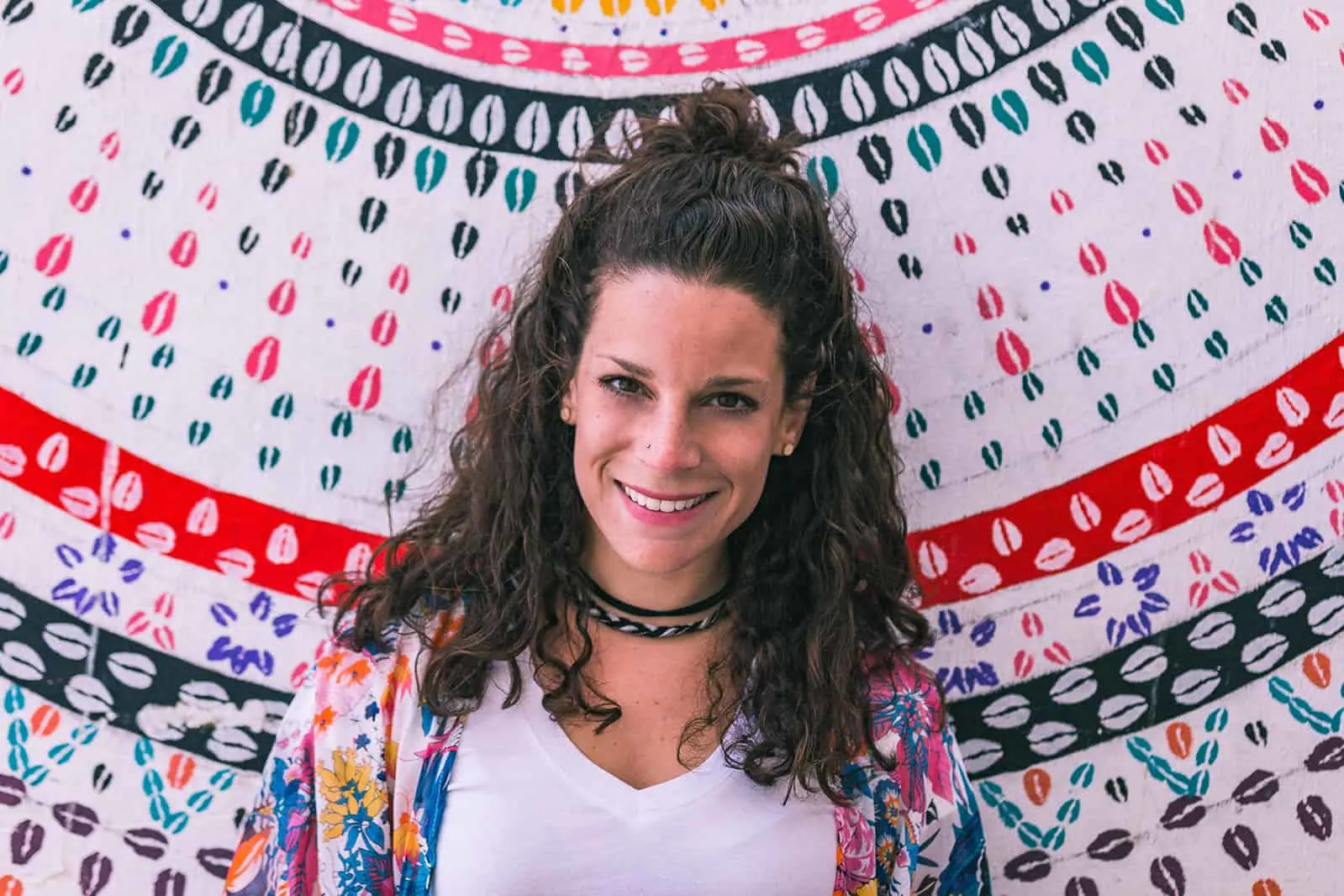 Nina Ragusa is an adventurer, messy bun master, breakfast fan, and full-time travel blogger. She's been abroad since 2011 and blogging on Where in the World is Nina? for nearly as long. Nina helps people like you move around the world while making money. She loves talking about how to work abroad and online to travel longer!