Dusty deserts, alien landscapes, insane lakes, gorgeous gorges, and rock formations litter Nevada. The state has A LOT more going on beyond Las Vegas. Once you're done hitting up the slot machines and seeing some cool shows, you've got to hit the road and experience the other side of the state.
A Nevada road trip is the only way to experience some of the most mesmerizing and bizarre-looking places you've seen in your life, so fill up your tank and grab those hiking boots!
But before you head off, I have a few more posts that will be crazy helpful for your road trip, be sure to check them out:
Don't lose this! Click to pin it now.
Nevada Road Trip
---
Below you'll find some of the coolest and most adventurous places to visit in Nevada. You can do a few highlights in a week, but to see it all, you'll likely need nearly a month!
It's no secret the USA is massive, and to drive and enjoy even just one of the states can take quite a while. Always add on more time than you think, take your time, and perhaps try to focus on one region of the state if you don't have a lot of time.
You don't want to spend half of your visit driving across the state!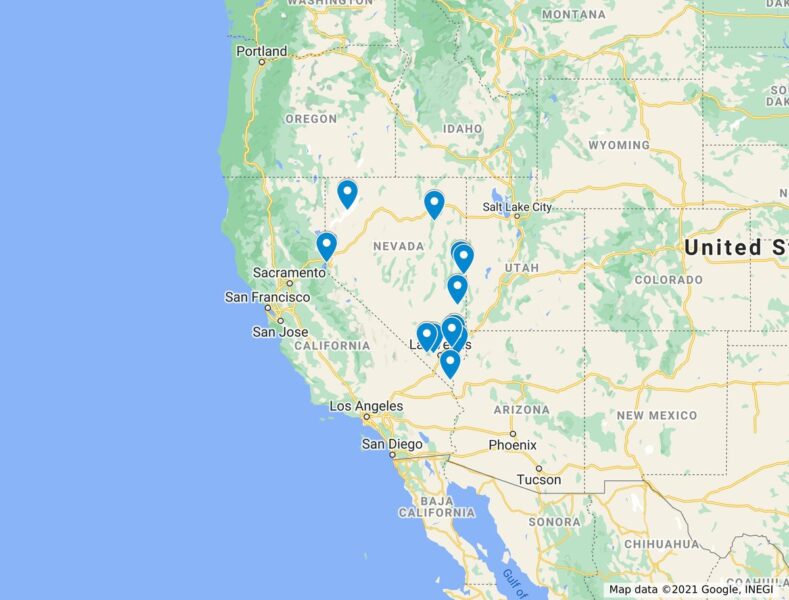 Cathedral Gorge State Park
Located right on the eastern border of the state is one of the coolest state parks you'll find in Nevada – Cathedral Gorge State Park. It has an almost Bryce Canyon vibe about it, but on a smaller scale and without the crowds.
The state park got its name from the vast, cathedral-like spires of rock that reach towards the sky, and this, coupled with the deep cliffs of the canyon in varying shades of red, makes for some impressive viewing.
These rock formations have been created due to millions of years of geological activity. The slot canyons found here are some of the only slot canyons in Nevada, and are undoubtedly the main event, making it a must-see on your Nevada road trip.
Camping
There is a campground directly in Cathedral Gorge State Park. It has 22 sites, and each site comes with a table, shade ramada, and a grill, so you really can have a comfortable and peaceful night under the stars.
It is located right next to the footbridge that was constructed by the Civilian Conservation Corps and has plenty of amenities, including a dump station and outdoor amphitheater.
Hiking
Cathedral Gorge Trail: (3.3 miles – easy) – This loop trail takes in some wonderful rock formations and incredible views to match. The easy walk takes you past most of the park's highlights, so it is the perfect hike to do if you only have enough time for one.
Miller Point Trail: (0.25 miles – easy) – It is just a short walk to the incredible Miller Point Overlook, one of the most impressive views in the park. The trail starts from the split of the Juniper Draw Loop. You will enter a narrow slot canyon lined on both sides by sheer spired cliff faces.
Juniper Draw Loop: (4 miles – moderate) – This trail allows you to explore some of the other 'cathedrals' that you don't see on the Cathedral Gorge Trail. This trail mostly follows the wash with lots of opportunities to stop and explore the cathedrals. Although short, some scrambling is required before you reach the steel staircase that climbs to the dramatic overlook point.
Other Activities
Wildlife Viewing – Despite the barren landscape, plenty of creatures call the park their home. While on the trails or seeing the sights, keep your eyes peeled for black-tailed jackrabbits, packrats, kangaroo rats, gophers, kit foxes, and coyotes.
Cave Exploring – Cathedral Caves are just waiting to be explored. They actually look a lot more like slot canyons than caves, but as they don't receive any direct sunlight, they could easily be classified as caves.
When you are in the caves, don't forget to look up as you will very quickly realize how deep you are under the rock. Canyon caves are also pretty cool, taking you through unique and winding paths.
Stargazing – Eastern Nevada has some of the darkest skies in the state, so stargazing here on a clear night is pretty incredible. You will easily be able to make out some astronomical wonders such as shooting stars, offering a cosmic show unlike any other.
Picnicking – There are no shortages of places to picnic in Cathedral Gorge State Park. The day-use area has a number of picnic tables that are set under a large ramada for shade. There are plenty of places in the park where you can settle down for lunch with a view.
RELATED: Your Road Trip Essentials Packing List and Tips (+Printable Checklist!)
Valley of Fire State Park (My Fave Spot on a Nevada Road Trip!)
Your adventures in Nevada would not be complete without a trip to the Valley of Fire. This cool area is known for the bright red Aztec sandstone that dominates the landscape. As you walk around the landscape, you will feel like you are treading on Mars.
As well as the red rock, the park also has plenty of other cool features such as petrified trees, 2,000-year-old petroglyphs, and some great hiking trails.
Camping
There are two campsites located within the park, and together they have 72 sites. They are equipped with many amenities, including grills, restrooms, showers, shaded tables, and a dump station. They are first-come-first-served, so make sure you get there early to get a spot.
Hiking
Fire Wave Trail: (1.5 miles – easy) – This incredible hike will take you to a fantastic rock formation known as the Fire Wave, where the rock almost folds in on itself in vibrant hues of oranges, reds, yellows, and pinks. It is an easy hike with a beautiful backdrop the whole way. For the best shots of the wave, try this hike in the late afternoon or early evening.
White Domes Trail: (1.1 miles – easy) – For such a short walk, you get to see a lot on the White Domes Trail, passing a huge number of sandstone rock formations of different shapes and colors, a narrow slot canyon, and you'll even visit an old film set.
Rainbow Vista Trail: (1.1 miles – easy) – You will find out exactly why this is called the Rainbow Vista Trail as soon as you hit the trailhead – the sandstone rock seems to cover the entire color spectrum. The loop will take you to a great overlook of Fire Canyon before circling back to allow you to take in another incredible view of the canyon.
Top of the World Arch Trail: (4.4 miles – hard) – In order to complete this tricky hike, you have to have the confidence to scramble up the steep rock at around a 70% grade. Although the arch is pretty cool, it actually takes a back seat when compared with the scenery of the rest of the hike, and the 360 views of the Valley of Fire when you reach the peak.
Other Activities
Scenic Drive – Drive the Scenic Valley of Fire road to see some of the most incredible sights and rock formations in the park. The road links the west and east entrances and is designated a Nevada Scenic Byway, and it is clear to see why! Every curve brings a new 'ooh-ahh' moment, and there are plenty of points of interest to stop at along the way.
RELATED: Your Adventurous Utah Road Trip
Red Rock Canyon National Conservation Area
As Nevada's first National Conservation Area, Red Rock Canyon will make a great addition to your Nevada road trip. It is around 17 miles west of the Las Vegas strip and is visited by more than 2 million people every year, so there must be something pretty special about it.
The area is in stark contrast to the gaming and bright lights of the strip, with scenic drives, miles of hiking trails, stunning mountains, and plenty of nature.
Camping
Red Rock Campground is the place to stay if you want immediate access to the conservation area in the morning. It is a few miles from the entrance to the Scenic Loop and is pretty much your only option if you want to camp anywhere near the park.
Hiking
Calico Tanks Trail: (2.2 miles – moderate) – From the top of this hike, you will have some pretty nice views of the valley down below you. You may have to do a fair bit of scrambling over bare rock, which is why the trail is labeled as moderate, but that just makes it all the more exciting.
First Creek Canyon Trail: (3.4 miles – moderate) – This trail will at first take you across the wide flat desert before you reach the mouth of the canyon. Just before the mouth of the canyon, keep your eyes peeled for the hidden waterfall to see something pretty special.
Ice Box Canyon: (2.3 miles – moderate) – The Ice Box Canyon is an exciting little hike as it involves a section of light bouldering as you make your way down into the box canyon and the stream. There are some great views of the surrounding red rocks as you go, and you may even get a glimpse of a small waterfall deep inside the canyon.
Turtlehead Peak: (4.6 miles – hard) – if you are looking for views, you'll find them on the well-worn path to the peak of Turtlehead Mountain. It is definitely a leg burner, as it is a steady climb the whole way up, but that will all be forgotten when you reach the peak and take in the stunning red rocks that surround you.
Other Activities
Climbing – Red Rock Canyon is considered one of the top 5 climbing destinations in the US. People come from all over the world to try their hand on one of the 2000 named routes in the area. Some of the expert routes that grace the park include epinephrine, Triassic Sands, and Crimson Chrysalis. In addition to these big climbs, there are also fields of 20-foot boulders that are great for more novice climbers.
Scenic Drive – The Scenic Loop Drive is a must when visiting the area, especially as many of the hikes start along this road.
The loop shows off the entire basin, and as you drive, you will be surrounded by peaks and canyons of all shapes and sizes. It can take a good few hours to do the drive as there are so many viewpoints to stop at.
RELATED: Your Adventurous Montana Road Trip
Black Rock Desert
For a landscape like no other, head to the Black Rock Desert on your Nevada road trip, a huge wilderness area consisting of 400 square miles of ultra-flat terrain. The desert was once an ancient lake, remnants of which can be found at Pyramid Lake and Carson Sink.
The flattest area is the Black Rock Playa, which stretches for 35 miles. The area is completely dry for most of the year and then partially flooded and frozen during the winter.
It offers many opportunities for those looking for some adventures in Nevada, including off-road driving, cross-country hiking, backcountry camping, and is also the location of the annual Burning Man event.
Camping
From primitive camping to car camping on the playa, there are some exciting camping experiences to be had in the Black Rock Desert. The biggest draw to this area is the large, open spaces that provide breathtaking views and relative solitude. Most camping is dispersed, although there are some areas that have primitive camping facilities.
Hiking
Trego Hot Springs: (0.8 miles – easy) – If you want to relax in clean, fresh, and warm water, Trego Hot Springs has you covered. The hike to these springs is pretty easy, and once you reach them, it is an incredible place to chill and take in the surrounding desert views.
There are very few set trails within this area of Nevada, but there is still plenty to explore. There are three incredible peaks to tackle in the area – King Lear, Pahute Peak, and Donnelly Peak – and the northern slopes of the Black Rock Range offer some incredible hiking experiences.
Other Activities
OVH – With over 900 miles of primitive roads, this land certainly presents some exciting off-roading opportunities. People come here from all over the state and further afield for OHV and ATVing.
There are plenty of well-known trails to explore, such as the Applegate National Historic Trail, or you could test your skills through the High Rock Canyon, which requires some skilled handling and a 4WD vehicle. Or you could simply follow in the tracks of the land speed record holders and soar across the playa.
Great Basin National Park
This incredible national park is hugely diverse, making a great stop on your Nevada road trip. Exploring this park is ideal if you are looking for an experience that is pretty much crowd-free no matter the time of year you visit.
If you are prepared to make the journey, you will be rewarded with 100-mile views, incredible alpine scenery, ornately decorated caves, and some of the most incredible night skies in the states.
The park encompasses 200,000 square miles, and there are over 60 miles of hiking trails here, so be sure to pack your hiking boots, ready for some adventures in Nevada.
Camping
The only camping within the park is tent campgrounds, with Lower Lehman Creek Campground being the only one open year-round. There are other campgrounds that are open from around the end of May to September, such as Upper Lehman Creek Campground, Wheeler Peak Campground, Baker Creek Campground, and Grey Cliffs campground.
Hiking
Bristlecone Pine Glacier Trail: (4.5 miles – moderate) – Although relatively short, this is quite a tricky hike due to the climb, but once you reach the glacier, it will all be worth it. First, you'll pass the beautiful Teresa Lake before heading up a rocky path to the glacier itself. You'll also be treated to some pretty incredible views of the mountain summit and the valley below.
This beautiful hike will take you past two of the most scenic areas in the park, the bristlecone Pine Grove, and the Wheeler Peak Glacier, so it is definitely one you can't miss.
Stella Lake Trail: (2.1 miles – moderate) – This is a great short little hike, ideal for those that are not hugely experienced hikers, ending in one of the most breathtaking lakes in Great Basin National Park. It is a very peaceful place to sit and relax, with a great backdrop of Wheeler Peak. There is also some great scenery along the way as you walk through an area of mountain streams and a thick grove of aspens.
Wheeler Peak Trail: (8.2 miles – hard) – If you are up for a bit of a challenge, climbing to Wheeler Peak will give it to you. The hardest and steepest part of the hike is at the very end, but once you make it to the top, you will be blown away by the views of the Great Basin area. At the peak, you will have reached over 13,000 feet in elevation, and this alone makes it a bucket list hike.
Lexington Arch Trail: (6.3 miles – moderate) – This is a really enjoyable hike that will take you to one of the largest natural arches in the western United States. The view up to and at the arch is spectacular, and it is pretty satisfying to finish the walk sitting inside the rocky formation. If you continue up the trail on the left, it will take you up to the arch.
Other Activities
Lehman Caves – This incredible limestone and marble cave system is filled with a stunning array of stalactites, stalagmites, flowstone, and shield formations, making it a true geological wonder. You are able to take a tour of the cave with a knowledgeable guide who will tell you all about the cave's colorful history.
Climbing – One of the most challenging climbs in the park is the 13,000 foot Wheeler Peak, a climb that is certainly not for the faint-hearted.
Stargazing – Due to the high elevation and remote location, Great Basin National Park is also up there when it comes to the best places to go stargazing in the states. On a clear night, you should be able to see five planets, meteors, billions of stars, and a clear view of the Milky Way. It's so clear, the skies have been designated an official International Dark Sky Park.
Scenic Drive – The 23 mile Wheeler Peak Scenic Drive is the route to take if you are looking for some breathtaking mountain scenery and views to die for. There are some hairpin curves and plenty of places to take in the desert and mountain vistas.
RELATED: Your Adventurous Arizona Road Trip
Ruby Mountains Wilderness
The stunning peaks of the Ruby Mountains are some of the wettest in the whole of Nevada, making for an exciting change of scenery when compared to the dry, red rocks that cover most of the state. There are over 100 miles of trails to explore here on your adventures in Nevada.
The area contains ten peaks above 11,000 feet, more than two dozen alpine lakes, and plenty of wildlife – including one of the largest herds of mule deer in the state.
Hiking
Lamoille Creek – Right Fork Trail: (9.7 miles – hard) – Ideal for some solitude, the Lamoille Creek hike will show you some of the best of the Ruby Mountain wilderness area. Some of the trails follow a series of switchbacks, but when you reach the top, the canyon opens out before you.
Ruby Dome Trail: (6.5 mile – hard) – The Ruby Dome is the tallest peak in the Ruby Mountains, making it a very inviting place to climb if you are up for a challenge. You will need to get a key from the Spring Creek Association Office to access the trailhead, which helps to make it an even more exclusive hike. It is a pretty steep journey up the mountain with stunning views and beautiful Griswold Lake waiting for you.
Thomas Creek Trail: (4.4 miles – moderate) – Lined with streams and ponds and wildflower meadows, this is a very beautiful hike with a cascading waterfall at the end. It is steep, but with elevation comes stunning views, and is well worth the effort.
Other Activities
Lamoille Canyon Scenic Drive – One of the best ways to see the area and the canyon is to drive the beautiful 12-mile Scenic Byway directly through the canyon, where you will be treated to some incredible vistas of the snow-capped Ruby Mountains.
Skiing, Boarding, and Snowshoeing – The numerous peaks, passes, and trails in the Ruby Mountains are fantastic terrain for skiers. The Ruby Crest Recreation Trail is one of the most popular, but there are countless opportunities for winter recreation.
One of the more unique winter activities that take place here is heli-skiing, which is where thrill-seeking skiers are dropped off via helicopter at some of the more remote peaks for a heart-stopping ride. Be sure to check the safety of the area you are traveling to as Nevada's backcountry areas are prone to avalanches.
The Black Canyon
Located just a short drive away from Las Vegas, the Black Canyon is great for a quick little stop on your Nevada road trip. It is an incredibly interesting and scenic spot on the Colorado River, as it weaves through dramatic deserts and some narrow slot canyons.
Activities
Kayaking – The biggest draw to the canyon is the Black Canyon Water Trail. It is a 12 mile stretch of the Colorado River that is a paradise for paddlers. Beginning directly below the Hoover Dam, the route is filled with dramatic desert landscape and narrow slot canyons.
Take a guided tour along the river and learn more about the shores and rock formations around you, or alternatively, you can go self-guided. This section of the river is completely flat, so you shouldn't have any trouble even if it is your first time paddling.
Hot Springs – Hot springs are found throughout the Black Canyon area, where the water heats up far below the surface of the earth. There are springs of both the thermal and non-thermal variety, with water temperatures ranging between 55° to 136°. One of the most popular springs is the Nevada Hot Springs, which can either be accessed by boat or by hiking down Goldstrike Canyon.
RELATED: Your Southwest Road Trip Itinerary (1 Week – 2 Months)
Lake Tahoe-Nevada State Park (Most Popular Spot on a Nevada Road Trip!)
Whether you are looking for a day on the beach, an afternoon on the water, or a hiking adventure, the Lake Tahoe-Nevada State Park has you covered. Lake Tahoe is the largest alpine lake in North America, and it certainly will not disappoint. It is known for its Caribbean-esque hues, which is not something you would expect to find in the state of Nevada.
The sky is the limit when it comes to outdoor recreation in the park, which covers 55 acres, so start planning your Lake Tahoe adventures in Nevada.
Camping
Nevada Beach Campground is a beautiful campground located on the sandy shores of Lake Tahoe, scattered with native pines that offer shade. A stay here means you will wake up with immediate lake views and easy access to the recreational activities that the lake provides.
Hiking
Genoa Canyon Waterfalls: (6.2 miles – moderate) – On the climb up to the Genoa Canyon Waterfalls, you'll be greeted with some great views of the valley below you. It is a narrow, single track for most of the climb, and the waterfall at the end is a nice prize for the effort. There are lots of switchbacks to help make the climb a little easier and more manageable.
Kings Canyon Waterfall: (0.6 miles – moderate) – Although short, this hike is rated as moderate due to the steep climb up to the falls. This is great for a quick, fun hike to get a glimpse of the stunning Lake Tahoe-Nevada State Park, with the beautiful waterfall as a bonus. For such a short walk, the waterfall is pretty impressive, with several streams of water cascading over the rock.
Sand Harbor Nature Trail: (0.4 miles – easy) – This is a great little one for stretching your legs or for younger or less experienced hikers. It is one of the best walks to get up close to the lake and sand, and there is the opportunity to get up on the rocks and explore the coves. It is a beautiful area no matter the time of year you visit.
Marlette Lake from Chimney Beach: (6 miles – moderate) – If you want a stunning view of Lake Tahoe, then take the hike up to Marlette Lake. It is challenging but doable, with a steady incline but lots of shady places to stop and rest, plus, you get two incredible lake views for the price of one as you see Lake Tahoe down below you.
Sierra Canyon: (3.9 miles – moderate) – Get a stunning view of the Carson Valley on this hike through the forest. There are lots of switchbacks and ample opportunities to see some of the local wildlife. One of the highlights of this hike is the bridge that crosses over a creek that flows down the canyon.
Other Activities
Beach Day – Having a relaxing beach day is one of the very best things to do in Lake Tahoe. Sand Harbor is the front runner when it comes to public beaches on the Nevada side of the lake, with beautiful white sand beaches and crystal clear waters. The water here is so inviting you will not be able to stop yourself having a dip.
Kayaking/Stand Up Paddle Boarding – Take to the waters on a kayak or a stand-up paddleboard to see the waters from a different perspective. The Sand Harbor area has two boat ramps for easy access to the lake. If you don't have your own boat or kayak, they can be rented from around the shore, or alternatively, you could go on a kayaking tour of the coast.
Cycling – Cycling is great fun around the shores of the lake, and there are lots of different types of trails available. One of the favorites is the Tahoe Rim Trail, a hot spot for mountain biking enthusiasts.
RELATED: Seattle to San Francisco West Coast Road Trip! Adventures and Waterfalls
Lake Mead
The brilliant blue waters of Lake Mead are like a little oasis in the desert landscape on your Nevada road trip. Although it is a man-made lake, it is truly stunning and is one of the largest and cleanest reservoirs in North America. In the area you can fish, swim, boat, bike, enjoy a drive, go for a hike – the options are endless.
Three of America's four desert ecosystems – the Mojave, the Great Basin, and the Sonoran deserts – all meet at Lake Mead, making it a pretty interesting landscape with a surprising variety of plants and animals, many of which are found nowhere else in the world.
Camping
There are plenty of places to camp around the lake. There are over 900 camping and RV sites at 15 different locations. Whether you want to be in the desert or by the shore, there are options for all. Most campgrounds offer running water, restrooms, dump stations, picnic tables, grills, and more, with RVs, trailers, and tents all welcome.
Hiking
Gold Strike Hot Springs: (6 miles – hard) – This is one of the most unforgettable hikes in Nevada. The climb down through the boulders is certainly not for the faint of heart, but the refreshing springs at the bottom spur you on, as does the cool waters of the Colorado River. In some places, ropes have already been set up to assist you for the climb back up.
Railroad Tunnel Trail: (8.2 miles – easy) – As the name suggests, this hike takes you along an old railroad trail. There are five tunnels along the way, making it a pretty unique hiking trail. Plus, as an added bonus, you will get superb views of Lake Mead and learn a little history along the way. The trail ends at Hoover Dam, which is quite a spectacular grand finale.
Northshore Summit Trail: (0.6 miles – moderate) – For such a short hike, you will be treated to some phenomenal views of Lake Mead and the surrounding shores. Although there is a climb, it is a relatively easy loop, and from the top of the bluff, you should get a panoramic view of the Muddy Mountains, Bowl of Fire, Bitter Springs Valley, and Overton Arm.
Other Activities
Boating – Get out on the water on a Lake Mead cruise. Although you will be with others, it is one of the best ways to see some of the most scenic spots on the lake. If you do have your own boat, you could always do your own self-guided tour. The cruise will take you past Boulder Rocks and into the beginning of the Black Canyon for some truly stunning views.
Scenic Drive – The Northshore Drive is one of the most scenic in the Lake Mead area. The road runs along the northwestern part of Lake Mead for about 50 miles, but you can just go as far as you would like. Make sure you plan enough time for the many beautiful spots along the way.
Cycling – The River Mountains Loop Bike Loop is pretty long at 34 miles, but it is one of the best bike trails in Nevada, perfect for avid cyclists. 16.7 miles of the trail is located within the Lake Mead National Recreation Area. In one section, there is an elevation gain of around 500 feet in less than a mile, meaning it is not an easy ride, but it is a lot of fun with beautiful views the whole way.
ATVing – Have the adventure of a lifetime taking an ATV tour around the shores of Lake Mead. An ATV tour will let you see the sites around the lake at speed. It is one of the most incredible and fun ways to see the desert scenery of Nevada.
Spring Mountain National Recreation Area
If you are going to see snow anywhere in Nevada, it is in the Spring Mountains. Temperatures here are about 20 degrees cooler than the valley floor, making it a cool place to explore and get out of the desert heat.
In winter, there is even enough snow to support a ski resort! The area is located just 30 minutes from downtown Las Vegas, making for an easy stop on a Nevada road trip, covering 316,000 acres of incredible beauty and diversity.
Camping
There are plenty of places to camp in the Spring Mountain area. Some of the most popular campgrounds include Fletcher View Campground, which is located at an elevation of 7,000 feet. There are 11 sites available year-round, and you are able to book ahead.
As the name suggests, Hilltop Campground is even higher up at 8,400 feet up with 35 sites available. Mahogany Grove Group Campground is your go-to when it comes to group camping, with 6 group areas that can accommodate up to 75 people each.
Hiking
Red Rock: (3.4 miles – moderate) – This hike gives you the best of both worlds. You can enjoy the experience of walking across the wide-open desert before entering a narrow canyon. After a little scrambling – which is why the hike is rated as moderate – you'll find a beautiful waterfall, although be aware that depending on rainfall, the waterfall is not always flowing.
Las Vegas Overlook Loop: (6.3 miles – hard) – Head along the edge of Blue Diamond Hill to be greeted with an incredible view of the Las Vegas Valley and beyond. The first section of the trail towards the Muffins has an elevation gain of around 1000ft, then this grows steeper as you climb to the first and second overlook. As this is a loop hike, you'll be able to take in some different landscapes and rock formations on the way back.
Other Activities
Skiing/Snowboarding – For many people, the reason for heading to the Spring Mountain area and Mount Charleston is for the experience of seeing snow less than an hour away from Las Vegas. Lee Canyon is home to the Las Vegas Ski and Snowboard Resort, which offers around 240 inches of snow a year. It features 20 groomed trails and 250 acres of lift-served terrain.
Mountain Biking – The Spring Mountain area is an incredible area for mountain biking. The Sawmill Trails and Bristlecone Trails offer incredible single track and great views, so hop on two wheels and start exploring.
Rock Climbing – Mount Charleston is a major draw for avid rock climbers. People come from all over for classic bouldering and a range of different climbing challenges throughout the limestone. One of the best climbs is The Hood Overhang, which is located along the Trail Canyon.
Picnic Areas – There are many picnic areas scattered throughout Spring Mountain, perfect for lunch with a view. Most sites have a range of facilities, ideal for a little break between exploring.
RELATED: 17 Legendary American Road Trips
Spirit Mountain Wilderness
Nestled in the heart of the Newberry Mountains is the Spirit Mountain Wilderness Area. This rugged and natural landscape is made up of deep canyons, rocky outcrops, and incredibly sculpted granite boulders, all of which are just waiting to be hiked and climbed, and added to your adventures in Nevada.
From the wilderness area, you will have some beautiful views of Lake Mohave and the surrounding landscape.
The highlight of the area is Spirit Mountain itself, a towering, white granite peak, that is the highest of the Newberry Mountains range at 5,639 feet. Its unique white/pink color makes it stand out against the other, darker mountains that surround it.
Hiking
Grapevine Canyon: (3.3 miles – moderate) – The start of this interesting hike will take you along a sandy, dry riverbed as you head towards the mouth of the canyon. 1000-year-old Native American Indian Petroglyphs line the walls of the canyon, and then before you know it, the Colorado River Valley opens up before you, with three seasonal waterfalls which are stunning if they are flowing. The canyon gets its name from the huge patch of wild grapevines that stretch over the canyon walls.
Spirit Mountain: (3.8 miles – hard) – The Spirit Mountain hike is short and steep, so you have to be prepared in the beginning for the majority of the trail to be ascending. The trek gives you some impressive views of the surrounding desert and peak, and is excellent if you want a bit of a challenge but don't have much time.
Other Activities
Wildlife Watching – Due to the solitude of the area and lack of interference from humans, many creatures call the area their home. If you have a keen eye, you may be able to spot hummingbirds, desert tortoise, bighorn sheep, coyotes, and kangaroo rats, to name a few creatures that can be found here.
Muddy Mountain Wilderness
Located just an hour north of Las Vegas is the incredible Muddy Mountain Wilderness. Sure, the name doesn't sound too great, but if you make the journey and add it to your Nevada road trip, you'll be greeted with some incredible scenery, shadowy slot canyons, views of Lake Mead, and confusing rock formations.
The area covers 48,154 acres and is unlike anywhere else in the state. There is a whole range of Mojave Desert plant life and geological wonders such as fossilized sand dunes, and limestone and Aztec sandstone that has been eroded into all sorts of strange shapes. The great thing about this area is that it is never overcrowded, and you may even have some of the hikes mostly to yourself.
Camping
There are only primitive and dry camping opportunities available at the Muddy Mountain Wilderness Area. There are no developed campsites or modern amenities of any kind, so if you decide to camp here, it will be a truly wild experience.
Hiking
Bowl of Fire Trail: (3.7 miles – moderate) – The rock formations at the Bowl of Fire will be unlike anything you will have ever seen before. Before you even reach the Bowl of Fire, you will be surrounded by otherworldly red, orange, and pink rocks, with white and purple peaks towering above you. The bowl itself is filled with an impressive collection of red rock formations, with several more options for trails that scramble through the bowl.
Anniversary Narrows and Lowell Rocks: (9.9 miles – moderate) – This is a truly incredible hike as you make your way to and through a 600-foot deep slot canyon, with rocky walls made up of multicolored stone.
I hope this post helped you plan an epic Nevada road trip. Which one of these places are you most excited to visit? Let me know in the comments below!
---
---
Don't lose this! Click to pin it now.