I must admit, flexible tripods may not be the most enthralling topic out on the internet but here you are, wondering what tripod you can get that doesn't weigh a million pounds, and can wrap itself around objects to get you the optimum angle.
Add to that, you're a traveler like me and you want something smaller than your average tripod, and not annoying to carry.
Let's add just one more level to this and say you're a content creator, again, like me, and you need something that's tough and can be thrown around, and a tripod that can get the exact shot you need, no matter what…
Enter—flexible tripods.
Here's everything you need to know about these tripods, what they can be used for, and why we (Garrett and I) always have at least one on us at all times.
The Best Flexible Tripods for Traveling, Vlogging, and Pictures
---
No matter what you're photographing or videoing, I'm sure one of these tripods will come in handy for you. Here's a quick view of the tripods I'm talking about in this post.
Disclaimer: Sorry for some of the crappy pictures in this post, I decided to include some quick behind-the-scene snaps I uploaded to Instagram Stories throughout the years to show you two things:
That I've been using flexible tripods for years.
How I use my tripod. I didn't take these pictures with the intention of using them in a blog post at first but they are raw and in the moment quick snaps and I think they will help me show you more about these awesome bendy tripods!
What Can a Flexible Tripod Be Used For?
Pictures – The most common use for a flexible tripod is taking pictures. They can be used to stabilize your camera and help you take better photos and videos. They are compact and versatile, able to twist and bend, allowing you to capture the trickiest of shots.
Vlogging – Being a vlogger or videographer isn't easy, but that's where vlogging tripods come in. Whether you are armed with a high tech camera, or just starting out with a mobile device, the right set up is out there for you. Vlogging tripods are ideal for both those that are just starting out in the vlogging industry or a more experienced vlogger.
More serious content creators can make use of the rigs, which are basically an on-the-move mobile movie studio. In addition to the phone or camera, the rigs allow you to add mics and lights to improve the sound and lighting quality of a video (which *BREAKING NEWS* is incredibly important for video).
Benefits of a Flexible Tripod Over Other Tripods
There is a huge range of benefits to using a flexible tripod over other types of tripods.
Size – For a start, the materials it is made out of means it is smaller in size and weight, therefore much easier to carry around. It can easily be carried around inside of a day bag without weighing it down or even twisted around a strap on the outside if your bag ran out of space.
Along the same lines, this flexible tripod isn't flashy or too noticeable. As travelers AND content creators, we have to be really careful what we flash around town. If we are busting out a mega tripod with our already very expensive cameras, we mine as well have a neon sign above our heads that says "hey, I have lots of expensive equipment!"
Flexible tripods are pretty inconspicuous which is something we definitely consider when shopping around for our travel tripods. Can you spot the tripod on Garrett below? Yes, of course, you can because I circled it, otherwise, probably not.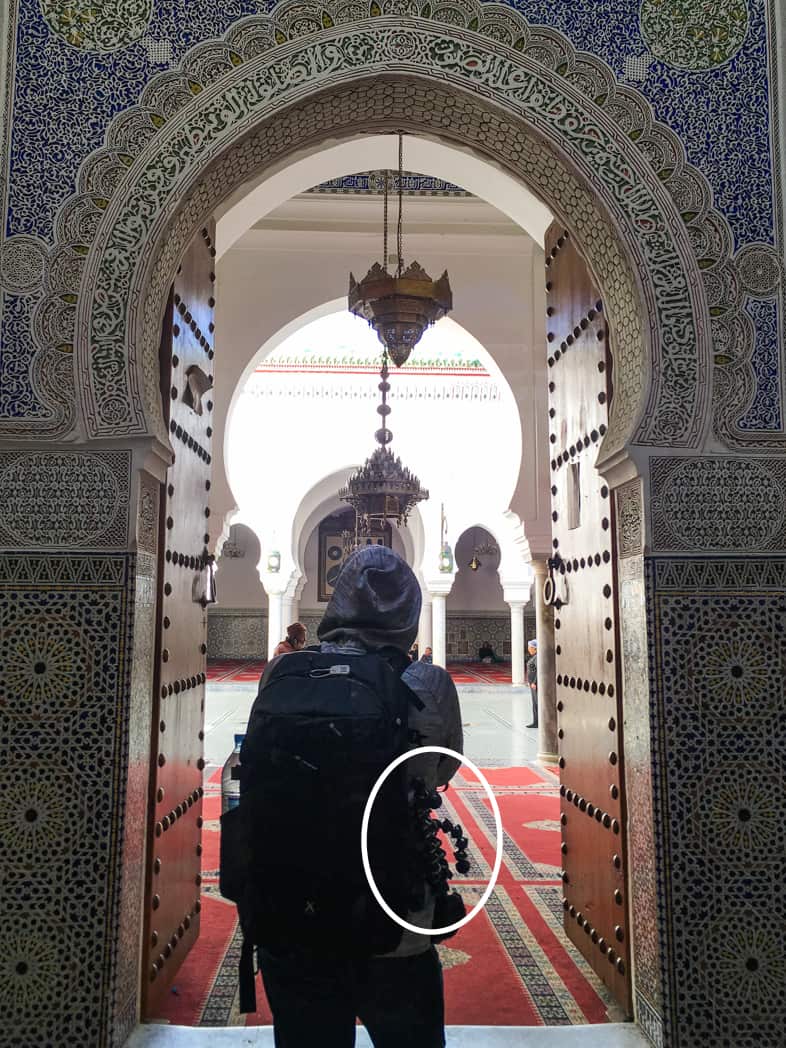 Flexibility – On the side of a cliff, up a mountain or in the forest, no problem. Whereas in the past you may have struggled to find somewhere to rest your camera or phone to get the perfect shot, a flexible tripod allows you to stabilize your device on almost any kind of surface, it can grip and hang and give you the perfect shot in almost any situation.
Sharper Images – A well set up flexible tripod reduces the movement of the camera to a minimum, giving sharper images even at high shutter speeds. All tripods do this and a flexible tripod is no different.
The 3 Flexible Tripod Positions
Balanced
This is when the bendy tripod is set up in a similar position to a traditional tripod, with all three legs apart and extended in different directions. If you have a camera with a bigger lens, try to position one of the legs under the lens for better support and weight balance.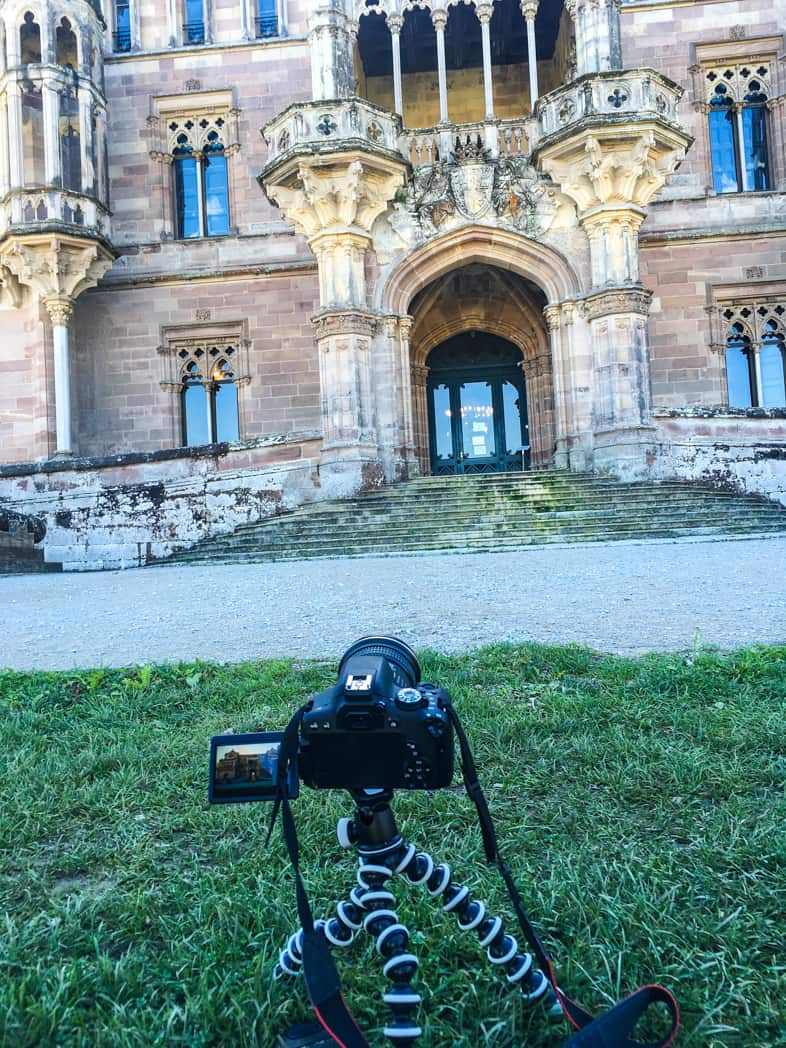 I often like this perspective with the use of my wide-angle lens to give an even "larger than life" view.
Squeeze and Wrap
This is when the legs of the flexible tripod are squeezed and wrapped around an object to hold the camera against gravity, such as around a tree branch or pole. The joints of the tripod are strong and the rubber-coated outside gives it a non-slip grip. Some can even hold a camera upside down.
This is pretty much the best reason to have a flexible tripod. How else do you expect to get shots where there isn't a large or flat enough surface for a full side tripod or in a situation where you don't want to carry a full-size tripod and you just want to place your camera somewhere to get the shot.
Here's my use of a light pole while traveling Greece in 2017…

My Canon, which is around 2lb give or take depending on which lens I'm using, has dangled from tree branches and been wrapped around poles around the world with my flexible tripod so I could get the shot without bringing out my full-size tripod.
Selfie and Vlog
Hey, sometimes you just want a quick snap of yourself and a flexible tripod is perfect for giving you extra reach, just clasp all the legs together to make a "stick" and voila, you have a selfie stick but like, it's five notches less obnoxious than a traditional one.
This is exactly what Garrett does except instead of a selfie, he holds his tripod like this to vlog. A flexible vlogging tripod is perfect because it offers enough distance from the face without being an obnoxious selfie stick (which doesn't hold a vlogging camera's weight anyway) and because of its ability to transform quickly which is important when you're trying to video things in the moment.
if you're looking for a simple phone tripod, you could grab yourself one of the less heavy-duty tripods that are perfect for smartphones.
So Which of Flexible Tripod Is Best for You?
Here are the top seven flexible tripods for any type of content creator, travel style, or use! Which is the best for what you need it for?
1. JOBY JB01508-BWW GorillaPod 5K Flexible Tripod—For Large Cameras
If you are keen on using cameras that are a little on the larger side, this tripod is for you. It is made of pretty sturdy stuff. Therefore, it should be your go-to if you want to cover a lot of bases with just one tripod.
Although it will be holding a heavier camera, you can still use the flexible legs to wrap them around a number of objects to create some unique angles, no matter what situation you find yourself in. Joby tripods have an excellent reputation for a reason, and this model is no different.
Details
Flexible: No matter if you are up a mountain or scrambling over boulders, the wrappable legs allow you to secure the tripod to virtually any surface securely.
Efficient: The Arca-Swiss system quick release plate can stay connected to your camera to make the setup of a shot quick and easy.
Accurate: A numbered scale on the base lets you accurately repeat 360-degree pans. There is a secondary knob on the panning base to lock the head in the panning axis.
Modular: The tripod is compatible with other Joby pro-level accessories, including grip tight pro mounts, GorillaPod arms, and hub adapters so you can mount accessories like flash clips, lighting, and microphones.
Stable and durable: The anodized construction of the tripod keeps it secure and stable even in challenging terrain.
2. JOBY JB01507-BWW GorillaPod 3K Kit—For Lightweight Cameras
The Joby 3K kit is the ideal solution if you have a lighter camera. Therefore, you do not need such a bulky tripod. The whole Joby range has been designed to be easy to use and travel with, and the 3K kit is no exception.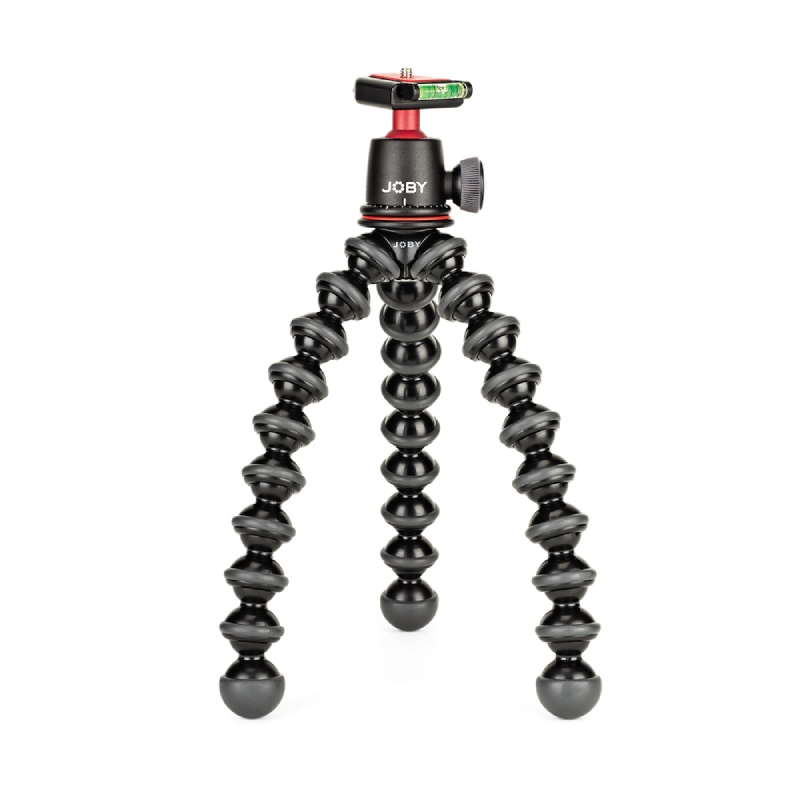 A bubble level is built into the tripod, so even if you place it on an extremely uneven surface, you can still ensure that your camera is leveled out and your photographs will be on point. Once your tripod is mounted, you can use the ball head to capture the optimal angle.
You can also use the Joby 3K as a simple selfie stick, with a seamless release plate system for speed and ease of use.
Details
Flexible: Use the wrappable legs to grip or wrap around all sorts of surfaces or terrain, or use them like a traditional tripod.
Precise: The tripod offers a 360-degree panning bed with a 90-degree tilt to get the perfect angle every time. Use the built-in bubble level for optimal position control.
Modular: The tripod is compatible with Joby pro-level accessories, including GripTight Mount PRO, GorillaPod arms, and hub adapters that allow for mounting GoPro adapters, flash clips, lighting, and microphones.
Quality build: The Joby JB01507-BWW GorillaPod 3K Kit is created using high-quality materials, including ABS plastic, aluminum, stainless steel, and TPE.
Versatile: It is not just cameras that this tripod can be used for. As long as the accessories are 3kg or under, you can also mount lights, mics, and monitors.
3. Joby JB01533-BWW, GorillaPod Mobile Flexible Tripod—Good for Phones
If you are a Joby tripod fan but need something that can hold a few accessories, then this setup is for you. The tripod has two additional arms that can be used for accessories such as lights, so your vlogs and videos don't have to compromise on quality.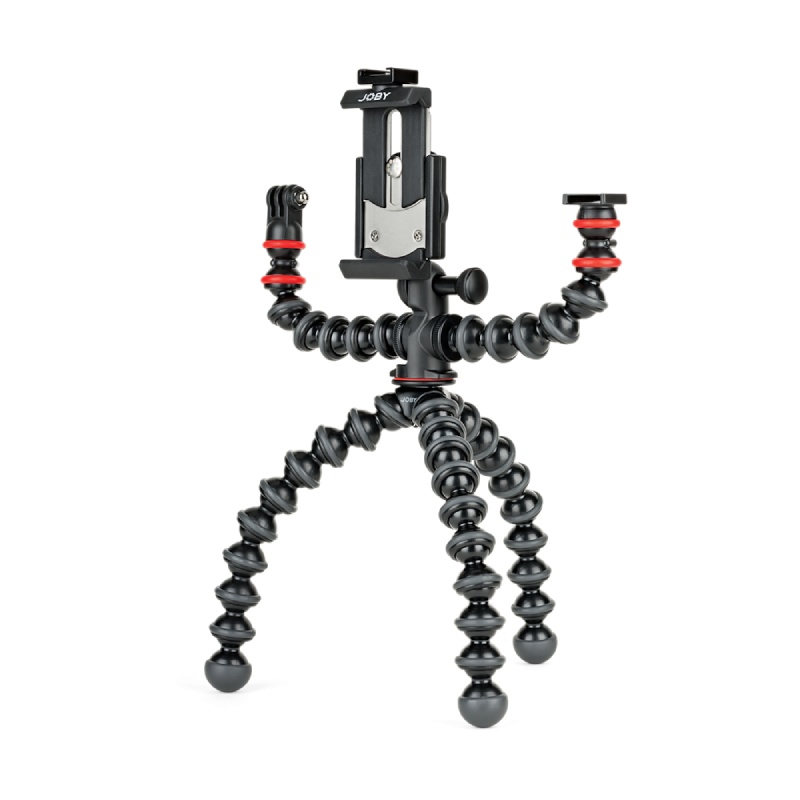 It uses the original design of Joby tripods, so you will still get the great flexibility the company is known for. However, this rig has been designed to help content creators create high-quality videos.
It can add up to three additional devices, ranging from action cams to lights and mics, plus angles can be versatile thanks to the adjustable tilt and landscape and portrait shooting modes. Your videos will never look better.
Details
Secure: The Joby tripod uses a patented GorillaPod ball and socket design with rubberized grips -enabling you to secure the tripod on a range of services while providing endless flexibility and quick adjustability.
Grip: The locking GripTight mount allows you to attach many smartphones securely without damaging the device.
Versatile: Easily use the 180-degree tilt and landscape-to-portrait mode for easy live streaming, vlogging, Snapchat, and Instagram stories so you can achieve the desired angles.
Additional connections: Add up to three other devices like mics, lights, and action cameras via the additional arm connections.
4. 7.2 Feet Gooseneck Phone Flexible Tripod with Magnet and Clamp—Tall and Flexible
It is unusual to find a flexible tripod that gives you a bit of height, but this tripod can extend up to 7.2′ tall. The flexibility allows you to capture angles that other tripods may not be able to offer.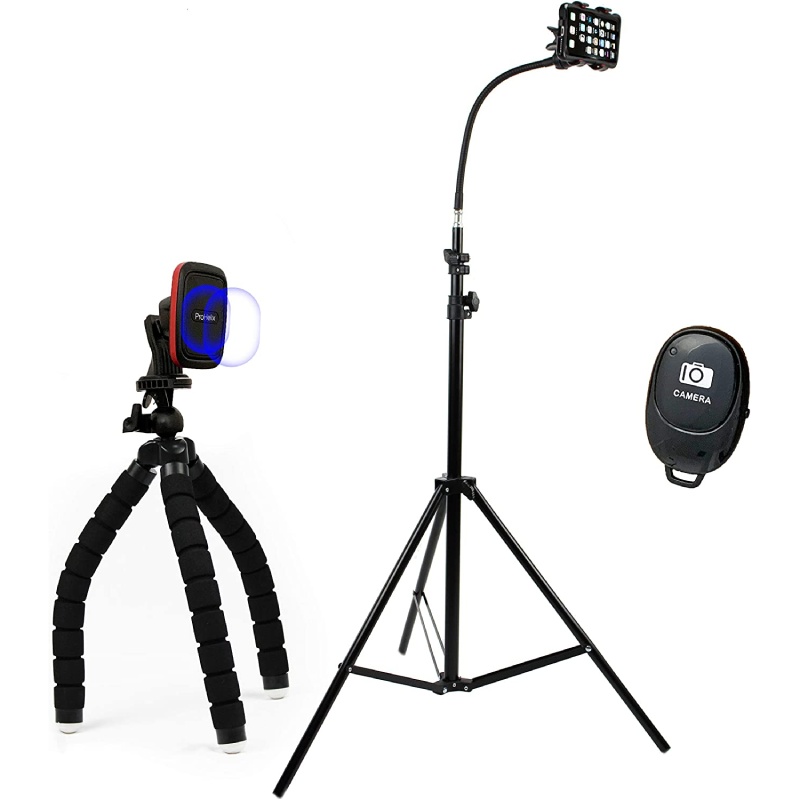 You won't have to worry about finding a loftier object to place your tripod on, as just putting it on the floor and using the extension is often all you will need. You will be surprised at how often you may need a bit of height to get that perfect shot.
Rather than a clamp to attach your phone or camera, it uses a super strong magnet and attachment. It has a small remote, so you don't have to worry about setting timers and running to get into position, although this can have some pretty funny results!
Details
Get two tripods in one: The kit contains a 15-inch mini tripod and a tripod that adjusts from 2.3-7.2 feet tall.
Easy attachment: This tripod uses a magnet attachment rather than a clamp. Attach the included metal backing to the back of your smartphone, place it in your phone case, and secure your phone to the tripod in seconds.
Flexibility: Use the flexible arm to position your tripod to the desired position. With 360° rotation, you won't have to struggle to get a perfect angle.
Remote: Pair the tripod with your device to take photos and videos up to 30 feet. Compatible with iPhone and Android, you won't have to be near the tripod to take a photo.
5. UBeesize Selfie Ring Light with Cell Phone Holder Stand—Best for Crazy Angles
If it's crazy angles you're after, look no further than the slightly wacky UBeesize stand. The base of the device is a clamp, which can attach to any table or desk and rotate to any angle for your video creation.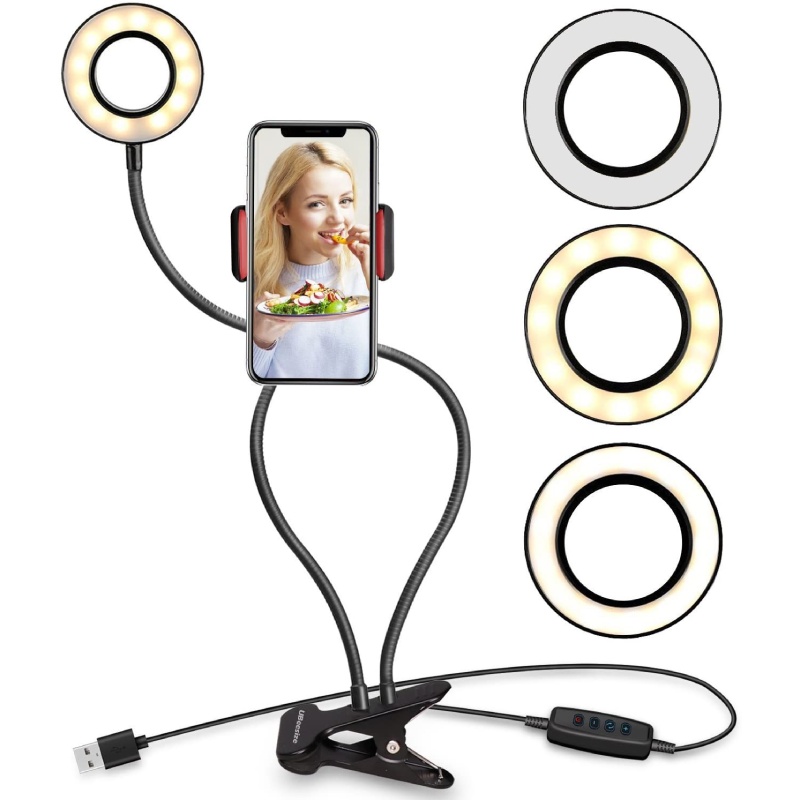 There is also a light attachment for an even higher quality video, which can be switched between three colors and ten brightness levels. The universal phone holder can securely group devices up to 3.6 inches wide, so you can set your vlogging or selfie station up in a matter of seconds, no matter what phone you use.
Even when not using it to hold your camera or phone, it can even be used as a desk lamp, which is useful when on the road.
Details
Flexible: Use the 360-degree rotating lazy bracket clip to bend the 24-inch gooseneck arm to any shape and adjust it to any angle, which includes facing downwards, portrait, and landscape.
Different uses: When not using the device as a tripod, it can be used as a desk lamp. Surprisingly handy!
Dimmable: The device has multiple hues and brightness settings to find the optimum light for your photo or video. There are three light color settings and ten brightness levels to choose from, with the controls located on the power cord.
Easy to use: The device is USB powered, meaning you can plug in and go without needing a battery. So whether you use a PC, laptop, or battery bank to power your device, you will be good to go next time you want to vlog.
Large sizes: The large width means the device can hold phones up to 3.6 inches. It is compatible with almost all smartphones with or without a case. There is a reinforced non-slip rubber backing clip on the phone holder to secure your phone firmly without scratching.
6. Phone Tripod, Goocong Flexible Tripod for Cell Phone—Compact Multiuse
This tripod is small and compact, making it ideal for traveling light. The device can be used for both light cameras and phones, so you are getting a lot for your money for the cheaper price tag.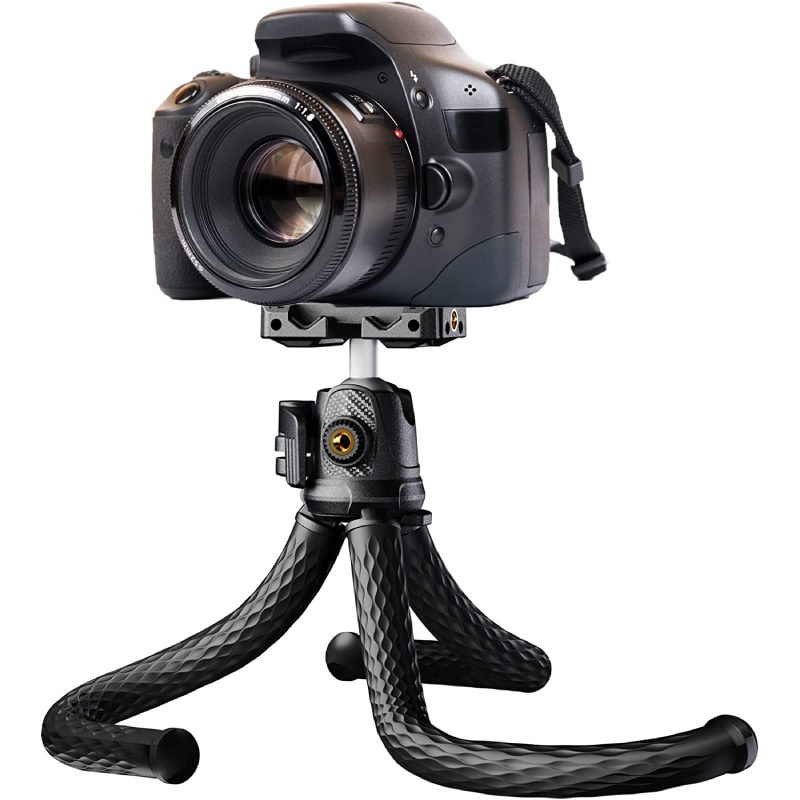 You don't have to use different clips when changing between phone and camera. Lay the clip flat, and it is a camera holder. Put it upright; it is a phone clip. One less accessory you have to keep track of.
Although small, the legs are flexible and can grip tightly onto a range of surfaces to help you reach the angle you desire. Sturdy and clean looking, this tripod is a no-nonsense device that is versatile and will help you create some great shots.
Details
Quality materials: The legs are formed using high-density, rubber-wrapped, 7-strand wound metal cores. Don't be surprised if it still stands the test of time after years of use. The larger aluminum alloy ball head with knob lock provides a load-bearing capacity of up to 3.3 lbs, so you can rest assured it will keep your phone or camera secure.
Flexibility: Use the flexible legs either stand the tripod on uneven surfaces or wrap it around pillars or tree trunks, no matter where you are. Bend the device into unique angles to help you create the perfect shot.
Orientation: Switch between portrait and landscape orientation with ease while using the 360° rotation to capture the perfect angle.
Compatibility: The tripod uses a standard screw which can be used to mount DSLRs and digital cameras. The width of the phone clip is 2.2-3.7 inches, therefore works for phones of different sizes. Two standard screw holes are also set on both sides of the tripod, which can be used for microphones, lights, or other accessories.
Lightweight and portable: The tripod is only 0.66 lb and 11 inches long; therefore can easily be transported on your travels in a pocket or backpack. Take this lightweight device wherever you go without weighing you down, so you will always have it with you to capture the moment.
7. ULANZI Camera Flexible Tripod—Cheap but Sturdy
Budget-savvy photographers will love this ULANZI tripod. It is one of the cheapest around, but it is still very sturdy and comes with many handy functionalities. Without removing a part, you can switch between using the tripod for your phone or camera, making it very useful for travel.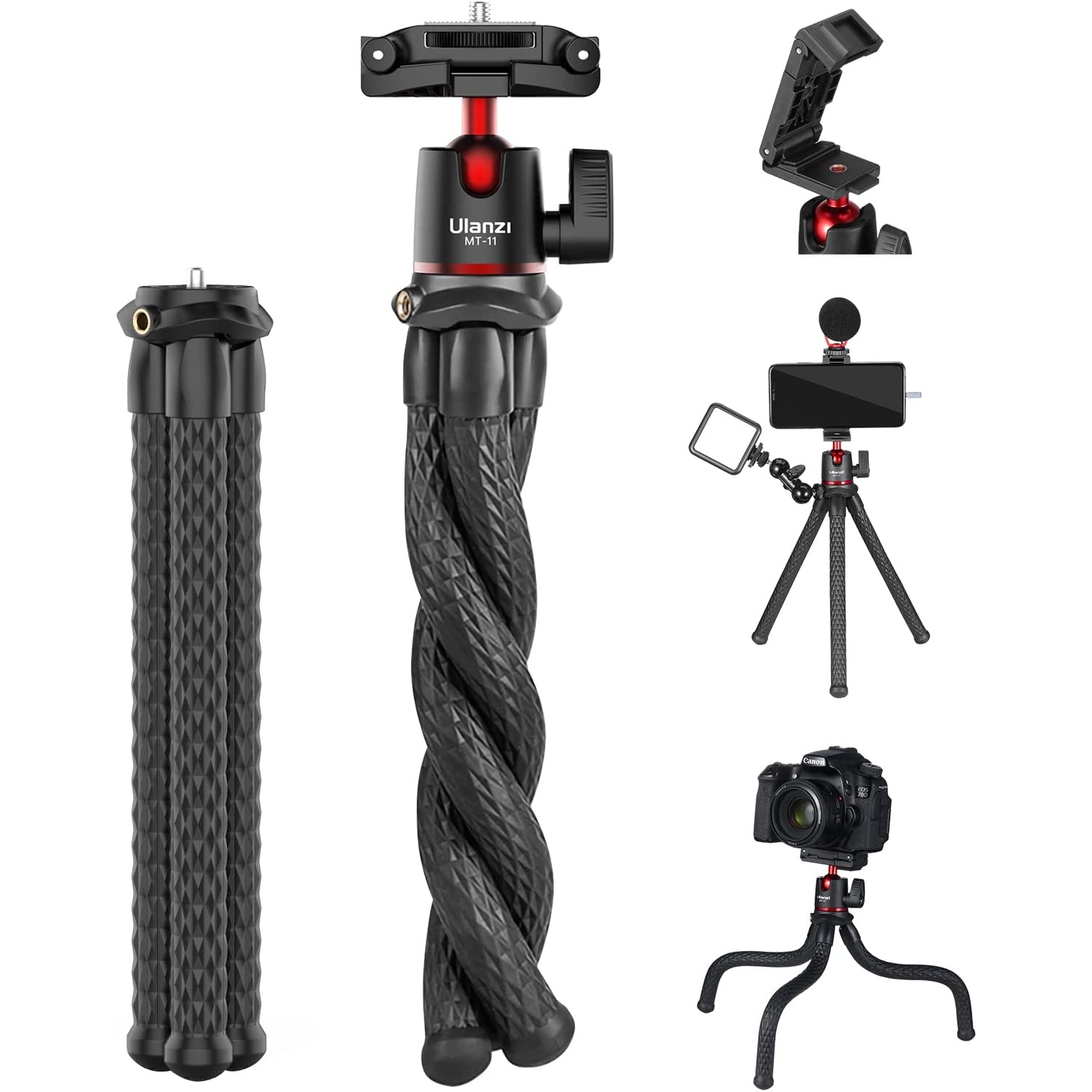 The mount is sturdy, even with a camera rather than a phone, and the flexible legs help to stand or attach to pretty much any surface, making it an ideal travel companion. Another cool feature is that it can be held in a uni-pod way easily.
Details
1/4′ thread for extension: This flexible tripod has a 1/4″ thread, which allows you to mount an arm extension (sold separately)
Compatibility: There is a universal 1/4″ screw for mounting a DSLR camera, Sony, Canon, Nikon, etc.; and a phone holder compatible with iPhone 12/11/11 pro/11 Pro Max/XS/XS Max/8 Plus/Samsung Note 10/Galaxy s10 and more mobile devices.
Flexible shooting: No matter the phone or camera, the ball head allows for 180° rotation for both vertical and horizontal shooting.
Multiple uses: The octopus camera tripod can be used as a tripod or selfie stick. It can be easily held as a selfie stick due to its size, with flexible legs that can wrap on lampposts, fence posts, tree limbs, chairs, doorknobs, etc.
So Which Flexible Tripods Do I Use?
Hands down, I love Joby. They specialize in flexible tripods for cameras, ideal for those capturing content when out and about. One of their most popular products is the GorillaPod, a type of flexible tripod that allows you to get a stable shot no matter where you are in the world.
There is a huge range to choose from, no matter what type of camera you are using, from point and shoot cameras all the way to professional DSLR. The Joby bendy tripod family is among the most useful and affordable photographic accessories around.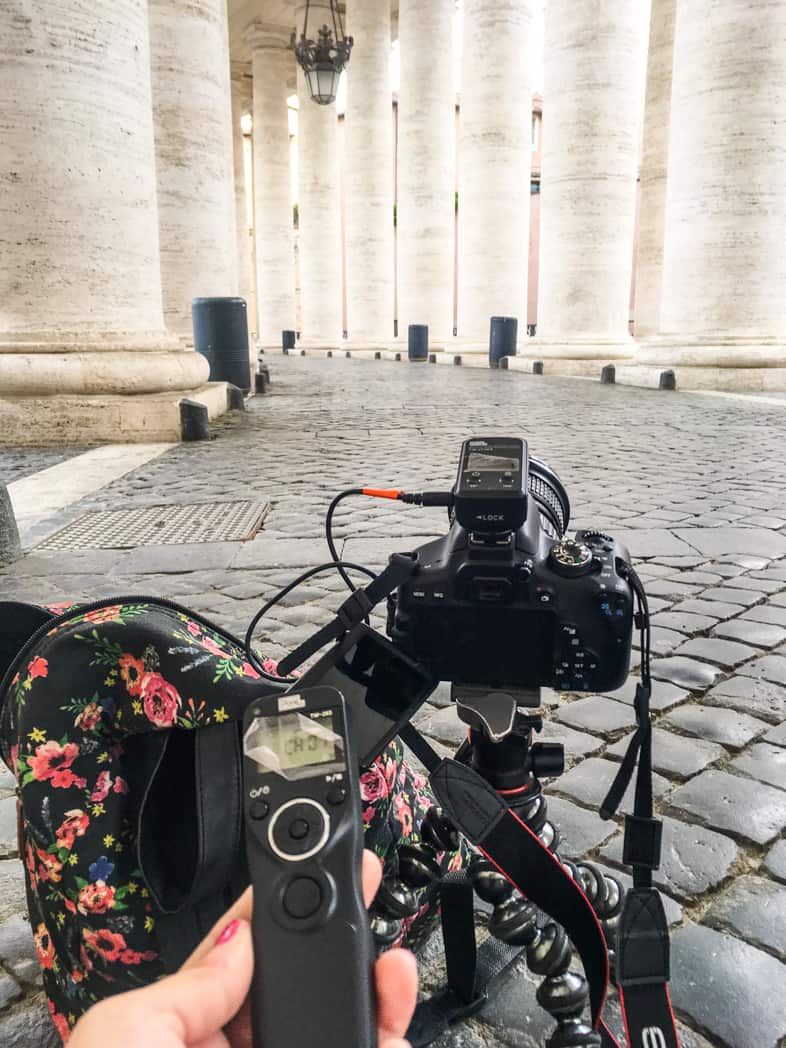 With rubber-gripping legs, it is useable in all sorts of situations because it is able to hold onto even the trickiest of surfaces. The three legs are formed using flexible joints. There are multiple models available according to the maximum weight that they support.
There are even flexible tripod models that have magnetic feet which stick to metal surfaces. Joby's GorillaPods are super popular and useful, and the uses are endless.
While they aren't the cheapest or the fanciest option, they are the best option, in my opinion. I've been using them for around 5-6 years now.
Which flexible tripod do you think you need?
---
---
>>> Read More! <<<
10 of Best Travel Daypacks—DON'T Just Choose Any Old Bag!
Choosing the Best Hard Shell Luggage for Your Trip (+ 11 Great Suitcases)
51+ of the Best Travel Accessories for Men and Women
The Best 11 Carry on Backpacks For Every Traveler
---
---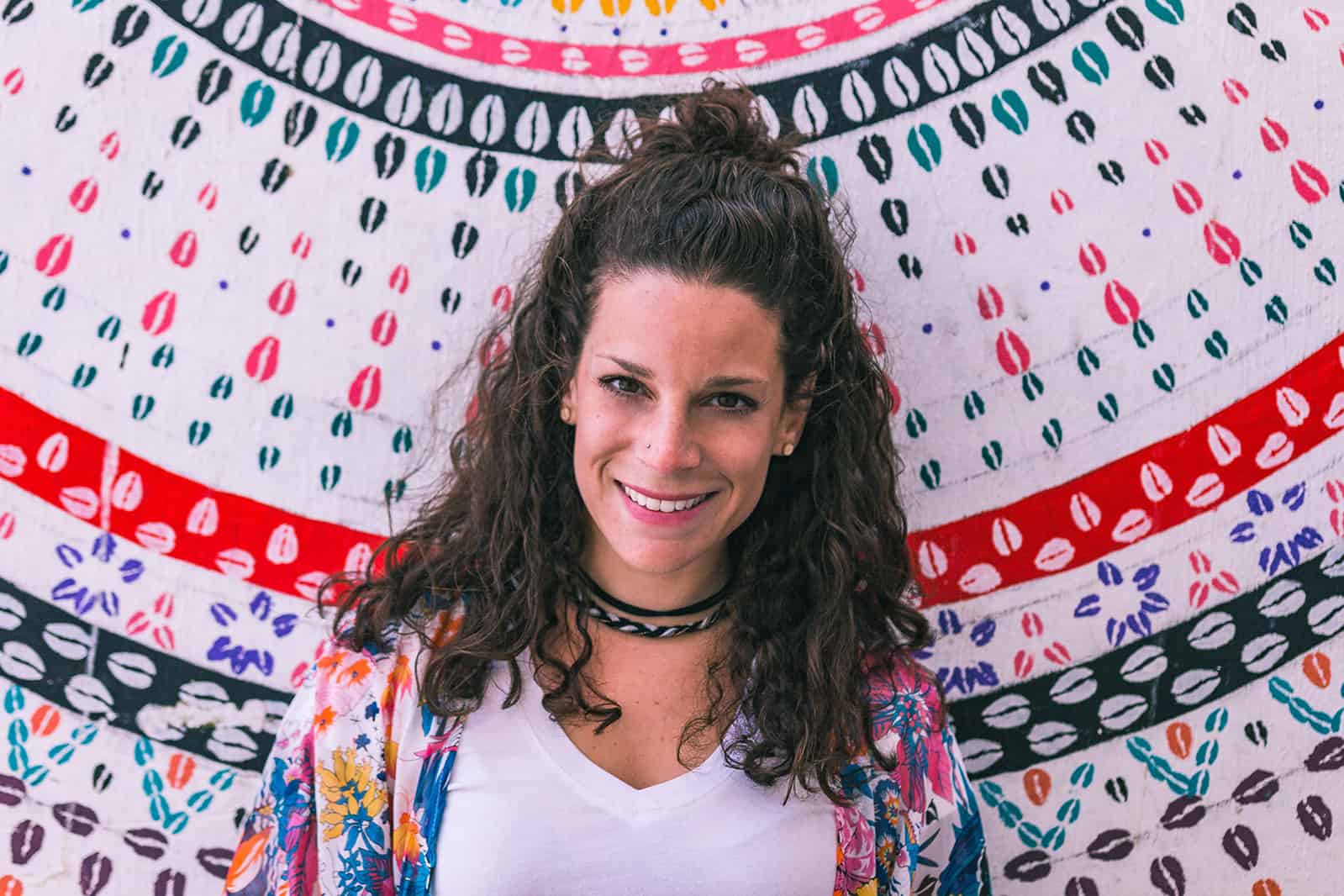 Nina Ragusa is an adventurer, messy bun master, breakfast fan, and full-time travel blogger. She's been abroad since 2011 and blogging on Where in the World is Nina? for nearly as long. Nina helps people like you move around the world while making money. She loves talking about how to work abroad and online to travel longer!