Why just one night? Because I only have a 21 hour layover in Shanghai. That's right, "only." If there was a longer one I would have chosen it. Long layovers are becoming a new favorite thing. I had my long layover in Seoul, and it was a blast.
This year, on the way back to the US for a visit, I found a long layover in Shanghai while searching for flights. It actually happened to be the cheapest deal. Aaannnddd…My friend, Kristin, just so happens to live there. So, yeah, I'm stopping over!
A Long Layover in Shanghai
---
China has a visa free transit if you have a departing flight within 72 hours. So that's what I did! Bangkok to Shanghai was only a four-hour fight. I hopped on the Maglev, which is a badass high-speed train.
I went over 400km an hour! My friend lives around Jing'An Temple, an area in the center of the city. I took the Maglev and then the train a few stops over to meet up with her. Before I saw her though, I met the cutest Rottweiler EVER! We played on the floor of a Dunkin Donut…No joke. He was so nice and clean! It had been such a long time since I was able to cuddle a (cute and CLEAN) dog!
After making it to Kristin's apartment, she dressed me in warmer clothes since my winter clothes collection has a whopping ZERO items in it. I was literally layered in tanks and t-shirts to keep warm off the plane. We went to happy hour at Yong Kang Lu with some of her friends.
It was a pretty happening street full of eclectic little bars serving up cocktails and finger foods. Then we met with a few more of her friends at the Lotus Eatery for dinner. It was so good!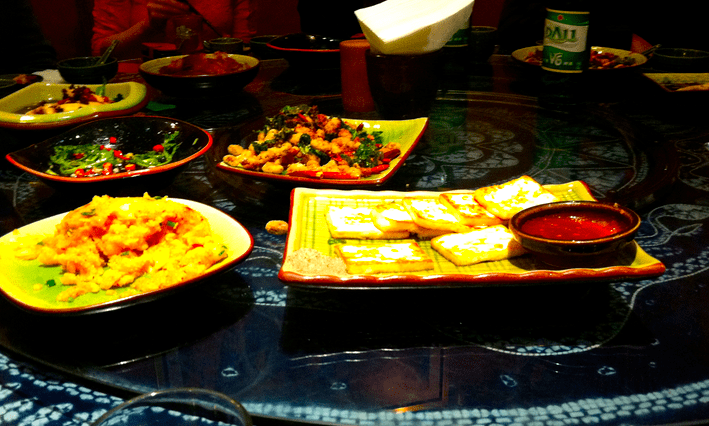 Dinner Was a Fabulous Feast
We got the beers flowing again and then Kristin ordered a bunch of things off the menu. THERE WAS GOATS CHEESE, although sightly Asian inspired…CHEESE!
Then these delicious beans that were fried up – I was eating them like popcorn, yummy veggies, spicy salad, and a few other dishes with seafood or meats. All you had to do was turn the serving table to wheel around the dish you wanted.
I don't know how, but we ended up at a hip-hop club, Monkey Bar. It was so much fun! We danced the night away. Like…really away. By the time we made it home, I had to wake up in two hours to make my way back to the airport!
It was totally worth it. I'm so happy I had the opportunity to do it! Also… I learned that Shanghai was not at all what I thought it was. Apparently, my picture of Shanghai, is more like what Beijing is like. So I was told.
My initial thoughts: Crowded, stuffy, polluted, lots of traffic, kinda dirty…
What Shanghai Actually Was…
City streets, but also with small tree-lined roads, and quiet for a huge city because the motorbikes are battery-powered (trust me, noise pollution is something you notice more in the East). Things are pretty clean and more western than I imagined. It's actually pretty for a city!
It was like an Asian version of NYC.
The trains were pretty clean, the streets were clean, the architecture was French feeling in certain areas, the happening spots all had many foreigners at them, and many of them actually lived in Shanghai.
I was pleasantly surprised, and I'm so thankful to Kristin and her friends for showing me around for the night! I'd go back in a heartbeat! Hopefully, I can tour around Shanghai a bit more next time I visit.
Need more info on how I got to see China visa-free? Check out my post!
Have you had an awesome long layover? Where? How long did you have?
---
PIN IT!