This guide to hikes in NSW is authored by Karol-llyn and Nae.
It's no secret that NSW, Australia, is an incredible tourist destination. It is renowned for its manufactured icons such as the Sydney Harbour Bridge and Sydney Opera House or even natural wonders such as the many stunning beaches covering the NSW Coastline.
But what many don't know is that NSW contains some of the best hikes in Australia.
About two years ago, we decided to seek out and document the very best of the best hikes in NSW so that anyone choosing to visit our beautiful state would be able to see it the way we locals do.
Below is a list of the top day walks we've discovered, and they are some of the most picturesque trails that NSW has on offer.
To have the best experience possible, we have tried to include tracks that aren't overcrowded, which some of the more famous tracks can be.
So, if you are interested in seeing the real NSW, keep reading.
The Best Hikes in NSW, Australia
---
Hikes in NSW – Sydney Region
Although we suggested heading out of the city, the reality is that most people, when visiting NSW, will head to Sydney first. We don't blame them; it is a beautiful city with lots to explore.
So even though most of our hikes will be focused outside of the city, we thought it would be appropriate to start with a couple of stunning walks in the Sydney area to kick off our list of hikes in NSW.
1. Kamay Botany Bay National Park – Monument Track / Inscription Point / Yena Track
40 mins from Sydney
Distance: 6 km (3.7 miles)
Difficulty: Easy-medium
Time Spent: 3-3.5 hours
Animals: Birds, frogs, bush turkeys, whales
Shop/cafe: Kurnell Visitor Centre is closed for renovation until 2023, but there is a café opposite the Prince Charles Parade car park.
Amenities: Yes, at the Kurnell Visitor Centre (still open).
Inscription Point is one of many stunning hikes in the Kamay Botany Bay National Park. The hike begins with scenic views of the ocean and cliffs and finishes walking through lush Australian bushland.
And as the birthplace of modern Australia, the area is filled with monuments, plaques, and sculptures illuminating our history.
The hiking track is an all-terrain walk that leads you on paved paths, over sea-soaked boulders, and through muddy dirt tracks. It is the perfect place to see a little of everything Australia offers in one beautiful location.
As you pass by the sandstone cliffs, keep an eye out for the iconic natural sandstone window, which is always a hit!
2. Wattamolla to Curracurrong Falls
1 hour from Sydney
Distance: 9.6 km (6 miles)
Difficulty: Medium-hard
Time Spent: 2.5-3.5 hours
Animals: Birds, lizards, wombats
Shop/cafe: No
Amenities: Yes, at Wattamolla.
One of our favorite hiking tracks in all of NSW is the Wattamolla to Curracurrong Falls track. This stunning trail forms part of the epic Royal Coastal Track just south of Sydney, starting at Bundeena and finishing at Otford.
The entire track is considered a 2-day trek; however, it makes for a charming day walk when broken up as we have here.
This scenic hike leads you from the legendary Wattamolla swimming spot along towering sandstone cliffs, arid plains, and lush bushland. And because the area is so secluded, there is a high potential for seeing native wildlife!
When you arrive at Curracurrong Falls, there is so much to explore, including the many other waterfalls littering the area. And if you keep your eyes peeled, you may even glimpse the iconic sandstone structure—Eagle Rock.
If you would like to explore Sydney further, here are a few other fantastic tracks worth mentioning:
Bondi to Coogee Coastal Walk
Two Valley Trail
Manly to Spit Bridge Walk
Bradleys Head to Chowder Bay
RELATED: 7 Days in Sydney Itinerary- For Those Who Want a Bit of Everything!
Hikes in NSW – Blue Mountains Region
The Blue Mountains is one of the most scenic locations in NSW and is arguably one of the best-hiking destinations in the whole state. The Blue Mountains have it all, from towering cliffs and plunging waterfalls to deep canyons and lush rainforest valleys.
There are many hiking trails we could have mentioned here, but the three listed below are an absolute must.
3. Grand Canyon Walking Track
1 hour 40 mins from Sydney
Distance: 9.2 km (5.7 miles)
Difficulty: Medium-hard
Time Spent: 3.5-4 hours
Animals: Birds, bush turkeys, lizards, wallabies
Shop/cafe: No
Amenities: Yes
The Grand Canyon Walking Track is one of the best hikes in NSW. As you enter the canyon, it feels like you have gone back in time.
As you walk through the ancient rainforests, the area feels completely untouched by civilization.
The track is filled with natural beauty with flowing streams, steep cliffs, a small cave to walk through, and even a waterfall that flows directly over the path!
The only thing to note about this hike is that it has been given a complex grading… STAIRS! And many, many, many of them.
If you have any injury or medical condition, we do not recommend this hike for you as there are roughly 2,000 stairs along this hiking track, and that's conservative.
But, if you are looking for a hike that will give you a workout while capturing swathes of natural beauty, we highly recommend the Grand Canyon Walking Track.
4. Wentworth Falls
1 hour 40 mins from Sydney
Distance: 1.4 km (0.9 miles)
Difficulty: Medium
Time Spent: 1 hour
Animals: Birds, bush turkeys, water dragons, lizards
Shop/cafe: No
Amenities: Yes
Wentworth Falls is hands-down one of the most scenic hikes in NSW. We know that is a tall order, but aside from the stunning waterfalls, the track leads you along sheer sandstone cliffs to reveal some of the most breathtaking views of the Jamison Valley we've ever seen.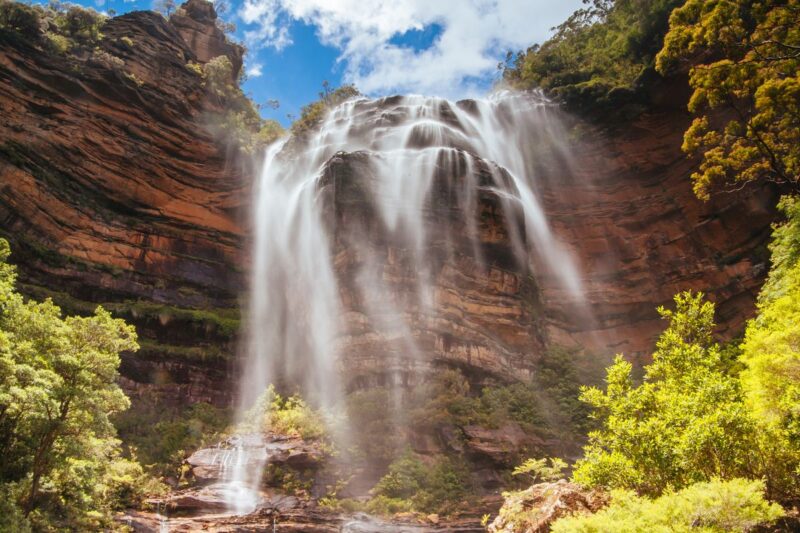 There are several walking tracks in the area, and each one boasts spectacular scenery.
Waterfalls, undercliff tracks, rainforest, and arid Australian bushland mark this location as one not to miss.
If you are adventurous, you can even explore the base of the falls by following the track along the side of the cliff and down the steep staircase. The views from this path are amazing!
5. Minnehaha Falls
1 hour 40 mins from Sydney
Distance: 3 km (1.9 miles)
Difficulty: Medium
Time Spent: 1.5 hours
Animals: Birds, lizards, water dragons
Shop/cafe: No
Amenities: No
Minnehaha Falls in Katoomba is the beautiful quiet achiever of our best hikes in NSW. Rarely does it make the list of famous walks, but we don't mind that, because that leaves it all to us!
This gorgeous hike follows the creek along the top of the mountains, through typical Australian bushland, before ascending into the valley below via several staircases.
When you finally reach the waterfall, this place will wow you. From the towering cliffs above to the emerald-green pool at the waterfall's base, Minnehaha Falls is stunning.
You are likely to find people all year round braving the icy cold waters to go for a swim too, so if you are brave, bring your swimmers!
If that's not your thing, you can just sit and enjoy the scenery or explore the little hidden off-tracks that lead you closer to the waterfall.
There are so many hiking tracks in the Blue Mountains that to document them would fill a book, but other tracks to look out for in the Blue Mountains Region are:
Katoomba Falls Walking Tracks
Gordon Falls / Pool of Siloam
Blue Gum Forest
Megalong Valley Walking Tracks
Hikes in NSW – Illawarra Region
The Illawarra region has it all. Gorgeous beaches with a stunning mountain backdrop, littered with hiking trails, and beautiful waterfalls set amongst some of the oldest rainforests in the world. The best thing about the Illawarra region is its proximity to Sydney.
At just over 1 hour south of the city, the Illawarra makes a fantastic day trip. Although there are many hiking trails in the area, we could only select a couple, but check below for more hikes.
6. Cascade Falls
1 hour 30 mins from Sydney
Distance: 1.6 km (1 mile)
Difficulty: Easy-medium
Time Spent: 40 mins
Animals: Lyrebirds, bush turkeys, water dragons
Shop/cafe: No
Amenities: No
Cascade Falls is possibly the most accessible track of our hikes in NSW, taking less than an hour to complete. This walk is for those days when you don't have much time but want to be out in the thick of nature.
When entering Cascade Falls walking track, you are instantly drawn into a lush rainforest with towering trees and dense shrubs blanketing the forest floor.
The scenery is spectacular, with moss-covered boulders and remnants of the ancient Gondwana Rainforest. The only sounds are the running stream nearby and the odd lyrebird calling in the distance.
The waterfall is the perfect place for a swim, or you can bring a picnic and sit on the boulders to admire the stunning scenery.
If you are more adventurous, feel free to explore the tracks to the top of the waterfall, where you will find yet more beautiful waterfalls.
Note that the paths beyond the main track are less worn and rated as difficult due to the steep gradient. Therefore, these tracks are recommended for experienced hikers.
Oh, and just a little insider tip: If you have time to visit at night, you will be treated to a thriving colony of glow worms! However, a night trip is something you should only attempt if you have someone with you.
Cascade Falls has a long list of lovely things to discover for a short walk and is one of the prettiest hikes in NSW.
7. Minnamurra Rainforest Walk / Waterfall Walk
1 hour 35 mins from Sydney
Distance: 1.6 km rainforest walk / 4.2 km both tracks combined (1 mile/2.6 miles)
Difficulty: Easy (Rainforest), Hard (Waterfall)
Time Spent: 2 hours
Animals: Lyrebirds, birds, wombats, lizards, water dragons
Shop/cafe: Cafe and gift shop
Amenities: Yes
Minnamurra Rainforest Walk is an absolute must of the best hikes in NSW. Perched in the rolling green hills of Jamberoo, if you are looking for beautiful scenery, it doesn't get much better than this.
The moment you enter the rainforest canopy, it feels like you have entered another world. Lush green foliage lines the moss-covered path, which follows a steady stream making the area so peaceful.
The Rainforest Walk is stunning, but we recommend combining the Rainforest Walk with the Minnamurra Waterfall Track if you are up for a challenge.
This steep but rewarding paved path leads you straight up the mountain to the falls hidden high above the valley floor. And yes, they are worth the extra effort!
Some other walks to look out for in the Illawarra Region are:
Clover Hill Road
Jump Rock
Sublime Point
Mount Keira Walking Tracks
Sea Cliff Bridge
Hikes in NSW – South Coast Region
The South Coast region of NSW is home to some of Australia's most famous beaches. From Kiama to Eden, the turquoise waters and white sandy beaches are renowned worldwide.
However, the real hidden gems on the NSW South Coast are the hiking tracks in the mountains beyond those stunning beaches. Although it's a hard call, we have chosen one of those tracks. We believe it is well-deserving to be included in the best hikes in NSW.
8. Drawing Room Rocks
2 hours 15 mins from Sydney
Distance: 3.5 km (2.2 miles)
Difficulty: Hard
Time Spent: 2.5 hours
Animals: Wallabies, wombats, birds
Shop/cafe: No
Amenities: No
If you are planning a trip to the NSW South Coast and hiking is your thing, then Drawing Room Rocks is a must-see. Located west of the picturesque township of Berry, the area boasts some of the most spectacular views in NSW.
The track to the summit is a bit rough but clear enough if you stick to the main path. If you enjoy a more challenging terrain, this is the hike. You will have to scramble over boulders and walk through some almost always muddy areas to reach the summit.
But the views are so worth the effort.
When you arrive at the top, you will be greeted by unique sandstone formations lining the cliffs. The stones are distinctively shaped by weathering of the softer sandstone, leaving only the harder rock behind. It is a fantastic place to explore or sit and relax at the summit.
We believe this hike will deliver if you are looking for a challenging, off-the-beaten-path hike to conquer.
Other South Coast Walks to consider are:
Red Rocks Trig Walking Track
The Grotto, Nowra
Mount Imlay Summit Track
Hikes in NSW – New England Region
Filled with waterfalls and stunning mountainous ranges, this part of the New England Region is affectionately known as Waterfall Way. And along Waterfall Way, there are many fantastic hiking tracks.
So, if you want to get out of the city and see country NSW, this is the place to go.
9. Crystal Shower Falls – Dorrigo National Park
6 hours from Sydney
Distance: 4.4 km (2.7 miles)
Difficulty: Easy-medium
Time Spent: 1.5-2 hours
Animals: Possums, birds, lizards
Shop/cafe: Yes
Amenities: Yes
Crystal Shower Falls, located in the Dorrigo National Park, is one of several stunning hiking tracks in the New England Region of NSW.
From the moment you enter the canopy, you find yourself amongst some of the oldest rainforests in the world. With towering trees and dense, green ground cover, it's the perfect place for wildlife.
And here, wildlife is abundant! So, make sure to keep a lookout for native birds, lizards, or even a ringtail possum up in the trees.
When you arrive at Crystal Shower Falls, you are greeted with the most beautiful suspension bridge leading you straight out overlooking the glen.
But even better than seeing the falls from the bridge is the fact that you can walk down into the little cave behind the waterfall for an entirely different view.
And this stunning viewpoint is the reason Crystal Shower Falls is one of the best hikes in NSW.
10. Apsley Falls – Oxley Wild Rivers National Park
5 hours from Sydney
Distance: 2.8 km (1.7 miles)
Difficulty: Easy-medium
Time Spent: 1-1.5 hours
Animals: Kangaroos, goannas, echidnas, platypus
Shop/cafe: No
Amenities: Yes
Apsley Falls along the Oxley Highway is one of the most remote hiking tracks on our list of best hikes in NSW. When you arrive, the area doesn't look like much, with no accurate indication it's about to wow you. The place looked so dry that we weren't expecting a waterfall to be flowing.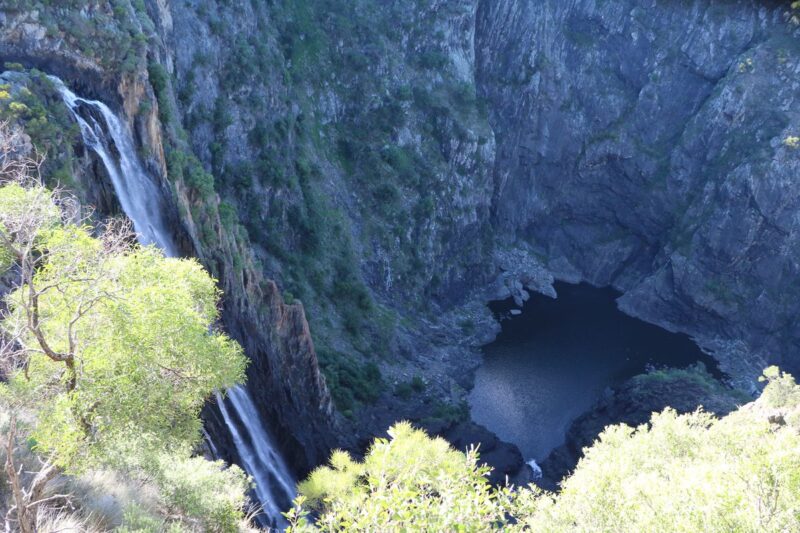 But from the moment you step out onto the first lookout, you realize this little gem has more than meets the eye.
When you begin the walk, you can't miss how arid this area is. Gumtrees lining the path around the gorge's rim are the only source of shade shielding you from the sun.
The path leads to another lookout of Apsley falls which places the waterfall in clear view, but the rugged track doesn't end there.
If you're up for hiking the uphill track to the end, it reveals the best-hidden secret of the area. Another waterfall, just as spectacular as the first, and not noted in any information we had seen on Apsley Falls!
Deep in the gorge, hidden from sight by the massive stone walls, is lower Apsley Falls.
Photos do not do it justice. The Gorge is enormous, especially from this final vantage point, but it makes the waterfall look tiny, which it was not.
But if you want to see how amazing this place is, there is no better way to find out than to come for a visit yourself! You won't be disappointed!
While you are in the area, here are a few other tracks you can check out.
Wollomombi Falls
Threlfall Track
Wrights Lookout
Hikes in NSW – Northern Rivers Region
The Northern Rivers Region is a stunning tropical paradise in Northern NSW, 8.5 hours north of Sydney. The area is known for its beautiful coastline and, in particular the touristy Byron Bay. But that isn't all the Northern Rivers has to offer.
The mountainous hinterland is filled with ancient rainforests, stunning waterfalls, and fantastic hiking tracks that attract nature lovers. Below is one of the best walking tracks in the entire region and deserves to be named amongst the best hikes in NSW.
11. Minyon Falls – Nightcap National Park
8 hours 25 mins from Sydney
Distance: 13 km (8.1 miles)
Difficulty: Medium-hard
Time Spent: 3.5-4 hours
Animals: Birds, blue tongue lizards, water dragons
Shop/cafe: No
Amenities: Yes
This is a track that we couldn't wait to write about. We cannot rave enough about this beautiful place! Set in the Nightcap National Park west of Byron Bay, Minyon Falls is a popular tourist destination for all who visit the Far North Coast.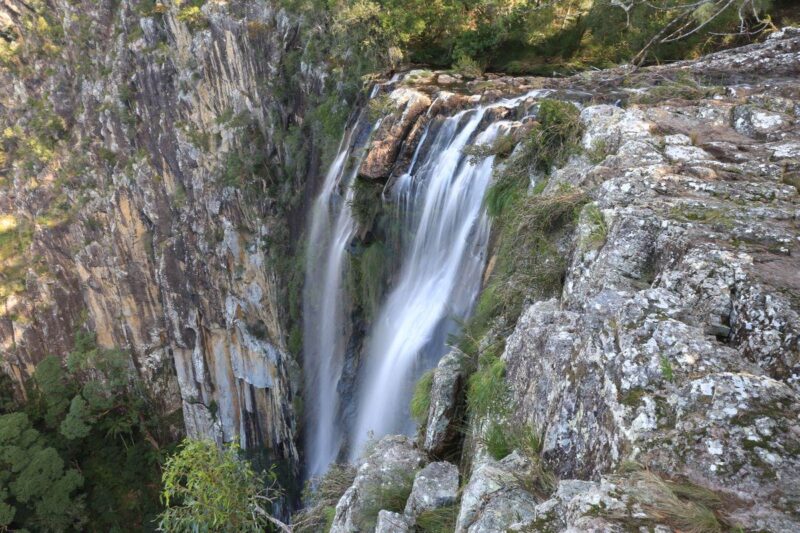 The walk to the base of the falls leads you through some of the thickest tropical rainforests in the Northern Rivers. As the path winds its way along the forest floor, it is covered with ancient trees, towering palms, and ferns sheeting the area. It feels like you are in a tropical wonderland.
And then you arrive at the base on Minyon Falls. WOW! This massive basalt rock formation is overwhelming as you climb the large boulders into the swimming area at the bottom.
The falls were so big that we couldn't capture them in one shot, but the basalt walls were enormous.
Just be aware that the area can be busy, so if you want the place to yourself, it's best to come early or in the afternoon when everyone is starting to make their way home. We started the walk at 2 in the afternoon and were almost entirely alone at the bottom.
Other walks in the area that are worth checking out include:
RELATED: 10 Cool Things To Do on the Gold Coast in Australia
Hikes in NSW – Central West Region
The Central West Region is known for its beautiful wineries and true outback Australian feel. The area is also filled with little first settler townships formed in the gold rush, which makes this area historically very interesting.
Although not usually known for hiking, we have uncovered one of the best hiking tracks in the area and highly recommend the trip.
12. The Drip
4 hours from Sydney
Distance: 2.8 km (1.7 miles)
Difficulty: Medium
Time Spent: 1-1.5 hours
Animals: Goannas, water dragons, birds, echidnas
Shop/cafe: No
Amenities: Yes
Although remote, The Drip is a beautiful hiking destination only 30 minutes from the stunning Mudgee wine region. The area derives its name from the massive sandstone cliffs that seep water into the Goulburn River below.
The walking track is set amongst beautiful Aussie bushland and boulders that line the river, making the walk one of the loveliest bush hikes in NSW.
The track winds its way through rock and natural stone arches making the walk one of a kind. When you reach The Drip, the imposing stone structure towers above the stream, making you feel so small beneath its span. You can hear the echo of the water dripping into the stream below as you climb down to the river.
If you are happy to get a little wet, you can walk along the stream right to the end or bring your swimmers and wade around in the cool, clear water. Either way, the tranquillity of this place is second to none, and we highly recommend a visit.
Oh, and if you are a history buff, an information board at the beginning of the track explains its significance to Indigenous Australians and early settlers alike.
Other hiking tracks we highly recommend in the Central West are:
Hands On Rock
Warrumbungles
RELATED: A Legendary 7-Day Outback Road Trip Itinerary (Australia)
Hikes in NSW – Snowy Mountains Region
Oh, the Snowy Mountains! This beautiful place has so much to offer! There is great skiing in winter, mountain biking, and amazing hiking all year round. There are several tracks available, but we believe the most iconic the most exciting is the hike to the top of the tallest peak in Australia.
13. Mount Kosciuszko
Distance: 13 km (8.1 miles)
Difficulty: Medium
Time Spent: 3.5-4.5 hours
Animals: Wombats, wallabies, echidnas, possums, emus, platypus, birds
Shop/cafe: at Thredbo
Amenities: at Thredbo
We couldn't finish a list of the best hikes in NSW without mentioning Mount Kosciuszko. Proudly proclaimed as the highest point in Australia, with some of the most idyllic views in the country, it is well worth being on this list.
There are several different hiking tracks taking you to the summit of this magnificent mountain, depending on the difficulty level you are looking for. The most common route is via Thredbo, using the chairlift to take you part of the way (runs from 9 am to 4:30 pm, $55 each).
During the warmer months, you can enjoy the scenic countryside following the marked trail, which makes this track easier for those who don't have a lot of experience.
However, in winter, the track transforms into a sheet of white completely covering the path. For this reason, in winter, the tracks are only suited for experienced hikers, taking care to watch the conditions and prepare accordingly.
You can ski or snowboard back to base from the summit, which has become a famous pastime for many hikers climbing Kosciuszko in winter.
We highly recommend this hike if you are looking for a challenge and desire to conquer the highest mountain summit in Australia.
If you wish to continue exploring the area, here is a list of other tracks you can suss out:
Yarrangobilly Caves
Clarke Gorge Walking Track
Illawong Walk
So, there you have it, the 13 best hikes in NSW. Truthfully there are so many amazing hikes in NSW that it's hard to choose just a handful. But we hope we have given you a great place to begin. Enjoy, and we look forward to seeing you on the tracks!
---
---
>>> BIO
Hi! We are Karol-llyn and Nae. Busy mums, avid hikers, and crazy adventurers who love exploring our beautiful NSW state. Our goal is to document every track we can to help you choose the best tracks for you, to make venturing outdoors enjoyable. We invite you to come and enjoy the adventure with us. Read more about our adventures here.