Dramatic black painted cliffs dusted with green foliage, waterfalls pouring over craggy stones around every corner and vast fields with charming cottages and sheep dotting the hillsides…
Iceland is just kind of perfect…
There's something about subarctic climates that bring out a sheer expansive beauty unlike any you will see in warmer climates. You should not only visit Iceland, you should get well acquainted as well.
If you're wanting to maximize your time here, moving around less, is better.
Put your feet and bags down in Reykjavik, the capital of Iceland, and get ready for your epic jaunts beyond the city's borders and into the vast and dramatic Icelandic landscape.
Go ahead, unpack those bags in your hotel and simply enjoy a variety of day trips from Reykjavik. Don't worry. I'll tell you exactly how to do it.
Day Trips From Reykjavik
---
I appreciate the fact not everyone likes to DIY their way around new countries. I happen to road trip Iceland, in September, after finding one of the cheapest campervans. But while Iceland is very easy to navigate on your own, it can be intimidating with the crazy weather and for those who don't like driving abroad.
If you're wanting to explore Iceland with the least amount of responsibility, taking day trips from Reykjavik is your best bet. Here are 17 Rekyavik day tours that are totally worth it!
1. Golden Circle Full Day Tour from Reykjavik
This has got to be the most popular Reykjavik day tour. You'll feel like an ice prince/princess as you take a leisurely tour to a crater lake, a waterfall, and a geyser.
Each one of these locations is stunning in its own right, and this tour will take you to all three. As if that wasn't enough, you can witness the exact spot where the North American and Eurasian tectonic plates collide.
For adventure with a side of relaxation, take this Golden Circle tour that incudes a trip to the Secret Lagoon. Here you'll have free time for swimming and chilling in a geothermal lagoon surrounded by spouting hot springs.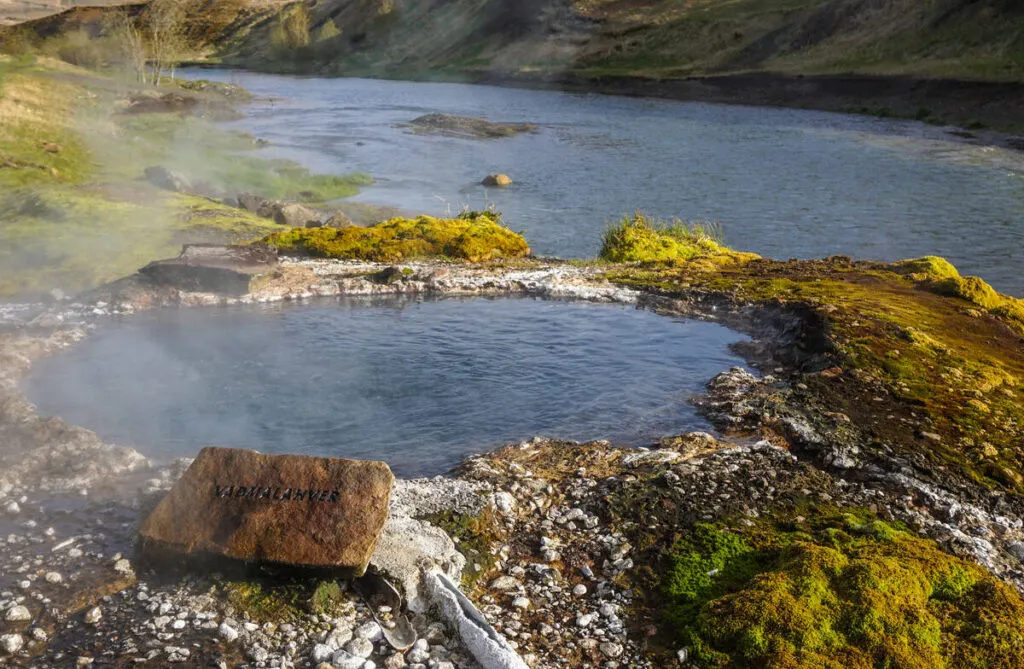 People pay hundreds of dollars in the US to have this experience simulated in a spa, and you can shell out some cash to have the actual up front and personal experience. Do it.
These Reykjavik day tours are a must do.
2. Southern Iceland Tour From Reykjavik
Sit back with a small group of fellow tourists and watch as the rugged wilderness meets pristine waters. Listen to an animated tour guide ply you with fascinating history and culture.
We talk a lot about white sand beaches, but what about black sand beaches?
Take this Reykjavik day tour, and you'll find out just what they're about. At the end of this whirlwind of a day trip, you'll stop at a local farm and experience how those who are native to Iceland really live.
3. Northern Lights Bus Tour from Reykjavik
The Northern Lights tour is so popular that it often sells out! In fact, this Reykjavik day tour is probably the main reason you are in Iceland to begin with. You'll head out on a bus to wherever the local experts say the Aurora Borealis is most likely to appear.
But because nature can be a huge pain in the ass, you might miss the lights altogether. What's nice about this tour is that if you do miss the lights, you can book another tour for free.
4. Jokulsarlon Glacier Lagoon Full Day Tour from Reykjavik
Here's another southern tour for your itinerary. This one is full of glaciers and boats. You should definitely choose the optional boat trip part of the tour that will take you up close and personal to the icebergs you've only previously seen on TV.
In addition, you'll walk behind a waterfall, visit a black sand beach, and stop at the southernmost point of Iceland, the village Vik, for dinner. A Reykjavik day trip you won't want to miss.
5. Puffin Watching Boat Tour From Reykjavik
Put on all your clothes (for warmth) and board an old wooden boat! Then take an hour-long tour off the Old Harbor Bay from Reykjavik to bird watch.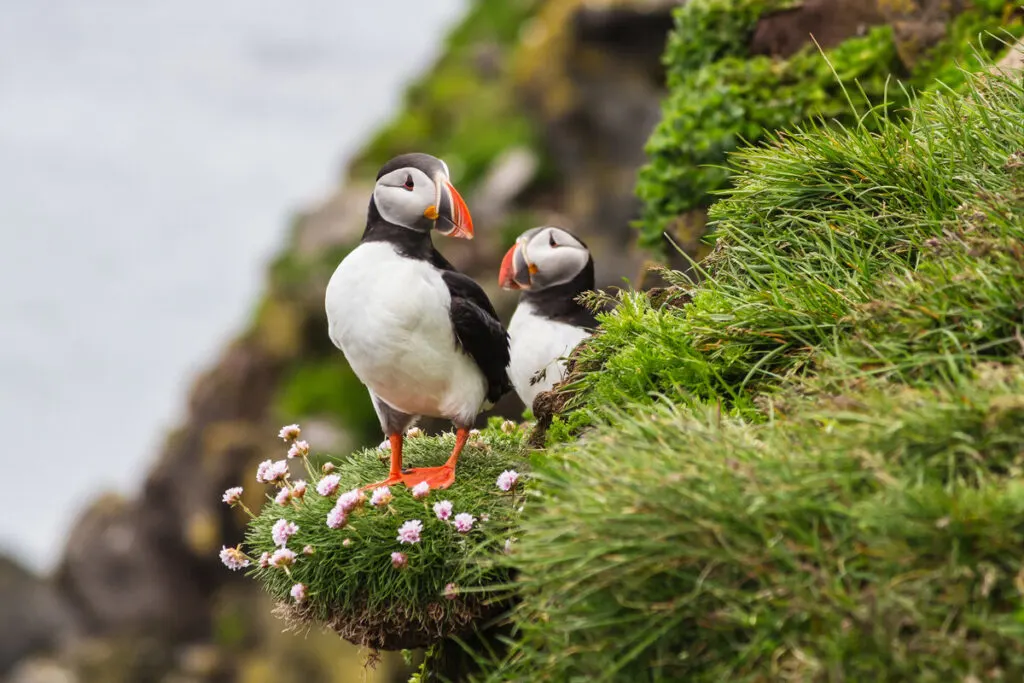 Your captain will navigate these icy waters to get you out to two different islands, turn off his engine, and let you take it all in. Witness the North Atlantic puffin in its natural habitat.
6. Snaefellsnes Peninsula Full Day Tour From Reykjavik
This all day trip from Reykjavik is all about taking your time. You will spend the entirety of your day, from sun up to sun down traversing across this small region of Iceland.
The villages you visit will give you a taste of Icelandic life, the dormant volcano and gorges will be a shock to your sense, and the seal watching is just adorable.
7. Whale Watching Tour from Reykjavik
Take a few hours on the Andrea, the largest whale watching ship in Iceland, and head out into the Atlantic.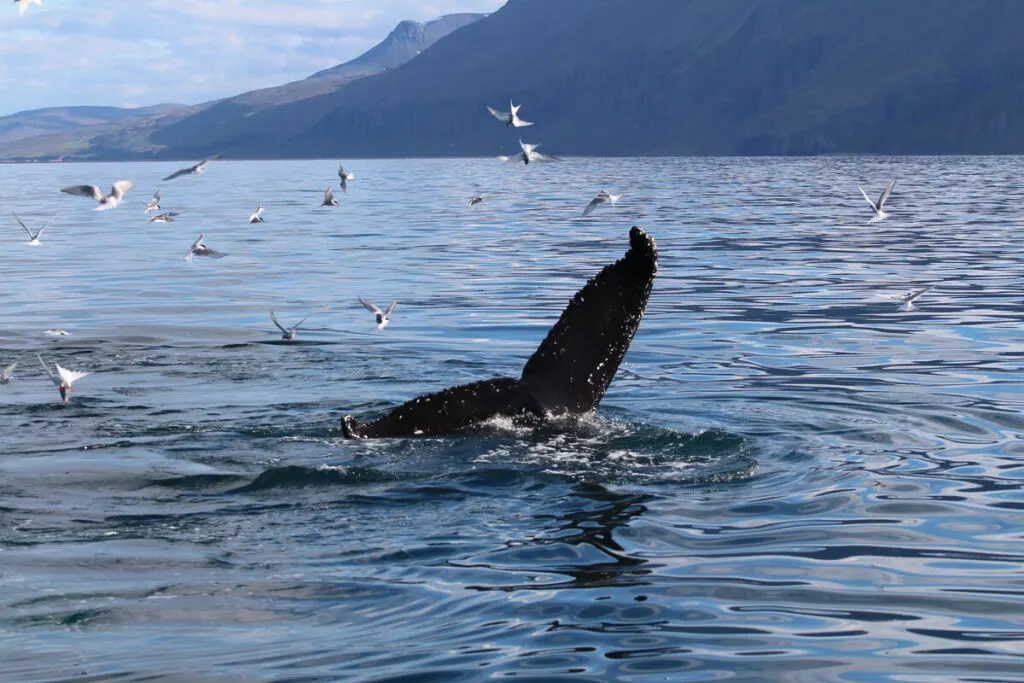 Be sure you take this Iceland tour from Reykjavik during the summer months, April to September, so you can actually catch sight of whales, dolphins, and porpoises breaking through the surface of the ocean alongside your ship.
There are no guarantees you'll see any of these sea giants during off season.
8. Katla Ice Cave Tour from Reykjavik
Be sure to wear some warm clothes and comfy walking shoes on this adventurous day trip from Reykjavik, which allows you to get up close and personal with some of the best landscapes in the south of Iceland.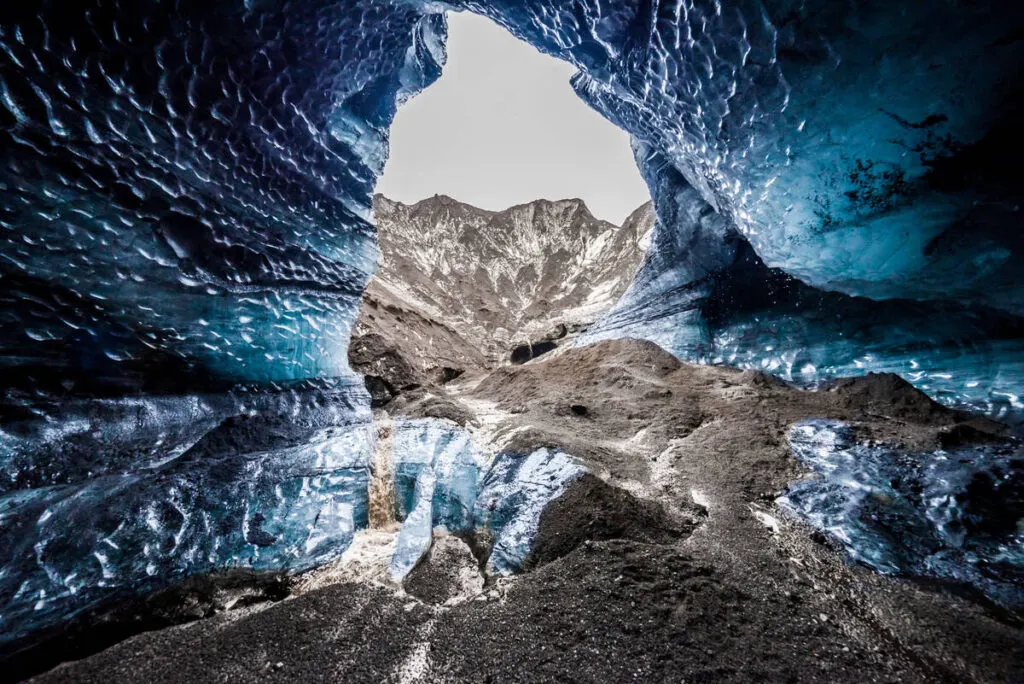 You'll be driven by a Super Jeep through magical scenery before arriving at Myrdalsjokull Glacier. After strapping on the provided crampons, you'll be hiking right across the countryside to the next stop—Kötlujökull Glacier.
You'll finish by exploring the Katla Ice Cave, a spectacular natural blue and black ice formation.
9. Landmannalaugar 4 Hour Hike and Hot Spring Tour from Reykjavik
So… we talked about volcanos, and we talked about hot springs, but this Reykjavik day tour has both! Of all of the day tours from Reykjavik, this one is clearly the winner for adrenaline junkies.
Get your heart racing as you hike through the southern Highland of Fjallabak, and after witnessing sights you won't see anywhere else, sights that even pictures cannot accurately capture, you get to rest in a hot spring to relax your tired muscles.
Um, yes please and thank you.
10. Skaftafell National Park Hike From Reykjavik
Hiking's in your blood, huh?
Well strap on your crampons and hike across the ice on this Reykjavik day tour.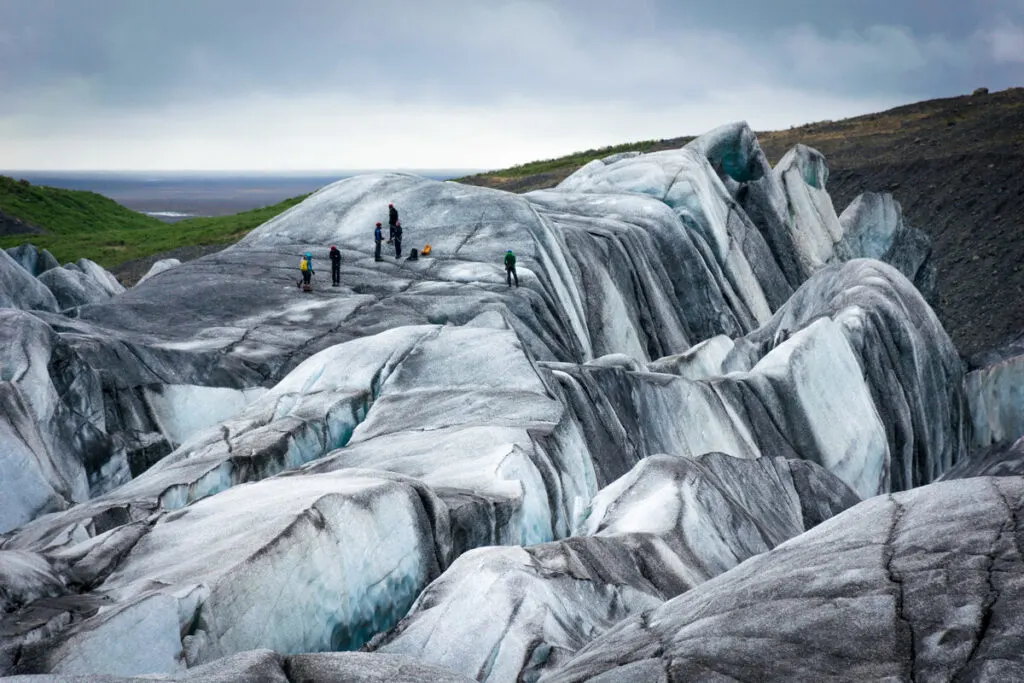 For three hours you'll check out the deep crevices along the surface of the ice. You'll also get a photo op worthy view of one of Europe's largest glaciers at Vatnajokull.
Your guide will explain all about the region, what keeps it all together, and what keeps you safe in this arctic ice land.
11. Langjokull Glacier Snowmobile Tour From Reykjavik
Once it's complete, you'll be sorry this day tour from Reykjavik only lasted 10 hours. You'll head straight to the Langjokull glacier, where you'll pick up your snowmobile.
Spend the day gliding over the pristine white expanse of the glacier – the second largest in Iceland. Top engineers have figured out a way to bore into this glacier and produce a crystal cavern that allows us to gawk at this mountain of ice from inside crystalline blue walls.
After all that activity, you'll have the chance to soothe your tired muscles with a trip to Fludir – home to Iceland's famous Secret Lagoon.
12. Silfra Fissure Tour From Reykjavik
So remember we talked about the wonderful Reykjavik day trip where you get to view the spot where the North American and Eurasian tectonic plates collide? Well if witnessing it is wonderful, what is swimming through it?
Magical? Yes. Yes, it's magical.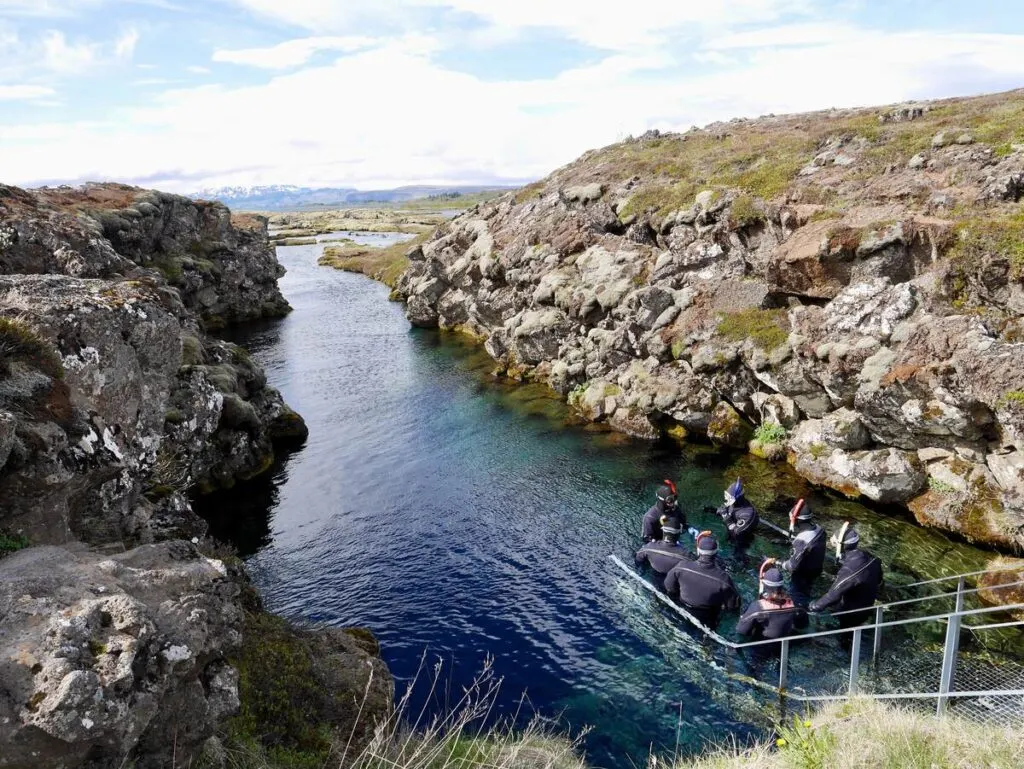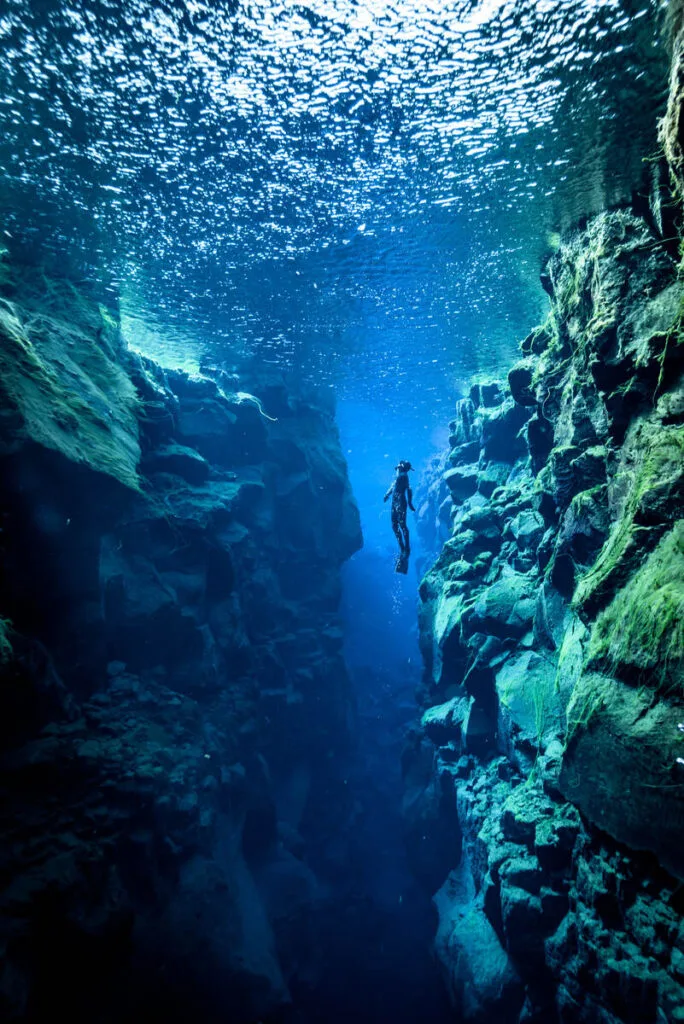 And this tour will let you do just that: don a snorkel and swim into the fissure between these two tectonic plates. Talk about a bucket list experience.
13. Icelandic Horse Riding Tour From Reykjavik
There are just some places that cannot be explored in a car or even on a bike. For these special places, we have horses.
You will be picked up from your hotel and driven just 10 minutes outside of Reykjavik to the Ishestar stables where you'll find beautiful, friendly horses known as tolt, who will take you out to trot through lava fields surrounded by green hills.
This Reykjavik day trip is not only otherworldly; it feels as if you've gone back in time as well.
14. Caving Tour From Reykjavik
So now that you've traveled through lava fields, it's time to travel under lava fields.
"What?" You ask. Yep, you can drop down into the cracks and crevasses of the Raufarhólshellir tunnel, situated just below the lava fields.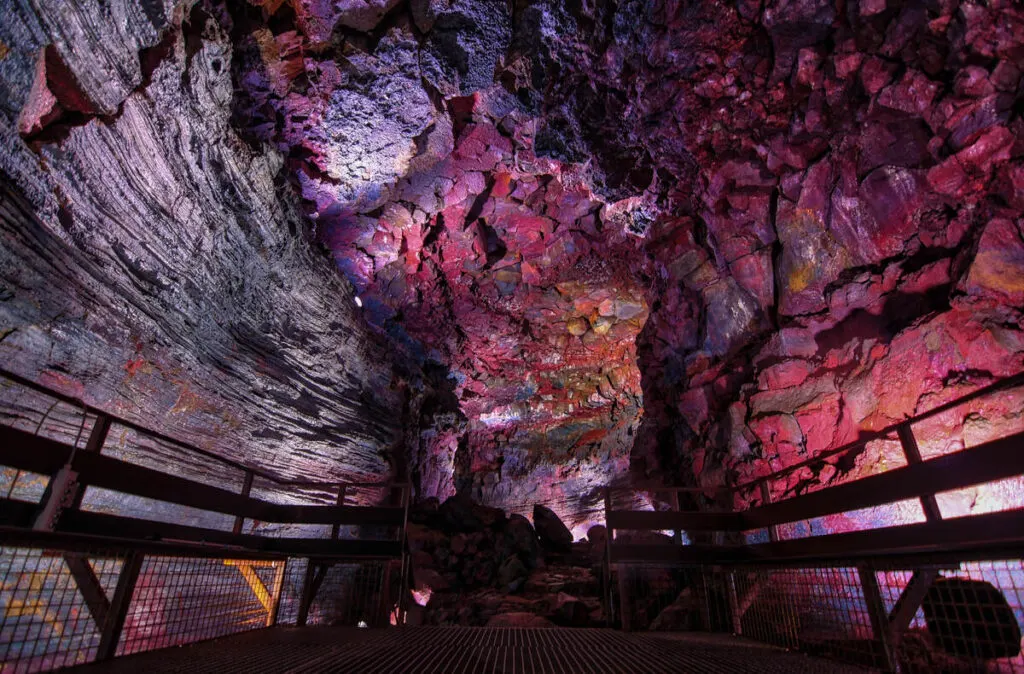 What may at first seem dark and spooky is actually one of the most visually stimulating experiences you can have, not just on a Reykjavik day tour, but in this lifetime.
15. Thrihnukagigur From Reykjavik
You've been in lava fields, you've witnessed a giant volcano by now, and you're feeling pretty fearless. That means it's time to send you dropping into a volcano.
The Thrihnukagigur volcano is dormant, which means it is highly unlikely to erupt.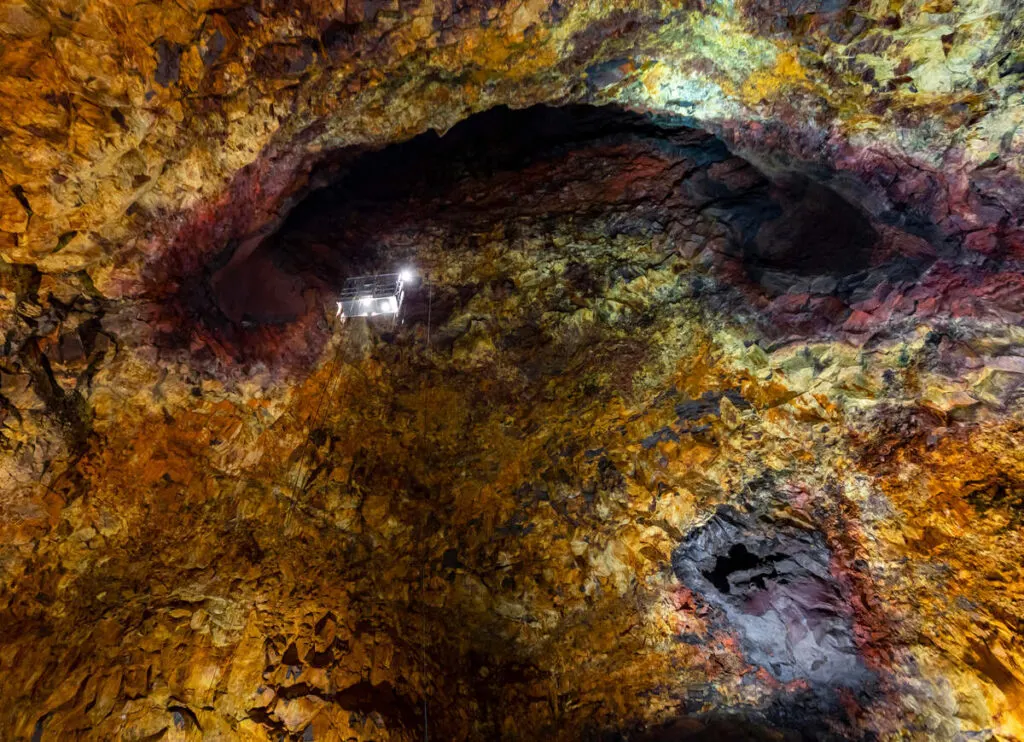 You can spend up to an hour in the volcano, but don't worry, if it gets too hot, you can always ask to leave early.
But honestly, when else in your life will you be able to say you were inside of a volcano? At the end of the day, you'll be served a great dinner.
16. Western Iceland Day Tour from Reykjavik
One of the best things about booking an organised day trip is that you can see multiple in attractions in one day, and this day tour takes in the best of the western part of Iceland.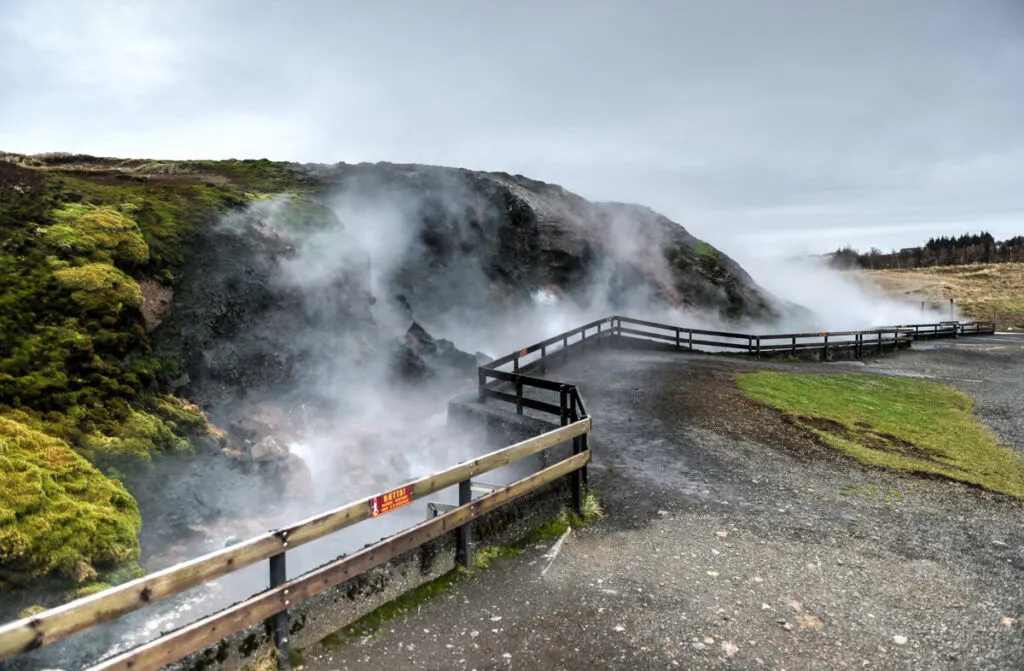 You'll start with a trip to the scenic Glanni waterfall, before heading to the Deildartunguhver Geothermal Area – the highest flow hot springs in Europe!
Waterfalls lovers will be impressed by Hraunfossar, which is not one but a whole series of cascades, spread out over about 900 metres. There's also another waterfall, Barnafoss right nearby so you'll definitely get your fix.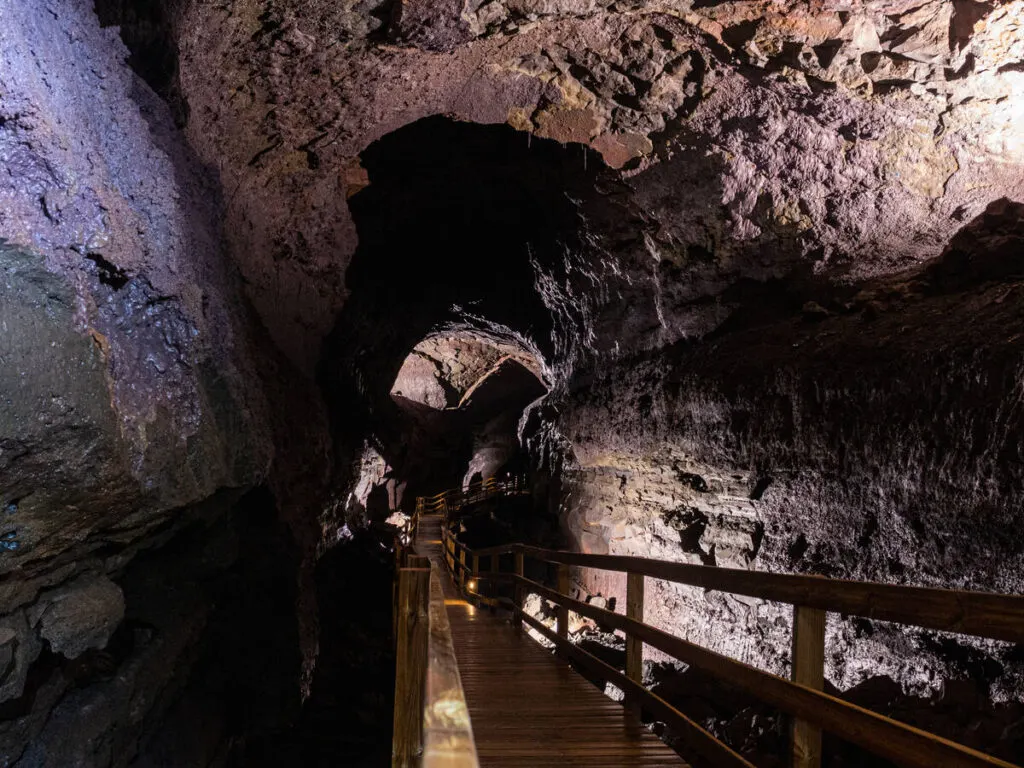 The highlight however is the Vidgelmir lava cave, a long underground stretch filled with colorful and strange rock formations.
17. Blue Lagoon Full Day Tour From Reykjavik
As a professional nomad who prefers to avoid the major crowds and obvious tourist attractions, I have to say, the Blue Lagoon is pretty damn worth it.
It is stunningly gorgeous with its branching out streams and it's opalescent opaque waters. This Reykjavik day tour will not only take you to the Blue Lagoon, but you'll also get a tour of the Golden Circle while you're out. So this is a great combo choice to make the most of your time.
What's Next?
Are you eventually exploring beyond Reykjavik? Will you want to head to the far east? Or perhaps to the less discovered northwest? One of the best ways to discover Iceland is to road trip it yourself!
Here are all the tips you'll need to road trip and campervan Iceland and you'll need to know what to pack as well. If you're looking for some of the best deals on rental cars or campervans, this is place to look.
I hope this helped you choose which day tours from Reykjavik are the most worth it for your trip!
Which of these day trips from Reykjavik are you going for? Let us know in the comments!
Click the picture to pin it for later!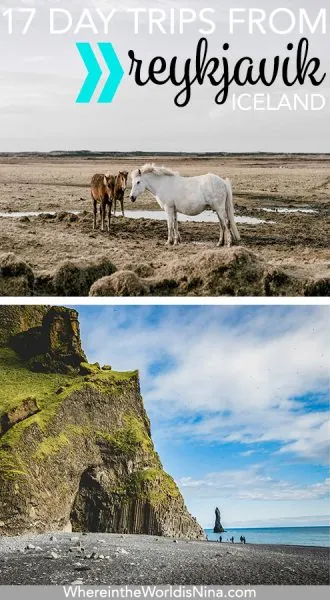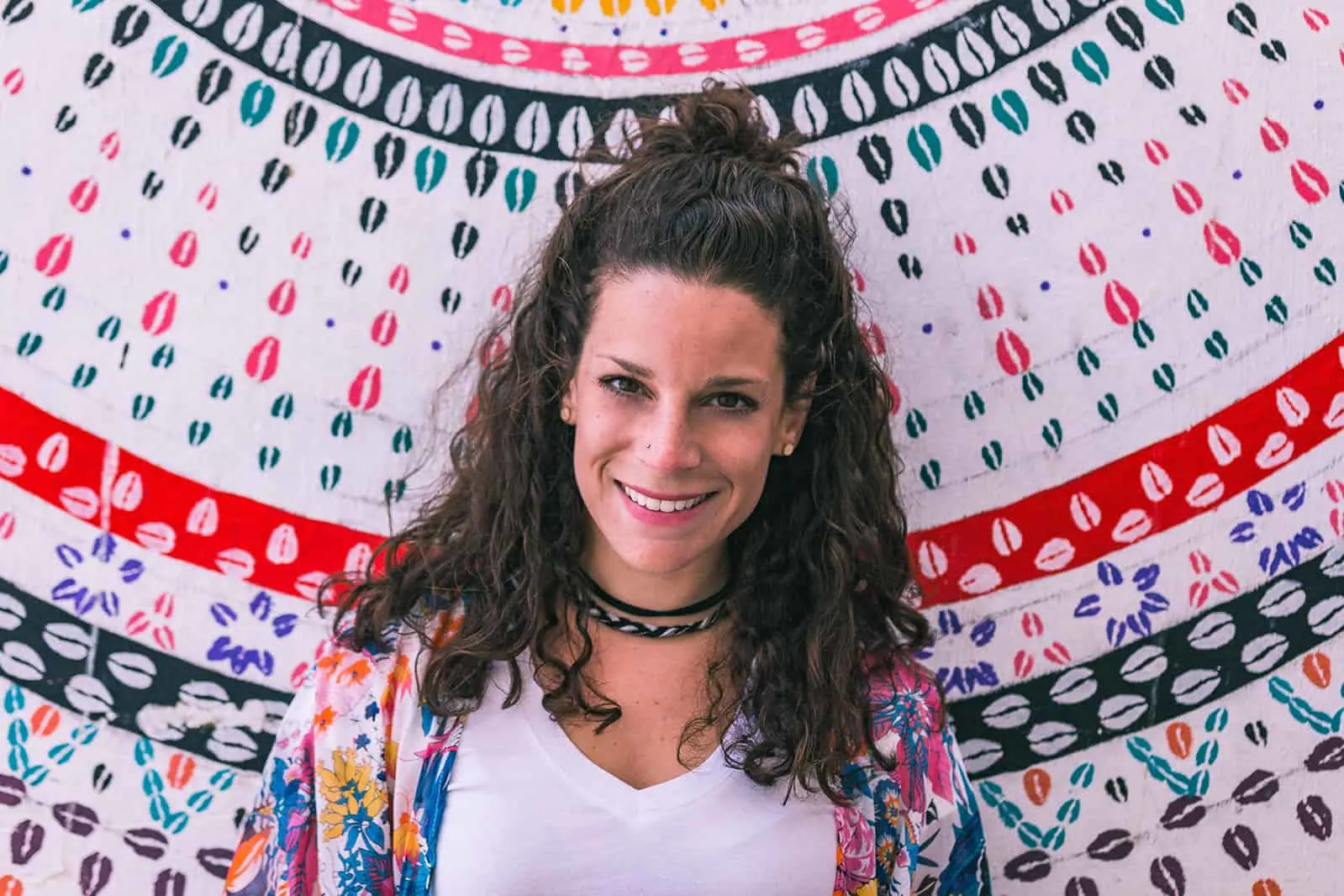 Nina Ragusa is an adventurer, messy bun master, breakfast fan, and full-time travel blogger. She's been abroad since 2011 and blogging on Where in the World is Nina? for nearly as long. Nina helps people like you move around the world while making money. She loves talking about how to work abroad and online to travel longer!