This guide about how to become a VIPKid teacher is authored by Katty.
Teaching is a challenging, rewarding, and enjoyable profession.
Aside from teachers deserving the salary of any big-name CEO, the only real way to make it a better job is by offering complete freedom from the traditional classroom. Just like other remote jobs out there that are getting people out from behind the office desk and into a new desk that's somewhere around the world, teaching English online has the same freedom.
Teaching online is now the new norm, and people around the world are learning anything from neuroscience to languages—all online.
There aren't many jobs out there where you can sing (terribly), dance, and play with puppets at your computer screen and get paid to do it all while you travel the world at your own pace…But that's precisely what you'll get paid to do working as a VIPKid English teacher.
Don't lose this! Click to pin it now.
How to Become a VIPKid Teacher
---
Editor's Note: I just want to preface by saying Katty is an amazing resource for anything and everything related to becoming a VIPKid teaacher. I've been Katty's friend for a few years now. We were both living in Thailand living our best lives and teaching English online. It was this weird novel idea that only a few were privy to and people almost didn't belive it was our job.


Now, it's like, THE JOB to have if you're a native English speaker (or not, actually) and want some cash to travel the world. If that's you, you're in the right place!


I can't recommend teaching English online enough as a great travel job, so soak in the info in this post as well as my other teaching posts I'll link to throughout this article.
My Journey as a VIPKid Teacher
I've been a VIPKid teacher since 2015, when they were still a new but rapidly growing company. If you can believe it, there were about 600 of us teaching back then, and most of our communication was through Skype. Ah, the pre Zoom days. Now, VIPKid is a platform boasting over 100,000 teachers and 700,000 students.
I'm also a Mock Class Mentor (MCM), which means I'm potentially one of the people you'll meet during the application process. I train and assess applicants during the 'certification center' stage of the application, where applicants aim to get certified in the different levels to help them be the best online teacher they can be.
Back in 2015, I had just left teaching at a private school in Thailand to work and travel in Australia. While I was applying for jobs, an old friend contacted me about becoming a VIPKid teacher. I landed an interview and was contracted within two weeks.
It seemed too good to be true. I had a job where I could set my hours and have a ton of fun teaching. As long as I had my working computer, a few props, and a stable interview connection, I was teaching children in China from the comfort of my apartment and later from my not-so-comfortable campervan as my partner, and I traveled up the east coast of Australia.
Since Becoming a VIPKid Teacher
Since then, I've traveled to 35+ countries and taught from a majority of them. I've toured through ancient Hoi An, modern Singapore, eaten my way through Bangkok and many Thai islands…
I hiked in Patagonia, stargazed in the Atacama Desert, experienced Machu Picchu, the Acropolis in Athens, the Daintree Rainforest in Australia, Edinburgh Castle, Songkran in Thailand, Chinese New Year in Hong Kong, walked on glaciers in Chile, and road-tripped through Iceland, Australia, the US, and Europe. I could go on, but you get the picture.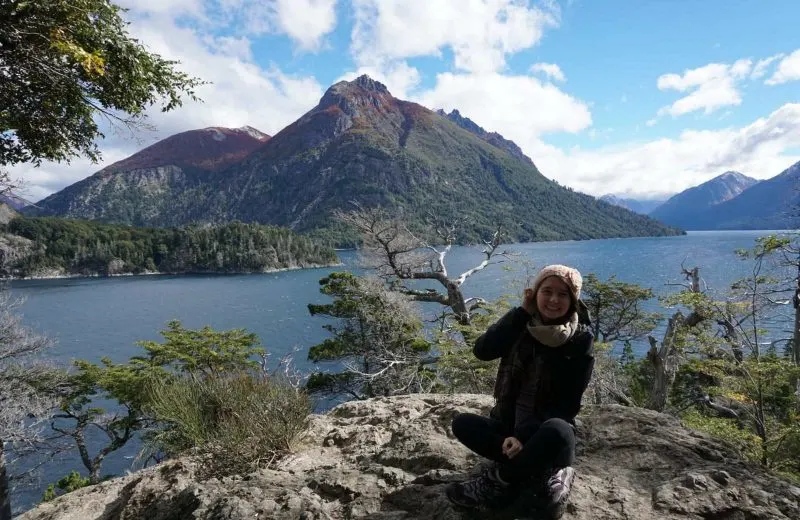 I was able to support both my partner and me before he built up some teaching experience while we traveled through the Caribbean and Central America. I've taught from apartments, campervans, campsites, libraries, co-working spaces, Airbnbs, and guesthouses.
Over the last five years, I've taught almost 3000 students and helped them grow as English speakers in over 6500 online classes. At that time, I also somehow managed to complete my Masters in International Education (online with the University of Sydney) and wrote my dissertation research project on how to be successful in an online teaching environment.
Sometimes, I worked crazy hours to save up money; other times, I took a few weeks off just to enjoy traveling. The life of a remote worker with a flexible schedule is perfect for traveling.
RELATED: How to Teach English Online From Home + 29 Schools to Apply To
What is VIPKid?
VIPKid began as an English language learning start-up for Chinese students in 2013. It is now one of the largest online language-learning platforms in the world. It was founded by two badass women and is based out of their giant headquarters in Beijing. They have offices in China, Hong Kong, and San Francisco.
It's a fully immersive one-on-one English language online classroom for Chinese students between the ages of 3-14. The curriculum is based on the U.S. Common Core State Standards using the flipped classroom model. Teachers are hired as independent contractors who can get certified in different levels of teaching to then open up their schedule to teach students in their digital classroom.
The company holds specific standards to follow, and the curriculum is pre-set. However, teachers are expected to use their strengths, methods, and resources in the classroom to engage and enhance student learning.
What Are the Qualifications for Teaching With VIPKid?
You can legally work in the USA for Canada. However, keep in mind that due to new contractor laws in California, VIPKid no longer accepts applicants whose home address is in California.
You hold a Bachelor's degree in any field, and you have a working understanding of the English language.
Having a TEFL/TESOL is preferred if you want to be a VIPKid teacher. However, if you don't have one, you will have to pass a VIPKid and TESOL foundation course in the teacher portal before you can start booking classes.
You'll also need teaching experience, but this is very flexible. It counts as experience if you have any training, coaching, tutoring, volunteer teaching, homeschooling, or actual teaching experience (to adults or children).
Editor's Note: You should read my online TEFL guide post for more info on getting your TEFL (Spoiler alert: IT'S 100% WORTH IT). Not only does it make you more vaulabe and stand out, it can potentially get you higher pay too.
BONUS: Get a 50% discount on your TEFL with code: nina50
Tech Requirements
You have to have a desktop, laptop, MacBook, or Surface. Chromebooks are not allowed. Your device must have Windows 7 or above, or Mac OS 10.10 or above, and memory of at least 4GB RAM. You'll also need Internet Core i3 or above CPU
As a VIPKid teacher, you're also required to have a stable internet connection with 20 Mbps download and 5 Mbps upload. An ethernet cable is also highly recommended.
Your computer probably already has this, but you'll need an HD external camera or HD integrated camera. You're also required to have a headset with a microphone, stable input, and output. Alternatively, you can use a USB adapter with both standard earphones and an external microphone.
You can find out more about the tech requirements here.
RELATED: How To Work Abroad & Travel the World.
Travel Specific Tech Suggestions
I recommend having backup WiFi in case you can't find steady WiFi. You can either get a TEP or Skyroam Device, which is pocket WiFi. It costs $8 per day for 1 GB of high-speed data. (Code: nina77 gets you 10% off Skyroam)
Alternatively, you can get Google Fi as a hotspot on your phone. The best thing that my partner and I did was signing up for Google Fi's phone plan.
They offer worldwide high-speed data, and you only pay for what you use. It's $10 per GB and includes unlimited texting, both domestically and internationally. It includes unlimited calling for only $20 per month, but it's only for the States.
NOTE: Hotspotting with GoogleFi is still in beta for iPhones.
Lastly, you can get a local SIM card to run a hotspot from your phone.
An iPad or a Tablet comes in handy when I can't access the classrooms on my computer, or the internet won't connect. If my laptop battery dies, and I can't find the charger, I can continue teaching from my iPad. A lot of teachers who travel prefer to use their iPad over their laptops.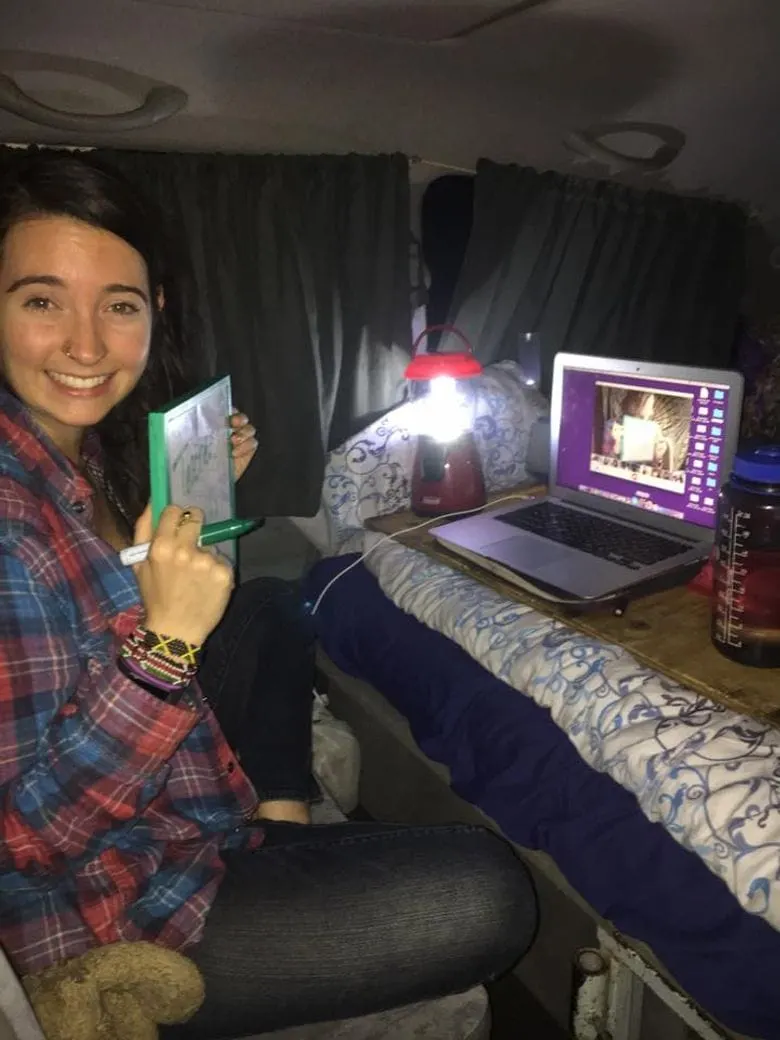 A retractable ethernet cord was a lifesaver for me in South America. The WiFi wasn't reliable in most places, even in Airbnbs. Some hosts will go above and beyond to provide you with one if you're staying for an extended period. But, I always travel with mine just in case.
I also travel with a selfie circle light or foldable light. These can be easily found online and can be packed in a bag for travel. This ensures that you have good lighting anywhere.
Lastly, I travel with a felt background or a map and masking tape. These items are perfect because they're light and can be set up anywhere to have a pop-up classroom on the road.
You can find out more about the entire application process for becoming a VIPKid teacher here.
What Is Teaching With VIPKid Like?
It's been a wild ride over the last five years being a VIPKid teacher, and I couldn't be more thankful for my job than I am right now as many people are looking for employment from home. The best thing about working from home or traveling while teaching with VIPKid is flexibility.
If you want to open slots to teach twelve hours a day, you can. However, bookings are not guaranteed. If you need to or want to take a month off, you can. There are no mandatory or minimum hours as an independent contractor.
The actual teaching experience is like any other teaching experience. You'll have incredible, amazing, inspiring, and fun days and some days that are the opposite.
One of the best pieces of advice that I can give you is to be patient. It's important to remember that these are just kids. They're here to learn and to have fun.
Who Are VIPKid Students?
VIPKid students are Chinese students ages 3-13 years old. You'll get a whole range of students in your time teaching, which adds to the fun. Students are placed by ability, and you can't "opt-out" of an age group.
You can choose which levels you certify for, and, generally speaking, the lower levels (1-3) have younger students (ages 4-8), and the higher levels (4-7) have older students ages (9-13). But this is not always true. I've had a few 12-year-old level 2 students and a 6-year-old level 4 student once.
The students are your clients, and they're why the job is so much fun. They soak up everything you do and are often eager to engage and ready to learn. Now, it doesn't mean every day is going to be a picnic. They are still kids, and it's a learning environment, but we're there to make learning as fun as we can.
The VIPKID mobile app has a lot of fun little cards and ways to communicate with the students' parents as well. After every class, teachers leave a few sentences of feedback for the parents, which is a great way to help motivate their learning as well as promote fluency as most students have multiple teachers throughout their time with VIPKid.
RELATED: A Guide to Teaching English Online to Chinese Students
How Much Do You Get Paid as a VIPKid Teacher?
Base pay is anywhere from $14-22 USD/ hour for a VIPKid teacher. The pay structure is based on your experience, education, and your demo lesson/interview. You receive a base pay per class and added bonus, which is calculated depending on how many classes you teach each month in addition to your cumulative classes taught.
The exact pay structure is individualized to you and is explained in detail in your contract.
On average, when I started teaching, I was making about $18 an hour. Now I make up to $22+, including extra monthly incentives, competitions, referrals, and prizes. These change so often I won't even try explaining them here, but there are lots of opportunities to make extra money.
Some teachers make a bulk of their income through referrals, and monthly incentives for referring teachers vary greatly. Often, it's anywhere from $50-$100+ per referral in a month. The more referrals per month, the more you make.
You can get paid on a weekly, bi-weekly, or monthly pay period, which is awesome. Base pay will be paid weekly/bi-weekly if you opt for that option, and the monthly incentives are paid at the payment you receive at the end of each month. Money is deposited directly into your account.
Most international accounts are valid. I had mine sent to an Australian account and a Thai bank account and a US one too. Now, I get weekly payments directly into my US checking account. A lot of teachers who are traveling opt to use Transferwise.
Pay Raises With VIPKid
They usually change their pay raise policy every two years, so this may be outdated soon. Every third contract, once a year, if you meet the requirements, you can qualify for a $0.50 raise per class ($1/ hour).
The pay raise requirements for the twelve months prior are:
A minimum of 1200 total classes taught.
At least 600 classes must have been taught during "peak peak hours," which is 7-9 pm Beijing time.
A maximum of two no-shows. No-shows are canceling a class within two hours or just not showing up to a class.
A cancellation rate of 0.60% over twelve months. They have a particular cancellation policy that's forgiving to natural disasters, accidents, emergencies, etc. which you can apply for.
More than 25% of five-star apple ratings. Apple ratings are parent ratings that are optional for parents to give. They're a great way to get feedback from parents, and VIPKid allows teachers to refute a negative review, which they will review to determine if the rating is invalided or not.
RELATED: Can You Teach English Online/Abroad Without a Degree?
What's My Teaching Schedule Like With VIPKid?
Available teaching hours are 9:00 am-9:00 pm Beijing time. Classes are booked in 30 minutes increments. Classes run for 25-28 minutes with 5-2 minutes between classes to allow teachers to prepare for their next class.
The busiest times for student bookings are the "peak Times," 5-9 pm Beijing time, and the "peak peak times," which are 7-9 pm Beijing Time.
Because of my traveling lifestyle, my schedule always changes depending on what time zone I'm in. If we're doing a lot of traveling, I might cluster a bunch of hours into a few days then take a few days off. Other times, I'll teach 2-3 hours a day for a little bit of income. Or, if I'm settled in one place for a month or more. I try to teach five hours a day, five days a week minimum.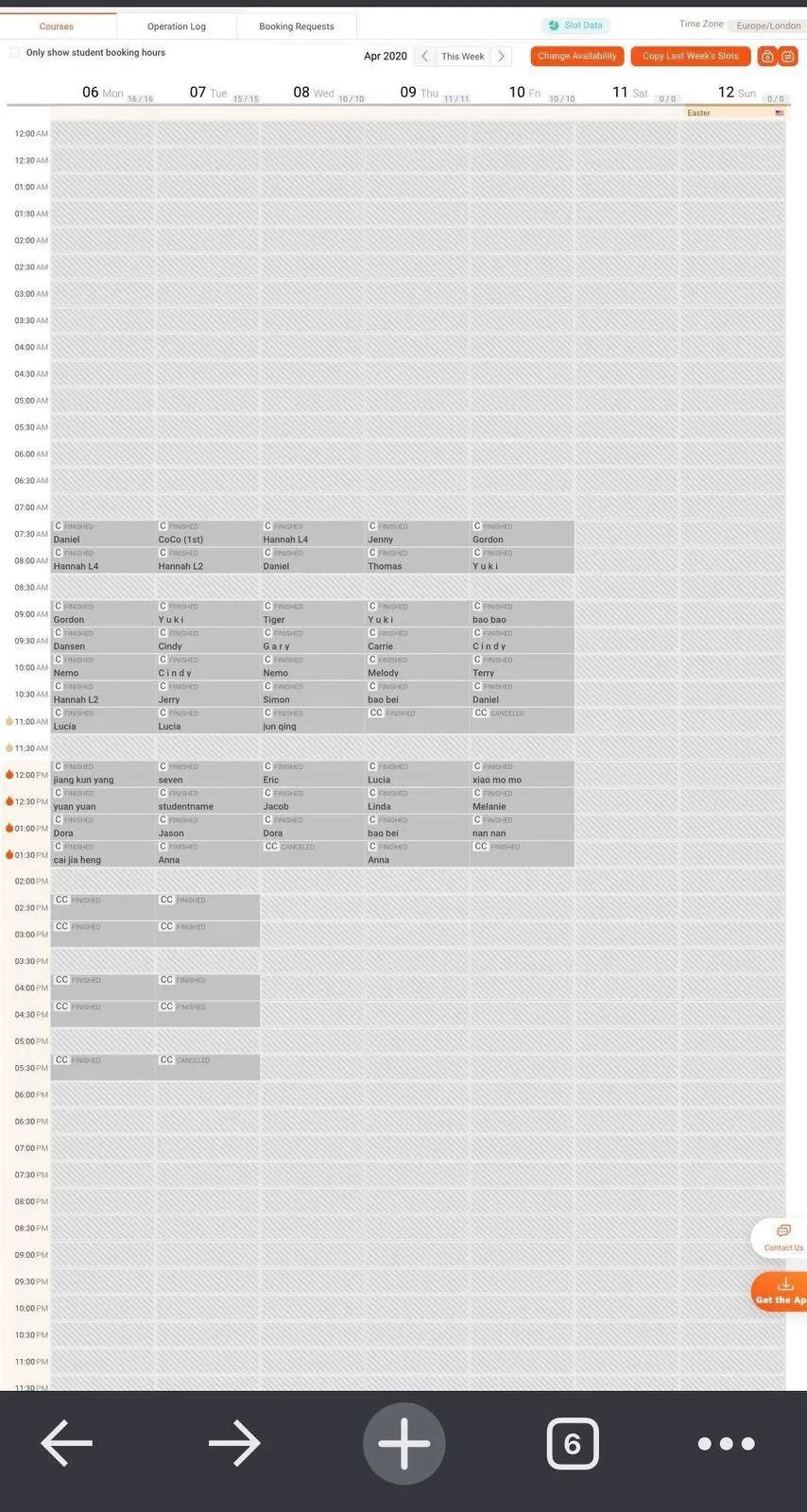 If we're saving up for a big trip, I'll work 8 hours a few days a week and 5-6 hours on other days. It's super flexible. I will say the time zones are much nicer in Europe and Asia. In the Americas, I was teaching at an ungodly hour in the mornings. But, I also prefer to work mornings rather than working nights. It's a personal preference for each VIPKid teacher.
A note on bookings for new VIPKid teachers: It will take some time to fill up your schedule. Parents book the teachers they want, and if you're a new teacher, parents won't immediately come across your profile. It does take some patience to get booked. If you want to build up your clients, make sure to create an appealing profile, upload a fun intro video and photos of yourself to the teacher portal.
Make sure to download the VIPKid app for your phone and tablet as there are a lot of great features and little challenges to help promote your teacher profile.
RELATED: Simple Travel Home Office Accessories You Need to Work Comfortably
Is Teaching With VIPKid Travel Friendly?
As an independent contractor, being a VIPKid teacher is THE MOST travel friendly. As I stated earlier, this has been my full-time gig for 5+ years, and my fiance and I have been traveling perpetually in that time. We've lived in Southeast Asia, Australia, Europe, Central American, and South America. You set your hours and schedule.
When you start, I suggest opening a stable and consistent schedule to build up your student base. However, after a month of regular bookings, you can make it work for you and your travel schedule.
The Best Tips for Teaching With VIPKid
There are a thousand tips I could go through, but I break down my most important ones right here. You can read more about my recommended tools for online teaching here.
1. Setting – Be sure to have a designated classroom setup with well-balanced lighting. Also, make sure that your audio and video are working, and there aren't any interruptions.
2. Prepare – Take the time to learn the curriculum and watch the training videos. There is lots of helpful information in the portal. Avoid YouTube videos for your training. Honestly, there's so much information out there regarding VIPKid, and the majority of it is incorrect or outdated. Just stick to the training videos that VIPKid provides.
3. TPR – You'll also want to use Total Physical Response. This is a teaching method where you use your hands and facial expressions to help provide instruction or explains something. For example, you can tell the student "circle" and draw a circle in the air with your finger.
4. Limit TTT – It's also important to limit your Teacher Talking Time. It's an ESL classroom, and you want to promote student output as much as possible. Make sure to use level-appropriate language so that students can understand you.
5. CCC – Use the 3 C's — be clear, concise, and consistent when giving commands and speaking to the students.
6. Props – Props are mandatory. You can incorporate puppets, flashcards, whiteboard, or other fun things to help teach lesson objectives and engage students. This doesn't mean you have to spend money. You can take screenshots on a phone or tablet or draw your own flash-cards. You can even make a sock puppet or grab fruit from around your house. Feel free to get creative with this and make sure to use a variety of props in your mock class.
7. Rapport – Be friendly, be encouraging, and use the student's name. In an online environment, building rapport with a low-level ESL student can seem daunting, but something as simple as saying their name goes a long way for both the students and their parents.
8. FUN – Lastly, have fun. Teaching is fun and enjoys the kiddos and the flexibility that comes with the job.
An Important Note for Aspiring VIPKid Teachers
CURRENT CLIMATE FOR VIPKID IN 2020
Right now, thanks to the dreaded 'c' word, a lot of people are looking for remote work. As of now, VIPKid is hiring per usual. However, I have heard through the grapevine that the process is taking slightly longer than usual as the head offices are in Beijing aren't fully back to work yet, and the company that processes the background checks is mostly out of office.
Since there has been an influx of new teachers in recent months due to lock-downs and travel restrictions, it's important to remember that new teachers aren't guaranteed bookings. It may take some time to get bookings and create a consistent schedule with a stable income. As many teachers did when they started, students will come if you keep opening slots and have your teacher profile completed.
Once you start getting bookings, it's a great form of income, especially while you're stuck at home anyway. There are fluctuations with bookings year-round, especially for newer teachers. The best thing to do once you are booked in to come to class prepared and have fun while teaching English, so parents and students want to book more classes with you.
There are countless tips and videos in the VIPKid platform, which can help you to create a teacher profile and provide helpful tips for new teachers. Booking a coaching session during the application process also is helpful for applicants, or you can attend the free weekly workshops for teachers. Best of luck and happy teaching!
If you think you're ready to become a VIPKid teacher, apply here! (Note, I receive a bonus if you're successfully employed)
More English Teacher Jobs
I hope you found this post about becoming a VIPKid teacher helpful. Have you taught English online before? Let us know in the comments below!
---
>>> BIO
I'm Katty, and my partner, Tim, and I met in Thailand in 2014. We've been traveling and working full time ever since. We recently launched a blog, Adventures of a Brit and a Yank, for our family and friends to talk about our adventures and experiences abroad and our love of cooking.
---
---
Don't lose this! Click to pin it now.