Ayampe is a perfect, laid-back surf town, ideal for setting up camp for a few days, taking in the views, and spending some time on a surfboard.
It's not the liveliest town, and sure, choices may be a little limited regarding food options, but there is something about this quaint town that is hard to pinpoint. It's a sweet escape from everyday life, that's for sure! You may find yourself wanting to stay a little longer than you originally had planned…
Ayampe Beach
Although Ayampe Beach may not be the most picturesque beach in Ecuador, the long stretch of sand is still a lovely place to spend the day. The beach welcomes everyone if you want to set yourself up for the day with a towel and a good book or walk along the shore.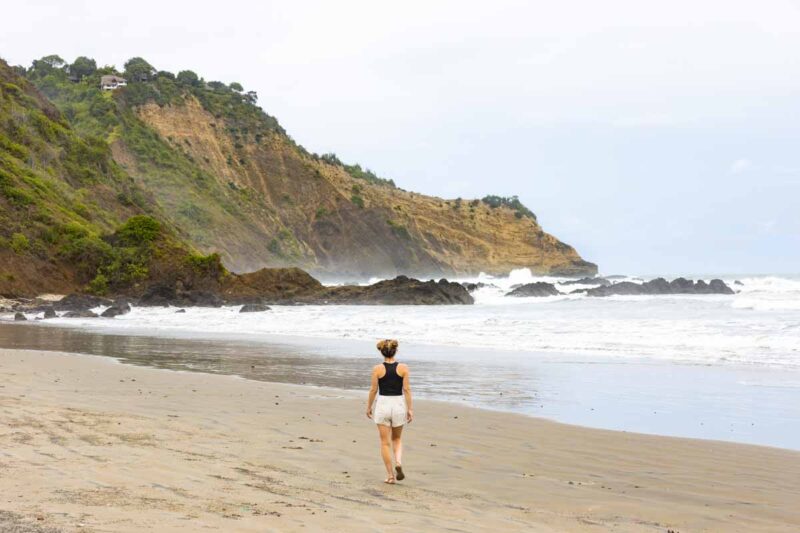 The further you stroll away from the main town, the more likely you will find that you have the beach almost entirely to yourself.
That is one of the best things about the beach here; you will feel as though you are a world away from the heaving beaches of some of the more well-known towns along the coast (like Montanita!).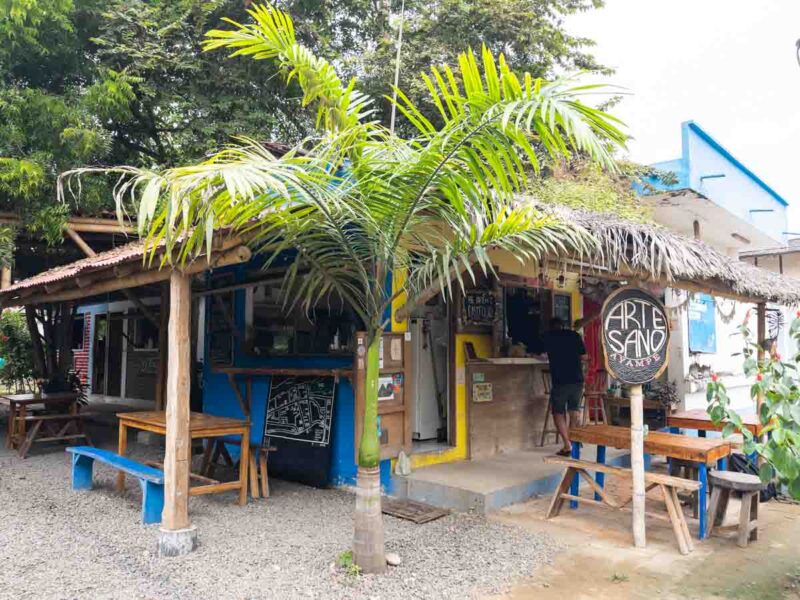 There are pretty much no beach hawkers, and other than a few hostel bars, amenities are pretty limited.
Surfing in Ayampe
Surfing in Ayampe is popular all year round and, of course, is one of the best things to do in Ayampe. The area boasts some incredible surfing conditions and has swells from the north and the south, which means waves are coming in from the left and right.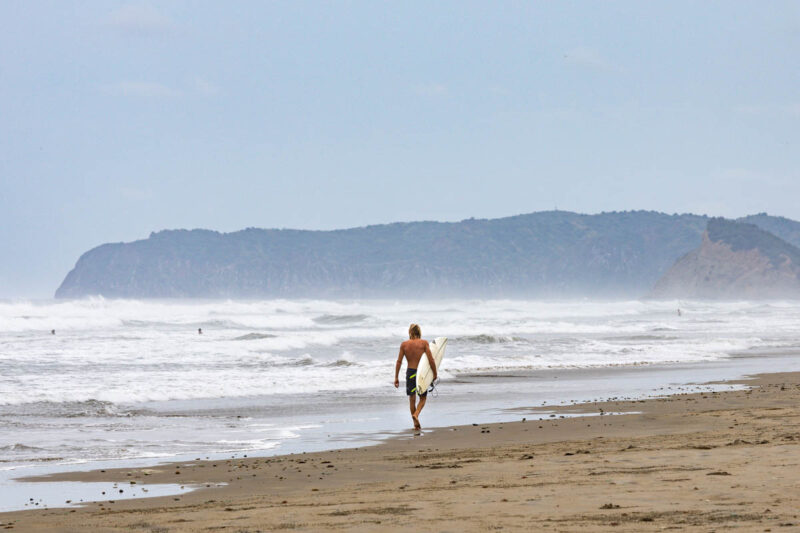 It is also relatively common to witness tubular waves, which make for some exciting rides (not that I'm riding those, but I am watching!)
The locals here were born surfing, so it is common to see travelers and locals hitting the waves daily. It is a surfing town through and through, no matter the time of year.
If you want to hone your skill a little further or are just starting your surfing journey, head to a surf school like Otra Ola.
The company offers beginner, intermediate and advanced surf classes, which include a mix of theory, technique, and safety to help you feel more confident on a board. They also offer surfboard rentals if you don't have your board.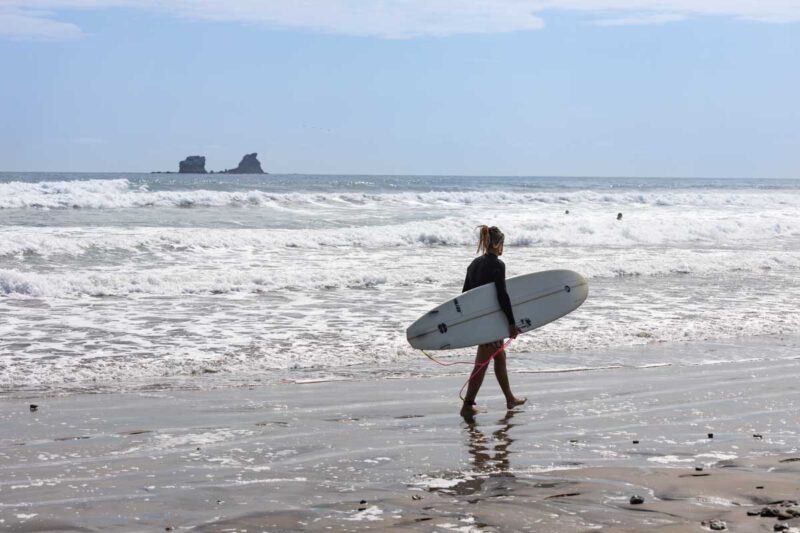 Despite being an excellent spot for beginner surfers, there are some strong currents, so you must ensure you are a strong swimmer.
Usually, you will head out with an instructor when the tide is low the first few times you are surfing in Ayampe, starting near the shore and moving further out when you have built up skill and confidence.
RELATED: Things to Do in Ecuador: An Adventurous 7-Day Itinerary
Things To Do Near Ayampe
Olon
Olon is chill, laid back, and idyllic. It's only 10 minutes down the road from the busier beach town neighbor of Montanita and 40 minutes south of Ayampe. The beach is long and golden and has some great surf, catering to both beginners and advanced.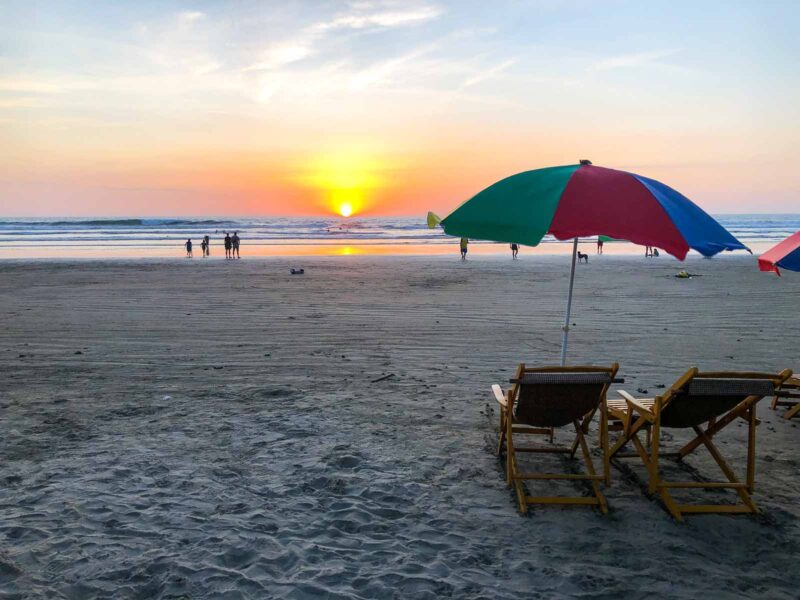 It is tiny with just a few eateries (although growing!), but if you are looking for a place to chill, take in the beautiful landscape, and surf, Olon has you covered. If you do fancy a bit of adventure, head to Olon viewpoint and take in the town and the water from above.
If you're down to surf and even learn Spanish, my friends at Outdoor Ecuador are amazing, please tell them I sent you and that I miss them! 🙂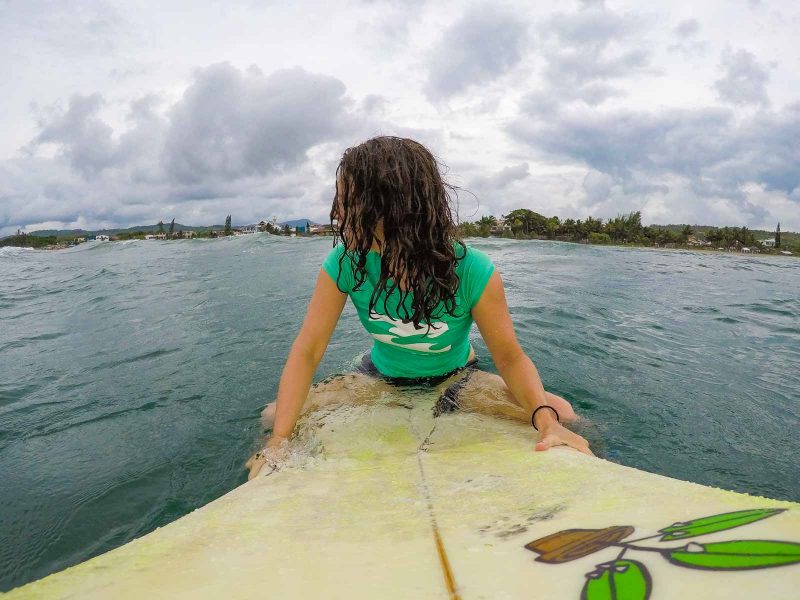 Personally, Olon is one of my happy places! I've visited and lived here twice now, and I will likely be back soon in the coming years again. It's a great mix of small-town living, and surf culture and has exactly what I need and nothing more. I love it!
READ MORE: Your Guide to Olon, Ecuador— Learn Spanish & Surf!
Isla de la Plata
The tiny island of Isla de la Plata off the coast of Ecuador is often described as a miniature Galapagos Island. In fact, its nickname is "The Poor Man's Galapagos" because, as you may know, the Galapagos can get pricey.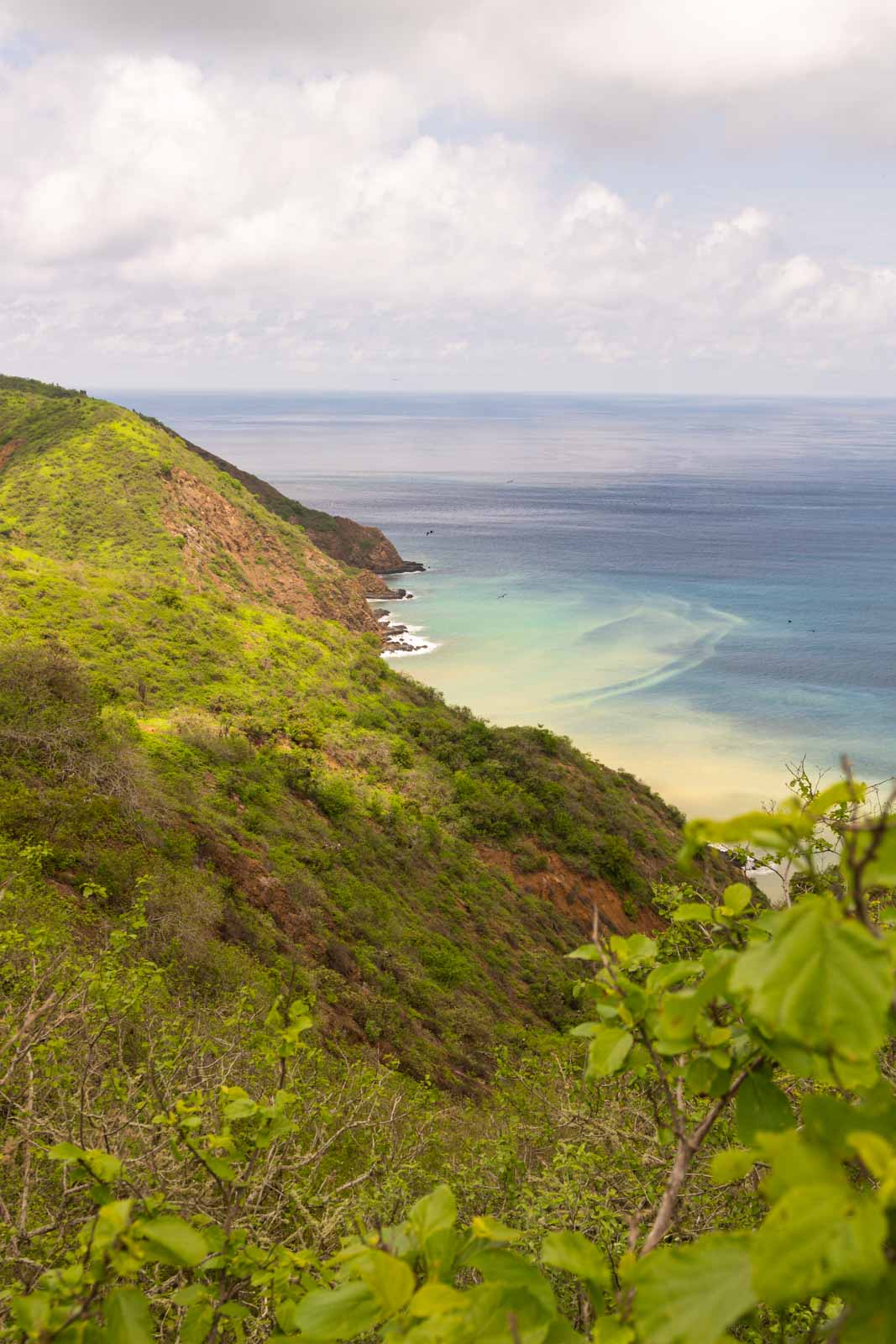 It makes the perfect day trip from Ayampe if you are looking for a little something different. With tons of wildlife, including blue-footed boobies, and an incredible landscape—you could almost imagine you were at the world-famous Galapagos Islands.
The boat trip takes about an hour, and you can spend your time on the island hiking the green cliffs, bird watching, and snorkeling via an organized tour.
Montanita
Just one degree from the Equator, Montanita is a must-visit. It has undoubtedly earned its reputation as a surfing hotspot, luring surfing enthusiasts to its golden sands and active ocean.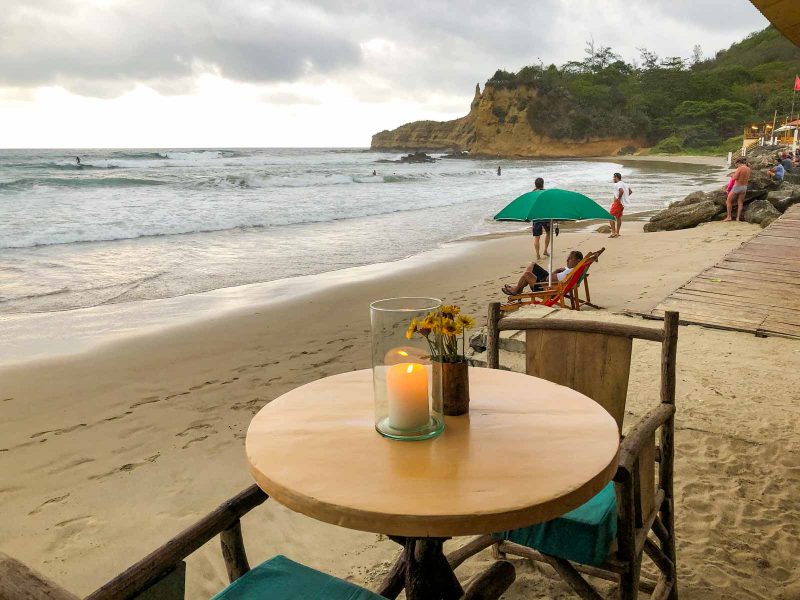 Montanita has all the modern conveniences you could need from a beach town and can get a little crowded. It has some pretty challenging waves and is not for the faint of heart, with waves as large as 2 meters recorded.
With that said, it's a big beach and there are beginner spots too! If you like a party, the town lights up when evening falls, with the bars and clubs buzzing until dawn.
READ MORE: Your Guide to Montanita, Ecuador—A Party and Surf Mecca
How to Get To Ayampe
From Guayaquil – Head to Guayaquil Bus Terminal which is just a few minutes from the airport. Grab the CPL bus to Olon. From Olon, you'll take another bus (Cooperativa Manglaralto) about 30 minutes north to Ayampe. It should cost under $10 total and take around 3.5 hours.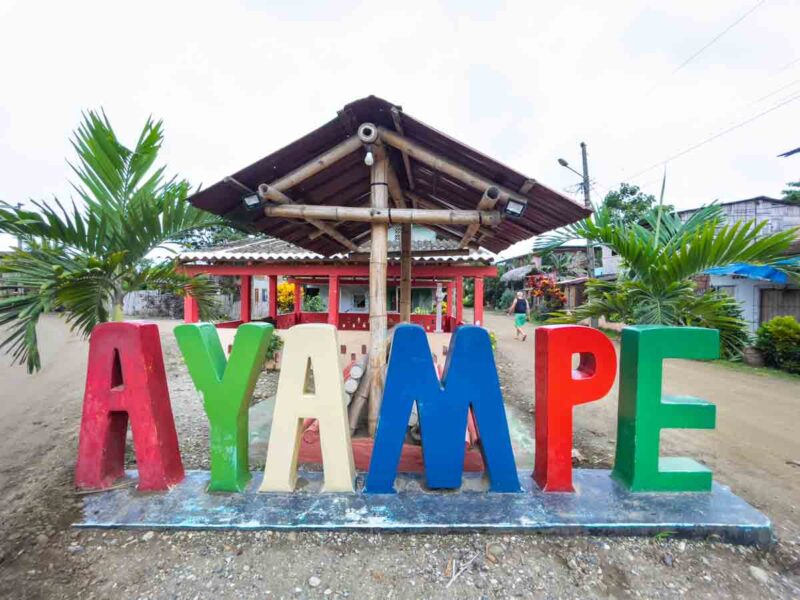 From Quito – This would not be the preferable way to get to Ayampe. It's far! It's going to take around 9 hours, so be prepared for a long ride. Grab a bus (Cooperativa Reina del Camino) to Puerto Lopez and then hop on another one (Cooperativa Manglaralto) to make it to Ayampe.
Something to remember before you get here – there's no ATM in Ayampe, so definitely grab some cash! There's an ATM in Montanita and in Puerto Lopez.
Where to Stay in Ayampe
You won't find high-rise hotels and huge all-inclusive resorts here; instead, picture cute little guesthouses and laid-back hostels…
Finca Punta Ayampe
With incredible views out over the Pacific Ocean, Finca Punta Ayampe offers tropical vibes on top of a forest-covered hill. Choose between the main hotel building or the bungalows for accommodation, and when you are not exploring, spend your days lazing by the infinity pool.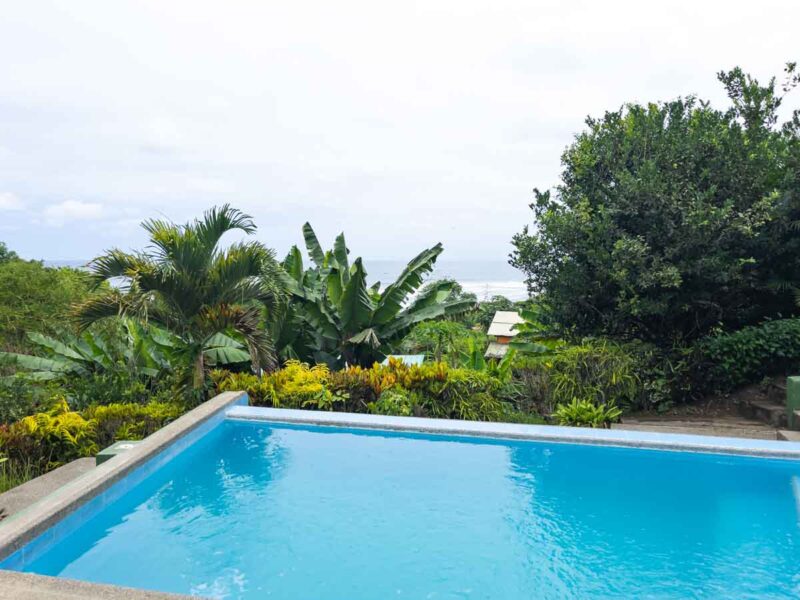 La Tortuga Hostel
Located right on the beachfront, La Tortuga Hostel is a good option for where to stay in Ayampe. All cabins are located facing the sea, with a capacity for 2 to 5 people, and amenities include a pool, private parking, games, and a lovely common area for relaxation.
La Buena Vida Hotel
Just a short walk from the town and beach, you will find the hidden gem of La Buena Vida Hotel. Let the hotel be your home away from home in the jungle, with a tasty breakfast in the morning to help fuel your day of activities, many of which can be arranged through the hotel.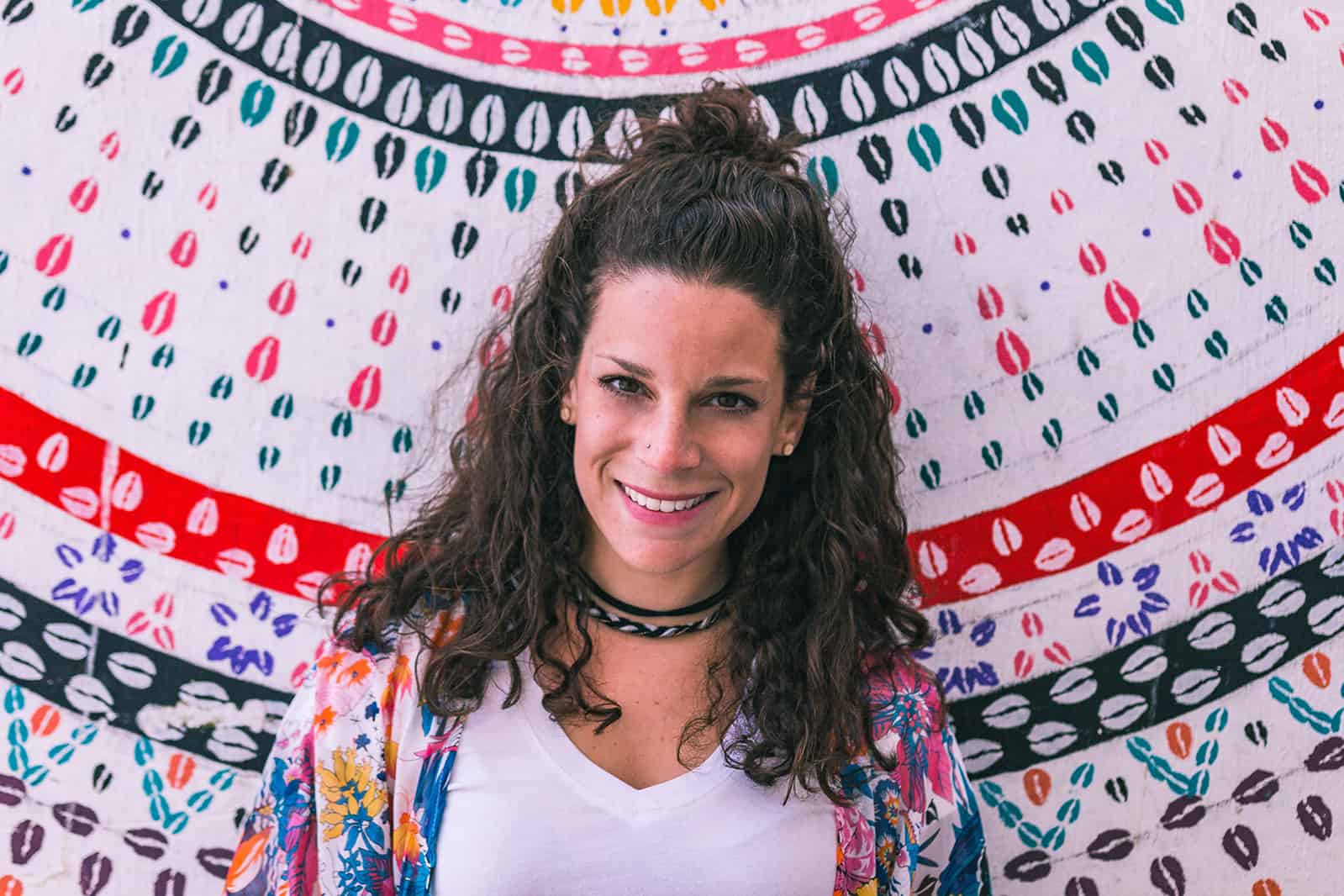 Nina Ragusa is an adventurer, messy bun master, breakfast fan, and full-time travel blogger. She's been abroad since 2011 and blogging on Where in the World is Nina? for nearly as long. Nina helps people like you move around the world while making money. She loves talking about how to work abroad and online to travel longer!