Montanita Ecuador is known for two things: surfing and partying and let's say it does both of these things very well. It's got a bit of a reputation as one of the country's partying capitals, and some may say it does this a little too well!
However, this little coastal town offers so much more than cheap cocktails and big waves. Your days here will be uncomplicated; when you wake up in the morning, your hardest choices are likely to be where to set your towel on the beach, what flavor smoothie to choose, or if you have recovered from your hangover enough to give watersports a go.
Plus, if you have enough of the partying vibe, it is easy to escape to one of the nearby, quieter towns for the day; more on that soon!
Montanita Beach
The big draw to Montanita is its lovely beach. The long strip of soft sand is undoubtedly an inviting sight, stretching out for miles.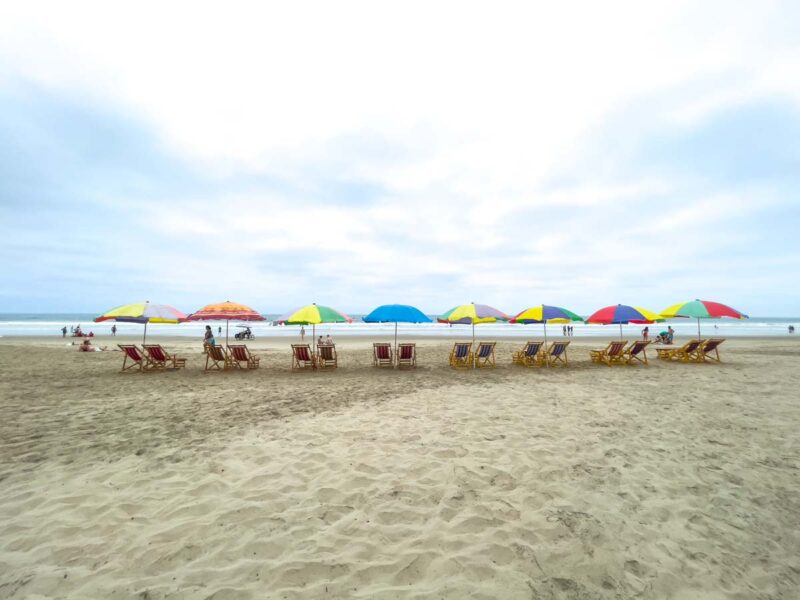 Although it may not be the most picturesque beach, as you have more than likely visited some more postcard-worthy ones— it's an ideal place to relax after a long day of surfing or a long night of cocktails, shots, and impressive dance moves.
Montanita Beach is popular, so chances are it will be pretty crowded, but its location close to town means that helpful amenities are never far away. Umbrellas and loungers are available to rent along the shore, so you can settle for the day and not get up until it is time to party again.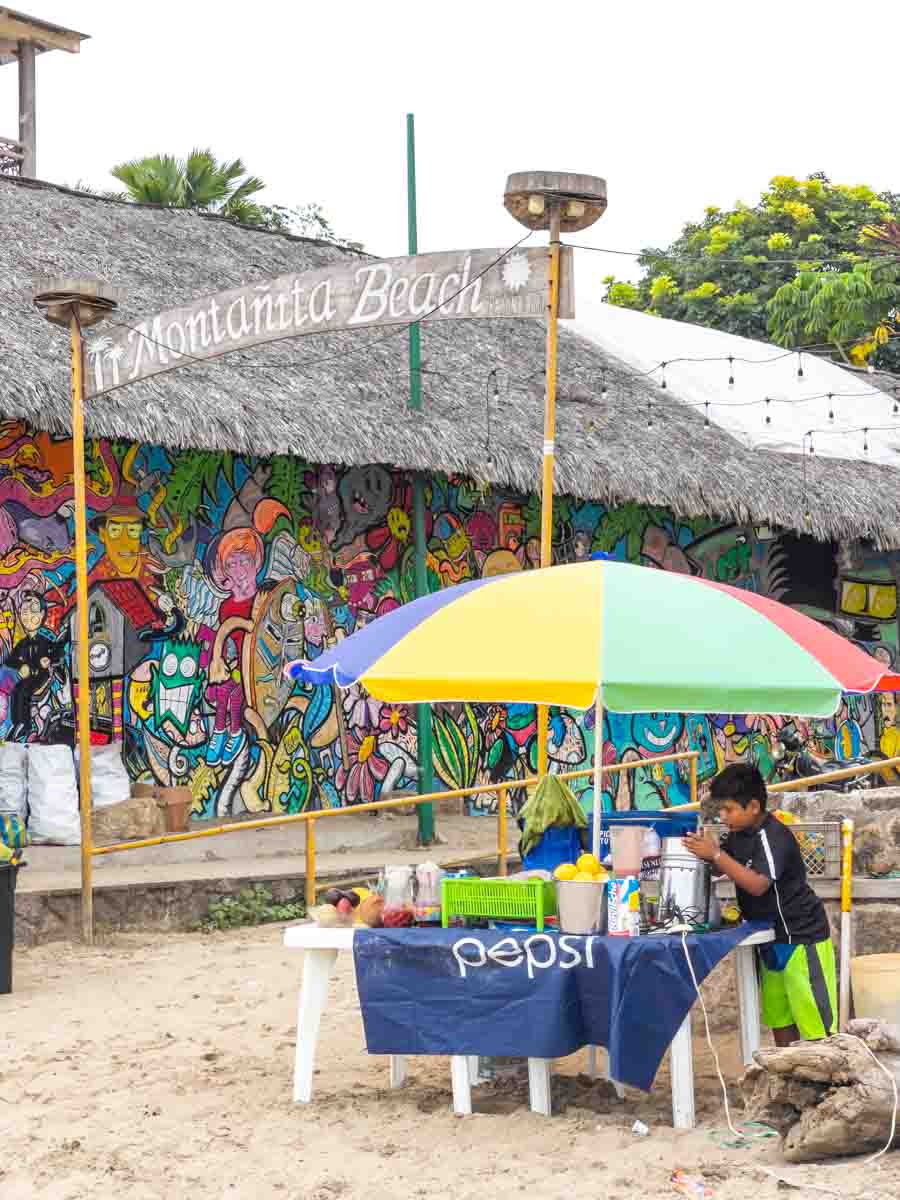 Despite potential crowding, the main beach is likely one of the best beaches on this stretch of coastline. The area closest to the town is the most popular, where you will find the deck chairs and the vendors.
But the best thing about a big beach is it is easy to escape from the crowds. Walk just 5 minutes from the central hub, and you will find a patch of sand where you can spread out and enjoy a little solitude.
Surfing in Montanita
Montanita is known for its surfing culture; for a good reason, the surfing here is pretty enviable. On one side of the beach, you have got beginner surfing, with smaller waves and plenty of opportunities to take lessons.
For those that wobble standing up on a board, you can build up your skill levels before tackling some bigger surf.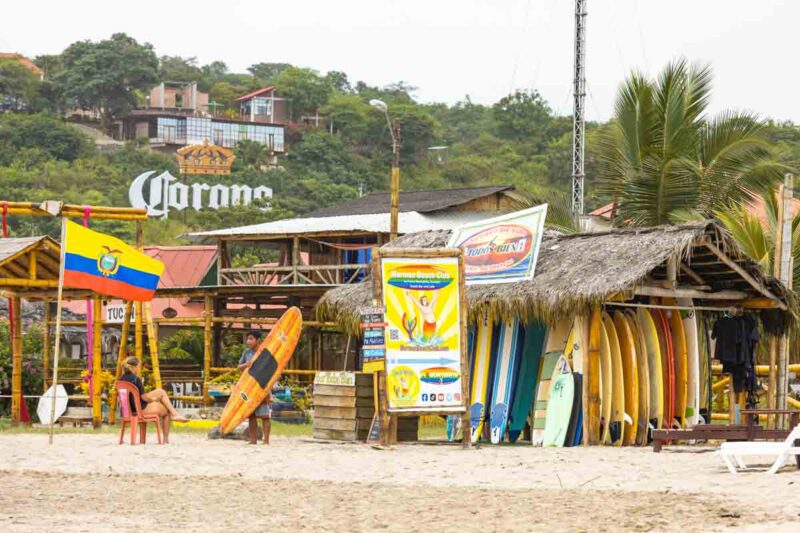 The other end of the beach is a completely different story. The waves at this end of the beach can reach a towering 3 meters, so it is best left for those a bit more used to the swells.
If you don't have a board, board rentals are also plentiful along the shore. Once you see the waves, you will see why surfing in Montanita is so popular.
Main Beach
The main part of Montanita Beach is found directly in front of the town. Stretching for a few miles, you are sure to find a patch of ocean where you can spread out and enjoy the ideal surfing conditions.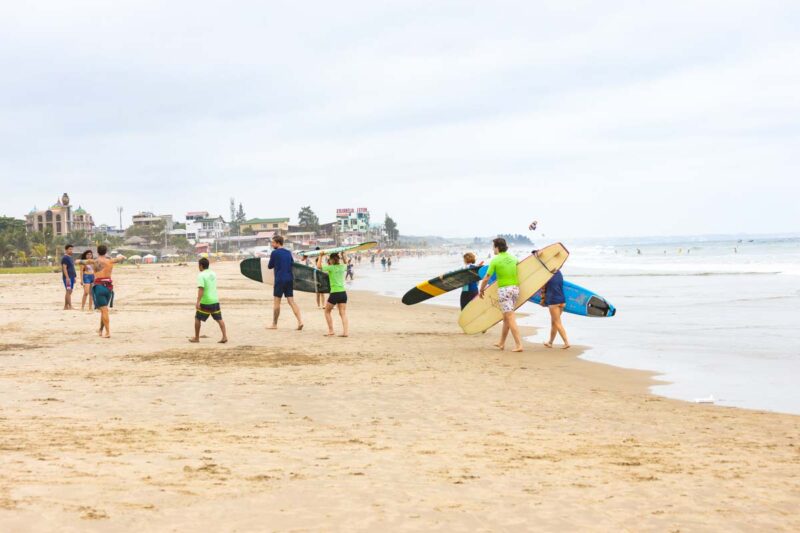 The waves are best during high tide but are always pretty consistent, so you shouldn't worry too much about when you decide to surf. The bottom here is sandy, unlike the rocky bottom of La Punta, which is why beginners and intermediate surfers often favor it.
La Punta
La Punta can be found at the north end of the beach and is a short walk from the center of town. Although you have to walk a bit to reach this beach, the waves here are great!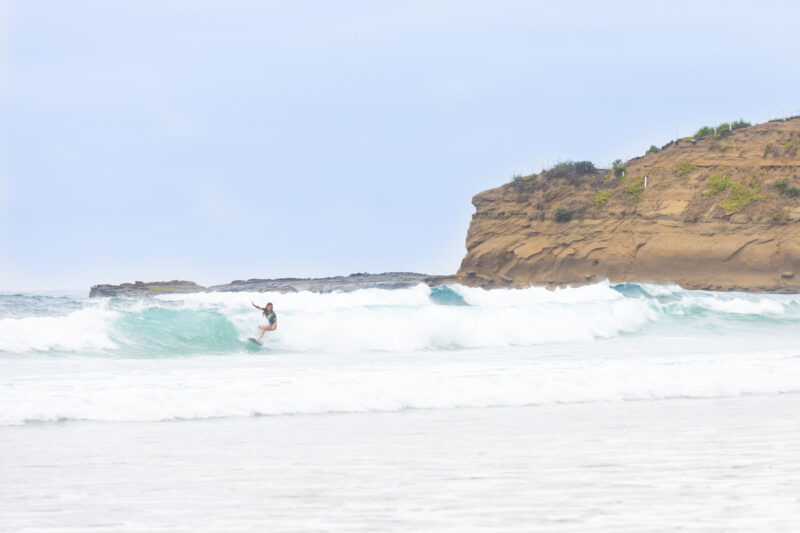 There can be some pretty big swells that get softer during high tide. All in all, it offers some of the best surf breaks in the area.
This is my favorite spot to watch surfers. This is the prettier section of Montanita Beach, and the surfing show with The Point in the back is awesome! There are a few beachside restaurants and bars here, so the people-watching is ace.
RELATED: Things to Do in Ecuador: An Adventurous 7-Day Itinerary
Things To Do in Montanita
Surfing
Many visitors who frequent the shores of Montanita do nothing more than party all night and surf all day. Surfing in Montanita is so good that people come from miles around to experience the constant, reliable waves that this stretch of coast brings.
Parasailing
Parasailing may not be the first water sport that comes to mind when you think of Montanita, but you'll be surprised how many people enjoy taking to the skies above the town.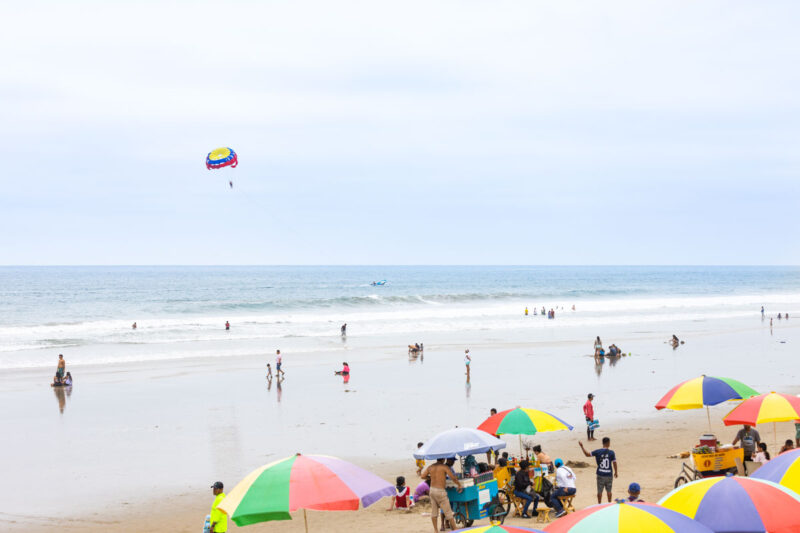 Touts along the beach are often eager to sell parasailing tours, or you could organize a trip with a tour agency. Whatever way you book your trip, it won't be long before you're being pulled along behind a speeding boat, 200 to 400 feet in the air!
Grab a Drink and Some Street Food
Montanita has pretty darn affordable drinks and food!
There are numerous restaurants scattered about town and plenty of vendors roaming around, but you'll find a cluster of street carts right here and here all serving up some cheap grub.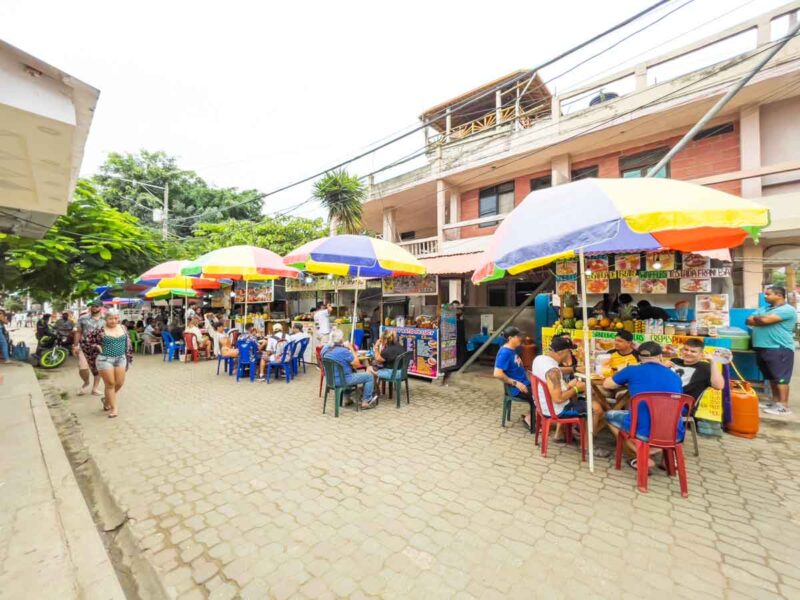 Will this be the best you've ever had? Surely not, but if you're on a budget, it's going to taste REALLY good, and be kind to your wallet.
Getting thirsty? A trip down Cocktail Alley isn't a bad way to spend the evening, so grab a drink and watch the world go by. It is no wonder that people head to Montanita to spend the days by the beach and party all night long when they have places like Cocktail Alley to enjoy.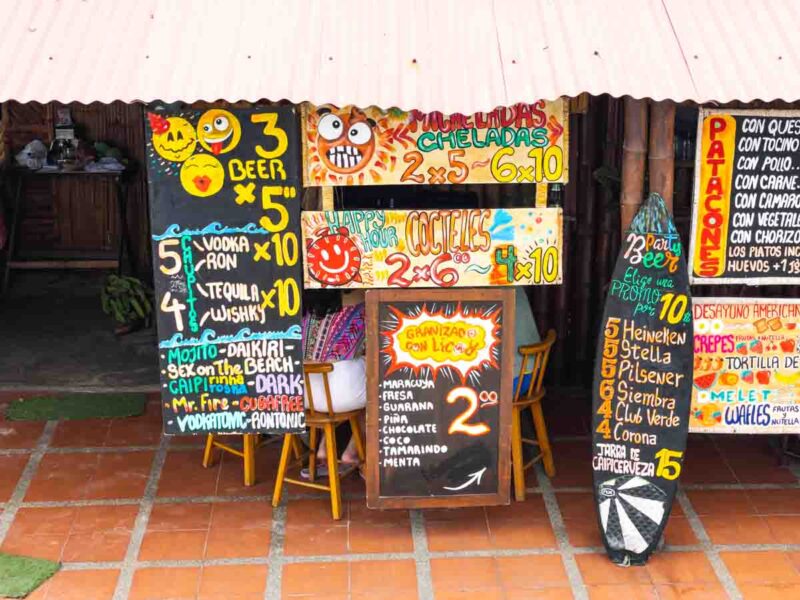 In all honesty, it is more of a street than an alley, but the cocktail part isn't lying. The road is lined with cocktail vendor after cocktail vendor, with plenty of drink choices, some you may have heard of, some you may not!
Colorful lights fill the streets, and music tumbles out of bars. Chances are you will be dancing until the early hours.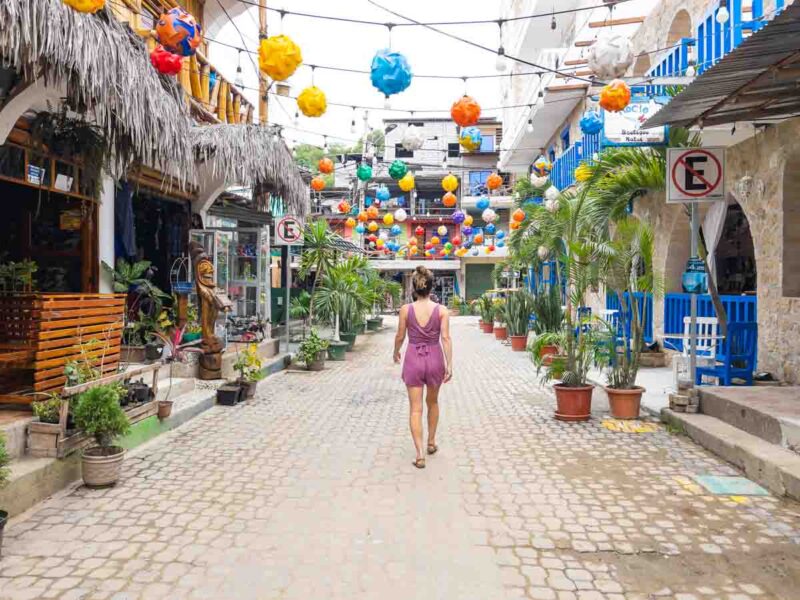 For such a small town, the nightlife certainly packs a lot of punch, and if you are staying in one it the party hostels around here, don't count on getting much sleep. Make sure you are getting the right balance because surfing with a hangover is not ideal!
Malecon Boardwalk
Built with nature-friendly materials, you must walk down the Malecon boardwalk at least once during your trip. It is one of the best things to do in Montanita.
It is the perfect place for a gentle stroll and to admire the impressive waves crashing against the shore or watch the surfers wobble, glide and hit the waves.
Raised just slightly from the beach and town, it gives you a loftier viewpoint to take in what is happening around you and enjoy the breeze. There are plenty of lodging, food, and drink options here.
Beach Bum
It is nothing to be ashamed of to say you want to go to Montanita to chill and enjoy the relaxed, beachy vibes. Beach bums are encouraged!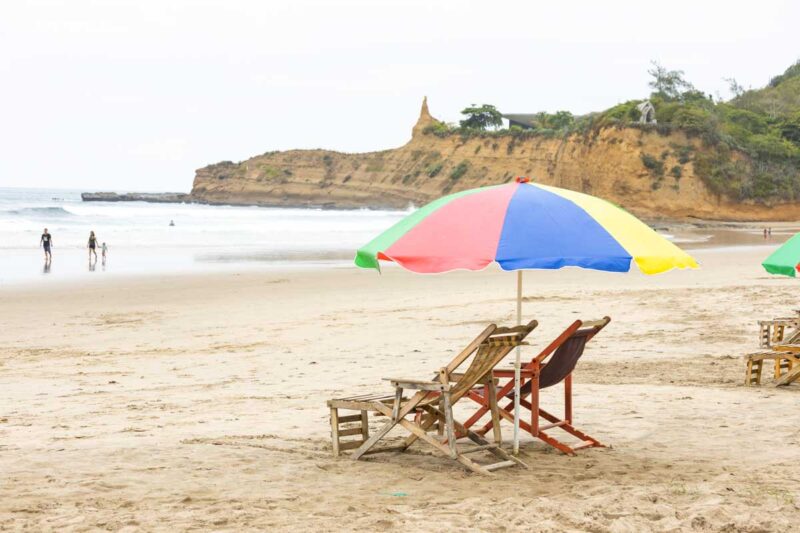 There is sometimes nothing better than finding a perfect spot on the sand, only getting up to replenish a cocktail or rearrange your parasol. Enjoy it; for most people, sea views, blue skies, and friendly people don't come around every day.
Walk the Beach Down to La Punta
If you're looking for a little bit of you time or just want to escape the crowds for a while, take a stroll down to La Punta. As you now know, La Punta is the epic surfing spot here in Montanita.
Once you reach this stretch of beach, find a spot of sand and enjoy watching the experts hitting the waves. La Punta (The Point) is also pretty cool at low tide. You can walk around the rocky areas; just take care!
Day Trips from Montanita
Olon
The relaxing town of Olon is also known for its surfing culture, but you may be pleased to know it is a little less crowded than its popular neighbor. Some people may get easily bored by this small, sleepy town, but it can make a great escape for the afternoon or even longer.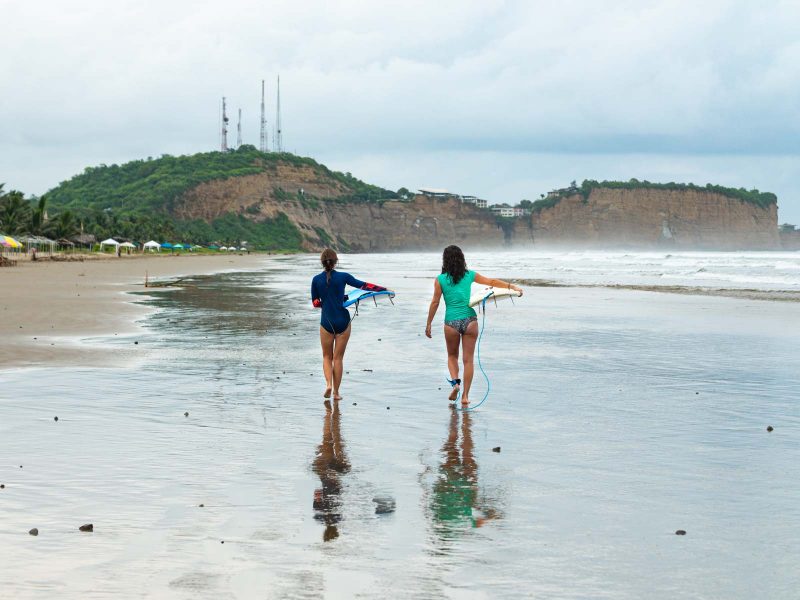 In fact, Olon is my favorite spot in Ecuador, and I've lived here for a bit twice now. While Montanita is great, and I like visiting for the day, it's not my scene, so if you want a more chilled-out spot, Olon might be your place! Olon is only 10 minutes north and a $1.50 taxi ride away!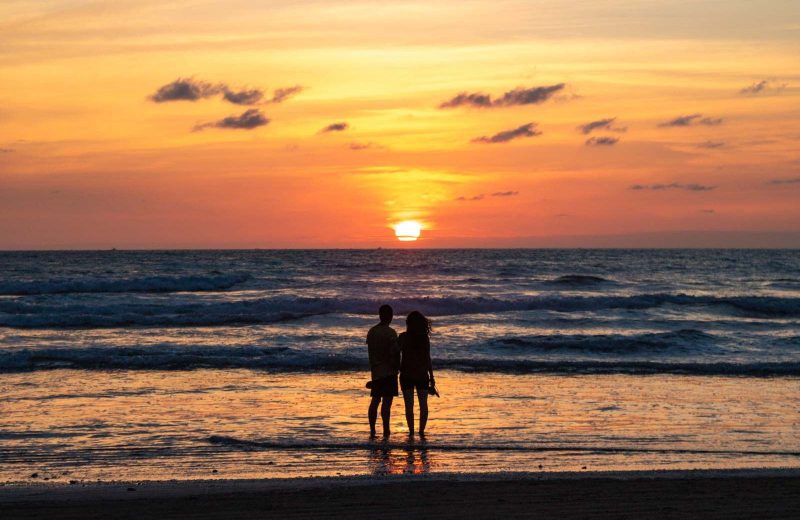 The long stretch of beach offers idyllic surfing conditions. The town is so chill it is hard not to fall in love. There is a fantastic viewpoint to walk to above the ocean, and it is also a good place to base yourself for a while if you are interested in learning Spanish.
Hit up my friends at Outdoor Ecuador for surf and Spanish lessons and tell them Nina says hi!
READ MORE: Your Guide to Olon, Ecuador— Learn Spanish & Surf!
Isla de la Plata
Of course, Montanita is not just about the surf and partying scene; it has some hidden gems nearby that are well worth checking out. If you have always wanted to see the Galapagos Islands but don't have the funds, let's call Isla de la Plata your budget alternative.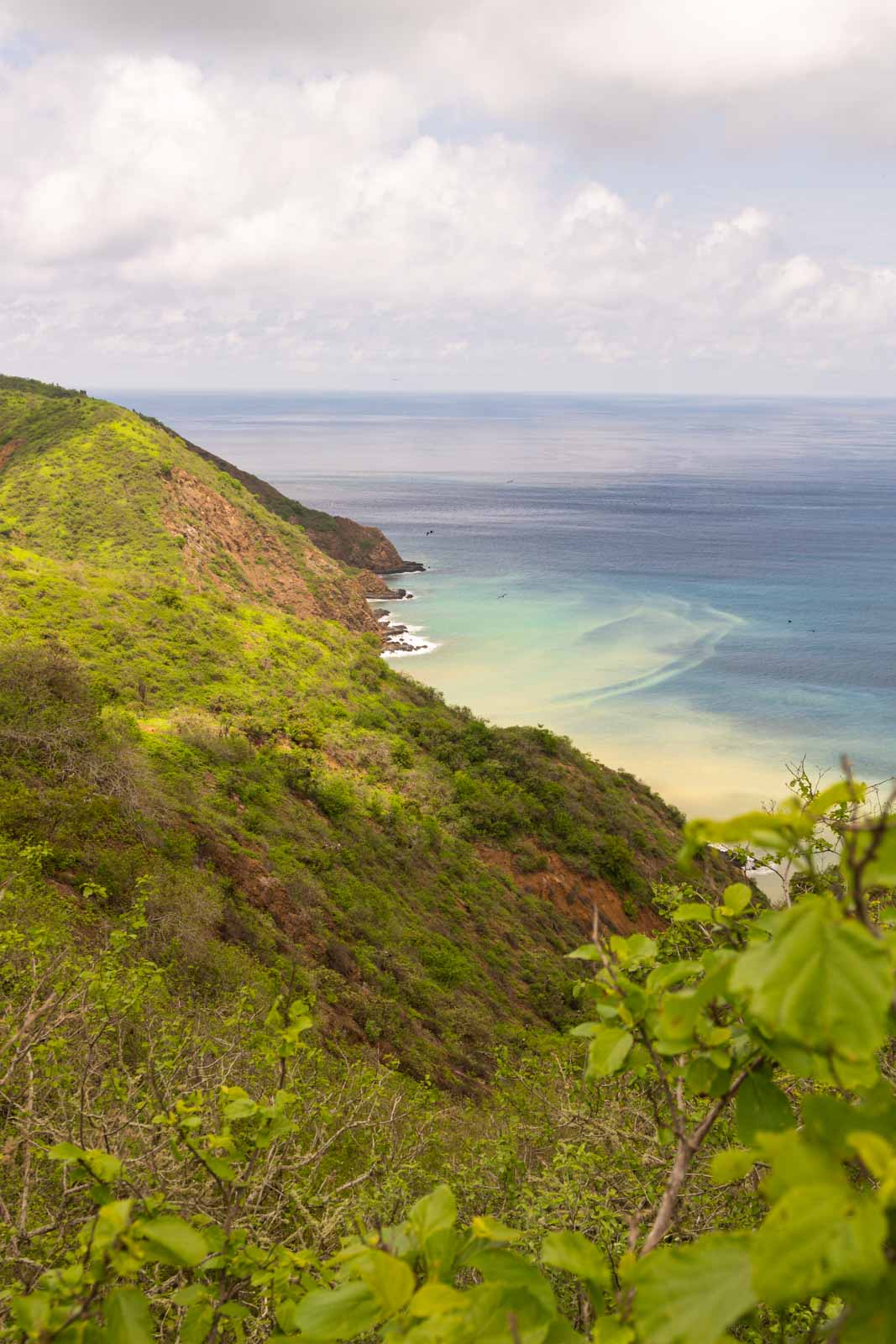 The island makes an easy day trip and will give you a small insight into Galapagos life, with even a chance of spotting the fabled blue-footed boobies.
When you take an organized tour, you can spend some time hiking, learning about the wildlife that calls the island home, and maybe even have a dip to see what lies beneath the waves. Don't forget to keep an eye out for whales and turtles during your boat trip.
Ayampe
If you need a brief respite from the crazy nightlife of Montanita, Ayampe has you covered. Where Montanita is busy and full of life, Ayampe is chilled and relaxed.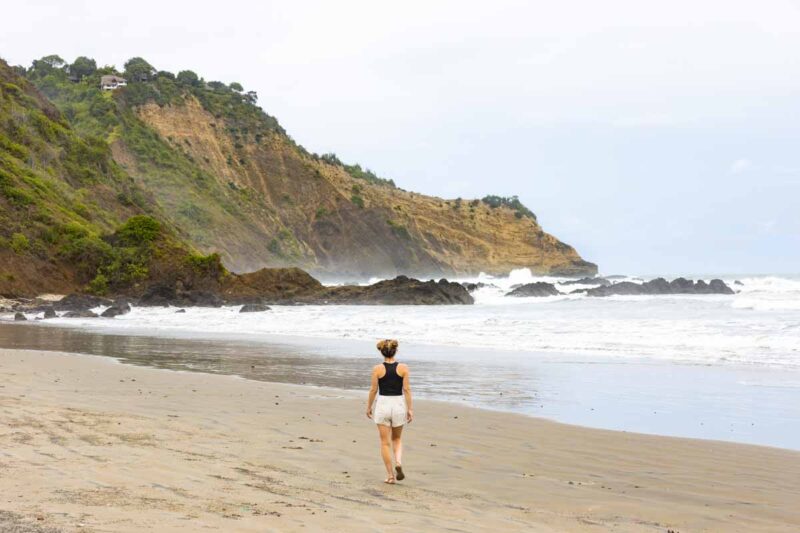 Think yoga on the beach and smoothies. The town focuses on healthy living but still has an intense surf scene.
Although just a short drive away, Ayampe does feel like a million miles away, the neon signs and blaring music replaced with small cafes and quiet streets.
READ MORE: Your Mini Guide to Ayampe, Ecuador
How to Get To Montanita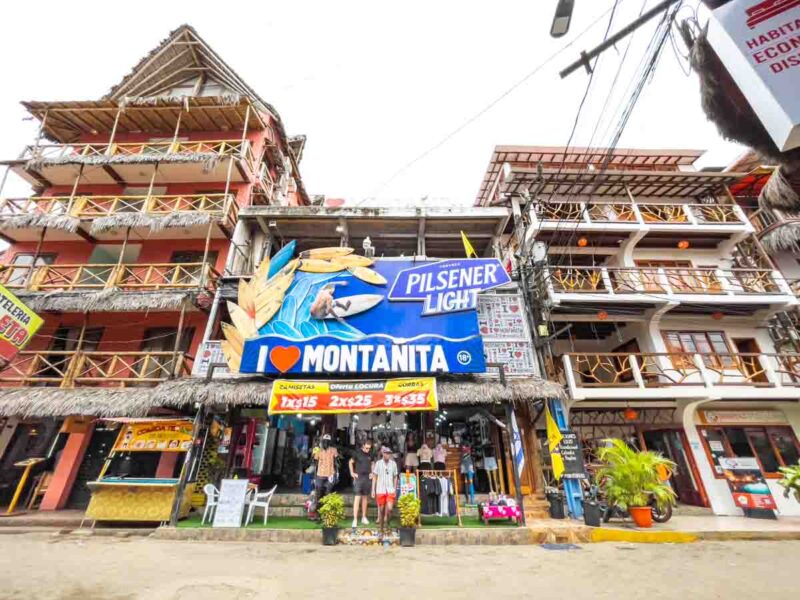 From Guayaquil – Head to Guayaquil Bus Terminal, which is just a few minutes from the airport. Grab the CPL bus to Montanita. You'll be the first stop and the journey takes around 3 hours. Your ticket will be about $7.
From Quito – This would not be the preferable way to get to Montanita. It's far! It's going to take around 9+ hours, so be prepared for a long ride. Grab a bus (Cooperativa Reina del Camino) to Puerto Lopez and then hop on another one (Cooperativa Manglaralto) to make it to Montanita.
Tips For Montanita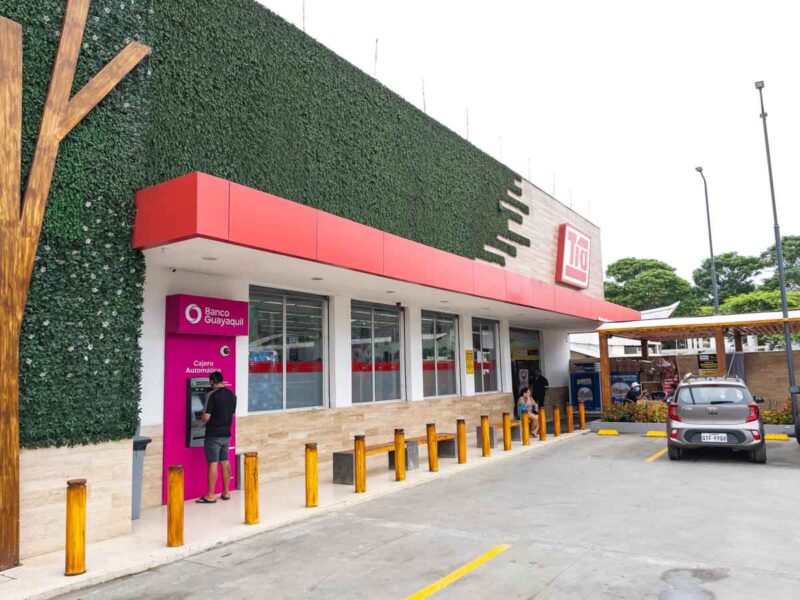 Tias is the spot for groceries in town. This is also where the main ATM is.
Please be careful when you're out drinking. This is a huge party spot, and things can get a bit dicey at night.
Choose your accommodation carefully. Again, this is a party place, so you might not care about sleeping much, but if you do, be forewarned.
Where to Stay in Montanita
Selinas
Located in the beating, music-filled heart of Montanita, you can be in the middle of it all when staying at Selinas, with all the smoothie bars, restaurants, and nightlife you could want surrounding you.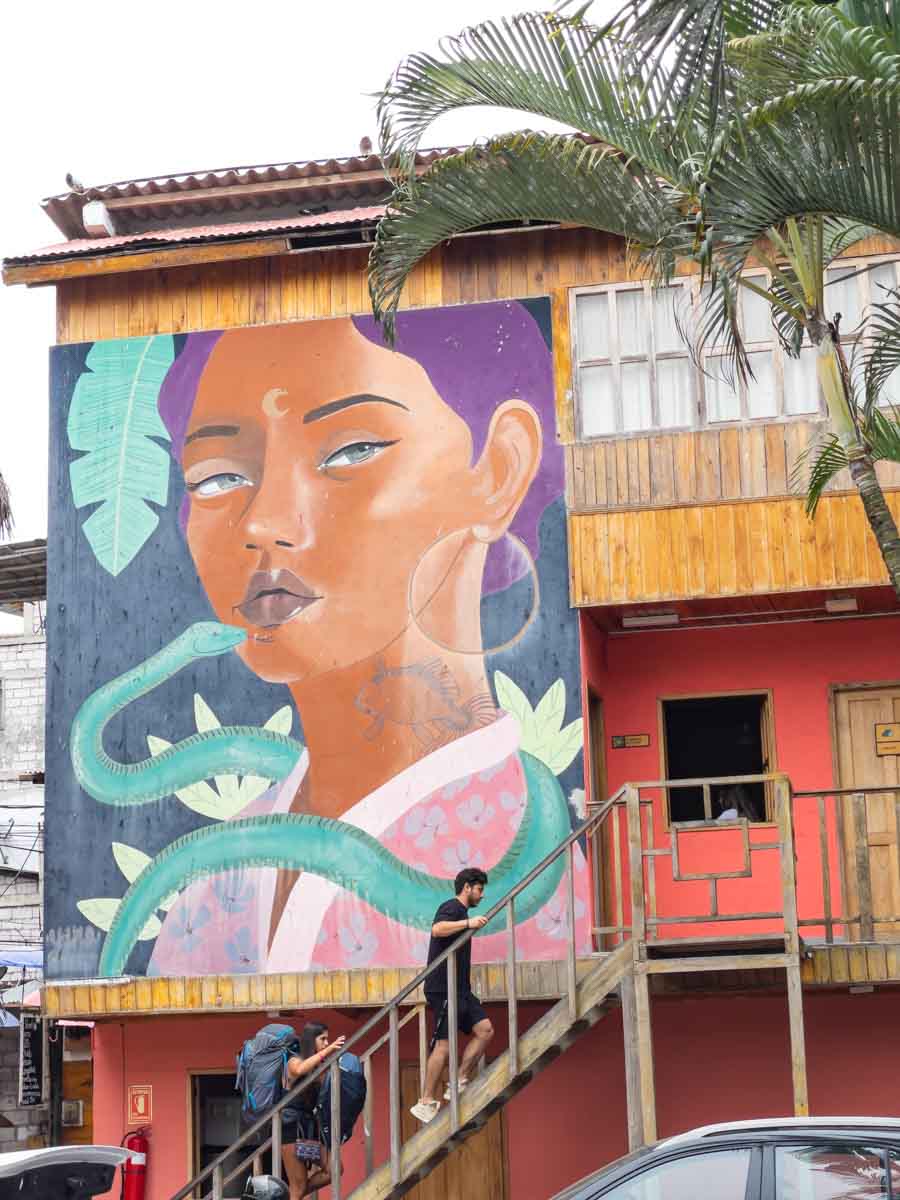 However, it's not all cocktails and nightlife. The hotel offers relaxing yoga, veggie breakfasts, and plenty of excursions.
Charo's Hostal
With a swimming pool, jacuzzi, and sea views, it seems as though Charo's is a little bit more than your average hostel.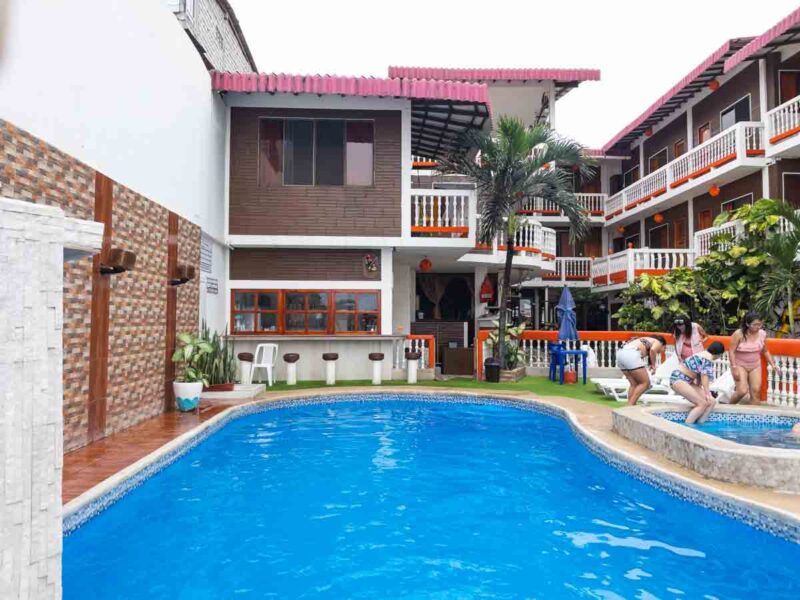 Multiple communal areas are scattered throughout the hotel, so you chill out somewhere other than your room, and its position directly on the Malecon Boardwalk. This means you are in the center of all the action and the beach is just steps from your door.
Dharma Beach
Dharma Beach is a good choice for a little bit of luxury; the stylish interior is complemented by the outdoor swimming pool, gym, and steam bath.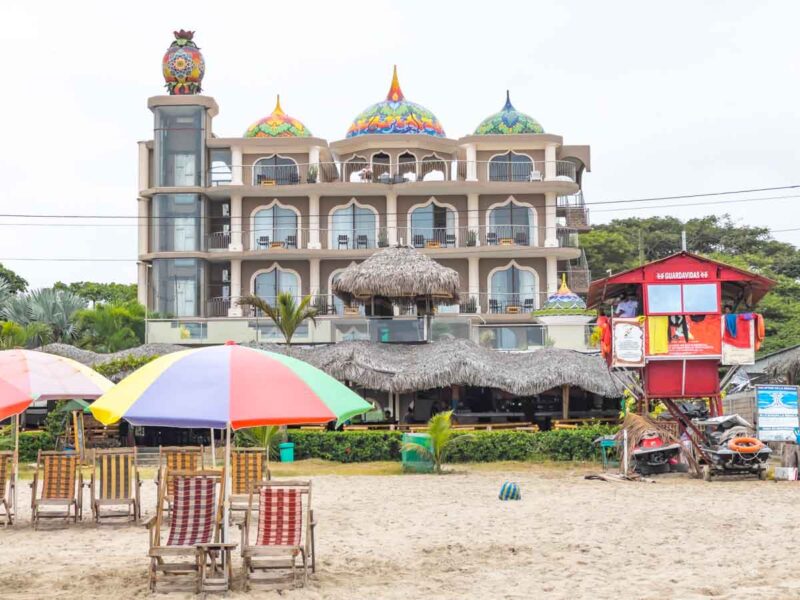 It is just a short distance outside of town, far enough away to escape the loud music of the evenings but close enough to walk to the sights. The beach is just steps away from here as well.
Hotel El Galeon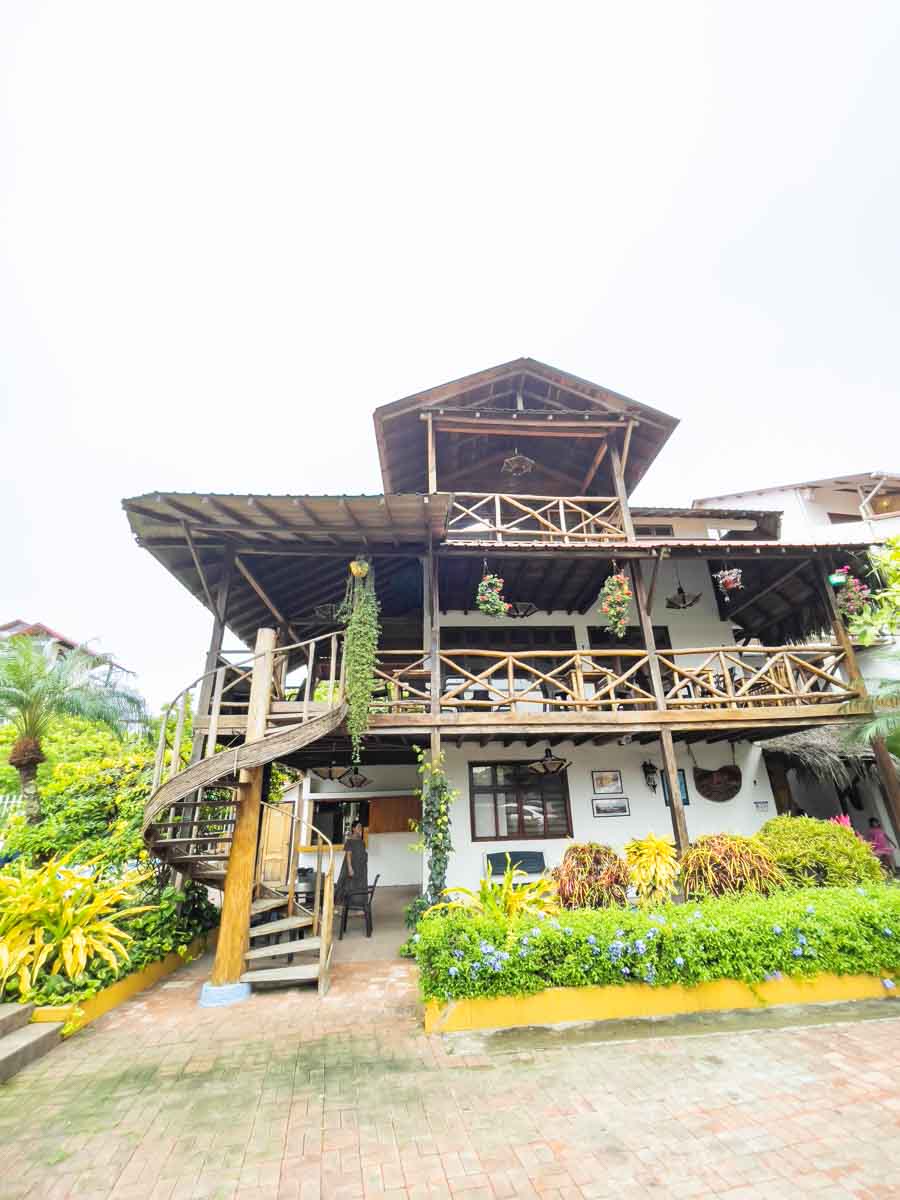 Hotel El Galeon may be a bit more on the basic side, but its location moments away from the beach and the outdoor swimming pool and bar make up for this. With friendly staff and comfortable, clean rooms, it's everything you need from a stay at Montanita.
So, where are you headed? To Montanita? Or one of the quieter beach spots nearby?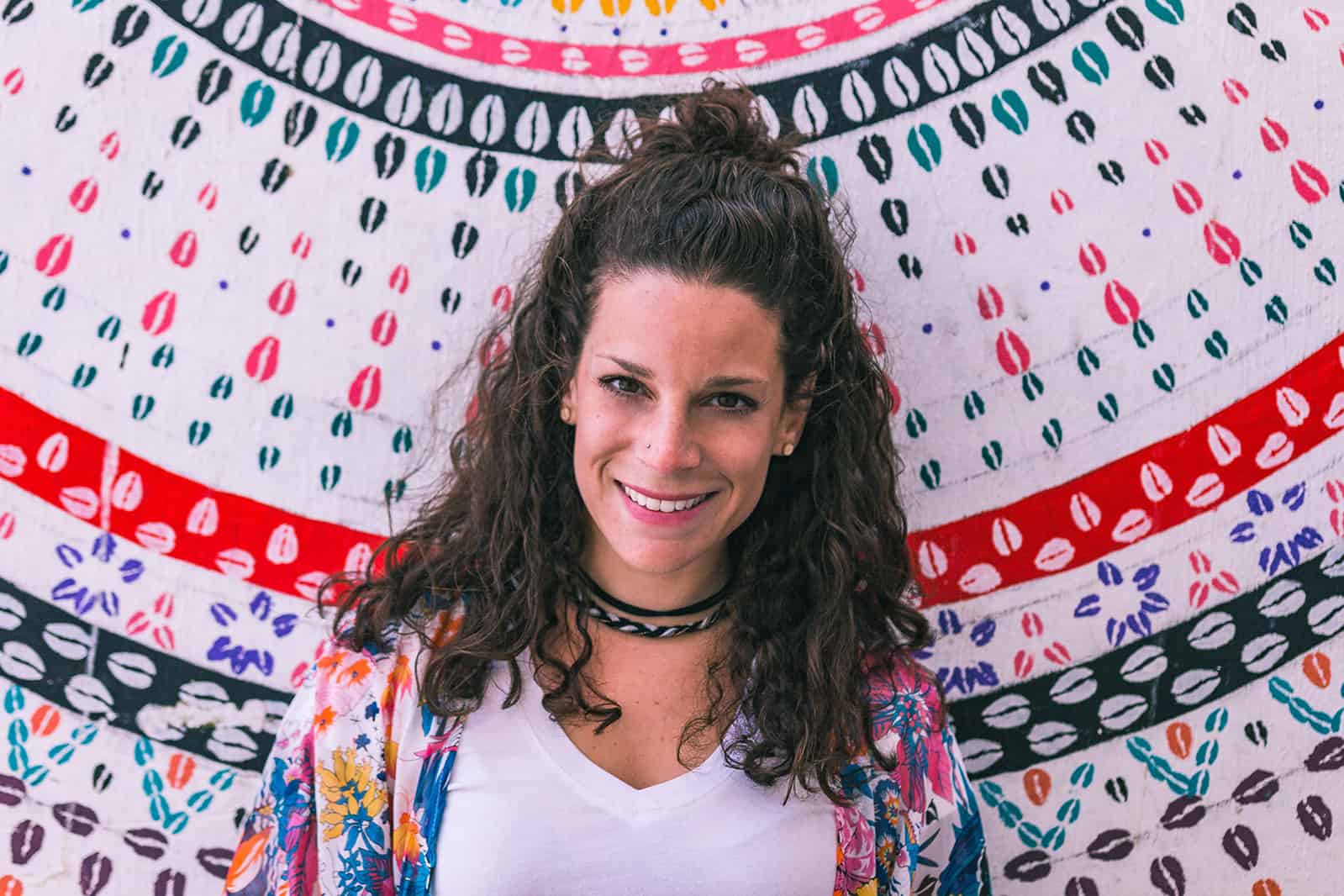 Nina Ragusa is an adventurer, messy bun master, breakfast fan, and full-time travel blogger. She's been abroad since 2011 and blogging on Where in the World is Nina? for nearly as long. Nina helps people like you move around the world while making money. She loves talking about how to work abroad and online to travel longer!