Melbourne, Australia has been voted as the most livable city for six years running now. No wonder I chose to live in Melbourne.
Not a bad place to call home, right?
I didn't think so either!
I've longed to live in Australia for ages now, but I never really knew which city I wanted to call home. Melbourne ended up being the best choice by far! This is the best and easiest city to be an American expat in Australia! Well, at least according to me.
Was it expensive? Yep, definitely not on the cheaper side of things, that's for sure. BUT it was worth every penny as I loved living here, plus I learned how to keep my costs under $1000 per month very quickly. Not too bad for being one of the priciest cities in the world!
I break down how I lived here, how much things costs, a few tips and tricks I learned and even where I shopped!
Here's what it's like working and living in Melbourne…
For a visual breakdown, check out Garrett's video:
How and Why I Ended up Working and Living in Melbourne, Australia
Well, after much debate and thought as to where in Australia Garrett and I wanted to live, Melbourne won the battle. The ultimate reasons were:
East Coast = More competition with backpackers on their working holiday visas. Everyone wants to go to Byron Bay, Sydney, Bondi…etc. Melbourne is up there too, but in our eyes, it wasn't AS bad.
Really cool and funky place. Heard great things.
Culture and Architecture. Looks freaking cool. More than just a "big city." (which is what Sydney seems like).
That's about it. That ended the discussion right there. Melbourne was it! We were STOKED and so ready. We packed our bags in Thailand and made the move. Easy!
Resources for Your Trip: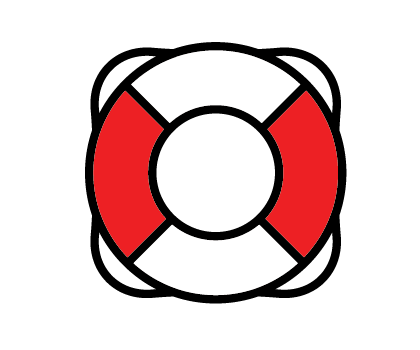 Don't forget insurance!
Get a quote with the best and easiest travelers insurance: Safety Wing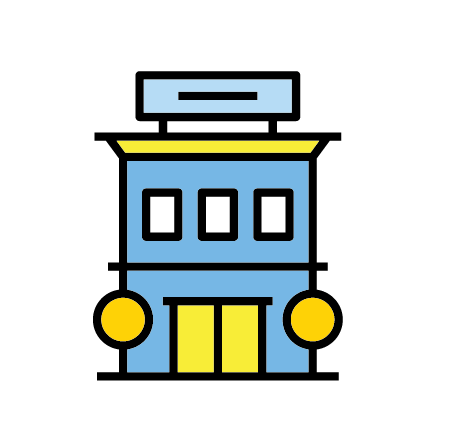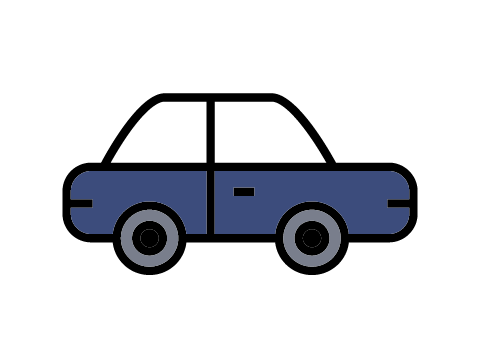 Best Deals on Vehicle Rentals: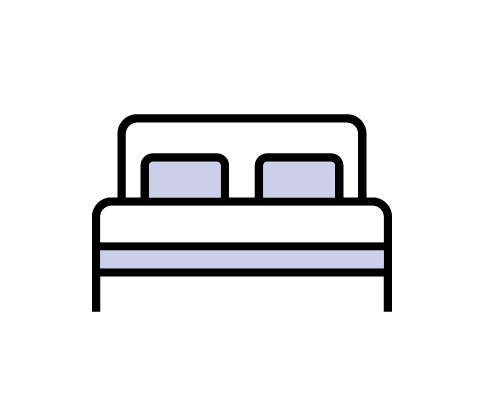 How to Get Free Accommodation Anywhere!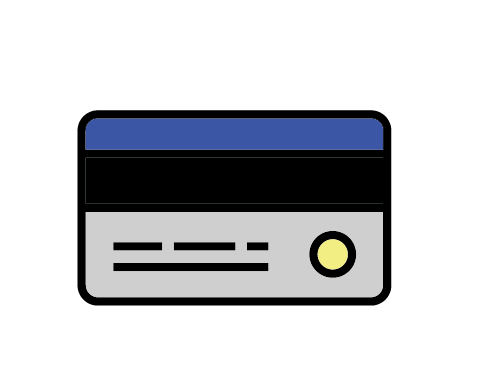 You NEED the Right Travel Cards!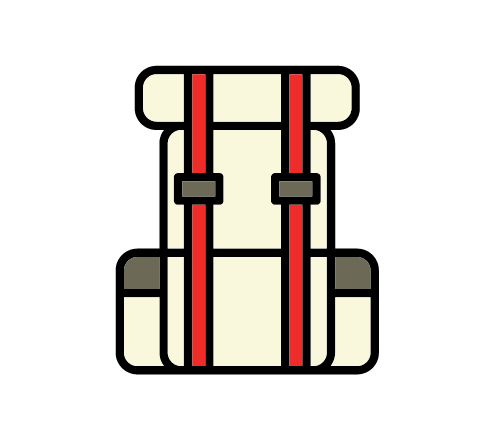 All The Gear You Need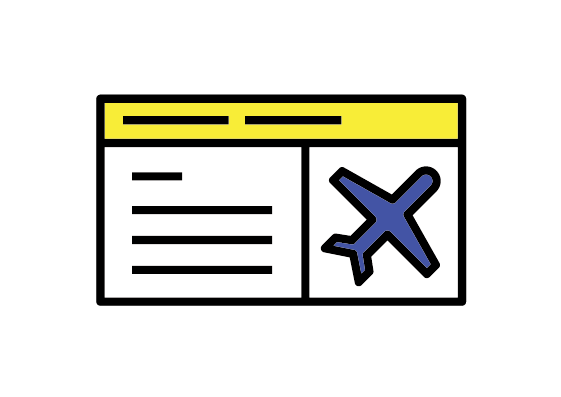 First Two Weeks Living in Melbourne, Australia
We were so lucky/not really. You see, if you travel for a bit, you meet friends from all around the world. My lovely friends Nicole and Brendan, whom I met in Thailand are from Melbourne. They opened their doors and we were internally grateful as this place can get pricey AF! (See, not really luck, just a perk of traveling!)
We stayed for two weeks, and the last week there we essentially were just house-sitting for them as they went on holiday. THANK YOU GUYS!
We got to be REALLY picky about where we wanted to move to because we weren't paying anything for accommodation during our time at their house. This was awesome and the sole reason we were able to get a sweet place! Time was needed to find us the best deal, and we got it! More on that below.
While looking for a house, we printed off our CVs and hit the streets applying for work. Don't waste a second, it ended up taking me longer than expected to find work. Get on the job hunt as soon as you can.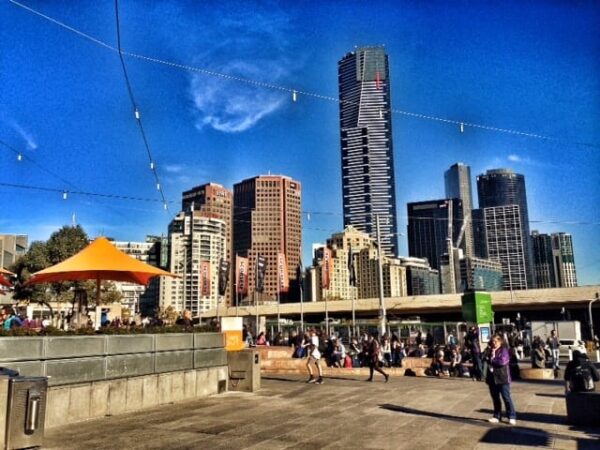 How Is Living in Melbourne?
Fab. Amazeballs. Fan-freaking-tastic. The best ever!
Seriously, though, I loved it to death. Honestly, if it wasn't for the crap winter that rolls through this region, I would live here for a very long time. JK, I'd travel heaps, but wouldn't mind it as a base at all. It probably also helped that I found an apartment in one of the best places to live in Melbourne. Well, at least according to me. More on that in a minute…
What to Do When Living in Melbourne
What made it so great to me? The incredible Gothic and Victorian architecture that is seen everywhere, the laneways with their funky restaurants and cafes, and of course, the famed graffitied walls of the city.
I loved the culture that's here, it's such a mix, it's really like going around the world without moving. There's a Chinatown, the Greek corner, the popular "Little Italy" aka Lygon street which was down the road from my house…
There's always something on, an event of some sort. It can be anything from a cultural holiday for Buddhists, an electronic music festival held every Sunday for two months (Piknic) to White Night where the entire city puts on a light show at night that displayed randomly on buildings.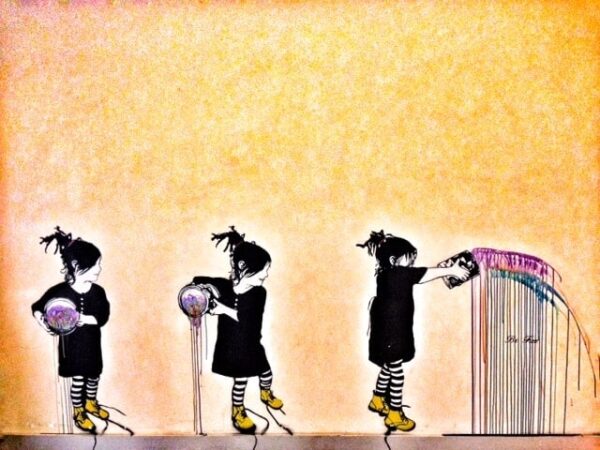 You could eat a $5 sandwich as you stroll around the iconic Flinders Street Train Station, and then take a cruise on the Yarra River all within 5 minutes of each other. You could hop on a train and bask under the sun at Williamstown Beach, or take the tram down the St. Kilda and see penguins at the pier.
You can grab a bottle of wine and hoop in a public park considering there's a million throughout the city and around it, or sip a coffee (some of the best you've ever had at that) at a cafe on a rainy day.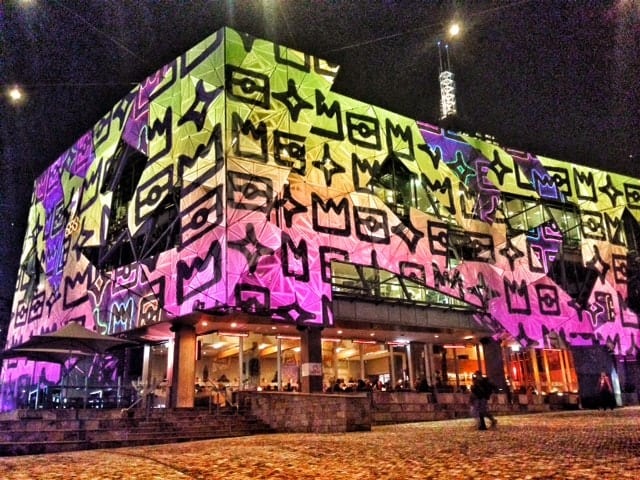 There's so much! Seriously, l loved living in Melbourne so much, I think it's my favorite city in the world as of now.
Here are all the cheap/free things to do in Melbourne that I found.
What's it Like Working in Melbourne?
---
Let's just say it wasn't my favorite and I learned that waitressing was NOT for me anymore. It was nothing to do with my managers or co-workers or even my venue.
BUT, the important part of all this was the money. I worked and I made some decent money because my venue was somewhat of an anomaly. I got $25/ hour, which very few places offer. Most would get paid about $21 or $22/ hour. (The more popular and touristy the area, the likelihood that they will pay you more from what I saw there.)
I also had an easy cafe gig where I got $18/ hour. I just worked a few hours a week there for extra cash.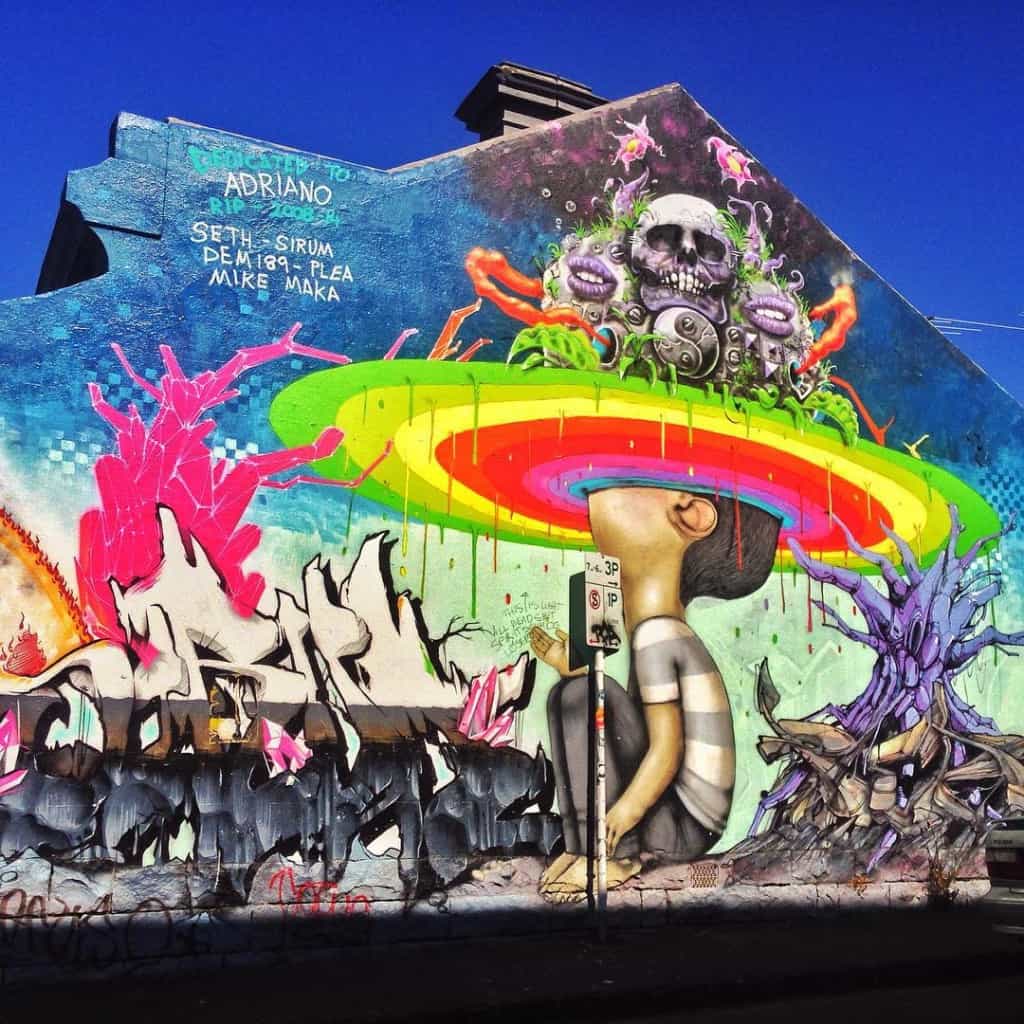 Melbourne is a happening place so you can expect almost anywhere you work will be busy. People go out all the time here and they spend like there's no tomorrow. This will certainly make you feel some FOMO, especially if you're like me and are trying to save a buck.
The most I went out was having my free beer after work at the bar I worked at… *I'm so exciting, I know.*
The competition is stiff so everyone wants to be the best bar in town. This means they also want the best staff. I was a very qualified waitress with over ten years of experience and I really had to push myself in there to get hired.
Cost of Living in Melbourne for an American Expat in Australia
---
Rent in Melbourne
We found a FAB place in the cool and hip Carlton. It's only a couple of stops outside the CBD on the tram, a trendy area, safe, incredibly beautiful, and a VERY cool scene.
I fell in love. We almost didn't get this place because someone (EHEM…. Garrett) was getting antsy and wanting to sign something ASAP. Glad I made him wait, We almost paid $10 more a week for a much crappier place.
Finding something to rent in Melbourne actually proved to be a bit tricky. It definitely took us some time and I'm again, super grateful we had a place to crash until we found something. It helped so much because choices were either slim for the areas we wanted, too much, too crappy, got snapped away from us for being two seconds too late in responding, or something else crazy.
It wasn't easy! But we found the perfect spot for us.
So how much did we pay for our rental in Melbourne? $340 a week! (That's $260 USD) including everything. Everything being electric, water, and wifi. And yes, that's per week because that's how they do things here.
This is pretty standard for the area, but I think we lucked out a bit with what we got. We found similarly priced places, but they were stuffing three couples in a tiny house or you had a plethora of random roomies in a rundown townhouse. Some places had people paying to sleep on the couch…uhm, no. I'm too old for that *ish.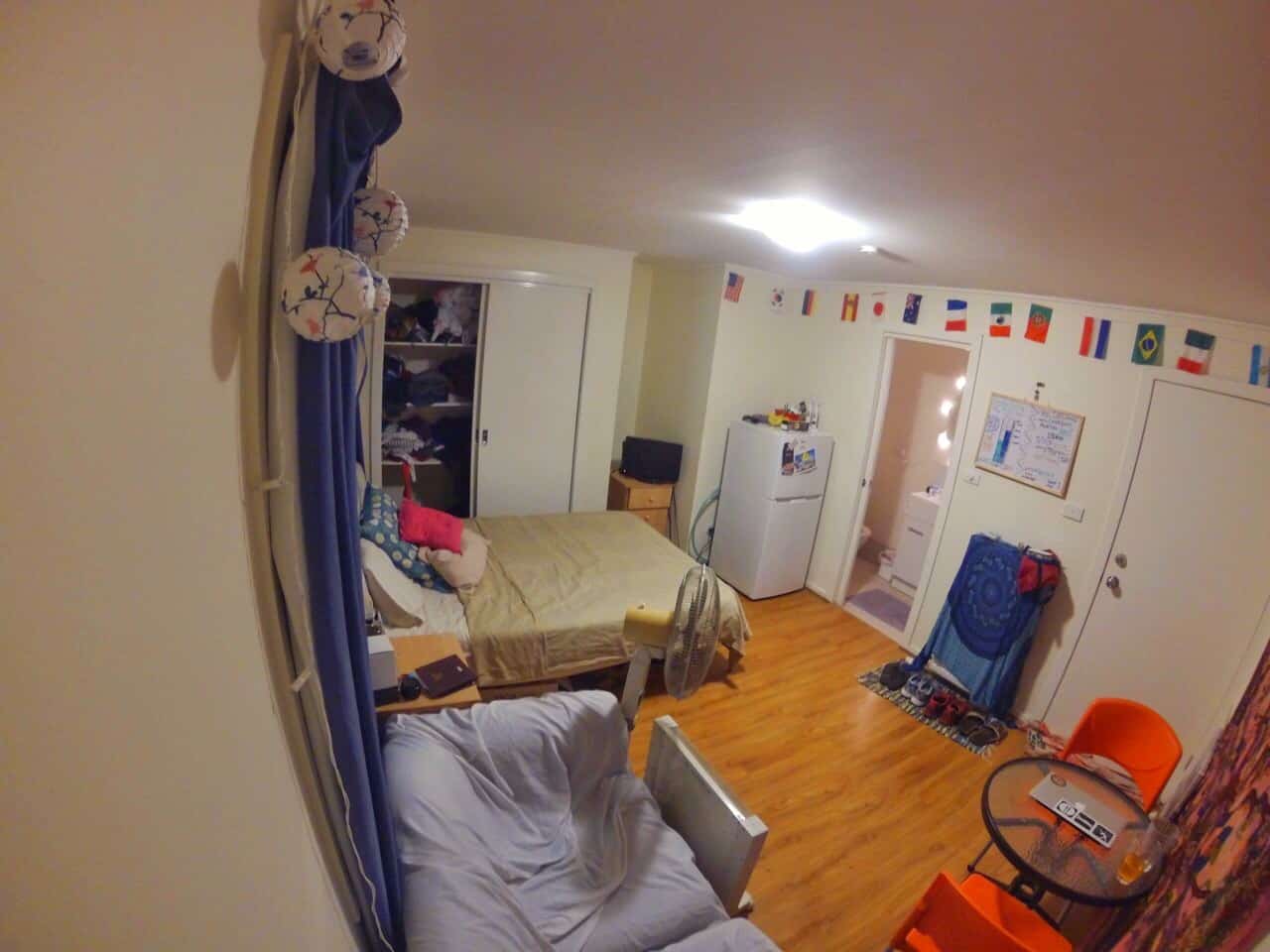 What was our place like? It was a studio. This was my ideal spot! Don't get me wrong, the place was a shoebox, but it was our shoebox, and we loved it! There was a bathroom, also very small, and the slight quirky thing about it was our kitchen was outside the room. Nobody else used this kitchen, it was only ours, but it was outside the room. Not a big deal being on the top floor with one other tenant, though.
Just outside our door, we had museums, street art, libraries, cute cafes, and two major tram lines in our hipster hot spot neighborhood that is Carlton and Fitzroy (we lived on the line, lucky!). I LOVED THIS PLACE and I can highly recommend the area.
Try to find a place to rent in Melbourne in this area if you're not sure where else to go. You can't go wrong. You're SUPER close to the CBD, have everything you need, and you'll be oozing coolness when you say you live in Carlton/Fitzroy. Joking! Kinda… 🙂
You can look on Gumtree, Facebook, and Flatmates for places to rent and roomies.
Food Cost For Living in Melbourne
We were spending $50-$60 (each) a week and eating just fine.
If you want to eat out, it's actually not that bad if you go to the right places. I have a few places in a post about what to do in Melbourne when you're broke AF. There's a list of places to eat that are under $15! My favorite is the sandwich shops selling baguettes for a mere $5, sometimes $3 if you go later!
Tips on how and where to shop for groceries:
Woolies (Woolworths) and Coles are the two main places, but Aldi and my personal favorite, Saigon Market, can provide you with way cheaper stuff if you make it there.
Living in Carlton, a mini trek to the Saigon market wasn't all that bad, but we couldn't do it all the time because we were working a lot. If you do go, though, you can find veggies and fruits for far cheaper than the grocery store. We got nearly ten days worth of veggies (and we eat A LOT of veggies) for about $25! Aldi is great for regular items like toiletries, cans, and boxed stuff.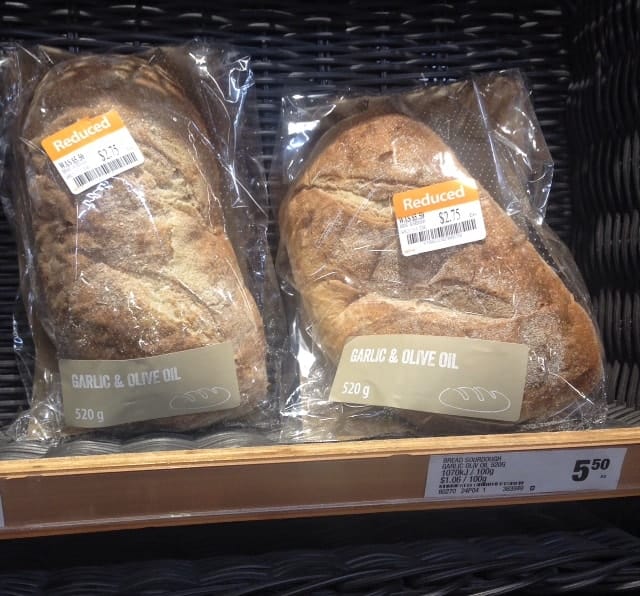 Coles and Woolies aren't bad either and it's where we did most of our shopping since they were both SO close. We liked Woolies better. Little things like their local cheese that wasn't too pricey, their eggs being cheaper than Coles and having better specials on bread (and better bread) made Woolies the best for us. Woolies puts their fresh bread on sale after 6/7pm.
I'm a simple girl, I love bread and eggs, can you tell?
Transportation in Melbourne
Trams and walking.
That's it, it's so easy and cheap/free. Melbourne is the absolutely perfect city to rely on public transport. They have a vast train and tram network and it's doubtful you'll need your own transport if you stay somewhat close to the CBD.
The CBD itself is a free tram zone, and jaunts just outside are a few bucks depending on how far you go.
A day pass for your MyKi (the access card you'll need) is only $7 bucks for anywhere.
Can't lie, hopping off the tram just a couple of stops outside the free tram zone isn't really all that difficult and I did it. Got a ticket for $85 once in six months. Not too bad.
Walking around is also really easy. It's a big city, but actually still walkable. Trust me, I walked around for ages when I was job hunting.
So What's the Cost of Living in Melbourne, Australia?
Living in Melbourne cost us about $1000AUD/ month each!
Really not that bad, right? Costs are kept to a minimum. We really only spend money on accommodation, food, and a small amount of fun, gym membership ($40 a month), and maybe a few bucks using the tram here and there.
Everyone lives differently, but if you can abide by living simply, you can live in Melbourne for pretty cheap!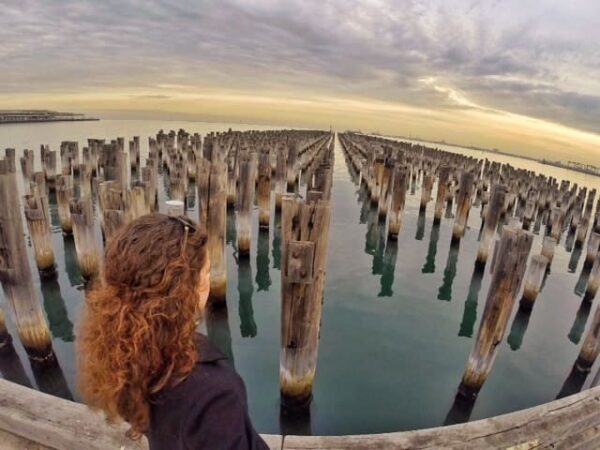 One thing to note is that we spent less on food than most people. We both worked in hospitality and in Australia, they take care of their workers pretty well and feed them. Since we worked pretty much every day, that means we were often provided with one free meal almost every day.
So if you're working a job that doesn't feed you, may tack on a few extra bucks but otherwise, living in Melbourne for cheap can happen if you're careful with what you spend.
Here's a bit more of a break down of the cost of living in Australia for us.
I hope this helped you with your questions about living in Melbourne. When are you moving? Let us know in the comments.
---
---
>>> EVEN MORE ABOUT TRAVELING AND WORKING IN AUSTRALIA <<<
Moving to Australia: The Price of Living Down Under (11 Cities)
How I Saved $17k USD in 10 Months Living in Australia
An American Expat: Working and Living in Darwin, Australia
10 Tips for Moving to Melbourne After Your Travels
A Legendary 7-Day Outback Road Trip Itinerary (Australia)
7 Days in Sydney Itinerary- for Those Who Want a Bit of Everything!
How to Do a Campervan Relocation in Australia for $1
Cheap Things to Do in Melbourne When You're Broke AF
---
---
You should def Pin this…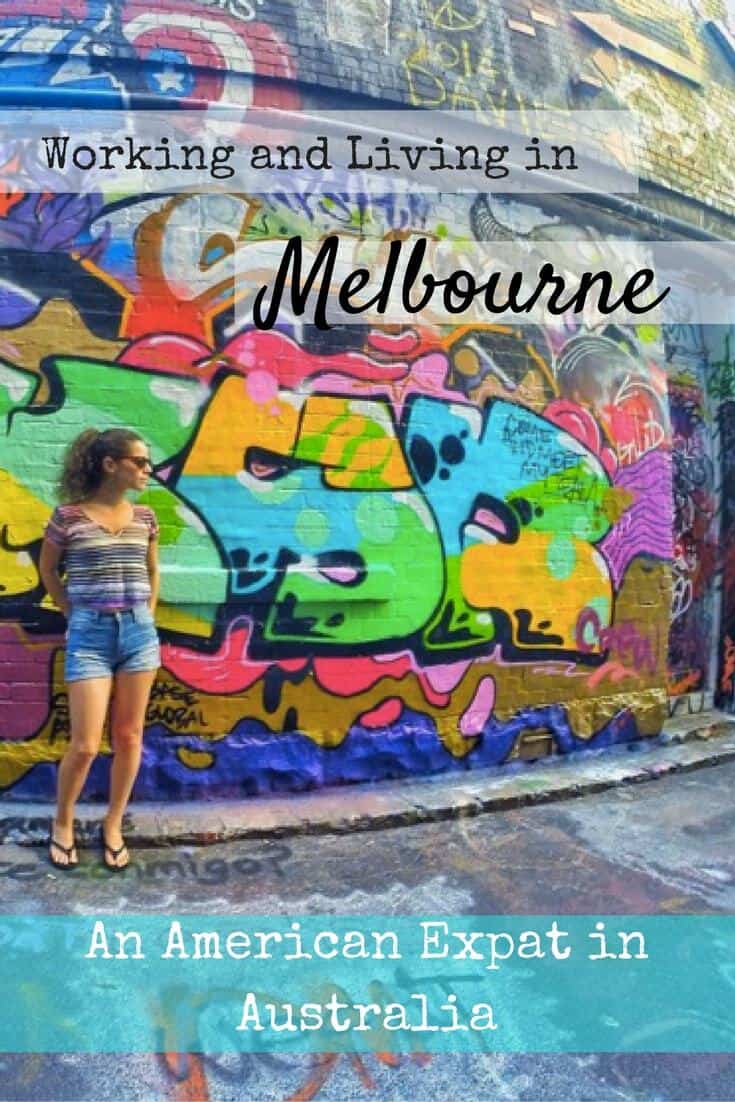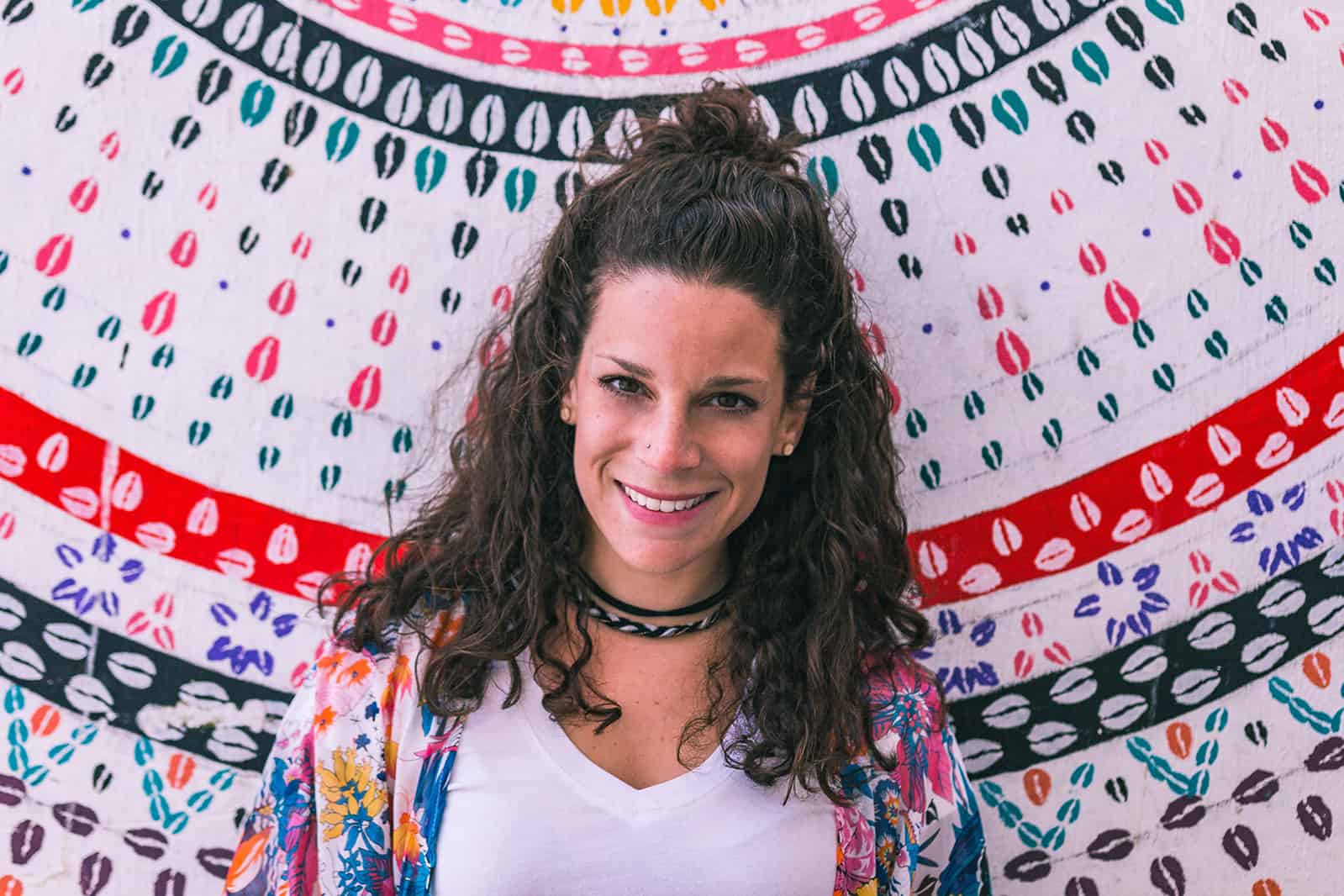 Nina Ragusa is an adventurer, messy bun master, breakfast fan, and full-time travel blogger. She's been abroad since 2011 and blogging on Where in the World is Nina? for nearly as long. Nina helps people like you move around the world while making money. She loves talking about how to work abroad and online to travel longer!