Welcome to a tiny oasis off the coast of Anguilla.
Yes, Anguilla itself is quite a small piece of the paradise pie; after all, you can drive end to end in just about an hour…
But just a quick boat ride through the turquoise waters brings you to several other little islands that make for a perfect day trip.
A Day Trip to Sandy Island and Prickly Pear in Anguilla
---
What is Sandy Island in Anguilla?
In 1984 a tiny little hut was placed on nothing more but a patch of sand, aptly named Sandy Island.
When I say a patch of sand, I mean it! It's only about 250 meters long.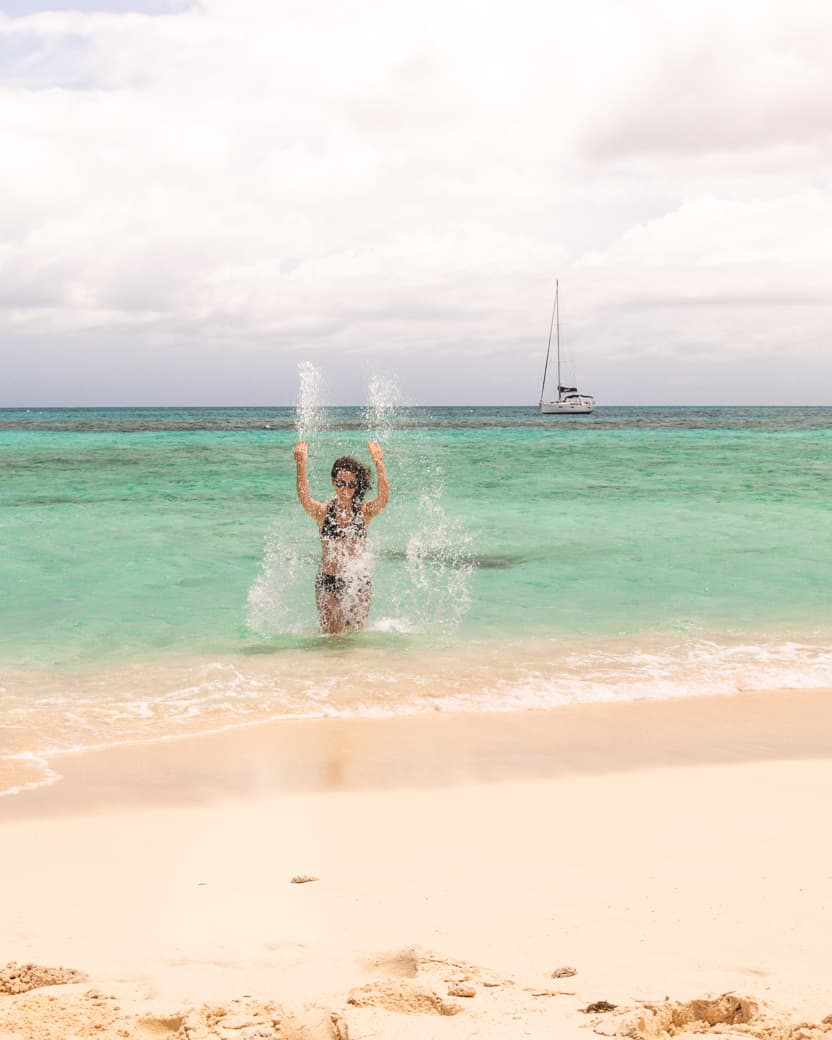 The tiny island has been through a lot though, Hurricane Luis in 1995 and 2017's Hurricane Irma both ravaged Sandy Island in Anguilla with a few storms in between too.
The restaurant and bar that was on the island were rebuilt a few times and at one point; the island was completely submerged underwater after Irma. As the island reappeared, the restaurant was built again, and business is as usual!
Sandy Island boasts white sands, snorkeling, some lounge chairs, and a restaurant serving up the freshest of fresh seafood. Lobster and crayfish are THE things to have, and the bar is serving up cocktails.
There's often live dancing and music to be enjoyed while you're here or walk a few steps down to the beach and relax doing absolutely nothing… That's acceptable too.
The famous Sandy Island in Anguilla may have the bluest of blue waters, although Prickly Pear Beach isn't too bad either!
What Is the Prickly Pear in Anguilla?
Made of two cays, the eastern and western cays, Prickly Pear is a refuge for both humans and birdlife alike. The western cay is uninhabited, unless you count the birds and fish that thrive here, and makes a perfect place for exploring the seas. The eastern cay has two small restaurant and bars.
Hop in with your snorkel, play with the fish and find the little inlet heeding a sea of pink shells that have washed up. There is no beach here, but if you make your way to the eastern island, you'll find yourself on the pearly white sands of your dreams.
Here are two little huts with refreshments and food, a few lounge chairs and that's about it! Take a wander along the coast to get a view of the western cay and clamber around the prickly rocks! Don't forget your shoes on this walk as I did.
On the island, besides doing a lot of basking under the sun or napping under an umbrella, you can rent kayaks, snorkels, and paddleboards to explore further.
How to Get to Sandy Island and Prickly Pear in Anguilla?
It's incredibly easy to reach Sandy Island and Prickly Pear.
The best, easiest, and cheapest way to get to these two places is making your way to Sandy Ground Pier and taking the shuttle boat.
From Sandy Ground Pier you can catch the boat at 11 am and 12:30 pm and then from Prickly Pear back to Sandy Ground at 2 pm or 4 pm Tuesday-Sunday. Your ticket is $40 for the round trip which includes a drink.
Like Prickly Pear, Sandy Island in Anguilla also has a shuttle boat service that costs $10 per person round trip and is only 15 minutes or so off the coast of the main island. The boat often goes and comes hourly starting at 10 am.
For either boat shuttle, it's highly advised to book ahead of time! Email or give them a ring to give them a heads up on how many people is in your party and when you'd like to go.
For private transfers to the island, so you can go at your own pace or perhaps have the entire speedboat for your part only, Calypso Charters did a great job taking us around from Prickly Pear to Sandy Island and back.
They had the rum punch flowing and perfect seats up front to layout on. For anyone with a larger group or who wants to do their own thing when they want to, booking with Calypso would be the right choice.
Most services only operate November to August consistently and then it would be weather dependent and by reservation only outside of that time.
A Sandy Island and Prickly Pear Day Trip in Anguilla
If you do just one thing in Anguilla, it should be to spending the day island hopping around Sandy Island and Prickly Pear!
This was undoubtedly a highlight of my time in Anguilla, and there's nothing quite like that feeling that you're happily lost on a stranded island…
But without leaving the comforts of a beach lounge chair and the option to chow down on some fresh lobster. After all, you are here on vacation, not an episode of Survivor, right?!
The best way to have an entire day here would be to book your boat here as I suggested, with Calypso Charters, to make the most of your time and to be sure you do not have to work around someone else's time.
Another thing to keep in mind is to plan to have lunch on either of the islands. The seafood is fantastic and couldn't be any fresher. The prices are similar to what you'd pay on the main island so no need to pack a lunch or anything before heading out here.
Leave some extra time for some fun like snorkeling around Prickly Pear and dancing to steel drums on Sandy Island… As if Anguilla isn't its own little getaway paradise island, you can get away even further here for the day.
What Should I Bring to Sandy Island and Prickly Pear?
Bring cash if you can as the restaurants often have a charge for using a card.
Tons of sunscreen, I reapplied twice and it still wasn't enough. Be careful not to turn into a lobster—only eat lobster…
Flip flops, don't go barefoot as I did on Prickly Pear, the rocks can be damn prickly!
Bring your own towels or sarong, there's no option to rent or use any other towels on the islands.
Don't forget a phone charger so you can take pictures (not play on the internet) and to grab a waterproof case of some sort because it can definitely get wet on the boat.
So is visiting Sandy Island and Prickly Pear in Anguilla on your itinerary? I hope so!