This Canadian Rockies itinerary is authored by Maya.
Snow-capped mountain peaks, gorgeous turquoise lakes, valleys filled with glaciers as far as you can see, and an occasional bear or mountain goat sighting.
Does that sound enticing enough?
I'm stoked you're on board! This guide will show you all the fantastic places you can see during a Canadian Rockies road trip in just one week.
Included are highlights and insider tips from Banff, Jasper, and Yoho National Parks. Of course, you can spend more time in each of these parks, but why not make the most of your trip if you come for a week.
You'll have your mind blown with the Canadian Rockies' scenery.
To enjoy the stunning colour of the lakes, I recommend visiting from July to September, September being the less busy time.
Let's jump right in!
Canadian Rockies Road Trip Itinerary
---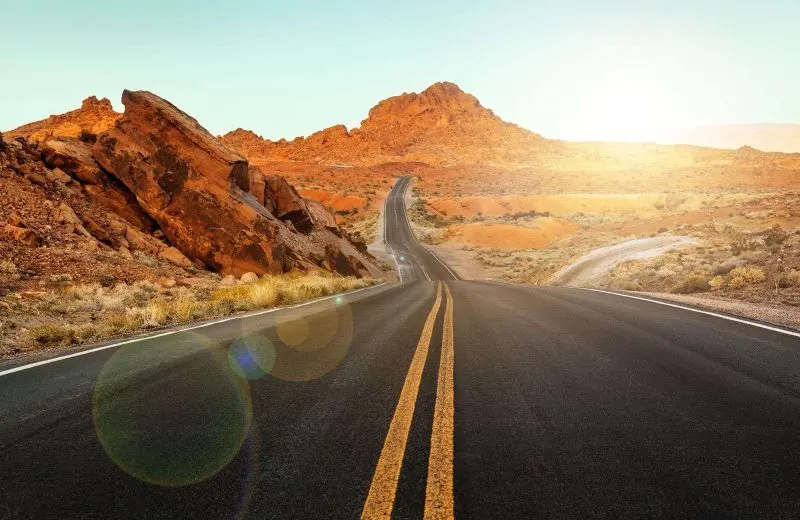 How to Get Around!?
It's nearly impossible to get around the USA and check out the best adventures without a car! Here are our top recommendations…
Rent a car! I usually find great deals on cars and SUVs here:
Rent a home on wheels! For the more adventurous, rent a van or RV and forgo the hotel room.
Canadian Rockies Itinerary Day 1: Calgary to Banff National Park
Calgary is the closest international airport to the most beautiful national parks in the Rockies. While there are many things you can do in the city, let's not waste precious time. The mountains are waiting.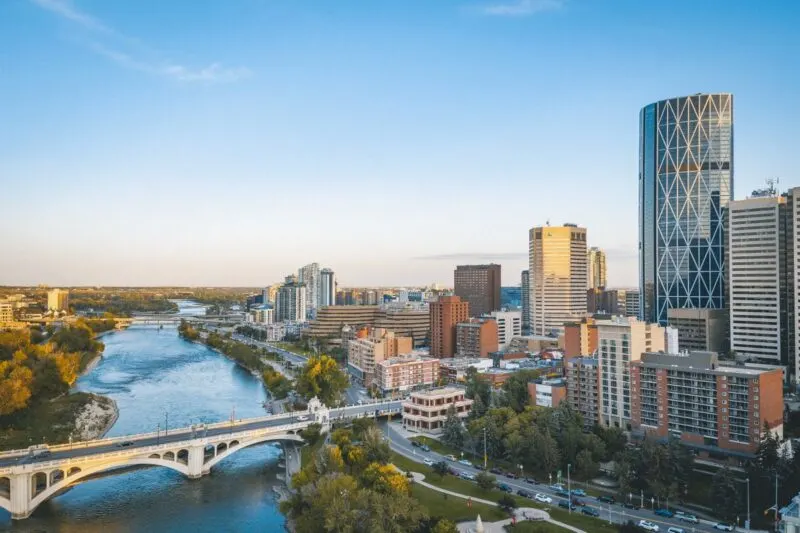 Once you pick up your car or a campervan, the drive to Banff takes about 1.5 hours on a toll-free highway. You can purchase the Park Pass for national parks at the gate or online in advance. In Banff, either stay in one of the lodges in town or a campground.
Camping is a very popular option in the Rockies and Banff, mainly due to the extremely high prices of the lodges. Camping in Banff involves waking up to the sound of the birds, and trees, and fresh mountain air.
Campervans are the best budget-friendly option, but if you don't want to sleep in a car or a tent, glamping in oTentiks is also an option. oTentiks are pre-built wooden tents with beds, electricity, heating, and showers. Book a campground here.
Things To Do:
The best first thing you can do in Banff is stroll the main Banff Avenue. It's filled with souvenir shops, hotels, restaurants, and most importantly, it offers gorgeous views of Cascade Mountain and Mount Rundle.
Start at Banff Avenue and continue along the Bow River through the pedestrian bridge. Walking the path downstream leads to a viewpoint of Bow Falls, a beautiful local spot and my favorite picnic place.
Canadian Rockies Itinerary Day 2: Banff National Park
Explore Banff and let those legs move after sitting on the plane. One of the most popular attractions in Banff is the gondola up the Sulphur Mountain. The panoramic view from the top of the mountain is breathtaking.
Just imagine mountains all around you, views of valleys, mountain peaks, the town of Banff, and even Lake Minnewanka in the distance.
You can either choose to take the gondola up or hike up the Sulphur Mountain yourself. The gondola takes 8 minutes and costs about $60/adult. Of course, the hike is free, and I've seen people of all ages hiking up the switchbacks to the mountain top. It's a 5.5 km long hike (one-way) and takes around 2 hours with breaks on average.
Important tip: always check trail conditions before hiking if the trail is open and carry bear spray anywhere in the Canadian Rockies. Parks Canada recommends having it within an arm's reach (you can buy it in any outdoor store in Banff) and learning how to behave around wildlife in advance.
Things To Do:
Enjoy the viewing platform, interactive indoor center at the upper terminal, or lunch in the restaurant. Walk the 1 km long boardwalk to Sanson's Peak, an old weather station for more gorgeous views.
The afternoon is a great time to enjoy a lake cruise. Lake Minnewanka is a 21 km-long glacial lake and the second longest lake in the Rockies. Within a 20-minute drive from Banff, you can cruise, kayak, hike, or bike along the lake.
The cruise takes you across the lake, where the guide talks about the history and different wildlife living in the area. Another option is to rent a kayak onshore and explore on your own. There are several picnic tables where you can relax afterward. A short hike through the forest leads to Stewart Canyon, an excellent viewpoint of Lake Minnewanka.
To end the day, visit Vermilion Lakes that are walking distance from Banff. It's a favorite spot for photographers, bird watchers, and picnic lovers.
Canadian Rockies Itinerary Day 3: Moraine Lake & Lake Louise
A Canadian Rockies itinerary won't be complete without seeing the most iconic lakes in the Canadian Rockies – Moraine Lake and Lake Louise. And luckily for all of us, they're located next to each other.
About a 45-minute drive from Banff, you'll find Moraine Lake in the Valley of Ten Peaks. When you arrive at the shore, you'll be stunned! An absolutely gorgeous turquoise lake with snow-capped mountain peaks in the backdrop.
As pretty as Moraine Lake gets right from the shore where Moraine Lake Lodge is located, there are several viewpoints and options for making the most of your visit. First, follow the sign and walk up the Rockpile to see the lake from above; this is the best viewpoint.
To get away from the crowds, walk the trail just past the lodge. There's a canoe rental on-site or you can bring your own (or rented) kayak or stand up paddleboard to paddle around the lake. It takes you to the end of the lake with several benches along the way to rest and enjoy.
Due to the extreme popularity of Moraine Lake, getting to the lake can be difficult. You need to arrive before sunrise to have a spot on the parking lot; otherwise, Parks Canada closes the road. A hassle-free option would be booking a shuttle. You can read our Moraine Lake guide for more info.
Lake Louise is a short drive away in the next valley. It features a huge parking lot, and generally, it's easier to get to than Moraine Lake.
Things To Do:
The bright turquoise color of Lake Louise with surrounding mountains and Victoria Glacier in the backdrop makes for a breathtaking moment. Canoe rentals are located onshore, and several hikes in the area give you a different viewpoint of Lake Louise from above.
My favorite hike is Mount Saint Piran which is 13 km long and lesser-known, so no crowds on the trail. You see Lake Louise from a bird's eye view, the Bow Valley, and even peaks and lakes on the other side of the mountain along the Icefields Parkway (which you will drive on Day 5 of your Canadian Rockies road trip).
Canadian Rockies Itinerary Day 4: Yoho National Park
Yoho National Park might be small, but it's an essential part of any Canadian Rockies itinerary.
It takes only 30 minutes to drive from Lake Louise to Takakkaw Falls in Yoho National Park. At 373 meters high, they're the second-highest waterfall in Canada, and you can get right under them.
Things To Do:
A short paved trail leads from the parking lot right under the magnificent Takakkaw Falls. Takakkaw means "magnificent" in Cree language and you'll understand why they were named like this as soon as you arrive. They also provide an excellent way to cool off in summer.
There are plenty of picnic tables and also the famous red chairs. Red chairs are scattered around the most iconic viewpoints in the Canadian Rockies. Taking a photo in the chair is almost a must on your Canadian road trip.
After the Takakkaw Falls, visit the Natural Bridge with a bustling waterfall under your feet. The same road also takes you to Emerald Lake. Emerald Lake has a different shade of green depending on how the sun's rays reflect on the water.
Canoe rentals are provided onshore, and they're the most budget-friendly in the Rockies, with an hour rental under $100. You can walk around the lake, spot wildlife, or relax at the patio with a view of Emerald Lake and surrounding glaciers.
Canadian Rockies Itinerary Day 5: Icefields Parkway to Jasper
The Icefields Parkway is often called "one of the most beautiful drives in the world" by many publications, including National Geographic.
It takes you from Lake Louise in Banff National Park to Jasper in Jasper National Park, and it's hard to predict how long 230 km would take you. You can rush and get to Jasper in two hours or take your time and drive for two days.
Icefields Parkway is famous for its rugged beauty, glacial lakes, waterfalls, wildlife, and endless glacier views. The road offers a lot of stops for hiking, camping, and viewpoints. If you want to take your time with this leg of the trip, an RV is a great option. You can book your van at Outdoorsy.
Things To Do:
My recommendations are Bow Lake, (newly opened) Peyto Lake, Waterfowl Lakes, Mistaya Canyon, Columbia Icefield, Sunwapta Falls, Athabasca Falls, and Horseshoe Lake.
The longest stop is at Columbia Icefield. You can book an Ice Explorer bus which would take you directly to the glacier. It's an amazing experience if you've never walked on a glacier. If you bring your water bottle (with filter), you can also drink the glacier water.
You'll want to stop often, enjoy the views and take pictures, so spending a full day on Icefields Parkway is a must. And you'll also drive the road back from Jasper to Calgary on Day 7, where I'm suggesting hikes with the most stunning views.
Canadian Rockies Itinerary Day 6: Jasper
Once you reach the Columbia Icefield on the Icefields Parkway, you are already in Jasper National Park. Take in the beauty along the road until you reach the small mountain town of Jasper.
A little-known neighbor of Banff is Jasper, located in the Athabasca River Valley. The activities and hikes are more spread out, so you don't feel like meeting crowds, which is rarely the case in Banff.
Jasper National Park is the largest national park in the Rockies and offers countless options for outdoor fun. My personal favorite is stand-up paddleboarding on Edith Lake (with SUP rental on-site) and biking the trails along the Athabasca River to see wildlife.
Things To Do:
If there are only two things that I would recommend to you, it's visiting Maligne Lake and hiking in the Valley of the Five Lakes.
When driving to Maligne Lake, stop at Maligne Canyon for a short stroll and at Medicine Lake, where bears like to hang out.
Maligne Lake is a long azure lake surrounded by mountains and glaciers. You can take a cruise across the lake to see the famous Spirit Island, a popular spot for photographers, rent a kayak to paddle on your own, or hike up the Bald Hills to see the lake from above. Several short hikes are starting at Maligne Lake that take you to small mountain lakes.
You can access the Valley of the Five Lakes from the Icefields Parkway when driving or leaving Jasper. It's the most stunning hike in Jasper featuring emerald lakes in different shades, viewpoints with red chairs, and often wildlife. The 5.5 km loop around the lakes is family-friendly and accessible for all fitness levels.
Canadian Rockies Itinerary Day 7: Jasper to Calgary
On the last day, when you drive through the Icefields Parkway back to Calgary, you'll surely realize how much there is to see and experience in the Canadian Rockies and would want to come back.
Things To Do:
Enjoy the viewpoints on the way back, and I highly suggest stopping at either Wilcox Pass or Parker Ridge for a hike. At Wilcox Pass, it only takes a few kilometers of hiking to reach the viewpoint with red chairs to see Athabasca Glacier across the valley.
Parker Ridge is a steep 5 km hike but with a huge reward at the end, where you see the massive Saskatchewan Glacier with a turquoise pool underneath.
I hope you find these tips helpful to have an epic Canadian Rockies road trip and enjoy it to the fullest!
---
>>> BIO
Maya is an adventure athlete and world traveler. After her trip around the world, she returned to the Canadian Rockies. Apart from adventure sports, she loves traveling to places beyond the beaten path which are not often visited. She shares her travel stories and comprehensive adventure travel guides on her blog Travel with the Smile.