The following article on things to do in Mirissa is authored by Rachita Saxena
A small Southern beach town which is filled with gorgeous views, Mirissa is a haven for anyone who is looking for some quiet beach time in Sri Lanka.
During my stay in Still Lanka, I noticed that a lot of people head to Unawatuna for Scuba Diving and often end up skipping this beautiful small town which is a shame.
Because even though Mirissa is not as popular or commercialized as the nearby destinations, it still has a lot to offer.
You can easily spend a couple of days here, lazing around on the beaches or indulging in one of the exciting activities here.
To help you out plan and include this tiny paradise in your Sri Lanka vacation, I have prepared this guide and answered all the common questions. So, read on to know about the best things to do in Mirissa for an epic Sri Lankan vacation!!
Don't lose this! Click to pin it now.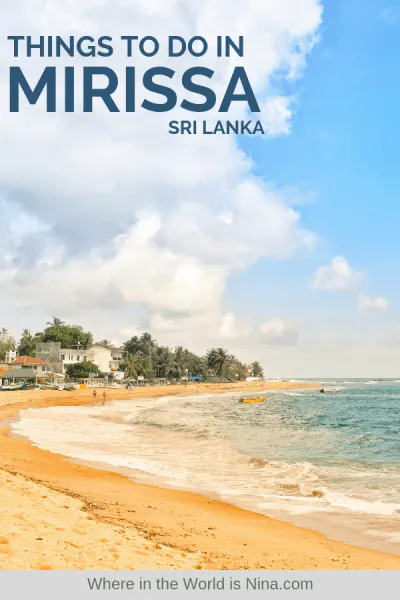 Things to Do in Mirissa, Sri Lanka
---
Although Mirissa is a small town, there is a lot that you can do here to pass time and enjoy your stay in Sri Lanka. Here are some of the best things to do in Mirissa if you have a couple of days at hand.
Relax on the Beaches
Mirissa has a very relaxed and peaceful vibe so one of the best things to do in Mirissa is to relax on the beaches. Mirissa beach is one of the most popular in this area where you will find a lot of restaurants and cafes on the beachside.
Grab your towel, some sunscreen, and lie on the beach to enjoy the sound of the waves and the pleasant climate. Trust me, you will always find a good secluded spot for relaxing and if not then you can always head out to other beaches in Mirissa like the Secret beach or Weligama Bay.
Watch the Sunset From the Lighthouse Beach
A lot of people don't know this but Mirissa has its own lighthouse which can be directly viewed from the private beach of Weligambay Villas. So, head to this Villa during sundown and ask entry to their lighthouse section or the private beach. Usually, they allow you to enter for free and you can spend at least an hour here admiring the gorgeous views.
One of my best moments in Mirissa was watching this lighthouse during the evening and spending some quiet time at this private beach villa.
Go Whale Watching
One of the top things to do in Mirissa is to go whale watching which takes around 3-4 hours and can cost anywhere between $30-$45 USD. There are many tour companies which offer whale watching tours in Mirissa so you will easily find one for yourself.
However, most of these companies will quote a higher price so you will need to use your negotiating skills to get the price down. The best time for whale watching in Mirissa is from November to March so plan your trip accordingly. Whale watching is open in October too but it depends a lot on the weather and the water is often not clear enough to spot the whales during this time.
Recommended Mirissa tours:
Learn How to Surf
Mirissa is one of the best spots for surfing and should definitely be pursued if you have always wanted to try it out. You can head to Weligama which is the best surfing place in Mirissa and is especially great during the mornings.
You can also get surfing lessons in Mirissa for 2000 LKR which will include a lesson, surfing board and some practice time afterward. And if you know how to surf then you can always rent a surfboard for 200 LKR an hour, forget about the other things to do in Mirissa, and just be a surf bum—This is totally acceptable.
Catch the View From Parrot Rock
Another popular activity to do in Mirissa is to climb Parrot Rock on Mirissa Beach for an amazing view. There is a narrow trail from the beach to the rock which you need to cross in order to reach the rock.
You have to wait for low tide in order to cross this trail because it is too risky to cross during the high tide. The wait will be completely worth it. And if the sky is clear, you will also witness an amazing sunset from the top of Parrot Rock.
Go for a Day Trip to Unawatuna
Another astounding thing to do while staying in Mirissa is to go to nearby areas like Weligama, Midigama, Unawatuna, Galle, etc. In fact, you can take a bus from Mirissa and spend an entire day at the beaches of Unawatuna and can even go scuba diving here.
This way, you don't have to move around much and pack your bags constantly. You can enjoy Unawatuna, Galle, and other popular destinations while staying in Mirissa itself.
Check out the Beachside Restaurants
Mirissa has many beachside cafes and restaurants that will offer you an awesome view.
Choose a restaurant or cafe, sit down and enjoy the ocean vistas while having a delicious meal near the beach. Also, make sure that you have seafood here because everything on the menu is freshly caught.
You can also enjoy a sunset dinner as there are some many beach cafes and restaurants with some prime sunset locations. Another great thing about Mirissa is that alcohol is quite cheap here. Most cafes and restaurants have happy hours until 10 p.m. so you can enjoy alcohol for just 200-300 LKR.
Party on Mirissa Beach at Night
As mentioned in the previous point, booze is pretty cheap in Mirissa. You can easily have an amazing time on the beach and party hard. In fact, many restaurants turn into night clubs after the sun has set and the party starts for those who love dancing.
You will find a lot of backpackers and tourists flocking to the beaches at night to get drunk on cheap drinks and dance. Mirissa definitely becomes a party place as soon as the sun goes down.
How to Reach Mirissa
Thankfully, Sri Lanka has a great public transportation system so you won't have any trouble on that account. Here are a few options that you can consider when trying to reach Mirissa.
Reaching Mirissa From Colombo
If you are heading to Mirissa from Sri Lanka's capital then here are a few options to consider.
Cab – You can take a direct cab from Colombo to Mirissa which will take around 3 hours to reach and will cost around 9500 LKR. In fact, you can also hire an Uber from Colombo for this journey and skip the hassle of negotiating with the taxi drivers.
Trains – Another option would be to take a train from Colombo to Weligama, which is just 8 km from Mirissa. From Weligama, you can hire a Tuk Tuk or take a bus to reach Mirissa. A Tuk Tuk will generally cost you 300 LKR while a bus will cost you about 30-50 LKR.
Buses – Finally, you can also take a bus from Colombo to Mirissa. If you don't get a direct bus then you can take a bus from Colombo to Galle or Unawatuna and then another bus to Mirissa. This will take around 4-5 hours and will cost you around 150 – 200 LKR (depending on the type of bus).
Reaching Mirissa From Ella/Nuwara Eliya
In case you are reaching Mirissa from the hill stations like Nuwara Eliya and Ella, then you have the following transportation options available.
Bus – You can take a bus from Ella or Nuwara Eliya to reach Mirissa which will take around 4-5 hours in total. For this, you will first need to take a bus to Matara and then another bus to Mirissa. It will ideally cost you around 300 LKR to reach Mirissa from either mentioned destinations.
Cabs – A more convenient option would be to hire a cab but it will be an expensive affair, especially if you are traveling alone. The cost of a cab is approximately 10,000 LKR and it will take around 4 hours to reach Mirissa. If you are looking at the cab as an option then try to pool in with other travelers so that you can reduce your traveling cost.
How to Travel in and Around Mirissa
Mirissa is a small town which is why you might not find a lot of options available here for exploring around. You won't find a lot of cabs or taxis here like other cities and towns so you will have to be dependent on the public transportation system.
Buses
Thankfully, Mirissa is connected to most cities by buses so you will find a bus going to your destination every 15-20 minutes. From Mirissa, you will get a bus to Weligama, Midigama, Unawatuna, Matara, and so on.
So, you can easily plan a day trip to the nearby towns and explore some beautiful beaches along the way.
Trains
Apart from buses, you can also take a train from Weligama to reach Unawatuna, Galle, etc.
However, there are specific train timings so you will have to check the schedule before planning your day.
Tuk Tuk
If you are planning to travel in Mirissa only then you can hire a Tuk Tuk to take you around the town. You can go to the beaches or the fish harbor or explore Mirissa beach.
However, a Tuk Tuk for a day can be expensive if you are solo traveling.
Walking
The best way to make the most of your stay in Mirissa is to walk around and explore the corners of this peaceful beach town. Most of the places are at a close distance and will take just 20-30 minutes of walking.
So, you can head to the beaches on foot and then make your way to the harbor, lighthouse and some amazing cafes and restaurants.
Best Time to Visit Mirissa
The peak season starts from November to April which is when you will see a lot of tourists crowding the beaches. During the winter months, the weather is pleasant with less humidity and a cooler climate.
However, the prices skyrocket during this time due to the influx of tourists so if you are trying to avoid crowds or are on a budget then this is not the right time for you.
You can come to Mirissa in October instead when the weather is still better but there are fewer tourists and the price of the stay, food, etc. is cheaper.
Avoid the months between May and September as the monsoon hits Southern Sri Lanka during this time so most of the activities are closed during this period.
Where to Stay in Mirissa
There are a lot of accommodation options available in Mirissa so you will easily find something in your budget.
Couchsurfing
Personally, I stayed with a Couchsurfing host whose house was just a 5-minute walk from the beach. He was the sweetest person that I have met and he helped me a lot in making the most of my time in Mirissa. So, if you don't mind Couchsurfing then you can give it a try in Mirissa and mingle with the locals here.
Hotels
Mirissa has several good hotels and resorts which offer an amazing view of the beaches and the Indian ocean. So, if you don't mind splurging a bit then you can stay at the Weligambay Villas which is at the tip of Mirissa.
This Villa has its own beach and a lighthouse which offers a different experience to people staying in Mirissa.
I actually walked to this hotel in search of the famous lighthouse and stumbled upon their gorgeous and secluded beach which could only be accessed through the hotel premises.
Another few options to check out are Twenty-Two Weligambay and Peacock Villas.
Hostels
Apart from hotels and resorts, Mirissa also has several good hostels that you can book online or after reaching the town. I & I Hostel is one of the most popular hostels as it lies right next to the beach and has easy access to most street shops and cafes.
Most hostels would cost you somewhere between 1200 – 2000 LKR and will offer you all the basic amenities and services.
I stayed in Mirissa for 4-5 days and honestly, it was such a blast. This beach town was quite laid back so I didn't encounter a lot of tourists here and most people were just relaxing and lazing around the beaches.
Mirissa genuinely surprised me with its charm and simplicity. There are so many things to do in Mirissa that you can easily spend a couple of days here and still be short on time.
Make sure that you set aside at least 2-3 days for this beautiful beach town in Southern Sri Lanka and have an epic beach vacation here.
What are you most excited about seeing in Mirissa? Let us know in the comments!
---
>>> Bio
Rachita Saxena is from India and has been traveling and blogging for the past four years. She runs one half of the travel blog by the name of Nomllers which aims to inspire others to leave their comfort zone and experience the unknown. You can follow her journeys on Instagram and Facebook
---
Busy? Click the picture to Pin this for later